Black turtlenecks are the go-to clothes to wear either when there's a chill in the air or when you're looking for the perfect blend of casual and chic.
Turtlenecks are a great addition to your wardrobe, and black turtlenecks predominantly exude grace and elegance however you choose to style them.
They come in various cuts and styles to suit whatever look you're going for. You could get a sleeveless style for the summer or a sweater dress for fall and winter as turtlenecks transcend all seasons and occasions.
But what is the story of this flexible staple? Whose form did they first grace, and how did they become what we know and love today.
Turtlenecks Through the Years
Turtlenecks were initially worn by the working class. Laborers and sailors alike who toiled in the elements needed something to keep them warm as they worked. Though, fashion was undoubtedly not a thing that crossed their minds as their backs ached from a hard day's work.
However, fast forward to the 1860s, and you'll see turtlenecks were worn by another subset of people. These people were a strain of athletes who rode horses and used sticks to nudge balls towards the goal post. These athletes are commonly known as English polo players. Turtlenecks got their alternative name, Polo Necks, after the players who donned them as uniforms during this era.
But turtlenecks didn't brave the fashion world until much later. In the 1920s, the English playwright Noël Coward was known to don them. And in the 1940s, turtlenecks were known to grace the form of famous American actress and singer Jayne Mansfield.
Related articles: Are Women's Chunky Loafers Still in Style in 2022?
By the 1970s, turtlenecks were seen as clothes that declared independence due to prominent feminists like Dorothy Pitman-Hughes and Gloria Steinem. Dorothy organized New York City's first shelter for abused women and owned and operated three child care services. Gloria was a journalist who revealed the sexism and poor working conditions Playboy bunnies experienced in Hugh Hefner's Playboy Club. The title of the expose is I Was a Playboy Bunny. She also helped found a magazine, Ms. Magazine, when she realized the women's magazines in circulation at the time were centered around housekeeping and refused to touch on women's rights.
So the next time you want to feel empowered by the clothes you wear, know that turtlenecks were worn by brave women who stood up for women's rights, engraving onto the staple a single word: freedom.
They're Bringing Turtle Back
What about more recently? Have turtlenecks faded into the background, no longer rocked as the fine clothing they are? Well, these celebrities argue differently:
Miley Cyrus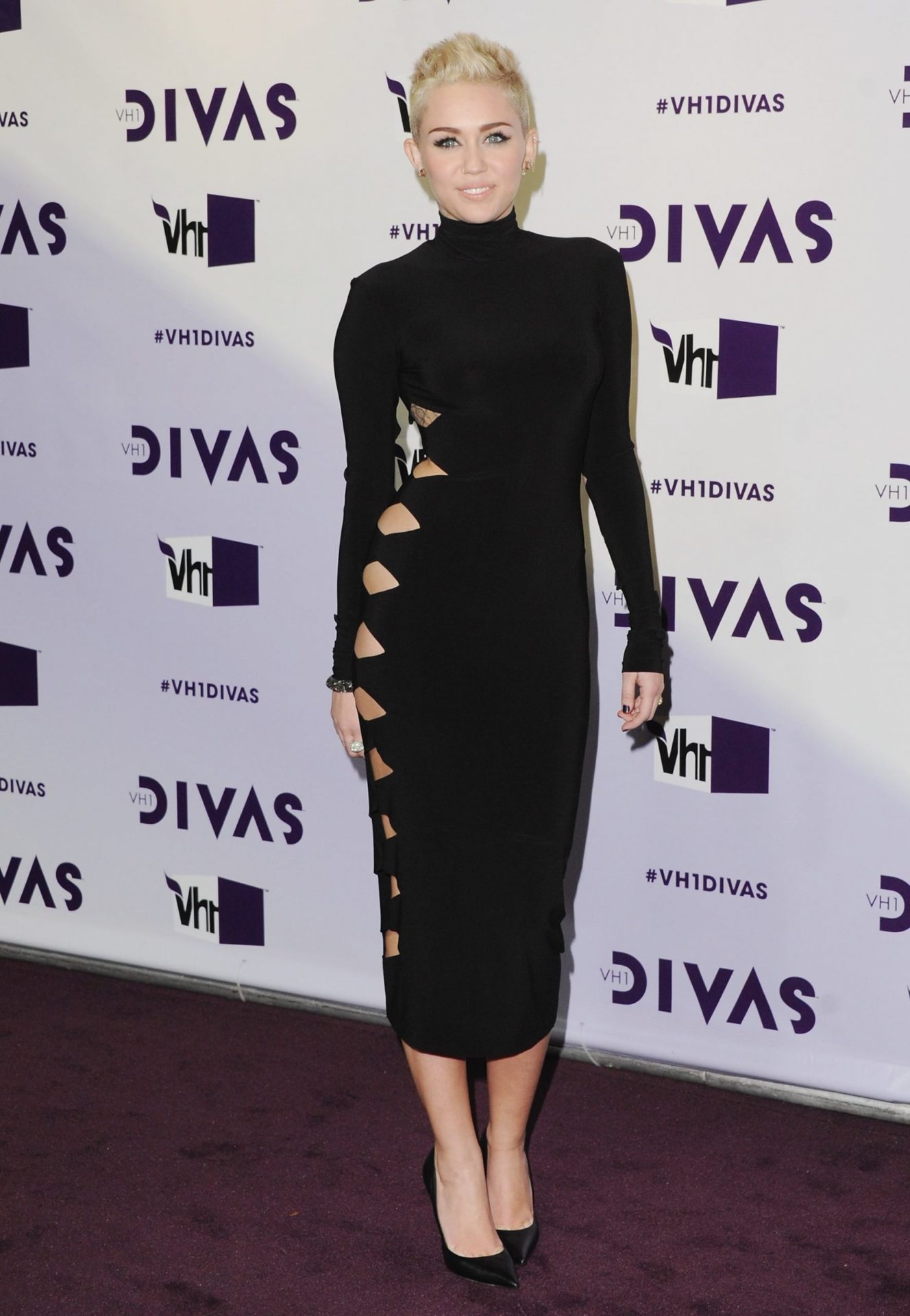 Miley Cyrus slipped on a black turtleneck dress with the sides cut out for VH1 Divas awards. The cuts take the turtleneck's modest look and add just a smidgen of amorousness.
(Best of both worlds)
Selena Gomez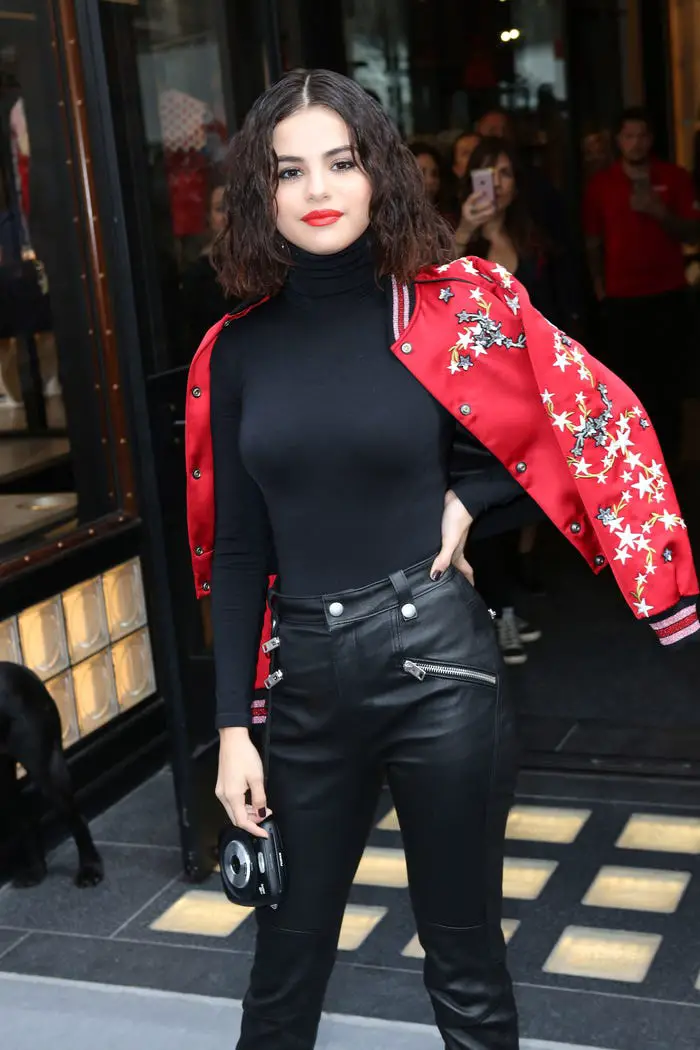 Another celebrity looking absolutely chic in a black turtleneck is Selena Gomez. In this photo, she is wearing it tucked into leather jeans, and draped around her shoulders is a red jacket that goes stunningly well with her red lipstick, showing us how well she can look without messing with the balance of things.
Jennifer Aniston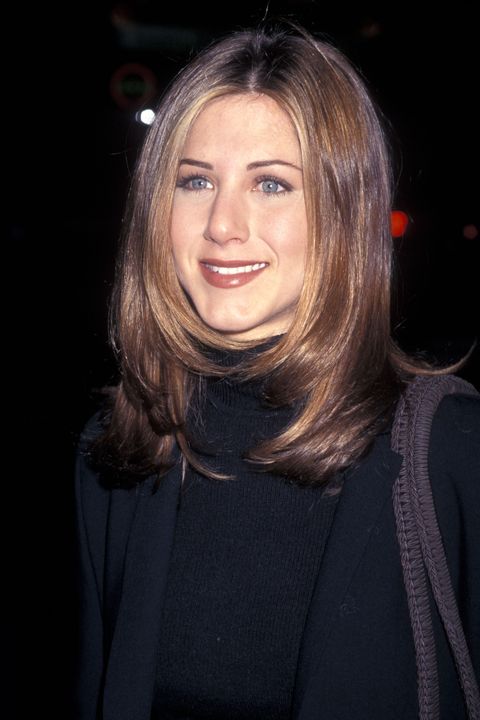 Here, an actor from Friends TV show, Jennifer Aniston, dons a black turtleneck beneath a dark blue blazer.
(So no one told you turtlenecks could be chic in this way?)
So, whether you plan to use your black turtleneck as a base when layering or you're in the mood for something more sophisticated, I've gathered plenty of outfit inspirations for how best to style this charming clothing item.
And don't forget to bookmark this page so you can come back anytime you need a little help styling that lovely black turtleneck you own or looking for an intriguing cut to get. Without further ado, here are 15 gorgeous turtleneck outfits to suit your taste and fancy, in no order whatsoever.
15. A sleeveless dress and a black turtleneck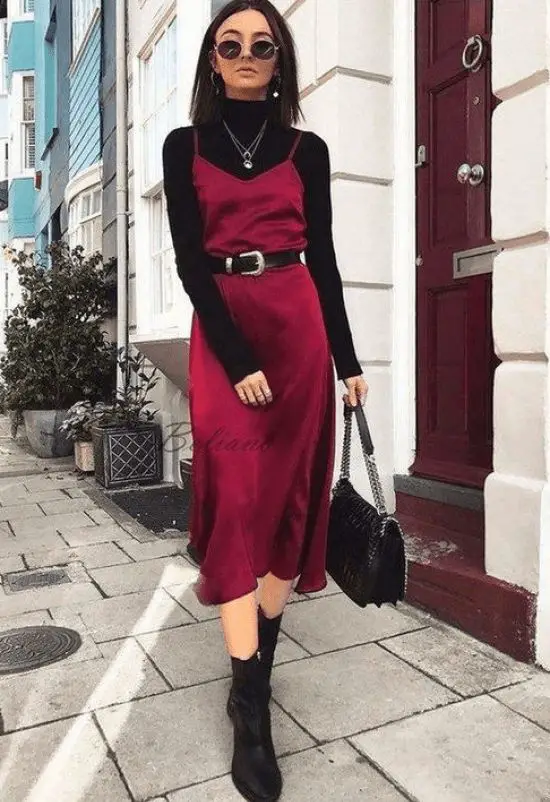 Wearing a black turtleneck under a sleeveless dress gives off this really cool 70s vibe. Take the style up a notch by choosing a silk or satin gown, and watch yourself transform into an elegant swan. You can opt to cinch your waist with a thick belt or a lovely chain belt for a delicate vibe. Complete the alluring look with an ankle-length witch boot.
14. Black turtleneck with a halter neck cut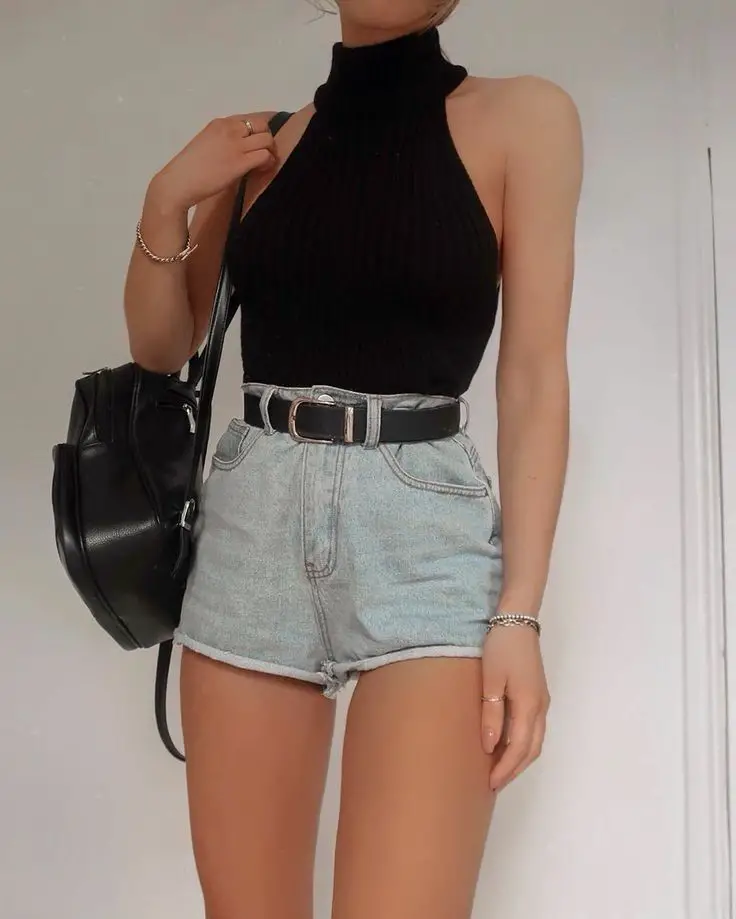 Show off your pretty shoulders and long arms wearing this turtleneck top. Style it with belted denim shorts and knee-high boots for a fun summer outfit.
13. Black turtleneck sweater dress
 

View this post on Instagram

 
You really can't go wrong with sweater dresses. Sweater dresses are effortlessly chic, whether it's a short one or a long one. Amp up the style by choosing a black turtleneck cut which enhances your swan-like neck and an overall slimming effect.
12. With wide-leg jeans
 

View this post on Instagram

 
Wild leg jeans are incredibly remodeled 70s trends that nostalgia won't make us let go of. Style your turtleneck top with a pair of wide-leg jeans and a typical black coat. Complete the look by slapping on some 70s inspired makeup.
11. Styled with a skirt suit
 

View this post on Instagram

 
Typical white button-down shirts can get boring when styling them with a suit. You can spice things up by swapping the bland button-down for a black turtleneck to create a sleek and gracious look.
10. A sleeveless black turtleneck crop top
Clearly, turtlenecks come in various designs and materials to suit the numerous wants of people. You can style this black turtleneck crop top with a flared skirt and chunky loafers for a 90s grunge look.
9. With corduroy skirt
 

View this post on Instagram

 
Style your favorite corduroy mini skirt with a ribbed black turtleneck. Add on a hat and sheer tights for an irresistible fall look.
8. With a mini skirt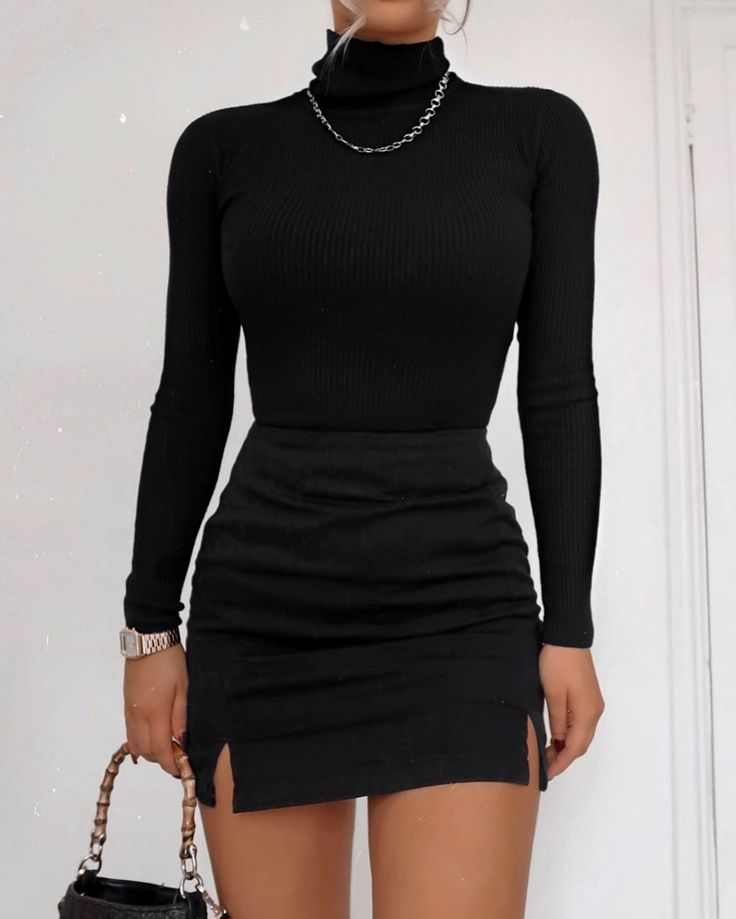 This is a very chic look, if I do say so myself. Pair it with knee-high boots to further elongate your legs and add a touch of sexiness to the look.
7. For a casual blazer look
 

View this post on Instagram

 
Throw on a black turtleneck tucked into jeans with the hem rolled up once. Add on a pair of Vans for guaranteed all-day comfort. Perk up the casual look by donning on a blazer, and voila, you have given your everyday look a significant facelift.
6. Black cropped turtleneck top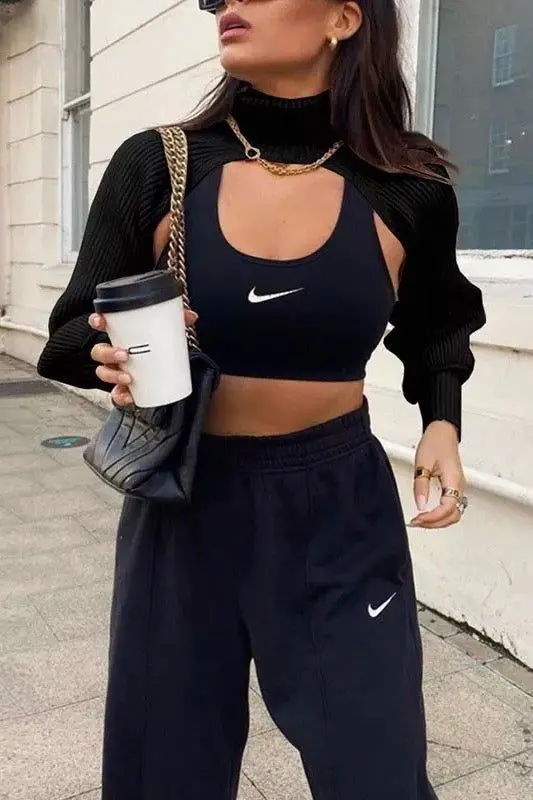 This uber-cute, super cropped look works well on turtlenecks too. You can style it with a sports bra, sweatpants, and a pair of sneakers to get that athletic look, even if the only workouts you do is strike poses for Instagram shots. Who's gonna know? No one's gonna know.
5. Cutout black turtleneck short sleeve top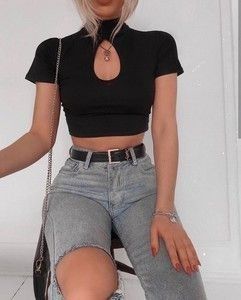 Perhaps the weather is too hot for long sleeves, or you're not in the mood for all that fabric on you; this cute little top is exactly what you need. The tiny cutout at the chest adds style and cheekiness to the otherwise casual outfit. Wear it with high-waisted embroidered jeans and sneakers for your fun night out with friends.
4. With pleated skirts
https://www.instagram.com/p/CYrVV0xoexL/?utm_medium=copy_link
Pleated skirts come in various lengths and pleats, but whatever style you choose, a black turtleneck will add a dash of charm to it. Throw on a long leather trench coat and any boot of your choice for a more polished look.
3. Black turtleneck bodysuit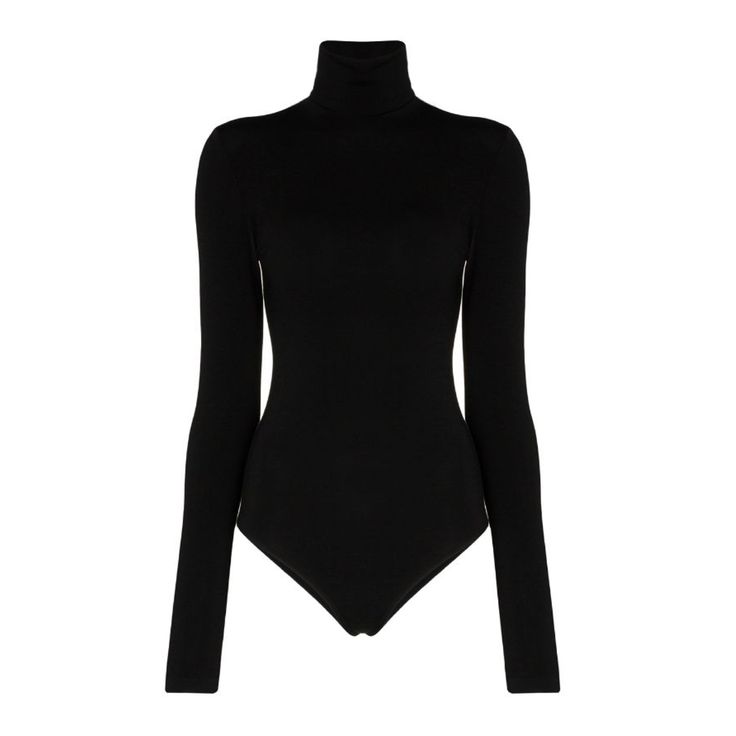 We haven't looked back ever since bodysuits made their comeback into the fashion world, and I am glad we didn't. Bodysuits are perfect for when you're going for a seamless and dapper look as they stay tucked in and don't get bunched up regardless of the movements you make.
Black already has a slimming effect, add it to a turtleneck bodysuit, and you've created the most put-together clothing yet. Style your black turtleneck bodysuit with a pair of mom jeans for a casual look or pegged pants and heels for formal wear.
2. Black turtleneck sweater vest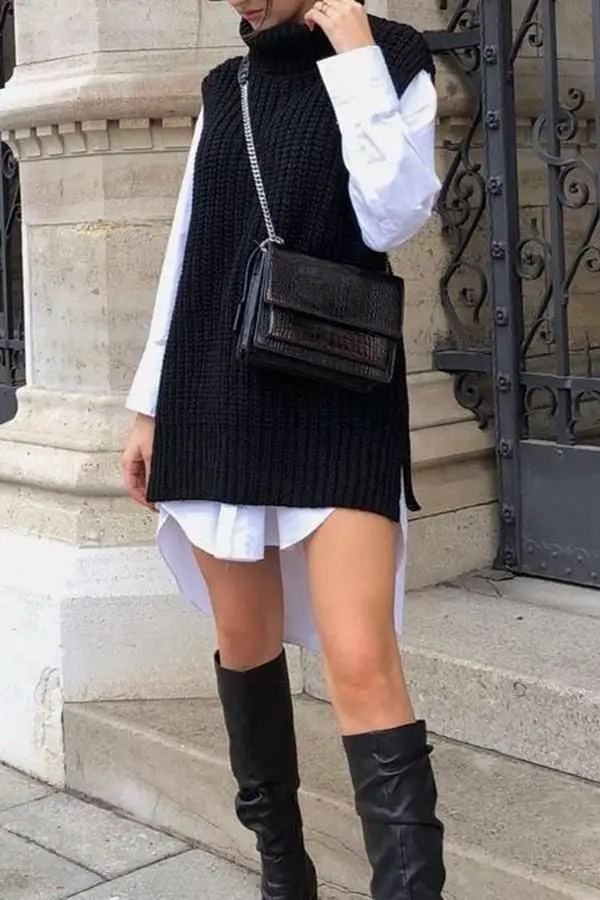 Turtlenecks don't always have to be your base when layering, as seen in this look. Turn a white shirt dress from boring to oh-lah-lah by pairing it with a long black turtleneck sweater vest. Ridding boots are your go-to shoes to complete this effortlessly chic outfit.
1. The monochromatic way
 

View this post on Instagram

 
Going mono will always be a powerful and regal look. You can wear your black turtleneck tucked into black bootcut jeans and swap the belt for a Michael Kors fanny pack. Sprinkle a bit of French girl aesthetics with a beret for instant glam.
Conclusion
This list is inexhaustible because, all in all, black turtlenecks are statement pieces. Whether it's to portray capability, grace, or simply laid back, black turtlenecks have proven enough times that they're the go-to clothing pieces for that. Their versatility makes them perfect incorporation into any outfit for an immediate facelift.
Are there any of the outfits you've tried before? Which one of them caught your eyes the most? Is there any you are dying to try out? Let me know in the comments section.
You may also like to read, Top 20 Bootcut Leggings You Will Love to Get Your Hands On.