As much as you might enjoy the warmer months, you have to plan and prepare to stay warm in the cold months; knee-high boots are one of the staples you should have in your wardrobe for the autumn and winter season.
Although summer might be over, it doesn't mean your chic style and great fashion items should be stored away until next summer. You can look as gorgeous as you want in the cold season while styling knee-high boots.
The good thing about knee-high boots is that they can go with almost all types of attire. If you need directions on how to pair yours, continue to read below.
Pair with a vest and a shirt
If you want to pull of the classical look, take inspiration from one of the hottest fits of 2021. You can pair your knee-length boots with a sweater vest and a button-up white shirt tucked into skinny jeans. This look is classy and also appropriate to keep you warm.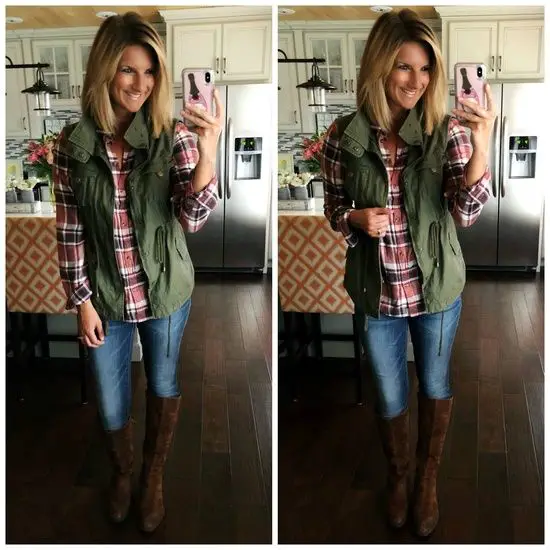 Looks good on a sweatshirt dress
The sweatshirt dress is a sexy way to style your knee-high boots as it gives you an endlessly casual air. Pair a white sweatshirt dress with black, heeled, knee-high boots for the ultra-cozy, celebrity look. This look gives you that weekend vibe you only see on your favorite celebrities.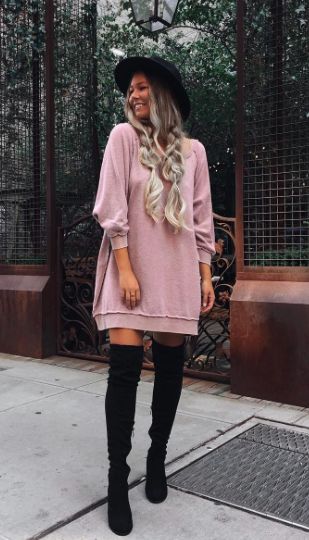 The midi skirt
The midi skirt style can never go out of fashion because it is versatile and can be appropriate for any event when styled right. If you are attending a party in the cool season, pair a pleated maxi skirt with knee-high boots. Not only will this look elegant but it will serve to keep you cozy at the party.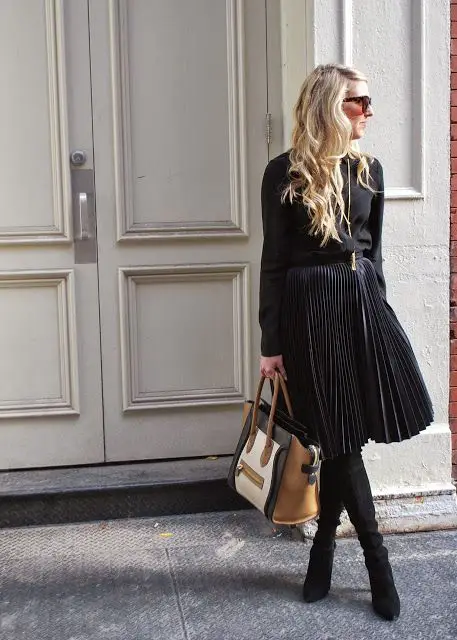 On skinny jeans and oversized blazers
Everyone loves skinny jeans because it hugs your body and enhances your curves. If you are going for a casual day look, pair your knee-high boots with skinny jeans and a cardigan. If the weather is a bit chilly, you can throw on a wool coat for extra coverage. The combination will make you look rich and expensive.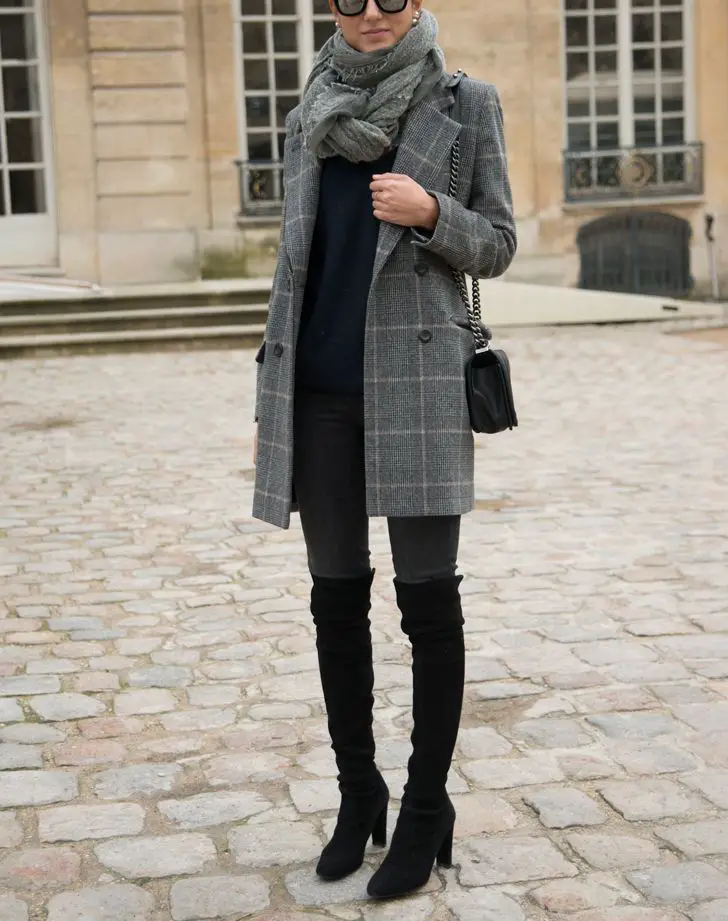 With flowery above-the-knee dress
During the summer months, we all love to wear short dresses and sandals while enjoying the sun on our bodies, but autumn and winter leave you no such luxury. If you have a particular flowery dress you favor but are not sure how to style it for warmth, pair it with knee-high boots. The boots double as warmth for your feet and also give you an elegant and graceful appearance.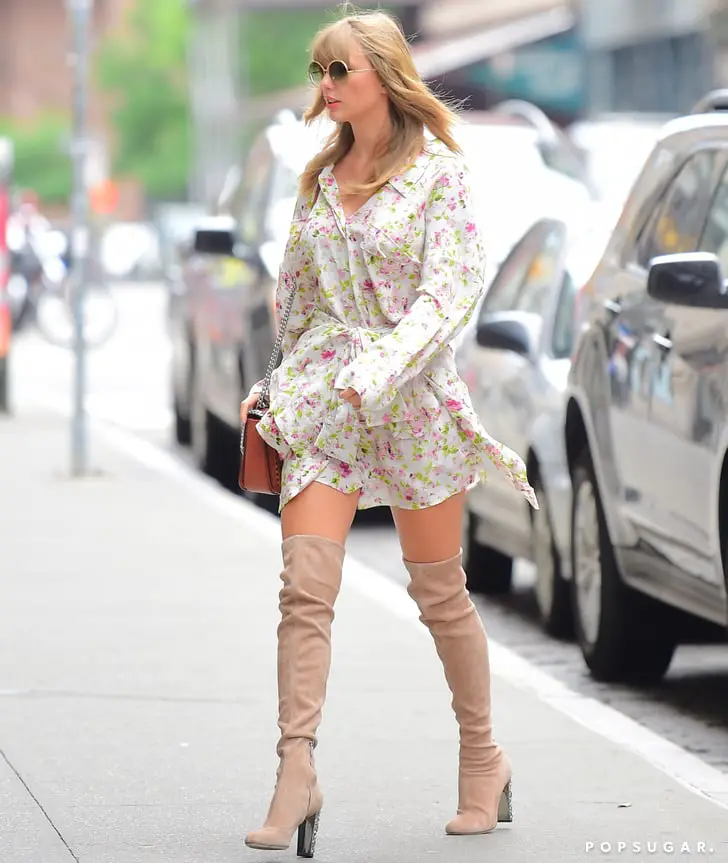 All black outfit
For lovers of black, you cannot get it wrong styling your knee-high boots. Black attire is a staple in most wardrobes and one that will always be around. You can throw on black jeans on a black top, add a black coat, a black scarf, and black knee-high boots for extra warmth. Get extra points for combining different black cloth textures to create a multi-dimensional look.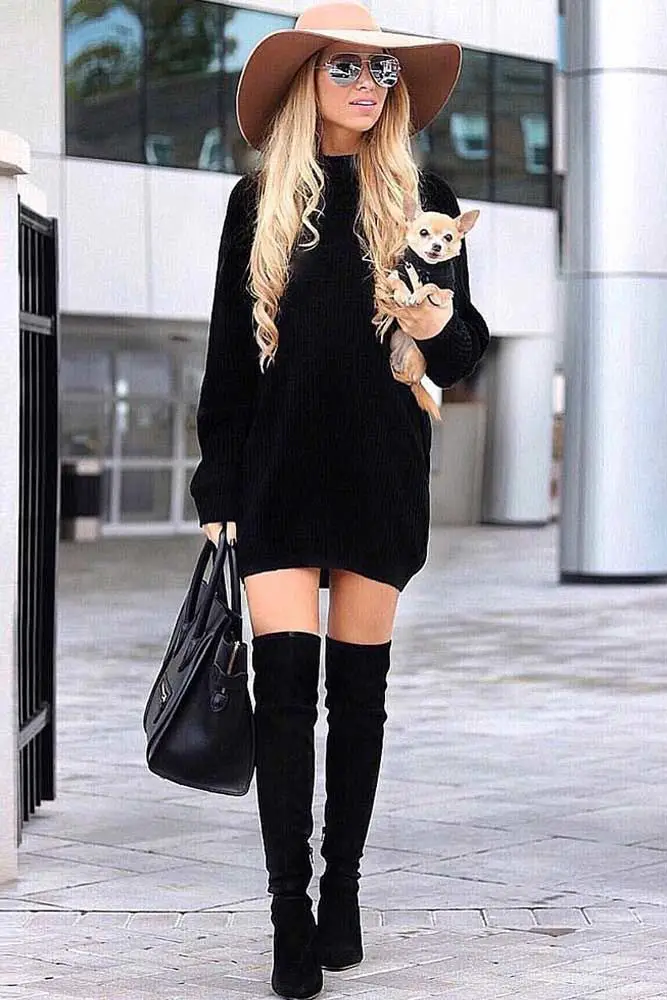 Denim on denim
Denim on denim is another stylish and classical combo with your knee-high boots. If you are attending an event that requires a bit of dressing up, you can show up in this attire. Pair your denim jeans with another denim jacket (that you can button up to pass off as a shirt) and snakeskin knee-high boots. You will look classy and chic in this outfit.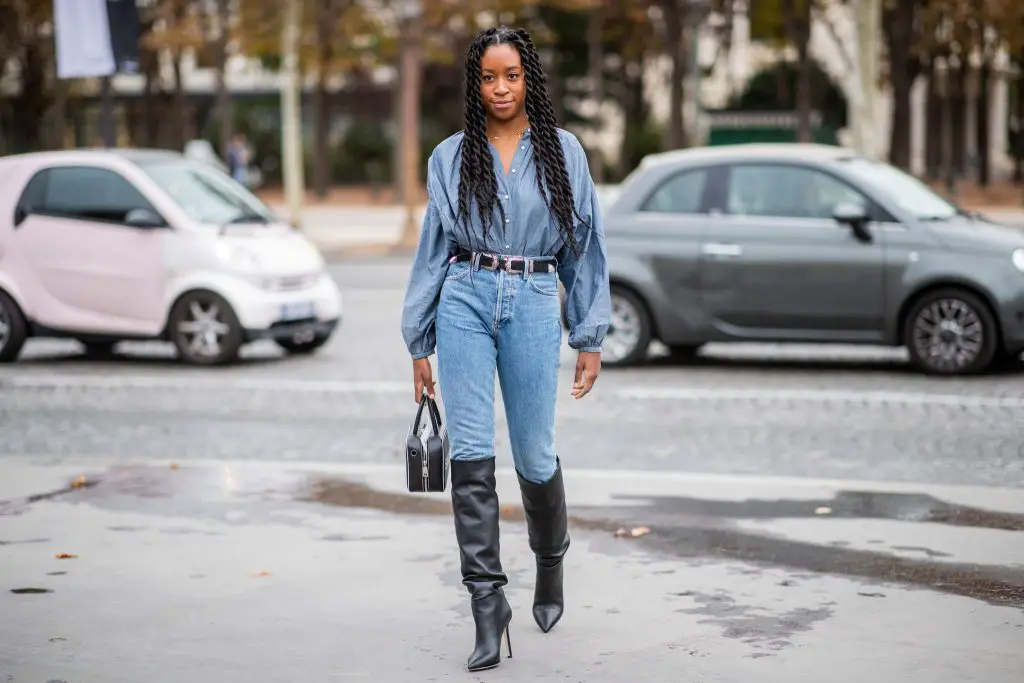 With matching leggings
The illusion of having miles-long legs don't have to be associated only with women that have long legs; you can comfortably pull off this look with your knee-length boots. For this look, slip on black leggings and then pair them with tall black knee-length boots. Pair your look with brightly colored sweatshirts, longline blazers, a puff-sleeve blouse, or another fashion trend you deem fit.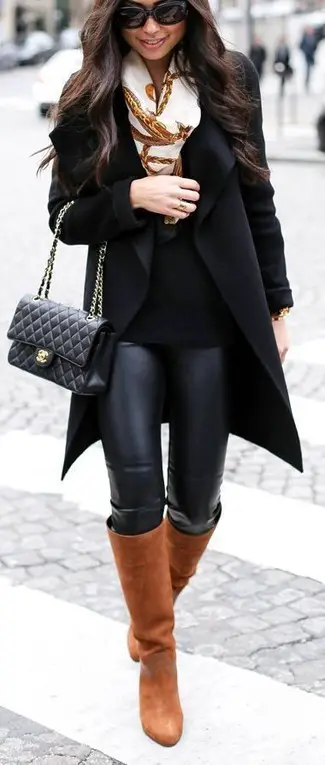 On mini skirts
The fashion code when wearing a mini skirt is that the shorter your skirt hem, the lower the heel of your boots. If you intend to wear the shortest and hottest skirt you can find, pair it off with the lowest knee-high boots you own. For a complete look, pair your skirts with matching tops and throw a jacket over your top for extra comfort.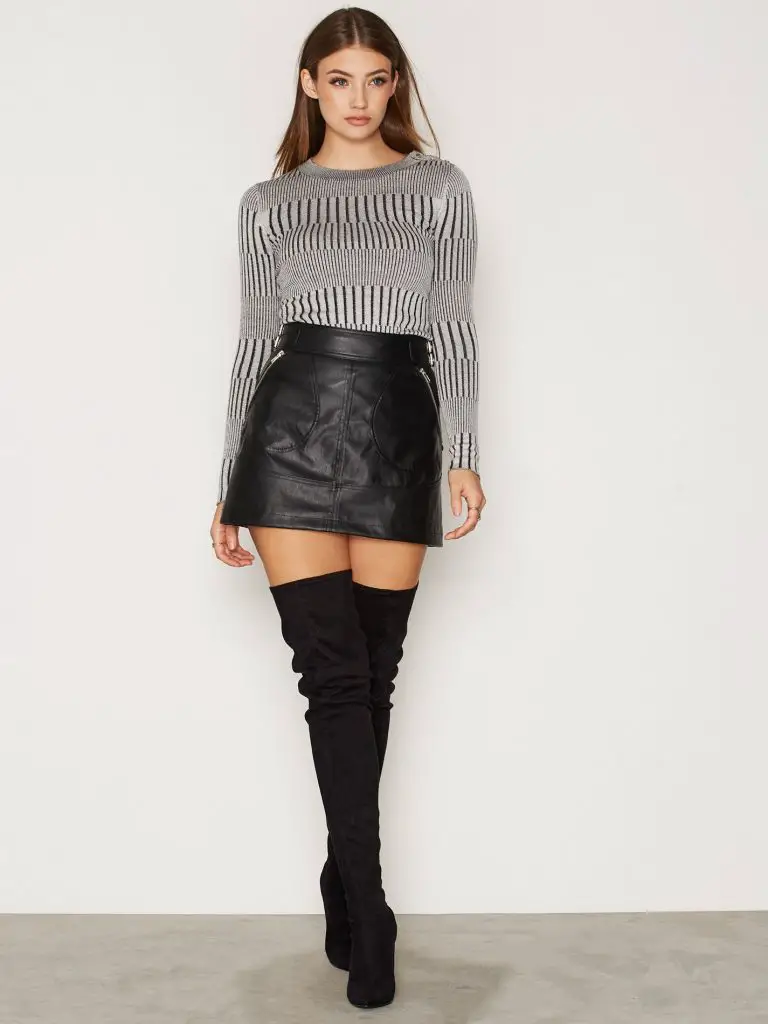 With long prairie skirts
If you own chunky heeled knee-high boots and are not sure of how to pair them, this is for you. The prairie skirts have voluminous ruffles that could be found in dainty floral prints. For this look, go for a prairie dress that is just above or a bit below your knee. Avoid skirts that are midi length when wearing the prairie skirts as you do not want to lose your shape altogether in so much fabric.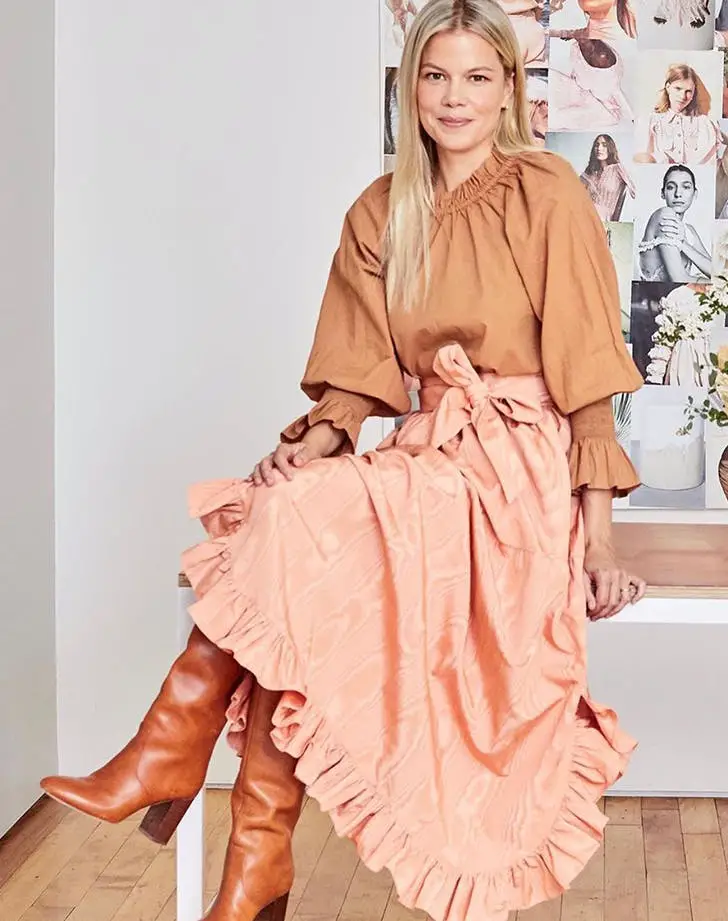 Although the weather is getting chilly now, it shouldn't take the shine off your style. There's so much that you can still do with your stylish knee-high boots. Go slay!