The 80s fashion trends aren't the only thing making a comeback. A quick scroll on Instagram, and you'll come across numerous 70s inspired makeup looks. The world is ever-changing, but history is bound to repeat itself as seen over and over again. And now, the 70s makeup look is what's on repeat.
Disco and punk music are two things that pop into your mind when you think about the 70s. The 70s was the era of bell-bottoms, disco, and exciting makeup looks. From dewy skin and thin brows to colorful eyeshadows and bold lashes, the 70s women did it all.
Feminism and the women empowerment movement had a massive impact on how these women wore their makeup. These women fought against the old-fashioned portrayal of women as sex objects and homemakers. They wanted to be independent, and what better way to express this than through makeup.
However, this led to an impasse as the most radical feminists wanted to scrap makeup entirely, but other women still wanted to wear it. This was expressed in the two most popular 70s makeup looks as the two looks are at the opposite ends of the bell curve. Some women opted for a more bold eye look, while others went for the no-makeup makeup look. Yes, the popular no-makeup makeup started in the 70s, way before it even got its catchy name.
Key Features of popular 70s Makeup
Eyebrows:
The women of the 70s styled their eyebrows in two different ways. Some women liked the natural look and went for the super fluffy, brushed-up, and natural style. Others preferred the super thin and shaped style, so they plucked it all off to achieve it.
Eyeshadow:
Pearlescent or iridescent are the adjectives used to describe the highly fashionable eyeshadow from this era. Eyeshadow colors such as purple, blue, and green were used popularly then; it was the era of disco and decadence, after all. Eventually, some women shifted towards more earthly tones like warm browns, beige, and terracotta gold.
Eyeliner:
The most popular eyeliner style in the 70s was the "cat-eye" style. They were drawn to be big, bold, and dramatic and sometimes on both the top and bottom lids of the eyes. Dramatic liners were a staple for 70s makeup.
Lipstick and Lip gloss:
Because the natural look was a popular 70s makeup look, the 70s women went for earth-toned lipsticks and natural hues like peach and plum. Shiny lip gloss in shades of peach or pink was also a rave.
Bronzer:
Sometimes, together with the no-makeup makeup look, the 70s women liked the sun-kissed look too. They got this look by applying bronzer to their cheekbones, chins, jawlines, and tip of their noses.
Dramatic Lashes:
The 70s started to shake off the exaggerated faux lashes the women of the 60s enjoyed, but not completely. The 70s makeup swapped the overly dramatic false lashes for more natural-looking kinds, which they tamed with dark mascara.
Blush:
The women of the 70s added blush the shade of berries to the apple of their cheeks to give them a rosy appearance together with the dewy, natural look.
Now you know the typical features of the popular 70s makeup look, but how do you do 70s makeup? You should know that these are main features, not must-be-included makeup steps. If you add it all, you might look more like a clown than a 70s disco queen.
Related article: Rihanna's Fenty Beauty launches Icon lipstick | See where to buy all 10!
Here's a guide on how to do the perfect 70s makeup.
How to Recreate the Perfect 70s Makeup
First, you need to prep your skin. Start with a good wash or wipe with a face wipe. Do not forget to moisturize or use a primer and you can get the

CeraVe Daily Moisturizing Lotion

for less than $12. The benefits of moisturizing your face before applying makeup can not be emphasized enough. Make sure your moisturizer contains sunscreen of SPF 60 or more like the

Aveeno Protect

from Johnson & Johnson.
Now, consider your foundation. You're going for a dewy look, so to get this look, you should pick a foundation that moisturizes and has a radiant finish. Or forgo it altogether, and apply concealer under your eyes and on problem areas on your face. Be careful not to add too much around your nose so you do not get that cake-ey look.
Apply a highlighter to the top of your forehead, cheekbone, jawline, and the tip of your nose for an extra dewy look.
Next is plucking and shaping your brows to get that ultra-thin brow look. Don't worry, you can always grow them back. Add a bit of Vaseline to a mascara brush and comb in the direction your hair grows to get a sleek look.
You should pick your eyeshadow from a palette with pastel colors like light shades of blue or purple or earth tones like terracotta gold or sunset orange. You can amp this look by adding a bit of sparkle and glitter to nail that disco flare.
Draw a dramatic cat-eye on your top eyelid. Make it more dramatic by making a fabulous cut crease. A cut crease is when you define the crease of your eyes with a brighter eyeshadow. Though some people define the crease of their eyes with highlighter. Either way, all you are doing is cutting the crease of your eye, as the name of the makeup style implies.
Here's A Quick Way to Make A Cut Crease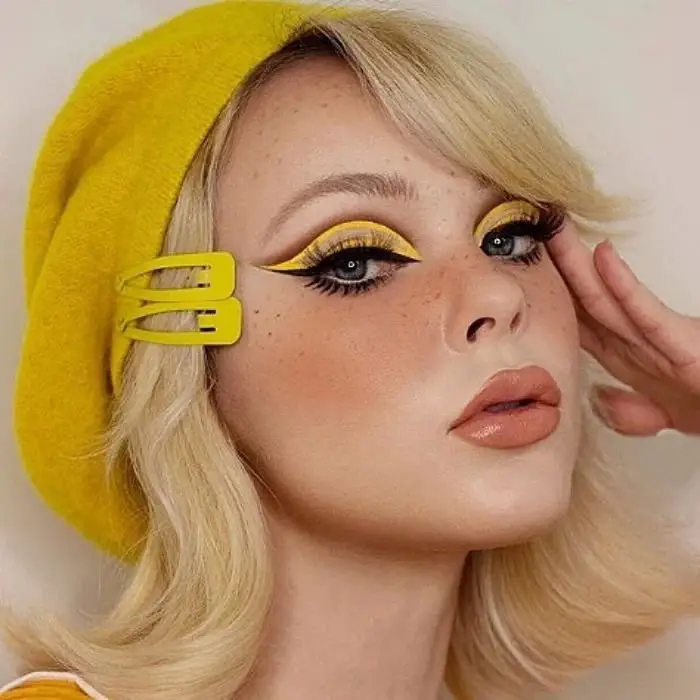 You'll need eyeshadow and an eyeshadow primer. Apply a bit of primer, you don't need much, to the pad of your ring finger. Gently pat over your eyelid and allow to set.
Pick your base eyeshadow; this will set the tone for the eyeshadow look you want to achieve. Apply the eyeshadow to your entire eyeshadow lid with an eyeshadow brush. Pick an eyeshadow color for your crease, then apply it on the crease of your eyes, which is the natural cut in the middle of your eyelids.
Draw a line from the inner corner of your eye towards the apex, deepening the line as you go and then finally reducing the pressure of your hand again towards the outer corner. Use a blending brush and blend till you're satisfied with the look.
Now, apply a sheen of glossy nude or peach lip-gloss, bedazzled your eyes and viola! You've become the 70s belle of the century.
But we're in 2022. I don't want to look like I was transported in time and left behind
Yes, of course. I hear you.
The 70s makeup is such an iconic look that it lived through time. Well, not every part of it. Goodbye, thinly plucked eyebrows; we won't miss you.
It's the year 2022, and while the look is still as fascinating as ever, there's a reason why we moved on from it.
However, the 70s look is interesting enough for you to pick just one key trend, add it to your overall makeup look, and end up with a fantastic look worthy of a chef's kiss. Without further ado, here are some of the best 70s makeup ideas you can try in 2022.
Best 70s Makeup Ideas to Try in 2022
1. A Twiggy-Inspired 70s Makeup Look: How To Do It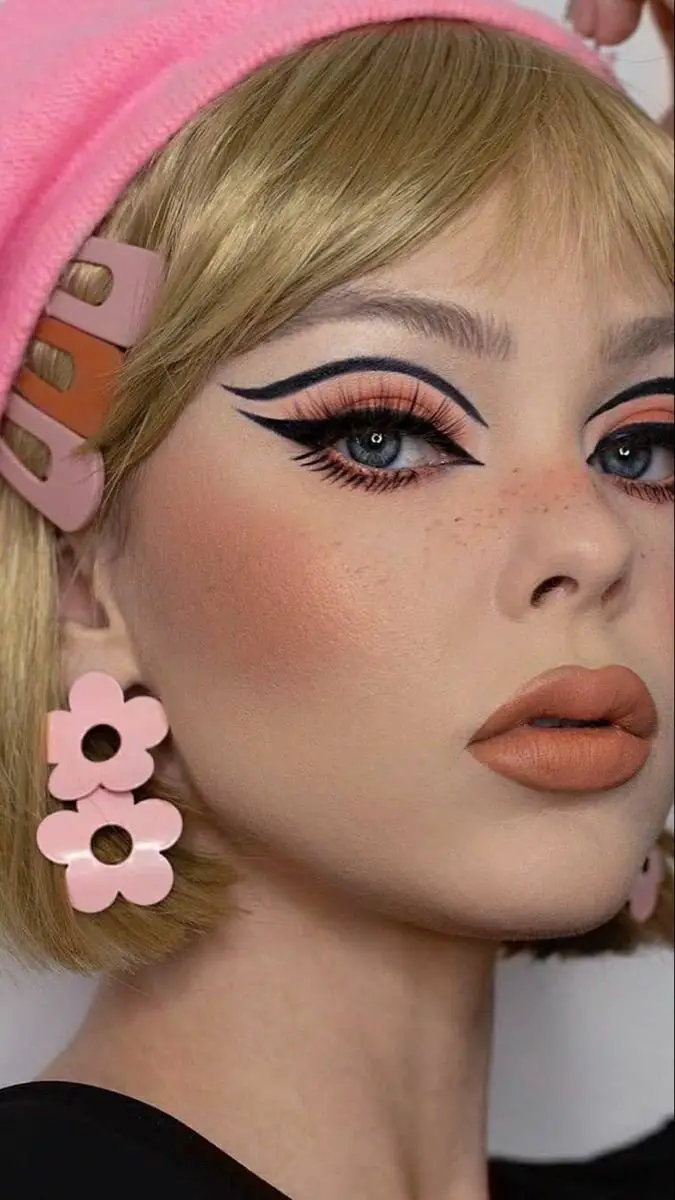 This look is curated after the iconic Twiggy with a modern twist.
In this look, the 70s popular cat-eye and earth tone eyeshadow is paired with another wrist flick on the brow bone, creating a more modern and chic look yet still paying homage to the 70s makeup look.
Draw a bold cat-eye with your eyeliner extending it further at the inner corners of your eyes. Add some false lashes to make your eyes pop. Don't forget to press a bit of blush onto your face.
Now, finish off the eye-heavy, seemingly natural look with peach-colored lipstick.
2. Modern Day Jane Birkin: Here Is How To Do It
 

View this post on Instagram

 
Dewy skin, terracotta gold eyeshadow, winged liner, nude lipstick, and you've got yourself a modern Jane Birkin look.
First wash your face or clean it with wet wipes. Then moisturize your skin, as always. To achieve the dewy look, use a foundation that is big on moisturizing, light and have a sheer finish.
Brush up your brows with clear mascara or Vaseline. Apply eyeshadow in warm earth tones. Draw the staple 70s makeup cat-eye. Complete the look with a nude lipstick.
3. Focus On The Eyes: Here Is How To Do It
 

View this post on Instagram

 
Nothing says modern 70s than a fluffy, brushed-up brow; warm red eyeshadow to make your eyes pop; a dash of blush to lock in on that dewy look, and dramatic lashes tamed with mascara.
Start with a clean and clear face. Prime your skin or moisturize. Apply a moisturizing foundation to get that dewy look. Next, brush-in a nude colored eyeshadow and cut crease with a warmer shade of red. You have to make sure you blend well or makeup might come out looking very different from what you want.
Apply black eyeliner to the top of your eyelids following the shape of your eyes. Use white eyeliner on your lower eyelids still following the shape of your eyes.
Carefully fix your false lashes, you can go as dramatic as you want. Pat in a bit of blush to your cheeks and rub nude lipstick on your lips.
Complete the look by taming your brows with clear mascara or Vaseline.
4. A 70s Inspired Look: Here Is How To Do It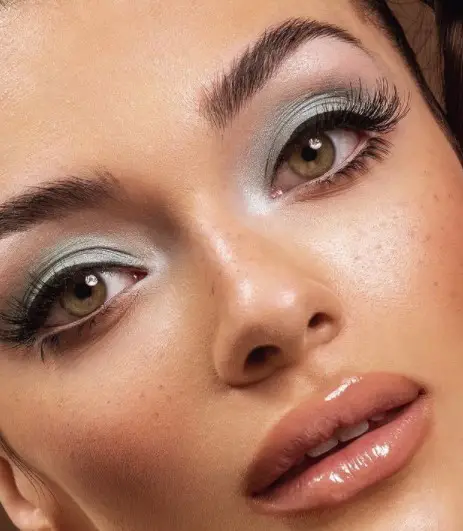 You don't need to have full bushy brows to make the 70s look work. A little smoldering of a light blue eyeshadow, false lashes with a bit of eyeliner, a dab of nude gloss, and you're good to go.
Start with a clean, fresh face. Prep your face with a primer or moisturizer. Apply your foundation and then concealer to problem areas to achieve that 'flawless skin' look. Dab on a pale blue eyeshadow onto your eyes and blend well. You can personalize the style by adding glitter however way you wish.
Draw the ubiquitous 70s cat-eye. Fix on false lashes and apply mascara on them using upward strokes with your mascara wand. Brush up your brows and apply mascara or Vaseline to keep them looking sleek and tamed.
Finish the look by applying a light sheen of lip-gloss to your lips and blush to your cheeks.
5. Let Sharon Tate Be Your Guide
The list would be incomplete without adding a Sharon Tate-inspired look. The 70s icon was well known for her angled brows, natural look, and attractive brown eyes.
Here Is How To Do Sharon Tate's Makeup Look
Create an angled brow with a sharp arch, and fill in the brow with a brown eyebrow pencil. If you have a full brow, you will have to pluck and trim till you get the desired look. Then use Vaseline and a mascara brush to comb the hair upwards.
I would advise you to moisturize and use a face primer before applying your foundation so you can get that clear, dewy look. Apply a brownish-grey eyeshadow and blend to the eye socket to get a smoky finish.
Then using a brown eye-pencil or liquid eyeliner, draw a bold line following the crease of your eye from the inner eye to the outer corner of the eye.
For your lashes, apply a heavy coat of mascara, curling your mascara wand upwards as you go. Add a clear or nude lip gloss. Or throw caution in the wind and use Vaseline.
And there you have it, a makeup look inspired by the 70s beauty queen.
Conclusion
70s makeup look making an interesting reappearance means makeup trends are timeless. Of course, there are those we are glad aren't making a reappearance.
However, the popular makeup trends of today are simply a revamp of trends from the past. With makeup, the ability to recreate and add your pizzazz is what makes or breaks a look.
So, add one of these ideas into your look, and don't forget to have fun while at it.
Would you try any of these makeup ideas? Have you rocked a 70s makeup look before? How did it go? Let me know in the comments section.
You may also like to read, Corset Halloween Costume Ideas: How do you wear a corset for Halloween?