Denim jeans are a fashion item that can never go out of style; embroidered jeans are a fashion staple every woman should have in her wardrobe because of their unique and colorful look. Embroidered jeans provide the wearer with a new option for styling their regular jeans.
One of the benefits of embroidered denim is that they add color and extra style to your wardrobe and take the burden of you thinking about accessorizing your outfits off you. Different options are available for styling your high waist embroidered jeans with embroidery fonts for different weathers and events."
This article contains some of the best high-waisted embroidered jeans available.
Embroidered wide-leg jeans
If you love regular wide-leg jeans, you would prefer the embroidered one because of the extra style and chic look it gives. The wide-leg high waist embroidered jeans can be styled with a blazer for an official look, a T-shirt for a casual look, or with a basic crop top for your everyday look.
Pair with high-heel sandals, flat shoes, or a pair of sneakers.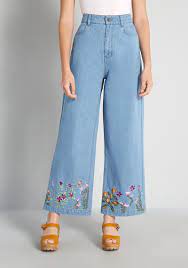 Embroidered bell-bottom jeans
Bell-bottom jeans are similar to wide-leg jeans but are not the same. Bell-bottom jeans hug your body from the waist and gently flare out from the knees giving you an alluring figure.
The embroidering for bell-bottom jeans might begin at the knee and go down to the hem to emphasize the style of your jeans.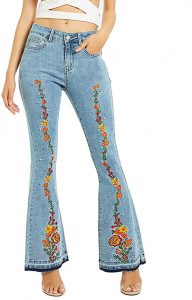 Embroidered distressed jeans
Distressed jeans are now a staple in everyone's wardrobe; it looks good on all body types and can be easily styled to give you a great look. Your distressed high-waist embroidered jeans are a great choice for casual meetings, beach parties, clubs, outdoor events, to the office, to work, to school, or on vacation.
You can style this with a blouse, vest, sweatshirt, sweater, and other tops for a relaxed and comfortable day.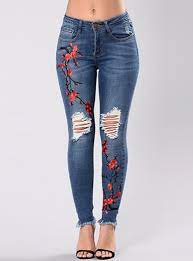 Embroidered fake denim jeans
This type of jeans is called fake jeans because they look like jeans but are leggings. There are days when you want to wear something as nice as a pair of jeans but in a softer and more comfortable fabric—these fake jeans come in handy on such days.
The material is stretchy and has embroidered prints, so you can style it with big t-shirts, long tops, sweaters, or long jackets for a relaxed look.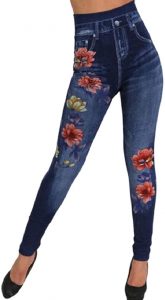 Distressed boyfriend jeans
The high-waisted boyfriend jeans is another comfortable option for women who love comfort, as it is fashionable and suitable for all body types. The embroidery on the boyfriend jeans adds beauty and style to your boyfriend jeans.
Your boyfriend jeans can be styled with tees, heels, or boots for any occasion, such as casual outings, school, vacation, picnic, travel, or at home.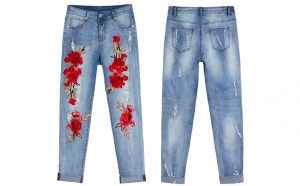 Embroidered high waist Capri jeans
These high-waist embroidered knee-length denim trousers are a great option if you want to show off some legs; it is stretchy, fitting, and a good choice for all body types. The Capri jeans come in different colors and sizes and can be paired with different outfits.
You can wear these embroidered jeans to the office, on a casual outing, or on date nights. Pair with a blazer, sweater, tees, crop tops, or long-flowing jacket.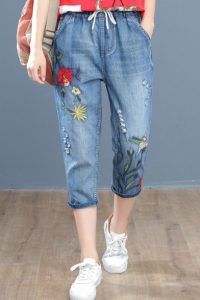 Baggy cropped jeans
Women who are into baggy wear will love this style; embroidered denim adds color and style to this style of jeans. The jeans' hem is cropped to give you a distinct and unique look. The flowery embroidery on these baggy cropped jeans makes them look less masculine and adds touches of feminity to the outfit.
You can pair it with crop tops, tees, and jackets. A pair of sneakers, boots, or sandals will balance out your outfit.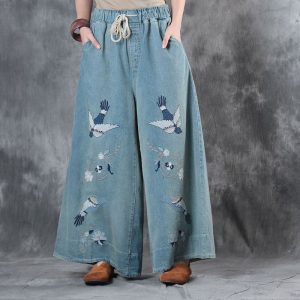 Skinny cropped jeans
For lovers of skinny jeans, there is an embroidered design for you. Skinny jeans are a good fit for slim women with straight legs as it helps to add curves to their body. The embroidered design is from the knees down to the hem to add beauty and style to the jeans.
Pair your skinny jeans with a blazer for a smart-casual look or with a T-shirt for a casual look.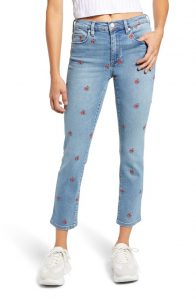 Black high waist embroidered denim
Black is classy and you can never go wrong with it; the high-waisted black embroidered denim is a great choice if you are confused about what to wear for any event. It can easily complement any top, jacket, or blouse you want to pair it with.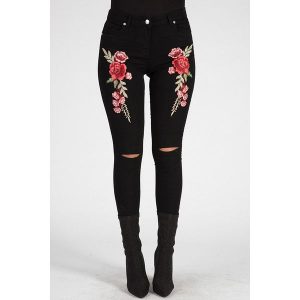 Light wash embroidered jeans
Light-wash denim is in season, and the embroidered option makes this color more appealing. The embroidered design placed around the waist and bum draws attention to your backside—if you are a woman who has got a sizeable bum to flaunt.
Pair these with dark-tone tops, sweaters, or tees.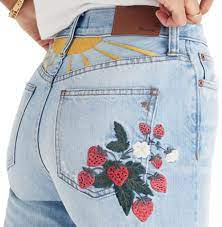 The embroidered jeans are one of the fashion staples of this season; go get yours and join the trend.