Skirts have always been a wardrobe essential and, the unique iterations that have proven their staying power are the pleated skirts. This design of skirts features a gathered waistline with a voluminous wave. They give shape to fabrics and look chic when appropriately styled.
Pleats are always on trend for their unique look and are made with almost any fabric. So there is something for everyone. You can style pleated skirts to take any form because while they are an excellent choice for the extra legroom they give, pleated skirts are a fashion piece for any silhouette.
This article highlights pleats, their history, style of pleated skirts, and their classification. Disregard the stereotype that pleated skirts are a traditional school uniform or suit certain body types.
What are pleated skirts?
Pleats are an elevated design found on clothing and furniture coverings. They are made by folding a piece of fabric on itself and stitching it to follow a pattern. The secured folds are ironed to maintain the creased line or left to flow naturally. Resulting in parallel folds of doubled material, sewed in place.
To achieve a pleat pattern, they will have to be pressed to maintain a uniform fold, either small or big. Since the waistline only holds the pleats, the skirts are airy and comfy to wear for extended periods. Pleated skirts come in various shapes, patterns, and lengths but always require the extra fabric to give the folded dimension.
History of pleats
Pictures of several pieces of clothing featuring pleats are mapped all over history, from Greece to Egypt. They were tagged as fancy and worn for events due to the extra care to create the design. So, they eventually gained popularity but were only used for couture pieces.
A pleated style cloth known as "Fustenella" was worn by military personnel for ceremonies in the olden days. Also, history shows a pleated gown spotted in Florentine back in the 14th century, and it is apparent pleats were already a fashion statement back then. All through history, the pleat design kept resurfacing, made into dresses, trousers, and of course, skirts.
Pleated skirts have since become a mainstream fashion item, creating countless styles. Most modern designs are traditional or refined to reflect craft. Even the skirt aficionados still take cues from the pleated skirts from the 90s; because it is a standard design. Ultimately, those skirts significantly influence the styles of pleats available today.
You may have noticed the tennis sport has managed to make the mini pleated skirt about it. Most people feel it is a signature skirt associated with the sport. Anyway, the skirt design is much more than how it's portrayed. Japanese fashion mogul Issey Miyake understands as he patented his "Pleats Please" collection back in 1993.
Related article: How do You do a Topknot Bun? – 6 Trendy Styling Ideas.
Types of pleated skirts and how to style them
There are various pleated skirts that you can style to flatter your body. You can virtually wear pleats with anything from full-length to hemline elevated pieces. Since they are a classic design, pleated skirts are always in style and can be worn for casual and formal events. I give you the fifteen sure ways to style pleated skirts, to suit all seasons.
1. Black pleated skirt
Your debut pleated skirt should be a black pleated skirt of a suitable length of choice as you can wear them with cropped tops, dressy blouse of any color or print. You can wear old shoes from your closet with this outfit because they are versatile.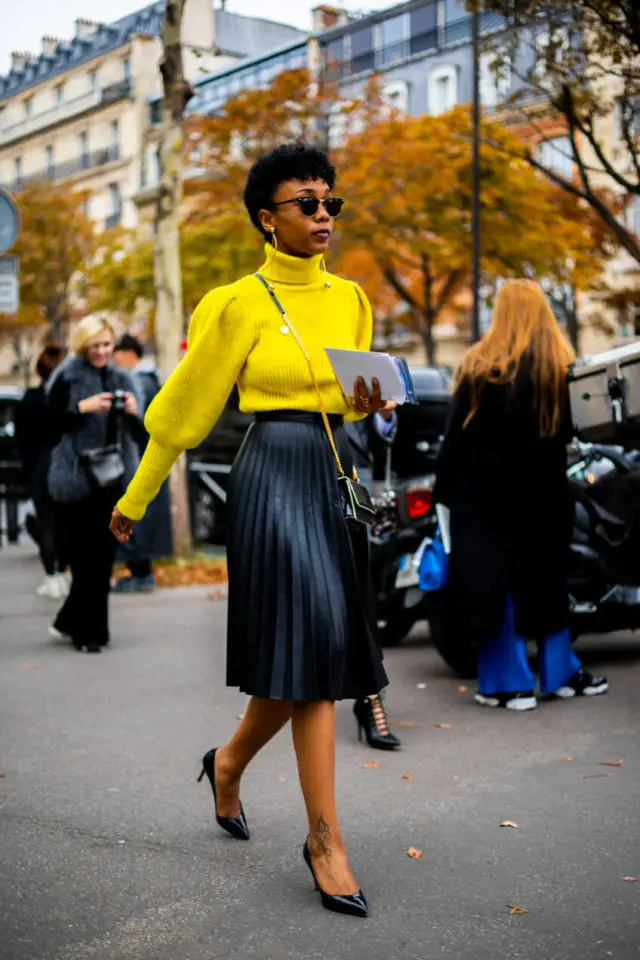 2. Mini pleated skirt
Mini-length pleated skirts are a wise option to own, with various styles. Pull off a fabulous day-to-night outfit by pairing it with an oversized shirt and knee-length boots. They can also be a transitional piece all year long when you layer them with tights and coats.
3. Printed pleated skirt
If you like to look posh yet laid-back, then owning a pleated skirt in prints is the way to go. Pair with a lovely camisole, and fitted blazer, finished off with heeled boots or pumps for a work to brunch outing suitable attire.
4. Denim pleated skirt
Denims are style staples, and when pleats are incorporated, they still look chic. Most of them appear casual, so you may have to stick with tees and sneakers for styling. You can also experiment with button-down shirts and dress shoes for a refined everyday look.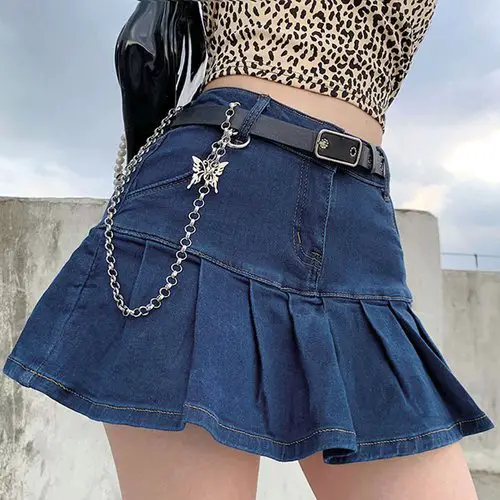 5. Asymmetrical pleated skirt
Asymmetrical skirts feature an uneven hemline, which looks like cascading pleat steps. To style, keep the blouse simple, so the dress remains the center of attention. Pair with heels, sandals or mules, to complete the outfit.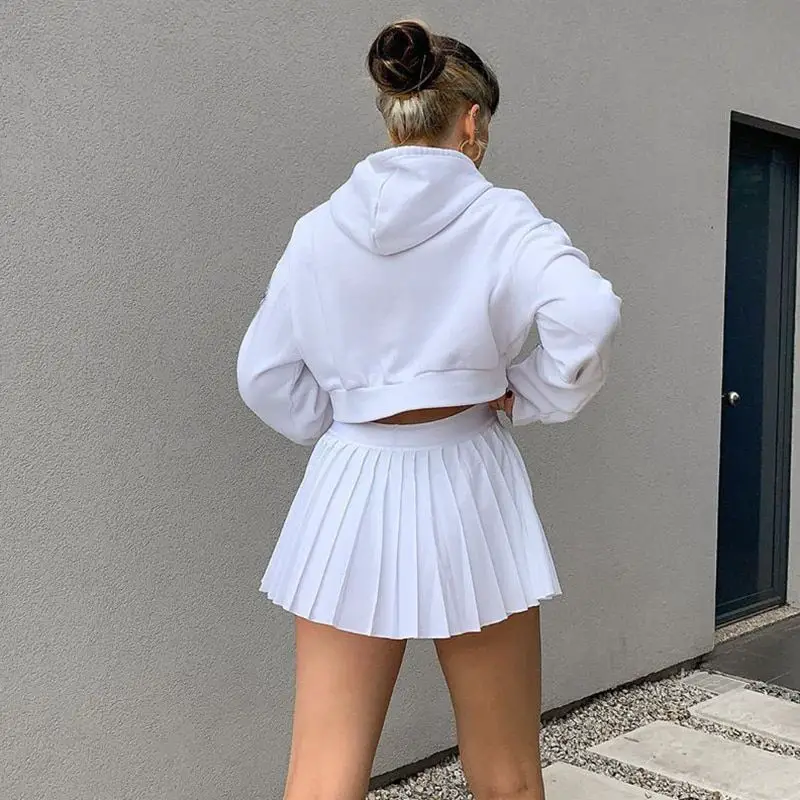 6. Tennis pleated skirt
Tennis iterations of pleated skirts can be used to achieve the sporty and casual-cool look. For a sporty vibe, wear a t-shirt, long socks, and trainers, update the look with glasses. While for a relaxed look, wear with a cropped top, matching bag, and ankle-length boots.
7. Pleated skirts with slits
Slits are an updated feature on pleated skirts and a great way to channel a bit of a classy yet sexy vibe. You can wear it with a sheer top or a thin-strapped top with a jacket thrown over it. Heels are the shoe choice to enhance your legs.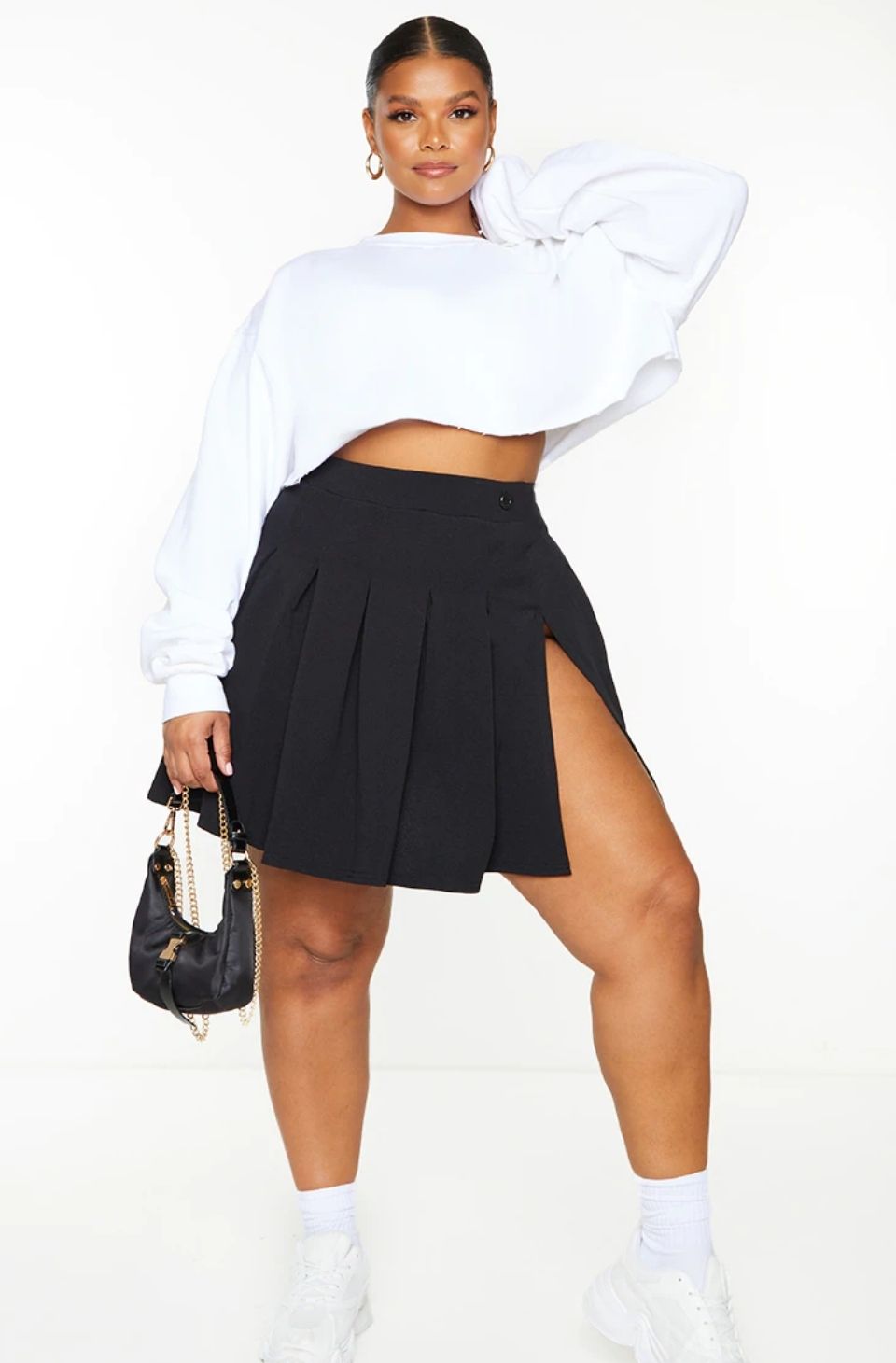 8. Midi pleat skirt
These are the skirts that fall just below your knee, and you can style them with anything of the top, from tees to sweatshirts and blazers. Elevate the look with a belt bag, and accessories, with matching shoes.
9. Checkered pleated skirts
It is easy to style patterned pleated skirts like the checkered ones, but you only have to follow the basic color rule. This means they can be worn with any style or matching color top; be sure there are no patterns or prints on them.
10. Pleated hem skirt
A skirt with a pleated hem is usually a pencil or straight skirt with pleated ruffles to elevate them. Pairing them with blouses like the cowl necks will give off a posh vibe. They can also be worn with button-down shirts and still look formal because such skirts look dressy on their own.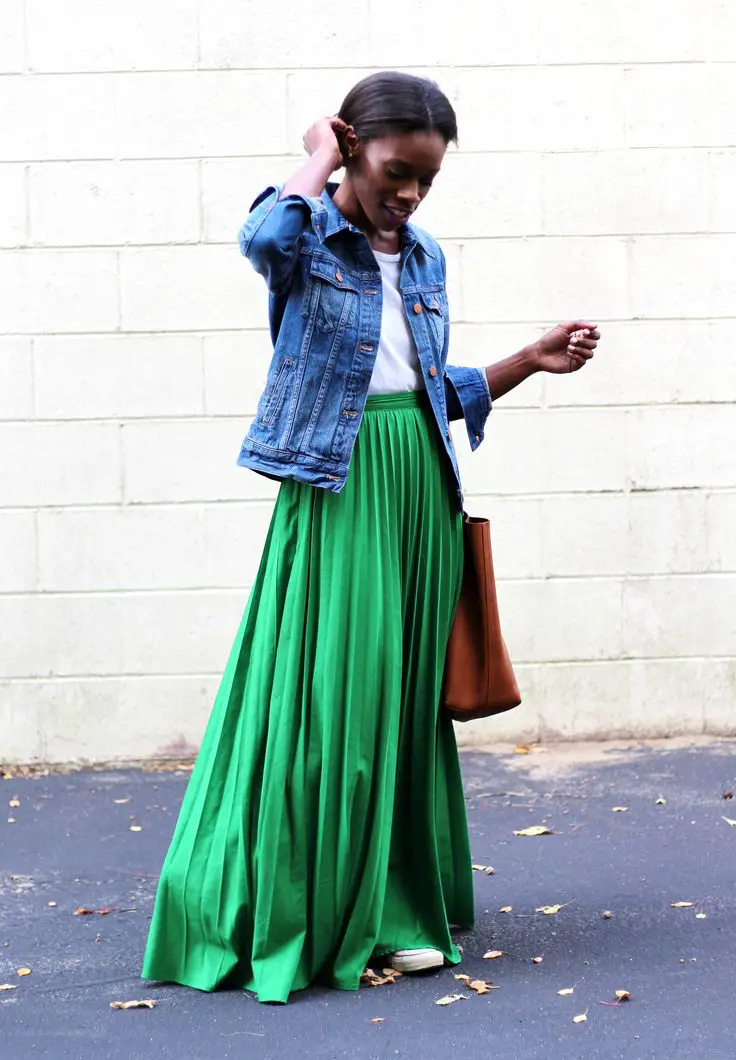 11. Maxi pleated skirts
Go for a maxi pleated skirt when you want to play it safe. They are easy to style to achieve a put-together look. You can wear maxi pleated skirts with a pussy bow blouse for an office-ready look or a sweater top for a laid-back outfit.
12. Pleated faux leather skirt
Faux leather pleats are not for a formal event, but make a great evening tonight skirt choice. As faux pleats are used to achieve a chic look, you can wear them to casual outings and a night out. Complete the look with leather boots for an edgy vibe.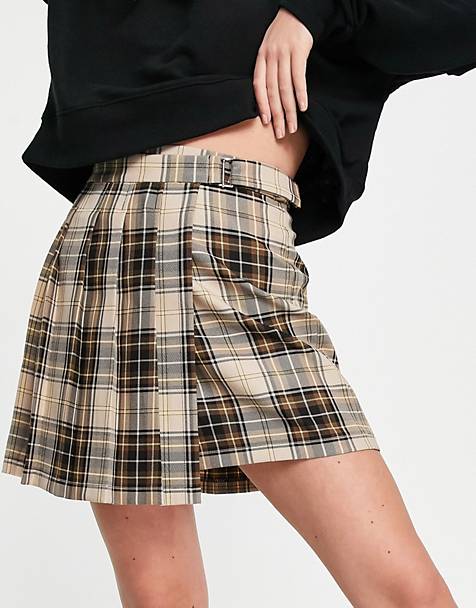 13. Wrap pleated skirt
Wraps are always a fashionable piece, infused into pleats, makes an unexpected skirt you can wear everywhere from work to dinners. Wear a statement blouse, a sling bag, heels, and accessories for parties, to create a unique attire.
14. Color block pleated skirt
If you like to make a statement with your skirts, go for a vibrant-colored pleated skirt. Wear a neutral-colored top like black or nude to tone down the look, or go monochrome for a full-color effect.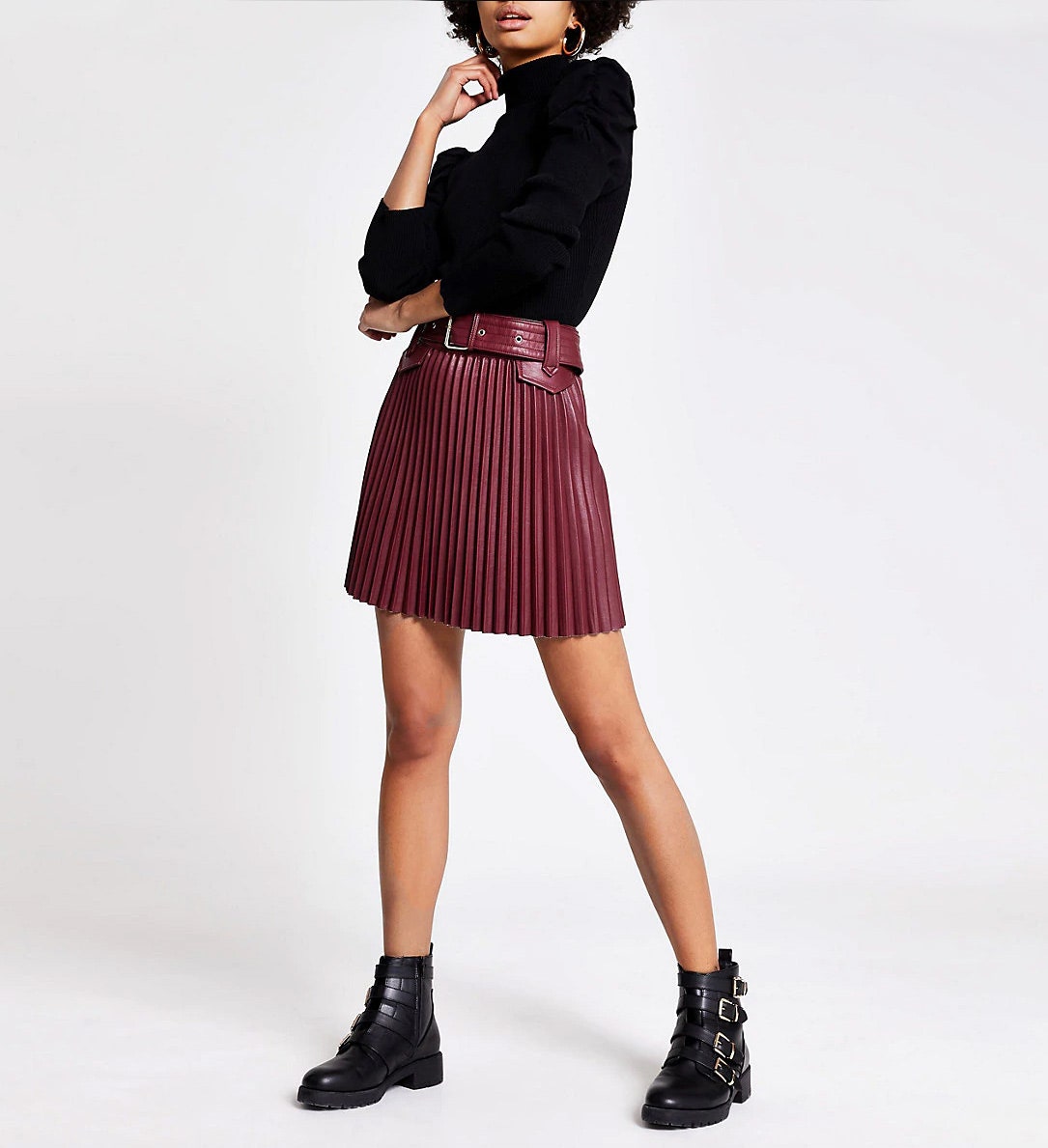 15. Pleated skirt with belt
The belt feature in pleated skirts helps give the cinched waistline, which enhances the curves of the upper body. Pair the dress with a streamlined top, footwear, and bag that matches the belt for a classy look.
Buy affordable pleated skirts HERE
Classification of pleats
Now that you know how to style pleated skirts, the typical pleats classification is here. That will help you understand the shape of different wrinkles and how they might look on your body.
– Knife pleats
Knife pleats are the most common type because they can fit into all clothing types. Since it replicates the view of a hidden fabric underneath and is the building block to almost all other kinds of pleats, it maintains a one-inch pleat size to create beautiful broad gathered fabric. The overlapping results are famous in skirts, blouses, and trousers, as they are always used.
– Box pleats
Box pleats are created by raising the fabric on either side from the bands. This pleat type has a little spring from the waist but still follows the same fold ratio as knife pleats. Pleats can be stacked to give more volume or made with more prominent lines with the creases visible only inside called the inverted box pleats, which is the type of pleat found on dressier skirts or gowns for their stiffer appearance.
– Inverted pleats
An inverted pleat creates an illusion of a hidden folded end. The inverted pattern is created by placing the folded side outside for the creases to appear inside-out. In simple terms, it is regular pleat but with the fabric flipped to the opposing side after folding.
– Accordion pleats
As the name suggests, this pleat resembles the fold of an accordion. It is a more refined pleat style, with more minor folds and a bit of flare in the bottom, looking like a zig-zag. Skirts with accordion pleats may feature about a hundred symmetrical folds. Due to its slimmer pleated lines, it tends to frame the body better.
– Kick pleats
Kick pleats are a form of inverted pleats with a regular inside-out folded edge, but are only featured on skirts and dresses to create  more room. They are an added style for A-line skirts and an updated feature with colors and embellishment.
– Kingussie pleats
This type of pleat is unique to the Scottish people, who wore folded kilts that combined knife and box pleats, done by hand with plaid fabric and belted to the waist to form skirts. The modern Kingussie pleats are set with the knife pleats on the side, sewed with several box pleats.
In conclusion, fashion goes through evolving stages that may alter the original design of attires. However, the pleated skirt has been around for a long time. Most fashion designers always stick to their original style, which is the only way to achieve fold manipulation with fabric successfully.
Remember, the rule of thumb of styling pleated skirts is keeping the top form-fitted or tucked and paired with matching colors. You may also like to read my latest article, Everyone is going to Pagosa Springs hot springs in 2022, see 10 reasons why!