The best clarifying shampoo is what you need when your hair looks a little limp and lifeless and if you're serious about your hair's health.
There are times when your usual hair products don't seem to cut it out for your hair anymore, don't rush to throw them out. Sometimes, the products still work, but there's so much gunk and built-up products on your hair already that there's no space for the new one to do its magic.
This will, of course, weigh down your hair, making it look limp and lackluster. The excess products, dirt, oil, and general gunk in your hair will also clog up your hair follicles, preventing moisture and nutrients from getting to the hair. This can lead to your hair feeling off, limp, unable to comb, and generally frustrating.
Why not just wash it with regular shampoo. You could try that, or you've already tried that and things pretty much still stay the same no matter how hard you scrub. Here is where clarifying shampoo will be most beneficial to you.
By the way, you shouldn't scrub your scalp hard. With the right products, gentle massage in circular motion is enough to get your scalp and hair clean. Your scalp doesn't need to sting to show it's squeaky clean.
What is clarifying shampoo?
Clarifying shampoos, also known as purifying shampoos, are like regular shampoos but with power-ups. They provide a deep cleanse and remove all the built-up gunk like oil, styling product, metal ions from hard water, etc., in your hair, creating a clean and fresh slate.
Related article: Hair texturizer: Everything you should know before trying it on your hair.
It's like pressing restart, but without losing the progress you've made towards healthier hair. Even if you wash your hair every day or once a month for my naturalists reading, clarifying your hair once a week or longer is beneficial for your hair journey.
Regular shampoos, good as they are, don't have the power-ups needed to remove product build-up like silicone altogether. Or metal ions from hard water or chlorine from spending time in a swimming pool. And unless you like your hair being limp and lifeless or tinged green from chlorine, investing in the best clarifying shampoo for you is a great decision to make.
What clarifying shampoo can't do.
While yes, clarifying shampoo removes all the gunk from your hair and frees up your scalp, buying it to treat scalp-related issues like dandruff or dry scalp is a waste of resources. They aren't made to treat underlying scalp conditions like that unless stated so. But it's best you find a dandruff shampoo or dandruff cream to deal with that.
How to wash your hair with clarifying shampoo
First, get your hair soaked and wet
Apply a generous amount to your scalp and rub gently. The right way to shampoo your hair is to apply the shampoo directly to your scalp.
You don't have to use it to the body of your hair, especially if you have long hair. The sudsy water from your wash will do the clean-up of the rest of your hair.
Also, depending on the amount of gunk on your scalp, the first wash might not lather much, but that doesn't mean it isn't working.
Wash off the suds.
Apply the clarifying shampoo again for a second wash.
Here you can leave it in for a bit to allow it to get all the gunk out. Skip this step if your shampoo contains SLS or SLES.
Wash off the shampoo thoroughly.
Apply conditioner, preferably a deep conditioner, especially if you have dry hair or your hair is prone to getting dry quickly. Try not to skip this step. It would be best to use a conditioner after shampooing as it seals in moisture in your hair cuticle, preventing your hair from drying out.
Let it stay on your hair for a while so it can seep in to soften your hair and lock in the moisture and nutrients.
Wash off the rest of the conditioner.
Pat your hair dry using a microfiber cloth, especially if you have curls to stop them from snagging and deforming.
And that's it.
Benefits of using a clarifying shampoo
As mentioned earlier, clarifying shampoo helps deep cleanse your scalp giving it a clean slate to absorb more moisture and nutrients.
It gives your hair more volume by removing oils, minerals, and product build-up that with your hair down. It basically perks up your hair.
Clarifying shampoo removes and prevents the green tinge associated with time spent in chlorine water.
It removes all the gunk, grease, mineral from hard water, and daily grime, bringing your hair back to the radiant beauty it always was.
However, clarifying shampoos can strip off all your hair's natural oil, leaving it dry and brittle. There are some common ingredients found in both clarifying and regular shampoos you should be wary of. I've taken the liberty of listing out four prevalent ones you should watch.
4 pretty common ingredients to keep an eye out for in your shampoo
Some shampoos contain surfactants (surface-active agents) like SLS, the harshest and most drying sulfates. It is an effective foaming agent responsible for the super-sudsy property of shampoos and other cleaning agents like toothpaste and laundry detergents.
SLS can strip your hair of its natural oil, which is very damaging if you have dry or already damaged hair. If you have oily hair, the complete stripping of its natural oils will cause your scalp to overcompensate for the loss by producing more oil, making your hair very oily again, and the cycle continues.
SLS can irritate the scalp if left on for extended periods. However, SLS can still be safe to use if its concentration isn't high.
SLES is also a surfactant found in some shampoos, especially clarifying shampoos. It binds with water and with the sebum in your scalp. So, when you rinse out the suds, your hair is stripped entirely of product build-up and its natural oil, too. This can damage your hair as it makes it more frizzy and brittle, which can lead to breakage.
Parabens are used in shampoo and other beauty products as a preservative to prevent the growth of bacteria and other microbes. That said, study shows that paraben is linked with hair loss, drying and irritating the scalp, and, in high concentrations, cancer.
Many hair products like hair gels, mousse, etc., contain formaldehyde. Formaldehyde in hair products helps smooth and straighten hair. FDA notes that products that contain formaldehyde are connected to adverse reactions like nervous system problems, respiratory system problems, rash, and the like. It is also labeled as a human carcinogen, i.e., cancer-causing product. This is definitely on the avoid it as much as possible list. So, if you pay attention to the ingredients in your shampoo bottle and read the labels, you can't go wrong when shopping for one.
However, with the tons of clarifying shampoo out there, it can be overwhelming to find the perfect one for you. For this reason, I have gathered 16 of the best clarifying shampoos based on specific criteria.
16 best clarifying shampoo for a deep healthy wash.
Best sulfate-free clarifying shampoo for naturals
• Bounce Curl Gentle Clarifying Shampoo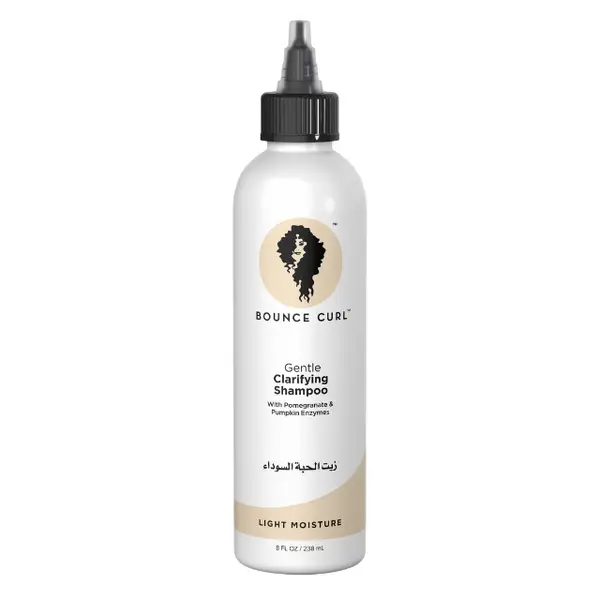 This clarifying shampoo gently removes product build-up, oil, and grime without drying out your hair. Bounce Curl Gentle Clarifying Shampoo adds moisture to your curls without weighing them down. It is packed with nourishing ingredients like organic Black Seed Oil, Biotin, Enzymes, and more. The nozzle tip of the bottle helps get the product right to your scalp, so you don't waste products.
• Camille Rose Clean Rinse Moisturizing and Clarifying Shampoo
This shampoo is infused with tons of fortifying nutrients that leave your hair moisturized, manageable, and radiant.
Active ingredients:
Honey to soften and smooth your hair.
Peppermint oil exfoliates your scalp and promotes healthy hair growth.
Best sulfate-free clarifying shampoo gentle enough for everyday use
• Kinky-Curly Come Clean Moisturizing Shampoo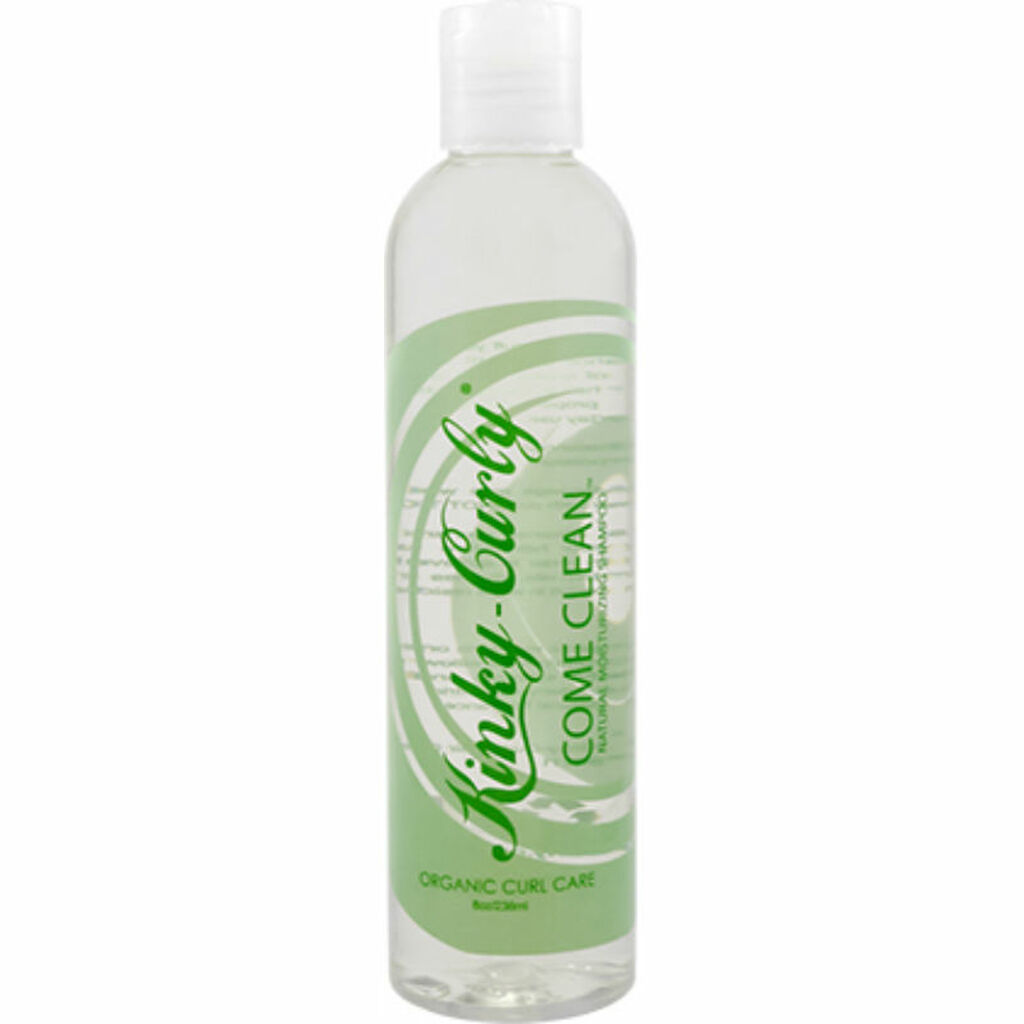 This sulfate-free shampoo is mild enough for everyday use and perfect for dry or damaged hair.
Active ingredients:
Organic Mandarin Orange leaf to help cleanse your scalp
Sea Kelp to help retain moisture so your hair isn't dried out.
• ACURE Curiously Clarifying Shampoo

Acure curiously clarifying shampoo removes everyday build-up and treats your hair to beneficial oils combined with lemongrass. It boosts shine and moisture while being 100% vegan, sulfate, and paraben-free. It also lacks formaldehyde, petrolatum, and mineral oil, making it gentle enough for everyday use.
Best 100% organic and natural clarifying shampoo
• Alikay Naturals Moisturizing Black Soap Shampoo
This shampoo clarifies the scalp to retard flakiness without stripping away needed moisture. It is made from Black Soap, which can heal damaged hair right from the follicles.
Its active ingredients are Cocoa Seed Powder to promote more robust hair growth. It hydrates and reduces moisture loss too.
Plantain Skin contains enzymes that prevent breakage and eliminate split ends. Tea tree oil contains antifungal and antibacterial properties.
• Avalon Organics Natural Shampoo Clarifying Lemon

This product is climate-pledge friendly and curated with a profound respect for Earth. It restores shine to lackluster hair and consists of plant-sourced botanicals and essential oils to fully fortify and nourish your hair.
Best clarifying shampoo for when you're on a budget
• Aveeno Apple Cider Vinegar Sulfate-free Shampoo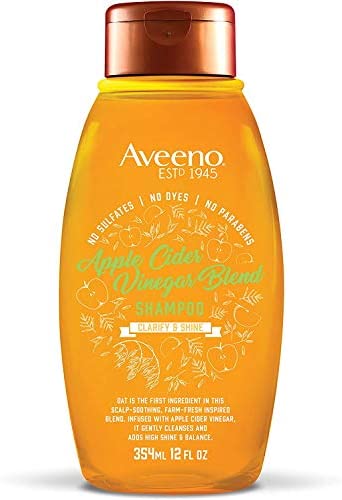 Aveeno clarifying shampoo is formulated with oats to nourish your hair and scalp, and infused with Apple Cider Vinegar to clean your scalp while adding shine to your hair. It is sulfate-free and very budget-friendly, sitting at $6.92 on Amazon.
• Dove Nutritive Solutions Shampoo Clarify & Hydrate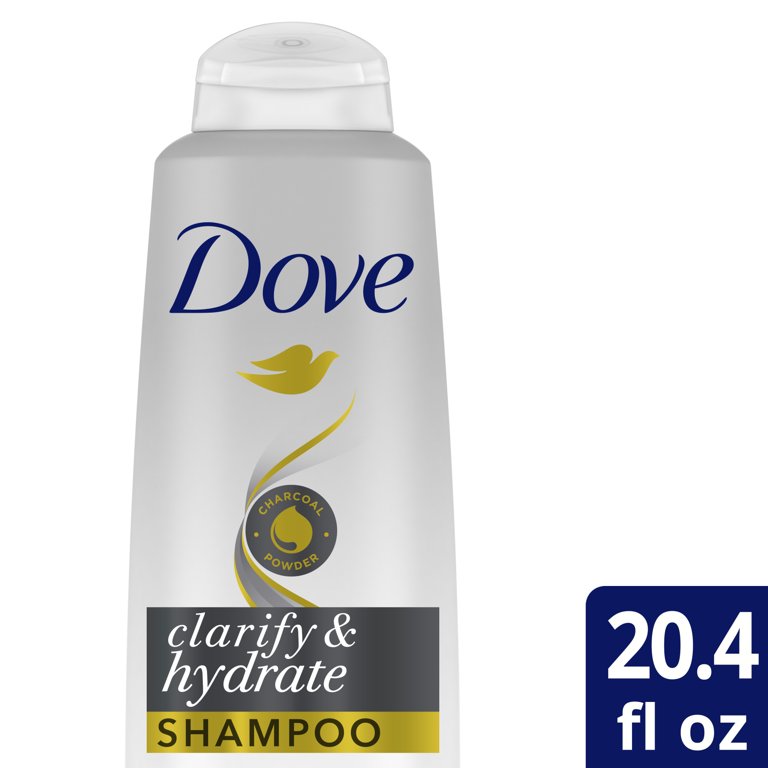 Dove Nutritive Solutions Shampoo clarifies your hair without making it dry and frizzy. This clarifying shampoo helps reveal or bring back your hair's natural radiant glow. It makes use of charcoal to get all that gunk out of your hair. It is cruelty-free and recyclable for the modest price of $5.98 on Walmart.
Best clarifying shampoo for color-treated hair
• Shea Moisture Jamaican Black Castor Oil Strengthen and Restore shampoo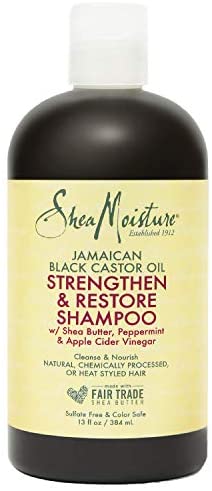 This sulfate-free clarifying shampoo deeply cleanses your scalp and hair, all the while adding moisture to prevent frizzing. It is perfect for color-treated hair and for those who perm, heat style, or have curly hair. It consists of Jamaican Black Castor Oil and organic Shea Butter to promote healthy hair growth.
• dpHUE Colour Fresh Shampoo

You don't have to worry about your dye washing off when you use this clarifying shampoo. It contains Cumquat extract to bring radiance and life to both natural and color-treated hair. It also has sunflower seed extract to reduce fading of color and to help protect against UV damage.
Best clarifying shampoo for bleached hair
• Nexxus Keraphix Shampoo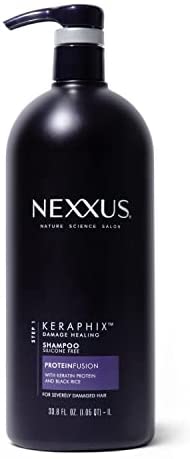 This clarifying shampoo gently cleanses without stripping vital oils. It contains lots of ingredients that fortify, moisturize and repair damaged hair. This is great for bleached hair because bleached hair is more porous and delicate and requires more moisture than other hair types.
• Christophe Robin's Clarifying Shampoo with Camomille and Cornflower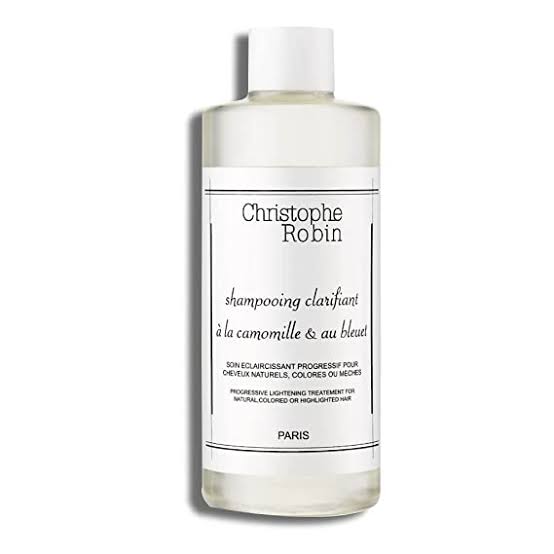 Christophe Robin's clarifying shampoo does everything a clarifying shampoo does and brightens your hair, too. It also prevents brassiness, so you don't have to visit the salon frequently for your touchups.
Beat clarifying shampoo for all hair types
• Living Proof Perfect Hair Day Triple Detox Shampoo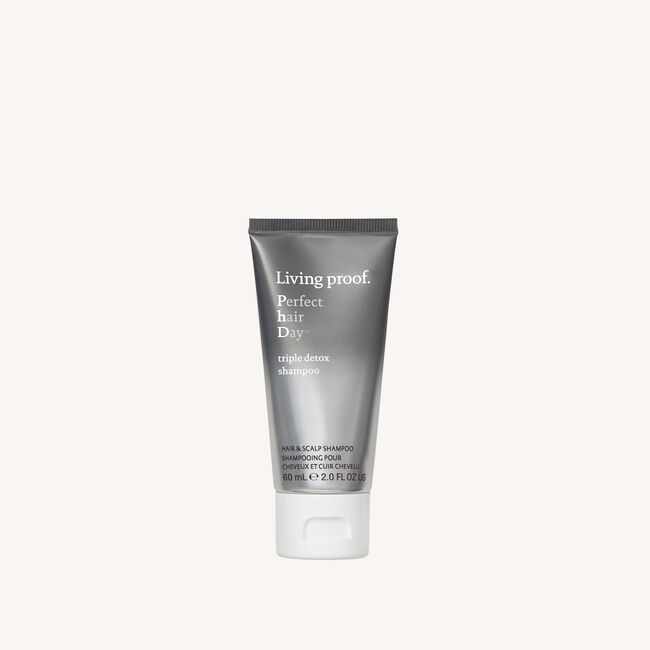 This clarifying shampoo removes build-up, dandruff, and hard water deposits. It cleanses your hair and scalp without drying it out while also nourishing. It is both sulfate and cruelty-free.
Bonus:
It comes with one hard water test strip.
• Morrocanoil Clarifying Shampoo

Morrocanoil Clarifying Shampoo removes everyday build-up that makes your hair dull and lifeless, revitalizing your hair and creating a clean slate for your scalp.
Although this clarifying shampoo contains SLES, which is much milder than SLS, it doesn't leave your hair dry and prone to breakage, thanks to its moisturizing power. It works well with all kinds of hair, including color-treated hair.
Best clarifying shampoo for damaged hair
• Olaplex No. 4 Bond Maintenance Shampoo
This clarifying shampoo is a highly moisturizing reparative shampoo. It works on a molecular level to repair damaged and broken bones in your hair. It is packed with fortifying nutrients that cleanse your scalp and eliminate frizz and flyaway, leaving your hair shiny and healthy.
• Giovanni Eco Chic 50:50 Balanced Hydrating and Clarifying Shampoo

This sulfate-free, vegan-friendly, and color-safe shampoo balances the art of cleansing with the utmost protection. It is the best clarifying shampoo for damaged or overworked hair as it consists of formulas to rejuvenate and strengthen your hair.
Conclusion
Clarifying shampoos can be very beneficial for the growth and health of your hair. With the best clarifying shampoos for each category already listed out for you, selecting one shouldn't be too much trouble for you. Knowledge is power, after all.
Have you used a clarifying shampoo before? How did it make your hair feel? Have you tried any on this list before? How was it? Let me know in the comments section.
You may also like to read, what are herbal cigarettes? – see where to buy one.