Straight leggings are all well and good, but they can get a little boring sometimes. Of course, you can spice things up by investing in bootcut leggings.
What are bootcut leggings?
Bootcut leggings are like regular leggings, made from the same breathable, stretchy material that hugs you all in the right places but with a twist. Bootcut Leggings are form-fitting from the waist down to just below the knees, where they fan out till the end.
Just like low-rise jeans, bootcut leggings are making a comeback to the fashion world, and we are accepting them with open arms.
So why bootcut leggings?
Their straight-leg counterparts have been in vogue since their debut. They do tend to grate on our nerves from time to time.
Straight leggings are great at keeping all our bits firm, and with no excess material hanging around, we do not have to worry about it getting caught somewhere.
However, it can be tight, like really tight. Have you ever been late for class or work and tried stripping out of your workout leggings? I assume lots of flailing around and banging shins, not pretty.
With bootcut leggings, though, that doesn't happen. You get a bit of legroom and still look good in it. It's the best of both worlds, really.
What do the bootcut leggings have that the straight-leg leggings don't?
The beauty of bootcut leggings is they can be dressed up or dressed down without sacrificing an inch of your comfort.
Beauty doesn't always have to be a pain.
What's more is they're flattering, elongate your legs, and they show off your curves or help create the illusion of one.
Yoga Pants or Bootcut Leggings? Are they different?
This might come as a surprise, but no, they aren't. Bootcut Leggings and Yoga Pants are the same. Some people even refer to them as Jazz Pants, the same thing.
Moreover, this shows how spectacular this piece of clothing is and if you disagree, mention another piece of clothing with three different names. I'll wait for you in the comments section.
Without further ado, here are the most amazing bootcut leggings you can buy in 2022. The selection was based on Amazon's customer reviews and personal preferences. I've done the work of making this list for you—don't sleep on these pants.
20 of the most amazing bootcut leggings you can't afford to miss
20. TOPYOGAS Women's Casual Bootleg Yoga Pants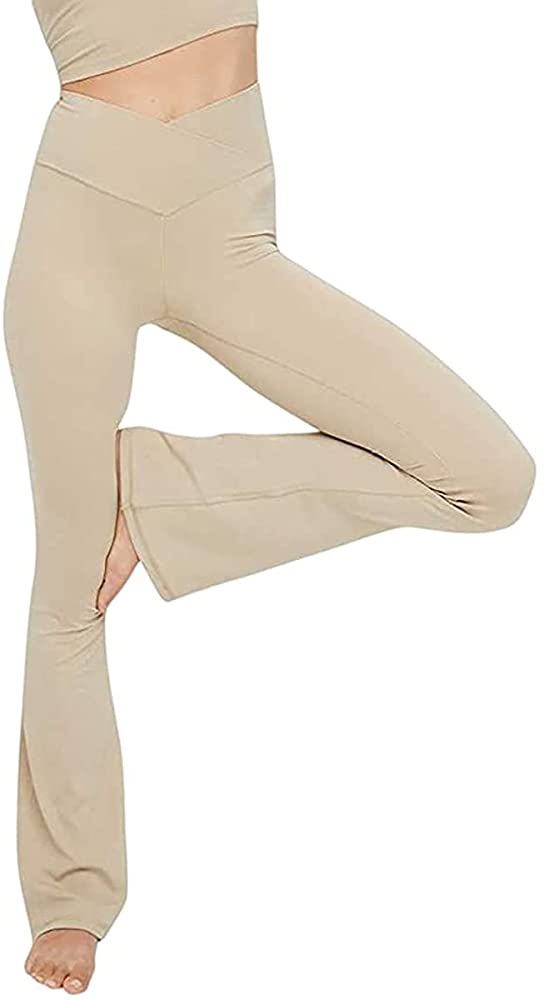 TOPYOGAS Women's Casual Bootleg Yoga Pants feature a V-shaped high-waist band designed to flatter your tummy. This bootcut leggings is made with a stretchy fiber which helps keep everything in shape while also not being tight. It's a great addition to your loungewear.
19. MC & LO Low Rise Bootcut Flare Yoga Pants.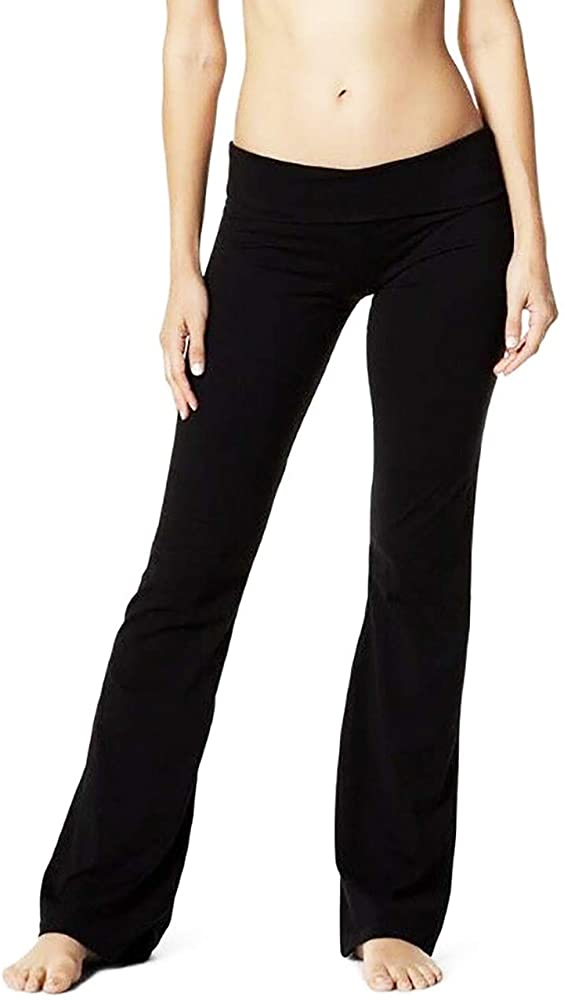 Jeans aren't the only clothing a low-rise cut works well with MC & LO Low Rise Bootcut Flare Yoga Pants combines comfort and functionality in these bootcut leggings. It consists of 90% cotton and 10% spandex. Also, it is machine washable and great for workouts or running errands.
18. Balakie Sports Pants for Women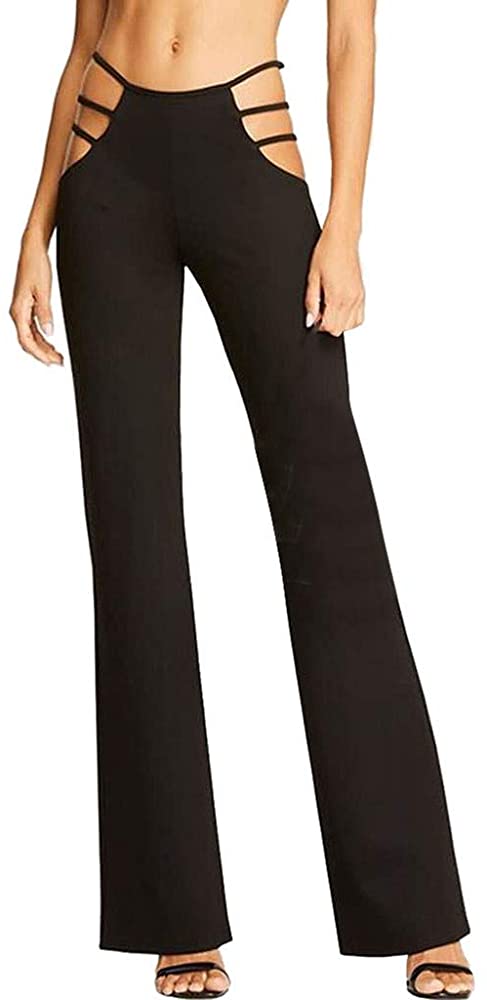 This bootcut leggings will ensure you don't miss out on the cutout fashion trend. The cutout design mixed with the flare bottoms of the leggings makes this a great pair of pants to get if aesthetics is what you want.
17. ANAFETTIE Bootcut Yoga Pants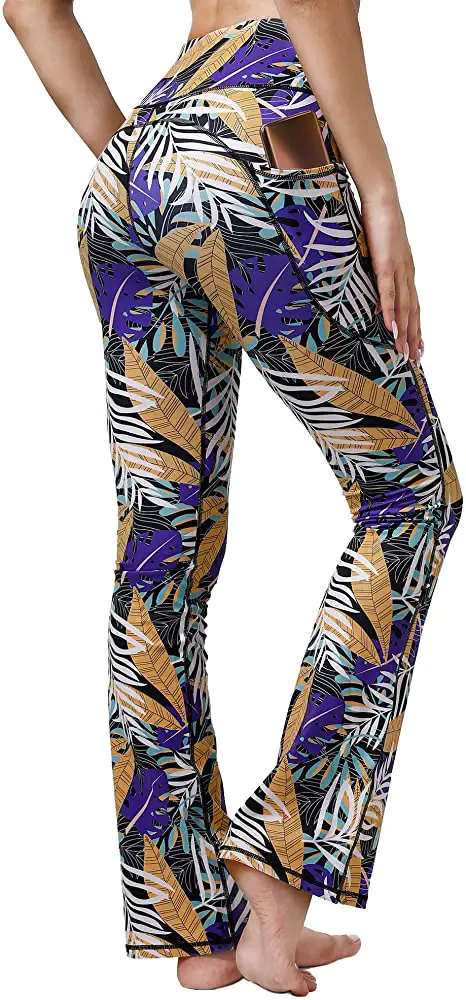 These plant print bootcut leggings are must-have pants to add to your wardrobe collection. They feature a high waist tummy control, butt lift, and deep pockets to keep all your essentials. They are made from breathable, lightweight, and moisture-absorbent fabric.
16. First Way Buttery Soft Women's Bootcut Yoga Pants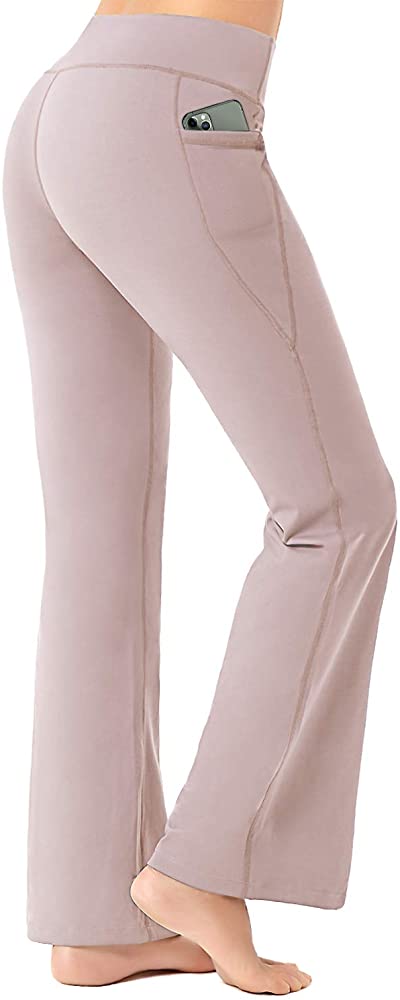 First Way's yoga pants are made with 30% spandex, which means they have a higher content than most leggings. This high spandex content is very durable and snaps back to its original shape after stretching.
They have a diamond crotch design which provides maximum comfort and unrestricted movement without the fear of creating a camel toe. They come in various colors and designs from which you can choose.
15. VUTRU Women Bootcut Yoga Pants
Practicality and chicness roll into one with these bootcut leggings. These pants won't catch lint because of their sweat-wicking fabric that offers low friction performance. Its dress pants appearance makes them perfect office wear while also comfortable enough to lounge in.
14. Esobo Women's Bootcut Yoga Pants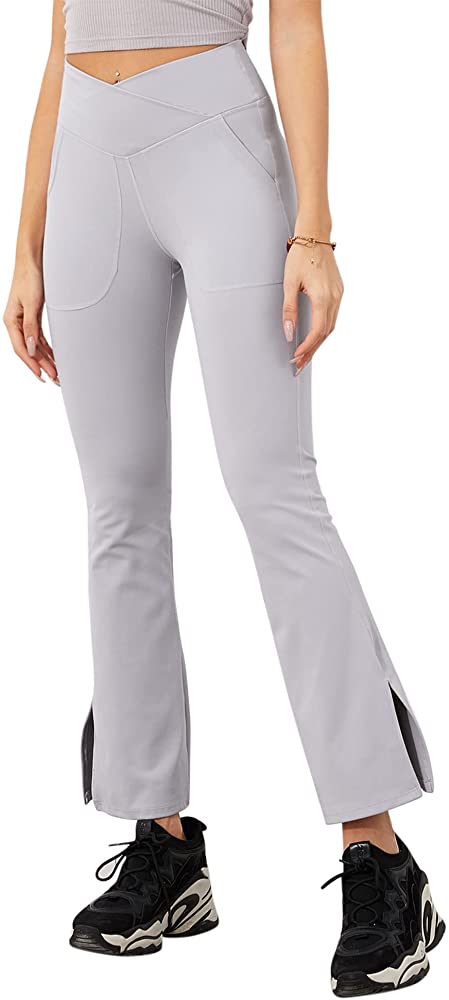 These bootcut leggings sport a V-shaped crossover waistband for a more flattering fit. Their split hem adds more style to the whole design. Who says bootcut leggings have to be boring? Dress them up with chunky boots, or dress them down with sneakers. You'll nail whatever look you're going for with these pants.
13. T Party Women's Fringe Leg Multicolor Tie Die Foldover Waist Yoga Pants

The fringe detailing runs down both legs, and that is not the only exciting thing about these bootcut leggings. Their multicolor tie-dye design makes them exquisite and definitely something you do not see everywhere. With this spectacular pair of yoga pants, you will be the envy of your peers.
12. WDIRARA Women's Cut Out Wide Leg Flare Pants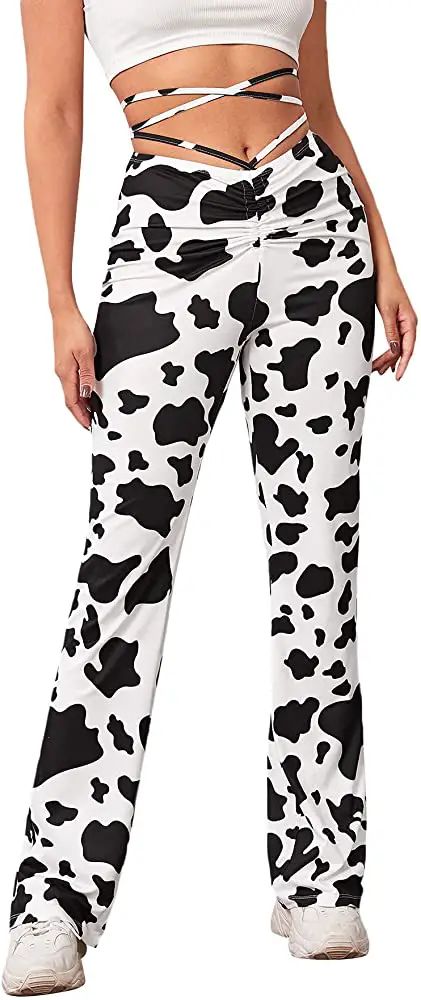 The crisscross ropes that sit high on your waist and cow print design add a charming effect to these bootcut leggings. It is soft, comfortable, and quite stretchy too.
11. BUBBLELIME Women's Long Bootleg High-waist Yoga Pants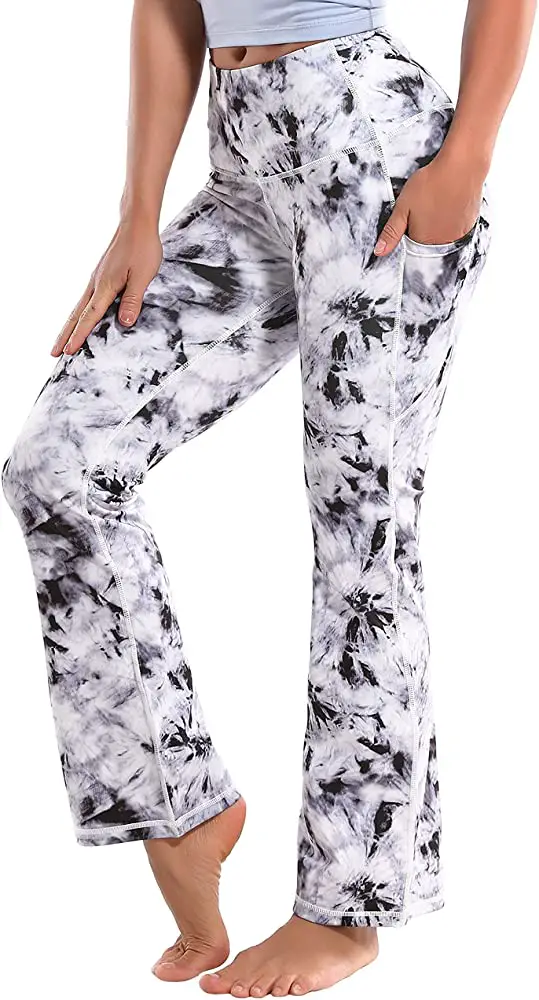 If you're looking for a more laid-back and fun design, then these floral print bootcut leggings are what you need. The floral design appeals to your fun side while still being practical and packed with all the features of typical yoga pants.
10. Aurgelmir Women's Flare Leggings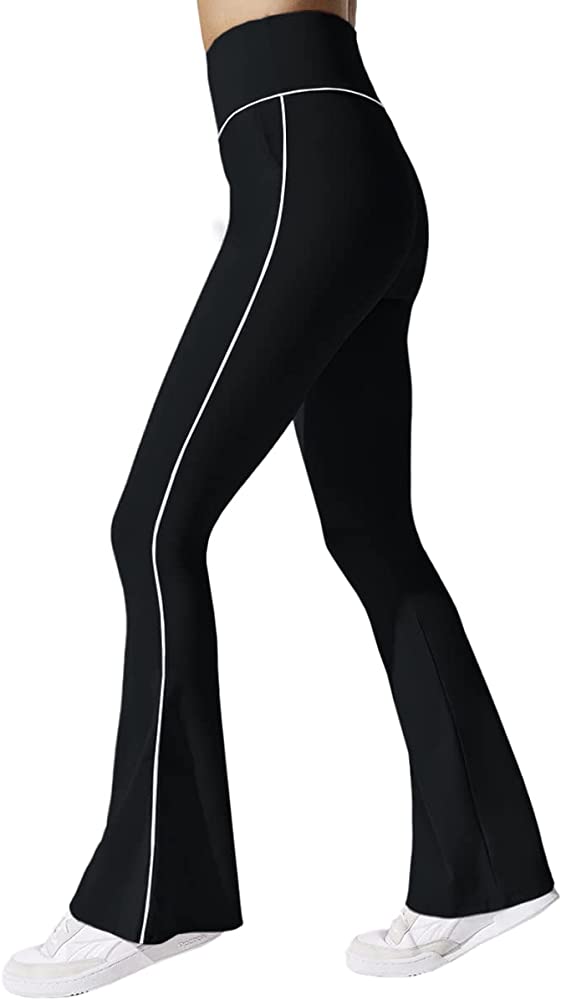 The single thin white line that runs around the waist and down both legs makes these leggings very eye-catching. It comes in 6 different colors and runs to 3XL. It is uber-soft, lightweight, and comfortable to wear around.
9. CLUCI High Waist Yoga Leggings for Women
This bootcut leggings is cropped at the ankles, so you don't have to worry about tripping over excess fabric or it getting caught in something. The camo design is eye-catching and exudes a sense of comfort and relaxation. This is a pair of leggings worth owning.
8. Yogipace Women's Cropped Kick Flare Yoga Pants
These cropped bootleg leggings are excellent for people who enjoy wearing shorts and find long pants a little too constricting. Thanks to this pair of leggings, you don't have to suffer yourself to wear full-length pants, except if shorts aren't allowed at work. It has a wide waistband with adjustable drawstrings, a design that is not common with leggings.
7. Keolorn Women's Bootcut Yoga Pants
Keolorn women's bootcut yoga pants is made from sweat-absorbing material that is breathable and comfortable. These high-waist bootcut leggings will sit firmly on your waist and so will not roll down no matter the movements you make. It is an excellent addition to your wardrobe, and you'll be glad to know its color doesn't fade.
6. Zeronic Women's High Waist Bootcut Leggings
These Zeronic's leggings are soft, super stretchy, and easy to pull in and off. It comes in 7 different colors you can choose from if you think white isn't your thing. With flat seams all around, you can kiss irritation caused by chaffing goodbye. The fact that it is high-waisted and has two pockets is definitely a plus.
5. ODODOS Women's Bootcut Yoga Pants
ODODOS Women's Bootcut Yoga Pants unique crossed waist is designed to flatter your body more by giving you that cinched look. It is made of soft, breathable material with your comfort in mind. These bootcut leggings are an excellent pants choice for you whether you're out for a run, yoga classes, or out to get drinks.
4. Yogipace Women's Bootcut Yoga Pants
Perhaps you find high-waist leggings uncomfortable; then you should get these lovely mid-rise bootcut leggings. It is breathable and made with a double-layer gusset for better movement. It also boasts a waistband pocket and 4-way stretch fabric for your comfort.
3. Safort Bootcut Yoga Pants
You don't have to worry about fabric digging into your tummy, thanks to Safort Bootcut Yoga Pants lack of an exact elastic waistband. And if that doesn't sell you ultimately, maybe having not 1 but 4 pockets will do the trick.
You also don't have to worry about your underwear playing an embarrassing game of peekaboo as it is made of a light and opaque material.
2. HISKYWIN Inner Pocket Yoga Pants
The seams of these bootcut leggings minimize irritation caused by chafing, making it an extremely comfortable choice. HISKYWIN Inner Pocket Yoga Pants features a 4-way stretch material for both support and compression. These bootcut leggings are entirely non-see-through and will make for fantastic dress pants. It also comes in several different colors and styles you can choose from.
1. Healthyoga Bootcut Workout Pants for Women
Women's pants have a habit of lacking pockets, but not these bootcut leggings. It has two pockets angled towards the sides to prevent them from hindering your movements. This bootcut leggings High-waist band acts as an excellent tummy compression without being restrictive, and the wide bands make sure it doesn't pinch.
Conclusion
Even though the bootcut style was a staple 90s trend, incorporating them into leggings was a great fashion choice. It's hard to imagine the trend fade with how comfortable and stylish they are.
However, if they do end up being swept under the rug again, at least you would have had the fun of experimenting with them. Which of these bootcut leggings caught your eye the most? Are there any you already own? I can't wait to hear from you in the comments section.
You may also like to read, Is instant oatmeal good for you?