Want to create an exemplary winter style statement? Maybe you need the plushiest, suggest, and most sought-after shearling pieces.
Something about the winter season is remarkable. On the one hand, there are certain reservations and hindrances. On the other hand, the unwavering joy of the cold season comes with added awesomeness multiplied by the joy, fun, and festivities surrounding us.
Besides that, let's face it: it does not matter whether you are a winter person, but winter fashion is always something that most of us look forward to. It has to be the most dopamine-inducing activity.
There are all sorts of options that one can make accessible for themselves – and, amidst it all, choosing the right picks is one of the most crucial concerns. The warmer the fabric, the better would be the conclusion.
While there are all sorts of pieces you can integrate and all kinds of fabrics that you can include inside your wardrobe when it always comes down to the most exemplary versions; then, shearling brings forth much aplomb and seeks tye extensive degree of attention.
From women shearling jackets to preppy and mood-boosting dresses – much fun and desirability are hiding within this powerful, all-enigmatic fabric.
Here is how you can wear it during the cold weather in distinctive ways and revamp your whole fashion mood.
Different Shearling Winter Trends that You Need to Get Your Hands On
1. Long Silhouetted Shearling Coats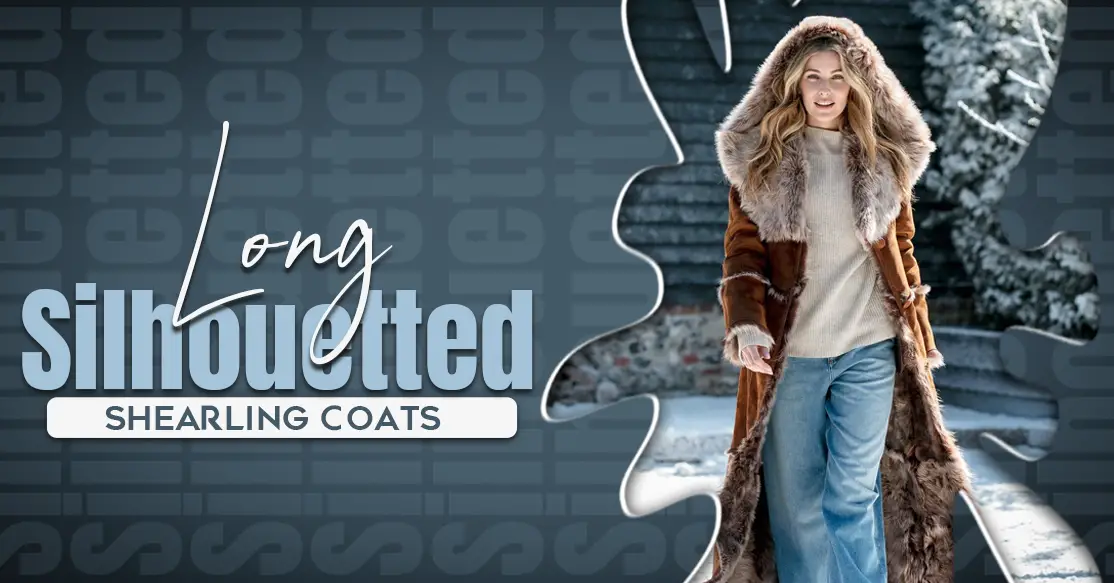 A long plus-size shearling coat can take you a long way. On the one hand, it is a true source to provide you warmth, and on the other hand, there is that perfectly workable feel to it which can prove to be particularly savvy in sending away the winter blues – all in all, confirming to become a complete source of joy for the fashion enthusiasts who seek something which is not just limited and ordinary, and only ticks off one aspect, but undertake multifarious aspects too that are part of the winter bargain.
So, the one OG way that I prefer working my way through this beauty is always by aiming for something which is adorned with the long silhouetted shearling coat that comes with a great degree of panache ascertains to make a promising match and gives you much scope to pave your way through the distinctive outfit assortments that otherwise might even seem hard to go by, right?
If you are seeking the perfect workable pick to assist you with the styling of your outfits or provide you with the perfect aid in picking an outfit that otherwise might seem far from achievable – whatever the case might be, a savvy pick of an oversized or a workable coat can take you a long way. 
2. Pick that Pompous Shearling Jacket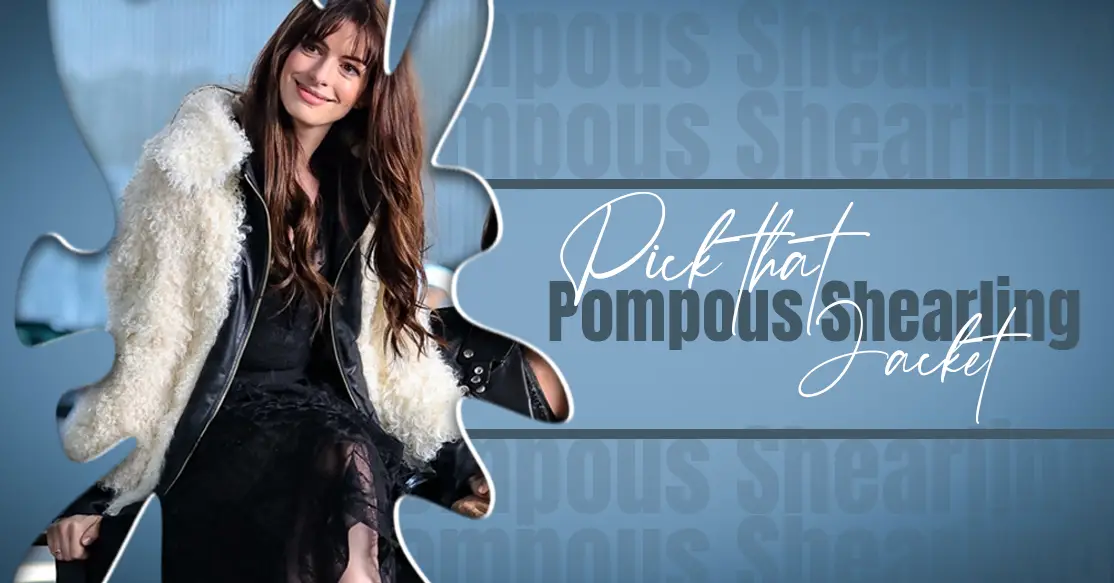 Jackets, but make them shearling. Who said there is nothing new every time to keep us company in uplifting the mood and kicking away the Monday blues during the winter season with the help of the jackets? Jackets can never fail to work out for you.
Then, when it is time to give the needed heed to the savviest, jazziest and most sought-after pieces that are ripe with the best sort of vogue, modish energy, they become truly important as you wish to dive head first into the most noteworthy shearling jackets collection – things that can end up energizing every look that you pair it with.
No matter where your personalized style lies, there are innumerable styles that you can integrate within your style and integrate the kind of flair to it which speaks something superior and worthwhile. There are bomber jackets with shearling additives, to pompous and jazzy biker ones – the endless styles provide you the picks that are sure to be a defining element inside your outfits in the most note-worthy manner.
3. Never Fail at Creating Chicer Style with a Pair of Shearling Leggings
It does not have to be the same all the time – for instance, everything about outerwear, jackets and what-not; rather, sometimes, it can be much more exemplary if you combine the best layering tools into the styling of your outfits and equip them with a defining element.
So another great way that you should not be missing out on is by aiming for the most uplifting and sought-after layering tools, which can be the mood for the season and have the kind of panache that sets things on a different caliber altogether.
Leggings are one of the most interesting layering tools, an element that can be the mood of the winter season for you if you learn to make the kind of use out of it that ricochets with your style in the best befitting manner. Shearling with preppy color assortments, trendy upbeat cuts and interesting lengths can come specifically come in handy for you if you want to wear dresses and all the distinctive silhouettes without a buffer.
4. Add a Preppy Quotient with Accessories
It is commendable, interesting and inspiring just how many creative and interesting things one can actually pull through and mold if we learn the art of bringing diversity into things and just discover the way to be so much more with our personalized style.
Another great way to make the correct use of shearling is by adding the much-needed color, aplomb and panache with the most interesting showy, color theme centric and warm/fuzzy shearling accessories.
It can be anything that syncs nicely into your outfits, and at the same time, you can agreeably amalgamate the much-needed pop of color into the outfit assortments to bring desirability and funk quotient.
5. Dresses But Make 'Em Fashion
I love how the shearling fabric comes with a great malleability which lets you plan things through and pick out the pieces that brim with the kind of chicness that hardly come that easily. You can mold the fabric into myriad distinctive styles and even pull through looks that sum up things for you quite differently.
So, another great way to go all out with the shearlings is by opting for shearling dresses infused with the shearling goodness to bring exhilarating fun inside your every winter ensemble and the overall fashion game for the colder months of the season.
Five Things to Keep in Mind While Buying the Real Shearling
Every fabric is different, and if you are considerably new to the fabric and yet, still want to integrate it into your wardrobe, then are surely going to be things that you would not want to miss out on and get right the first time you venture out to explore the distinctive facets of this exemplary and worth-rooting-for fabric – BUT, there is no room for errors, because shearling comes in hefty amount, and you would not want to miss out on the best deals.
A lot of times, the main concern comes down to figuring out whether we are getting the real shearling home or its alternative, the faux one – hence, it is important to get savvy while making the pick and get the authentic shearling home – if that is what you are actually looking for. Although faux shearling is made in such a way that it resembles real shearling, there is a degree of difference between the two, which remains true even for their prices.
One great way to learn whether shearling is authentic or not is by examining the feel of the fabric. The texture of authentic shearling is soft, and on the other hand, even with the softness, faux shearling has rough edges, and if you deliberately check the feel of the shearling, you will learn the difference between the two.
See the Color Assortments
If you are someone with distinctive color choices, then you should definitely explore in terms of color themes, as shearling is one such fabric that takes in a great degree of color and gives you a choice to play with all sorts of color variations.
Winter season is all about bringing colorful pop into every outfit blend. And, when you are seeking something a lot more colorful and interesting themes, there will be some note-worthy assortments that will duly come to your notice as you go deeper into your exploration.
Make Sure You Are Going for the Well-Crafted Pieces
No matter how expensive a piece of cloth might be, if you are not matching it up with the equally buzz-worthy style undertaken in the making, or you are not matching up its energy with the perfectly ]admirable stitching and craftsmanship, then your money is seemingly going to waste.
So, do not be hasty and learn whether a piece of shearling clothing is well made too or not – if the answer is no, then you do not have to throw away your money for nothing, rather, give things some time and aim for a workable style.
There is No Synthetic Smell to it
The real shearling jackets and coats do not have a smell that reeks of fakeness, a chemically driven smell. But, the faux jackets and coats always exuded that pugnacious smell that you have to be mindful about. Make sure you do not regret your decision later, and use this technique only on the spot.
Always Seek Your Silhouette
Shearling coats and jackets are worth a great hype, and if you are not picking out the silhouettes that prove to make a worthy match for you, then you are not really making the best sort of fun outta the things. Hence, be savvy as you step out to shop for furs and shearling and explore the different silhouettes too.
Ending Note
I know there are certain expectations pertaining to the winter style, and buying something new and chicer is certainly part of the bargain. The fun begins once you have figured out the most sought-after fabrics on your go-to list and the kind of styles you want to undertake to bring the perfect uplifting, winter-centric feel into things. If you do not know where to get the head-start with the shearling fabric – then, here, make use of this savvy and really workable guide, sure to bring fun into the outfit assortments.