A well-versed wardrobe should include riding boots for women, and it's an unspoken rule with classy ladies. The shoes are the equestrian aesthetics, transforming a simple shirt and khaki pants outfit to horseback riding ready. Which is a look you can pull off only not when you want to ride a horse, but other days you like to try a country look.
While riding boots resemble a knee-high boot, they are different in design. Hence, the confusion of how to style discourages many women from giving the shoes a try. The boots are often low-heeled, made with different types of leather, and have ever remained a classic.
If you are one of such people, this article proves that riding boots for women can be part of your frequent footwear choices. Plus the 18 best boots to get you started, but before that, let's take a little trip down memory lane.
History
The earliest introduction and widespread use of riding boots were in the 1600s by soldiers as part of their military uniforms. This style was a tall leather boot to protect their legs and covered from the saddle when riding horses. It was an essential addition because the harness irritates the legs when they hang, especially far distances. Another feature was a short block heel to keep their sturdy in the stirrup.
As the years progressed, the Duke of Wellington, feeling inspired by riding boots, created The Wellington boots in 1852. Regardless of the striking resemblance to the riding boots as we know it, the first Wellington boots were made with rubber rather than leather.
We have the riding boots for women that now reflect the old material, as its original structure is still in use. They have only evolved with modern touches and updated style details with the user's comfort born in mind. We now see more boots as winter staples and maintain the county heritage.
Related article: 10 Outfits To Wear With Knee-High Boots.
The 18 Best Riding Boots For Women
This list was curated for comfort and style, with some fashion-forward numbers to update your boot collection. We searched for extra features to blend with different outfits to narrow down the list.
Sticking to the original design, Frye comes in with these unique yet practical boots to take from riding to strolls. It also comes with the back notch detail to complete the classic leather pair you will love to own. With four colors, choosing one to style your outfits should be easy.
For a modern approach, snakeskin is used to create the details on these boots, appearing a shade lighter. Channel a Ralph Lauren-inspired style and wear with a white collared T-shirt and white jeans, with your belts matching the color of the riding boots.
When the temperature drops in winter, the booties come to play, and so should you riding boost for women. Style this with a knitted turtle neck sweater and jeans, as the grey tone is in season.
You know anything with the designer seal of TH is worth the splurge, and so is this riding boot for women. Made with a combination of leather and textile to create a beautiful shoe for all your riding and everyday styling needs.
This boot was designed for work and outings in mind for its versatile styling option and flexible fit. You can wear this boot to the office if you can dress casually cool. Pair your riding boots with a silk cami top tucked into skinny jeans, throw a blazer jacket over it for added style. You will be receiving compliments all the way, with a few people stealing your style.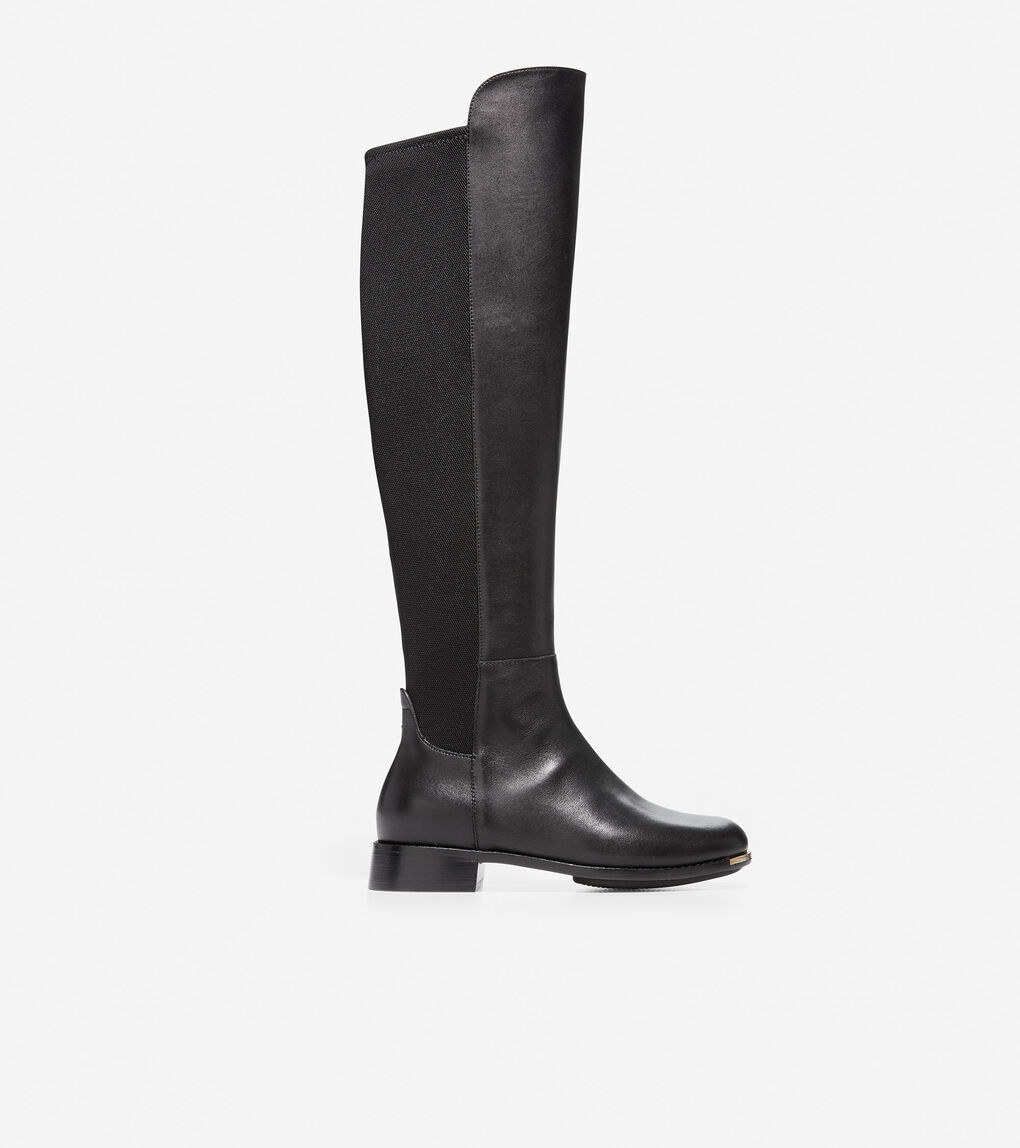 A patent leather to spice up the collection with a glossy finish, which is the perfect pairing for faux leather outfits. From evening to night partying, this stylish number is all you need.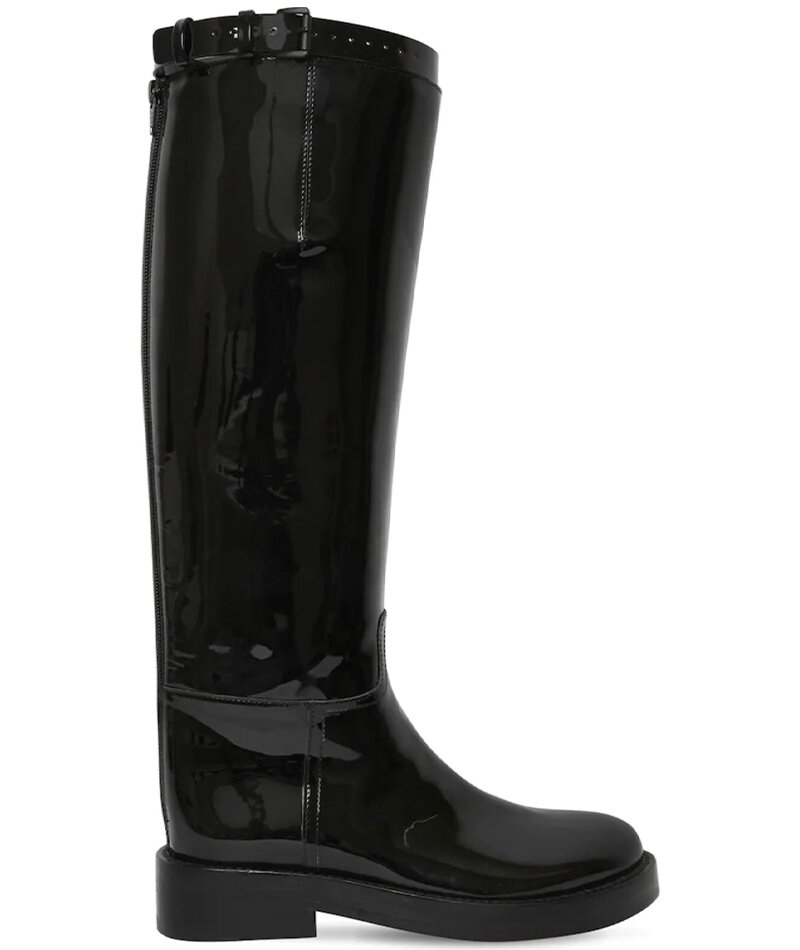 The matte finish buckle on these leather boots inspires some brown and beige neutral outfits. It also comes with foam padding to stay comfortable so that you can wear it for extended hours. They are also well suited for riding, with their durable synthetic soles.
Riding boots are meant to be sturdy and durable to withstand different weather. You can get all that and feel inspired to pull off a khakis prim outfit or two with these riding boots.
Riding boots proves they are always on trend with lace-up detail at the back of the shoes. The corset dress and underwear trend is only a reflection on these riding boots for women, and you can sense the pairing.
10. Tory Burch Brooke Knee Boot
This pair of classic riding boots will look good with your mini dress and midi-flare dresses, which you can wear even in the colder season by layering with tights. Its hardware details and slight heel boost will quickly elevate the dresses as you style them.
One look at this boot calls for a sweater dress combination. So, if you own sweater dresses already, these riding boots are all you need to create your new transitional staple. The added Gore-Tex feature only makes the boot a chic yet practical choice.
The textures on the shoe make them a needed addition to pair with your go-to outfits. The linked chain details say it all, to turn heads remember to style with some accessories for an extra elegant touch.
These stitched detailed leather boots are cute on the outside and are also made comfy with a fur lining inside. With other style features of metal zip, stud buttons, and buckle to complete the fantastic appeal of the boots. These features make the Utah boots your winter companion for warmth and style all your dresses.
If you fancy the vintage and authentic design, you will appreciate this boot from the Ariat Carden brand. It is made with nubuck leather, made to be water-resistant, that the brand promise to age well with time. Also, it comes with ATS technology for comfort hardware for style for extra details. Only the thought of wearing riding pants will come to mind when looking at the boots.
Nothing says trendy to like these updated boots from Versace, with its paper clip buckle. You can style with your favorite striped sweater and jeans outfit to flower print dresses.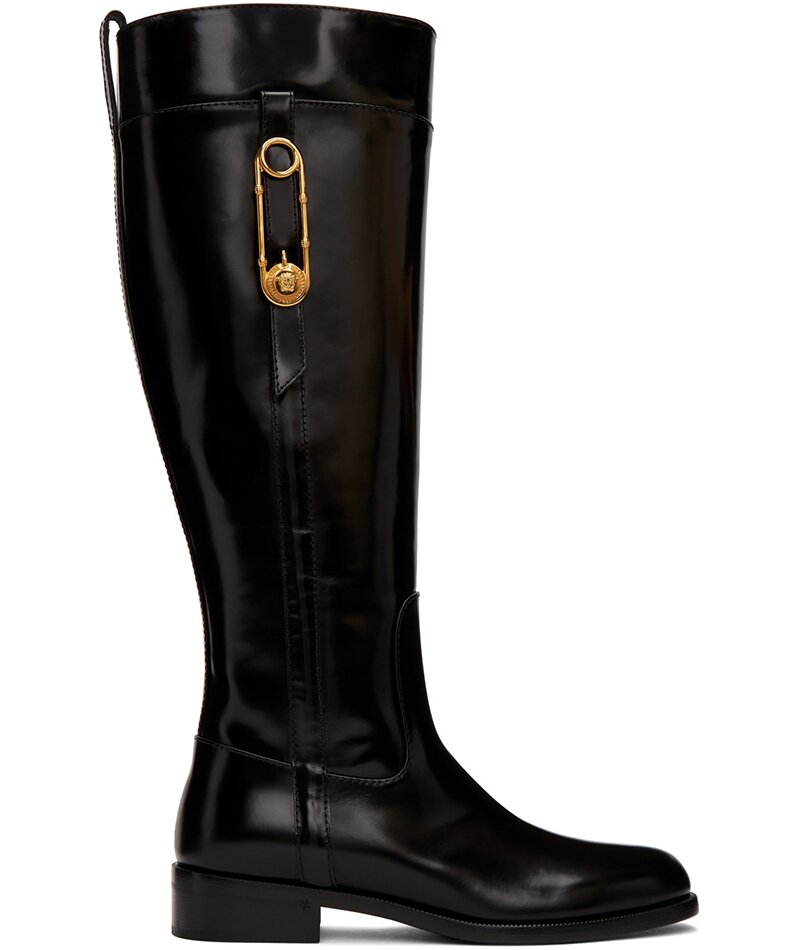 Get a little spring in your step with the dev boot, 1.5 inches block heel, as they will look cute with your skirt outfits. The straps have a stylish detail and an updated elastic take on the classic back notch. You can explore different seasons in these boots, as they are comfy and waterproof.
These riding boots for women make crocodile-embossed details look ever so chic, even if it is just on the cuffs. The heels make them suitable for both a leggings and blouse outfit, to a mini dress for an evening dinner with friends.
Who says riding boots cant be party-ready staple wear? Designer brand Christian Louboutin begs to differ with this studded boot. The ribbed details will add texture to an all leather or alternative look.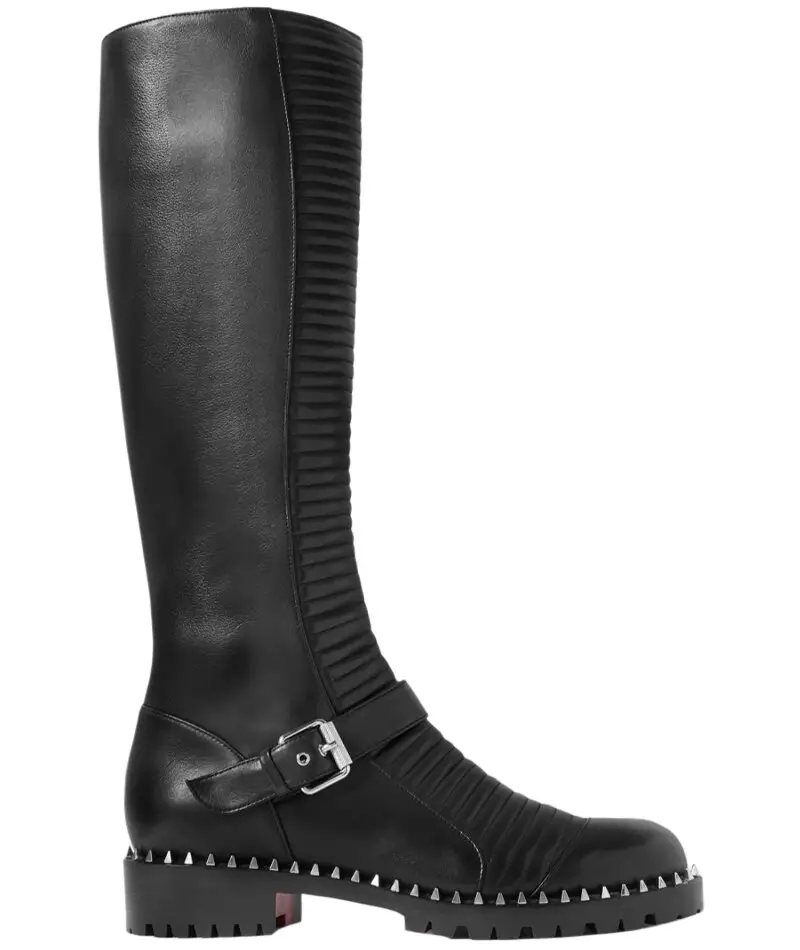 When can you wear riding boots, and are they in style for 2022?
Riding boots are a footwear option you can wear most of the year. They can be your autumn to winter transitional piece to style all your bundled coat outfits, and even if the summer doesn't call for it, you can still serve looks with riding boots for women in other seasons.
When appropriately styled, riding boots are also casual shoes on-demand, so there is no need to keep them lying around. Also, you are going for a polished or preppy look, and they are an effortless way to elevate a simple outfit. So long as jeans remain in style, riding boots are going nowhere. The two pair well together and are the elevated alternative to flats and sneakers.
It will be hard for riding boots for women to go out of style, as a side with any shoe trend. Although they have a vintage touch, having one or two in your closet is never a wrong choice.
The difference between Riding boots and Normal boots
The tell-tale difference between regular and riding boots for women is how tall they are. Riding boots have more height than the standard boots most women wear. Although, they do not come up past the knee like thigh-high boots, as riding boots are meant to stay under the knee.
If it does, go past the knee, it defeats the purpose of giving you flexible movement and protection for your calves. So, any ideal riding boots for women should stay within the height of the knee. This doesn't take anything away from the shorter riding boots designs, so long as it covers your leg up to mid-calf.
When it comes to the soles, riding boots are more textured so that you can walk around easily in them. The regular boots can have any soles, with long lengthen heels, and even incorporate a stiletto heel. You will most likely not come across one with heels for riding boots, and when you do, it does not go above 3 inches.
Side zip details are synonymous with riding boots for easy wear and take-off. This zip feature allows you to wear your riding boots for women with a fitted leggings outfit. In comparison, regular boots do not need this because most brands incorporate the pull-on method.
You may also like to read, 7 Best Jacquemus Bags, the trendy mini bag we are here for and Teddy Coat | Women's Black, Brown And Pink Teddy Bear Coats.