Once reserved for royalty, crowns, and tiaras as exquisite headpieces have found their way into various occasions, whether bachelorette parties, festivals, or even adorning bridal attire with sparkle. However, what's genuinely captivating is how this majestic accessory has taken the fashion world by storm, gracing the runways and the bustling streets.
If you've ever wondered how to exude the essence of royalty and captivate everyone around you, look no further. I'm here to share my favorite style ideas on embracing this enchanting accessory and looking stunning. So, let's discuss the delightful world of head crowns and tell you more about looking like a queen while stealing the show. Read on to discover more.
How to Choose the Best Crown?
When selecting a head crown, it's crucial to consider your face shape, hair color, and eye color. For those with longer faces, delicate and thin styles work best, as they help avoid elongating the look further.
On the other hand, if your face is round, a more oversized crown with a peak at the top can help balance the facial proportions. Blonde-haired individuals may opt for silver and platinum crowns, while those with black or brown hair could consider ivory and gold shades to complement their locks.
Your chosen hairstyle also plays a significant role in enhancing the overall look with a head crown. A gypsy-style crown can be an excellent addition to a sleek and straightforward hairstyle. Those aiming for a 1920s retro-inspired look should consider wavy, low bun or relaxed hairstyles to complement the crown's vintage charm beautifully.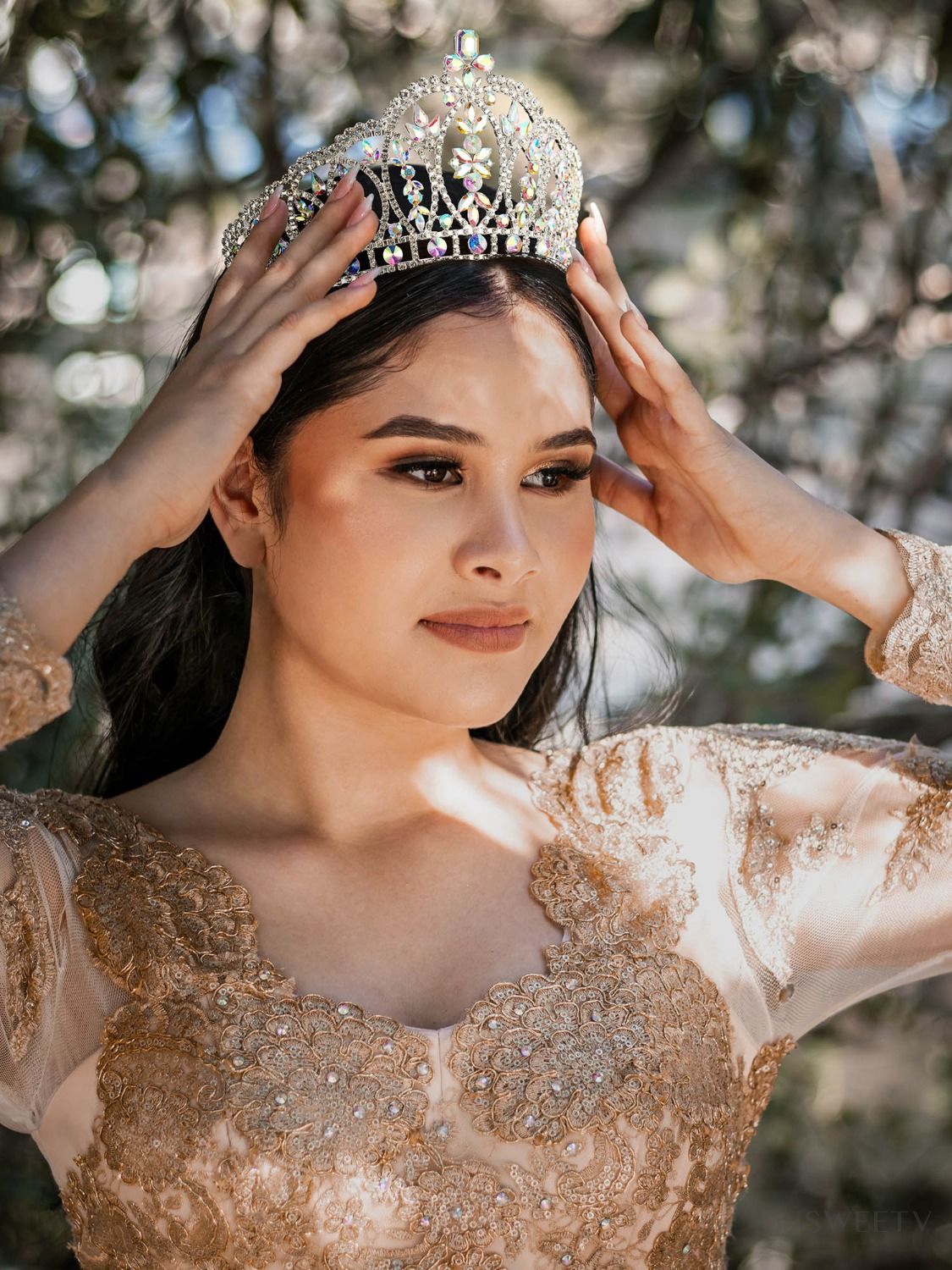 Which Crown Should You Choose
The head crown, an exquisite accessory, comes in various materials, from opulent gold, silver, chrome, and bronze to luxurious platinum and modern plastic options. I am particularly affectionate for styles adorned with precious stones and jewels, like the Eliana Costume Crown.
Picture yourself adorned with a graceful head crown sparkling with pearls, sapphires, rubies, diamonds, cut glass, or semi-precious stones. Today's fashion scene offers many ways to style crowns, and Sweetv.com designs exude luxury and sophistication. Of course, striking a balance is essential by pairing these magnificent crowns with more understated pieces.
How to Style Crowns
1. Casual Outfits
If you're considering incorporating a head crown or tiara into your daily ensembles, opting for a small, easy-to-wear design that seamlessly complements your casual outfits is the way to go. Embracing this majestic accessory with your favorite sweater and jeans is acceptable if you exude confidence in your choice. However, before adding any accessory, it's essential to consider your overall look.
2. Elegant Dress look
One delightful sight is witnessing ladies who expertly coordinate their crowns with stone-encrusted dresses, creating a harmonious and well-matched ensemble. This attention to detail ensures that every element complements each other, resulting in a polished and elegant appearance.
3. Gothic/Halloween Style
Wearing a fashion crown as a gothic dress-up or Halloween costume can elevate your look and add a touch of regal elegance to your ensemble. Whether you're dressing up as a mystical queen, an enchanting fairy, a powerful sorceress, or any other character that calls for a crown, Sweet.com have the best range of crowns to help you rock the accessory with confidence and flair.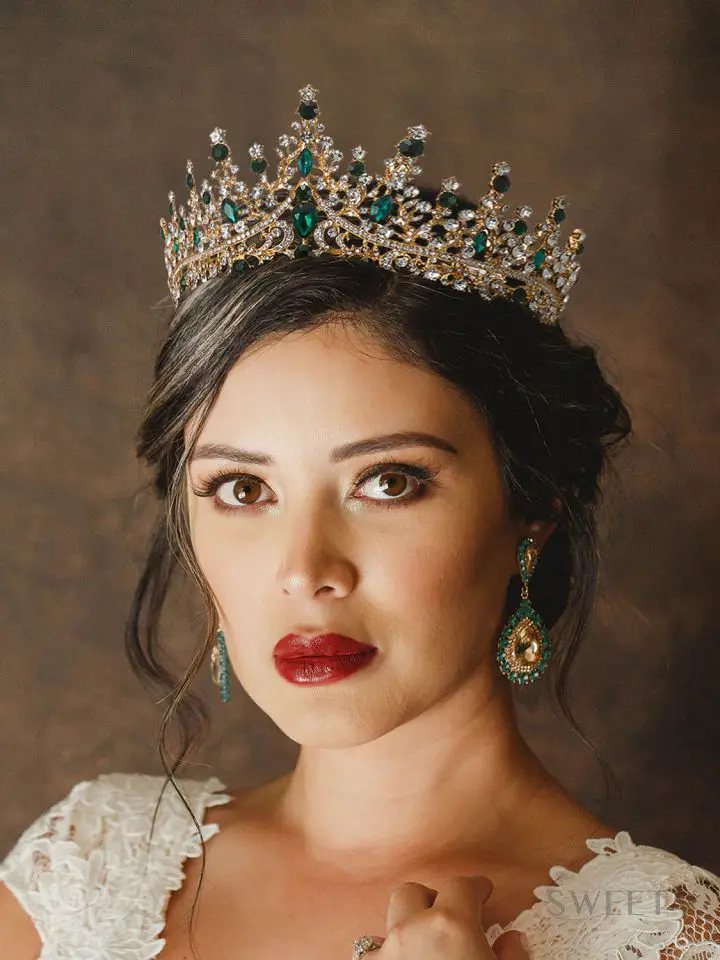 4. Regal Wedding Crown Look
Wearing a crown or tiara for a wedding is a timeless and elegant headdress choice, adding a touch of regal charm to your special day. The allure of wearing a crown lies in its captivating beauty and ability to elevate the overall bridal look. Whether you envision a classic fairytale-inspired wedding or a modern and chic affair, a crown can be the perfect accessory to complete your ensemble.
To make the most of this exquisite accessory, it's essential to style the rest of the outfit in a way that complements the headpiece. It will ensure that the crown takes center stage, accentuating your beauty.
5. Birthday Outfit
Wearing a crown for your birthday look adds a touch of fun and glamour. Choose a personalized crown or a themed one that complements your outfit. Embrace your inner royalty and enjoy your special day like a birthday princess or king. You can embrace your inner princess with a sparkling tiara or a dainty crown adorned with faux gems and glitter. Pair it with a lovely dress in your favorite color, and you'll feel like your birthday princess.
Gentlemen can join in the fun, too, with a regal king crown. Opt for a more masculine design in gold or silver and pair it with a bright blazer or a dress shirt for a polished birthday look. Coordinate your crown with your birthday outfit to create a cohesive and stylish look. Choose colors and designs that match or accentuate the clothing you'll be wearing on your special day.
Conclusion
Take advantage of offering a diverse collection of crowns from sweetv.com, curated explicitly for various occasions. Whether you're gearing up for an unforgettable girls' night out, children's loos, a wedding, or simply seeking fun moments with your friends, they have everything you need.