Late 2020 ushered in a new trend of jeans, the split hem jeans. However, thanks to the pandemic hoo-ha and resulting strict protocols, we hardly had any opportunity to prance around town in this new fashion trend. It's 2022 now, though, and social events are popping up everywhere, finally allowing us to hop on the trend and show off our outfit styling skills.
Jeans are pretty standard clothing items in our wardrobes. We even have our favorite types, be it skinny jeans for their slim fit or ripped boyfriend jeans for their comfortable yet edgy look. For this reason, fashion designers are always dreaming up ways to revamp them.
Over the years, we've seen various alterations and additions that add spice to our usual jeans. And these designs keep getting better and better with each new trend.
What are Split Hem Jeans?
Split hem jeans are exactly as the name implies; they are jeans with a split hem. Now, the split could be at the sides or in front. They could be on the inside or outer leg if they're at the sides.
The hem could also be narrow and fitted or wide and loose. Besides, the split isn't really long either, just a couple of inches and nothing past your shin.
Are Skinny Jeans the Only Type of Trousers Fitted with this Trend?
The split hem design is not relegated to skinny jeans alone. Other types of jeans like wide-leg jeans, bootcut and even leggings can spot the trendy design.
What Shoes Can you Wear with Split Hem Trousers?
This trend can seem a little tricky to style at first, but it really isn't. Here's a little top to help: If the ankles are narrow or fitted, opt for heels or mules; if the split is wider or flared, pair them with sneakers, boots, or chunky sandals.
Related article: Top 20 Bootcut Leggings You Will Love to Get Your Hands On.
What is the Point of These Types of Pants?
What is the point of distressed jeans and stirrup leggings? They look good, simple. Fashion doesn't always have to do with pragmatism. If they look good, wear them! That said, skinny jeans with split hems do have a practical side.
Since skinny jeans tend to bunch up around the ankle, making it challenging to pair them with your favorite ankle boots, a split hem eliminates that by adding a bit of flare around the ankles.
With a split hem, you don't have to keep reaching down to adjust your jeans at the ankle nor struggle to keep them tucked into your favorite ankle boots. Okay, after all, is said and done, here are 15 fantastic split hem jeans you really should add to your wardrobe.
15. Petite Ice Blue Ripped Split Hem Jeans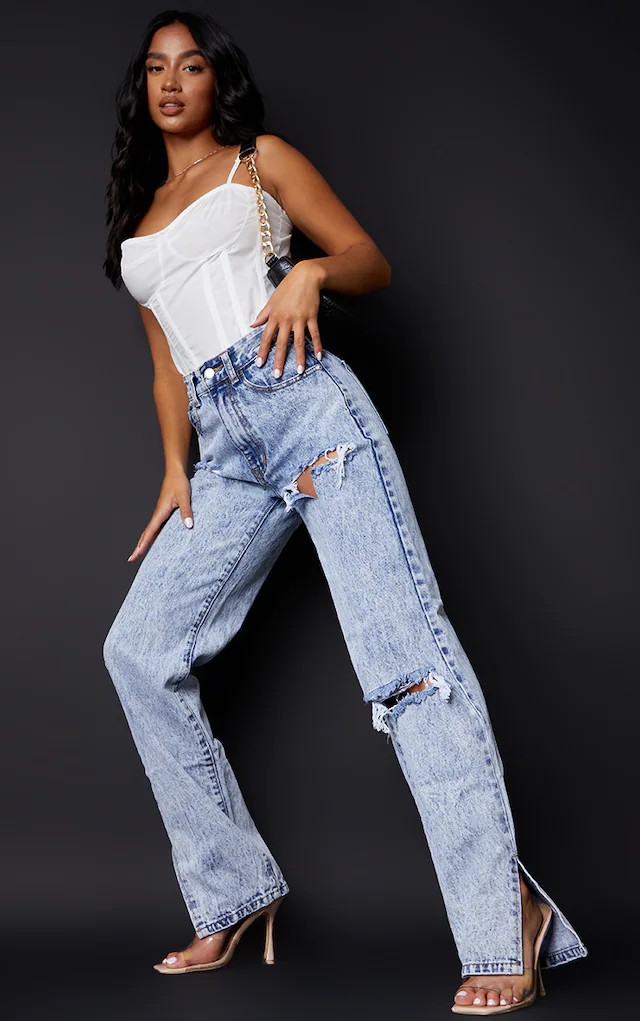 Have fun with this ice blue color and team it with a corset top under a flannel shirt and combat boots for an edgy street style.
14. Washed Grey Split Hem Straight Leg Jeans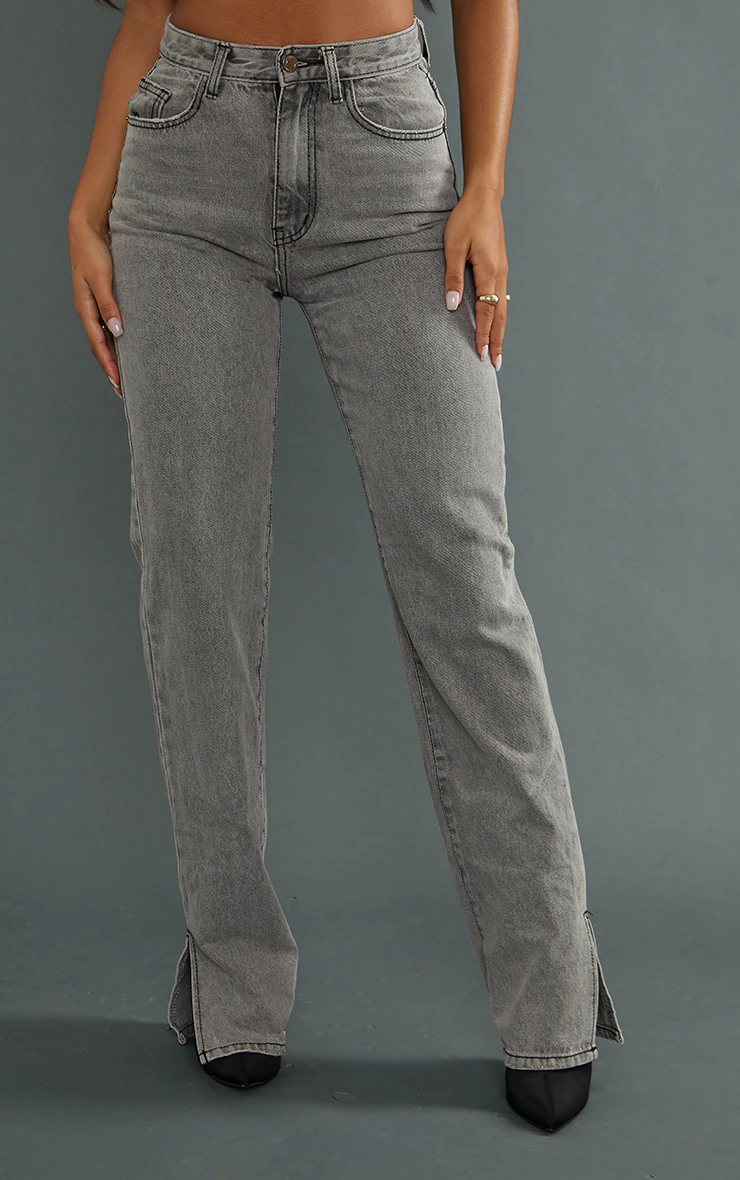 Give your straight-leg jeans an updated look with these jeans. With a high-waist cut designed to flatter your figure and a split hem detailing to keep you in vogue, this pair of jeans is an absolute smash. You can rock these jeans with a pair of sneakers, a varsity jacket, and your hair done up in a top knot for an athletic look, or trade the sneakers for boots for a more chic vibe.
13. Contrast Boyfriend Jeans With Split Hem
The two-color contrast packs a much-needed punch to these boyfriend jeans, and the added effect of a split hem raises your wow factor to its max. You can style it with a cropped cardigan and jelly sandals for a quintessential 90s style.
12. Mid Wash Stretch Inside Leg Split Hem Jeans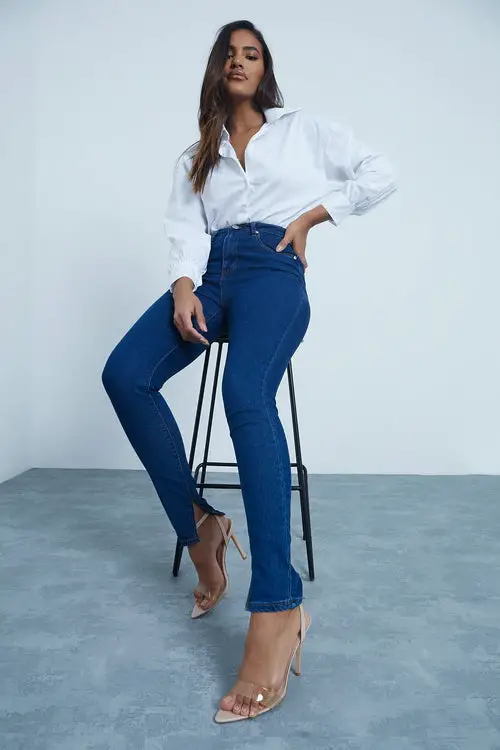 These mid-wash jeans can work wonderfully as office wear; the added bonus of being stretchy means you'll be comfortable in them all day. What's more, the split is on the inside of the leg. Talk about subtle! Style this excellent pair of jeans with a white shirt for a lovely contrast, strappy heels for work, or sneakers for a casual look.
11. Split Hem Utility Jeans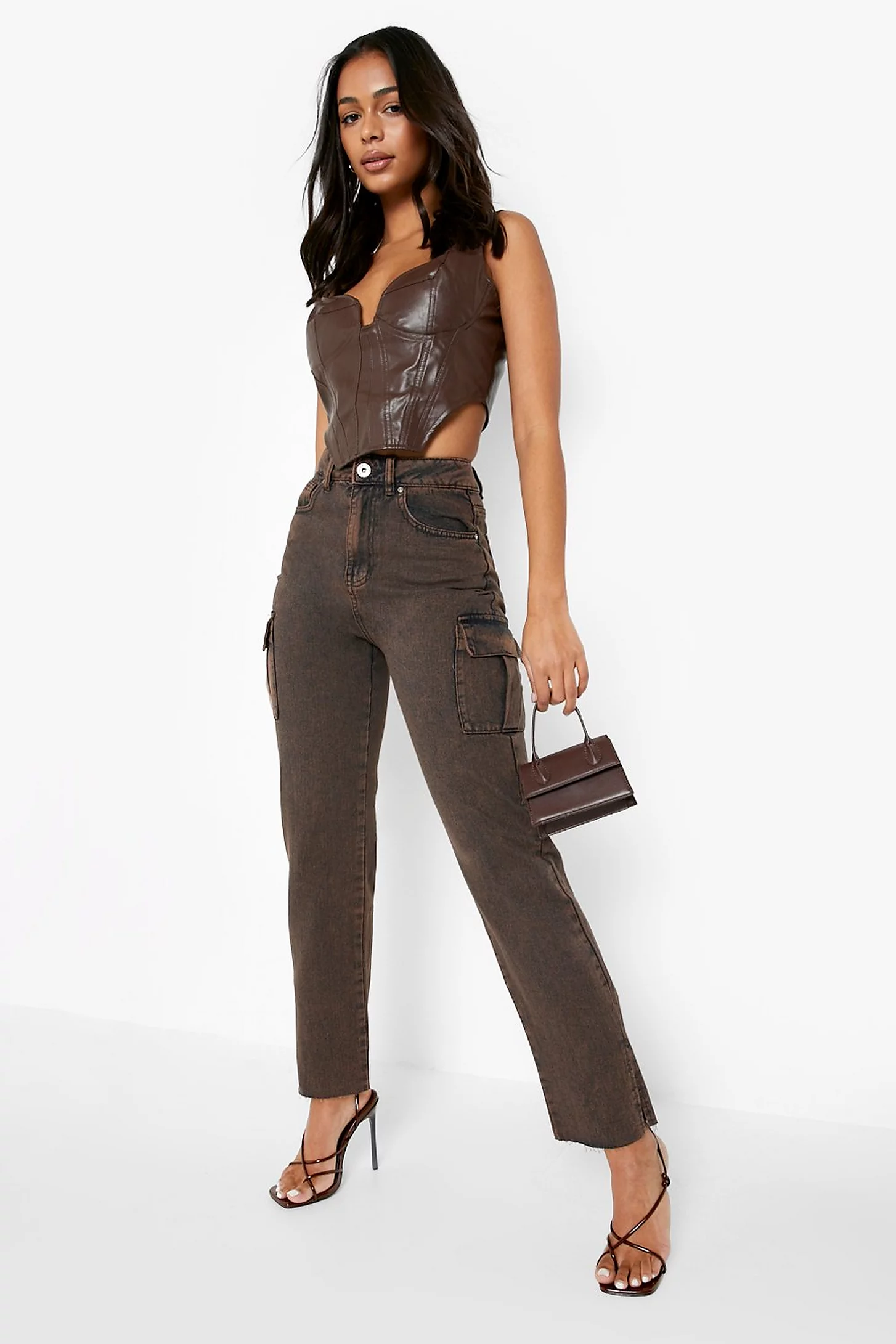 The details are in the hem and the pretty side pockets on each leg. Show off this beauty with a corset top and a square toe mule, or take the casual route by pairing it with chunky sneakers and a long-sleeved cropped turtleneck. These split hem jeans will bring their A-game to the outfit with whichever style you choose.
10. Off White Split Hem Jeans With Bum Distress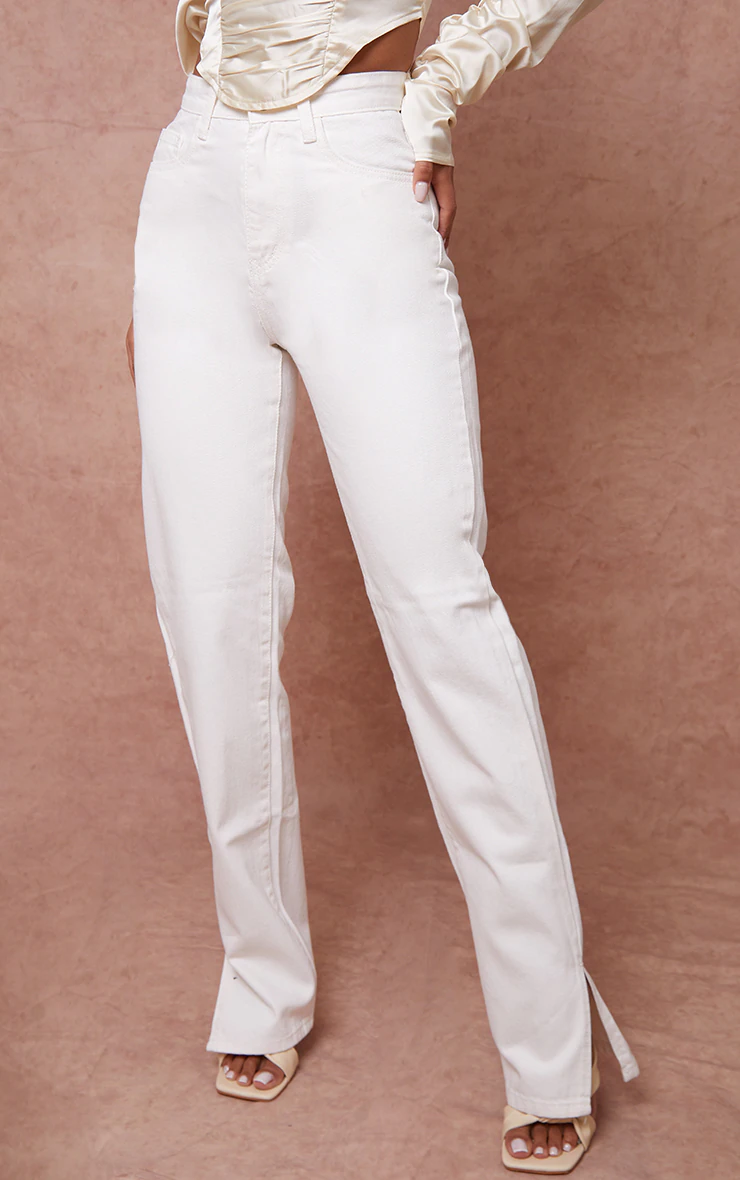 An all-white combination with this fabulous pair of jeans is what you need to exude Josephine Chesterfield's level of wealthy aunt vibes. To get the exact look, style this split hem jeans with a white tuxedo dress, a pair of chunky white loafers, and cap it all with an exotic white hat (pun definitely intended). You can also be audacious and show off the bum distress by pairing these jeans with a lovely crop top.
9. Mid Blue Wash Tie Waist Front Split Hem Denim Boilersuit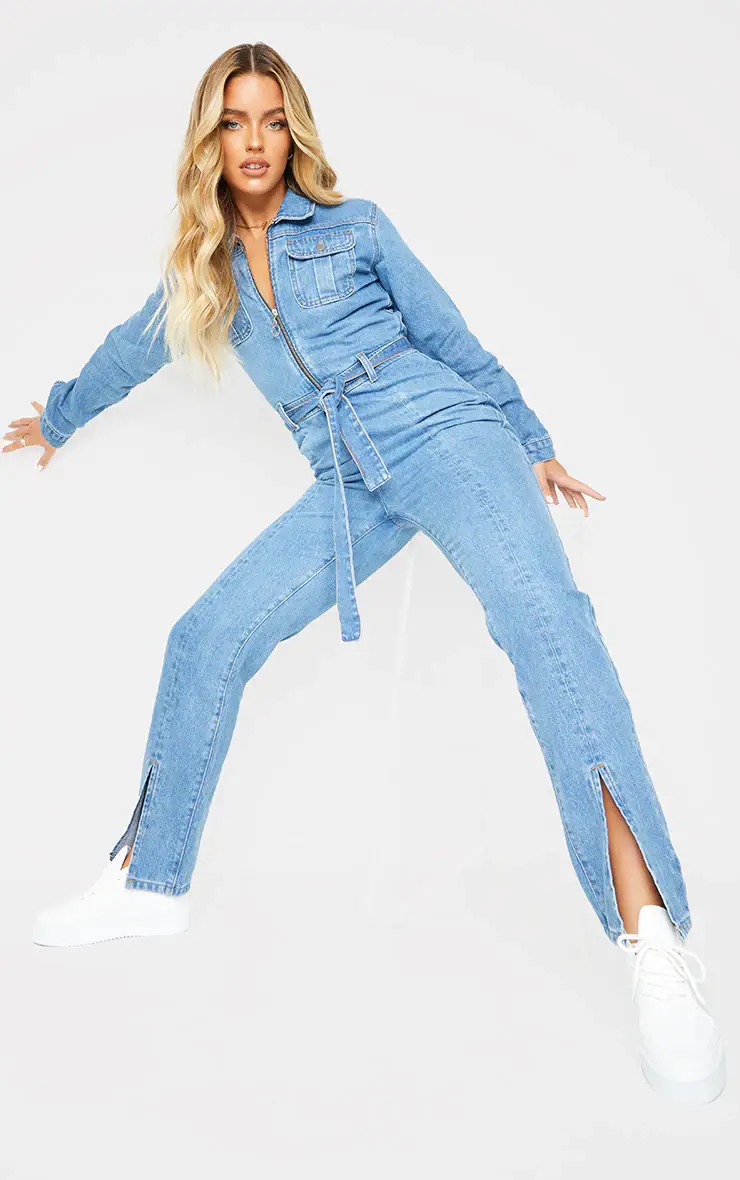 Look cool and fashionable sporting on this split hem boilersuit (a boilersuit is the British version of a jumpsuit and is not necessarily a suit you wear into the boiler room). You can dress it up with a pair of heels or go for a boyish aesthetic with a pair of chunky boots.
8. Split Bootleg Jean In Light Wash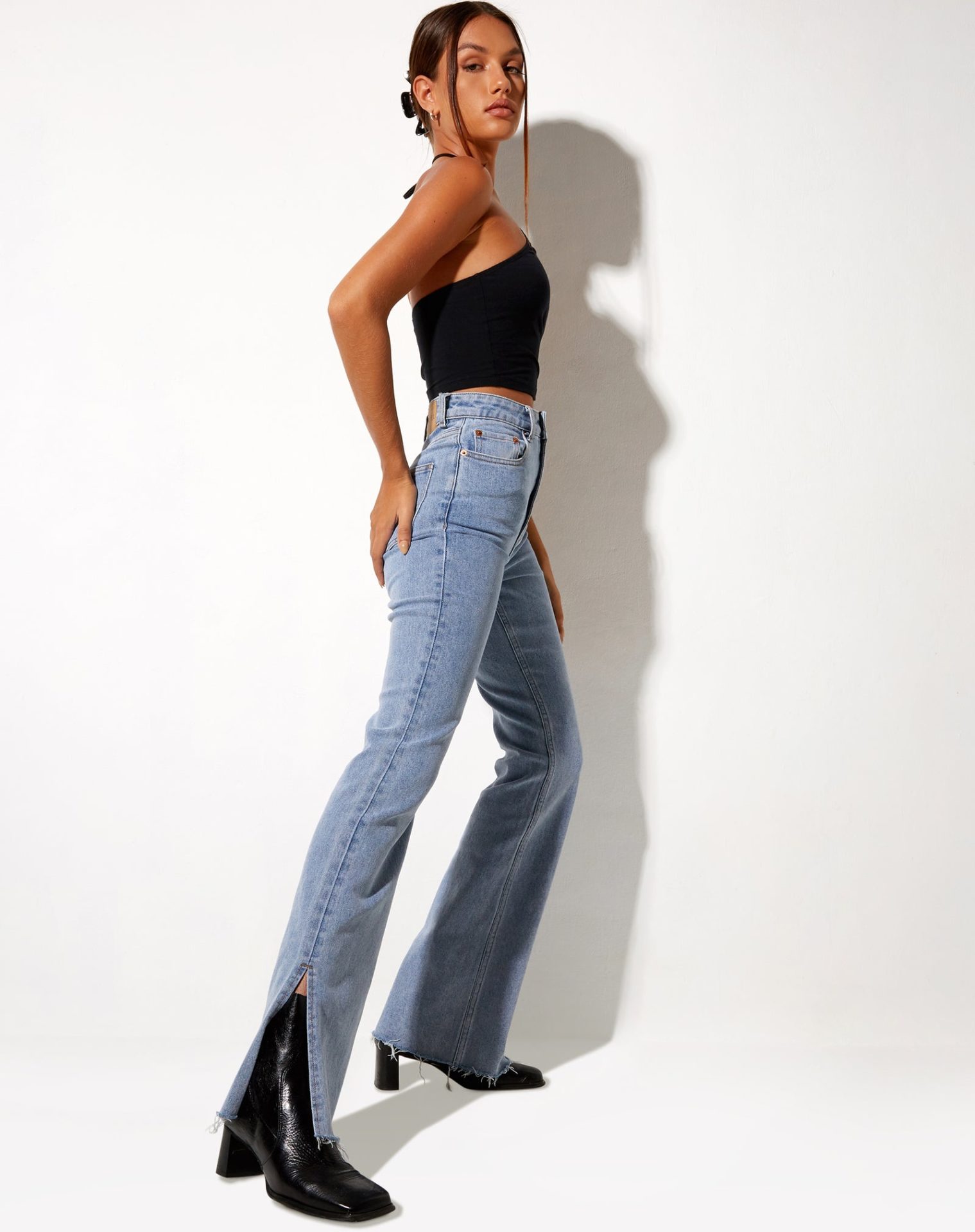 The retro-style jeans get a trendy makeover by adding the split hem detailing. Channel your inner retro by styling these jeans with a cute rubber sandal and a vintage floral blouse.
7. Black Split Hem Jean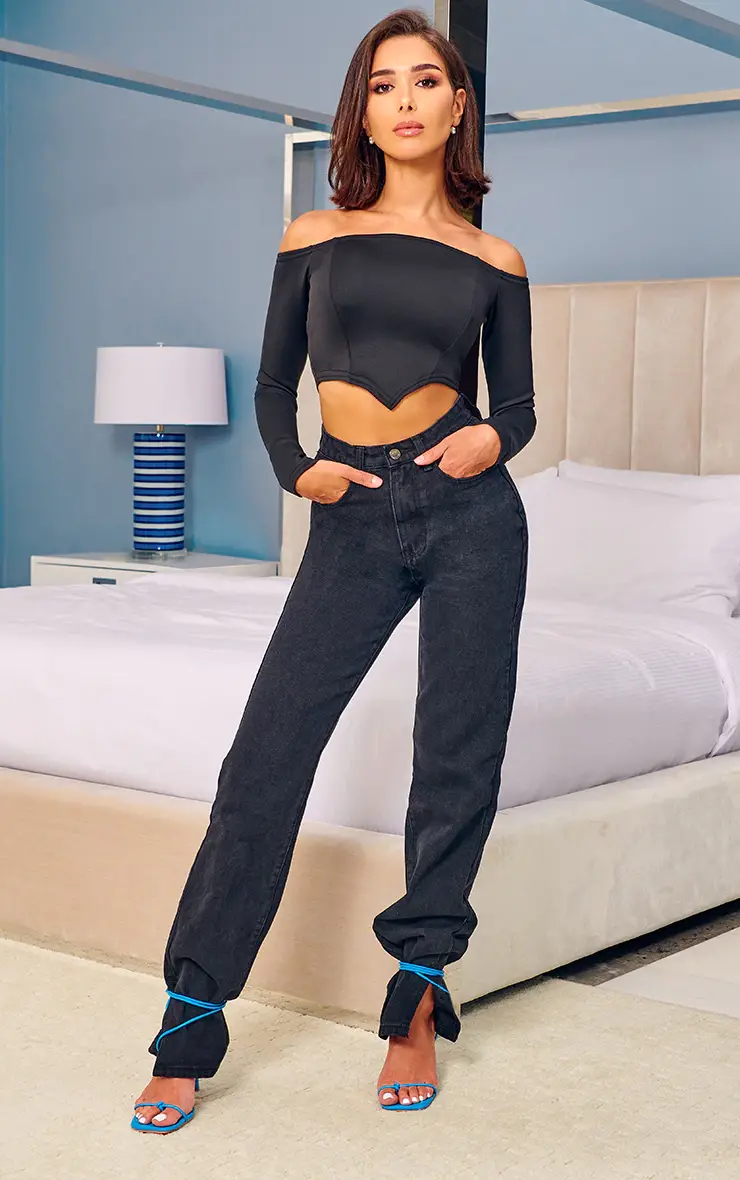 The straps of your shoes don't have to stay hidden when you wear pants. You can tie the straps over the hem of your jean to show them off. Complete the look with an off-shoulder top and a Christian Dior bag for a stylish look wearable to dates and night outs. You can also style these jeans with a blazer suit and cute ankle boots for a soigné look.
6. Plus Vintage Wash Split Hem Jeans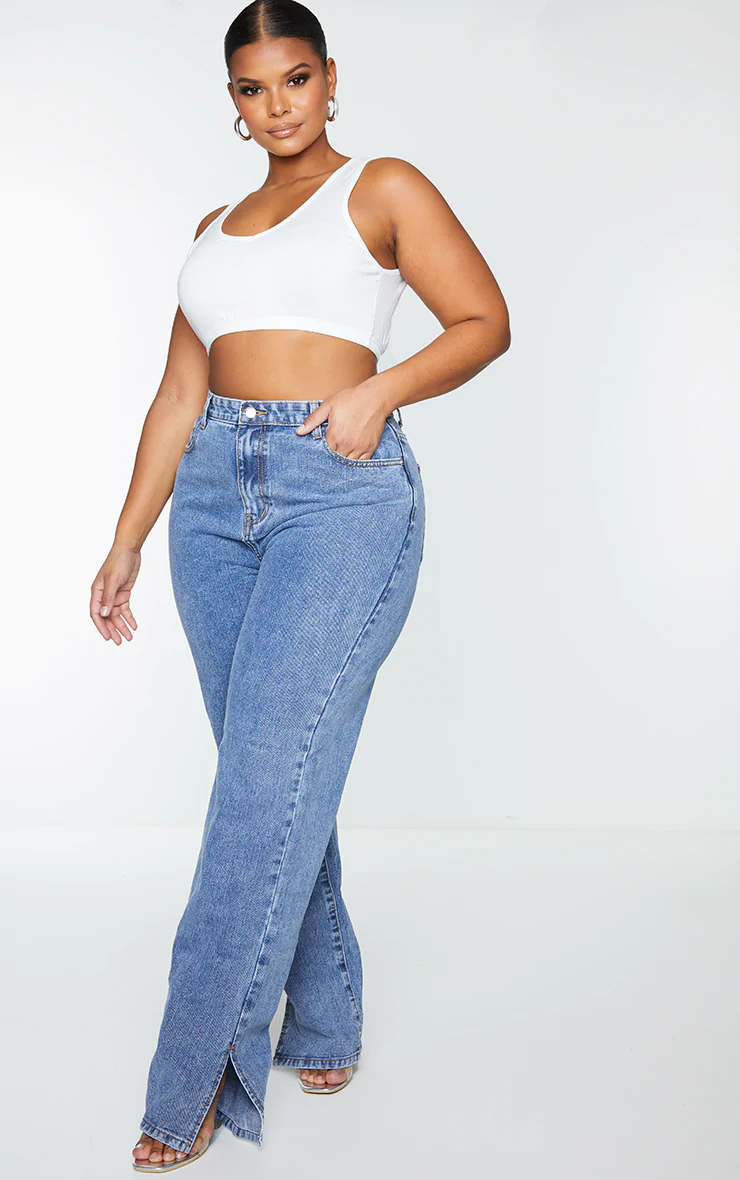 The vintage wash on these jeans ensures you stay stylish while keeping up with the fashion trend. Dress it up with a long sleeve bodysuit and strappy sandals for an Insta-worthy look.
5. Light Wash Front Split Jeans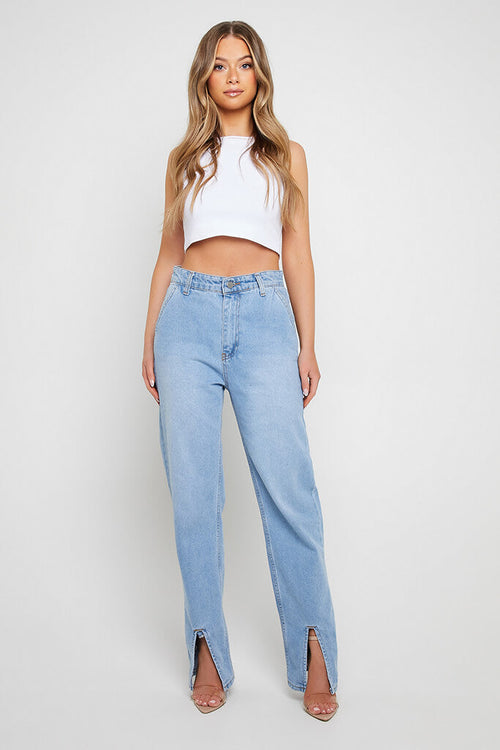 Thanks to their front split, you can show off your freshly painted toenails in these Light Wash Jeans. Pair it with a cute mule for the best effect, or show off your pretty socks instead in a Converse.
4. Bleach Blue Split Hem Jeans With Bum Distress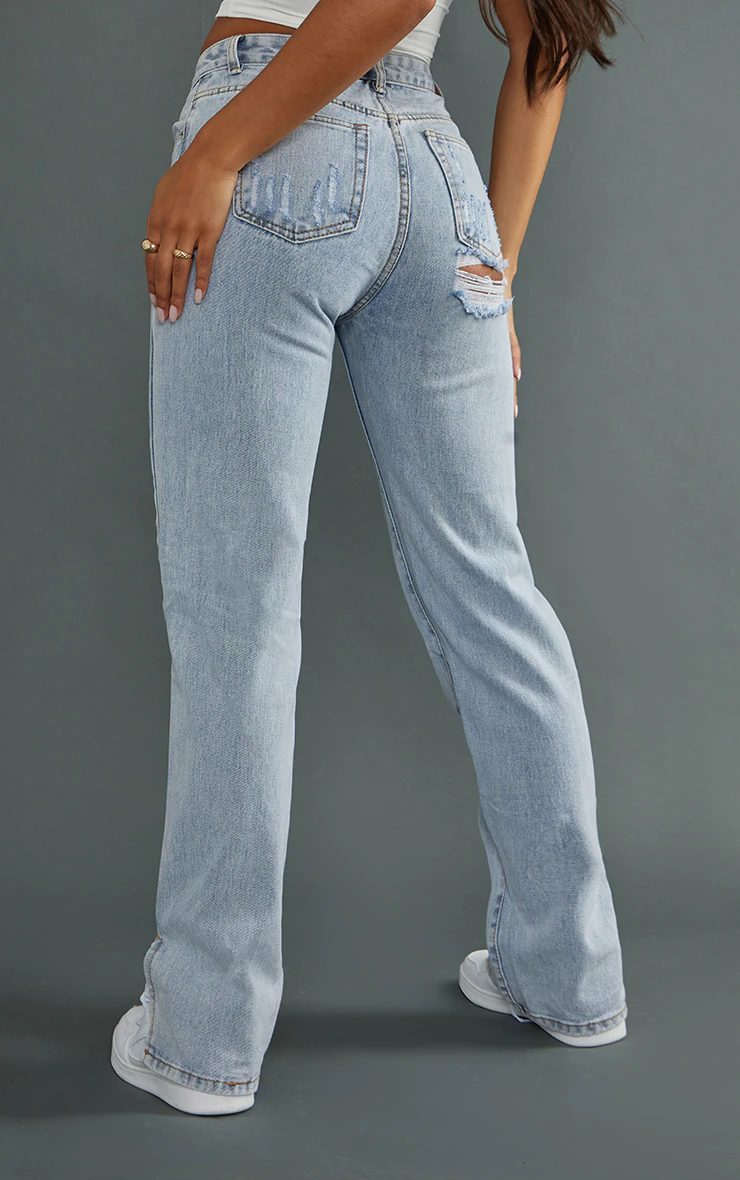 Get cheeky when you wear these jeans with the bum distress detailing. Show off the split hem with a pair of kitten heels or stilettos for a more confident choice. This is an excellent pair of jeans for the bold and derrière; sorry, I meant daring.
3. Black Stretch Coated Split Hem Jeans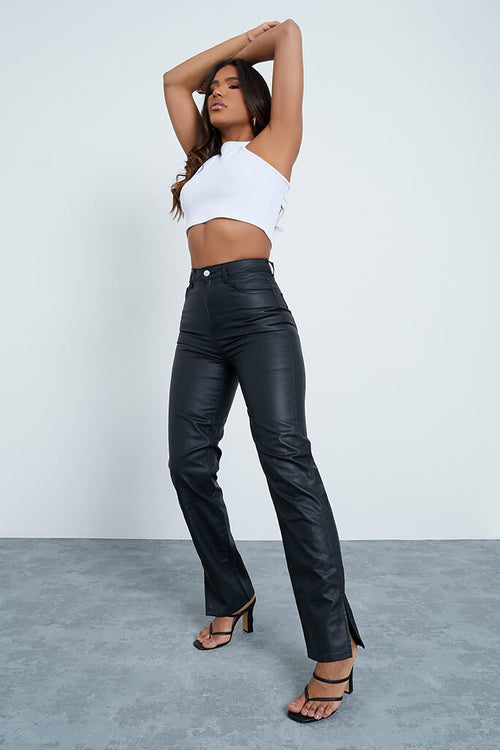 Black jeans that look like leather pants, but without the baggage that comes with owning actual leather pants? Yes, please! And let's admit it, the split hem makes the jeans all the fancier. Style this pretty split hem jeans with a nice billowy top, or rank up the badass look by wearing a faux leather jacket over a tank top. Total badass chic.
2. Light Wash Stretch Inside Leg Split Hem Jeans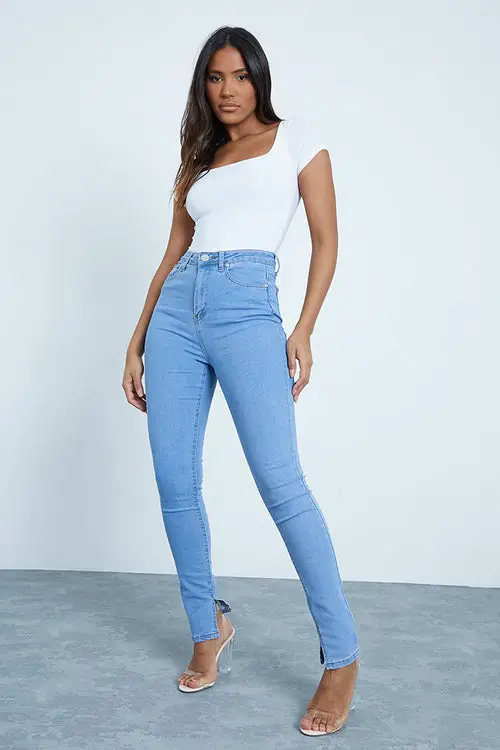 Take your basic white tee and jeans and look up a notch by choosing a pair of split hem jeans. The beautiful color of these jeans makes them a very coveted item, trust me, your girlfriends will be coming over to borrow them (you'll probably never get them back again).
1. High Waist Distressed Split Hem Jeans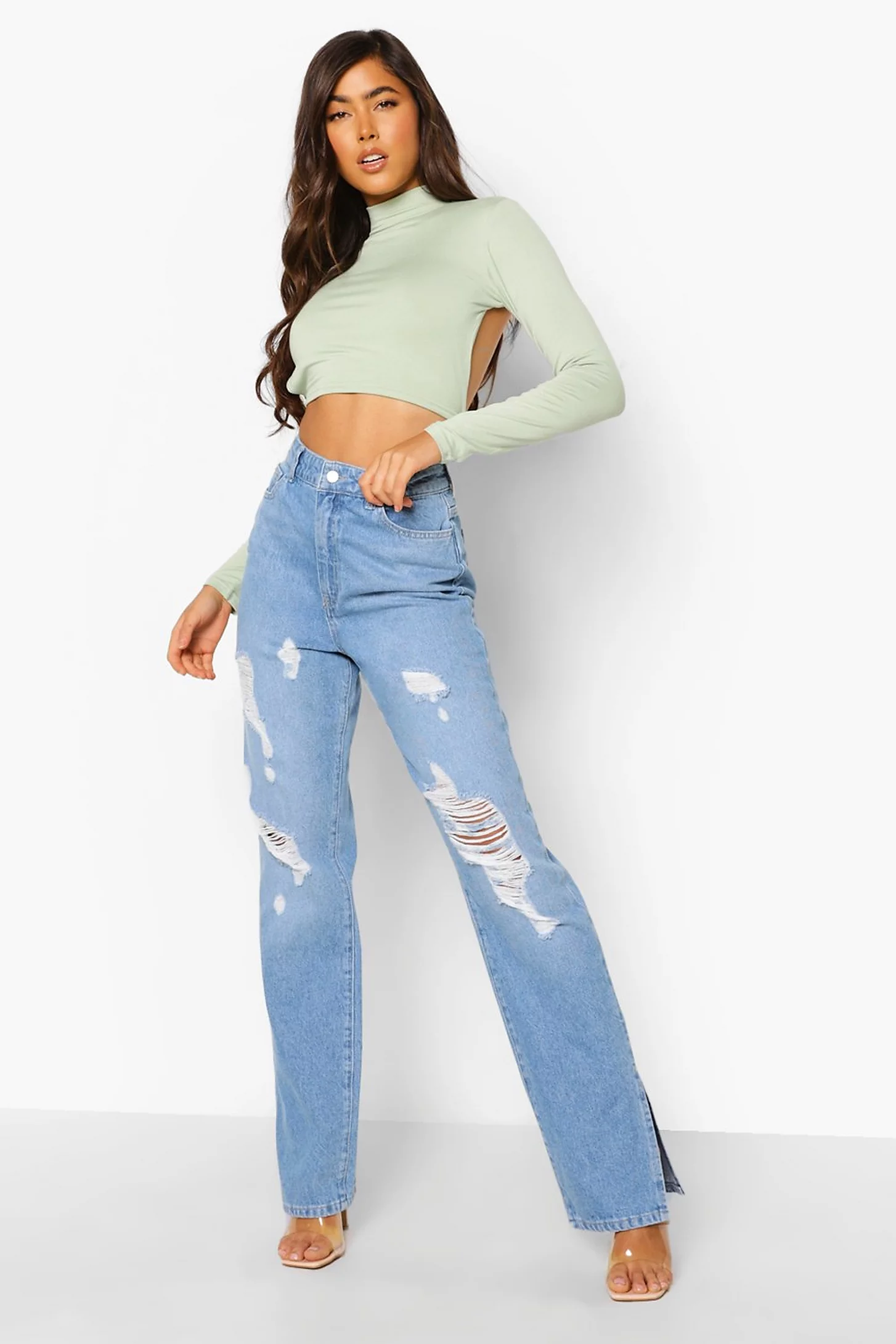 Flare high-waist jeans just got trendier with the addition of this new design. Slay in these Distressed Split Hem Jeans by styling them with a crop top to show off your delectable tummy. Upgrade the look into a classy fit by styling it with a pair of clear heels.
Conclusion
For all jean lovers who want to add a bit of spice and trendiness to their look, split hem jeans are a superb choice. Just find your favorite type of jeans that features the cut. That's the best part, even. Split hem jeans work on any kind of pants, so you don't have to say goodbye to your favorite type just so you can rock the look.
How do you feel about this trend? Do you own any of these jeans? How would you style yours? Let me know your answers in the comments section.
You may also like to read, 15 Trendy black turtleneck outfits you should definitely try out at least once.