Fall is such an exciting season for new fashion choices, especially with all the layering options. The mini-skirt trend is big this fall—from denim, suede, leather pieces, and the exaggerated belts we have seen from the runway to the streets. Nonetheless, the chilly season cannot stop you from rocking them.
These chic skirts can be said to be another phase of the '90s fashion resurrection and upcycling. It leaves one to wonder if the mini skirt fits into the fall outfit category. Yes, it does, as it looks cute with sweaters, cardigans, textured tops, and coats.
If you can style them the right way, they can be part of your everyday wardrobe. Here are ten types of mini skirts to inspire your fall outfits.
1. Tailored straight minis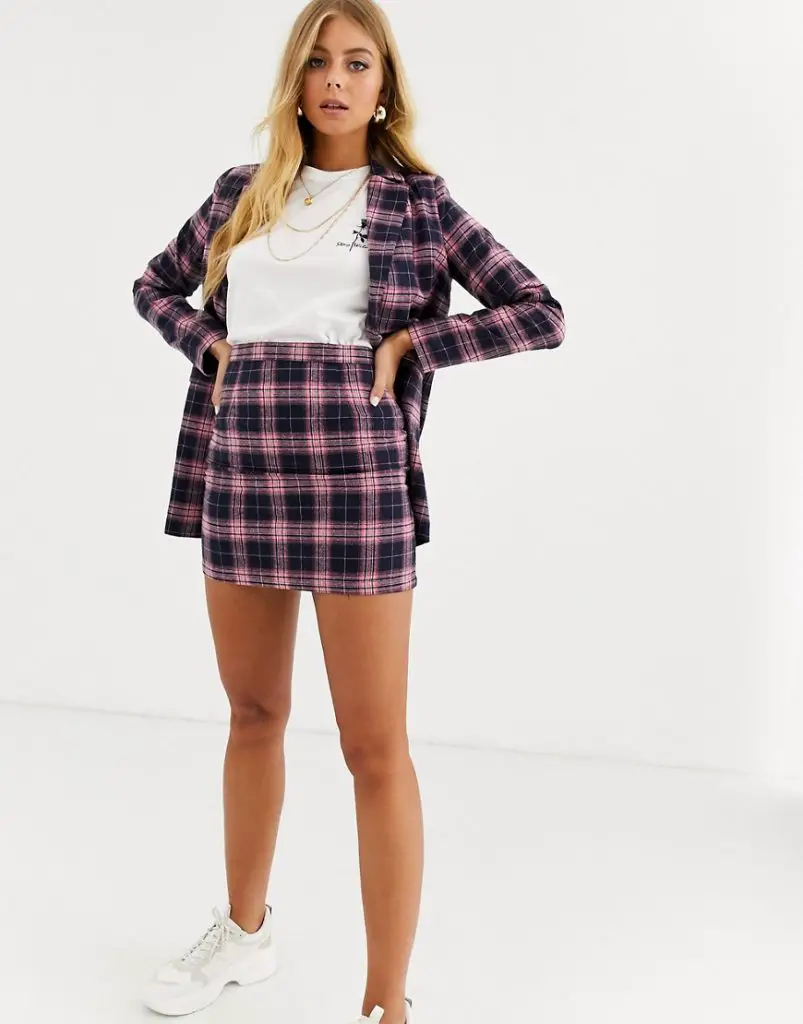 Dress up for work in a skirt like this, by pairing it with a button-down shirt layered under a pullover sweater or a long double-breasted blazer.
Add tights for extra coverage, wear dress shoes like flats and you'll have a smart work outfit. Transition to evening dinners with a thick dressy blouse worn over the skirt and heeled boots.
2. Double hem mini skirt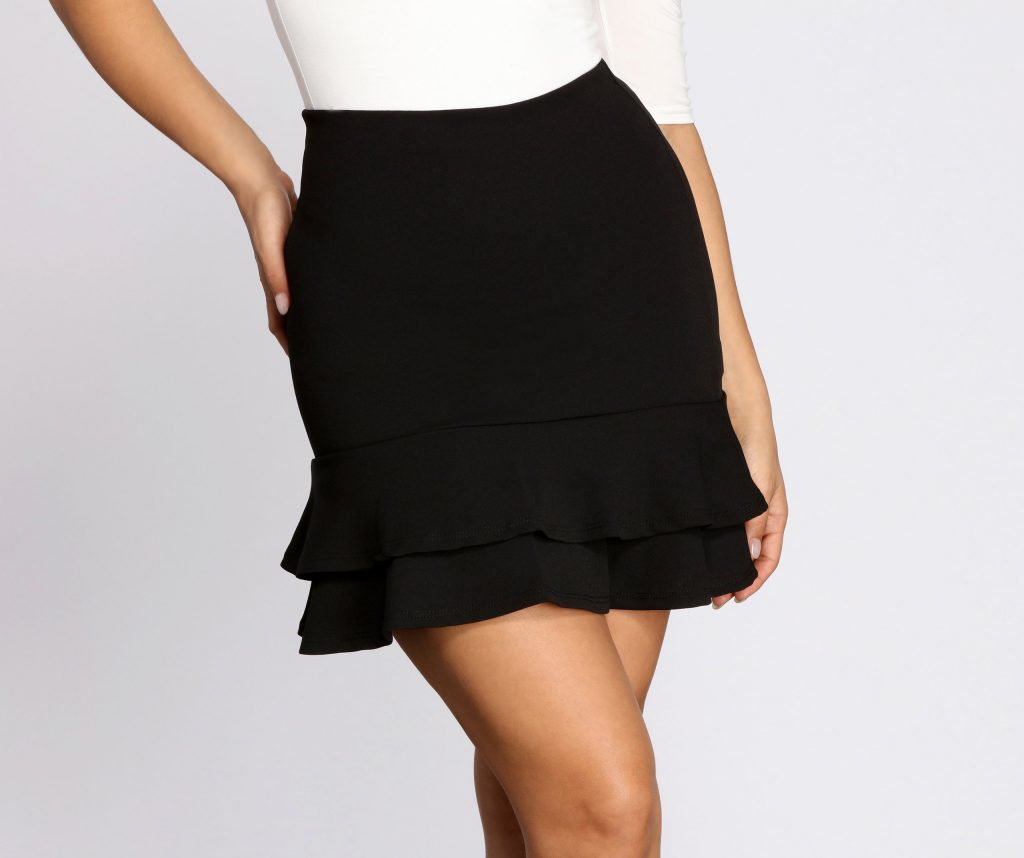 The two-step detail on a mini skirt is fall season-appropriate, as with the extra layer of fabric this skirt design got you covered. Wear it with a simple blouse and jacket, your favourite knee-length boots or normal shoes with long socks. Your chic fall look is ready as this silhouette is trendy.
3. Suede mini skirt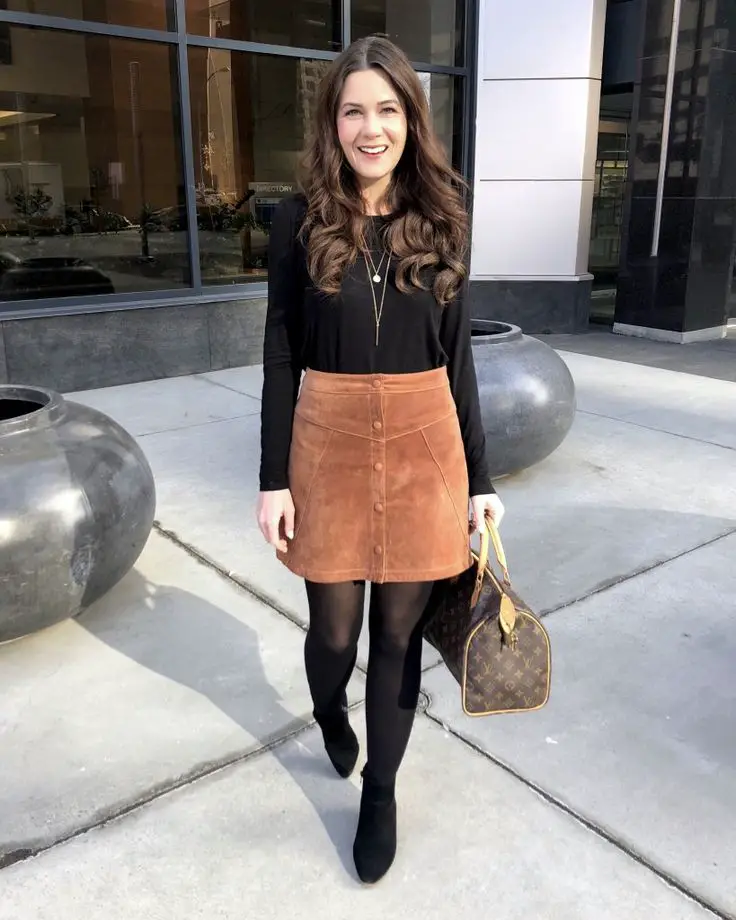 The suede fabric is one of the most perfect choices for fall because it is thick and can provide warmth. The colours you can wear this fall are so chic that you only have to pair your suede skirt with a long-sleeved top or sweater.
Add your boots and matching bag, and you'll have a street casual outfit. Polish the look by adding a big belt over a simple top, tucked in with a trench coat and matching mules.
4. Leather mini skirts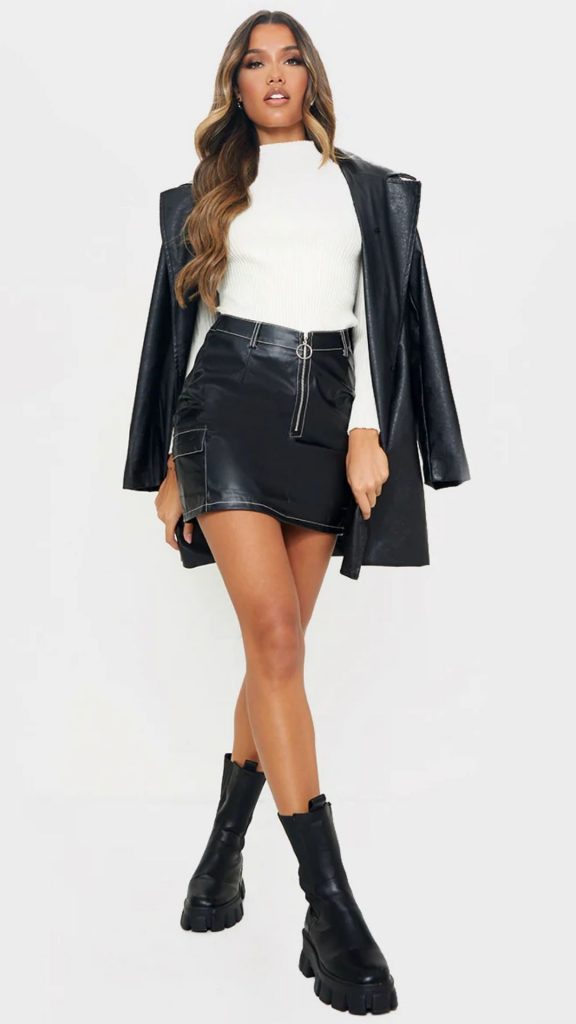 Be extra chic this fall in a little leather skirt, including some biker-themed designs. It is only fair that you style with a matching jacket. Wear with a high neck or long-sleeved top, and high rise shoes with a matching leather bag to complement the look.
A full leather edgy outfit never looked so cute. You can opt to tone it down with simple slouchy oversized sweaters.
5. A-Line mini skirt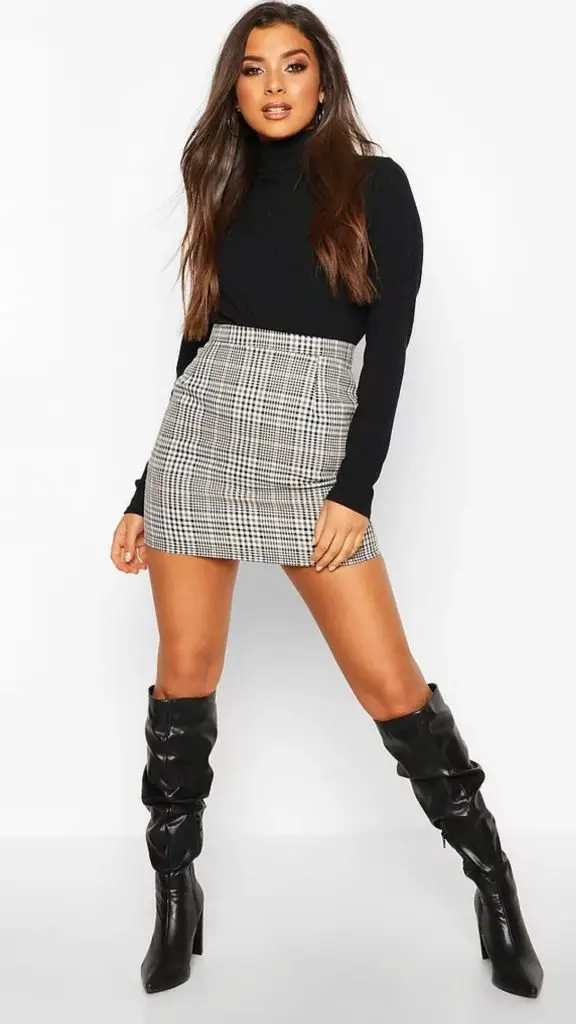 Mini A-line skirts are for dressier and formal occasions. They can be worn with a dressy blouse or simple form-fitting turtle neck tops and sweaters. Shoes should be pumps or heeled boots with a nice long coat. It is a sophisticated outfit you will want to incorporate into your fall wardrobe.
6. High rise wrap mini skirt
The wrap skirt will never go out of fashion. It is a great choice to go from a daytime to a nighttime outfit. Style with a matching black top and platform boots for comfort—you'll get an outfit suitable for errands, dates, and dinner outings.
7. Mini denim skirt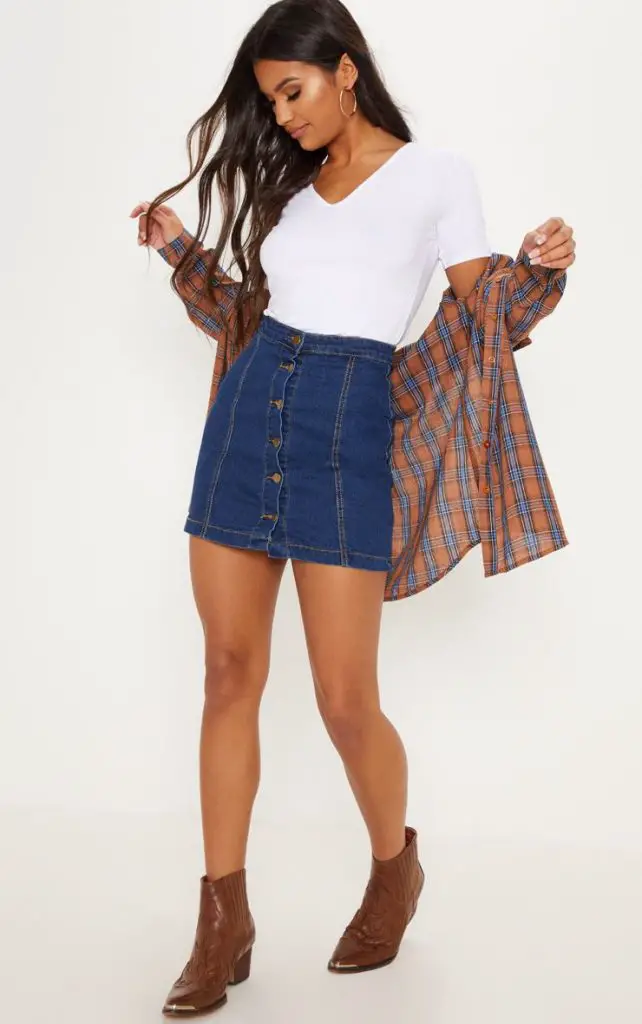 The mini denim skirts are so easy to style just like the trousers. They pair well with tops like t-shirts, cardigans, and sweaters of prints and colours. Blue denim is more casual than most skirts when styled with plain tops and sneakers.
Put in a little effort when styling and elevate them to brunch certified. You'll need dressy blouses like capes, bell sleeves, and textured high necks. Wear with chunky shoes or boots and finish off the look with a trench coat.
8. Mini pleated skirts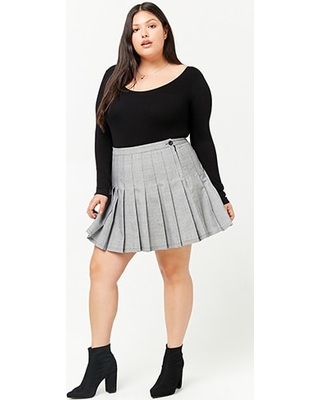 Pleated skirts have layers of fabric and are foolproof fall-worthy. They come in nice prints and designs like the classic neutral tennis skirts. Wear with a chunky sweater, ankle booties, and a mini bag for a simple fall look.
Recreate some summer-inspired outfits by wearing them with t-shirts, and runners layered with thick vests to make them fall appropriate. The shorts underneath the skirt will give an extra layer of warmth.
9. Knit mini skirts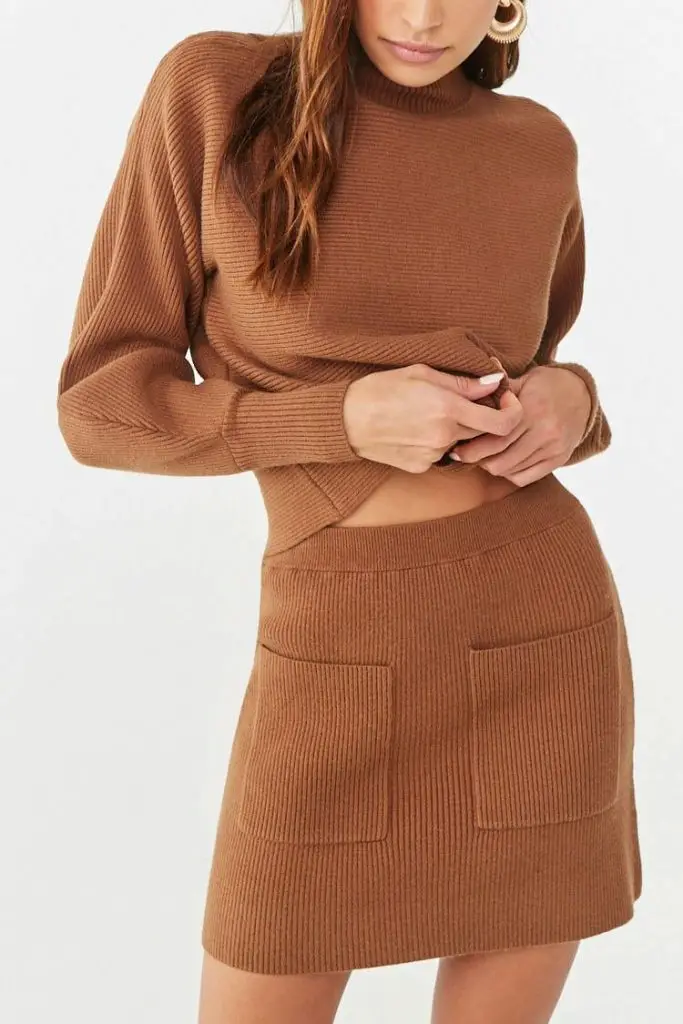 Knit skirts, just like sweaters, are cosy and cold-proof clothing. The mini version should be your choice for fall, with all the variations of knit designs. A matching slouch knit sweater and lug sole boots might just be it.
10. Embellished minis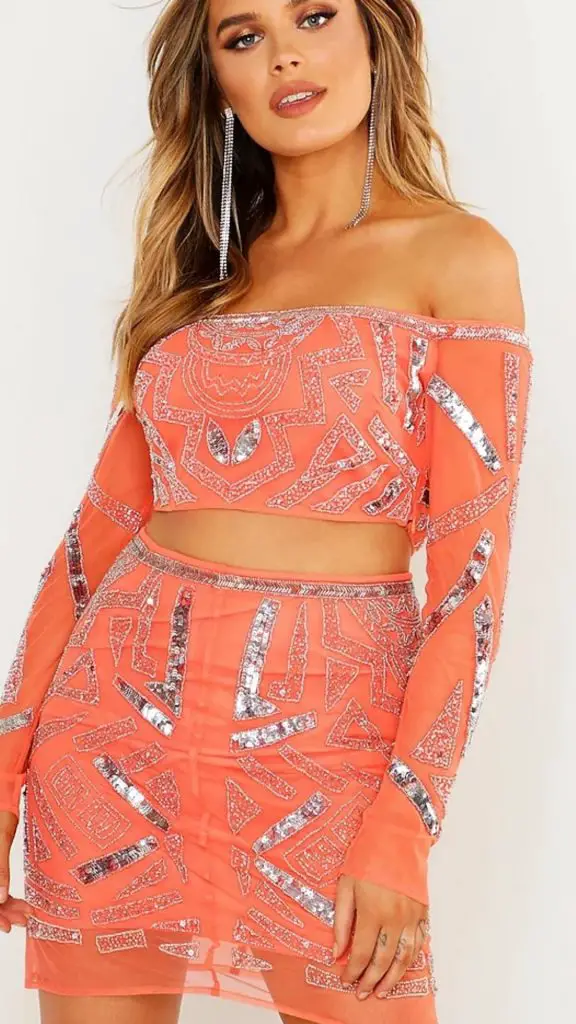 Stay glammed up with an embellished piece that includes beads, sequins, fringes, and extra details that make the skirt pop. Style with a dressy blouse to be the centre of attention or tone it down with a simple top to keep the focus on the skirt. With thigh-high boots and vibrant makeup and accessories, you be ready to shake down any party.
There are many ways to style the mini skirt and look attractive. The short hemline is sexy; for the slight chill to colder days pair with suitable tops, and thick thigh-high boots, so you can wear them all fall. Seek inspiration from fashionable influencers, they are easy to style when you get in sync with the trend.