A shell necklace is associated with the beach but is slowly washing up the figurative mainstream shore. Shells have been used to make jewellery for a long time, and it is hard to resist the appeal of the beautiful and intricate natural patterns. Even if you spot them in their natural form, you should still take a stroll down the beach.
They are a sure way to dress bohemian chic as we can't help but gush over how gorgeous they look. From short to longer versions, different types of seashells come to play such as cowries, conch, and small cockles, which makes the affordable piece of jewellery a sure way to get your beachy aesthetics on.
1. Puka (Cowrie) shell necklace
Used as money in time past, the puka shell can also be used to make versatile jewellery pieces inspired by nature. Puka is in a resurgent phase right now, as unbalanced and chunky.
Even back then they were cool to wear as this unisex jewellery was worn from beach to parties. Style with relaxed clothes to bring out the fun vibe of the necklace. Relive the Puka shell glory days with the cute ones you can find.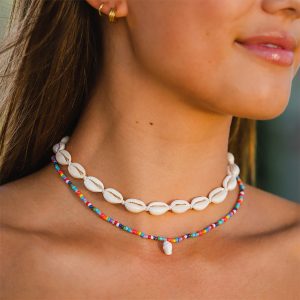 2. Conch shell
Show your free-spirited personality through a piece of jewellery like this. The detailed pattern and spiral shape of the conch shells make them cute. A lot of necklace styles can be made with conch shells but a medium dropping piece is all you will need to style your dress, free tops, and shorts. Nothing says destination ready than this stunning necklace.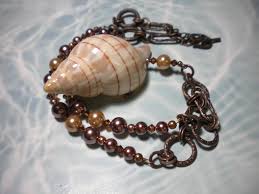 3. Encrusted shell necklace
Without taking anything away from the plain shell necklaces, the encrusted shell necklaces are beautiful. Conduct a little search and you will see them encrusted with gems, wires, and sea stones for that extra detailed design.
You can stick with nature with a piece encrusted with another shell. Your dress and skirts just found a sophisticated accessory.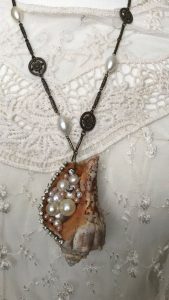 4. Long shell necklace
The long shell necklace is perfect for all your strapped, slip and deep neck dresses. The bead and shell details will fall to the chest area to adorn the exposed skin. You can get away with styling this necklace with a fitting shirt, loose trousers, and a trusted pair of sandals.
5. Pearl necklaces
Pearls are utterly feminine and are made into delicate necklaces that can be used to accessorize any outfit. From simple trousers and shirts to dresses for both laid back and formal events, pearl necklaces are perfect.
If they are too feminine for your style, you can choose cute choker necklaces for a little dose of edginess. The original ones are pricy, but you can opt for the faux versions. They are cute as well and will get the job done.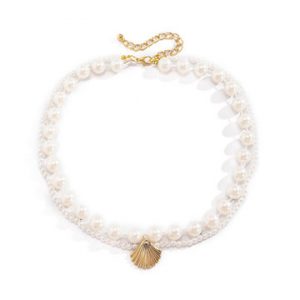 6. Clamshell necklace
Clams are striking when made into a necklace, and these chunky shells can be added to a gold chain-filled charm or made into an intricate design with beautiful beads. Your dresses just found a dash of whimsical accessory. It is such a charming beach look you can't pass up.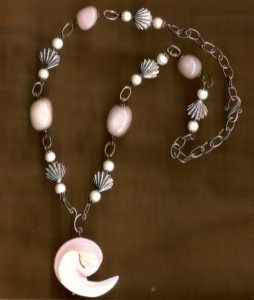 7. Layered shell piece
Fill up spaces with a layered piece of jewellery and it will give your flowing white maxi dress a boost. This is what we mean by a statement piece of necklace that can be used to elevate from vacation to casual attires.
Wear with clothes that have an open neckline, like off-the-shoulders pair with matching shoes and earrings, and you'll be receiving compliments every time you wear them.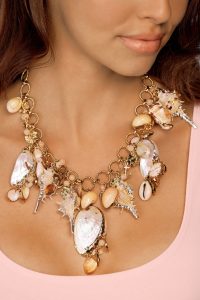 8. Gold plated shell necklace
Go for a modern take with a gold-painted or covered shell piece or with gold metal that is shell-shaped, with matching earrings you can wear them all year round.
The fine and modern finish of these pieces makes them suitable for casual outings to cocktails and evening dinners, as they give an unexpected twist to your outfit.
9. Shell pendant
A subtle way to add a shell necklace to your outfit is with a shell pendant. They can be used to style any kind of outfit from your bathing suit to evening gowns. You can opt for big shells to small cowries. This makes them a perfect piece to add to your gold chain for your everyday ensemble.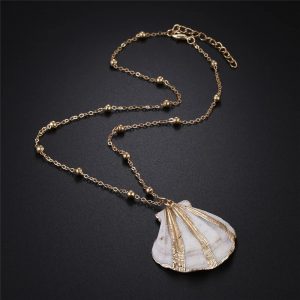 10. Scallop shell
The natural line details of this scallop shell necklace make it unique. Made into a necklace, it can be incorporated into many outfits. It will feel like transporting the memories of the sea to your look no matter where you're going.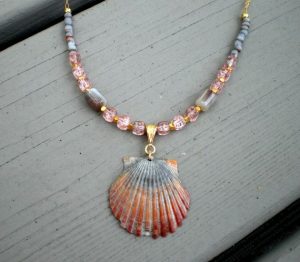 Seashells are like a treasure found along shores, which can be used to adorn your body, style outfits, and decorate living spaces. Based on their designs, any iteration of the shell necklace can complete any kind of outfit that you put together.
Choose a fascinating piece true to you, or update your jewellery with a few pieces. Remember to allow the shell to set the pace as you use it as an accessory to elevate your outfits.