Have you questioned the infusion of your Michael Kors fanny pack into your dress outfits? There are ways to make the bag work with your dresses, with ten stylish updates.
Fashion is about choices, and the bottom line is what makes you comfortable. When you step out, looking and feeling beautiful should be on your mind, with the clothes and accessories you put on. The fanny pack is one fashion accessory that has been around for a while, going with many names such as belt bag, belly bag, bum bag, moon bag, and are loved for their hands-free appeal.
Fanny Packs give a cinched waist effect, and it's a wonder why you are not paring them with your dresses. At the same time, there are some style rules to stick to, such as avoiding boxy designs and sticking with sleek innovative designs. You can nail a fanny pack dress outfit with these 10 ideas below.
1. Pair your Michael Kors Crossbody Fanny Pack with a Minidress
A mini dress is a staple piece in the wardrobe and will look great with a crossbody pairing. Adjust the straps to fit your body perfectly and has a relaxed vibe. When the temperature drops and you need to add a jacket to your mini-dress outfit but be sure to cross the bag over the coat.
Related article: Top 10 Olivia Rodrigo Outfits You Have to Try Out At Least Once in 2022.
2. Shirtdress with Michael Kors Fanny Pack
Go for a trendy look with a shirt dress and fanny pack pairing. There are two ways to rock this look, depending on the occasion. You can wear a crossbody over the dress with a lug sole boot for a laid-back outfit. Also, wearing your fanny pack as a belt to cinch the waist of your oversized shirt dress is a great idea, with a heeled mule for brunch.
3. The Michael Kors Fanny Pack and Maxi Dress Pairing
If you like to dress boho style or like the feel of a full-leg-grazing dress, then add a fanny pack to give your outfit a street touch. Balance out the colors when pairing, and you will be ready to take on your day in style. or style like Rihanna rocking a Gucci iteration.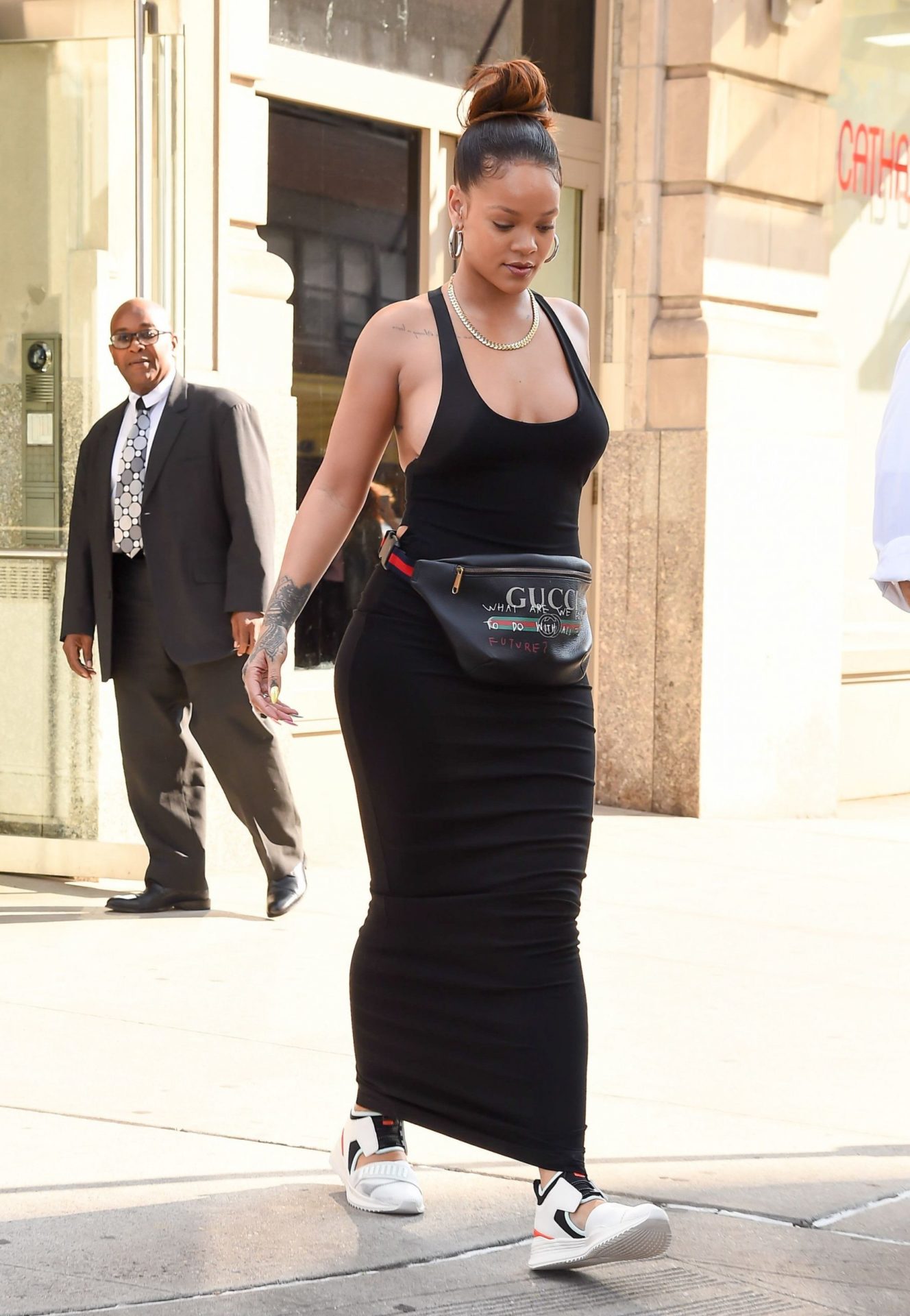 4. Sweater shirt dress with Fanny Pack
Fanny packs are one of the best accessories to complement your sweater dress shirt for a casual-cool outfit. Wear your bag crossbody or over the shoulder and pair it with a stylish sneaker or platform shoe for casual outings.
5. Flare dress fanny pack feature
You can cue in a fanny pack to gather the excess of a flared dress for a cinched waistline to flatter your figure. Wrap the bag over your waist twice; the adjustable straps on Michael Kors fanny bags will allow you to do this easily. Finish off the outfit with a heeled sandal, and that's all.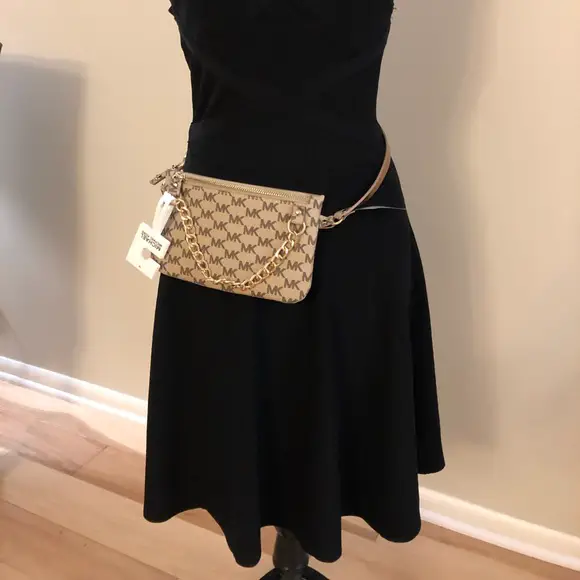 6. Oversized Midi dress idea
Dress in an uber-stylish way, with a midi dress, and use a belt bag to define your curves for a put-together look; coordinate colors of your bag with the footwear choice. This look will take you from errands run to drinks with the girls.
7. Fanny Pack With Denim dress
Denim is a classic piece in every wardrobe, and you can achieve an effortlessly cool outfit with a fanny pack feature. You can wear the bag both as a crossbody or on the waist, and it will look good anyway. Comfy shoes like sneakers and boots will work best to complement the look.
8. Body-con dress idea
A body con dress is a great way to show off your curves and come in varying sleeve lengths and colors. For a fanny pack feature to look good with dress style, opt for the Michael Kors belt bag with a chain link design to give detailed texture to your outfit. This way, the bag blends into a dress, and with a heel pairing, you can wear it to a party.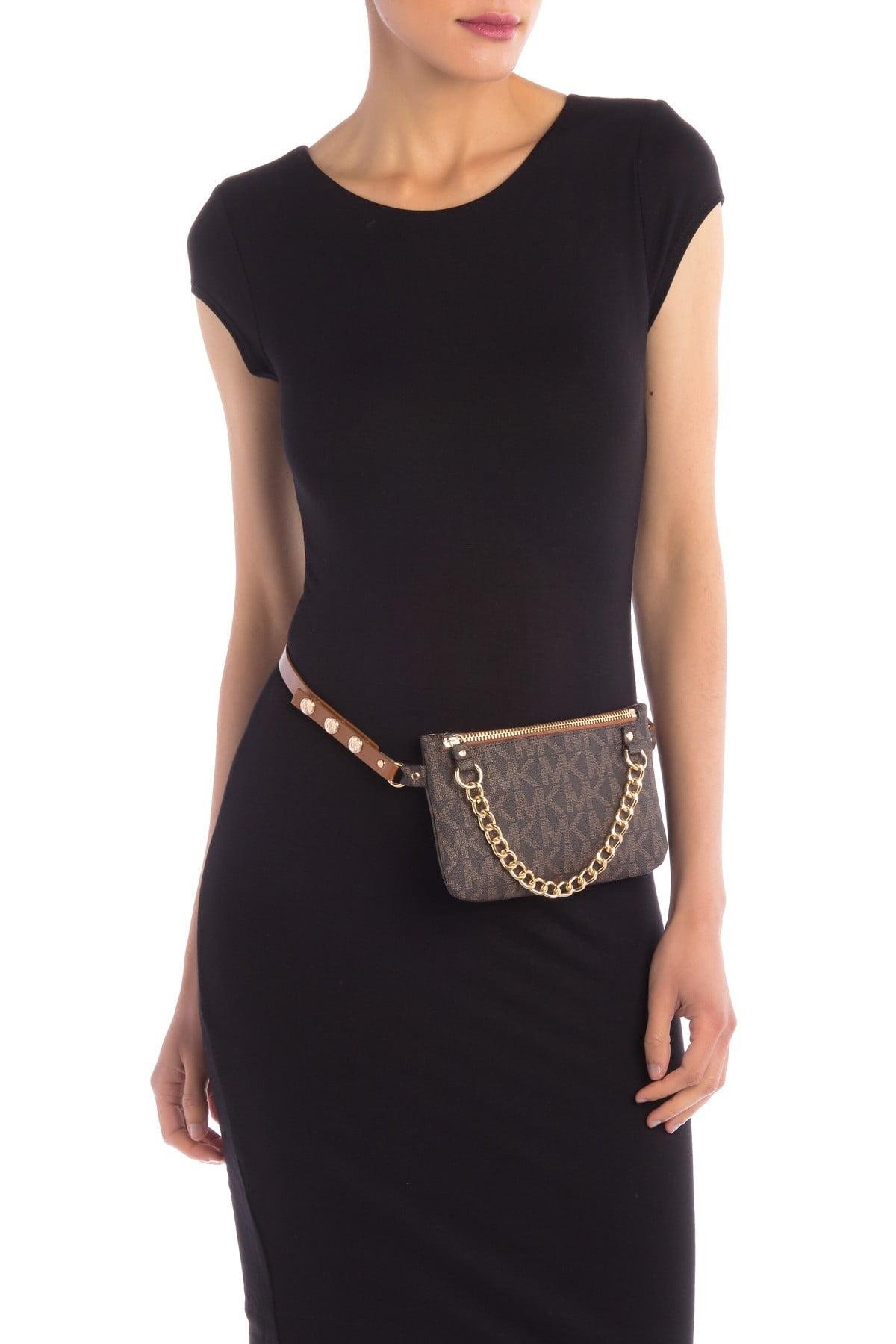 9. Blazer Dress and a fanny pack outfit
When Kendall Jenner added a belt bag to her blazer jacket outfit, it cleared all doubts we might be having about pairing the bag with a blazer dress. Chose from the stylish lineup of MK fanny packs and add to the waist of your blazer dress when stepping out next time. It is a great way to tone down the formal appeal of the dress.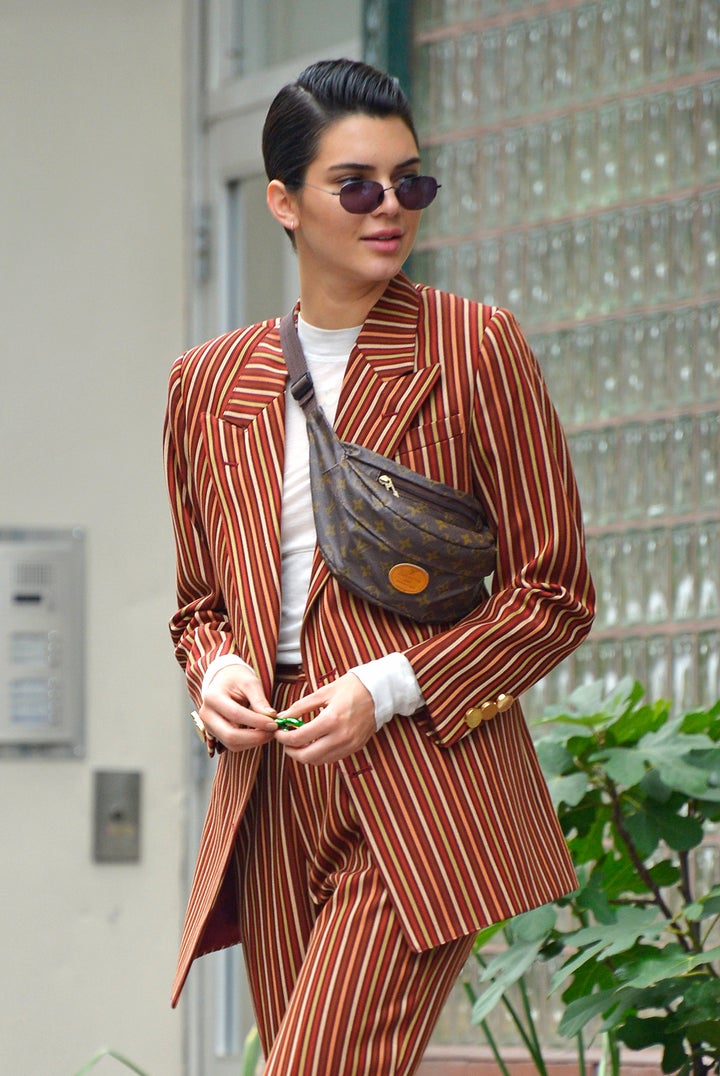 10. Tank dress
A tank dress and a bum bag are ideal pairings on warm summer days. You can go from the beach to festivals and dinners with the look. The pack will help house all your essentials while you swing by everywhere in style.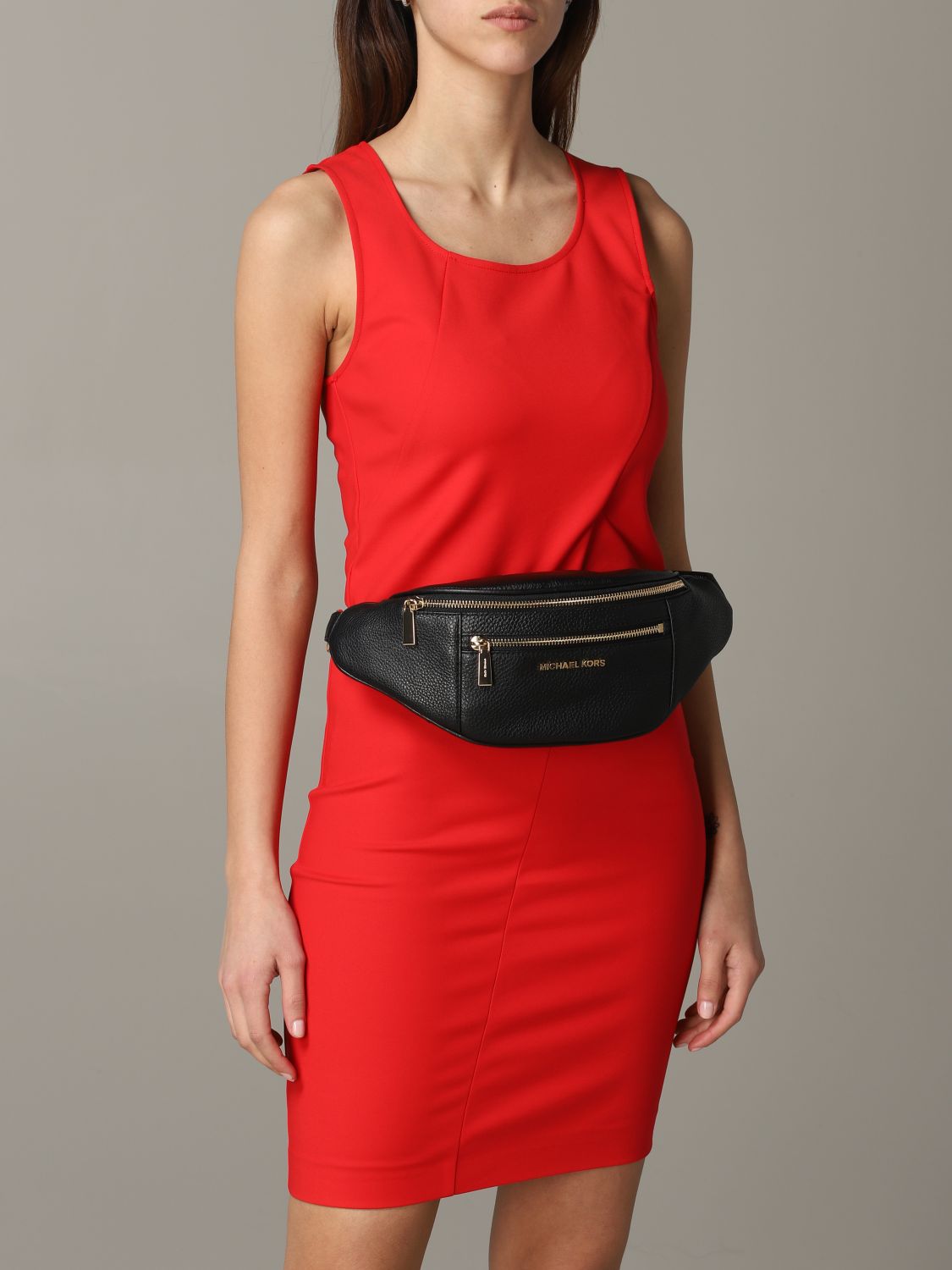 Michael Kors Fanny Pack Collection
When it comes to fashion Michael Kors (MK) has always been associated with luxury and high-end items. So, when they started releasing their iterations of the fanny pack design, it was only suiting to jump on it.
– MK Hudson fanny pack
Functionality meets designer style to create this bag, with the MK logo print on a synthetic outer polyester inner lining adding to the appeal. It has a main compartment, with slip pockets and a zipper pocket to hold the extra thing you carry around. The star feature of this fanny pack is the adjustable belt with an unconventional slip fastener. This bag is a functional luxury to add to your wardrobe with all the metal silver hardware.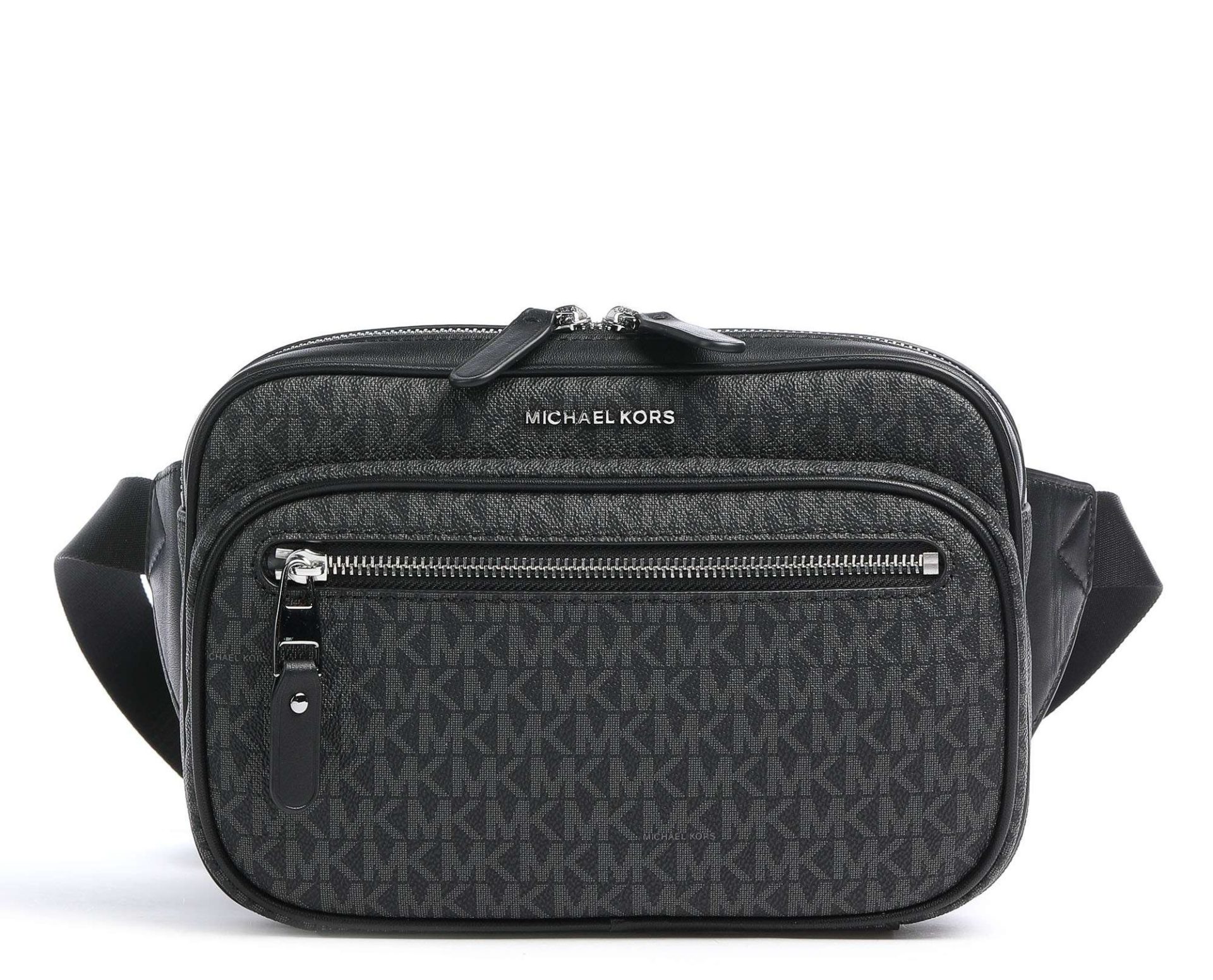 – Michael Kors Kenly Crossbody Bag
The bright white crossbody bag is a signature design for the fanny pack lover's dream. The bag features a double zip detail on leather trim that carries Michael Kors's name as hardware details in front. It also features adjustable straps so that you can wear them as a crossbody and a waist bag.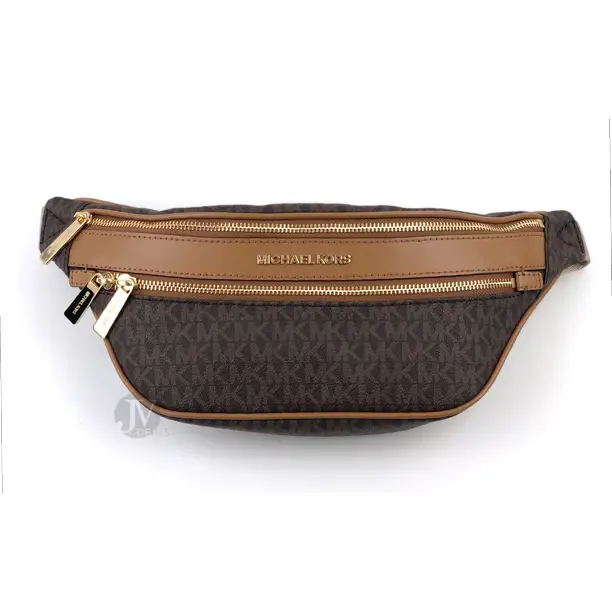 – Michael Kors signature fanny pack belt bag
MK got the style details right on this bag, and it is essentially a belt bag that serves as a fanny pack. It comes with a pull chain for extra style details and is slender enough to fit into the waistline comfortably. Although it has a synthetic exterior covering, the functional bag can serve several style needs. They come in three basic sizes (small/medium/large), in various colors to choose from.
– The Envelope Flap Belt Bag
This monogram print belt bag is the perfect bag for going hands-free when it comes to styling, with its flat closure mimicking an envelope to match the bag design.
There are several other fanny packs designs in the Michael Kors lineup, such as the Perry belt bag and the Mott fanny pack, with a vibrant nylon iteration. The slater logo-print belt bag and the leather and quilted versions are also very chic.
Conclusion
Even if the fanny pack you plan to rock is not from the Kors collection, you no doubt got styling ideas from this article to last you for days. Let me know what you think about the suggestions in the comment section, I would like to hear from you. You may also like to read, Lessons from The Tinder Swindler: signs of an online dating scammer.