The demand for chunky loafers, the staple 90s shoe with a modern-day twist, is skyrocketing, which only means like mom jeans and bucket hats, they're definitely here to stay.
Since we aren't done with nostalgia, 90s throwback fashion is the rage right now. But these aren't your ordinary loafers, as they also have a lug sole to give you a boost without the discomfort of wearing heels all day.
The original quintessential chunky loafer created quite a few different vibes back then. From goth to preppy to punk, you name it. The same can still be said now, but in this era, anything goes when it comes to sporting heeled loafers.
Why I think loafers are back for good
If there's anything we learned from the drama of 2020, it's that comfort is never overrated. Due to the pandemic and lockdown protocols, 2020 was the year of the slipper. With work meetings happening via zoom calls, there was no real reason to don on your favorite pair of kitten heels when no one could see below your waist.
In 2021, we slowly eased back into work and social events that happened beyond our living rooms. But there was a slight problem; we were having withdrawal symptoms. Working in our sweatpants and slippers was a life we didn't want to leave behind. Hence the revamping of the once boring meant-for-office-wear-alone shoes.
From lug sole sneakers to heavy boots and platform heels, chunky shoe style is the in trend, so it was only a matter of time before the traditional loafers were given the facelift they deserved. Pragmatic, comfortable, and versatile, chunky loafers can be paired with everything and anything.
Given the practicality and versatility of chunky loafers, many big fashion brands have jumped on the opportunity to create and stylize their own shoe design, as seen with Prada, Proenza Schouler and Dr Martens. Celebrities like Bella Hadid and Selena Gomez have been spotted rocking the chunky loafers and with style too.
Related article: 15 Trendy black turtleneck outfits you should definitely try out at least once.
Seeing that these big fashion icons have deemed it worthy of owning and showing off the chunky loafers, clearly, this updated fashion comeback is here to stay. And if they can make it work, so can we. Let's dive into how to style chunky loafers. However, before buying a new pair of chunky loafers, here are some things to know.
Tips to note when buying a new pair of chunky loafers
Get the right size
Many people may tell you to size down when picking a new pair of loafers, but this shouldn't be a blanket advice as some loafers are made true to size, and you might end up buying a size too small for you.
Buying a pair of loafers can be tricky, too big and your feet slips out with every step you take. Too small, and your feet are dead and full of blisters before it's even midday.
Related article: Top 20 Bootcut Leggings You Will Love to Get Your Hands On.
How to get the right size for chunky loafers
Get your feet professionally measured. This will save you a lot of stress trying out shoe after shoe to get the right one. This doesn't mean you still shouldn't try out the shoes before buying them.
As a general rule of thumb, your shoes shouldn't pinch or hurt when you try them on. Equally important, your feet shouldn't feel roomy in them either because they'll stretch and become slightly larger with use over time.
So if they're roomy when they are brand new, it means, later on, they'll be too big and slip off a lot. Don't go lower than half your original size if you must size down.
Also, if it's already right from the beginning, there isn't much hope for them getting more comfortable even after they've been broken in. When you're choosing a pair to buy, note that they should be snug, not tight. You should feel like they are hugging your feet, not constructing them.
Now that you're sure to buy the right size for you, listed below are:
10 ways you can style the chunky loafers and have everyone gushing at your outfit.
10. A coffee date in chunky loafers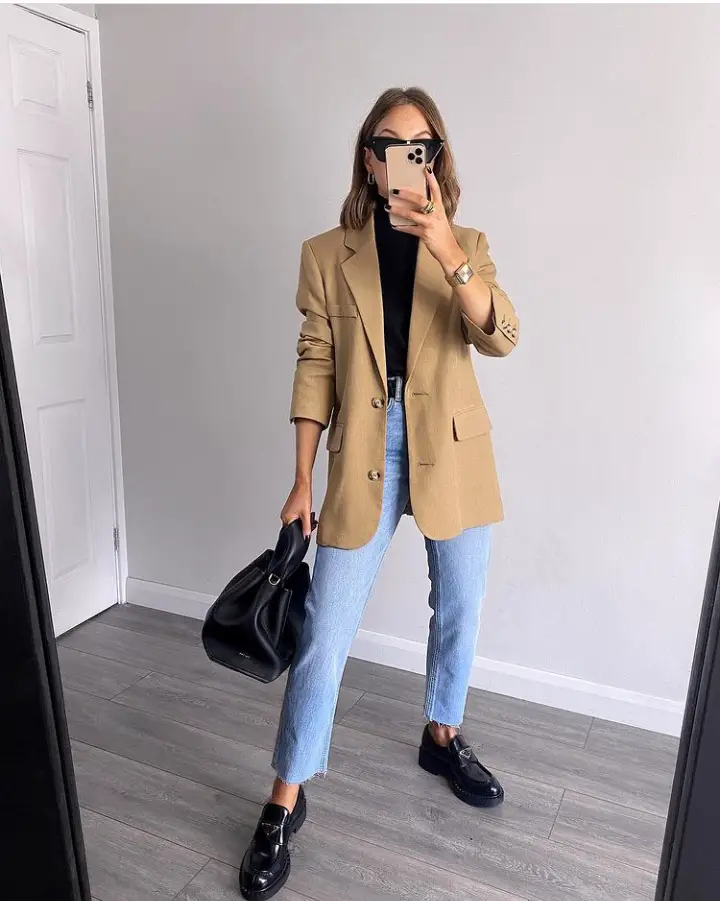 A blazer paired with jeans is a classic look worn by many. You can make it all the more alluring by adding a pair of chunky loafers to the ensemble. Watch yourself transform into the actual definition of casual chic. A perfect outfit for a coffee date, Wednesday office wear, or a fun time at the cinema.
9. Belted blazer and chunky loafers
 

View this post on Instagram

 
There is just this aura of elegance and grace that comes with wearing sheer tights and minidresses. Add a belted blazer, dark shades, and chunky loafers, and you'd look like you just walked out of a spy movie.
8.A monochrome outfit with chunky loafers
 

View this post on Instagram

 
Create a monochromatic boss lady look wearing a white shirt, black tapered cropped pants paired with chunky loafers. Nothing screams 'Don't mess with me' louder than a well-done monochromatic outfit. This look definitely gives off boss vibes, and you can spice it up some more by donning on a black coat.
7. Look stylish in colored tights
 

View this post on Instagram

 
You can look fabulous contrasting white chunky loafers against green tights, proof that you don't need to make your outfits dull to rock a pair of chunky loafers. Wear an A-line plaid gown with a long plaid gown and sleeve top worn inside if you're cold and not down for a coat. Adding a beret makes the outfit look more charming, so why not?
6. A grey pallette
 

View this post on Instagram

 
Short skirts and dresses are not the only skirt lengths that go supremely well with chunky loafers.
Try wearing a mid-length gray skirt with a gray turtleneck sweater tucked in, a white pair of socks, and kickass with chunky loafers. Yes, you can wear white socks with loafers and still be stylish.
So if the socks are there because your loafers are a bit on the loose side, no one would know. You can prance around with a long coat, either worn or draped over your shoulders.
Finish the too-cool-for-you look with a pair of sunglasses.
5. With a cozy look
 

View this post on Instagram

 
Chunky loafers are very comfortable and versatile enough to be worn in any season and styled however you want. Go for a cozy look by layering a turtleneck sweater with a leather jacket. Keep it professional, wearing gray slacks and black socks. This outfit shows you can still look charming while fighting off the cold.
4. Layering and chunky loafers
 

View this post on Instagram

 
You don't always have to create the schoolgirl look when you wear white socks and chunky loafers. You can wear short  tights and layer up with a thick jumper for a more stylish look.
3. Chunky Loafers meets all-black outfit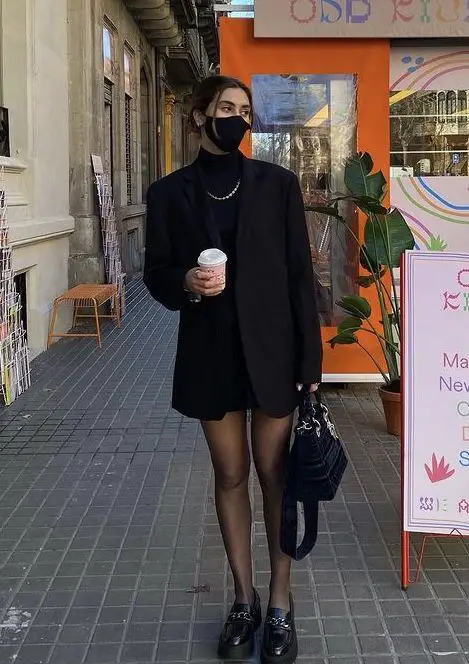 It's chic meets 90s grunge in this very sophisticated look. Wear a turtleneck mini dress with sheer tights all under an oversized coat.
Change the expected outcome of this popular look by replacing the boots worn typically with this outfit with chunky loafers.
The chunky loafers and the sheer tights will accentuate your legs, making them look leaner and longer. Clearly, sheer tights with chunky loafers are definitely a look to try.
2. For a streetwear facelift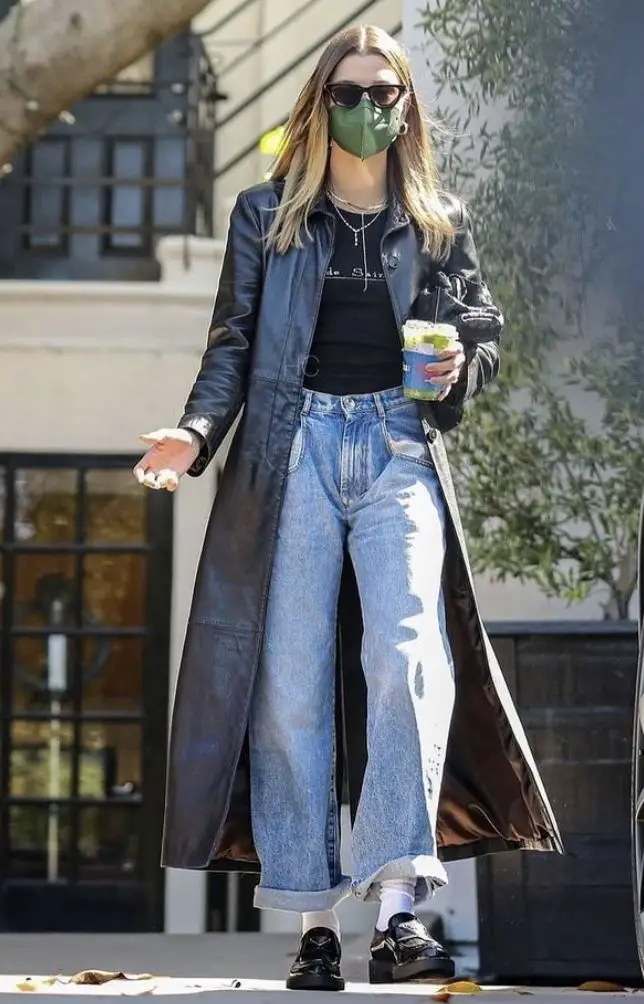 Make like the superstar fashion model Hailey Bieber and up your everyday streetwear by swapping your regular sneakers for chunky loafers.
Many would draw the line at styling loafers with athleisure, but that's part of the perks chunky loafers has. It can be dressed down with leggings and a large sweater or you can out on tights and a dress and make it look sophisticated.
The style ensemble is pretty easy to put together. Regular mom jeans rolled at the bottom paired with a basic tee tucked in all under a leather trench coat. And finally, the crème de la cake, finish it off by wearing white socks with the loafers.
Add a bit of flair to the look by accessorizing. Accessories have the power to take your look from basic to fantastic in a matter of seconds, so don't sleep on them.
1. With Stirrup Leggings
 

View this post on Instagram

 
Stilettos and heeled slippers aren't the only shoes that show off the fanciness of stirrup leggings, a pair of chunky loafers can also do the job well. Show off the little piece of material that goes around the arch of your feet with a lovely pair of chunky loafers. Finish up the chic look with a button-down shirt rolled at the sleeves, a neck scarf, and pretty gold hoop earrings.
Conclusion
Chunky loafers prove that you do not always have to sacrifice your comfort to slay; beauty is not always a pain. Loafers have shown that they are a timeless piece of fashion, and the recent makeup it underwent shows they're a style here to stay. And I am all for it.
I hope you'll find this style guide inspiring enough to choose from or create your own look; either way, have fun doing it. So, go out shopping for a pair and style them how you like. And, of course, let me know how it goes in the comments section.
You may also like to read, How to get the best out of a beauty salon trip.