These 2022 concert outfits have comfort and style written all over them.
Admit it, we all missed going to concerts, from picking out concert outfits to vining hard with our favorite artists so close to us. It's a phenomenal experience.
While many of us are veterans when it comes to attending concerts, some haven't been to a concert before. It would help if you never went anywhere, shows included, without knowing a little about what to expect as a rule of thumb.
To help you out, here are some tips for your first concert.
1. Dress comfortably
The first thing you should know about concerts is that there is a lot of standing involved. You'll have to wait in long—and I mean long—lines, and since there is no assigned seating, you're standing the whole night.
As tiring as they are, they are also entertaining and your comfort factors into how fun you'll find the concert.
Think about it, have you ever been anywhere (that wasn't home) with a wardrobe malfunction? Tight shoes? Itchy pants? How did you feel? Now amplify how irritated and uncomfortable you were, and you have a close estimate of how you'd feel if comfort wasn't your priority.
That said, you should never prioritize style over your comfort. Chances are you'd probably forget to take pictures or hate all the pictures you took and hate the uncomfortable experience.
Avoid open-toed shoes. There'll be lots of stepping on feet. Heels are also a no, especially if they hold the concert in a grassy area. Besides, you'll be standing all through, not sure your muscles would appreciate the strain.
Test your planned outfit ahead, really, do that. Especially if you just got the clothes specifically for the concert or haven't worn them in a while. You really don't want to deal with itchy tags or shrunken jeans all night.
Carry a light back and only bring necessary things like a portable charger (your phone will probably die before the show is over, so avoid all that mess that comes with a dead phone). It might not seem like a big deal, but after a while, your bag starts to feel heavier. Guess who'll be stuck all night carrying it and unable to jump in excitement or burst out practiced moves—you.
2. Bring your own sealed water
You will get parched waiting in line, and you'll be glad you have your water on you while you familiarise yourself with everything. Of course, you might need another bottle of water inside (you can't survive on just one bottle of water), but you'll be happy you got your first water of the night from home.
3. Get there early
Not crack of dawn early, unless they're your favorite artist, then it'd all be worth it. Still, though, get to the concert early. So far as you get to the venue, hours before they stop giving people access. You're almost guaranteed a great spot.
Related article: 10 stylish and comfortable waterproof boots that'll keep your feet dry and cozy all through.
4. Create enough breathing room for yourself
At concerts, people can get all in your personal space. People surrounding you and giving you zero breathing room make up for a recipe of utter discomfort all night. So try to spread your feet shoulder-width apart, stand your ground and try not to get shoved or squeezed. It would be best if you had that sliver of space so you could really enjoy the concert.
5. Know the band
What's the fun of the concert if you don't know who's playing? Or maybe you know one song? No fun. You'd be disappointed all through and not have a fun night. So, know the band. Know the lyrics to the songs they'll play because there's nothing quite as adrenaline-inducing and cathartic as screaming the lyrics to a song as your bounce to the rhythm.
6. Don't watch the concert through a screen
And that includes your camcorders, too (does anyone still use that? Let me know in the comments section). Not only is it rude and disrespectful, but if you spend the entire night through the screen, at what point do you enjoy the experience?
Sure, you can take videos during your favorite songs and take pictures here and there, but do not spend the entire night behind a screen. Plus, in reality, you're not going to upload the whole thing on your social media. Neither will you go through the videos more than twice for the sake of reminiscing.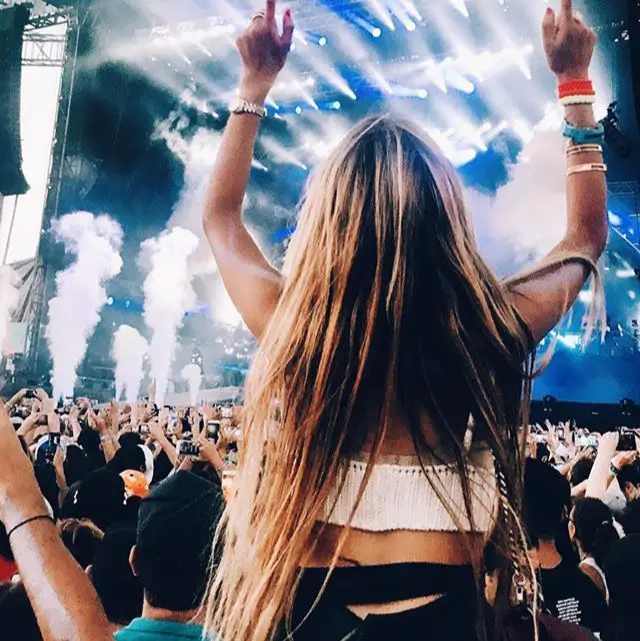 Here are other quick tips to pay attention to:
Bring pain relief along. You might, and you might not need it, but better safe than sorry. Loud noises can cause a raging headache after all.
Take earplugs with you. Especially if you're sensitive to a lot of noise, you'll protect your eardrums.
Don't forget your tickets and check the date before you go.
Have fun, but not at the expense of others. Don't be inconsiderate, don't spend the whole night discussing with your friends. Sing along, but keep the chit-chat to a minimum.
Eat and eat healthy at regular intervals.
Limit your alcohol consumption. Concerts aren't the place to get shit-faced. Plus, don't be the bummer who pukes up on people. And you'd hate that you blacked out and completely missed the show.
Bring extra cash. You might need it for an emergency or want to get more food or something. Some vendors might not collect debit cards, and you can guess the queue you'll meet at the ATM stand.
Get your merch online or at irregular periods like before and after the first opening act, with fewer queues.
And on that note, here are 5 things to consider before choosing concert outfits in 2022
4 things to consider before picking concert outfits in 2022
– The venue
Knowing the venue for the event is pivotal in picking a concert outfit. Is it indoors? If it's indoors, you know you'll have people pressed up against you, and it will get hot. So makeup that doesn't wash easily is a must if you'll be wearing any. Outdoors? If it's outdoors, is it on the beach? Or a grassy area? This information will help you select the best outfit to wear.
– Keep the weather in mind
If it's during summer, you can get away with very light clothes, but still, make sure to take a jacket with you as it might get chilly at night. If it's during winter, layer up properly; but do it in a way where you can shed the excess layer when you're feeling hot. And if it's during fall, a poncho should accompany you as you don't know when a downpour will happen.
– You don't have to follow stereotypes
When picking out concert outfits, you don't have to stick to stereotypes or expected styles. Say you're going to a rock concert. If a pretty pink top with glitter and shine is what you want to wear, go for it. That said, wearing stereotypes or expected outfit styles doesn't make you uncool either. You do you and have fun.
– Comfort
This can not be stressed enough—comfort over style. You'll spend the entire day or night standing, dancing, with people pressed up against you; you really don't want added discomfort, especially if it's one you could've prevented.
Now that you know what to consider when picking out concert outfits, here are amazing concert outfit ideas.
 15 Fabulous Concert Outfits For 2022 Concerts That Are Perfect For You.
15. The Simple Fit
 

View this post on Instagram

 
Create a stylish yet straightforward concert outfit wearing a cropped cardigan and jeans. Elevate your look by selecting split hem jeans. Finish the look with a pair of sneakers or ankle boots and gold hoop earrings.
14. The Suit Dress Ensemble
 

View this post on Instagram

 
Dress down a tuxedo dress with a pair of chunky loafers, and you've created a dressy concert outfit.
13.  Concert Outfits 2022: Y2K Meets 90s Grunge
 

View this post on Instagram

 
It's Y2K meets 90s grunge in this look. Wear a plaid mini skirt over fishnet stockings and chunky boots. Add a pair of fingerless elbow-length gloves for a dash of goth.
12. The Selena Quintanilla Style
 

View this post on Instagram

 
Wear a same-color bralette and figure-fitting jeans for a Selena Quintanilla look. You can stylize the bralette to your taste by fixing fringe detailing, studs, and whatever else catches your fancy. Keep your feet protected and comfortable in boots as you rock out all night or day.
11. Sleek Casual Look
 

View this post on Instagram

 
A sleek and casual look for concerts in a city stadium makes for a terrific concert outfit. Style a basic white shirt with high-waist jeans and combat boots. Add on a blazer for a polished look. You can swap the blazer for a teddy coat for colder periods.
10. Concert Outfits 2022: The Oversized Tee
 

View this post on Instagram

 
The key to looking flawless in an oversized tee is getting the proportion right. Depending on the look you're going for, your oversized tee could be a little short in length but pretty boxy in width or vice versa. So pair your oversized shirt with a pair of riding boots for a casual chic look.
Add on a fringe jacket for layering, and you've nailed an effortless-looking kickass outfit for a country concert. Or swap the riding boots for thigh-high boots, and you've created a perfect Ariana Grande concert outfit.
9. Distressed Jeans + Bandeau Leather Top + Boots
 

View this post on Instagram

 
This outfit takes an edgy spin on a comfortable look, giving enough hardcore energy for a rap concert. Throw on a beanie or a bucket hat for a dash of 90s vibes.
8. Faux Leather Pants + Ankle Boots + Halter Top
 

View this post on Instagram

 
Perhaps you want a change of pace. Faux leather pants make for a beautiful style upgrade. They are also super comfortable, so standing for hours in them will not have your thighs begging for escape. Don't forget to take a jacket with you if it gets chilly.
7. Concert outfits 2022: The 70s Inspired Fit
 

View this post on Instagram

 
A 70s-inspired look is a total knockout ensemble for a summer outdoor concert. The fit features a crotchet top with bell sleeves, denim shorts, and Fisherman sandals which completes the breezy look. Take your style to a whole new level by slapping on some 70s-inspired makeup.
6. A Mini Dress Ensemble
 

View this post on Instagram

 
Dresses also work as concert outfits, especially during the warmer periods. They free up your legs which you can show off depending on your picked length. Pair a mini dress with chunky sneakers for a cutesy sporty look. Fire up the look with accessories; a shell necklace will make a gorgeous combo with a sandy venue.
5. The Full-on Leather
 

View this post on Instagram

 
You can't go wrong wearing an all-leather outfit to a punk concert. It keeps you in tune with the hardcore vibes. Take it up a notch with your jewelry, faux piercing, or real piercings; definitely take the cake here.
4. The Girly Glam
 

View this post on Instagram

 
As previously stated, if a glittery pink top is what you want to wear to a rock concert, go for it. You shouldn't have to force yourself to meet expectations. That said, you can style a mini skirt with a corset top and sheer tights for a girly glam. Your choice of shoe matters too.
You can wear chunky sneakers for a casual look or keep it classy with ankle boots. And if it's during fall, swap your shoes for waterproof boots that'll keep your feet dry and comfortable.
3. Concert outfits 2022: Costumed Outfits
 

View this post on Instagram

 
Attending concerts in costumes, especially during Halloween, is a fantastic way to maximize your fun. The fun starts from picking out who you want to cosplay with and doesn't end until the concert is over.
2. Jumpsuit Ensemble
 

View this post on Instagram

 
Here's a classy and cute concert outfit for 2022. The great thing about jumpsuits, other than making you look fabulous, is that you don't have to worry about matching the right top to bottom. You can dress it down with a pair of Vans or dress it up with a couple of sleek-looking booties. And take a fanny pack with you to keep all your essentials.
1. Band Shirts And Whatever Bottoms
And if all else fails, a band shirt with whatever comfortable bottom of your choice is all you need to create simple concert outfits in 2022.
Conclusion
There you have it, 15 fabulous concert outfit ideas to try out in 2022. In the end, the goal is to have fun with as little discomfort as possible.
You may also like to read:
–What are the traits of each zodiac signs? Buy astrology charts and guides here
–Top 10 Black Fashion Bloggers You Should Follow In 2022
–Hair Color Wax For Locs