A blonde Halloween costume is a dime a dozen, but I've gathered the most iconic yet easily replicable costumes for you to choose from.
As the year wanes, the time to get your spook on draws near, and you may find yourself at a loss about what costumes to wear if you're a blonde. After all, most characters on screen are either the classic black-haired beauties like Selena Kyle (Catwoman) or red-head bombshells like Natasha Romanoff (Black Widow). Or maybe you just got this incredible blonde wig you've been dying to spring out.
Whatever your reason is, I've got your back this year with a list of blonde Halloween costumes that would turn you into a Hallo-Queen. You can pick any character on this list to cosplay and dazzle your friends at your costume parties or garner more likes on your favorite social media app.
Before we dive into the list, here are the most popular Halloween costumes of 2021, according to Google Trends.
Some costumes weren't surprising, like the Witch costume, which tops the list. Seeing that Wanda Maximimoff (Scarlet Witch) and Agatha Harkness of WandaVision were the raves for the year's first half, it's no surprise that people wanted to tap into their inner witch for Halloween.
However, some were somewhat surprising and unexplainable, like Dinosaur at number 3 and Chicken at number 57. I fail to see how those work, but I'd be glad to hear from you if you dressed up as any of them. Give me the full deets down in the comments section.
Anyway, for the purpose of brevity, I've listed the top 10 most popular Halloween costumes in 2021, according to Google Trends.
Top 10 Most popular Halloween costumes of 2021
Witch
Rabbit
Dinosaur
Spiderman
Cruella de Vil
Fairy
Harley Quinn
Cowboy
Clown
Chucky
You can check out the complete list here. For more information on online costumes check out Blossom Costumes.
That said, some people take their Halloween costumes very seriously and try to make the costume look as closely as it can to the original. This might include special DIY knowledge and meticulously creating their costumes piece by piece until it's the exact replica. They might even go as far as dyeing or bleaching their hair to make your costume more authentic. Now that's a committed queen I can stan.
However, taking your hair from a darker color to a lighter one can brutally damage your hair if not done correctly, and you certainly don't want that. The severity of the damage largely depends on how light you go and how quickly, too.
What happens to your hair when you go blonde?
Professional hair colorists have a level system that indicates how light or dark a color is. The scale starts from 1 being black and goes all the way up to 10 being the absolute lightest hair color (platinum blonde). A color change that is more than two levels from your current hair color is considered a dramatic change.
Typically, changing the color of your hair causes damage. There's no way around it. But the damage caused can be kept minimal. Changing your hair color means changing the internal molecular structure of your hair. And to lighten your hair, you need to remove pigment.
Things to keep in mind when going blonde for your blonde Halloween costume
Dramatic sudden changes to your hair can make your hair weaker, unable to retain moisture, and more prone to breakage, especially if you don't take steps to properly care for the hair.
Lightening your hair is a complicated, delicate, and difficult task best left to the hands of a professional. You might cause irreversible damage to your hair if you decide to do it yourself (forget what those YouTube videos say).
Taking care of blonde hair is the definition of high maintenance. You'll need to visit your colorists for routine checkups, and the more dramatic your change, the bigger your budget.
Your lightened hair will need a lot of time, love and care, and many products to keep your hair healthy and combat dryness and brassiness.
You'll need to incorporate many moisturizing products into your hair care routine and only use shampoos and conditioners that are safe for bleached hair.
Or you can skip all that drama by getting yourself a stunning wig.
From classic storybook characters like Tinkerbell to stunning comic heroines such as Gwen Stacy (Spider Gwen/Woman) to celebrities like Gwen Stefani, we have a non-exhaustive list to set your mind at ease come this fall.
And the best bit? If you don't want the hassle of costume making, some of the ones we have listed can be mimicked by donning staple clothes that have been modified just a little bit.
Without further ado, here are 15 not at all basic blonde Halloween costumes to try out in 2022
15. Black Canary blonde Halloween costume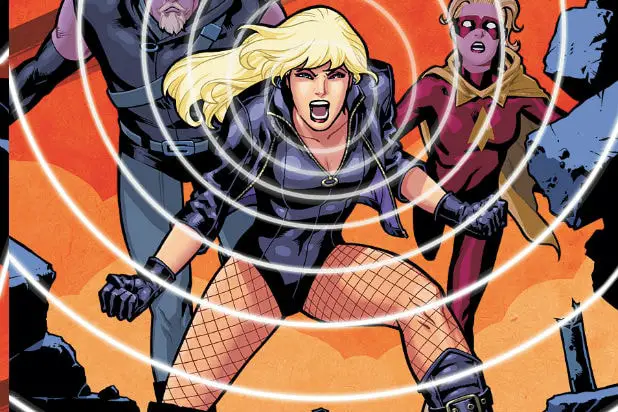 Black Canary—a DC superhero with impressive martial art skills, the ability to produce sonic screams, and a woman who almost killed the Man of Steel himself. You just need a bodysuit worn over fishnet stockings to make this look. Black riding boots and dark gloves. Finish up by donning a leather jacket, and you're ready to take the streets as a stunning Bird of Prey.
14. Sailor Moon (Usagi Tsukino)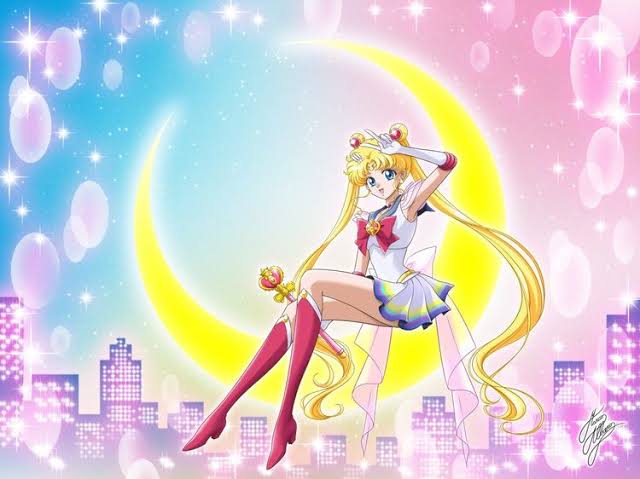 This is a fantastic blonde Halloween costume for Otakus. Sailor Moon's costume doesn't require heavy DIY skills.
If you can't get a white and blue sailor suit, you can improvise with a white top tucked into a white pleated mini skirt and red knee-high boots. Don on a pair of white elbow gloves and a bandana tied around your neck with the triangle facing your back.
13. Emma Frost blonde Halloween costume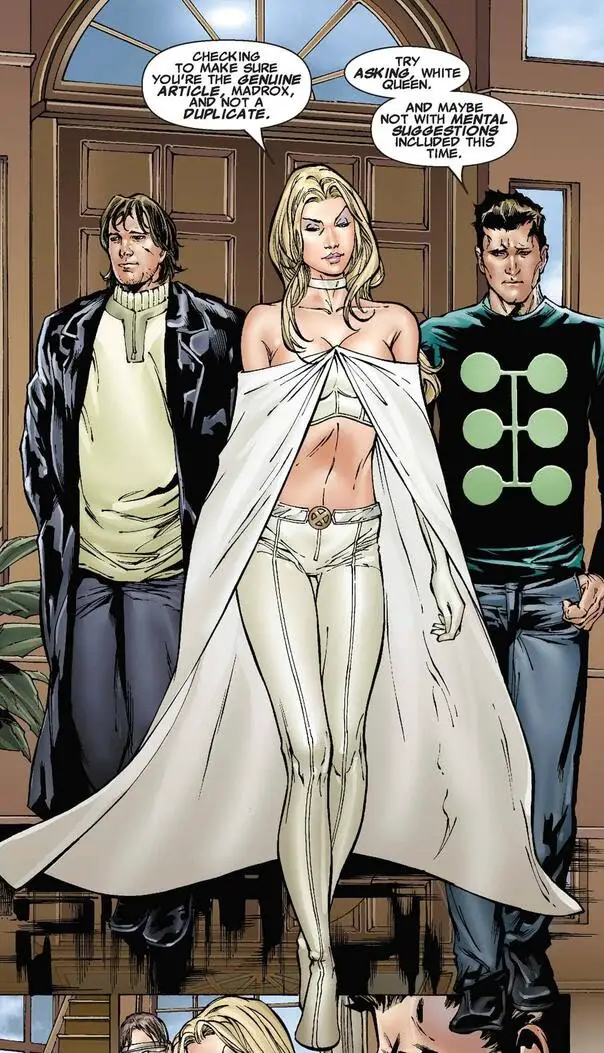 Bring a chill this fall with the stunning costume of the Omega-level telepath, Emma Frost, who has gone toe-to-toe with Professor X himself. With a white crop-top embraced by a white cloak, white trousers, and white high heels, you're ready to awe onlookers come this Halloween.
12. Mord Sith (Cara Mason)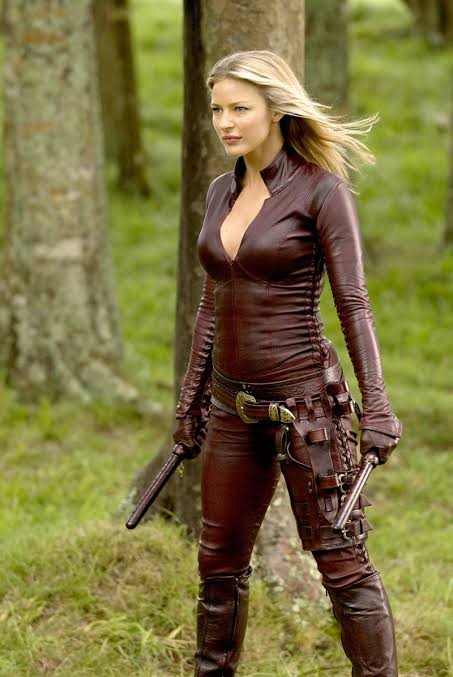 Pain? Leather? Shock play? Cara from Legend of the Seeker was a dominatrix, and you can't change my mind. Dress up as this Mord Sith by wearing a leather jumpsuit, leather gloves, and a comfortable pair of riding boots.
11. Rachel Green from Friends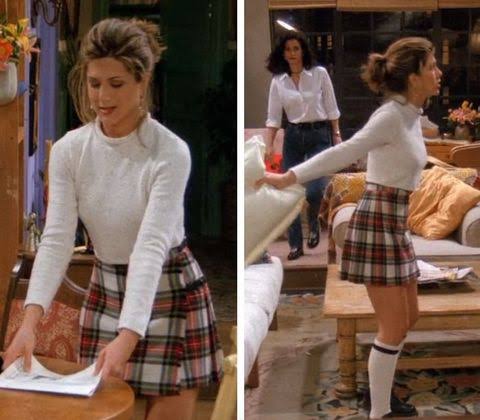 If there's one thing we love about Rachel Green, it's that she served on that show. She gave us stylish 90s looks after stylish 90s looks, and for that, a blonde Halloween costume list without her in it wouldn't be complete.
For this look, you'll need a white turtleneck top, a plaid mini skirt, white knee socks, and a pair of chunky loafers.
10. Tinkerbell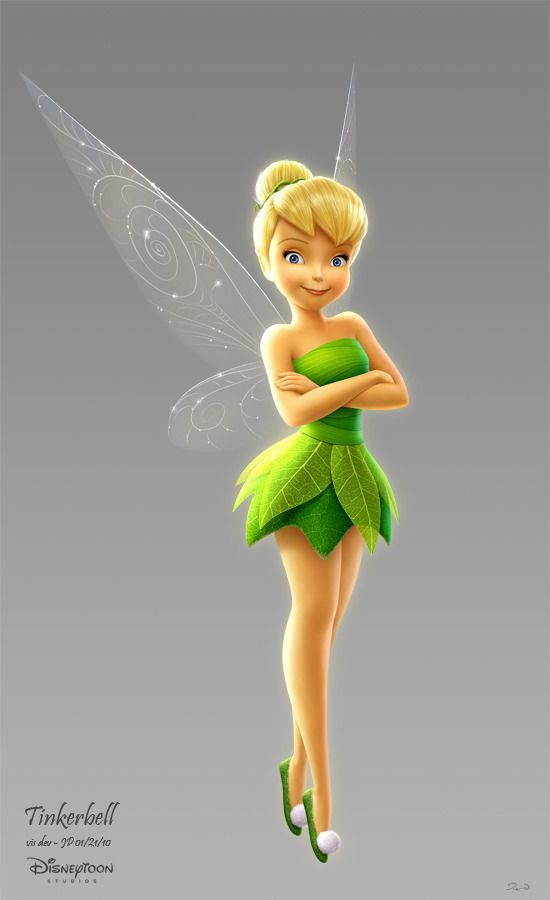 Our beloved Disney fairy makes a great blonde Halloween costume to cosplay. Formerly known as just Peter Pan's sidekick, Tinkerbell has shown to be much more than a delegated sidekick.
Create Tink's costume by wearing a green mini corset dress, green flats, and makeshift wings and wand. Pack your hair up into a top knot bun, and voila, you've tinkered yourself a blonde Halloween costume.
9. Magik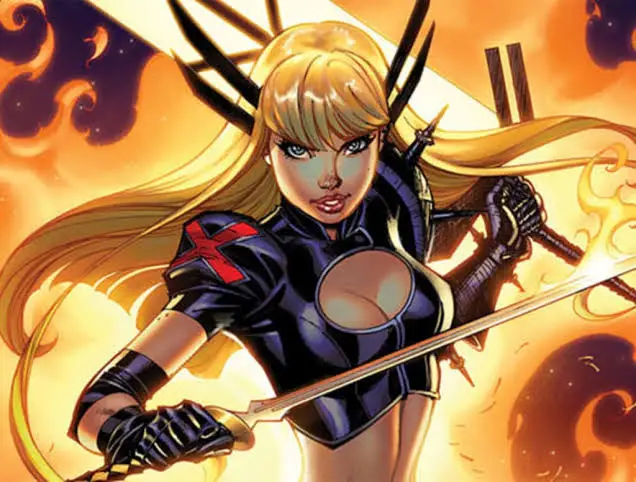 Or do you want to reveal a darker side to the world? Well, X-men Ilyana Rasputina is another way to go. Magik, as she is often called, can enter into another dimension called limbo.
Magik rules this dimension with an iron fist—literally. She draws a magik sword from this dimension, which is immune to all forms of magic spells and can cut through metal like a knife through butter.
And, unlike a certain sorcerer (Doctor Strange), she didn't just come to bargain with Dormammu. She beat him senselessly.
So what does her costume need? A crop top over a miniskirt and knee-high boots. A shoulder-length glove which you can decide to stud with cardboard cones to represent spikes if you want.
Her wing-horns can be made from cardboard cut into that shape, then wrapped with black strips of clothes or black tape, and either glued or stapled to a black headband. And, of course, a makeshift sword.
8. Sabrina Spellman blonde Halloween costume
And speaking of spells, you certainly can't go wrong dressing like Sabrina Spellman, the daughter of the Dark Lord.
Get ready to unleash the powers of hellfire with this look.
Summon your inner witch with a red dress with a white collar underneath a simple red dressing cloak, a black headband, and red women's crossbody bag.
7. Kidagakash Nedakh (Kida)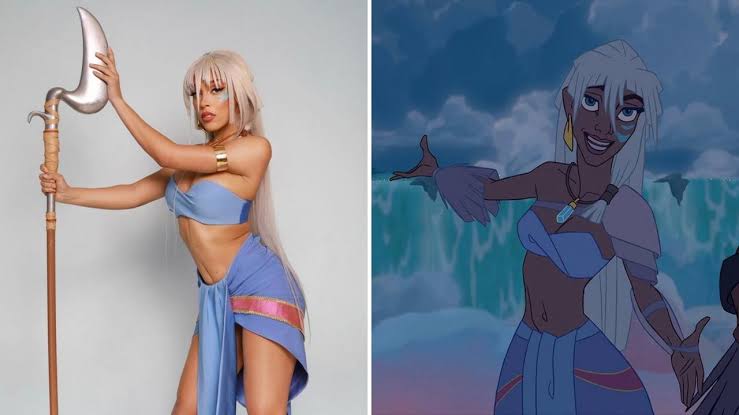 Doja cat dressed up as Kida, the Antlatian Princess/Queen, for her 26th birthday, which only proves it'll make an awesome Halloween costume.
Get in touch with your inner warrior princess with a blue bandeau bikini top and a matching wrap skirt. Complete the character's look with accessories. Kida wears a gold armband, gold teardrop earrings, and the most important of all, the magical blue crystal necklace.
6. Gwen Stefani blonde Halloween costume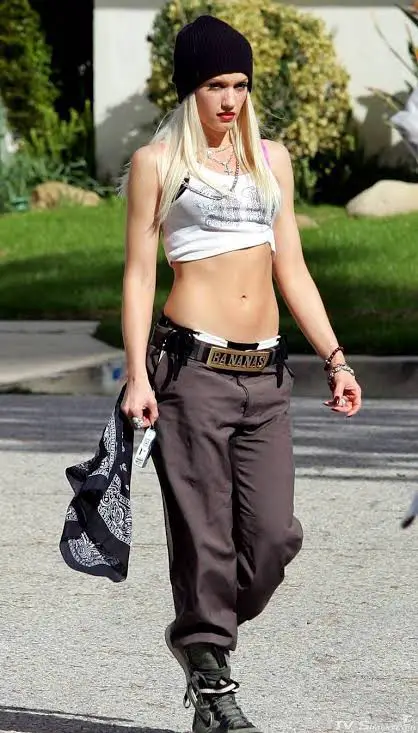 Gwen Stefani has many iconic outfits that are not basic blonde Halloween costumes. Why not dress up as the tomboy taking no bullshit woman who taught us how to spell the banana. I still repeat the song when I want to spell the word. Who else is guilty of this?
All you need is a white cropped singlet and low-rise baggy pants that show off the top of your boxers or boyshorts. After all, nothing screams the 90s better than your pants not covering your underwear.
Add on a beanie, bandana, and combat boots for a heavy dose of attitude—you ain't no Hollaback girl! Finish the look with a slew of rings and necklaces to complete the badass look.
5. The Bride/ Black Mamba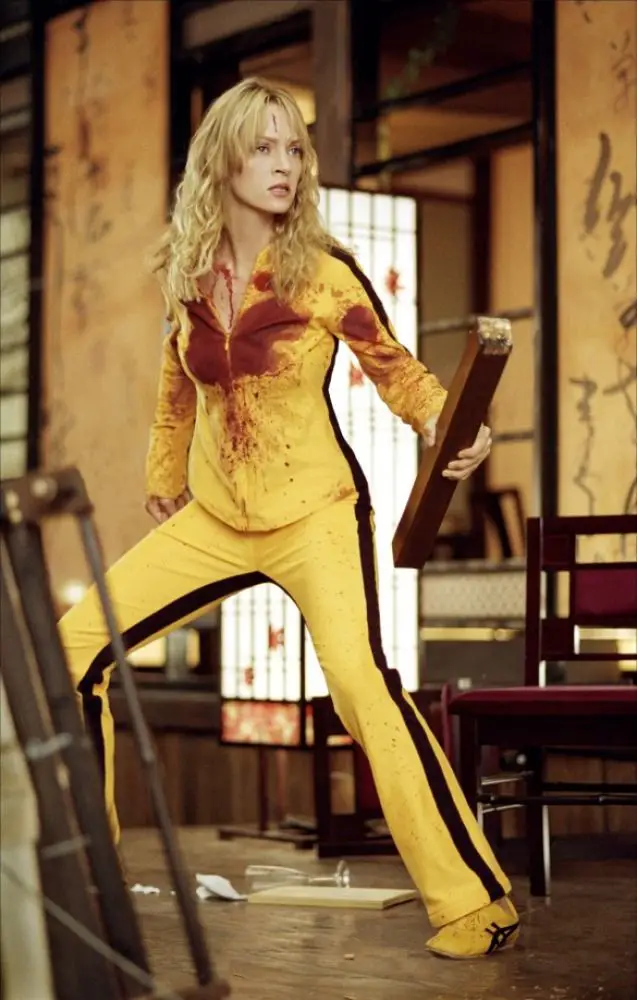 Kill Bill follows the story of a former assassin, Beatrix The Bride Kiddo, who wakes from a 4-year coma and goes about wreaking havoc on the team of assassins who betrayed her.
Uma Thurman, who played The Bride, breathed life into the badass hero. Kill Bill was packed choke-full with iconic scenes that had you pressing replay countless times.
The three scenes I can't get out of my mind that showed the most badass things the bride did, though, are:
She was buried alive and broke out of the coffin with her bare hands! I remember copying the hand move she did. My knuckles have never been the same.
She took a shotgun blast to the chest … And survived!
She finished off Bill with the fabled deadliest move in martial arts, the Five Point Palm Exploding Heart Technique. The technique is as incredible as its name.
All in all, The Bride is a total badass character worth dressing up as this Halloween. You'll need a yellow tracksuit and a yellow pair of sneakers.
4. Gwen Stacy (Spider-Gwen/ Spider-Woman)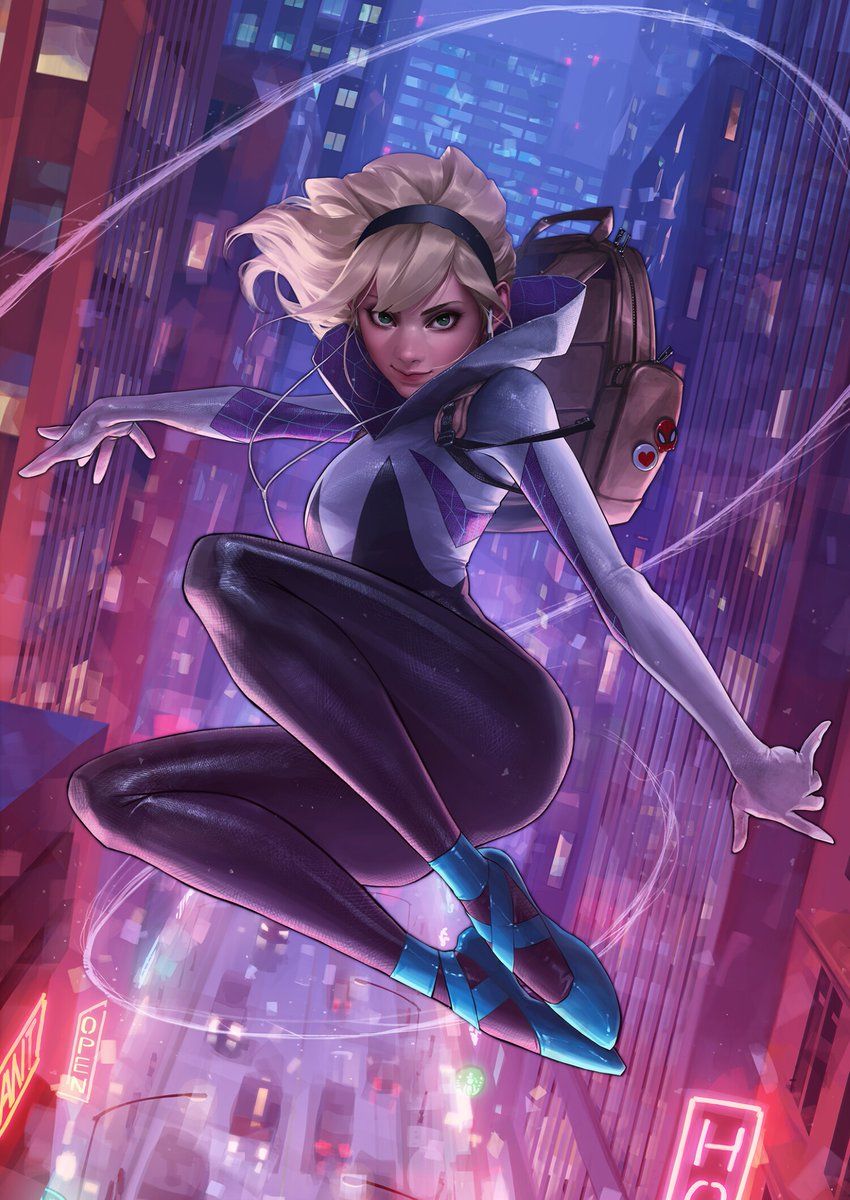 We all know Gwen Stacy as Peter Parker's first love, who Peter couldn't save during one of his battles.
But that's on Earth 616.
In another dimension, Earth 65, the roles are reversed. Gwen is the one bitten by the radioactive spider and becomes Spider-Gwen. Also, plot twist, Peter Parker, her best friend, is her first unintentional villain.
In this dimension, Peter wanted to be like Spider-Gwen and stop the endless bullying he endured in school, so he made a serum that slowly turned into The Lizard.
He lost control and attacked their school dance where Spider-Gwen had to stop him, and he was accidentally killed. Peter died in her arms, and Gwen is unfairly blamed for his death and hunted by her own father, the chief of police.
Creating this powerful character's costume is easy. You'll need a corset bodysuit worn over a white hooded turtleneck and black leggings. Ballet flats will do for her shoes, and white gloves complete the whole ensemble.\
3. Eleven (Elle) Hopper blonde Halloween costume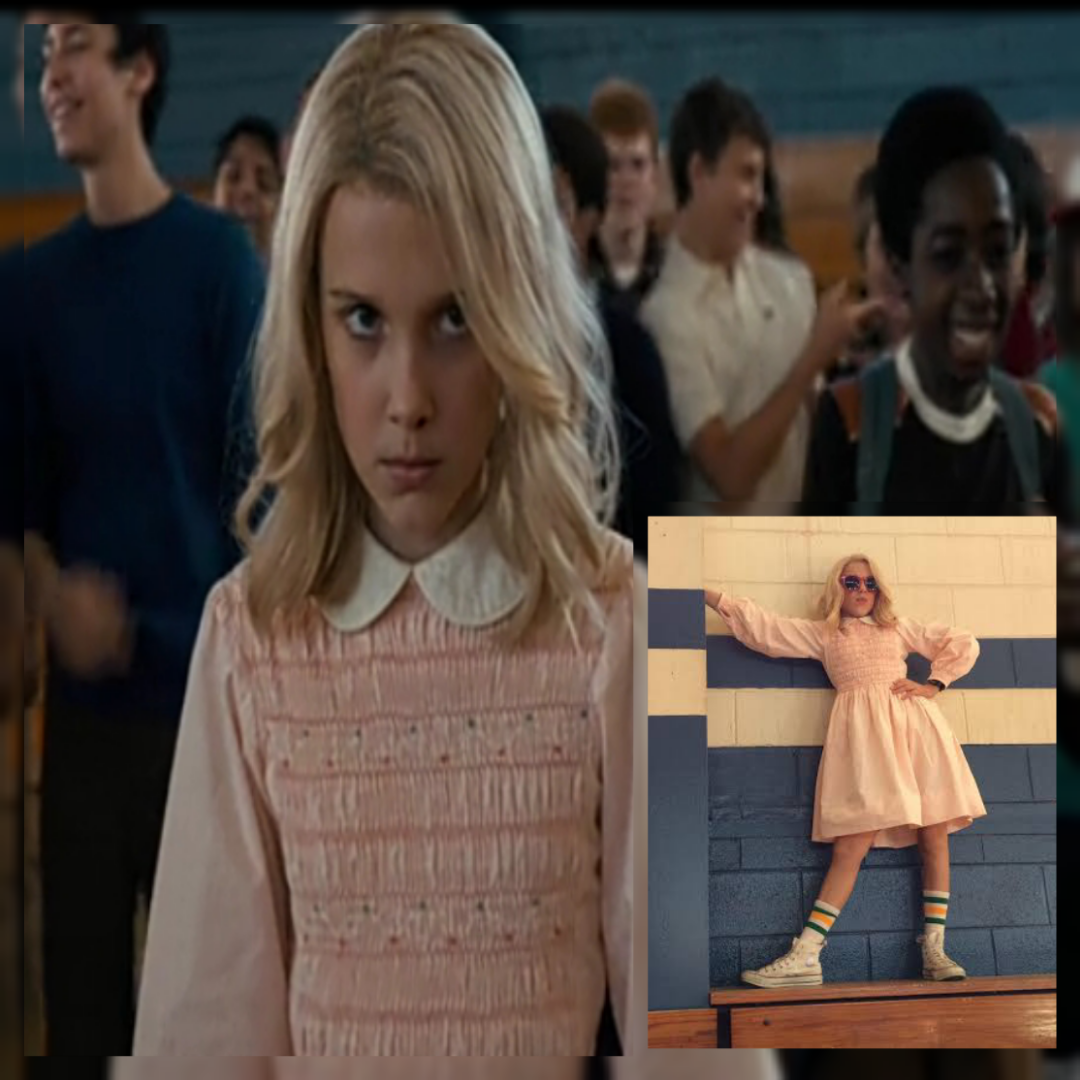 Another great blonde Halloween costume is Eleven from Stranger Things. In season 1, we aren't yet aware of how massive Elle's power is, but we knew she was a total badass.
This costume is pretty easy to make. All you need is a peach-colored gown with a doll collar, white socks with colorful bands, and a white high-top converse. You can swipe a bit of ketchup under your nostril for extra dramatic effect.
And if no one at the party gets the reference, ignore them. They're mouth breathers. Share your look online where everyone knows an Elle costume when they see one. Let me know in the comments section how this looks works for you.
2. Elvira Hancock from Scarface
 

View this post on Instagram

 
Olivia Rodrigo dressed up as Elvira in 2021, and she killed it.
Elvira gave us several phrases, the most famous one being: Don't call me 'Baby.' I'm not your 'Baby.' You have to love the energy of that woman.
This blonde Halloween costume is a little dressy compared to the rest on the list, but part of the fun of Halloween is dressing up to be whoever you want to be. And if that person is Elvira Hancock, then go for it, girl!
Wear a long blue slip dress with a high slit and loads of jewelry to create this look. You can add an unlit cigarette for dramatic effect.
1. Harley Quinn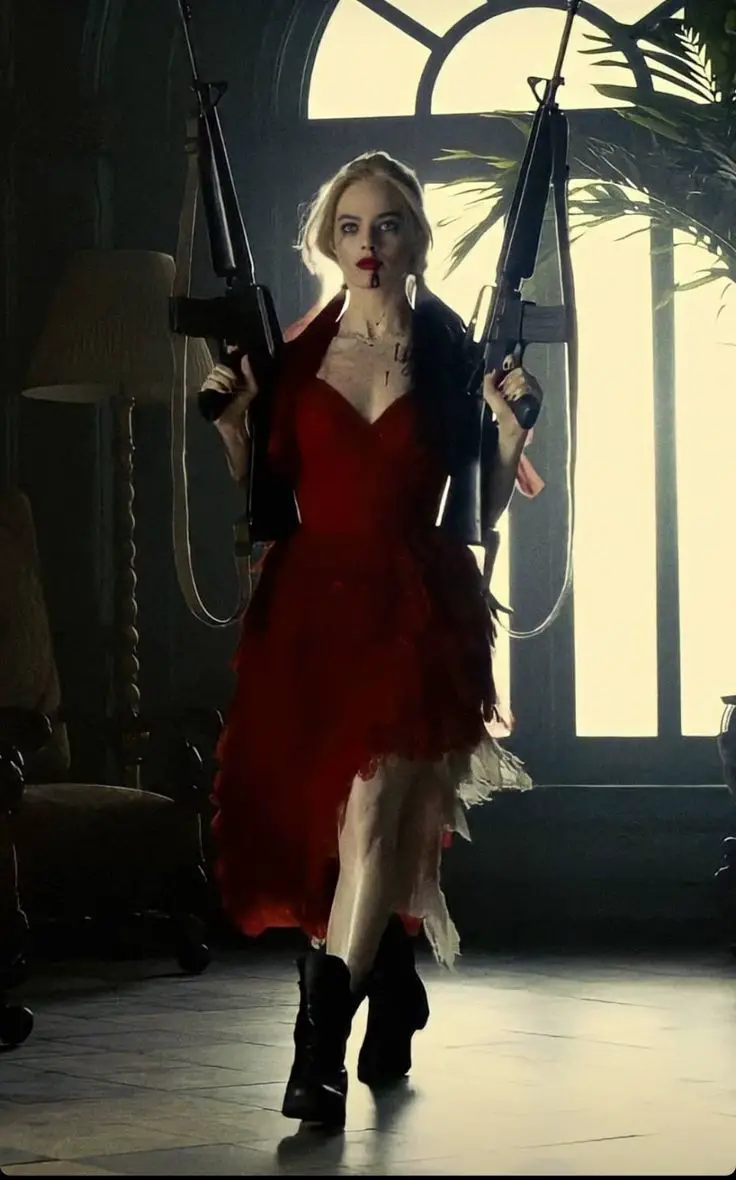 And now the crème de la crème of our list. A blonde Halloween costume list without Harley Quinn? Incomplete!
The morally grey character stole our hearts right from her first appearance on our screen in the first Suicide Squad movie. Her reappearance in the second Suicide Squad movie gave us plenty of on-screen time with the beloved character and an update on her outfit.
Harley is one of those characters who can still look badass in a princess dress. And not to mention, take out several bad guys while in it. Her solo fight skin was epic!
All you need is a red dress with frills and kickass combat boots to replicate this look. You can create the asymmetric cut Harley did yourself, but preferably properly measured and with scissors.
Conclusion
Halloween is the perfect time to play dress up and get your freak on (respectfully). Are there any costumes you'd like to try? Let me know how it goes in the comments section.