A sweater coat is your defense against the dark arts—the weather in-between not enough layers and too many clothes on.
There comes a time when we transition from biting cold weather to yep, global warming is real. But right before that, there's a slight pause, a layover for weather transitions. That brief period where we get the best weather: cool, but not too cold; sunny, but not sweltering hot.
It's the kind of weather where layering is recommended but not mandated. It is the kind of weather where you don't have to become a walking talking pile of clothes, a real-life marshmallow.
Sure, you can still stick to your puffer jackets, but sweater coats offer a change of style and, not to mention, don't make you look like a walking marshmallow. No offense to puffer jackets, but yeah.
What is a sweater coat?
A sweater coat is a cross between a sweater and a coat. Not fully a sweater, neither is it entirely a coat. Basically, if a sweater and a coat came together and had a baby, it'd be a sweater coat. It is also sometimes referred to as a coatigan (a coat-like cardigan or cardigan-like coat) and sweater jacket.
It has the structure and outline of a coat, but it's made from soft fabric you can cozy up in. Sweater coats come in every shape— from light and long dusters to a more structured silhouette—style, color, and size.
Since they are made from soft fabric, sweater coats offer enough give and breathability so you can layer up without any hassle. And since we're all for comfort and comfy yet stylish is the pinnacle of style, sweater coat sits right at the top of the list of comfortable and practical yet elegant wear.
Related article: What are the traits of each zodiac signs? Buy astrology charts and guides here.
That said, here are 20 stylish yet practical sweater coats for you
20 Fashionable and super cozy sweater coats to help you brave the chill of the outside world
20. MADEWELL Buffalo Check Sweater Coat
If you are heading out for a coffee date or to the store down the street, this sweater coat is the perfect outfit choice with its neutral tones. Style it with a pair of jogger shorts, a boatneck sweatshirt, and a cute pair of Dr. Martens for a preppy chic style.
19. MADEWELL Glenridge Shawl Collar Coat
Look elegant and command attention in this long and luxurious hybrid. Also, made from an exquisite blend of fabric, this sweater coat is sure to keep you warm during cold days. Pair with a turtlemeck sweatshirt and pantsuit for a business casual look.
18. DONNA KARAN Tailored Sweater Trench Coat.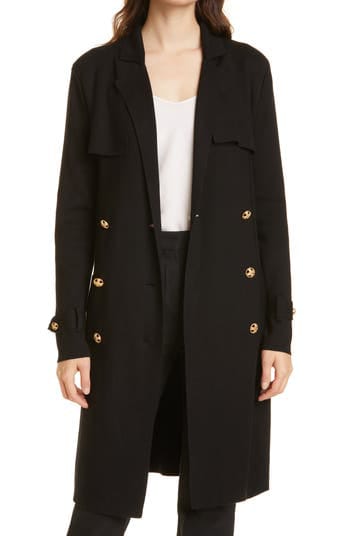 This coat features a double row of brassy buttons and notched lapels: you will want to wear it everywhere.
17. Lyssé Precious Sweater Coat
Who said sweater coats had to be in plain colors only? Rock this patterned sweater hybrid with a silk slip dress and ankle boots for a chic boho style on a night out with the girls.
16. BLANKNYC I Hope So Multicolored Cardigan
Add a little sunshine to the relatively cold months with the addition of this multicolored sweater to your wardrobe.
15. Three Dots Hooded Open Longline Cardigan
This sweater coat comes in the form of a cardigan with a hood and front patch pockets. Just the perfect fit to add to your loungewear wardrobe during the winter months.
14. T Tahari Long Sleeve Shawl Collar Patch Pockets Duster
Create a chic business style by wearing this sweater mashup with a pair of high-waisted flared pants, a frilly blouse, and a pair of ankle boots.
13. Fringe wool-blend coat
Since fringe detailing is trendy again, this cozy fringe coat mashup is what you need to keep you toasty warm and fashionable this season. It is made from a wool blend that guarantees comfort and breathability so that you can layer up this coat with a shacket for optimum coziness.
12. Amazon Essentials Women's Oversized Open Front Knee Length Sweater Coat
Comfort and style are the words that pop to mind when looking at this sweater coat. It is lightweight and boasts a super acrylic blend of yarn that'll have you warm and comfy. Style it with a denim dress for a lovely fall outfit.
11. Herringbone Courton Sweater Coat
Made from herringbone boiled wool, an excellent insulator, it doesn't let your body heat out, nor does it allow the cold in. With oversized pockets to keep you warm and notched lapels that add charm, this sweater coat has a way of making you look effortlessly chic and very warm.
10. Sweater Coat KAREN
It looks like a coat but wears like a sweater. This double-breasted sweater coat breathes charm and grace. It will keep you warm and stylish while doing so. Turn heads by styling this sweater hybrid with a pair of high-waist jeans and cute ankle boots.
9. All My Love Cardi
As previously stated, sweater coats come in various colors and styles. Go for this colorful variation that radiates fun and carefree vibes. Balance it with a sturdy shoe like waterproof boots and chill out in style.
8. 1980s Graphic Sweater Coat Selected By Ritual Vintage
Look expensive and refined in this luxurious deep purple and black sweater coat. It features a wide shawl collar and an oversized fit for optimum comfort. Style it with a pair of bootcut leggings to complete the whole retro vibe.
7. Kobi Halperin Rue Sweater Jacket
Faux fur will always be synonymous with luxury. Hence, this sweater coat with a detachable faux fur collar embodies elegance and sophistication.
Detaching the faux fur collar leaves you with a baseball collar. This jacket makes a fantastic addition to your wardrobe with long sleeves that end in banded cuffs, front zip closure, and drawstrings in front.
6. AOMEI Oversized Long Cardigans Sweater for Women with Pockets and Hood
Whether you're sipping coffee staring out your window in perfect bliss or at the office taking care of your daily task, this sweater hybrid will keep you cozy and warm all day. Fitted with two pockets nd a hood to make sure you're well-armed against the crispiness of the air. Throw on a pair of riding boots, and you've got yourself a laid-back outfit.
5. It's Classic Sweater Jacket
It's Classy meets comfort with this sweater coat. Made from a blend of acrylic, nylon, and spandex that proves your comfort comes first.
4. Geo Wool Sweater Coe
A geometry patterned coat mashup makes a fabulous addition to your fall wardrobe. This coat is forgiving of your added winter weight as the manufacturers cut in a way that makes you look angular and leaner. It makes a great pair with a turtleneck top and dark dress pants for a seamless look.
3. Hooded knitted coat
Lapel V-neck collar leads back into a hood to help protect your hair from frizz and keep you warm. It features a removable belt you can use if you'd prefer a cinched look.
2. JONATHAN SIMKHAI Alina Cardigan Robe
This sweater hybrid is versatile enough to dub as a dress too. This sweater hybrid will keep you warm and comfortable with a fashionable wide rib-knit fabric blend of soft materials like cotton, viscose, nylon, etc. Style it as a dress and pair it with knee-high boots, or style it as a sweater coat over split hem jeans and Uggs platform heels.
1. Nothing But Fringe Jacket
Stand out in this colorful fringe detailed sweater coat featured in an oversized, slouchy silhouette. Tap into its latent boho-chic vibes by styling it with a maxi skirt, sheer tights, and riding boots. Or take the casual route by wearing it with a basic tee and wide-leg jeans. This sweater coat is definitely a clothing piece you can incorporate into numerous styles.
Conclusion
When you're armed with sweater coats, the cold weather has nothing on you. Fashionable, stylish, and very cozy, this clothing item will keep you warm and comfortable, and still in style.
You may also like to read, 15 best shampoo for afro and curly hair.