As winter slowly rolls into spring, we're gradually getting to that weather that isn't bitingly cold but not hot enough to move around in flimsy linen pants. While jeans are a staple wardrobe and a comfortable choice, faux leather pants and leggings are an excellent choice too. They're comfortable, trendy, and luxurious-looking without having to break your bank.
What is faux leather?
Faux leather is a synthetic fabric made to look like the real thing both in appearance and texture. It is commonly made using a fabric base treated with wax, dye, or polyurethane to replicate the sleek leather look and feel.
Faux leather used to be easily spotted as it was vastly different from real leather. Even though the difference is still easy to spot (texture and smell), faux leather has made itself a worthy alternative to genuine leather. So it doesn't compete against the real thing like it used to.
Benefits of faux leather
– It is affordable
Unlike its more expensive counterpart, faux leather is quite affordable, and that's because producing faux leather is less complicated than making real leather.
– It is comfortable
Faux leather is often lined with soft fabrics and made soft and supple, resulting in an overall incredibly comfortable fabric. It is less stiff but still as stylish and thus gives the wearer a comfortable experience without looking bland.
– It is durable
Modern faux leather is exceptionally durable as its surface is less prone to cracking or marring from scrapes and scratches. If properly cared for, faux leather can last you a long time.
Related article: 10 leather trench coats to invest in now.
With that in mind, here are 20 gorgeous leather pants and leggings to rock in 2022.
20. Tanming Womens Autumn Winter High Waist Black Faux Leather Cropped Pants Trousers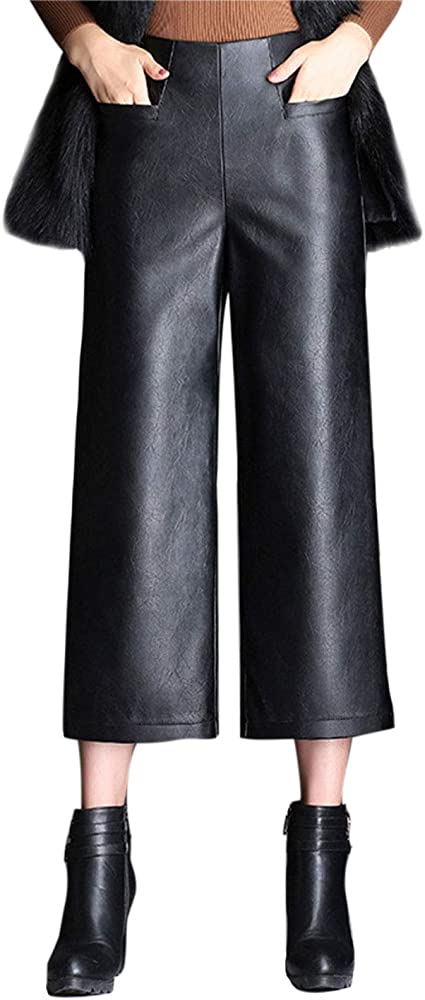 Give your wardrobe an updated look with these pair of cropped leather pants. These pants are a total knockout, and you can dress them up with laced-up boots and a turtleneck top for a very confident and polished look. You can also dress them down with an off-shoulder top and a floppy hat for an evening out for drinks.
19. CRZ YOGA Women's Faux Leather Workout Leggings 28 Inches – Stretchy High Waisted Yoga Tights with Pockets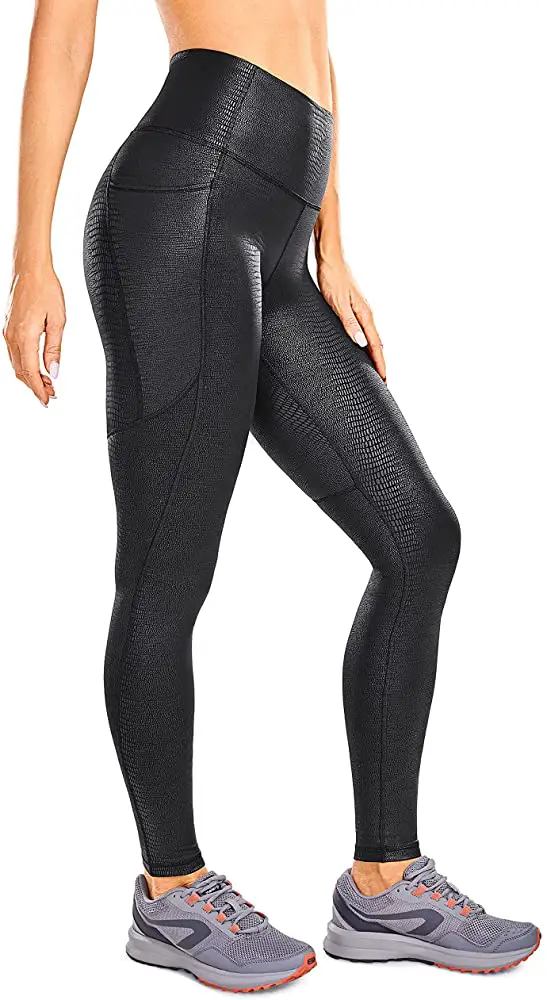 Since faux leather is supple and comfortable, cloth manufacturers can incorporate it into workout gear—case in point, these workout leggings. Features animal print design with light tummy compression that sucks you in without restriction. Pair these athleisure leggings with a sports bra for workouts. Or throw on a shacket for a trip to the grocery store.
18. Faux Leather Wide Leg Pants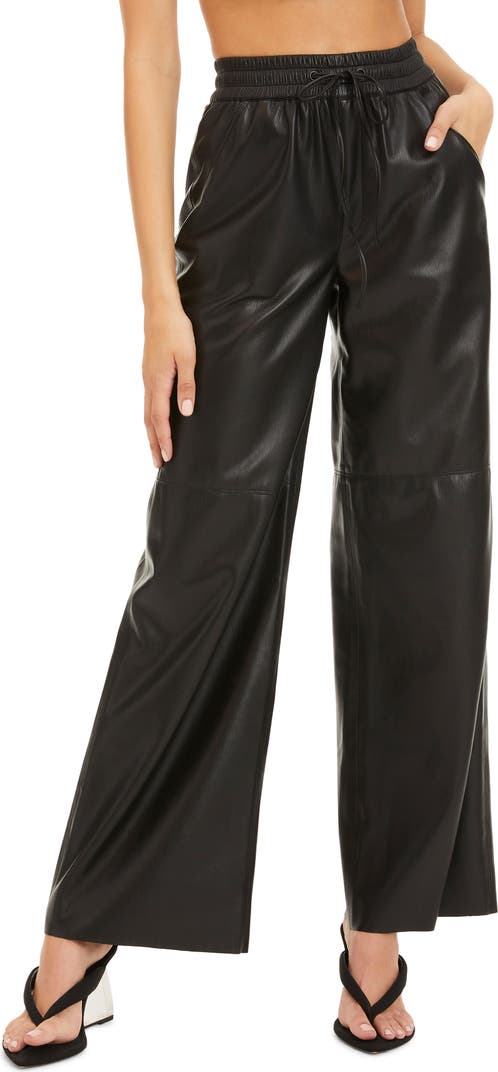 Other than a smooth and buttery texture, these pair of leather pants also have the stylistic advantage of lengthening your legs.
The high-waist design will accentuate your curves and make your legs look longer than they really are. Pair these awesome pants with a long-sleeved bodysuit and stiletto heels for a dapper look.
17. Faux Leather Joggers TOPSHOP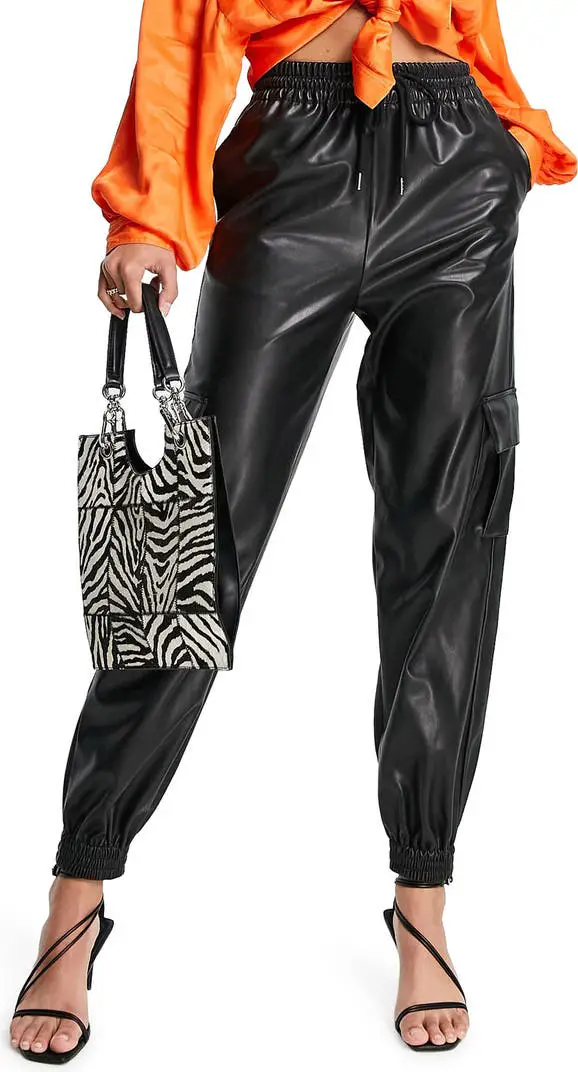 Upgrade your casual look with these leather joggers, making a relaxed ensemble that's both sporty and swaggy. If you're looking for something laid-back yet trendy, these leather joggers are an excellent change of pants.
16. Plus Dark Chocolate Faux Leather Cargo Trousers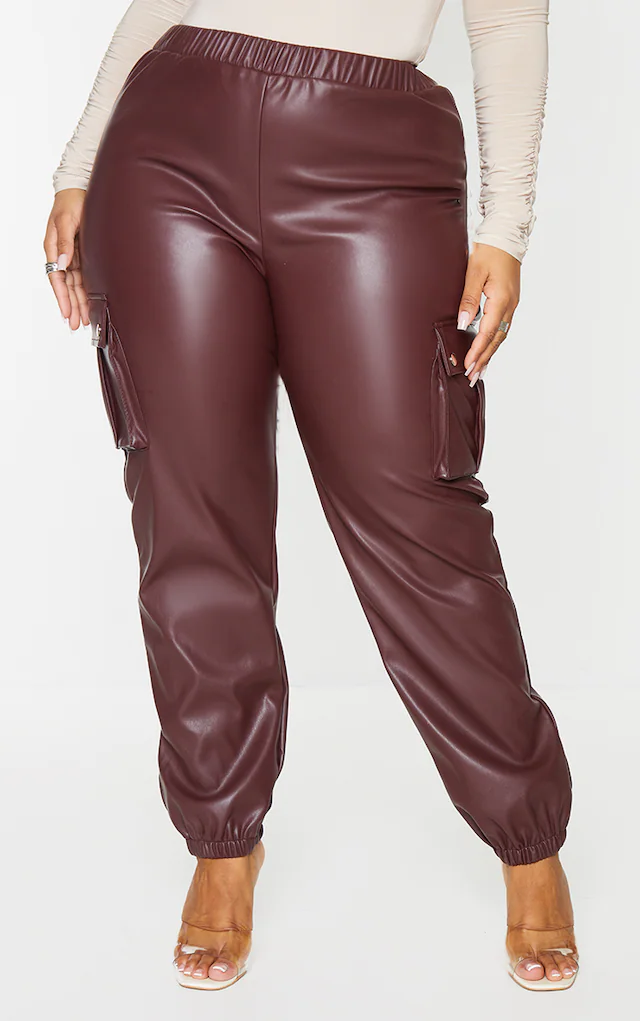 The color, the material, the cut—spectacular! Be the envy of all eyes when you rock this pair of leather pants. Cargo pants are known to be a great alternative to jeans. Leather cargo pants add to the allure. Style these pants with heels for a dressy look, or pair them with sneakers for a casual look.
15. Control Top Faux Leather Leggings COMMANDO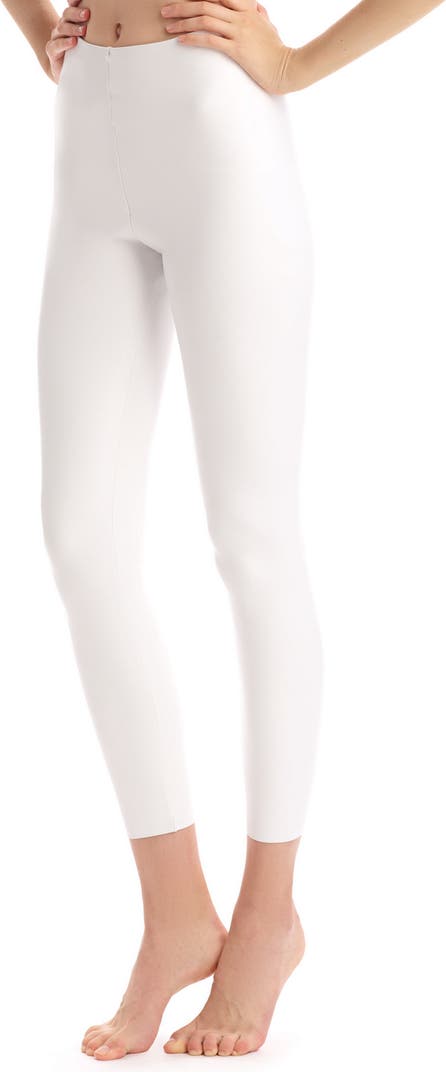 These leggings are an excellent choice if you're looking for something with light tummy compression but without them sticking to your legs uncomfortably. They hug your curves in all the right places and give you the magical butt lift. You can style them with an oversized tee and platform Uggs. Or wear them with a crop top to show off how good your butt looks in them. Just make sure you wear your favorite boyshort panties, so everything remains smooth.
14. Balleay Art Faux Leather Pants for Women, Straight Leg Mid Waist Butt Lift Elastic Black Pants with 5 Pockets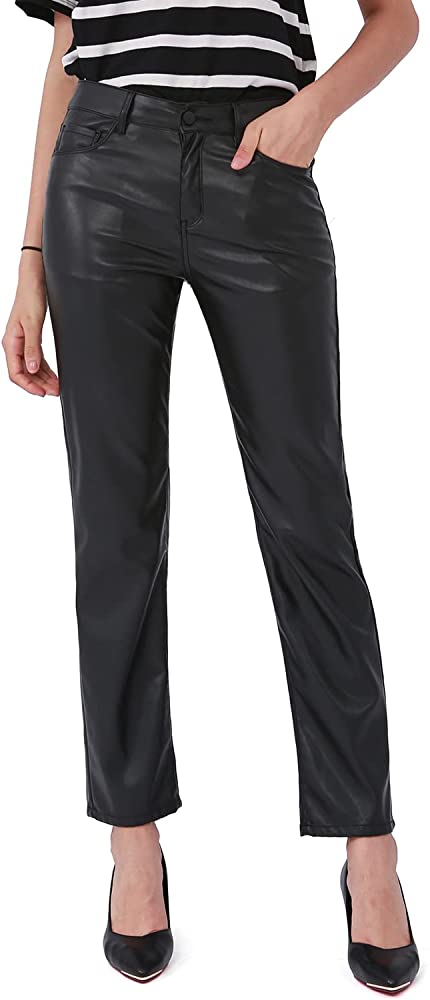 Straight-leg pants are perfect for a no-nonsense ensemble. Sensible and chic, these leather pants take straight-leg cut to a whole new level. Wrinkle-resistant and fitted with butt-shaping back pockets, these pants will make you feel like a ten all day.
13. Better Than Leather Black Cargo Joggers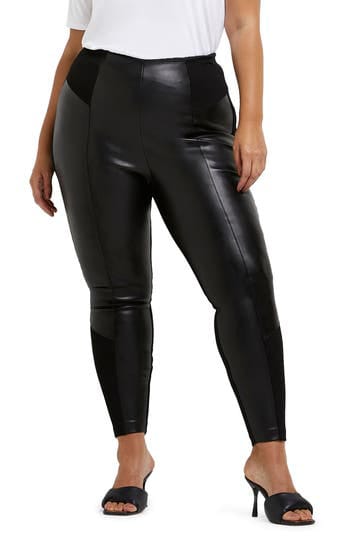 For the ultimate casual-chic look, these faux leather cargo joggers are just the perfect piece to go with. Paired with a corset top and stilettos, you have just the right outfit for your evening date. You can also style with a crop top and cool sneakers for a sporty-chic aesthetic.
12. Good Icon Black Straight Leg Faux Leather Pants with Side Slits.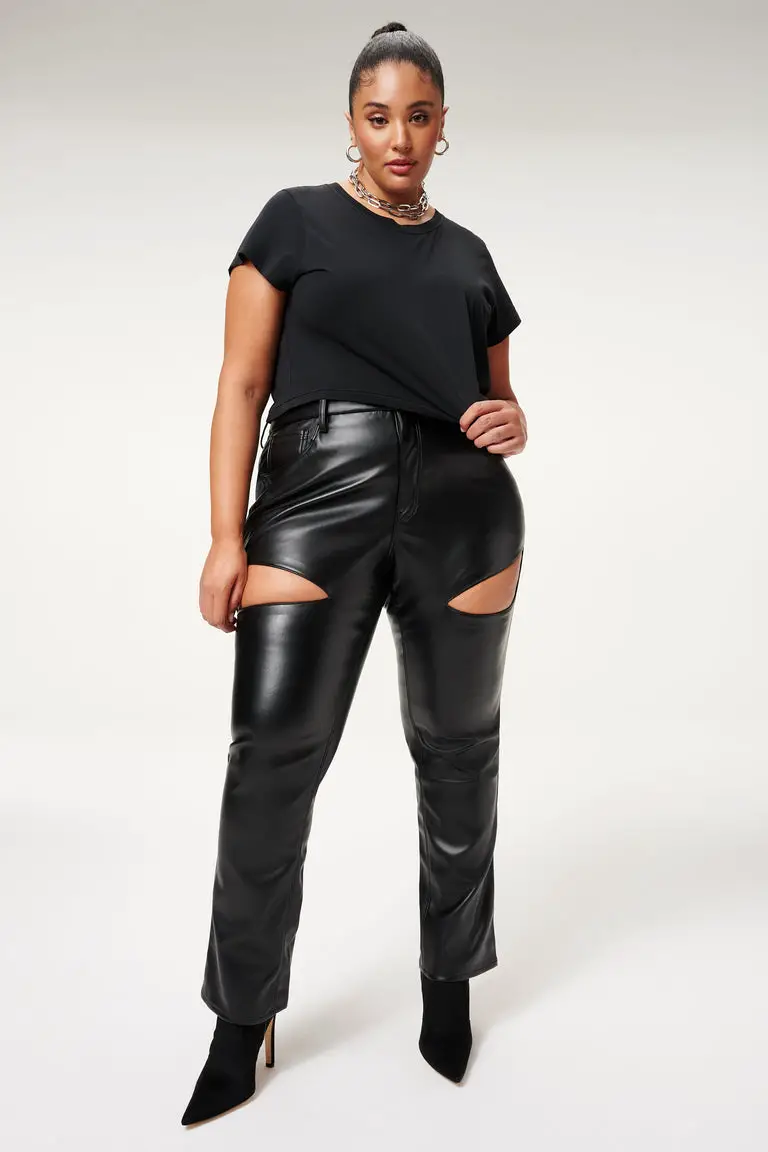 These straight-leg faux leather pants with the side slits are the go-to outfit for when you want to exude a sexy dash of edginess. The cutouts create an aura of confidence mixed with badassery. Wear this fit a cute pair of ankle boots and a dark t-shirt to channel your inner biker girlfriend or even the biker herself.
11. River Island Ponte Mix Faux Leather Leggings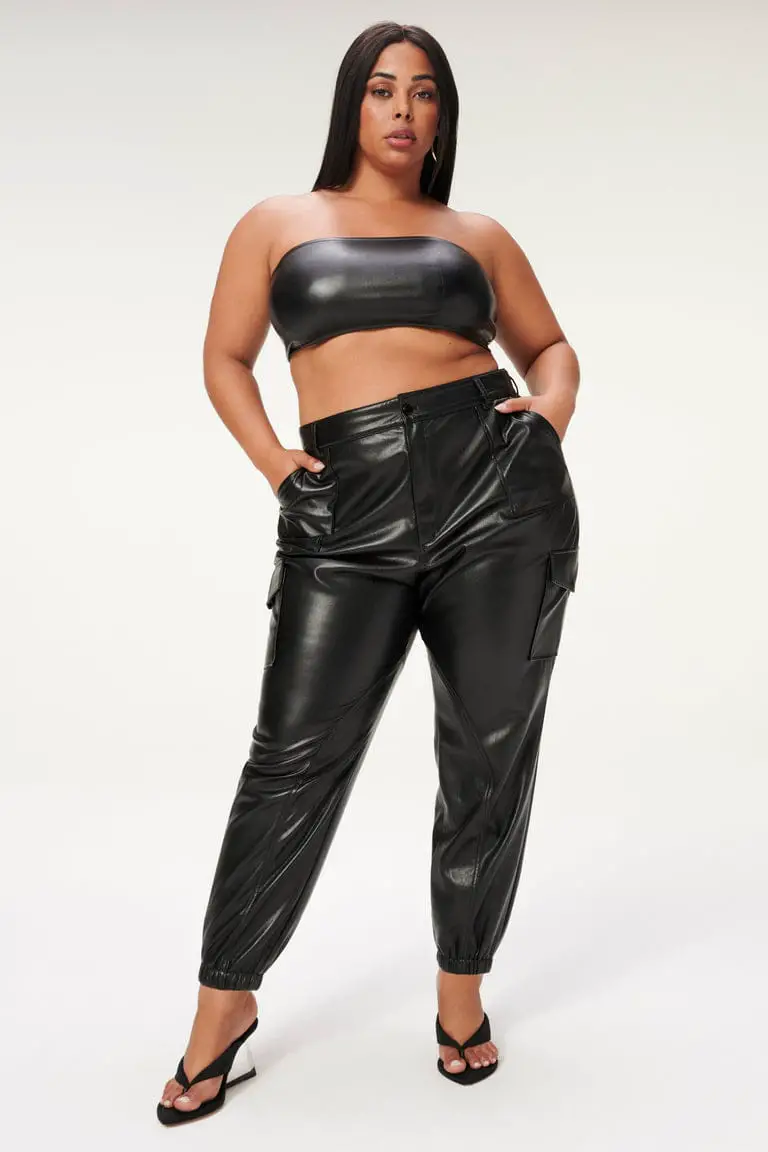 Are you going for a casual-chic style while also wanting comfort? These leggings styled with a white chiffon blouse are your best bet. The high waist creates a balanced look alongside the straight leg cut, giving a slimming effect.
10. ELOQUII Dijon Flare Leg Faux Leather Trousers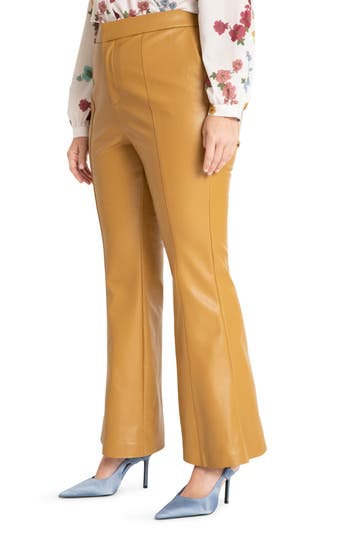 Create an artistic ensemble with this bright piece of faux leather pants. Perfect for daytime outings, especially when paired with a flowery blouse. Oh, and you can't go wrong with monochrome with these pants. You can channel elegance by styling with a yellow turtleneck bodysuit and a mustard yellow suit dress. Throw in white sneakers for a killer look.
9. OPEN EDIT Tapered Leg Faux Leather Pants with Deep Fronts and Back Pockets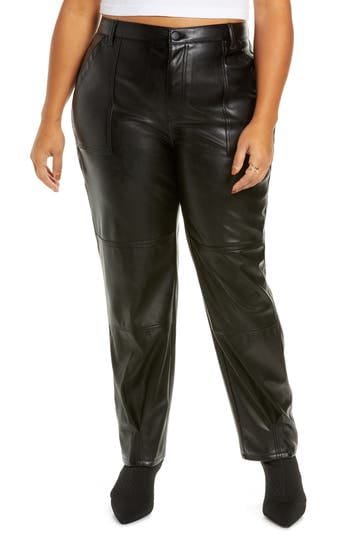 Ladies, get in here! We've been clamoring for pockets, and this one just gets it right. Functional and aesthetically pleasing, create an alluring look by pairing it with a lace crop top and ankle booties.
8. VINCE CAMUTO Stretch Faux Leather Skinny Pants
With a hint of comfortable stretch and skinny cut, these pants fit for a chic silhouette. Do you have a housewarming party to attend? Style this with a loose maroon top and stilettos to create a rich mom aesthetic.
7. JLUXLABEL Purple Croc Embossed Faux Leather Pants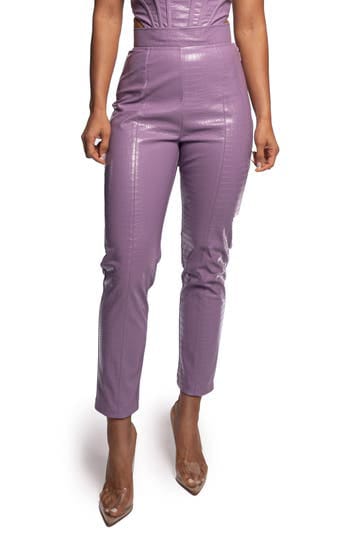 Create a head-turning look with this fit. You can style this Croc-embossed strapped faux leather corset top and a pair of transparent stilettos with purple background for an elegant chic style.
6. Women's Faux Leather Flare Pants TOPSHOP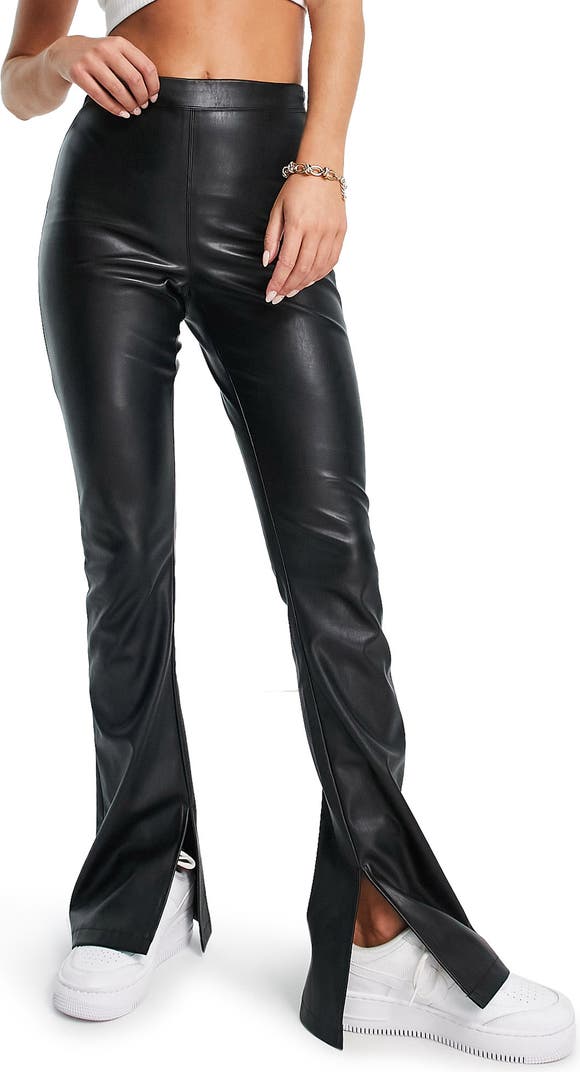 These pants are great for people who want to hop on the split hem fashion trend. They feature flared legs which add a retro vibe and a high-waist that flatters your figure. You can style these pants with a cropped cardigan and chunky sneakers for a chic cool-girl look.
5. Faux Leather Paperbag Waist Crop Pants COMMANDO

Exude elegance and grace with this pair of leather pants. The Paperbag waist creates volume in the hips leading to a generally feminine silhouette. These pants make a great addition to your outfit, from business to casual to everything else.
4. Faux Leather Ankle Pants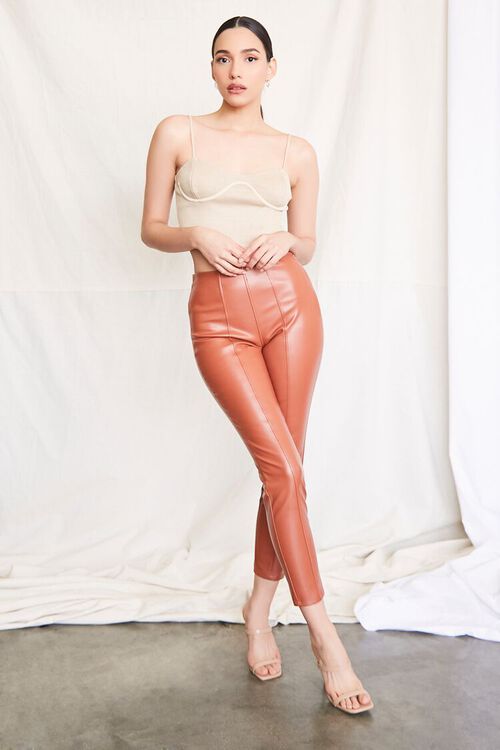 Take your next outfit from drab to fab with this pair of leather pants. It features a skinny-leg cut which creates a slimming effect and visible seams that run from the waist down.
3. Women's J2 Love Faux Leather Bell Bottom Flare Pants
The bootcut bottoms take a retro spin on these modern-day leather pants. It is fitted with a high waist to flatter your figure and flared bottoms that enhance or create the illusion of curves. Pair these pants with platform heels to create balance with the extra fabric and the illusion of legs that go on for days.
2. Karlo High Waist Faux Leather Pants 4TH & RECKLESS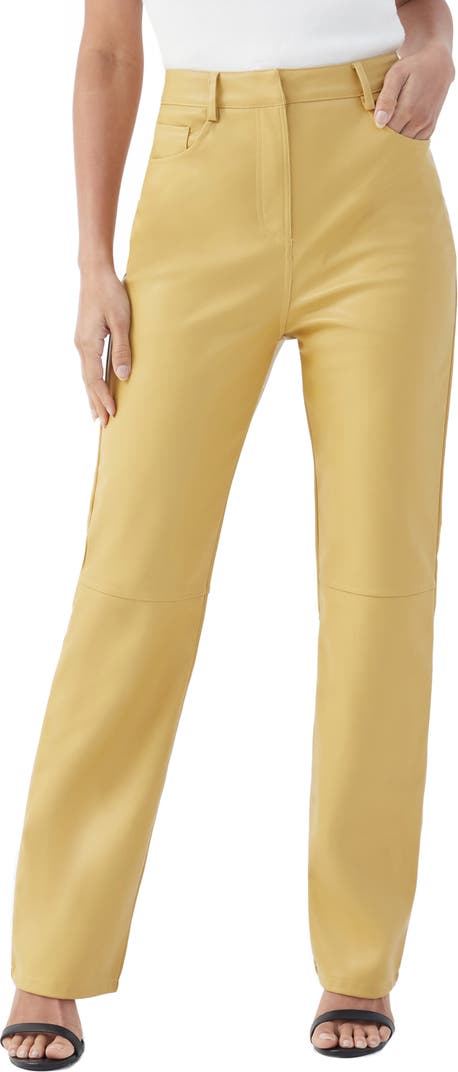 Another advantage faux leather has over real leather is that faux leather can come in various colors and prints. Unlike real leather, there's no limit, which is restricted to black and brown only.
These pants show off the advantage faux leather has with its bright yellow color. It makes for a classy work outfit paired with a fitted blazer and strappy heels. Or go for the business casual look by styling it with Fisherman sandals.
1. FAUX LEATHER HIGH-WAISTED PANTS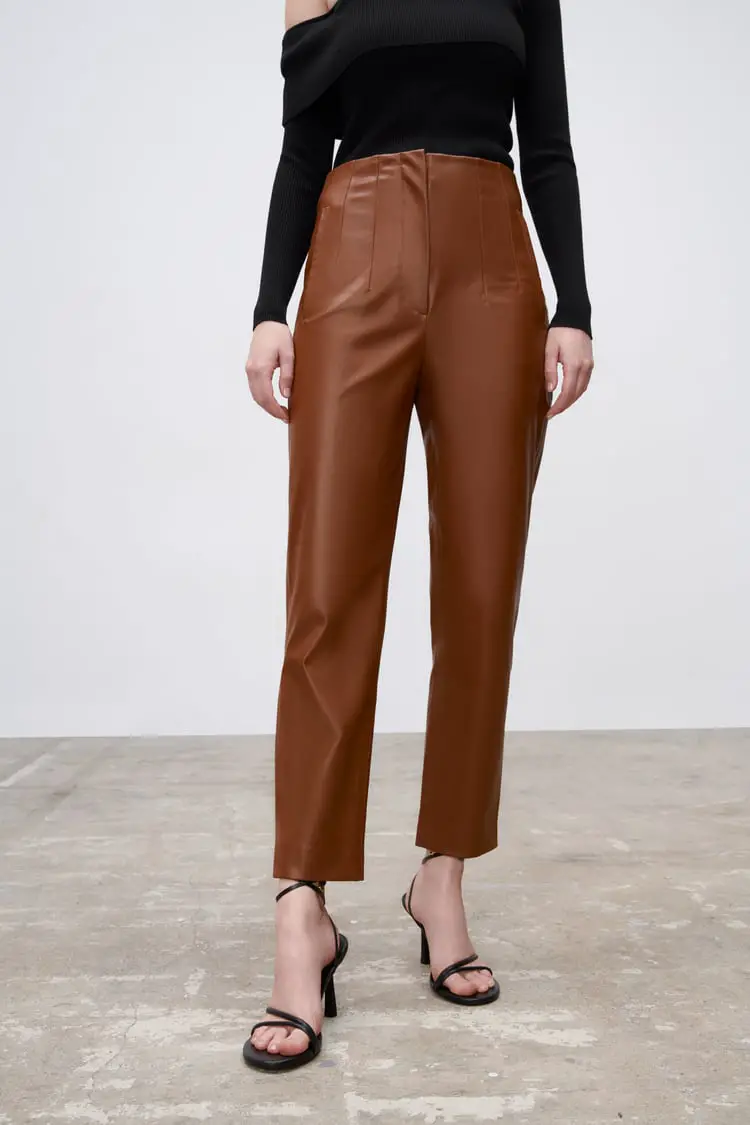 Create an expensive-looking persona with these gorgeously sleek pair of leather pants. It is fitted with a high waist with pronounced seams for a fashionable look. You can style these pants with a tweed jacket and cute booties for a polished look.
Conclusion
Faux leather pants are a great way to change up your everyday look. They have an elegant look to them without sacrificing your comfort. Are there any you'd like to try out? Do you already own a pair? How do you style yours? Let me know in the comments section.
You may also like: 10 stylish and comfortable waterproof boots that'll keep your feet dry and cozy all through.