Selena Quintanilla's 90s outfits were as robust and sultry as her voice and personality; here, I have compiled 7 outfits she rocked back then that you can wear in 2022.
It has been 27 years since the singer's untimely passing, and her legacy has inspired the lives of millions. Though short, her 23 years alive left a permanent mark on the music industry (with the whole world still playing her songs today) and how we view beauty and fashion.
A brief history of Selena Quintanilla
Selena Quintanilla-Perez was a Mexican American singer. She was often referred to as the Queen of Tejano. Tejano is a Spanish-language genre of Mexican music that incorporates other styles like country, polka, jazz, and western. Selena was born in Lake Jackson, Texas, on 17 April 1971. Her father, Abraham Quintanilla, was a former musician who managed and produced his family's music group, Selena Y Los Dinos.
Around the age of 10, Selena became the lead singer in her family's band. She was the youngest of the Quintanilla family and debuted on the music scene as a Selena Y Los Dinos band member and her elder siblings.
In the 1980s, the band's music career was off to a rocky start. They were often criticized and refused bookings by Texas music venues for having a female lead singer performing a, at the time, predominantly male-dominated music genre. However, in 1987 Selena's popularity grew after winning the Tejano Music Award for Female Vocalist of The Year, which she continued to win for nine years.
Selena Quintanilla was an inspiration in many forms and ways. Her music transformed the heavily male-dominated Tejano style by incorporating R&B and pop styles that appealed to a larger audience, catapulting the Tejano genre into the mainstream market.
Her contribution didn't stop there either, as she took the fashion world by a storm with her then considered bold and audacious outfits and ever-present bold color lipstick.
Selena Quintanilla-Perez's influence on the fashion world of today
She was often referred to as the Queen of Tejano and fondly dubbed the Mexican Madonna for her sexy outfits and dance moves.
Selena Quintanilla designed her outfits to pay homage to her Mexican American heritage rather than conforming to Eurocentric beauty standards.
Back then, in the 90s, that was a huge deal.
It was a time when Latino celebrities in American pop culture were few and far between. The few Latinos that did make headway faced cruel racism quite often.
Selena stood as a much-needed representative for the women in that marginalized community. The famous Latino celebrities had fairer skin, blond hair, and blue eyes; Selena was on the opposite end with darker skin and brown locks.
Selena's bold take on beauty and fashion inspired many women and girls of various backgrounds and ethnicities. In a time when model thin and boyish figures were deemed the perfect feminine form, Selena, with her curves and thick body, stuck out like a sore thumb. But that was a good thing.
Many Latino girls and women would watch her perform and feel seen. In her, they saw their sister, their mother, themselves, someone who looked like them and radiated so much beauty and confidence. It was the type of representation they needed.
Her on-stage outfits were inspired by both artists she looked up to, Janet Jackson, Whitney Houston, Diana Ross, and Madonna, and typical outfit choices of Mexican American working-class communities.
Selena also designed her on-stage outfits herself. She spiced up her jackets and bustiers with rhinestones and other embellishments that could be gotten from any DIY store. She took essential everyday wear and glammed it up to her taste.
Related articles: Rihanna's Fenty Beauty launches Icon lipstick | See where to buy all 10!
7 Selena Quintanilla 90s outfits trends you can try out today
Selena broke glass ceilings and shattered limitations in both the music and fashion industry way before it was considered cool to do so.
Like her music, Selena Quintanilla outfits were a mixture of various 90s styles. Selena was combining different styles to make something that showed off her heritage and also made her stand out. She simultaneously took from her culture while championing its evolution.
1. Embellished bustiers
 

View this post on Instagram

 
One of Selena Quintanilla iconic 90s outfits was her embellished bra or bustier top. If you've watched the original film Selena, you might remember the scene where her dad wasn't happy about her wearing a bra to perform. But as she's shown countless times, Selena is her own woman capable of making her own choices.
You can style this sensual piece of clothing with a leather jacket, split hem jeans, and chunky boots for an edgy take of the singer's iconic look. A fierce look for a fierce woman.
2. Fringe Jackets
 

View this post on Instagram

 
Fringe jackets are another iconic Selena Quintanilla 90s outfit. The 90s was the era of fringes, from gowns to jackets, to trousers and even boots. And like the true Texan 90s queen she was, Selena incorporated the fashion trend into her wardrobe. And now that fringe jackets are back in vogue, you can dress like the superstar singer by styling it with faux leather pants, a corset top, and riding boots. It's retro meets chic with that outfit.
3. Gold loop earrings
 

View this post on Instagram

 
Just like how Ariana Grande is known for her infamous ponytail and perfectly winged liners, Selena is well known for wearing gold loop earrings of varying sizes. Pack your hair into a sleek parted ponytail to show off the gold loop earrings and your well-defined jawline.
4. Baker boy cap
 

View this post on Instagram

 
The baker boy cap is also referred to as the newsboy cap, newsie, and sometimes fisherman hat. It originated from the era of Queen Elizabeth I when she sought to increase the Irish and British sale of wool. So she passed on a law that forced men six years and older (with the exception of the upper class) to wear woolen caps on Sundays and holidays.
Hence it was worn by the working-class men, including the newspaper boys, thus the eponymous name. Yet, why's it's referred to as the baker boy cap is unclear as there's no direct connection between the cap and bakers.
With Irish immigrants residing in the United States of America, the baker boy cap found its way into the American fashion of the 19th and 20th centuries.
Even though many fashion trends rise and fall, the baker boy caps are considered a classic. They've become a part of women's fashion and a go-to clothing item if you're going for the French-girl look. Celebrities like Bella Hadid has been seen multiple times pairing the hat with several outfits, Halle Berry in an Instagram post, Rita Ora at the LAX airport, and many others.
However, Selena beat them all to the punch. Baker boy caps are another iconic Selena Quintanilla 90s outfit you can incorporate into your style. You can dress them up with dark pants, chunky loafers, and a leather coat for a dapper English look. Or dress them down with a maxi skirt and oversized knit sweater. Whatever meets your fancy, baker boy caps add flair to your outfits.
5. Figure-flattering, curve-hugging denim with an embellished belt
 

View this post on Instagram

 
Selena often wore this staple outfit. She wore high-waist figure-flattering denim paired with a wide 90s rhinestone embellished belt. This was a statement piece as it showed off her delectable curves (in a time when size 0 women were appreciated) while still keeping to the 90s vibe. For a modern-day twist on the look, you can team it with a crop top to show off the belt and ankle boots for a dash of elegance.
6. Front tied crop top
Other stylish 90s outfits of Selena Quintanilla were front-tied crop tops. The Mexican American singer had a knack for wearing this top with baggy jeans. You can ramp up the 90s look by pairing it with mom jeans and jelly sandals.
7. The infamous most iconic jumpsuit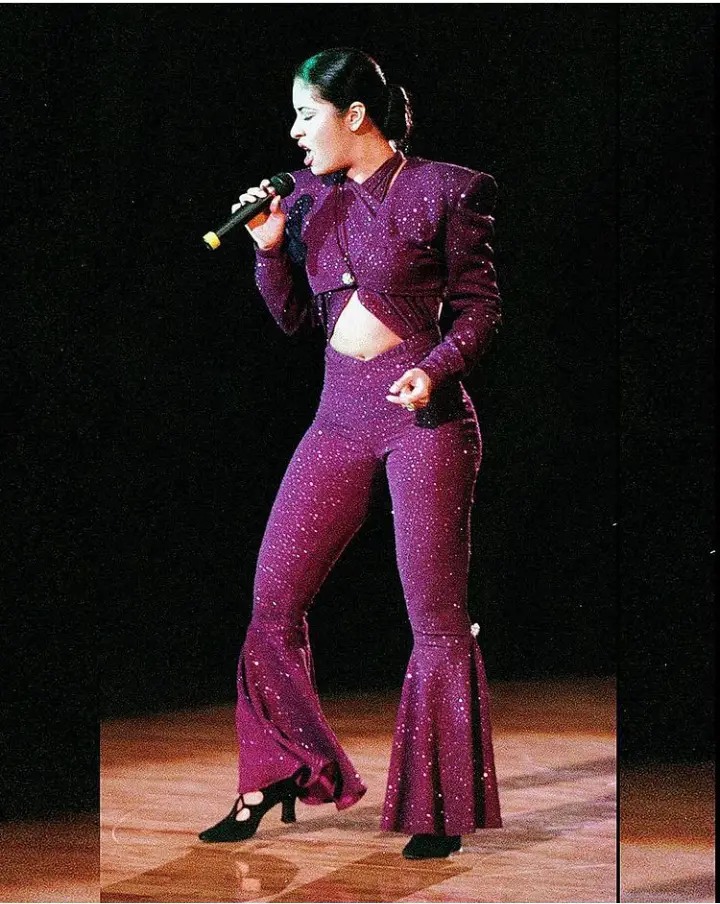 Jumpsuits are a very versatile clothing choice. They can be dressed up for a powerful look or dressed down for a casual lie-around vibe. This Selena Quintanilla 90s outfit fell between powerful and charming. It features a ruffled cropped bell-bottom and lots of glitter for a disco 90s vibe. Yet, it takes a modern spin with the cheeky cutout and halter neck top. Pair this jumpsuit with platform heels to elongate your legs further. Finish off the exquisite look with your favorite Michael Kors bag.
Conclusion
If there's anything we can learn from Selena Quintanilla, it's that we shouldn't limit ourselves, not in the way we express ourselves, not in our dreams, goals, and visions. Selena both paid homage to her Latino roots while simultaneously helping them evolve.
She expressed herself through her outfits seeing as she and her mom created most of her stage outfits. She wasn't afraid to be herself, even if that meant being different. Her life story goes on to show us why representation matters.
She inspired the music and fashion industry and millions of people who looked up to her and saw how fierce and empowering she was. And the best part was that she looked like them. Selena's outfits also prove that fashion is cyclic.
You may also like to read, Understanding the craze behind beauty serums and the best ones to use.