Gold hoop earrings add a touch of glam to every outfit. Even though this earring trend is not so in your face, it has subtly taken its place in every woman's jewellery collection. They are not statement jewellery pieces but look chic no matter how minimally styled. While other earring designs either blend in or look too much, gold hoops give a nice balanced style.
The jewellery staple has been redesigned in so many ways, which makes it a classic earring with an upgrade that goes beyond the trend. From chunky to larger and triple layers, they are still a safe choice accessory to complete any ensemble. That is why we have rounded up ten pairs of gold hoops to help you stay fashionable, no matter what.
1. Slim gold hoop earrings
This is one of the classic designs of gold hoops, and a great option to add to your collection. Suitable for everyday wear as you won't feel their weight since they are thin. They can be worn with most outfits; although they look quite basic, they add a subtle bling to your necklaces and other jewellery pieces. This proves thin is luxe and can be all you need to upgrade your look.
2. Small thick hoops
Small hoops are undeniably gorgeous and look so good on anyone. Pairs like these are the ones you wear with your regular outfits, the chunky silhouette and appealing gold shade say it all. They are so chic, with the subtle dash of glam they bring, and you can wear the pair all season long.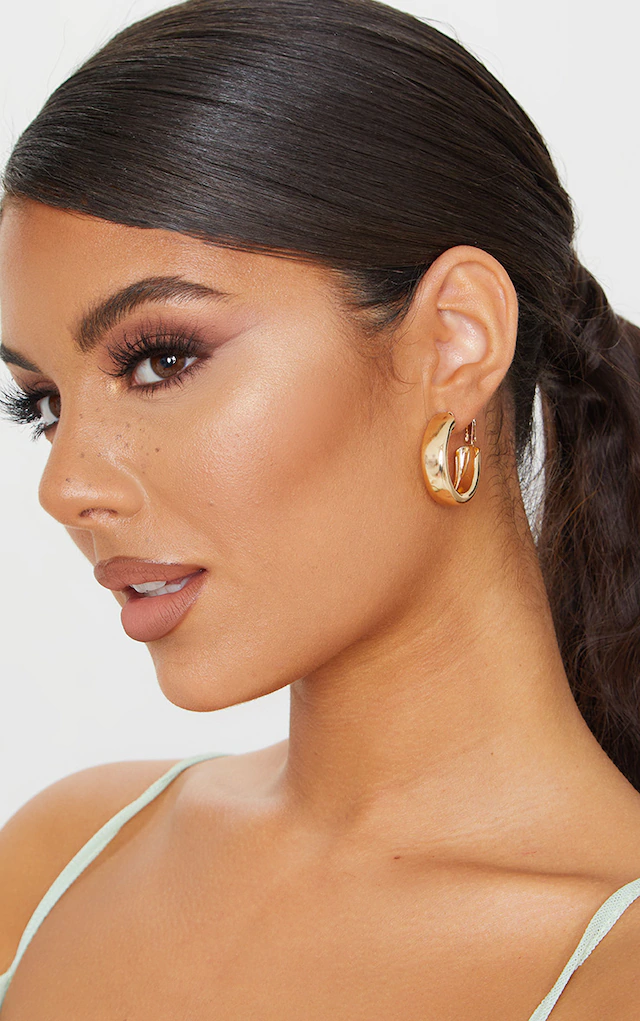 3. Flat hoop earring
The flat take on the normal rounded jewellery is so unique. It gives a new dimension to the pair which makes them cool. This is a great pair of earrings that will elevate most outfits. Get ready to receive all the compliments as they add a certain flair to your ensembles.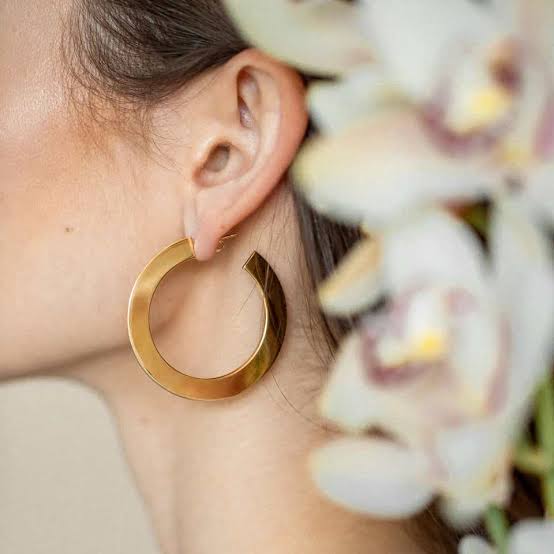 4. Hollow gold hoops
You will get more wear hours out of a hollow pair of earrings like this. They are lightweight but still score styling points for any outfit you add them to. The refined piece will complement other accessories, whether you're trying to dress up or down. They are a relaxed pair you'll be reaching for every day.
5. Large gold hoops
Everyone needs a pair of big gold hoops, whether chunky or thin as they are a dependable pair that are always in trend, and a perfect accessory to elevate any ensemble. You can safely wear them all day and transition tonight. The earrings are the perfect go-to choice to accessorize your look.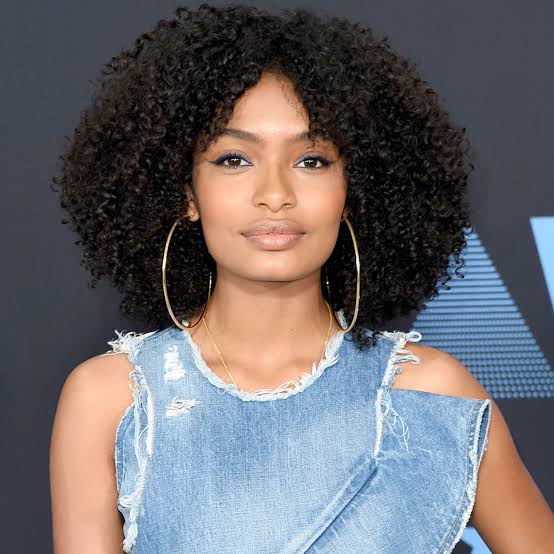 6. Huggie hoops earrings
These are the best structural pair of earrings to keep it simple or elevated. It can feature an open hoop which can be big or small or the normally closed hoops. They are all cute anyway. They are perfect for casual outfits and can still be the perfect piece to complete your evening outfits.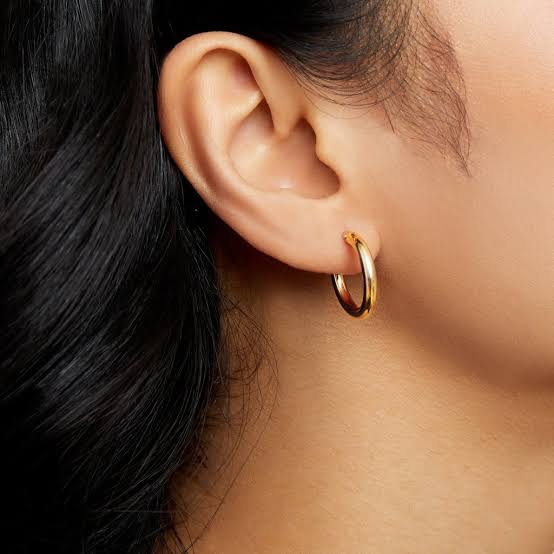 7. Textured hoops
These are earrings adorned with extra finishing on their surface. They can be in form of textured lines, shapes, and patterns which make them unique and are the kind of earrings you save for special occasions or formal settings. Wearing them down the street might seem a bit much, but if you don't mind then you might as well enjoy the bling anytime.
8. Adorned gold hoop earrings
Do not hold back the glam with a pair of encrusted hoop earrings which have been reinvented in so many ways. They can be encrusted with pearls, silver, gems even diamonds. They are splurge-worthy as they all look cute. This makes them stand out from the regular hoops.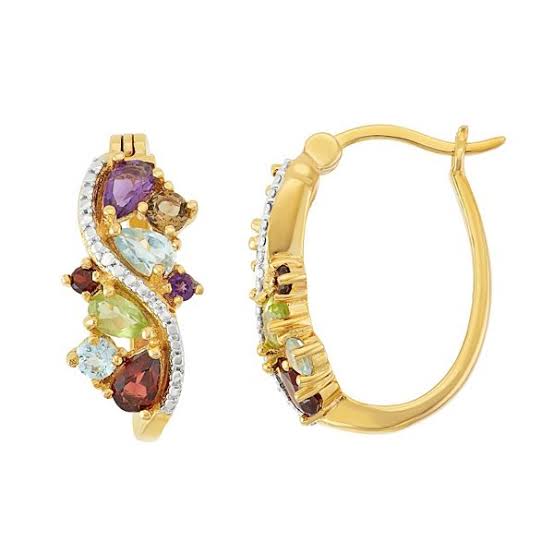 9. Twisted gold hoop earrings
A twisted structured hoop earring is a stylish accessory to add to your jewellery box. The braiding detail is a perfect mix to complete even the simplest outfits. These earrings got you covered for both dressy and relaxed settings.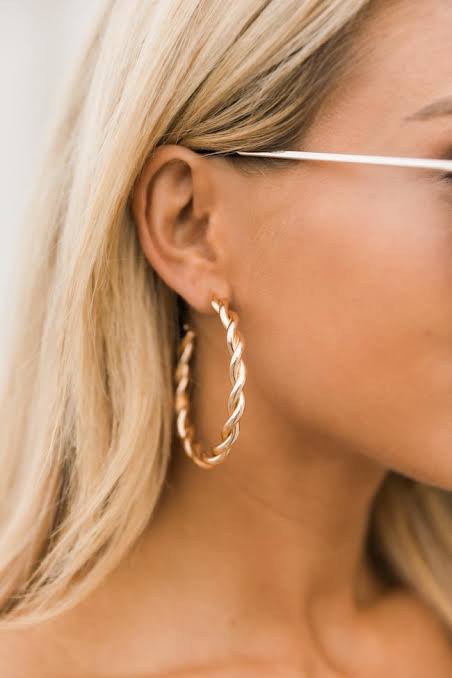 10. Interlocking gold hoop earrings
Why stay minimal with a single hoop when you can get more fun with a design like this. Two are three hoops joined to form one interlocking earring. They do look chunky but are a dainty accessory to add to your dressy outfits. For everyday wear, they add a glamorous touch to simple outfits like jeans and tees.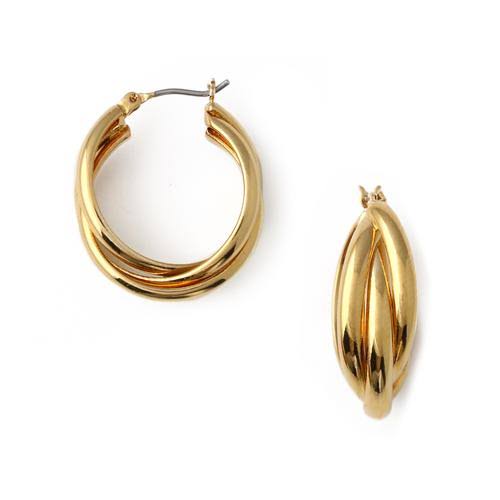 In summary, earrings complete a person's outfit while earrings like the stud blend in hoops give the right visibility. Coupled with necklaces and other pieces of jewellery, the impressive array of hoops from big to small are the right earrings for all your styling needs.
For accessories, gold hoop earrings are a piece of staple jewellery. They are always trendy with the contemporary upgrade they get every season. They add glamour to every outfit with all the refined and delicate pieces. So, whatever you are in search of, there is a gold hoop waiting for you.