A teddy coat is the perfect example of a quality jacket for the chilly seasons. They are plush and cozy, so wearing one feels like you're wrapped in a blanket. Usually made with faux fur, teddy coats are one of the best sources of warmth, with a plush covering. That makes the coats soft to touch and functional but do not bulk because of the fur, making them suitable for casual outfits with jeans or formal outfits with dress pants.
This collection contains everything from a longline teddy to a shacket teddy bear coat, with many brands shelling out their iterations. So, even if you cannot afford the luxe camel fur blends, there are several other great selections. While you should already own a teddy coat or two, now is still a great time to add one to your wardrobe if you haven't. Check out some chic teddy coats that will initiate you to the bear cult below.
Related article: Backless Bra: Your ultimate guide to choosing the best backless bras.
1. Max Mara Teddy Bear Icon Coat
This coat is a splurge-worthy choice if you like the finer things of life since they are made from a blend of camel hair and silk. The brand is also notable for introducing and giving teddy bear coats their moment since 2013 and placing them in an unparalleled class. They can be styled for laid-back streetwear and elevated with accessories for a posh look. If it comes down to choosing just one teddy bear companion, this could be it, as the coat can serve all you need for years to come.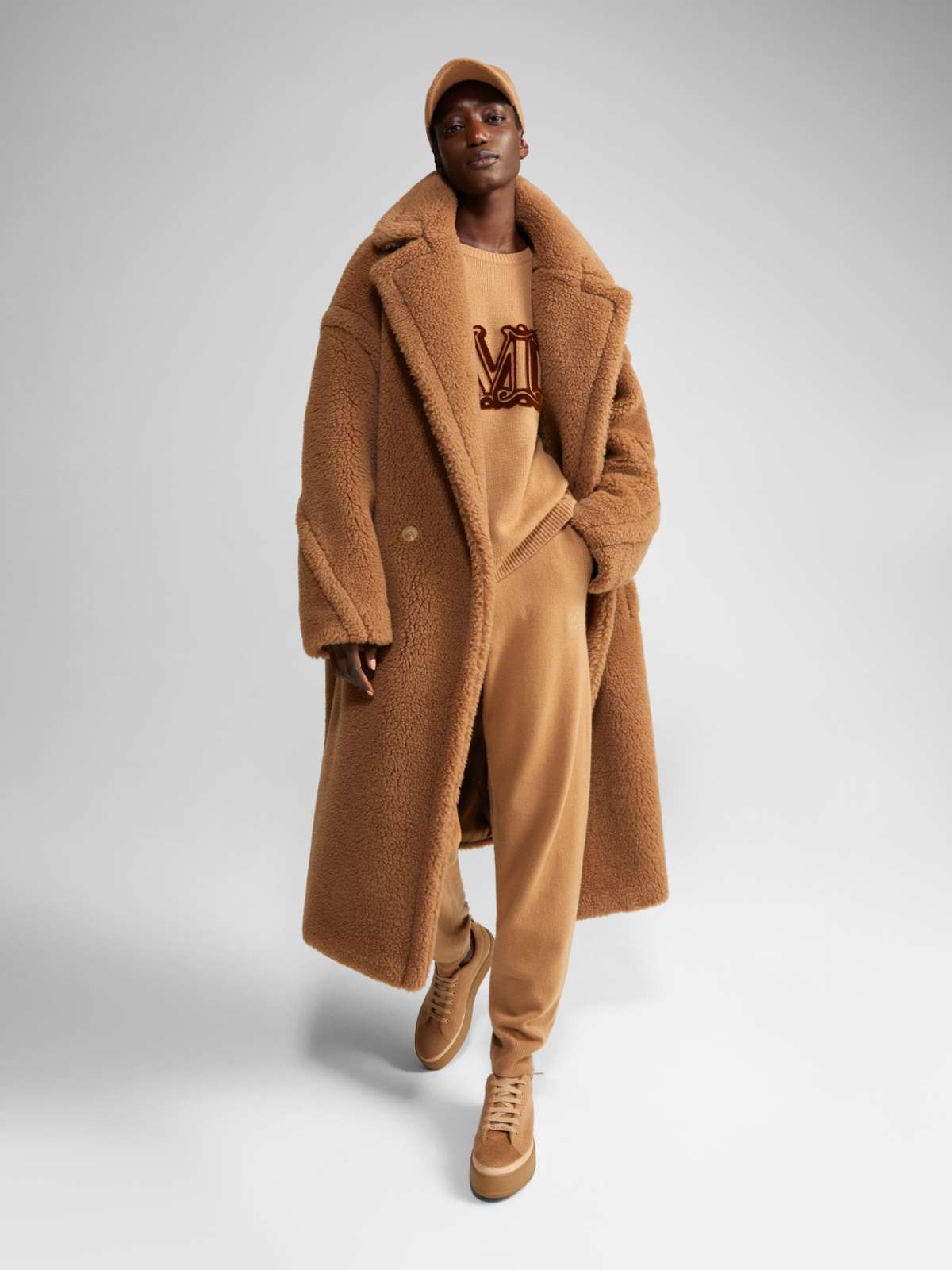 2. H&M Teddy Shacket
What's better than a teddy version of the shirt-jacket hybrid to style all your jeans this fall? This combo is what you will love to wear for errands, brunch with friends, and on evening strolls, which is you living in this coat all season long. For the minimal yet modern appeal this jacket has, that can quickly turn into your everyday wear option.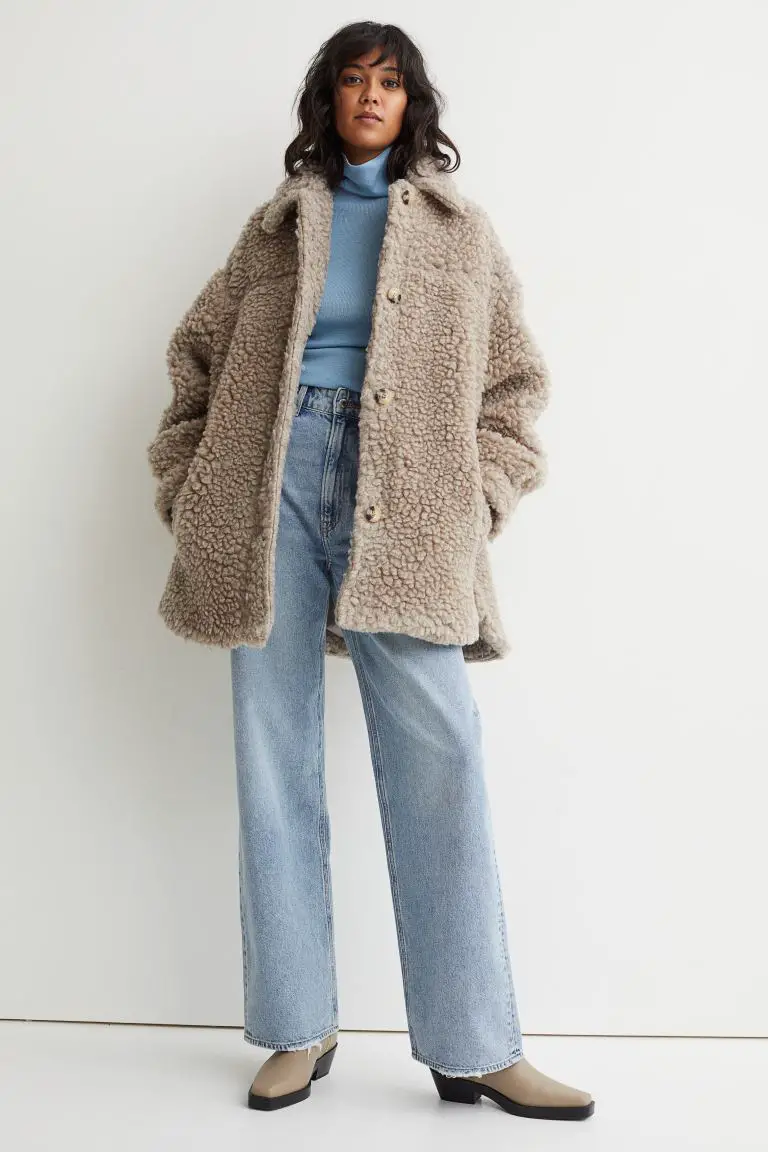 3. Zara Teddy Coat
Zara tagged this an oversized fur coat because it has a baggy fit to blend with the general chunky trend. The black buttons act extra details that give its fitting contrast in color to the brown fur lining the coat. Having outerwear like this drums up outfit ideas from the top of your head, as just looking at it can make you think of pairing it with a dress or more, making it suitable to throw over various outfits for a perfect transitional piece.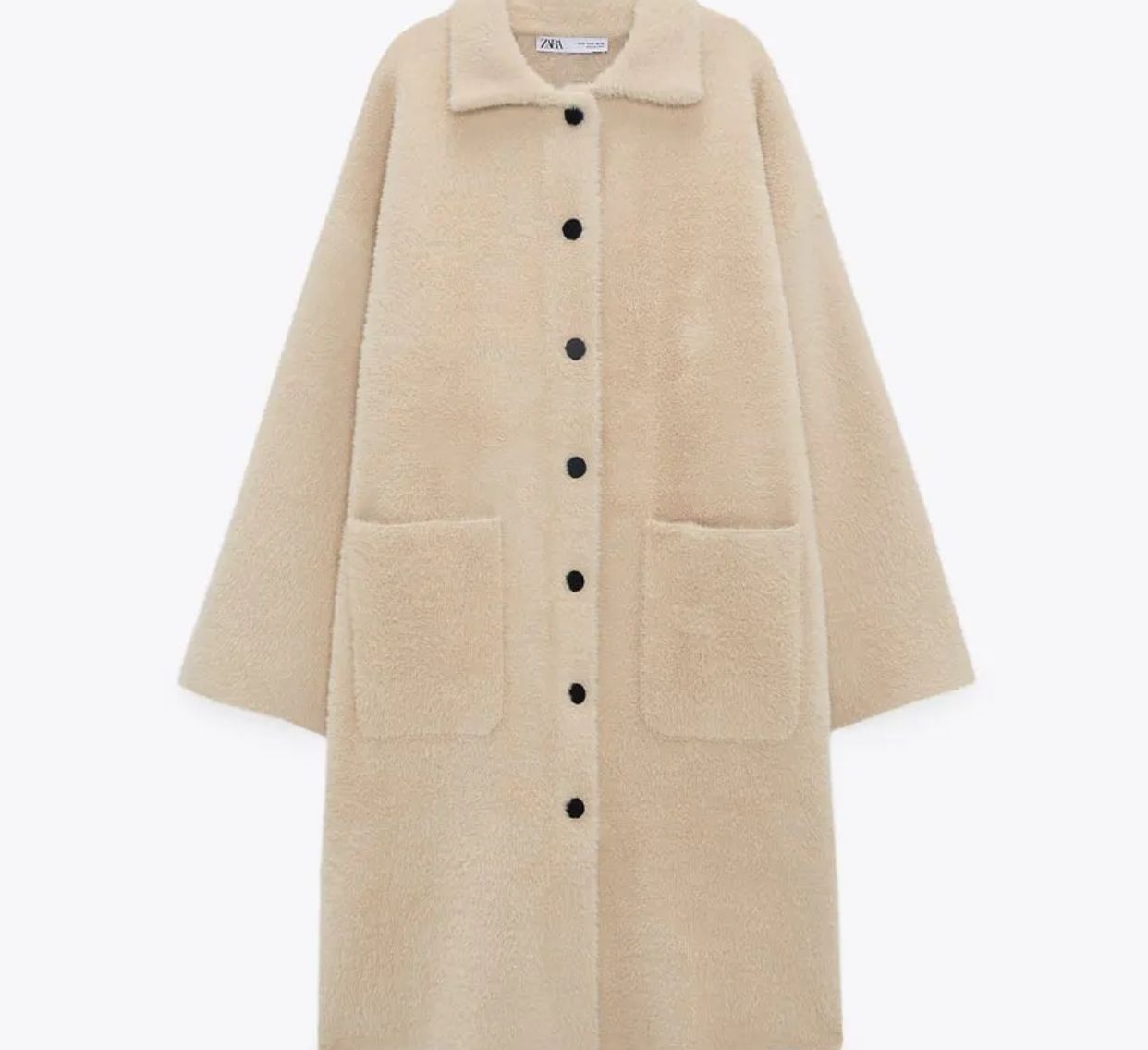 4. M&S Collection: Pink Teddy coat
You can tell this teddy coat is a chic layering choice from the physical appearance. The pink hue will look suitable to style different colors. You can go with a pink monochrome look, wear matching pink shades, and use the coat to finish the look. Also, this coat is a great piece to elevate your outfit of neutrals or olive shades, as the coat will be the pop of color you will need to stand out.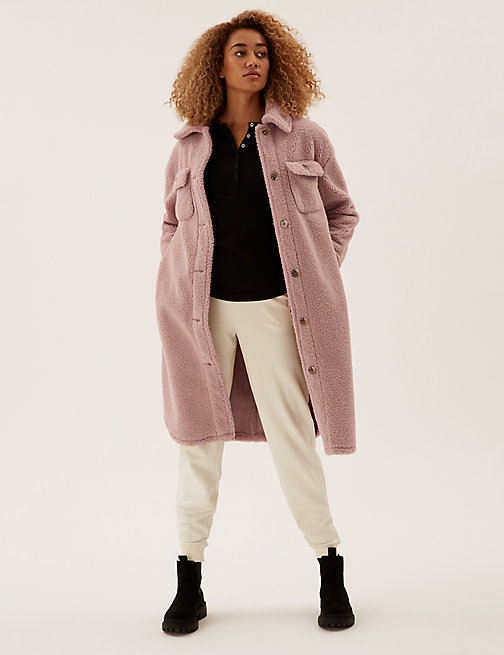 5. New Look: Blue Vanilla Camel Teddy Double Breasted Long Coat
The beauty of this coat is in the revere collar neckline that complements the double breast fastenings. It is also toned in the camel shade for the classic teddy vibe. This means you can wear it with just about any other color. The way this jacket is designed will look cute on both a formal dress pants outfit and casual jeans looks.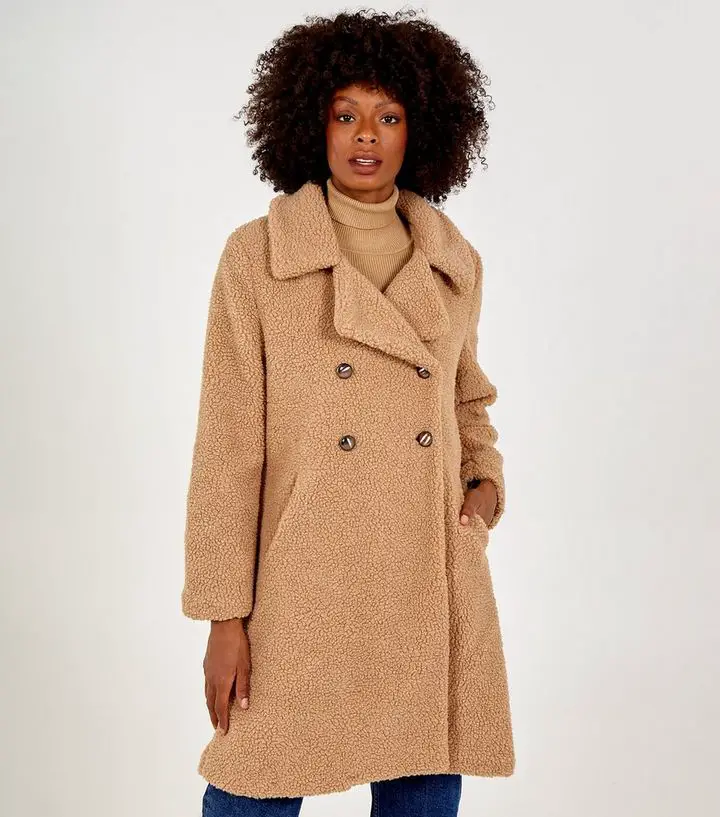 6. Stand Studio: Faux Shearling Coats
The shearling iterations of teddy coats are a must-have, especially the dark brown colors. Since they best replicate the appearance of a teddy coat. They almost look and feel like an actual teddy bear is hugging you. And Stand Studio seems to have gotten the hang of making the finest faux fur coats a person could want. Another iteration from Good American, a fleece shirt, is also great for an easy throw over your camisoles, jeans, and ankle boot outfits, without the fuss of excess layering.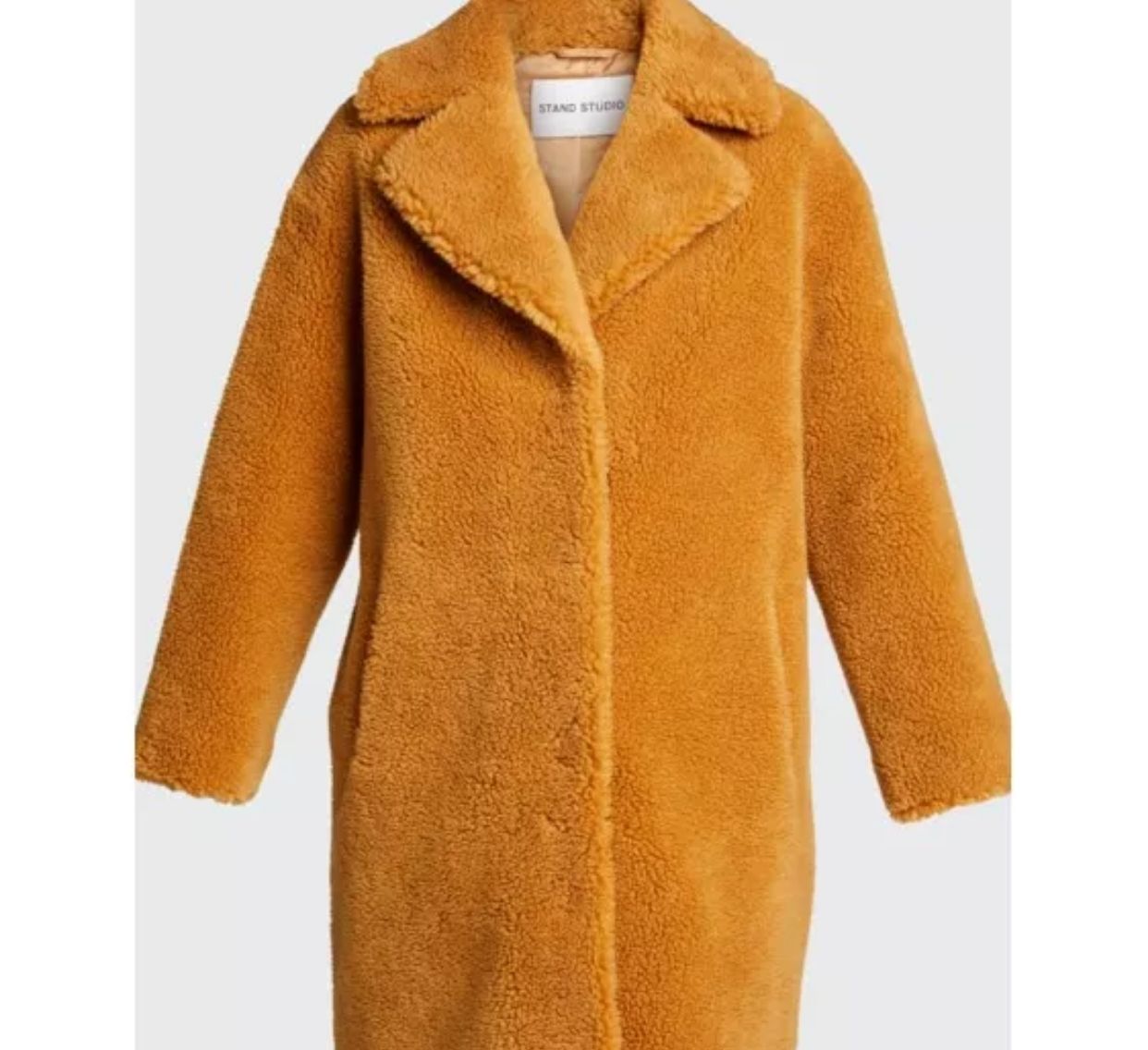 7. UGG: Gertrude Long Teddy Coat
This coat proves black teddy coats are forever stylish. Its broad collars and lapel jacket style make the long silhouette super cute and functional. That is sure to flatter any outfit of choice, from cropped tops and high-rise pieces of denim to more formal outfits, making it possible to achieve a put-together look for most occasions.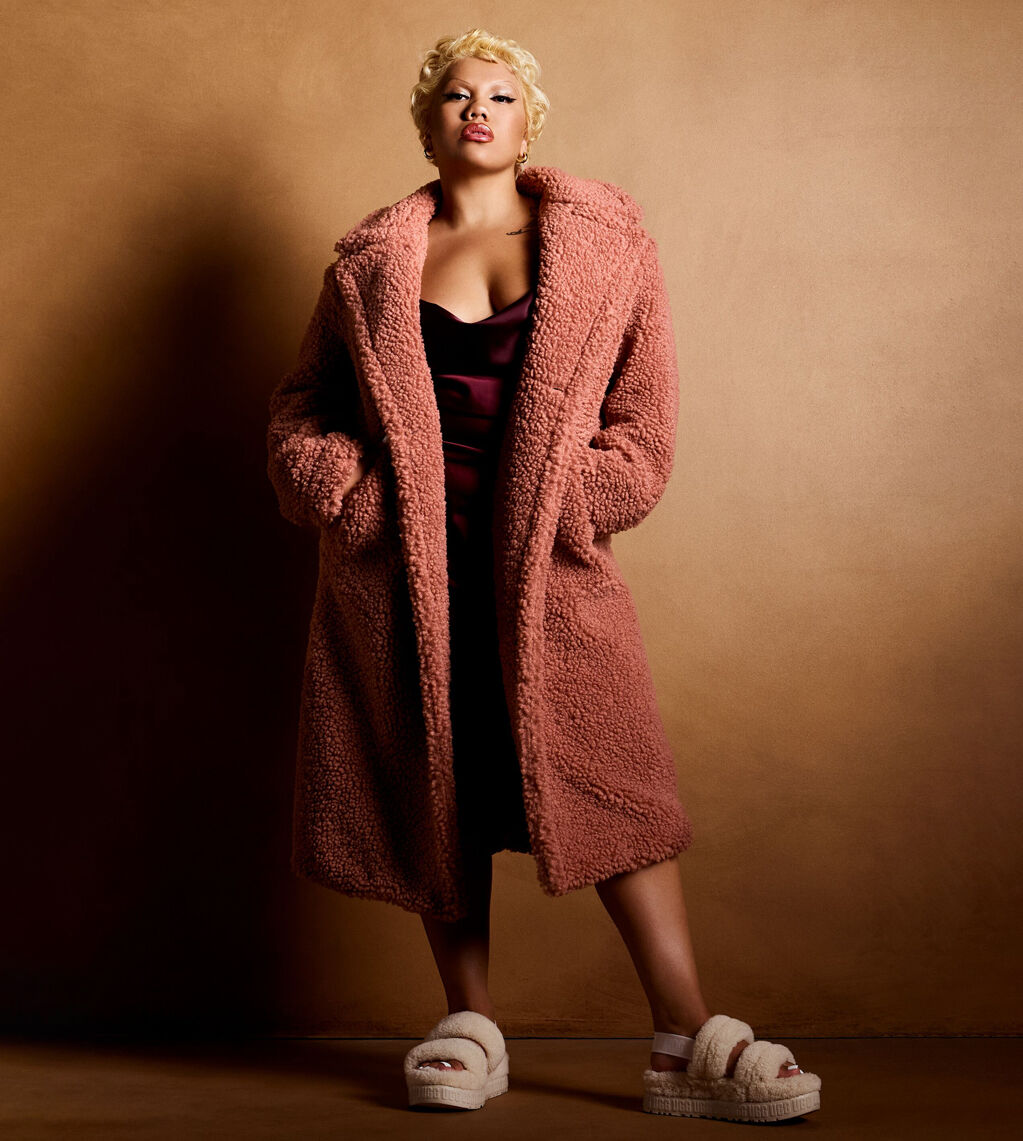 Apart from these brands aforementioned, when you decide to go shopping for a teddy coat. Here are some general styles you can check out to make a suitable choice.
8. Camel Teddy Coat
A teddy coat in camel tan color is a classic everyone should add to their collection. The rich hue works well for the furry details of the coat style. Find a coat with a boxy structure that falls close to your knee, with pockets complimenting the fantastic appeal. You can wear it with any other color, as the tan matches most tones, even black. So, if you are planning to wear an all-black outfit, this coat will a nice color contrast for an updated look.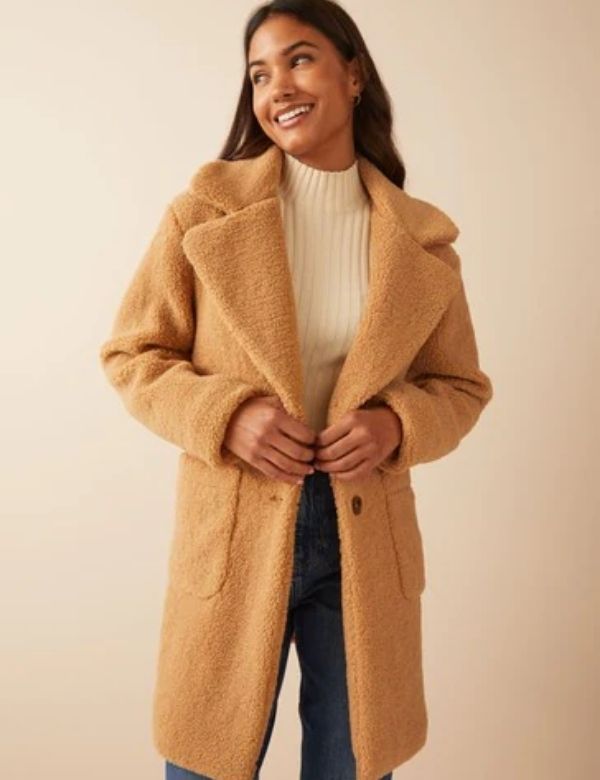 9. Hooded Teddy Coat
It doesn't get cozier than a hood on a teddy coat, and you can flip up when it gets chiller. The feeling is a mobile cocoon to serve as all the layering you will need. Wear any trousers of choice, from khakis to leggings, joggers, and more you can find since you won't have to worry about the chills, which makes it a suitable choice for plans outdoors when the temperature drops.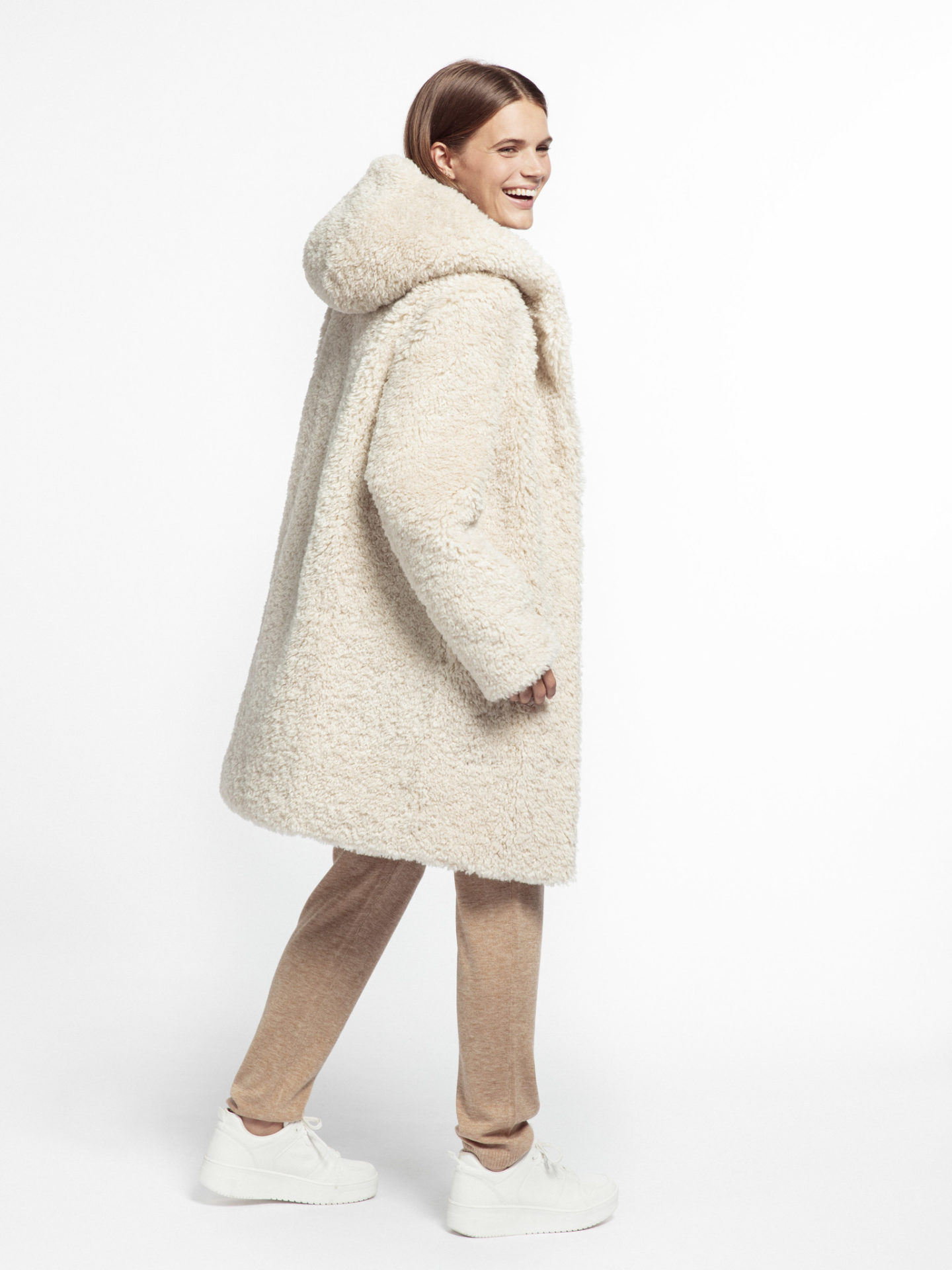 10. Tailored Teddy Coat
Teddy coats are not left out of formal dressing with this tailored number. Its double breast buttons and boxy collars will look cute with shirts and dresses for work and events. For a typical workday, you can wear tailored trousers and a turtle neck top, with your teddy coat over it, and heels to finish off the look. When wearing it with a dress, be sure the coat stays a few inches below the dress.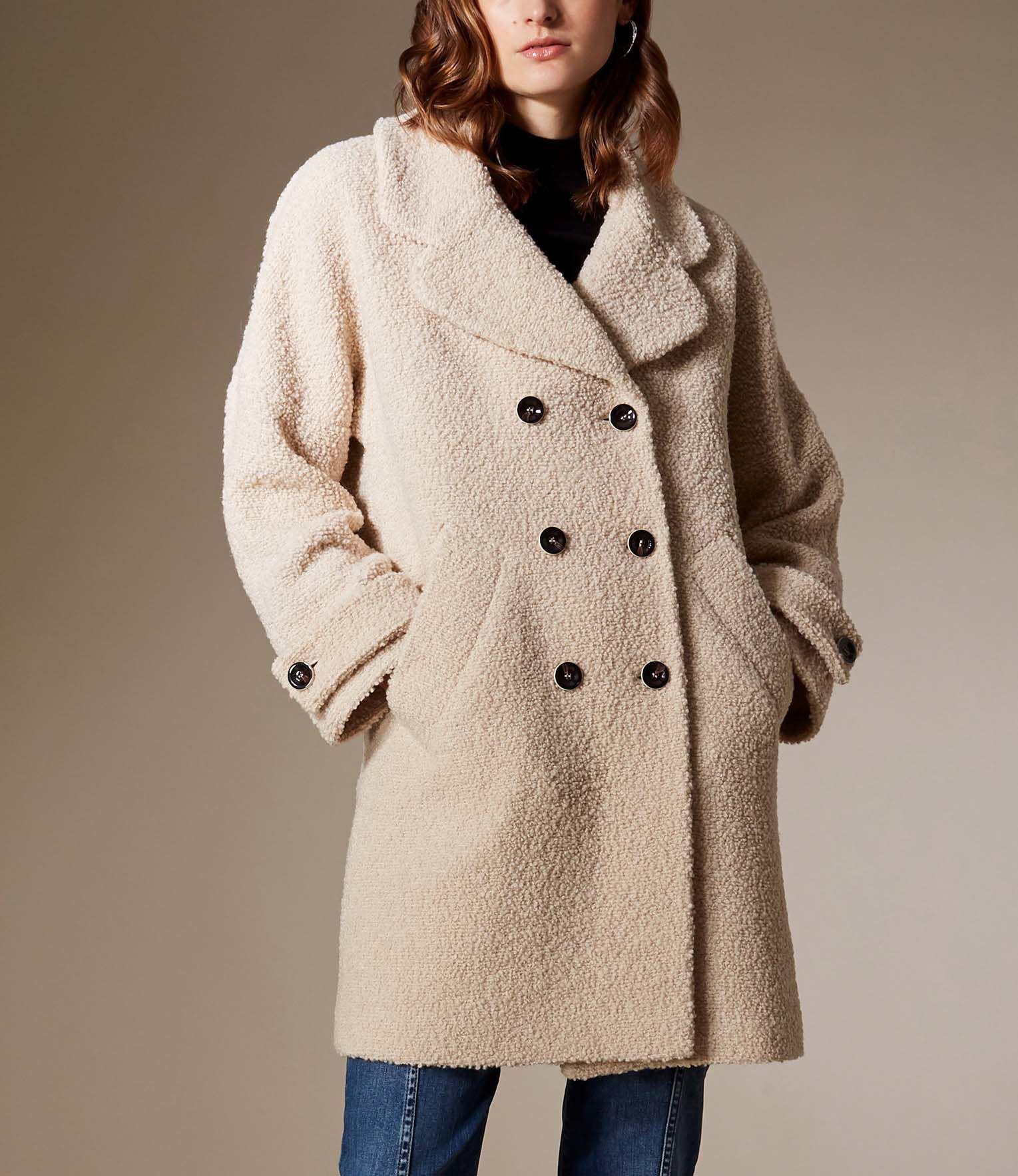 11. Belted Teddy Coat
Belt details on teddy coats are so stylish because it feels like a completing appeal of being wrapped up in fur land. You can pair it with dresses, jumpsuits, casual jeans, and tees; remember to create beautiful knots with your belt. To make the coat ultra-feminine and to flatter your figure.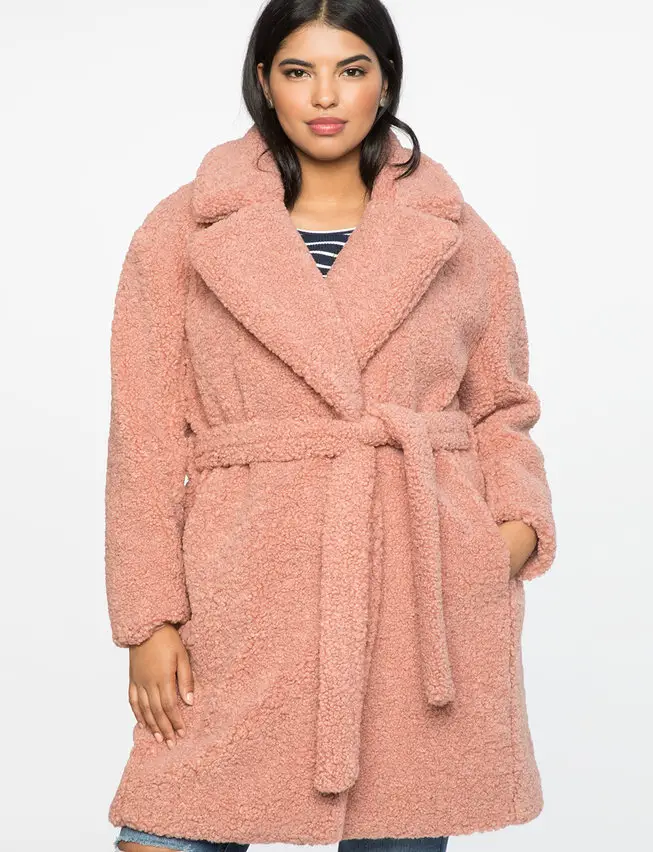 12. Sleeveless Teddies
A good coat collection should contain a variety of designs to suit different temps. This makes a sleeveless coat a needed addition, for those days you do not require much warmth. A perfect pairing will be with long-sleeved tops, so it peeks out from the coat. It is also not limited, as any cute top choice will look good with the skin. An outfit idea will be a white crop top, with black high-waisted jeans and lug sole boots, with the coat thrown over it to finish. Casual-cool has never looked so chic.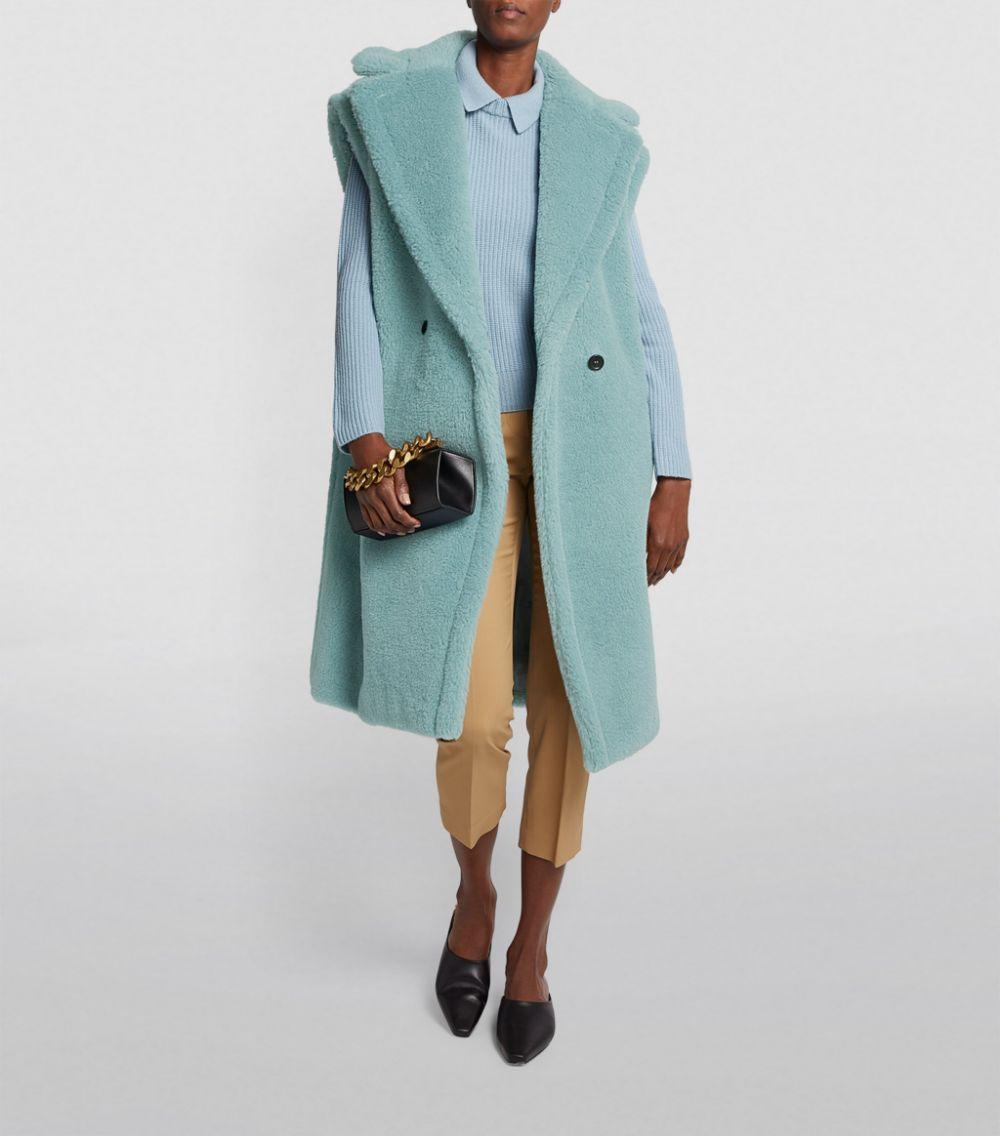 13. Oversized Teddy coats
Everything oversized has been having its moment, from button-down shirts to sweatshirts and jackets. With an equally large teddy coat added to your rotation, you stay on the trend. You can use them to style some serious, laid-back yet stylish outfits all season long. With legging, sweatpants, and jeans, be sure to keep the top at your standard size. To avoid the outfit looking too baggy, but if you can pull it off, then why not.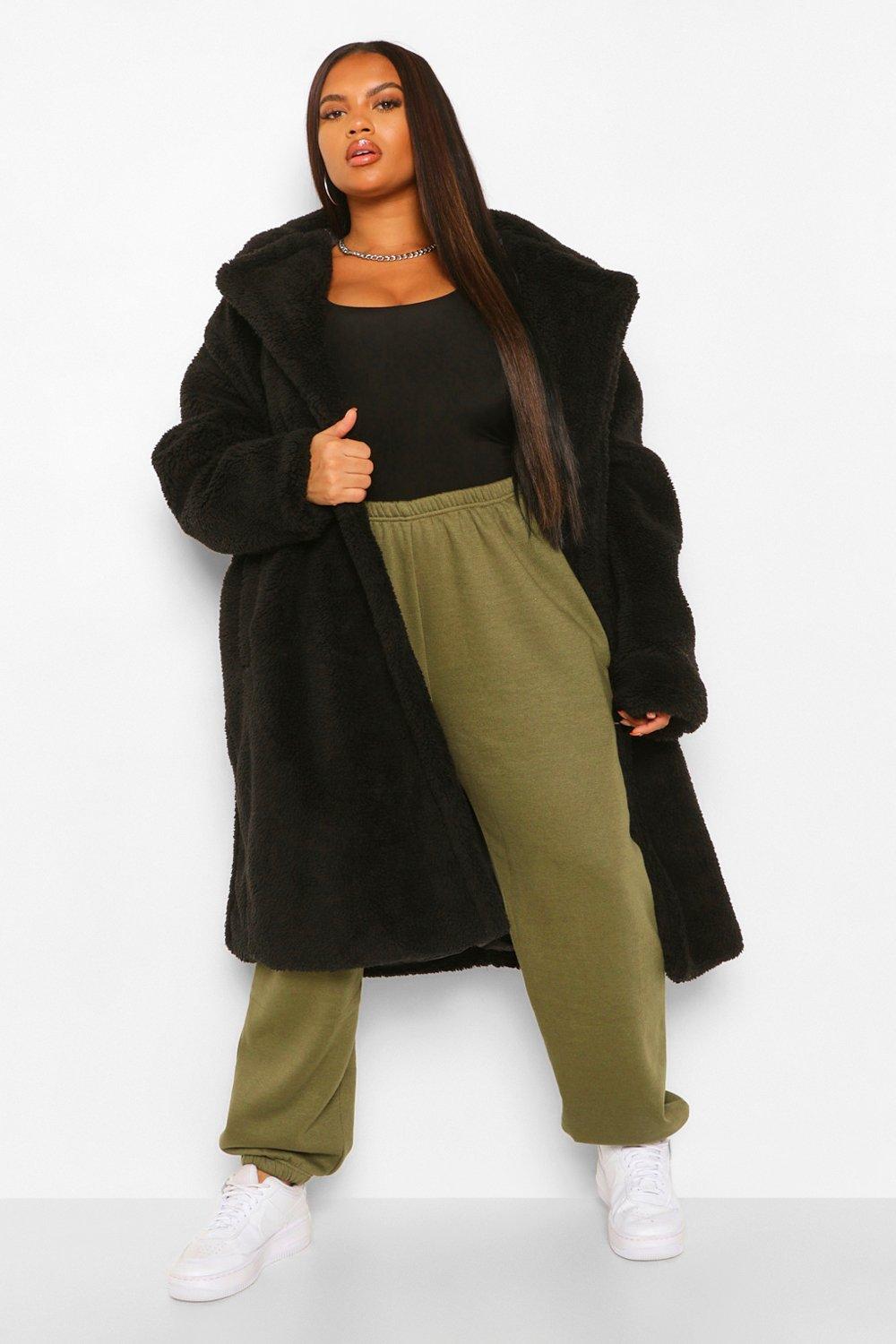 14. Checkered Teddies
Checkered or patchwork details are a modern take on teddy-styled coats, two or more colors alternating each other on separate boxes for a patterned effect. Suppose you throw it over a matching shade outfit they exceptionally fashionable. It is for those days you want all the attention on you.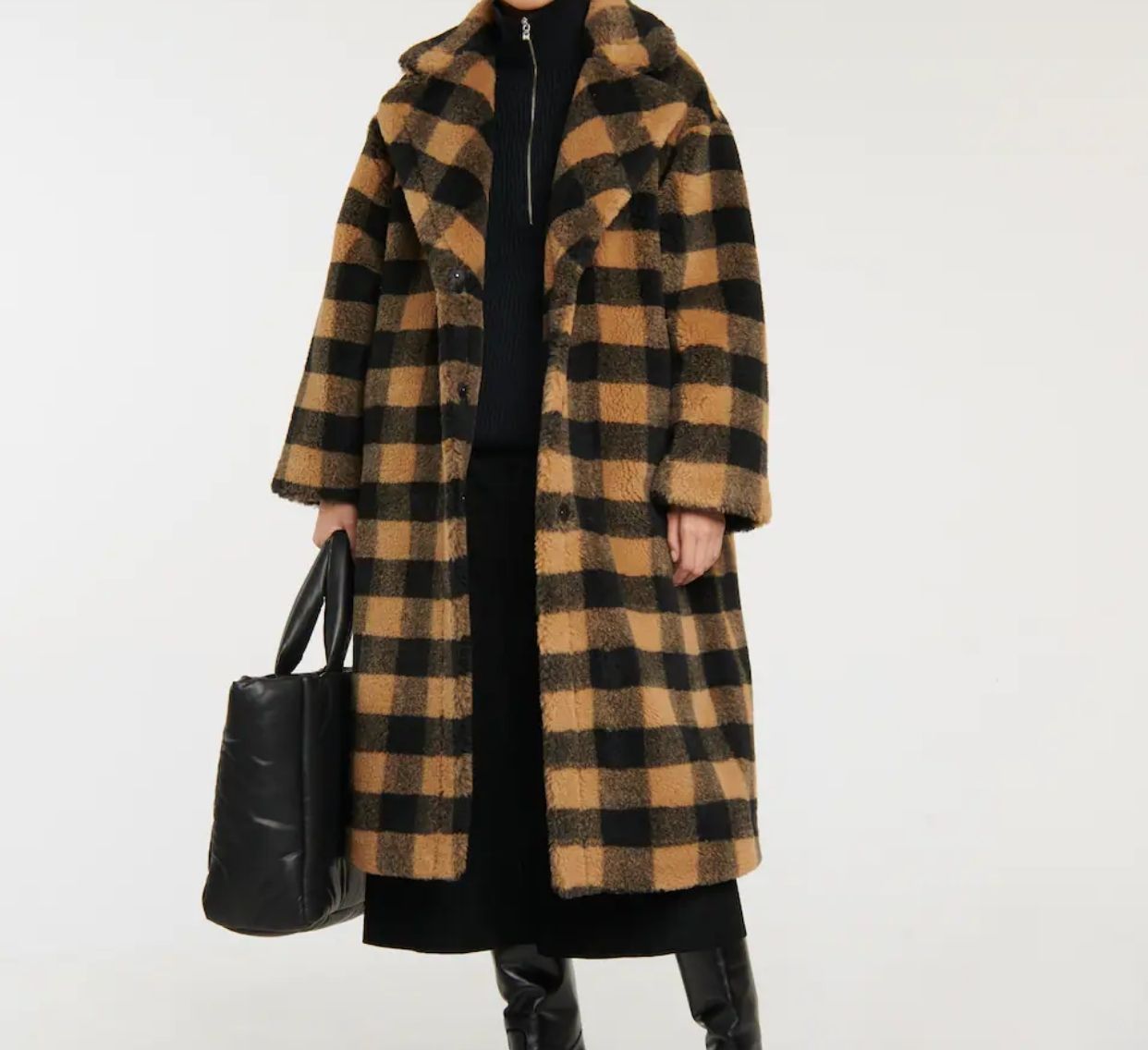 15. Long Line Teddy Coats
There is something luxe about a long teddy coat, asides from giving extra warmth. It provides a posh appeal, which presents an excellent opportunity to rock your skirts through the winter. Pair with a pleated skirt and silk top, with thigh-high heel boots matching your purse for an elegant look. That will take you from formal events to evening dinners. You can as well wear trousers if you desire.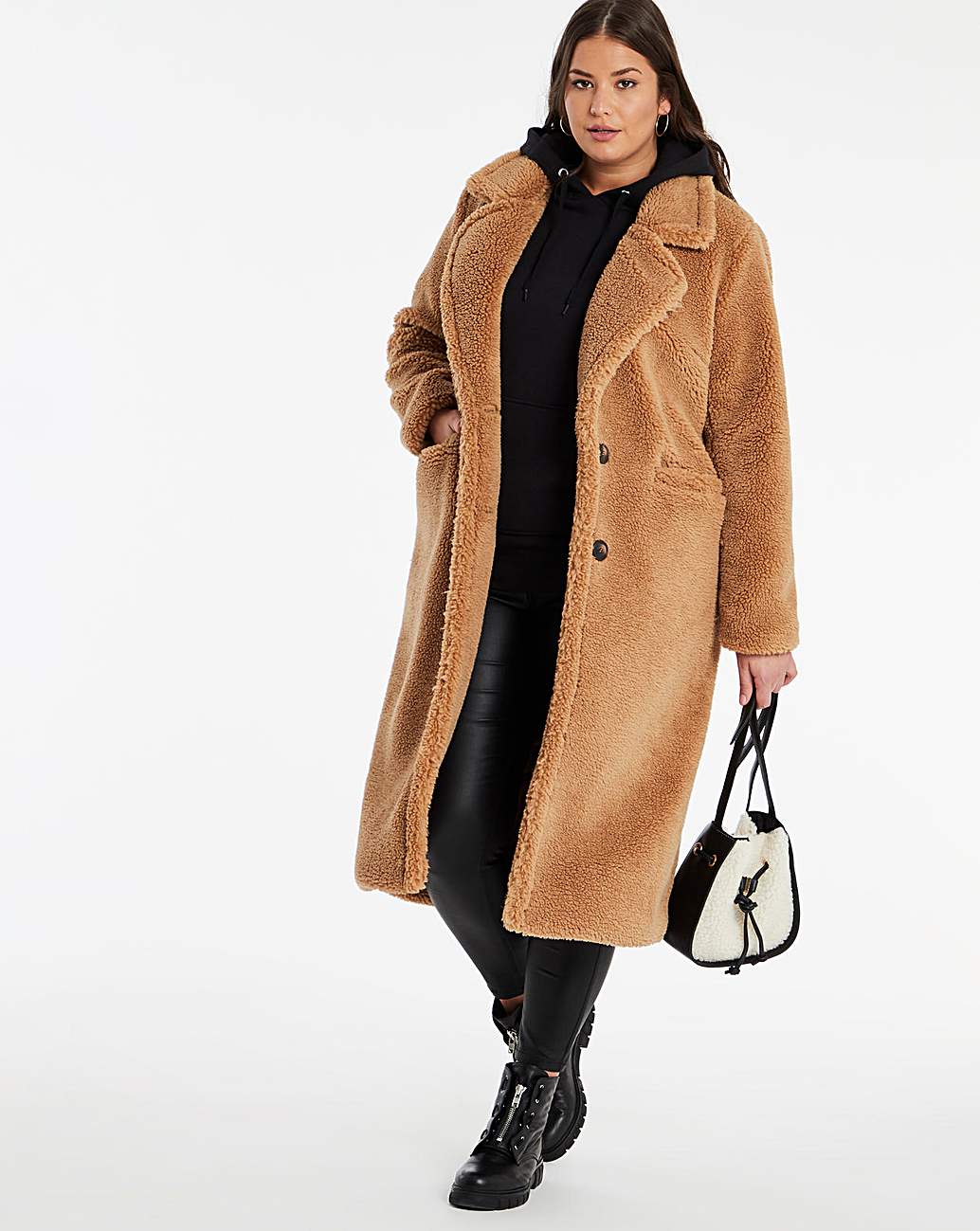 16. Cropped Teddy Coat
On days when it's just a little windy, cropped teddies got you covered, and we all have established that the crop trend is here for good. So, why not lean further into the direction with a teddy coat, as they will look cute with legging, whether regular or flared. You can pair it with high-rise jeans and tee outfits with ankle boots for a casual outing.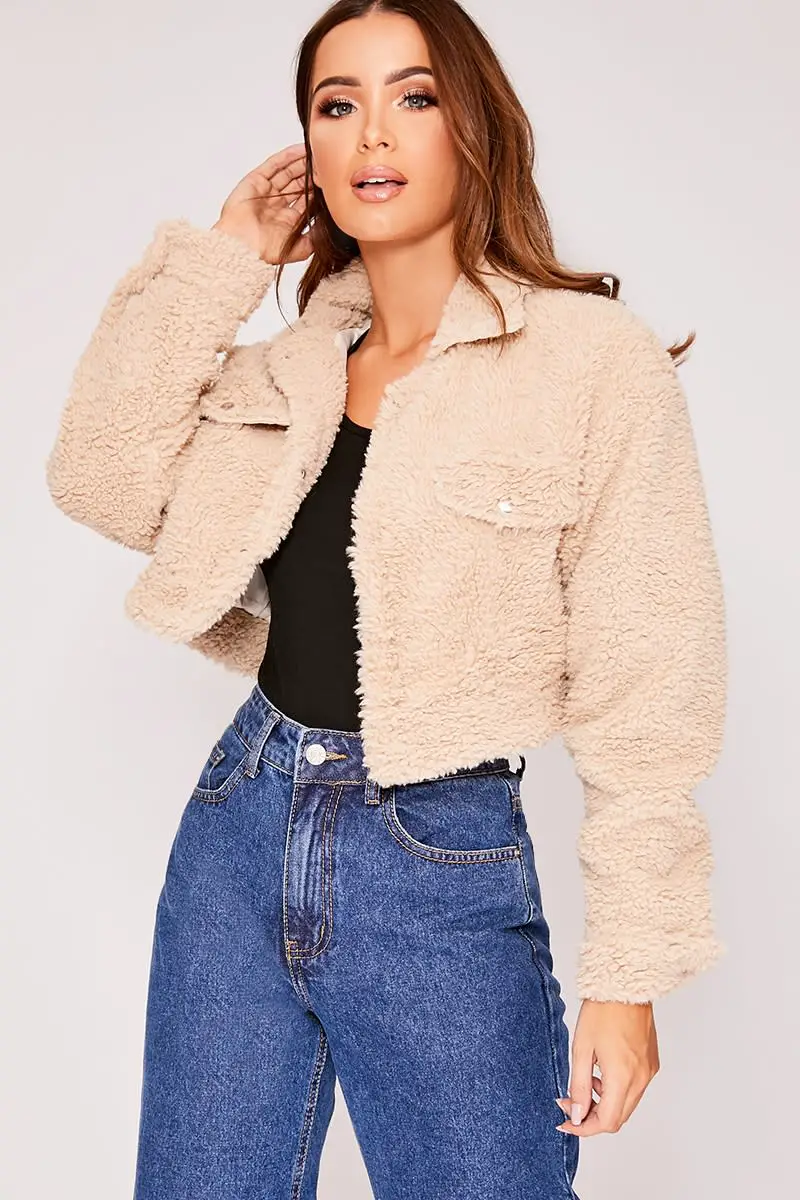 Teddy vs. Shearling (Sherpa) coats
In terms of similarities, both the teddy and shearling coats look-alike from their physical appearance and stretch in one direction. While they are easy to maintain and often used interchangeably for clothes, that's all they have in common.
Sherpa is tightly bonded together than a teddy, with a fleece finishing that makes the fabric soft but still provides warmth. So when they are often used in coats and jackets and are arguably warmer than teddy coats. Also, since the fabric fibers do not separate, they are less like to shed when it is cut.
Teddy fabric is often referred to as sheep fabric because the fibers look appealing and appear like fluffy bear hair. However, they are not tightly bonded, as an open weave makes the fabric breathable. So it sheds when it is cut.
There is nothing wrong with choosing a coat made with either of these fabrics, as it all comes down to your preference. When placed side by side, the two options are good and could pass up for one another.
You may also like to read this piece: Beach Dresses: 18 Cute Beach Outfits for Summer 2022.