If you are thinking of trying a new hairstyle, why not red and black hair which is the perfect complementing piece of vibrant and dark. The easiest way to achieve this color play is with highlights or ombré color techniques. Not to talk of the trendy balayage coloring style, combine the two colors seamlessly.
You can create a dramatic look or opt for subtle combos with the wide range of red shades available. Put your hairstylist on speed dial for the makeover hairstyle ideas you will be rotating. Length is not an issue, as we have the red and black hairdo that will suit anyone.
There are several ways you can rock the two colors, but we are sampling 15 of them you will love below.
1. Red and black bob hairstyle
You don't have to sit out the red and black hair tend because you have short hair. You can have your hair transitioned from black at the roots to red. Then define the color and length by folding into a bob. It only works when your hair gets straightened, unless you want your bob in waves, then you fluff your curls to take shape.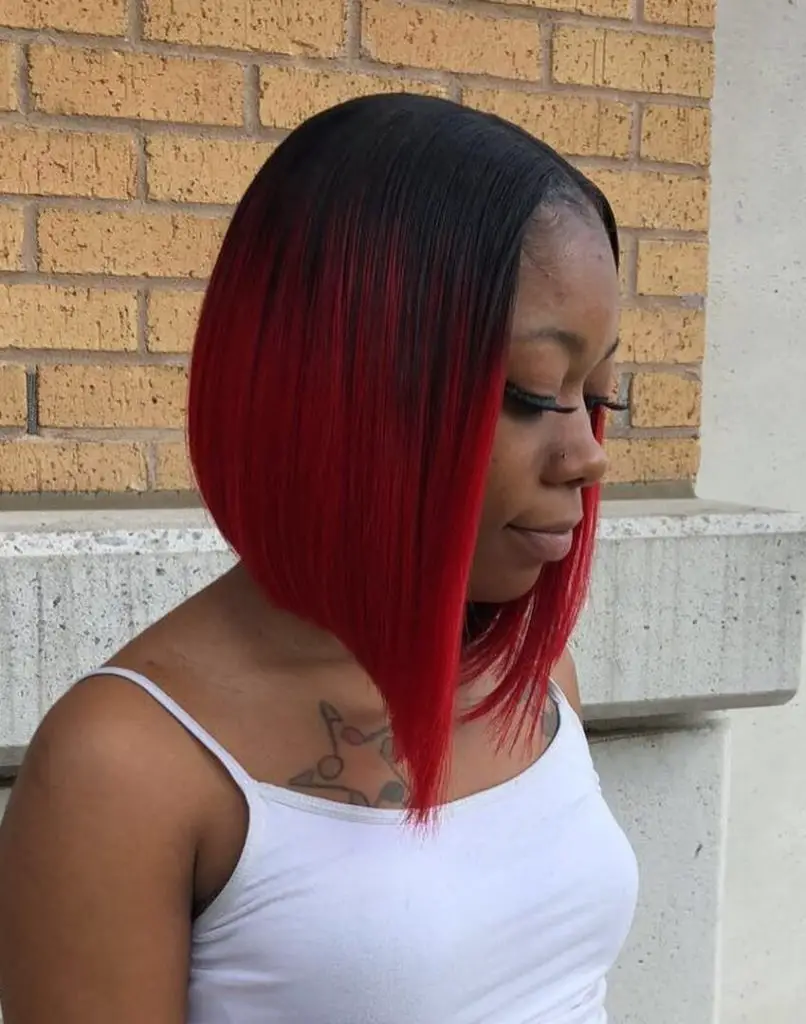 Related articles: 
– 15 best moisturizers for natural hair and where to buy them
– 15 best hair dryer brush for easy styling in 2022 and how to clean them
– You & your nails will love these 10 gorgeous gel nail designs.
2. Black hair with red highlights
Going for highlights is an excellent idea when you don't want to commit to color yet; going for highlights is also chic as it is a subtle way to wear colors for different hair lengths and textures. So, you can experiment with and red shade to create highlights in your black hair. Once you settle on a color, you can do full or partial highlights with the red. This will create a beautiful new hairstyle you will love to show off.
If you are still unsure if highlights will suit you, check out this article on highlights, Partial or full highlights: which are best for you?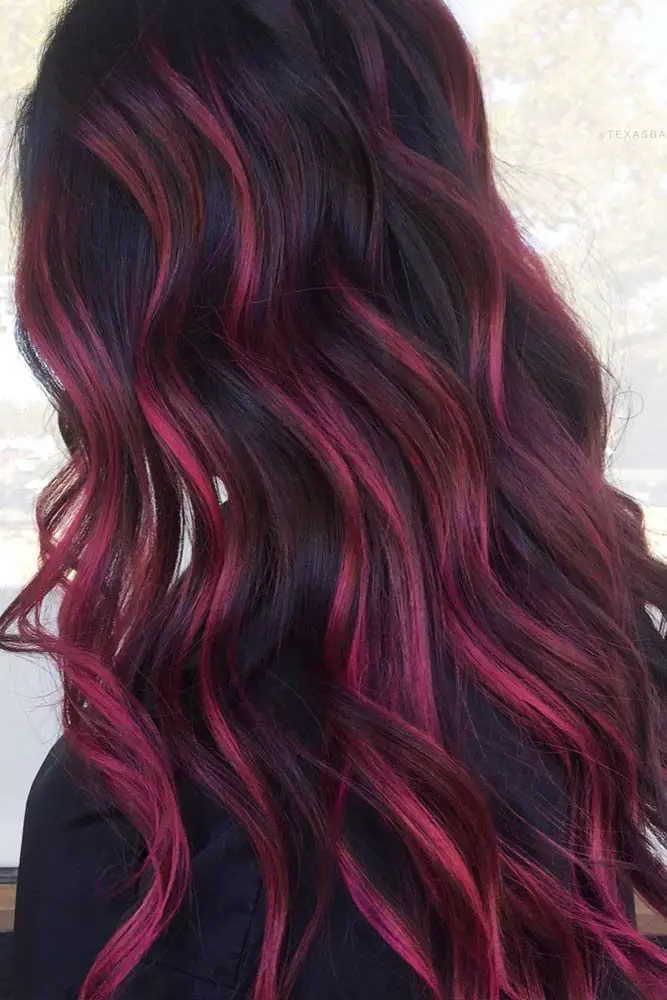 3. Bright red hair with black roots
Your next bold look could be bright red hair, but softening the look with black roots is a great idea. So while your hair announces you, the black scalp will be a stylish color toning up close. This hairstyle is for those ready to commit to a vibrant new look, so if you are not prepared for the head turns, you can opt for darker red shades that will look cute only won't have the same effect.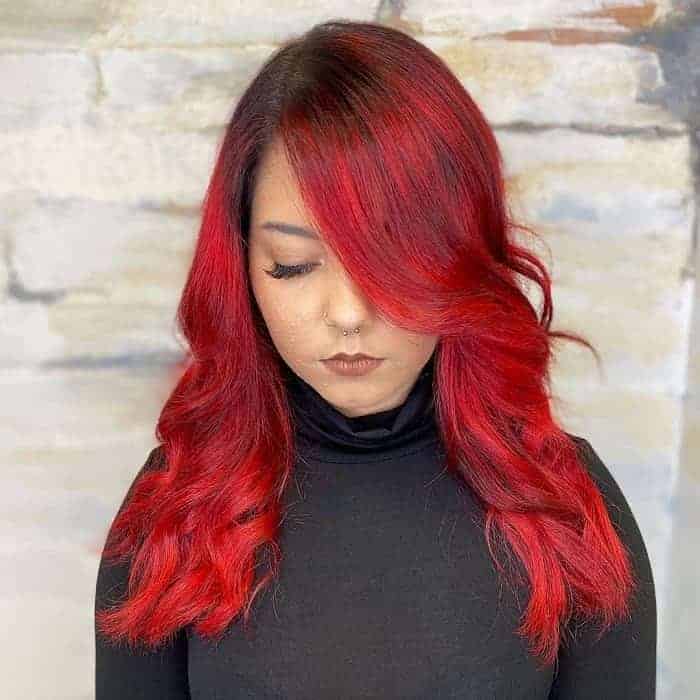 4. Dark red and black hair with bangs
Spicing your short to medium-length hair with bangs with some dark red highlights. It sets your bangs hairstyle apart from the regular ones. Choose dark red colors like burgundy or auburn to blend into black to create this look.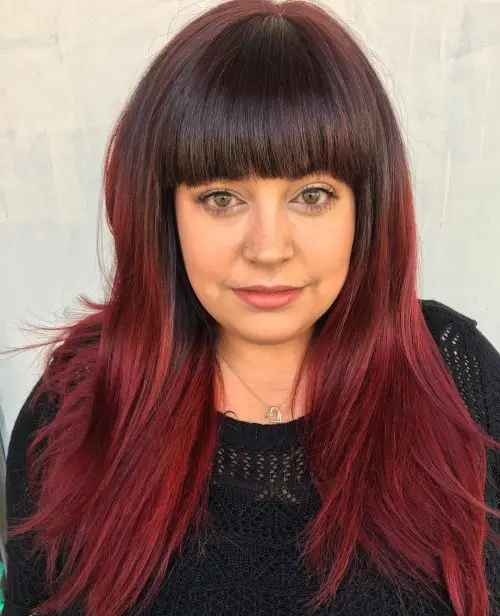 Related article: 15 dark red hair colors to try in 2021.
5. Red and black pixie cut
Another great idea to rock with short hair is the pixie cut, showing a mix of red and black colors. It is a cute hairstyle that features different shirt details of short hair, even some waves. You can choose to keep the black at the roots, with the red dominating the look. If you like want the hair vibrant, you can tone it down with darker red shades.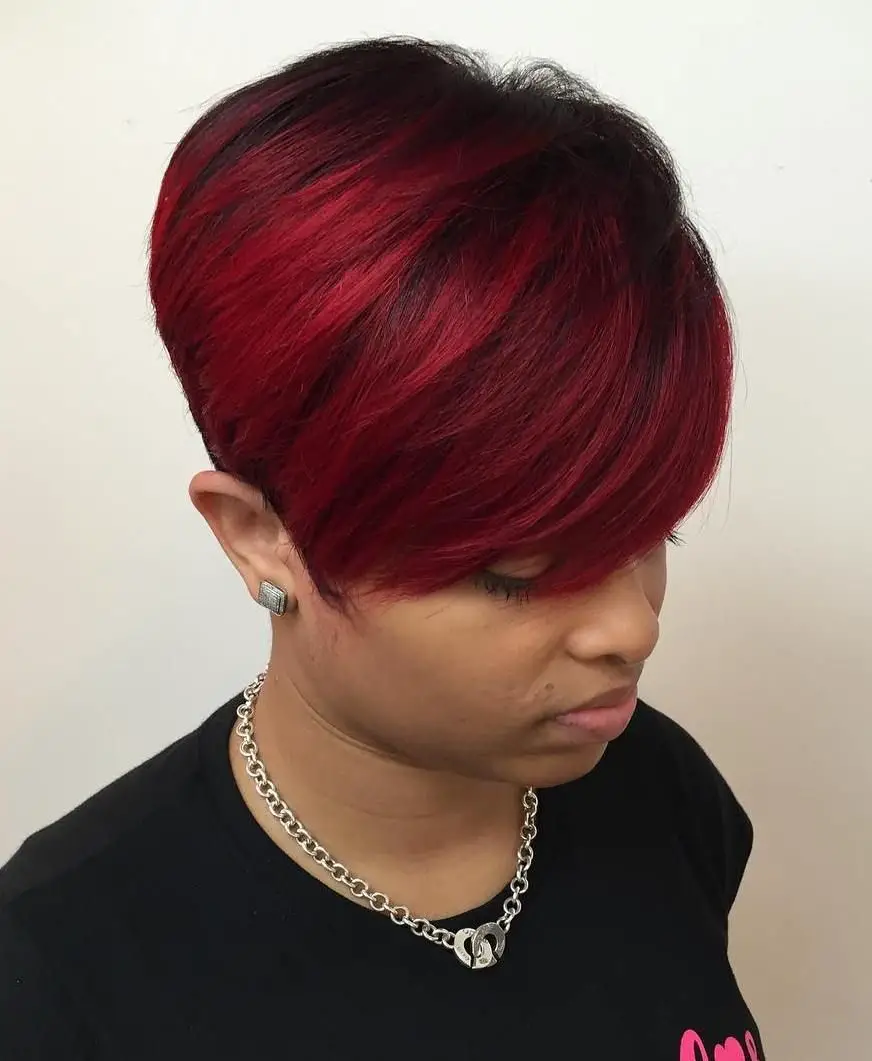 6. Under-layered red and black hair
You will have to leave one color as the top layer for this gorgeous hairstyle, covering the color underneath. Suppose you choose to go with red as the upper layer; you only see the black peeking out at spaces. Same as when you go for black, the red becomes visible towards the end. This hairstyle looks beautiful with long wavy hair that you leave to flow or gather up to reflect the two-toned color.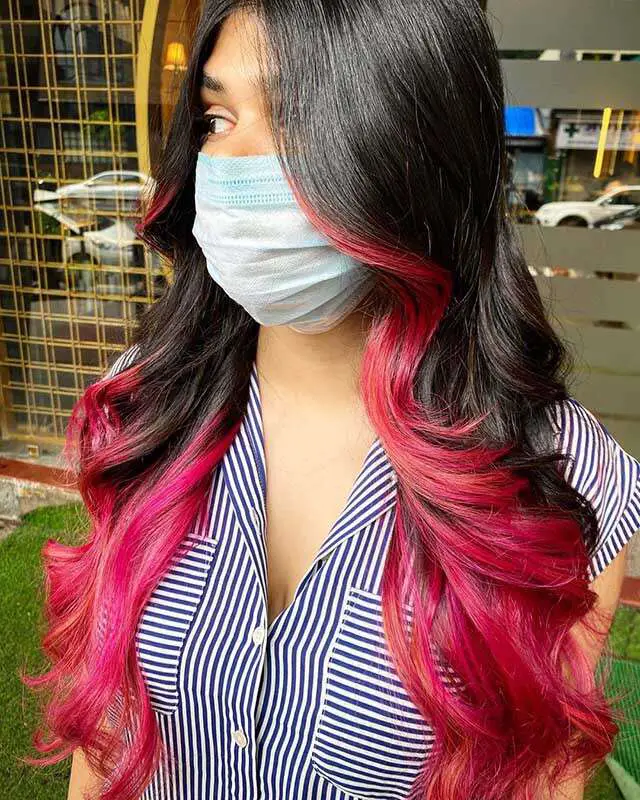 7. Red and black ombré hair
This would have been your first thought when you decided to opt for red and black hair. That's because ombré hair is always trendy and one of the easiest ways to wear two colors. You can wear this style in two ways, alternating the colors as it blends into each other. The hair can feature black roots that transition into red color shades. Or it can start with red at the top if you like bold colors and blend into the black tips. Medium to long hair lengths is best to showcase this stylish color play.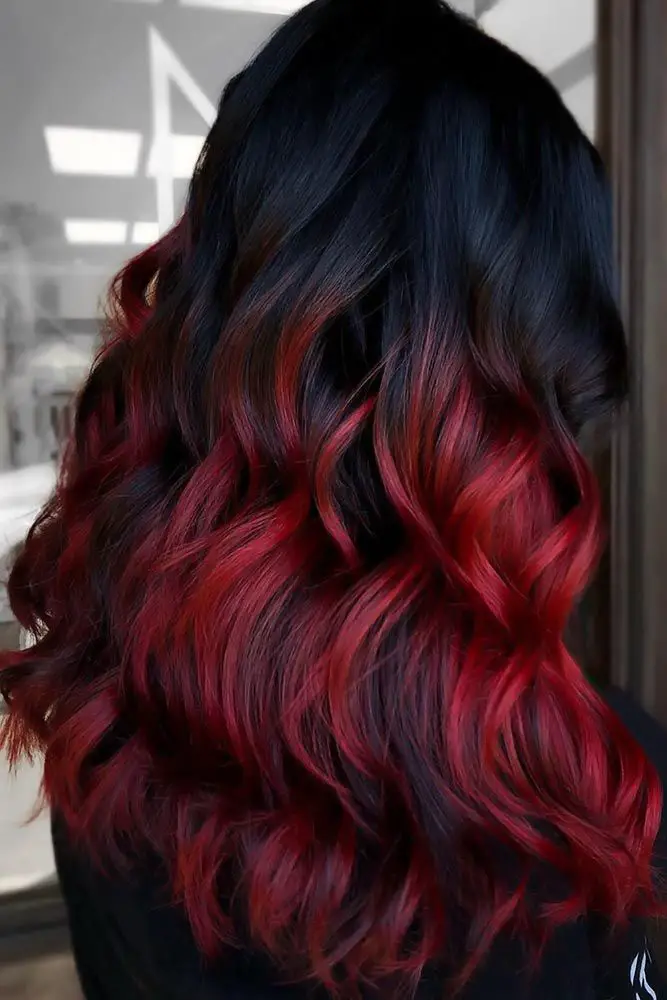 8. Black hair with dipped red tips
Here is a great way to transition into bold hair colors; you start by coloring the tips. While this may not be the average ombré look, it looks chic. Both long and short will look too with this style; add the dye to the ends of your strands. This will result in a creative color transition that looks good on anyone. It is also relatively easy to maintain since you retain your black hair and only dye the tips.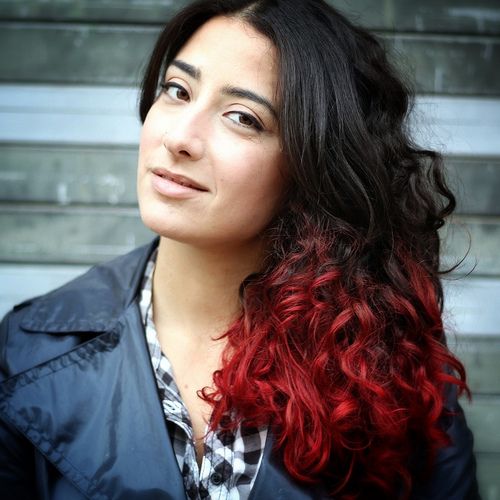 9. Black hair with horizontal bright red stripes
Bored of all the ombré and red or black roots, then going with this unique coloring gradient might be the one. The red can become infused into the hair in horizontal stripes. Most hairstylists will do this style, probably done with the balayage technique to give defined color lines. The resulting look is one daring look that could start a trend within your circle.
More colors to love: Check out these shades of green hair for your next hairstyle.
10. Asymmetric cut black, red hair
Go for an edgy haircut that will make a statement and amplify it by adding red and black colors. You can make it sleek and straight, with red blending into black. This will form a stylish new look that will announce your presence. If the style is too bold for you, you can always soften the look with waves. But with the way red pairs seamlessly with black, you would need it.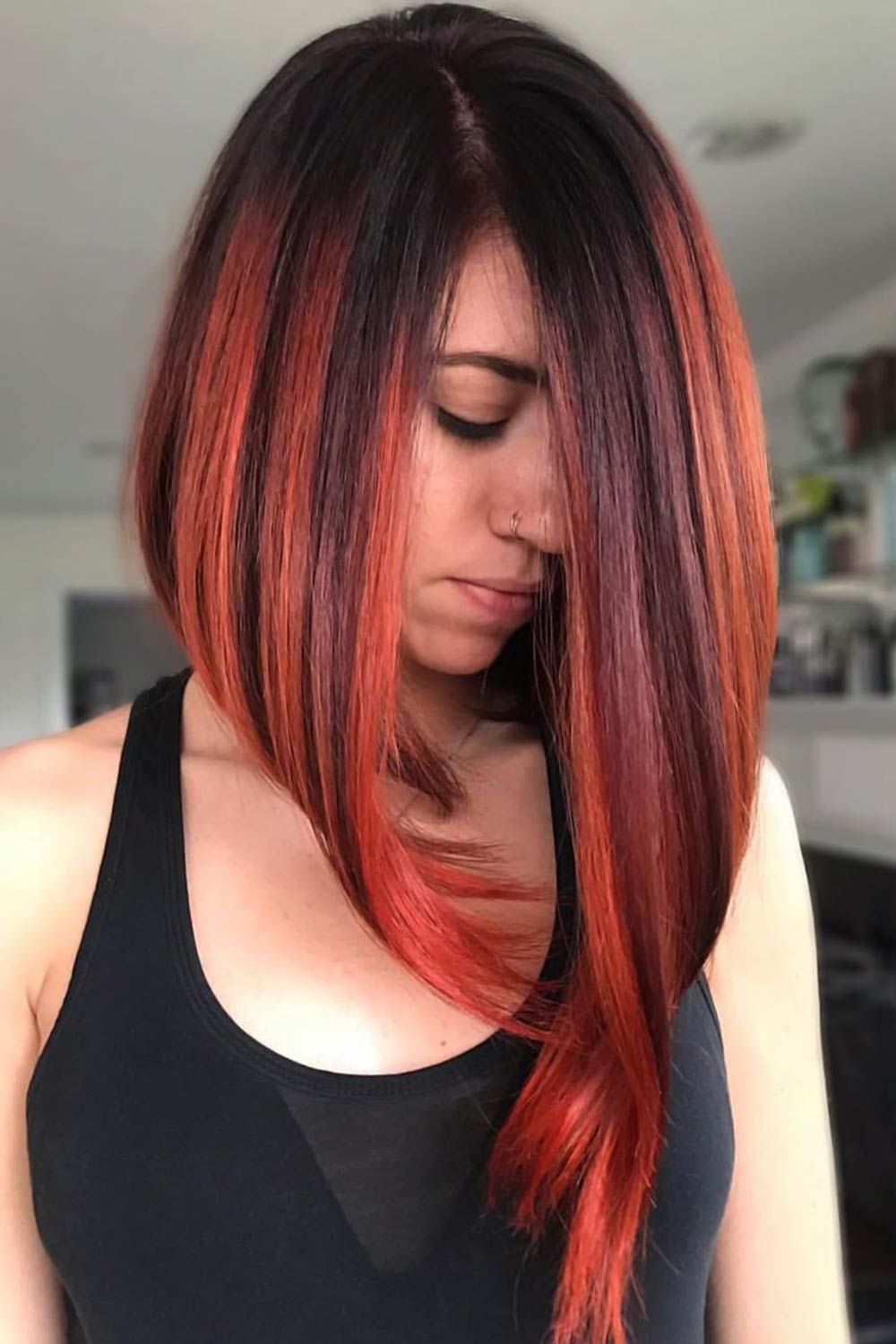 11. Black hair with red color streaks
What's, do you do if you wish to preserve the dark tone but still want red running through it? The answer is red streaks, added at a different position in the hair for subtle brightness. You have to be careful while adding the lines so it doesn't get lost in the sea of black. But if you choose a bright red shade, the hint of color will look beautiful. It is not the most dramatic look out there, but it sure is a unique hairstyle you can rock anywhere.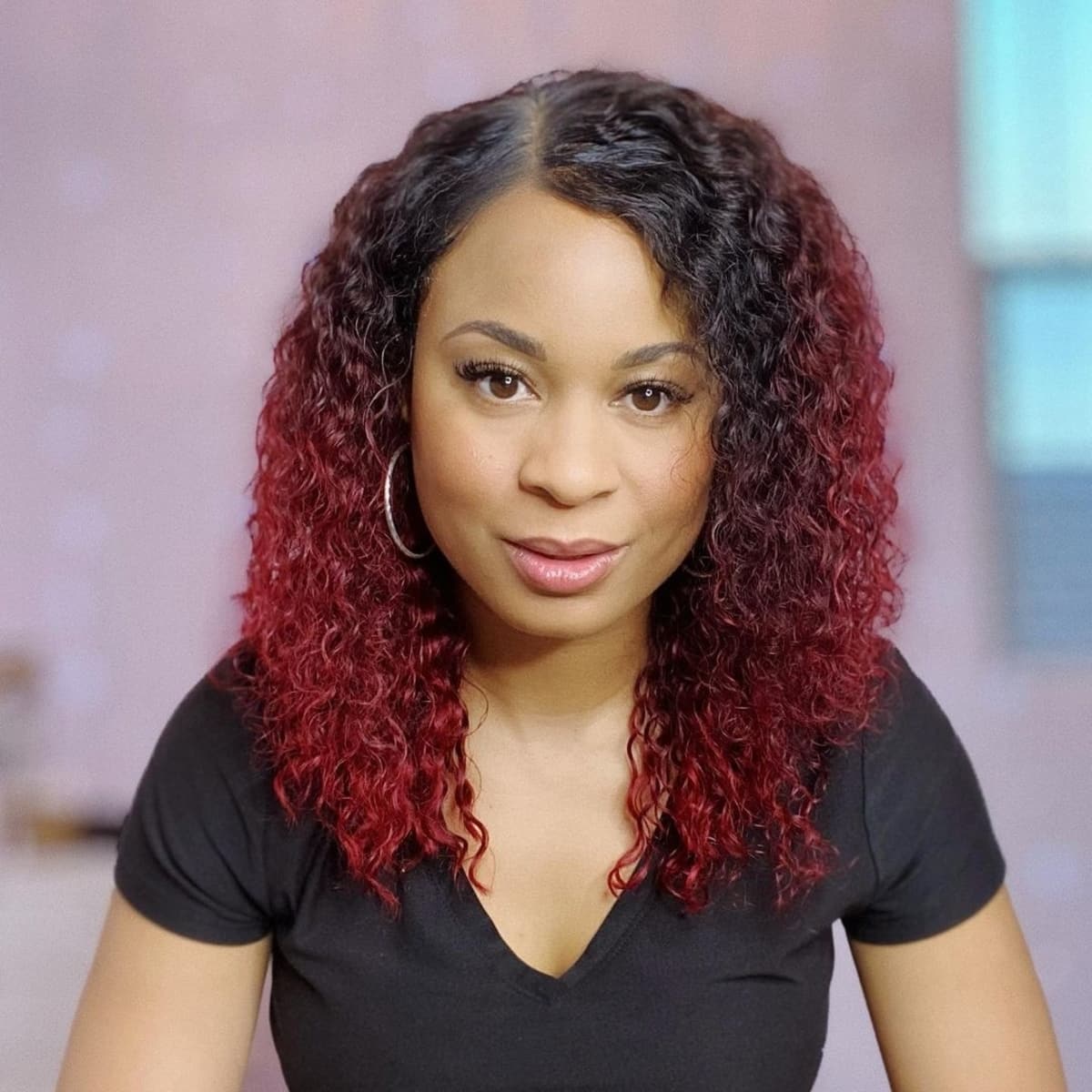 12. Half red, half black
Nothing says outstanding like a half and half color blend, created for those who cannot decide which color they want more. So, you make a part in the middle down and paint one side red. You can choose any shade of red, but the darker tones are best suited for this look. It is a fun look you will love to rock, as you can style the hair to mix the two colors up.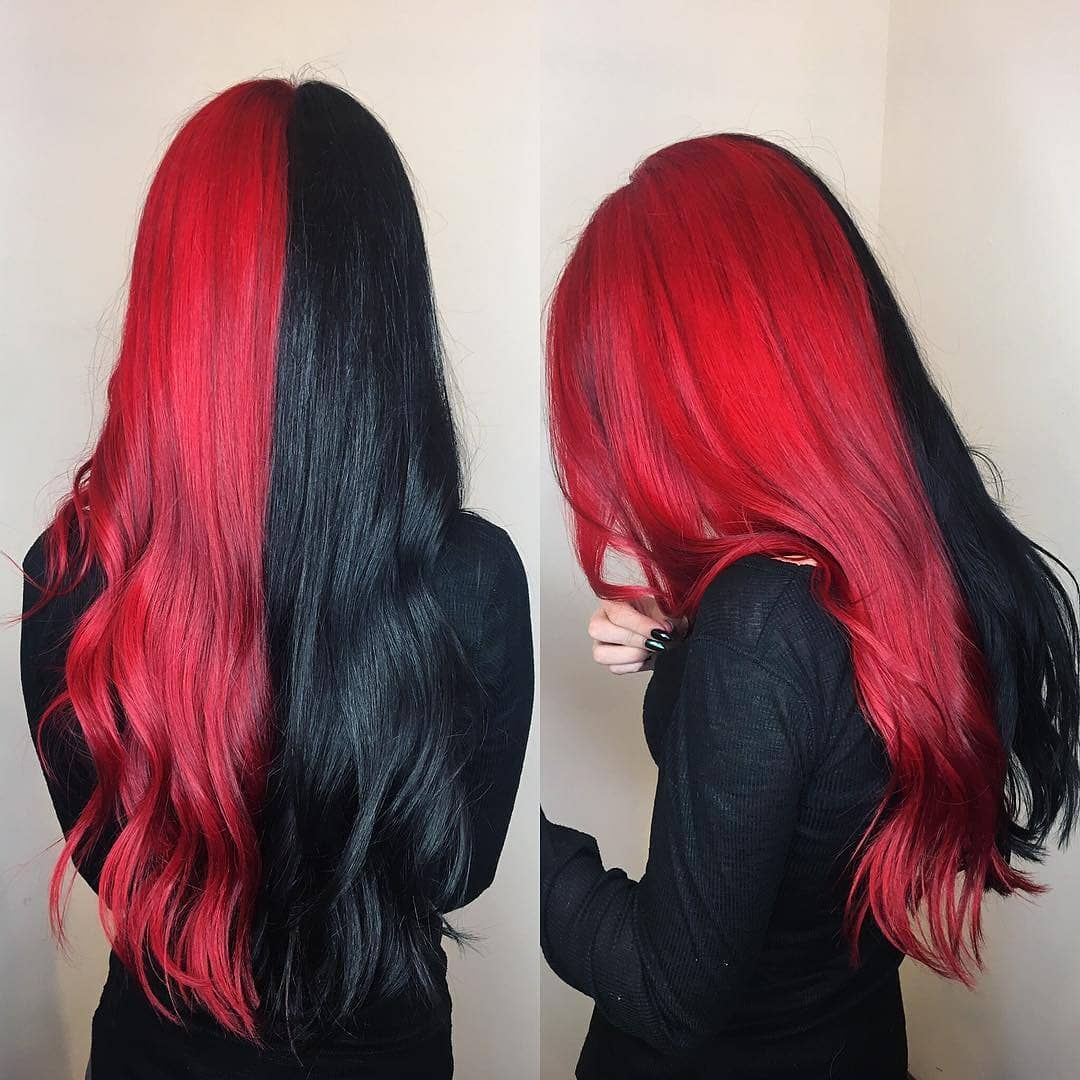 13. Ginger red and black color
You can still feel like a redhead with some ginger color inserts, and you can add lowlights or streaks to your black hair. This will create a vibrant mix with your black hair for the stunning change you've wanted.
14. Double tone balayage red and black hair
Red color inserts in black hair do not have to be a safe option when you have a unique mix of colors like this style. It combines two red tones with black hair using the balayage technique to create this fantastic hairstyle. This red and black hair looks great with long body waves that will display the color blends.
15. Black and red hair with plum hints
You can create your personalized version of red and black hair add some plum babylights. It gives a new dimension to the hair, which might be what you need to update your style. When you gather such types into braids or other hairstyles, it displays the color blend.
Conclusion
Which of this red and black hair will you be trying first? If you need a good red dye to begin your journey check out our previous post. 8 best red hair dye selections for the best results.
Red is a tricky color to maintain. If you want to keep it looking great, use sulfate-free shampoos to preserve the color. When you are tired of your hair, we have the solution for you right here. Remove hair dye from your hair with these hair color removers.
You may also like to read, How to shape eyebrows for beginners – 5 easy steps + recommended products.