The art of staying relevant in Hollywood for decades is an applaudable skill a few celebrities have been able to display. The trick is often to reinvent the focus of their craft, and this is what Jada Pinkett Smith has been able to do since she started her acting career at nineteen back in 1990.
While she has been entertaining the big screens and has appeared on some blockbuster movies, including the coming The Matrix Resurrections, her marriage to actor and producer Will Smith seems to be the focus recently, since their episode on the talk show Red Table Talk.
Music, business, author, screenwriter, the mother of two seems to have done it all. One fact you cannot take away from Jada is her ability to always look good, with her fit body on display. Now at fifty, she will be proud to see some of her style choices are fuelling the Y2K and the 90s inspired trend right now.
However, since she is ever-evolving in her style, we still spotlight some of her fashionable looks as the star actress is still looking fabulous as ever at the golden age of 50.
Related article: Tiffany Haddish 30-Day Body Transformation Inspires Me!
The vibrant two-color dress
For her birthday episode of the Red Table Talk show, Jada was undoubtedly the center of attention with a brightly colored satin dress. It is not every day one turns 50, so her birthday surprise was no short of magical, with stars like George Clooney, Ciara, Kerry Washington, Samuel L. Jackson, and Jimmy Kimmel, and many others sending their birthday wishes.
She wore a kaftan loose silhouette dress that had featured a vibrant pink color shade in front and deep red color at the back. The red color was extended to form a high neck and dropping detail. She styled the look with red stiletto heels to complete the vibrant birthday girl look.
 

View this post on Instagram

 
The graceful white dress
You know it is a family affair when Jada Pinkett Smith and her kids went all out to support her husband for the premiere of the King Richard movie. The movie shares the story of the childhood of tennis stars Venus and Serena Williams.
Jada wore a white gown with a champagne-toned, cape train that joined the dress in form of a cowl neck designed by Vivienne Westwood. She finished the look with double hooped earrings, simple bracelet with her latest shaved hairstyle in tow.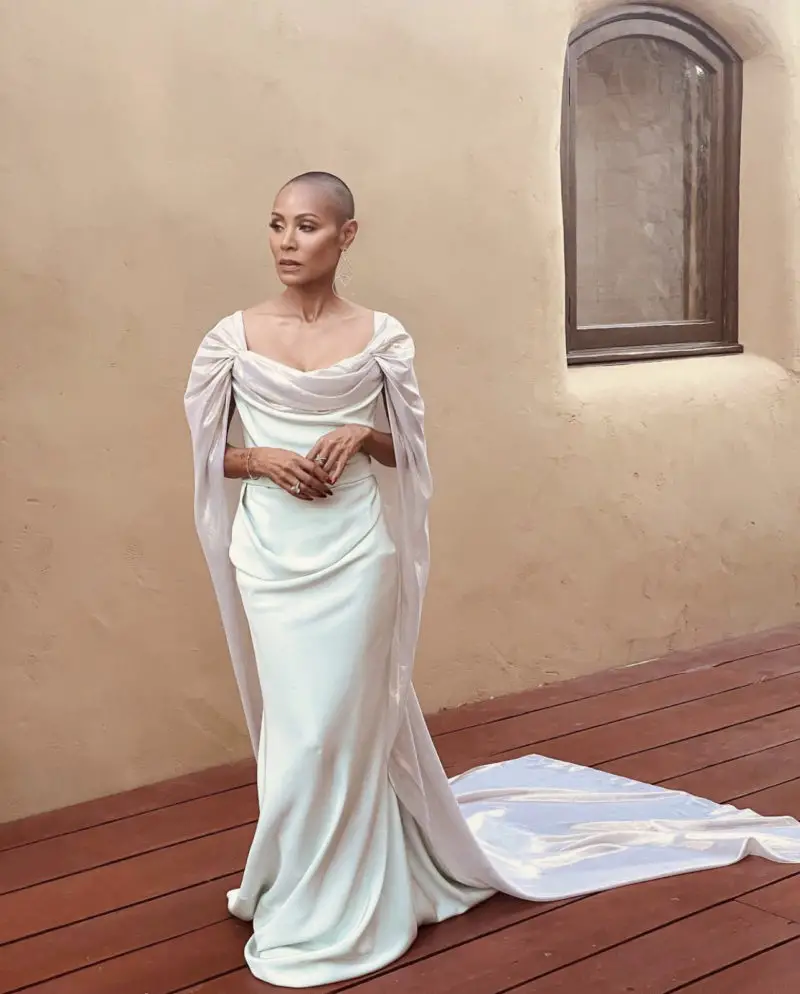 Vintage-inspired outfit
Jada's days are filled with exciting events and this vintage wrap dress she rocked speaks volumes. It featured a neutral-hued wrap top, with a wrap skirt in a shiny gold hue. A clutch in matching color and minimal makeup was all the dress needed. The vintage glammed look worked well since she was already gorgeous, to begin with.
 

View this post on Instagram

 
The feathered dress
The 50-year-old star has always had a confident style, as expected, with a toned body like hers, and she showed off some skin with a sheer dress in this look. The gown was detailed with silver sequin for some sparkle and feathers to frame the fabric.
The feather details were made to form a flowing fishtail train, combined with the bareback made the dress a show stopper. She finished the look with a long silver necklace to cover up the deep V-neck dress, and the matching strappy heels only topped off the look.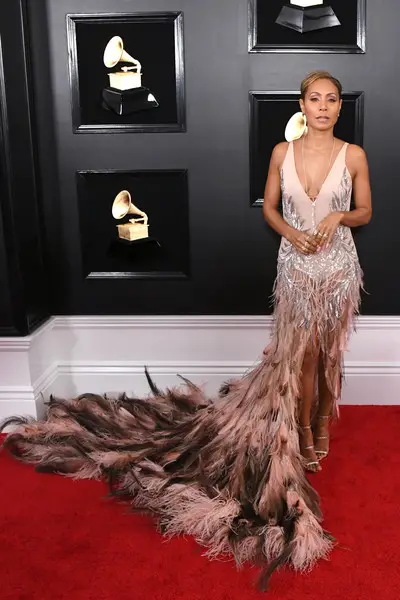 The brown suit
Not everyone can make a suit look appealing the way Jada Pinkett Smith does as she stunned viewers of her Red Table Talk in a brown suede suit. The classic fit-styled suit looks exceptionally good on the actress, and its shimmering turtle neck layering choice was what made the outfit stylish. The look did not need jewelry, as her ivory-tone pointy-toe shoes gave extra points for a contrasting color outfit.
 

View this post on Instagram

 
Two-piece outfit
Jada showed everyone she still got the goods with a sexy two-piece outfit. The top was a thin-strapped bralette top that showed off some major cleavage with a maxi full flowing skirt. The Girls Trip actress didn't keep it boring, as the skirt had a thigh-high slit to show off her beautiful legs, and the black heels and hoops she wore were the perfect accessories for the polka dot print set.

source: Getty images
Neon aesthetics
The actress was staying on trend with a neon-bright ensemble when she donned a bright purple long-sleeved midi dress with a high neck. The shoulders and neck had gathered details to complement the ruffled hem of the dress. She brought the outfit to life with the neon lemon green heeled sandals.
 

View this post on Instagram

 
Pretty in black
Jada Pinkett looked amazing in a full-length asymmetrical gown at the 2021 Emmys to present the Governors' Award to Debby Allen. She showed up in a long-sleeved dress with fringed wrist details, a deep V plunging neckline with a sheer net feature that leads to a satin band that joins the bottom. An embossed skirt flowing skirt finished off the dress, and simple black dropping earrings were all the accessories she needed to style the outfit.
 

View this post on Instagram

 
Of course, the importance of having a certain kind of body is important to pull these looks but even curvy girls can replicate some of these styles this Christmas. You may also like to read, 15 Issa Rae Insecure-inspired casual wears to rock this Christmas.