You can try out most hairstyles if you have long hair, but a simple way to stay trendy is with long layered haircuts. When you manage to grow your hair to a significant length, it is only fitting you show it off. Hence, it would help if you had a layered haircut to help you wear your hair down more. Most layered hair cuts get achieved when the hair is still damp, with a round brush used to keep the locks in place. When they are all set, using blow-drier bouncy layers will emerge.
Leaving your hair in layers adds a stylish dimension to your long hair. You also get more versatile ways to style your hair, asides from throwing it into a bun. Even if you only brush them out without doing too much, talk about an effortlessly chic hairstyle. Both straight and curly long hair, you can enjoy this elegant lighter way to wear the hair down.
The 15 hottest long layered hair cuts inspire your next salon trip
1. Triple-layered haircut
Most layered hairstyles take this form where the hairstyle comprises three layers (short, medium, and long). To create this look, the most extended stay at the down, and the medium follows right on top, and it gets completed with the short layers on top. You can utilize this haircut and add some wispy and side bangs with the short layers. So, when you show this look to your hairstylist, make sure they add the layered bang details even if you don't plan on using it.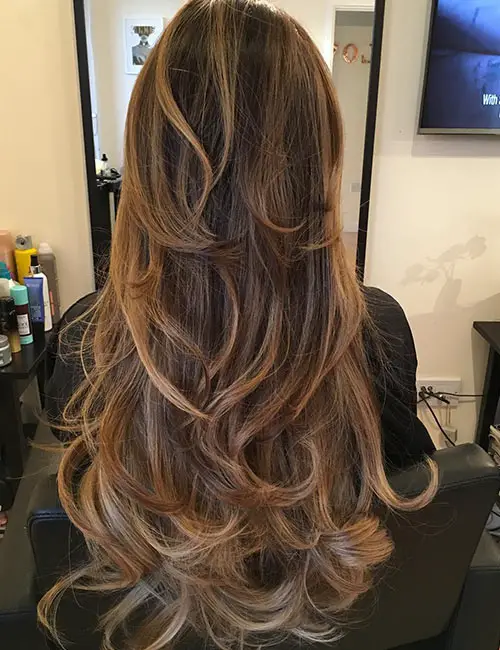 Related articles:
– Curly hairstyles: 10 stunning styles you can do if you have curly hair
– How to recreate Billie Eilish wolf cut hair style: a step-by-step guide
– 15 best hair dryer brush for easy styling in 2022 and how to clean them.
2. Long layered haircuts with bangs
Bangs gets easily achieved with a long layered haircut by using the volumes to create it. When cutting the hair, position the short layers, so it falls like a curtain bang, which can further become divided into parts. So, from one look, you can create multiple hairstyles from this single cut. When it gets done on curly hair, it can also make a messy bang. With straight hair, you get a sleek look. We especially love this layered bang, different from the average overdone style.
 

View this post on Instagram

 
3. Straight layered
If you are not a fan of chopping off too many layers from your hair, you can always try successive layers. This cut retains your length but will add movement to your mane and feather out the ends. This gives your hair a new shape that aids you when styling into buns and knots. Even if you plan to leave your hair down, it will still appear sleek.
 

View this post on Instagram

 
4. Long flipped layered cut
Flip your layers to give a fuller look to your hair, and you get to preserve only healthy ends. Adding movement will become easy with blended layers that freely extend into each other. Each layer may need to have its ends flipped separately with a flat iron. You get a long flowing hairstyle done correctly, and you wear it down regularly. If your hair is straight, you need a simple part in the middle, and you're good to go. You can also switch up the look by creating bouncy waves that frame your face with a curling iron.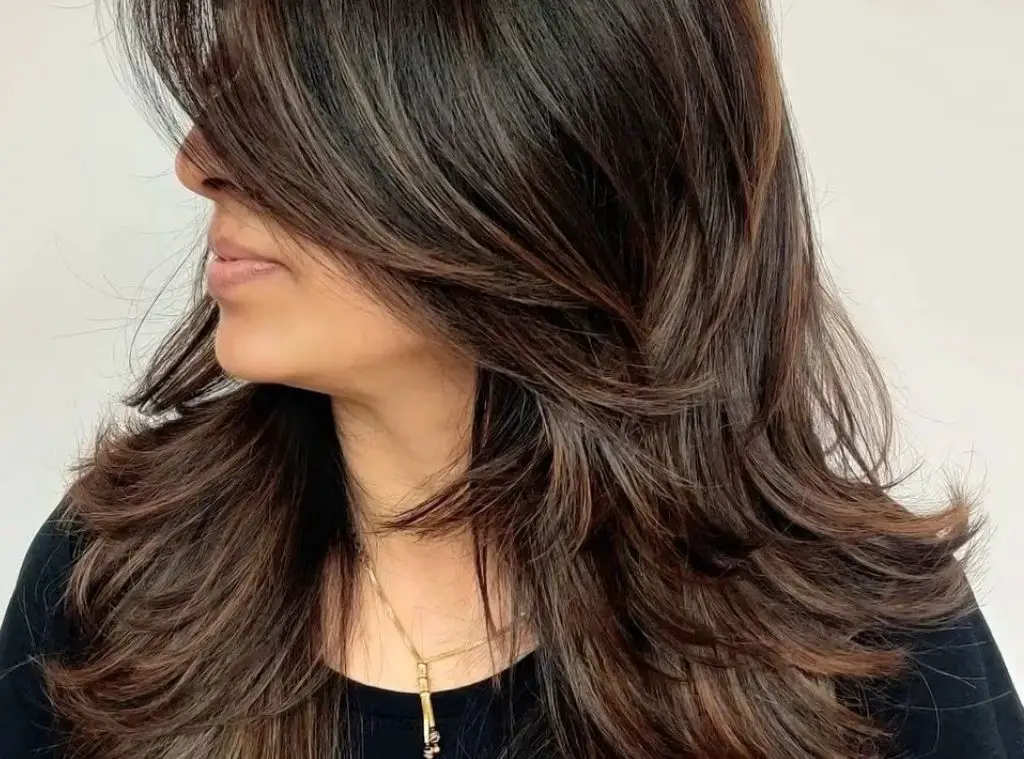 5. Textured long layered haircut
You can use long layered hair cut to intensify textures and trimming volume. It looks better with straightened hair, but you can still try it out if you have curls. You will probably require more maintenance to keep the textures defined with rings. When the ends are blended out, the different layers will flow into each other to create textures.
 

View this post on Instagram

 
6. Long layered blunt cut hairstyle
When your hair has become long, it will most likely have density, and you can leverage it to create a unique hairstyle. You can achieve this by using the blunt cut technique; it will enhance your mane's thickness and volume. The long-layered hair done sharp cut style will allow the short layers will accentuate the hair texture. While the longer layers will look polished, forming a beautiful hairstyle, you should try.
7. Angled layered hair cut
The feathering technique comes to play in an angled layered hairstyle. It gives your mane a dimension that displays layered angles. You can infuse highlights to such looks to enhance the layers and showcase the color play on your tresses. Be sure the layers are in uniform grades to get the best results.
 

View this post on Instagram

 
8. Stratified long layered cut
Sometimes all you need to get the reaction you want may be a dramatic hairdo like this. Define your strands to show off your hair length and texture in a stratified way. You can wear your hair down often and still pack a punch for style with this. Stratified layers usually depend on the strength of your hair locks to get a great shape. This results in a gorgeous hairstyle that rids the stress of gathering your hair into a ponytail, bun, or any other.
9. Choppy layered cut
Prompt your hairstylist to add Choppy cut layers to your long hair; this feature is one chic look to try. Your stylist will probably use a blow-drying technique or a dryer brush to add volume to your hair before cutting. After which, they will define the ends with a curling wand; this makes all the difference in getting a choppy look. If you plan on elevating the face, adding highlights or lowlights to your hair will do your layers good.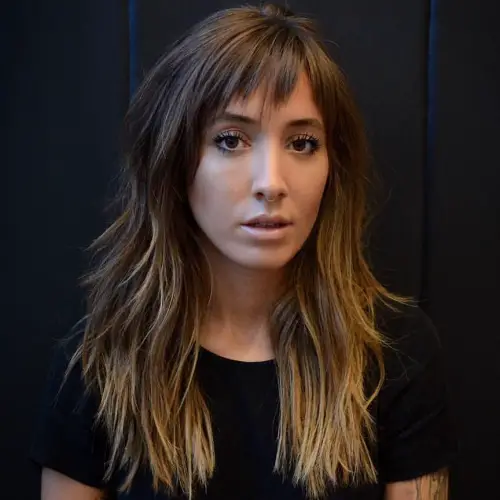 10. Undefined long layered hair cuts
Sometimes, you require layers but do not wish to lose your precious length. Leaving your layers undefined can create the illusion of more layers rather than a few. If you succeed in nailing this look, it will appear like the layers are blending into each other. You can further make different fun hairstyles from the layered cut.
 

View this post on Instagram

 
11. Colored long layered hair cuts
When you already have colored, especially the ombre dyed hair, a layered haircut will help emphasize the colors. You can use the different dyed areas to create the layers, such that the darker part can form one step. This will cascade into a lighter shade that makes longer layers. This hairstyle will elevate your colored hair, so you get the same layered effect even when you leave it down or gather it into a ponytail.
 

View this post on Instagram

 
12. V-cut layered hairstyle
Another great hairstyle for you comes as a V-cut shape, which can give layers and dimension to your hair. Since your hair is long, you can practically do most styles with the length at your disposal, and this cascading look is right for you. Such a cut will quickly create a face-flattering look on straight and wavy hair.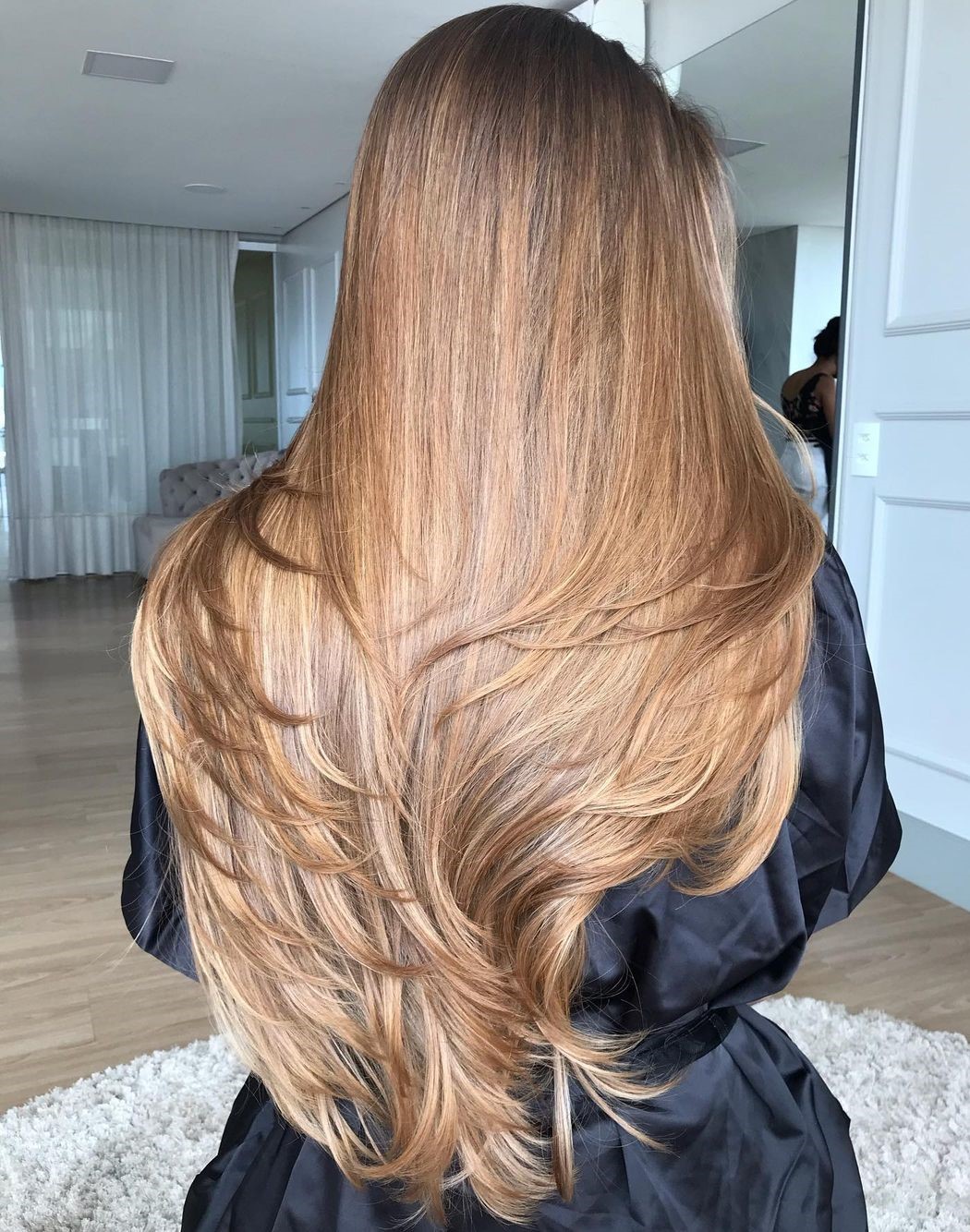 13. Layer mixture
You can add multiple lengths to your layered haircut to give the style more movement. The stylist must use the shortest layers for face-framing. Then it extends to medium layers, which will flow down to long layers. It creates a sleek look you will love to wear down when done correctly.
 

View this post on Instagram

 
14. Shaggy layered hair cuts
Bedhead, tousled, shaggy look, or whatever you may call it, can get infused into a long-layered haircut. While it gets emphasized with wavy hair, if you have curls, you can manage well with this look. A tousled wave gives a youthful appearance to your face, paired with layers that are the ultimate rocker hairstyle. You can also infuse bangs if they appeal to you, but you wouldn't need it with the edgy look the style gives.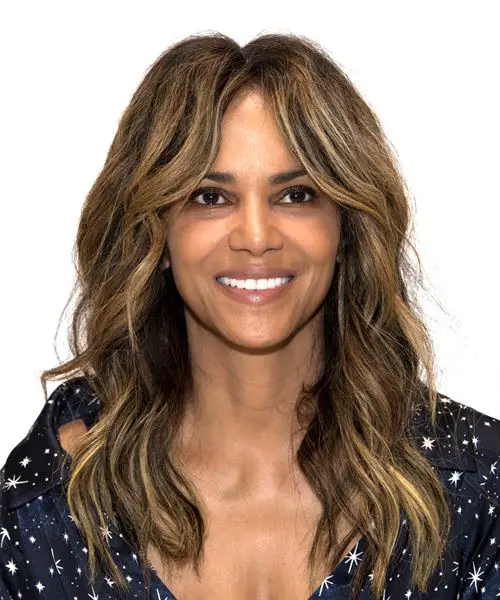 15. Wavy long layered hair cuts
Combine your wavy lock with layers to give the natural curl pattern more life. This reveals a refreshed look you will love to wear down. And it is much better than leaving your wavy hair heavy without feathering it. You also get to maintain texture and movement in your tresses.
 

View this post on Instagram

 
Why choose long layered hair cuts
After seeing all these long-layered haircuts, you might be wondering why you should even bother with this style.
It gives flexibility and volume to your long hair, allowing you to style effortlessly.
When done correctly, it frames the face creating a beautiful new look.
You can pair long layered hair cuts with different types of bangs.
Depending on your mood, you can create a messy or sleek look with the haircut. It flatters your facial features, giving highlights to your best parts.
Layered cut can help you get rid of brittle ends to create a new style and helps maintain healthy hair.
Conclusion
A long layered haircut presents an excellent way for you to wear your hair down often. It trims off heavy layers to create a new look stylishly. The haircut does not necessarily have to involve chopping off large layers of your hair, as you can feather it out. Trying a simple blended length cut is also great if you don't like the different contrast in length.
You would have to schedule frequent trimming trips to the salon to maintain the style. It will be worth it, with all the compliments you'll be receiving. If you try on any of the types above, feel free to leave your comments on how it turned out.
You may also like to read, The whole truth about k Michelle cosmetic surgery.