For the love of all the heated styling tools, a girl wants in her life; a dryer brush becomes needed. If you haven't caught the whiff of it yet, they are brushes that dry your hair at the same time. Just like hybrid fashion, where two design details are combined to make one gorgeous piece, come to the hairstyling take. Although the name is straightforward, the function says it all since everyone wants one for themselves.
An excellent hair dryer brush is a dream styling tool for DIY blowouts; it can be such a stressful experience without one. All the time and struggle spent trying to hold a brush in one hand and the blow dryer in the other. Trying to manipulate the two tools to work together is the worst; thankfully, there is a better way to do it. A blow dryer brush uses heat to detangle your hair while adding volume.
The brushes will not do the job alone as you must prep your hair, detangle and condition before starting. If you are ready to achieve salon-worthy hairdos and blow out at home, you will have the very best dryer brush. Beauty experts are snatching up some of the best hair dryer brushes in the game to update their style. Not to worry, Curvy girl journal has curated a list of the ones you should own already.
15 best hair dryer brush
15. Trademark Beauty: Easy blo one step dryer and volumizer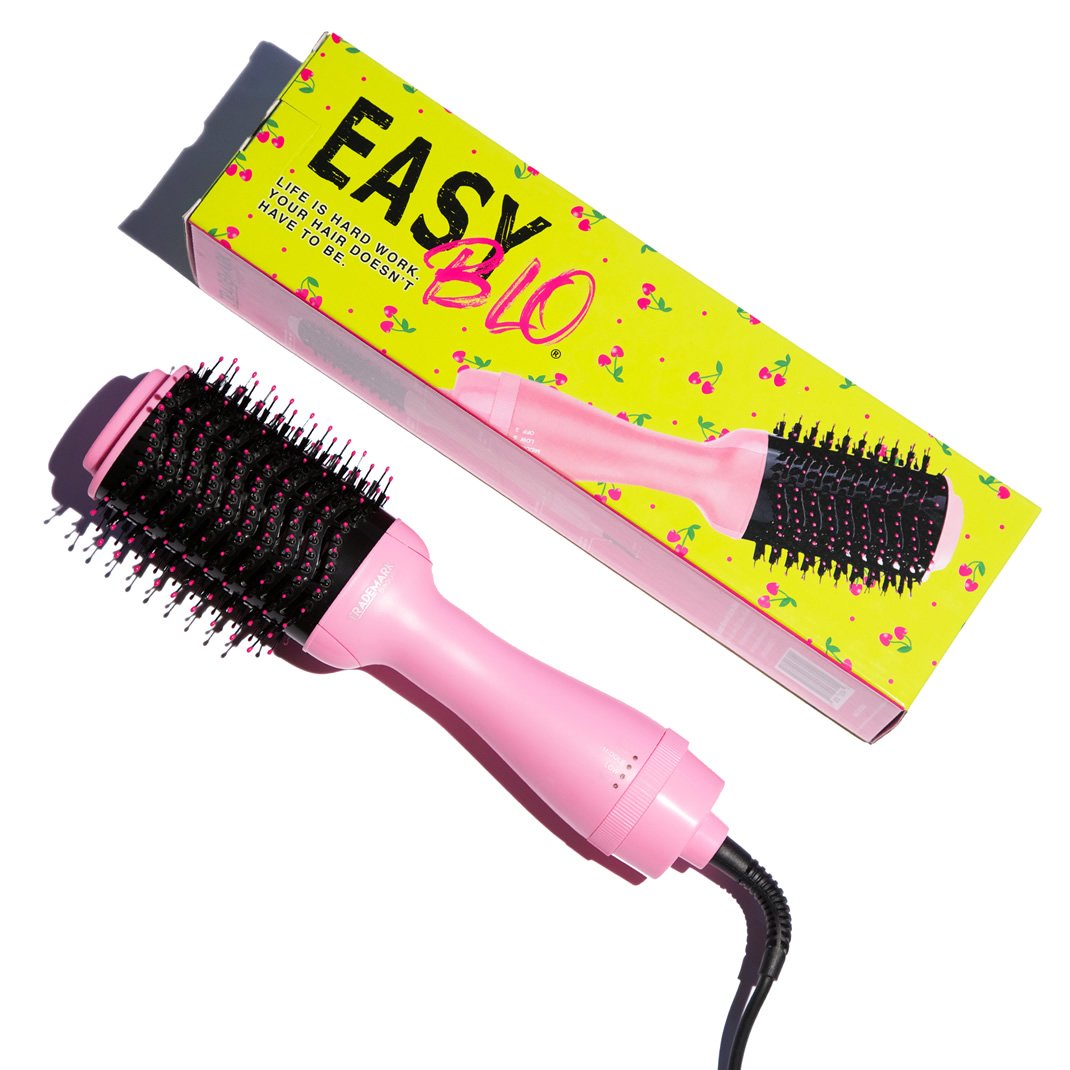 Keep frizzy hair at bay with this one-step dryer brush. It bristles, removes knots, and curls for a smoother finish as it dries the hair. It has three heat settings to customize as you use for the best results. The baby pink shade will suit your taste if you like a feminine touch.
Related article: Understanding the craze behind beauty serums and the best ones to use.
14. Olivia Garden: Ceramic + ion turbo vent pro collection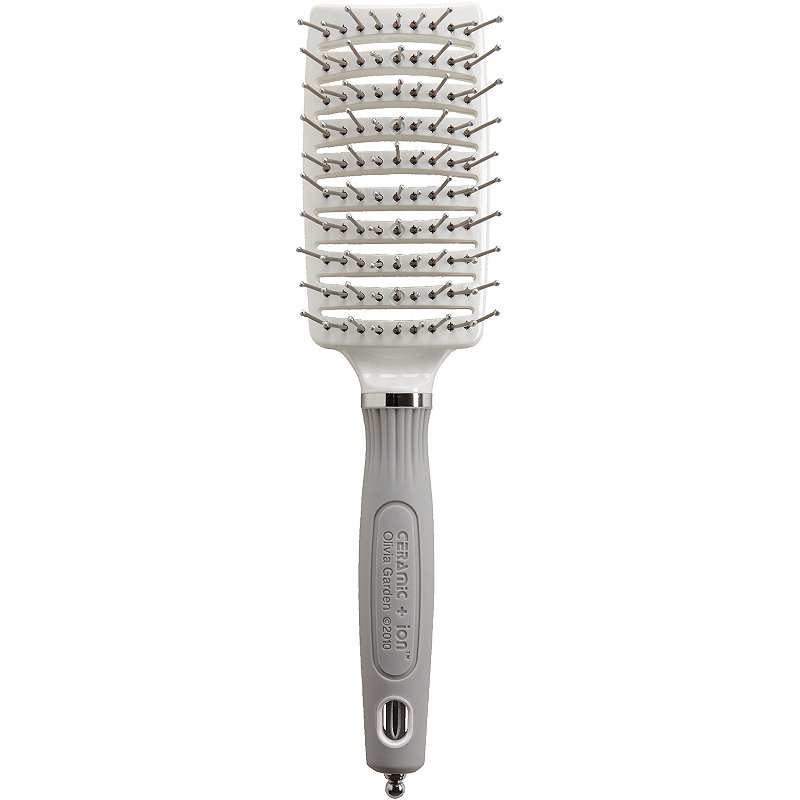 Get a perfect blowout at home with this turbo vent dryer brush from Olivia Garden. The styling tool uses ion technology to restore shine to the hair and combines its wide barrel with boar bristles for a smooth hairdo. The dryer has a pick that can slide into the handle as an added feature.
13. Instyler: Straight-up mini straightening brush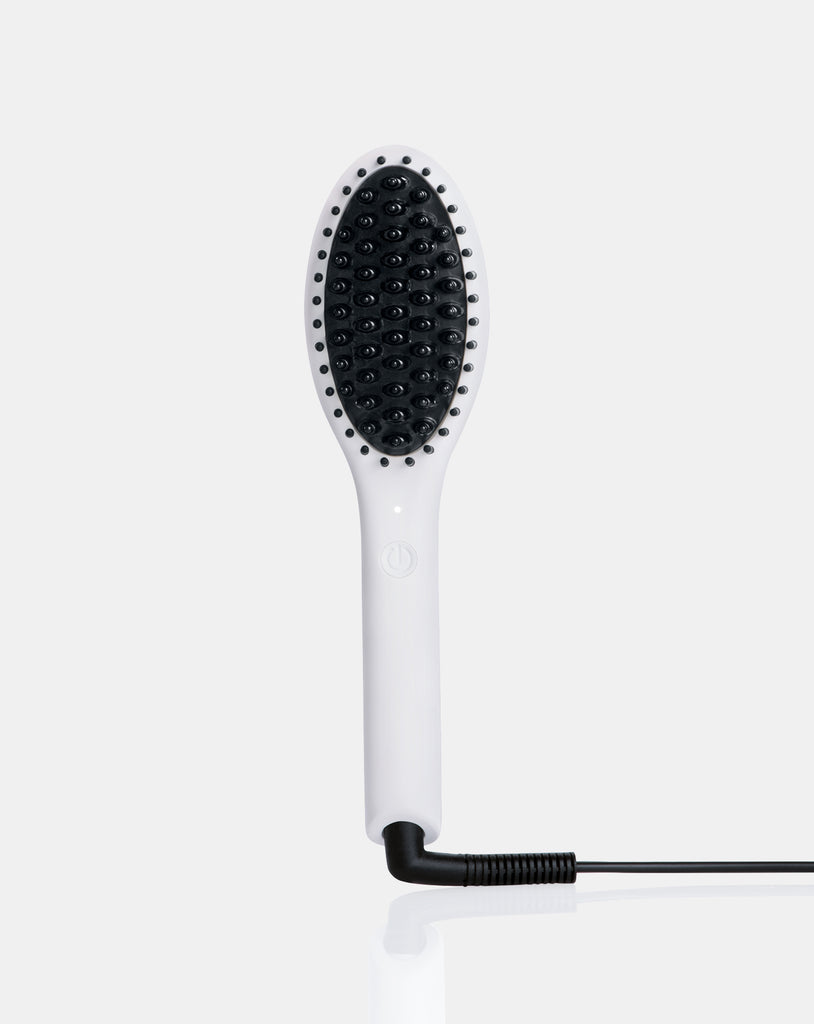 While this might be a mini brush, it is just as effective for getting straightened knotless hair. It comes with a brush using heated ceramic plates to smoothen out waves and flyaways. It is suitable for dry hair only since it is not your average dryer brush.
12. Amika: hair blow dryer brush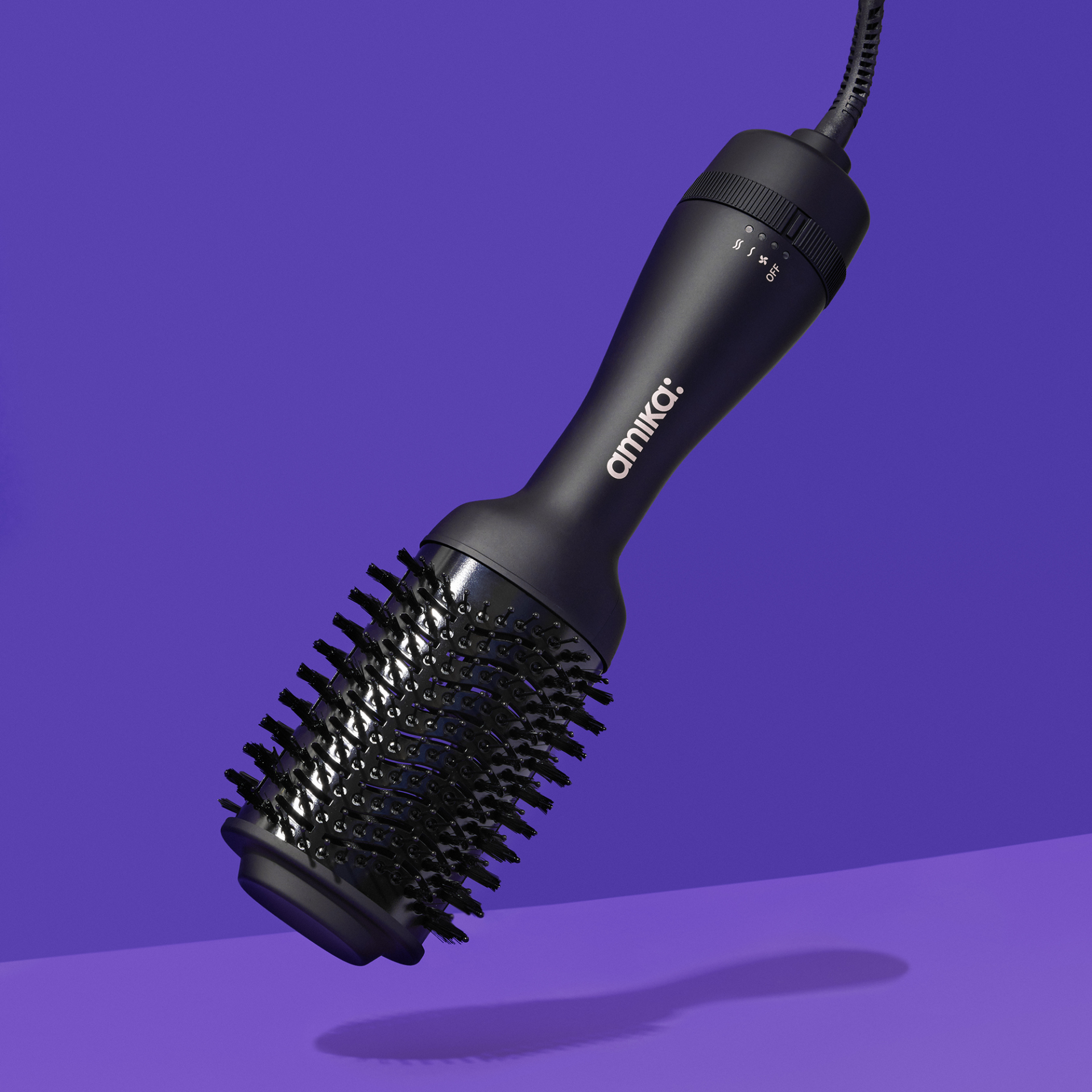 Your hair shouldn't look ordinary after spending time trying to blow drying, and Amika understands this assignment. With their ball-tipped long and short nylon bristle mix brush, you can achieve a needed boost in shine. It also combines ionic technology with a volumizing tourmaline paddle-shaped barrel to tame flyaways. This brush works on course and natural kinky hair for a smooth and sleek look.
11. Bed Head: Blow out freak one-step dry + volume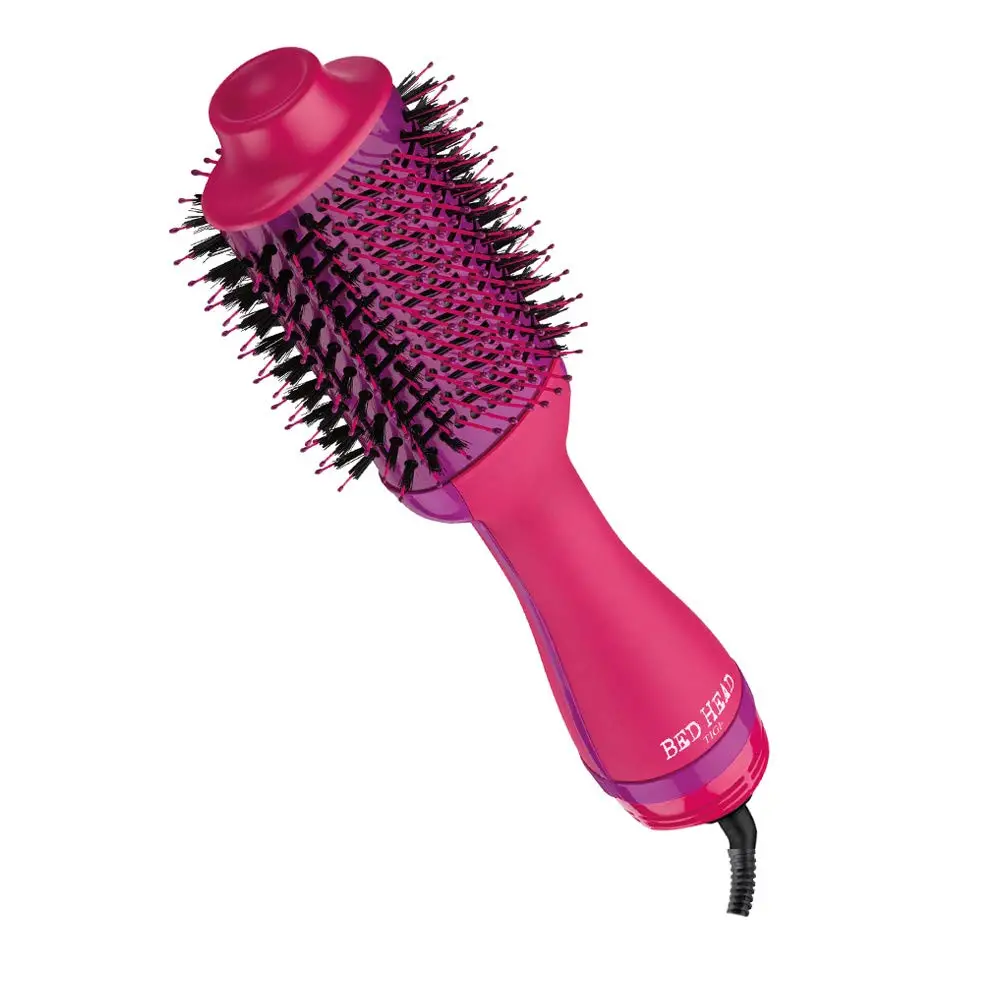 Everyone needs a dryer brush that can save time getting the hair dry, and the freak one-step dry brush takes care of that. It also gives volume alongside the turbo dry abilities, with a tourmaline coated barrel that uses ceramic technology. This ensures you get smoothing shinning hair with significant volume quickly for frequent use. The brush comes in various cute colorways to appeal to your inner girl for style aesthetics.
10. Ghd: Rise hot round brush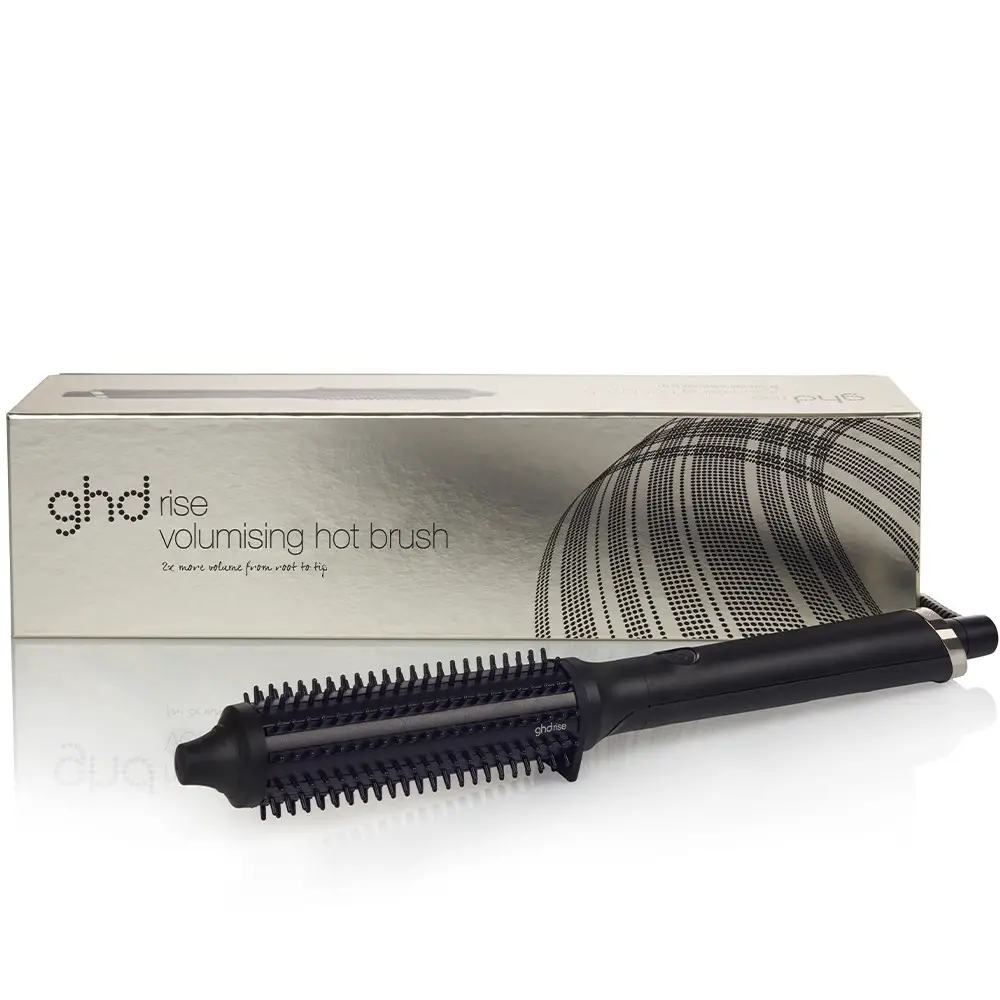 If you never thought a hairdryer bush could be brilliant, Ghd makes a case with a temperature-controlled brush. It comes with a 1.25-inch barrel, with an ideal temperature for most hair textures. The bristles are also part of what makes it a worthy buy, as it will work for different hair lengths. Its round design ensures it glides down with ease and combines with excellent bristle tips. So, you are sure it will pick all your strands from the roots without causing any damage.
9. InfitiPro Conair: Spin air rotating styler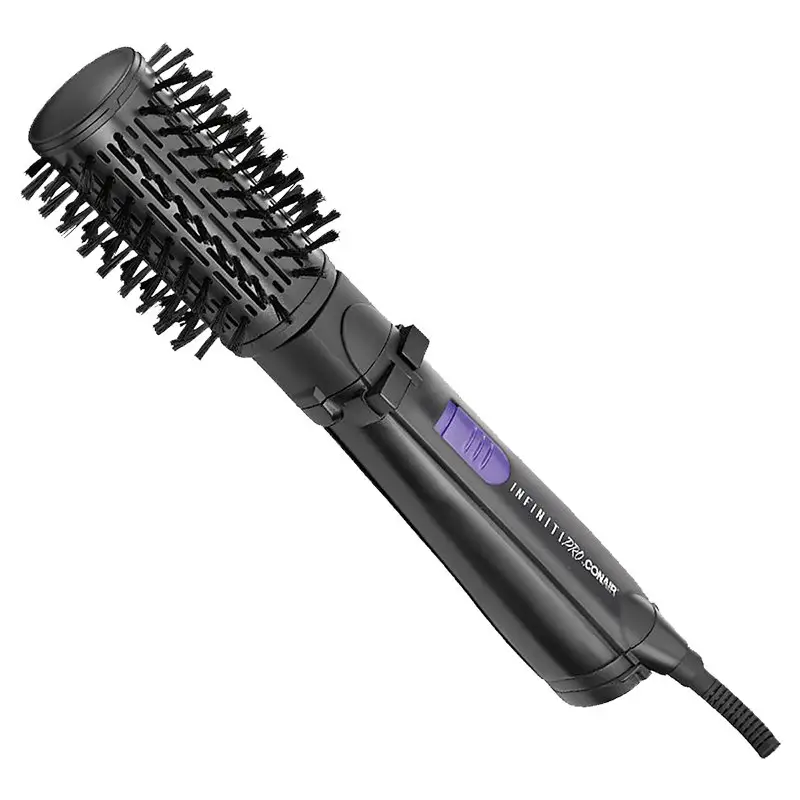 This dryer bush did not reach the top choice for just about anything. Thumbs up to Conair infitiPro, for coming up with a dryer brush with interchangeable heat distribution by rotating. It takes the stress of switching and positioning the tool to achieve curls or a sleek look. Sure, even the regular blowouts can be a chore on its own, and with the boar and nylon bristles, it is much easier. Its barrel also comes coated with tourmaline, making it suitable for those new to using dryer brushes.
8. BaByliss Pro: Nano titanium rotating hot airbrush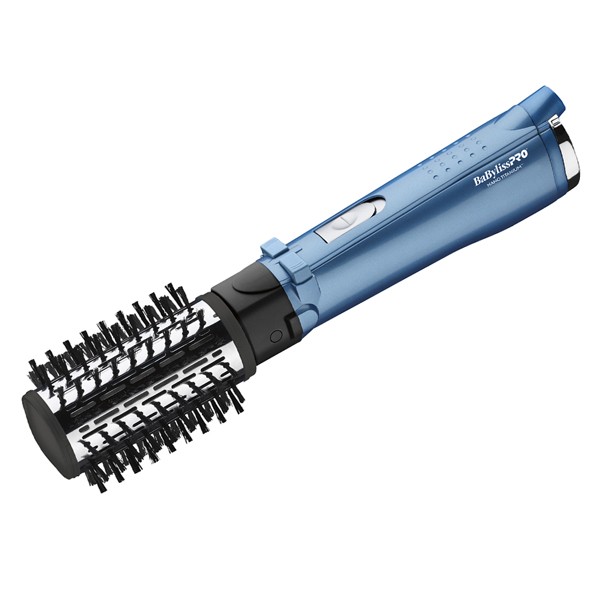 If you have one of those, who struggle with hair that frizz often, you need to invest in this antistatic bristled brush from BaByliss Pro. It delivers smooth, frizz-free hair with its ionic technology, combined with the brush bristles on a titanium barrel. You also get to keep flyways at bay, with the self-rotate feature, on the three heat settings. Even the ergonomic handles come made with you in mind, so it is stress-free hair styling all the way.
7. DryBar: The double shot blow dryer brush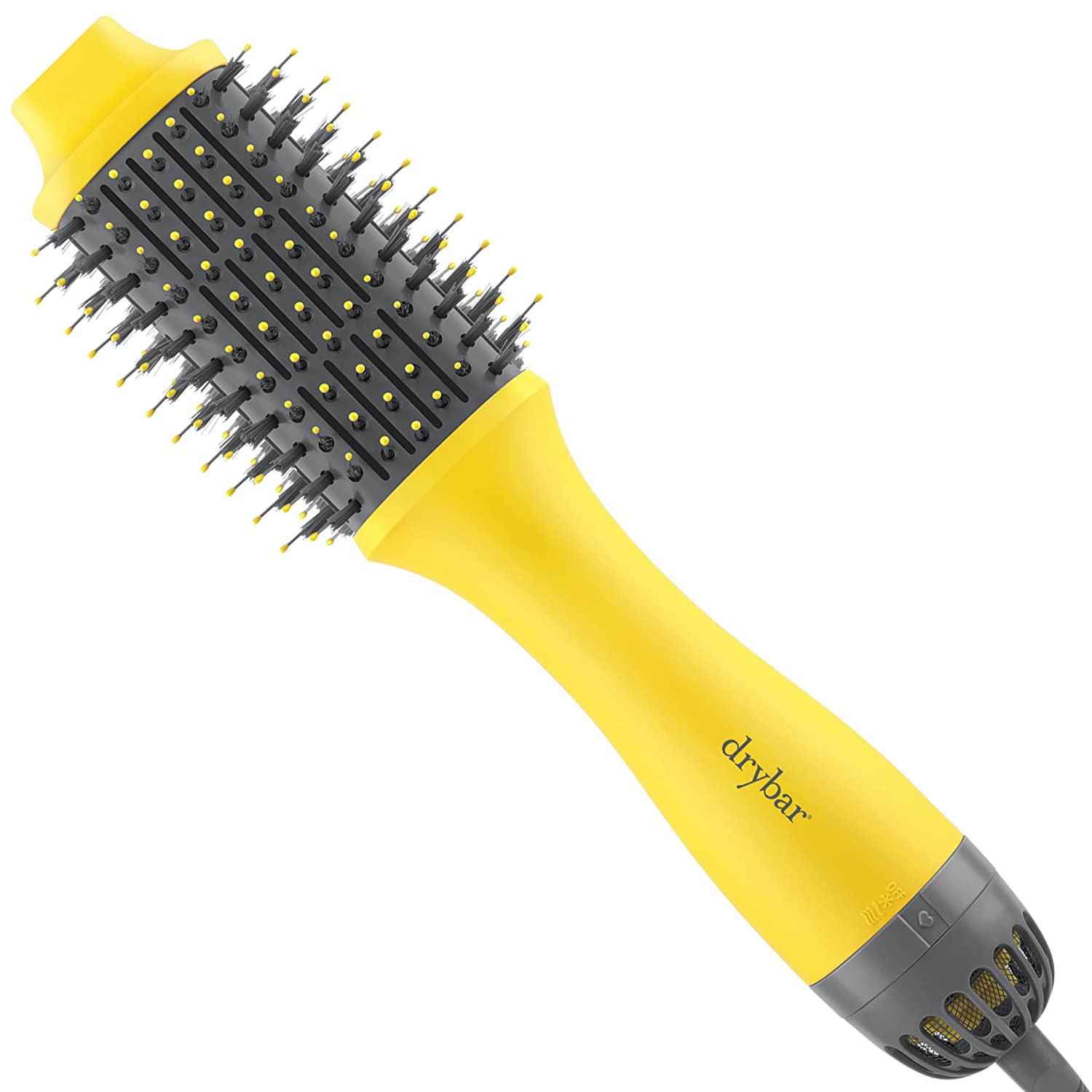 Refresh damaged hair with a heat-controlled dryer brush, like this one for DryBar. It is perfect because it does not get as hot as most dryer brushes out there. And for damaged hair, you do not need overheating, which can further put your hair at risk of more damage. Thankfully, this brush will give the same styling results, as its powerful bristles have got you covered. You will love this dryer brush; it is lightweight and has a long cord to give you room space while styling your hair.
6. John Frieda: Salon shape 1.5-inch hot airbrush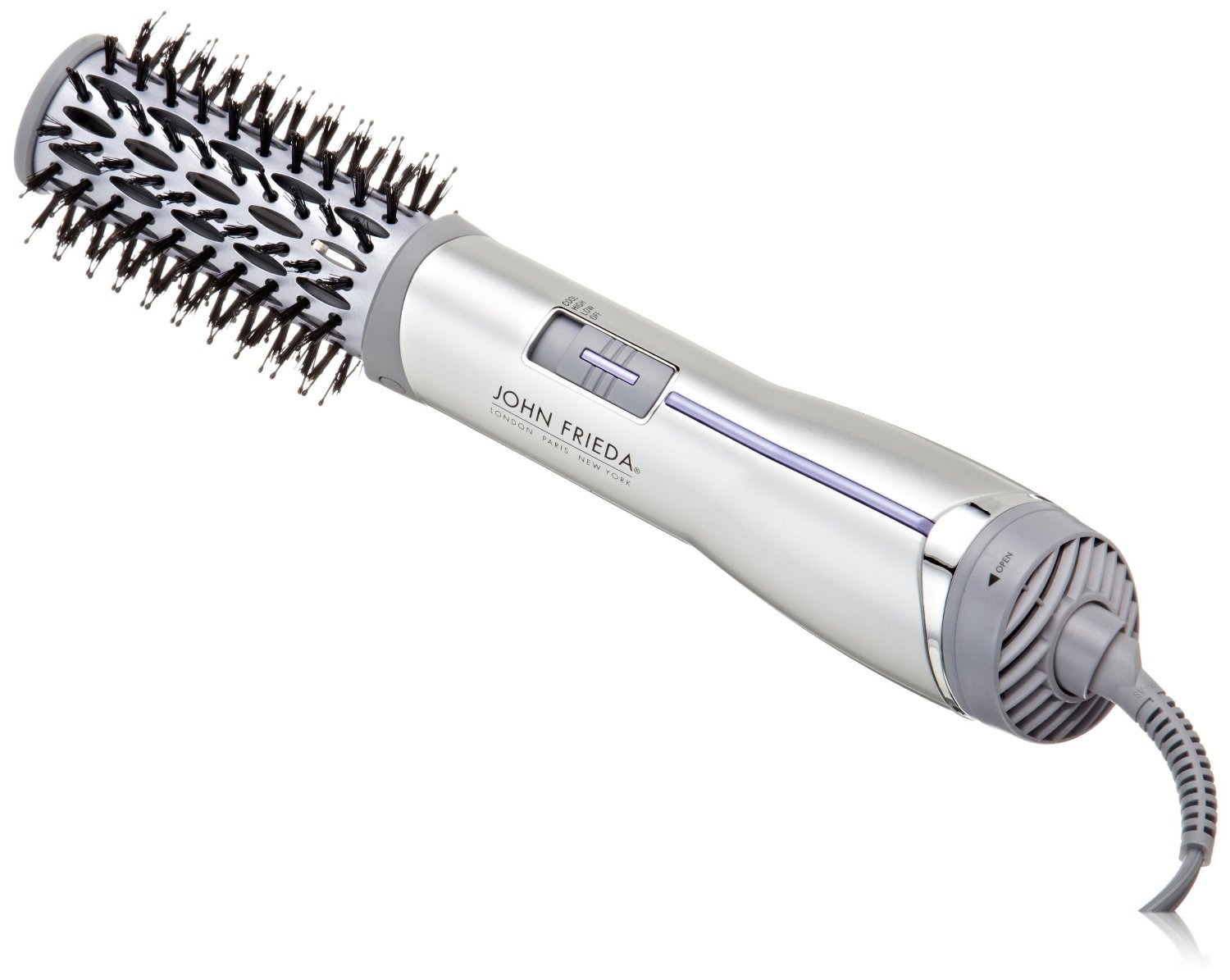 When you do blowout, there are always those areas that you are scared to take your brush to. Or maybe you have short hair and are scared of burning your scalp. All that fear is eliminated with the shape 1.5-inch dryer brush, as the small barrel will tame every little strand you have. So, if you like to slick back baby hairs, grab the brush and go for it; bangs and other cropped hair are also not left out. What's better, the barrel is covered with ceramic to prevent damage to your delicate strands.
5. Dyson: Airwrap complete styler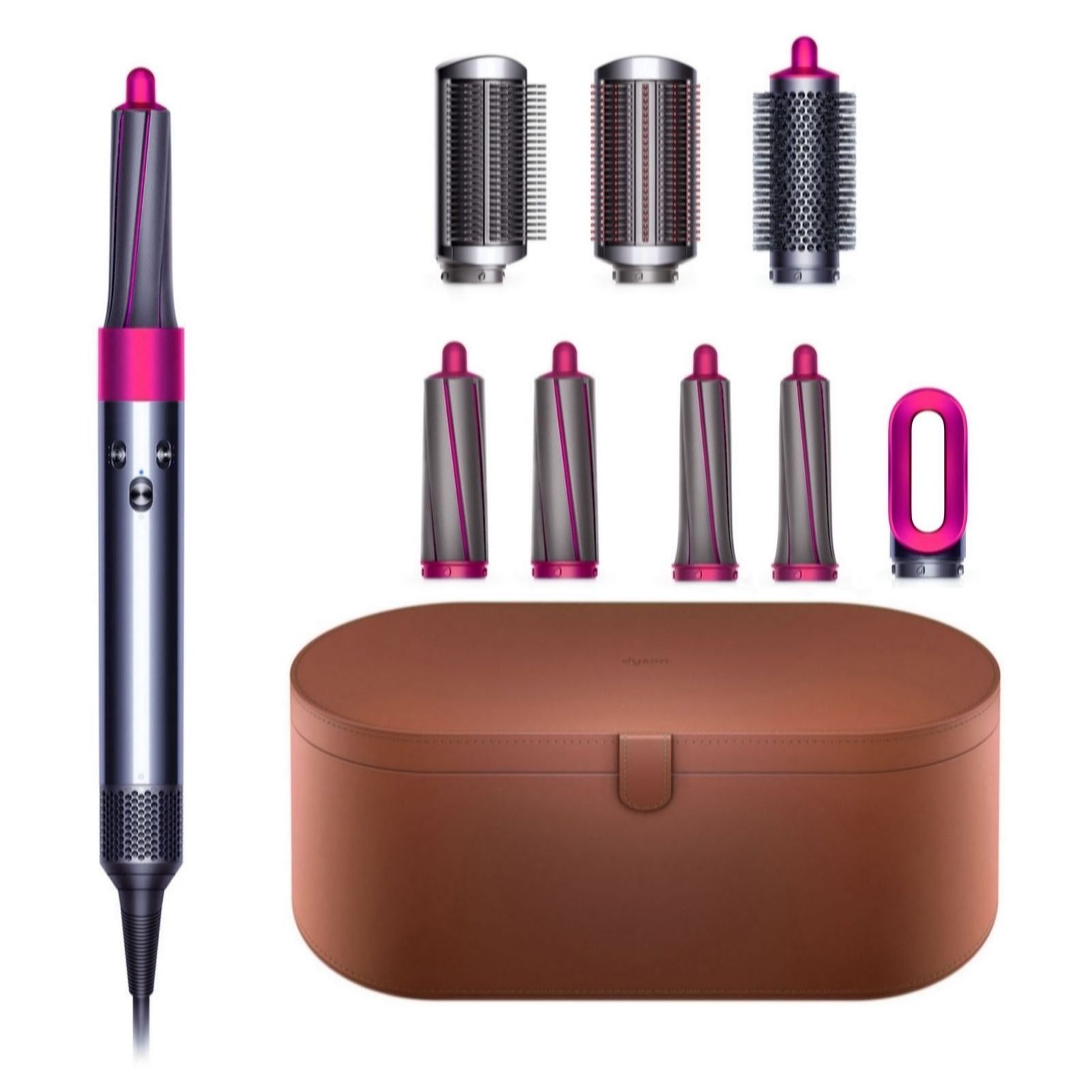 This dryer brush is luxe and pricey option but let's face it takes care of everything you will need. It comes with three firm yet soft brushes that smoothens and delivers on volume and sleek-looking hair. You can say the brand thought about everything, from around to paddle-shaped brushes. It also has a pre-styling dyer to help detangle and straighten the hair before you begin. The two barrels range both 1.2 and 1.6, ensuring versatility while styling the hair.
4. Hot Tools: 24K gold one step dryer volumizer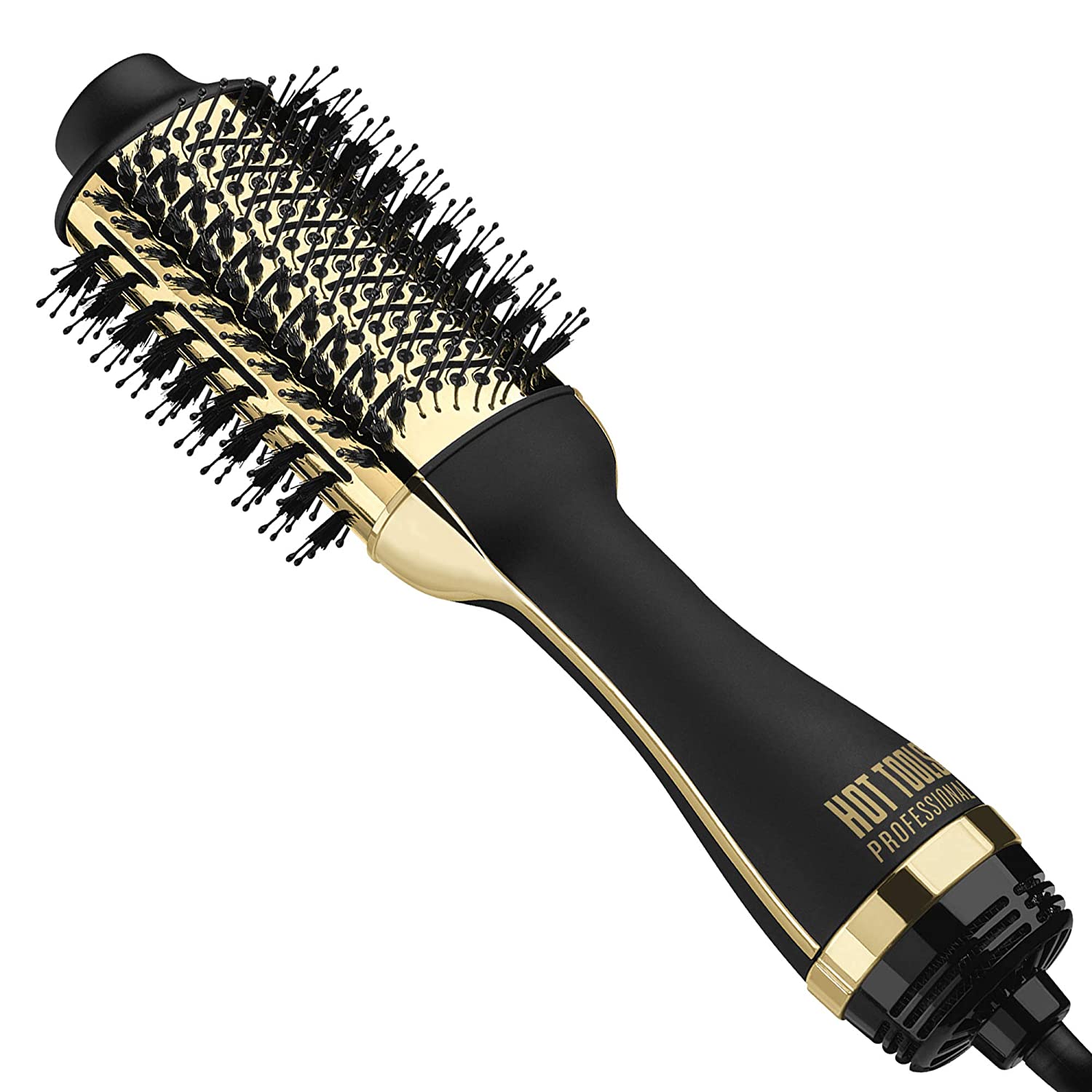 Do you wonder why your previous DIY blowout sessions have been unsuccessful with thick hair? It is not because of your hair texture but rather the styling tool you used. This large dryer brush from hot tools is just suitable for your thick hair, with its charcoal-infused boar bristles. You understand how hard it is to tame your mane when you have thick hair, but it will all be in the past with mastery and the right tools. The size of the brush also makes the job easy, so you can quickly eat through the entire hair. With the heat-even distribution, you need not worry as salon-worthy results are sure.
3. CHI: Volumizer 4-in-1 blowout brush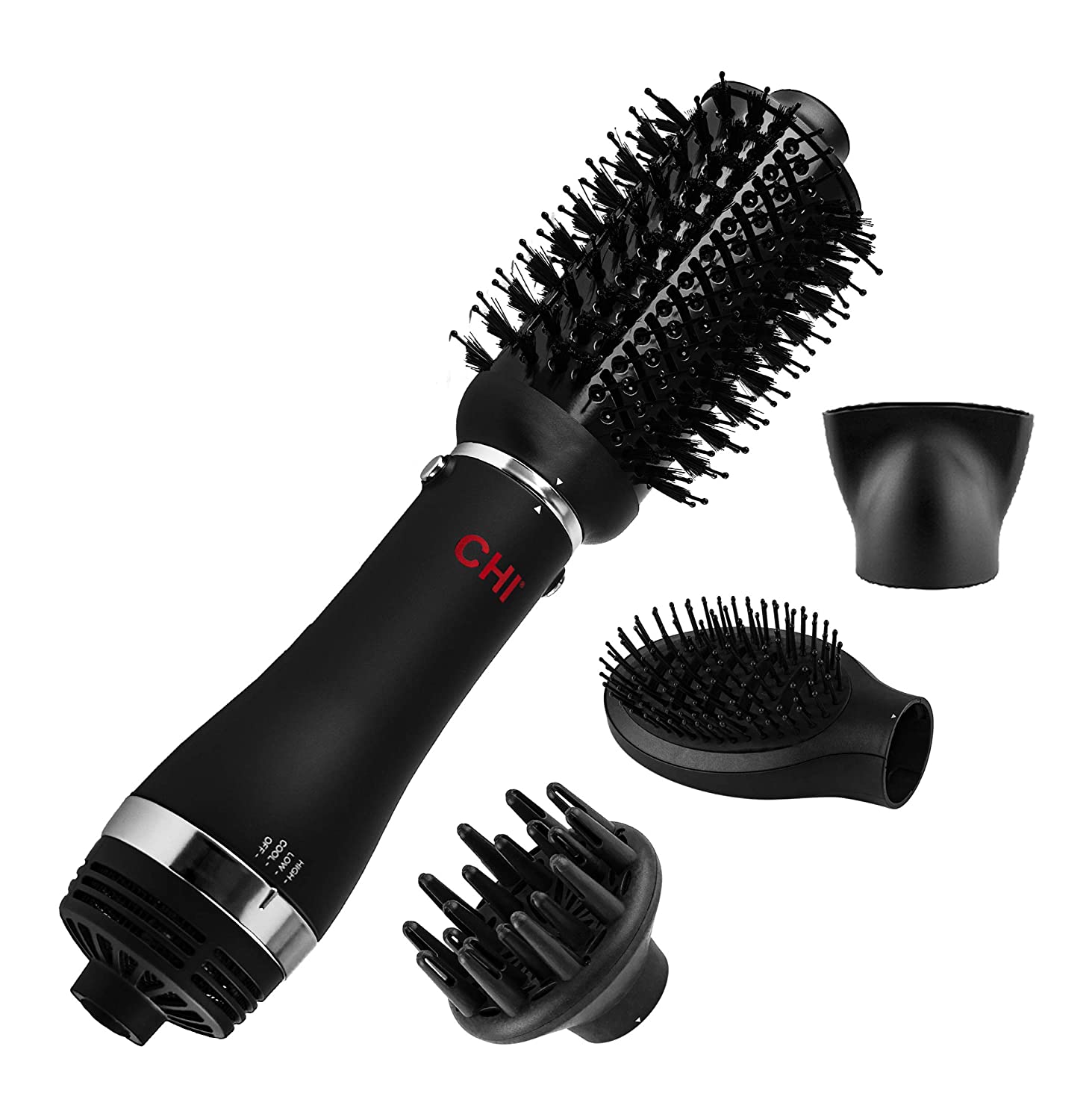 CHI comes in with one of the most versatile hair dryer brushes you can find. Every styling need gets met with four heads; you can attach as you please to suit your hair styling wants. Each installation comes with nylon-tufted bristles to help you create whatever look you are going for. But what makes this brush a standout is the ceramic and ionic technology combination it uses. This ensures your blowouts result in the smooth and sleek hair look you will love.
2. T3: Airbrush duo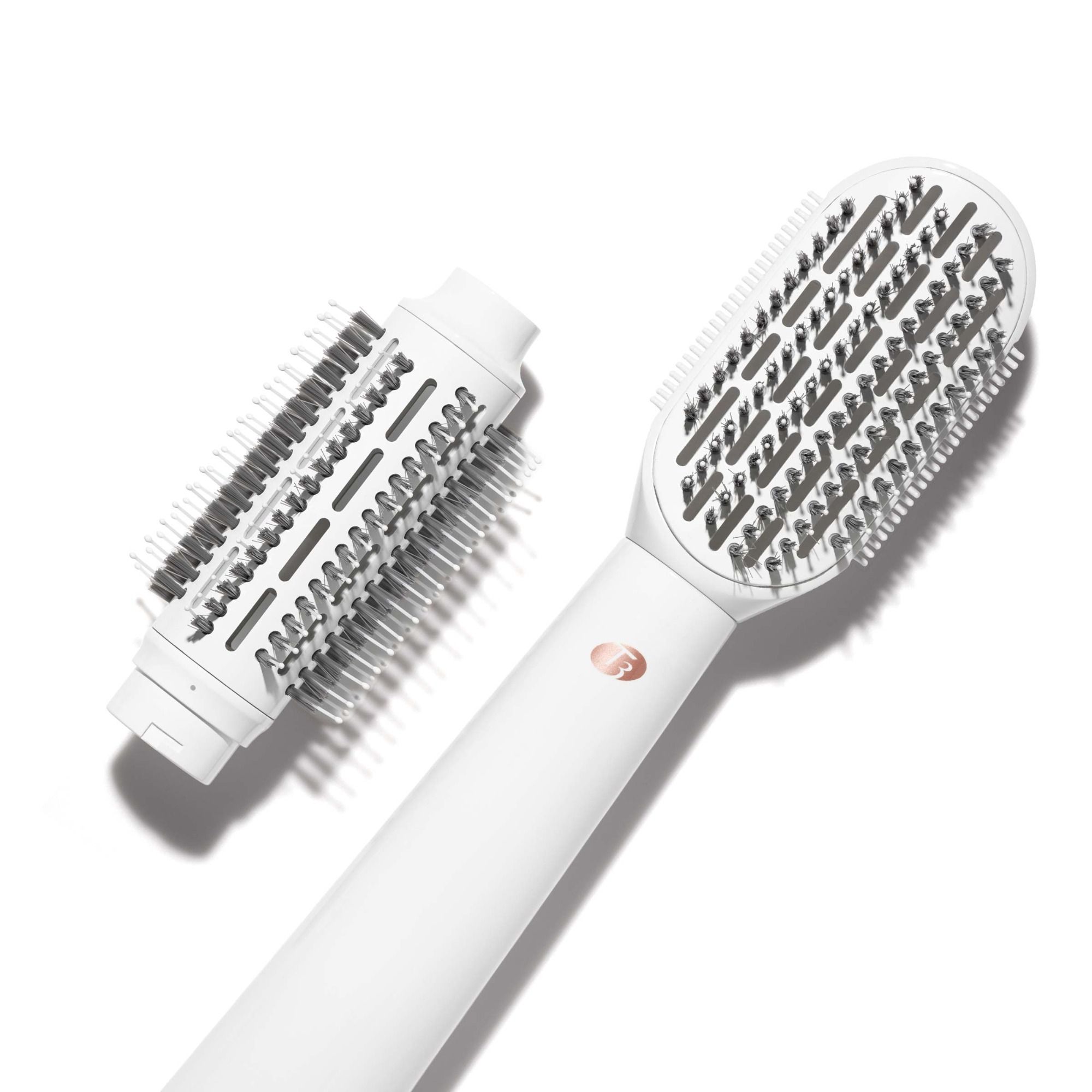 Combine the power of two brushes to achieve the hair of your dreams with the beauty award-winning dryer brush. It comes with a round and a paddle-shaped bush, each serving its function. The round gets you volume, while the paddle-shaped smoothen out the hair. Both brushes are made with nylon bristles on a ceramic base for smooth grip while you detangle the hair. The brand also included their IonFlow technology at the party to give you a frizz-free sleek look. You can also customize the heat setting with three speeds and five heat, making a combination of 15 velocities and heat.
1. Revlon: One-step volumizer hairdryer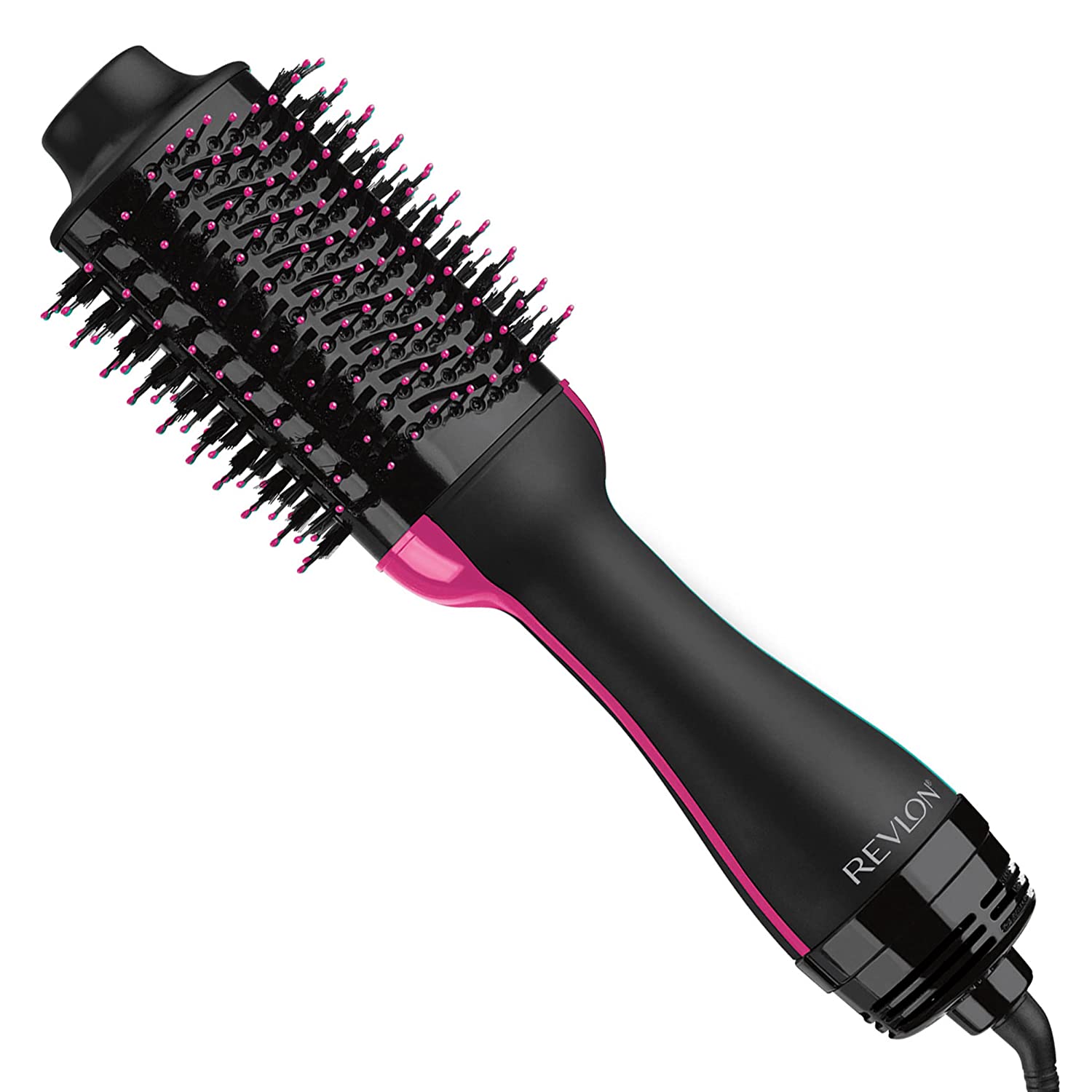 The one-step dryer brush is the best by popular demand for its volume and sleek promoting abilities. The tool comes oval-shaped, which helps distinctly boost your hair volume. It also has round edges that ensure your mane is free of dents and flawless. What more could you ask of? It also detangles the hair by working on the knots with the nylon bristle feature. Even though it can be scalding, it has three heat settings to select from as needed.
How to choose a good hairdryer brush
The list contains some of the best products and brands to deliver your styling wants. One a closer look, you will find out that each dryer brush targets a specific need or two. This is where your needs come in, and you should only buy a hairdryer when it suits your hair and not because the color appeals to you.
– The type of hair
The type of hair you have should be the first thing on your mind when selecting a hot styling tool. A dryer brush is no exception to this rule, so choosing one that can tame your hair type should be the focus. If you have curly hair, you will need a brush with a setting that gives the proper heat for your curls. Much heat is not required when you have straight hair, so high-power brushes will not do you good. Thicker hair textures will use a giant dryer brush with an excellent heat setting to penetrate the hair. You will find just about these kinds of tools and heat settings lower for fine hairs and high for thick texture from the list.
– Hair length
Now that the texture of the hair gets sorted out, the length comes next. Different hair lengths have particular struggles when styling them; a common issue is picking all the hairs. So, if you have long hair, you might want to stick to brushes from the list with big barrels. As they will help groom the hair faster with lesser strokes. The reverse is the case for shorter hair length, and you will need to avoid the big and bulky dryer brushes. Small, barrelled brushes are your best bet since they will be able to pick every strand of short hair.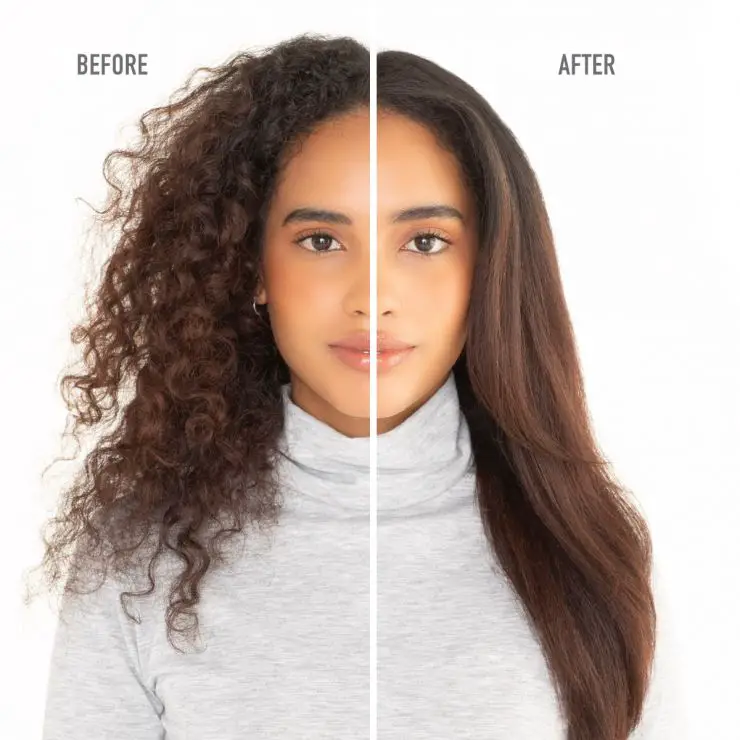 – Hair trauma/ damage
With all the hairstyle craze going on about, you might have experienced hair damage once, or the hair is still on the way to recovery. The bleaching, dyes, and flakiness that cause the hair to break do not work well with heated styling tools. The best option is to wait till your hair is healthy before using hot styling items.
When the need to blow dry your hair arises, check for a product with mild heat settings from the list. Investing in a heat protectant for your hair is also an excellent option to minimize any damage. Also, if your hair is fine and light, it is prone to heat damage, so avoid high-power brushes from the list.
Are hair dryer brushes good for my hair?
If you cannot achieve perfect blowout hair at home, then yes, dryer brushes are good for you. That's because you can style your hair like a pro all by yourself with the help of a suited dryer brush. It works for all hair types and is excellent for beginners. However, if you have mastered the art of using a blow dryer for the same function, you might not appreciate it. Unless you need a quicker styling tool, a dryer brush will come to the rescue.
How to clean hair dryer brush
A dirty dryer brush is in no way beneficial to you, as dust can clog the air vent making it operate poorly. The worse case can lead to overheating and eventually damage the tool altogether. And let's not forget all the hair that can get caught in the bristles. Take care of your dryer brushes by following these simple cleaning steps.
If you use your hairdryer brush often, you should clean it every month or two.
Begin with removing the ventilation grill-it is the open space for air to pass through the tool that covers the filter. It is easy to spot, either at the back or side.
When you remove it, take a tweezer or a small item that will not damage the brush and remove dust, hair, and something trapped there.
Extend to the bristles and pick out hair and dirt that might have gotten stuck. You can also use another brush and warm soapy water to wash the bristles.
Be careful, so water does not get into the electrical parts of the dryer brush. If you cannot remove the grill, clean everywhere as best as possible.
You may also like to read, 15 super chic fisherman sandals that'll get you in the mood for summer ASAP.