The green hair trend is hot right now and you should totally jump on it. From vibrant neon to darker forest shades, there's definitely a green hair shade for you. If you think a full green color is too vibrant, you can opt for green highlights instead—all the gorgeousness without as much of the risk.
This unusual color is a bold and fresh look that will make you stand out. In need of hair inspiration? This hair might just be the one for you. Even better, you'll be able to choose from an assortment of green hair shades outlined below, so you're informed enough to choose the perfect shade of green for you.
Dark green hair
The dark green color shade is a fashion-forward look and is not so vibrant if you're not looking to stand out with your hair shade. The luster of this green shade is beautiful for just about any skin tone.
The dark green hair shade is a safe bet to go with if you want to try the green color hair dye for the first time. It is also pretty easy to maintain as it won't fade as fast as lighter green shades.
Mint green hair
The mint green shade gives a refreshing vibe because it has a soft effect and frames your face perfectly, giving your face an adorable look. It is a pastel green color that blends well with a very light shade of blonde hair. You can style it in waves or a more edgy long bob.
Bright green
The bright green color shade simply put, is getting your green on. If you are ready to take a full plunge into the world of green, you can dye your entire hair a bright green. This might be too vivid for you. If you can't quite stand the full glare f the bright green color, then you can opt for bright green highlights in dark hair. Better still you can tone the look all the way down and go for an ombre look.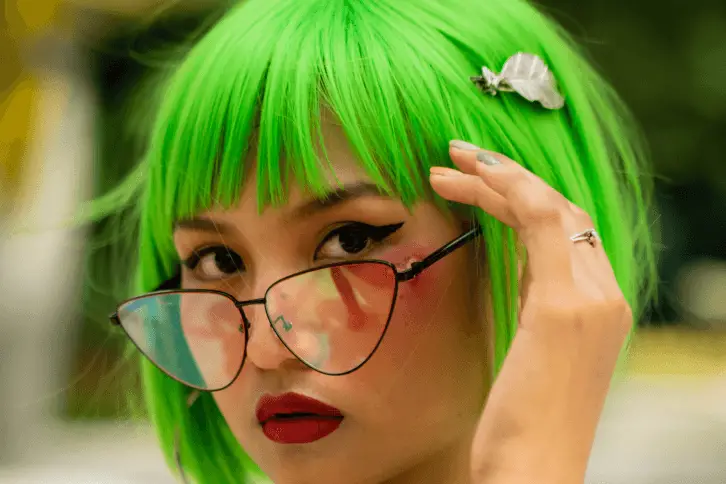 Emerald hair
Think of the glittering beauty of emeralds and imagine that color on your head. The emerald shade gives deep green depths like a gem that leaves you feeling and looking beautiful. What's more, this gorgeous shade suits a wide variety of skin tones. To give the hairdo a modern spin, you can go for dark roots with emerald green tips.
Neon green
Neon is a very bright shade and is, in fact, a green shade that pops. It takes a great deal of confidence to rock this hair because whether you want it or not, you will draw attention.
The vibrancy of this hair color is very unique and some may find it daring to go with full neon green hair. The singer, Billie Eilish is someone who has made this hair color very popular. One way to rock this hair shade is to go for neon-colored roots with brunette dark hair tips.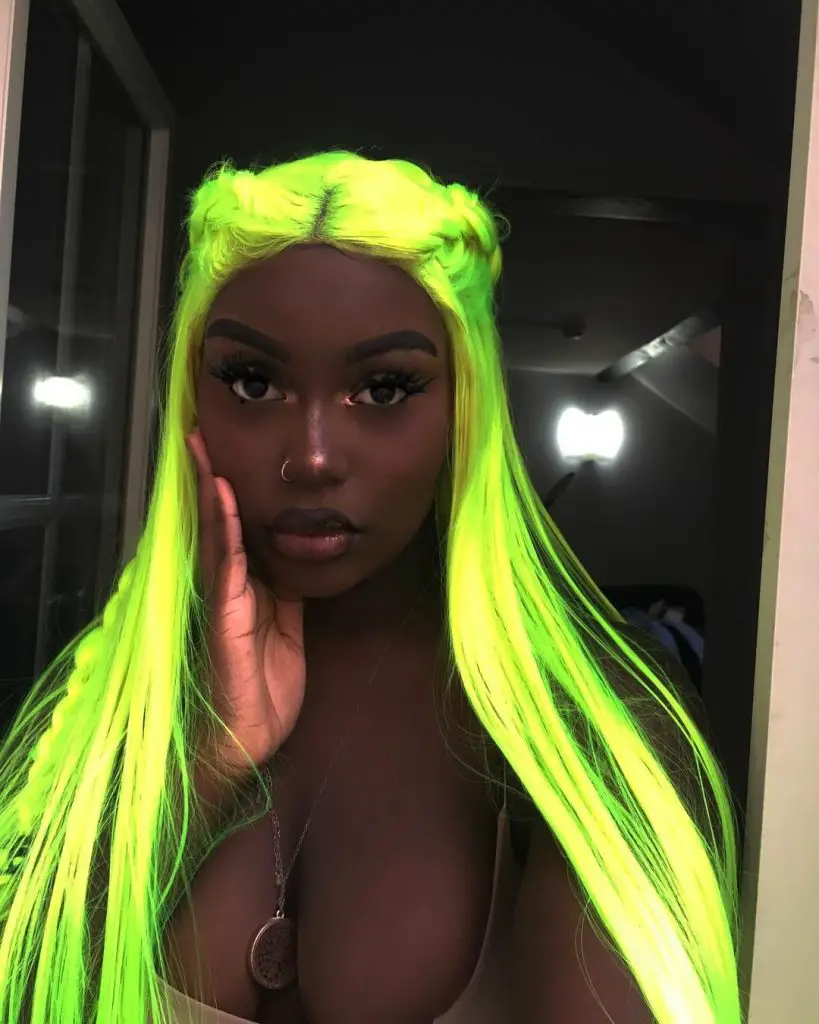 Lime green
Lime green is one of the brighter green shades as it is very vivid. This shade favors women with warm skin undertones. For a more fun look, you can add yellow lowlights to your lime green hairdo. It also works well as highlights for darker hairstyles like emerald green.
Ombre effect
For those who don't feel quite confident in rocking the bright green hair color, the ombre color is a more favorable hairdo. It is a play of color that works for lighter and darker green shades. To achieve this hairstyle, the balayage technique may be used. The balayage technique is a hair dye technique that doesn't use foils. This is done to make the look more blended.
Here the base is usually left dark, either as natural hair or a darker green shade, and the tips are done with a light green shade. The fun part of this look is that you can combine the ombre shade with just about any lighter pastel of green.
Olive green hair
This is a vibrant green shade, yet it appears cool to the eyes. This hairstyle gives hints of yellow, which brightens the overall look. The olive-green color shade is not the choice of many women but it complements those who are olive-skinned beautifully well.

Green blond
Green hair dye works well with blonde-colored hair. Most hairstylists have found different ways of combining beautiful blonde and green hues. From blonde with green tips, the normal highlights, and low lights of green and blonde. For a more vibrant look, apply brighter and darker shades of green to blonde hair for an organic yet unusual look.
Blue-green
Blue is a color that has been used to turn up green hairstyles because it blends well and creates a gorgeous finish. One look the blue-green union has resulted in is the mermaid hairstyle. This color is ocean-inspired. The roots are done in blue then and transition to green at the tips. This hairstyle is best styled in deep curls.
Another choice is a mixture of green hair shades with dark roots and blue highlight streaks. This hairdo will look beautiful for just about any skin tone, as you can always make it greener or bluer to suit your taste.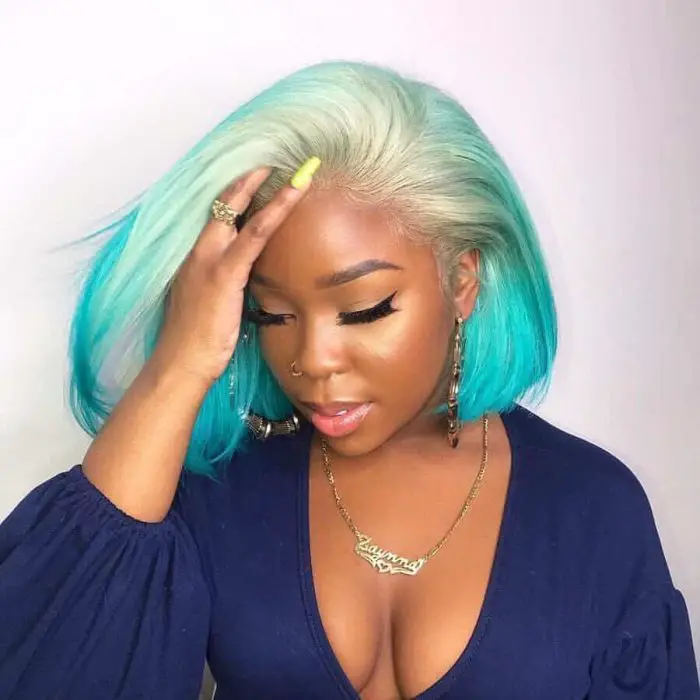 This list has shown that green is not just the color of grass. The variety of shades this rich color has is worth the dye job. Find the shade that suits you and go with it. Don't stick with one color as well, try to go out of your comfort zone. How else will you definitively find what suits you?
To achieve green-colored hair, you will probably have to bleach your hair to a lighter shade if you have naturally dark hair. Green dyed hair is high maintenance and to extend the color life of your hair, you should wash with sulfate-free shampoo and cold water.