There are some skills you never thought you needed until you find yourself searching for how to shape eyebrows for beginners. 
The peak of lockdown had many women in a frenzy, with their brows taking the shapes of their own. What do you do when you don't have access to the essential services? Is it best to do it yourself? Even now, when everywhere is opening again, many D.I.Y. skills are still needed in the uncertain times we live in. 
For a fact, it is scary to take tools close to your eyebrows because it is sensitive and prominent. This means a wrong turn of events can affect your entire look; that's how important the eyebrows are. However, when you achieve successfully groomed brows, it makes all the difference, as it balances out your facial features,  
If you've come here because you searched for how to shape eyebrows for beginners, then you require these simple skills below.
Which eyebrow shape is most attractive?
Before you get all pumped up to start trimming your hair, you need the perfect shape that will accentuate your face. This process is vital since you are looking for the best way to shape your eyebrows for beginners. The first thing to consider is your face shape, as different arches and brow lengths fit different face shapes based on the positioning of your eye sets. 
Heart face shape:

 You can work with high arches, but make the edges soft or maintain the same way. 

Rectangle faces shape:

 Since the face shape is already elongated, a straight brow with a long tail is your best bet.

Round face shape:

 You need high arches to help balance out the rounded features of your face.

Diamond face shape: 

A straight brow with subtle arches will look good on you.

Square face shape:

 This face will do well with soft or rounded arches to help tame the sharp jawline.

Oval face shape:

 You can virtually go any brow shape with versatile facial features.
How to shape eyebrows for beginners in five simple steps
There are different ways to get beautiful brows; they will most likely not be symmetrical with one another. You can only make them as closely even, and you do need to do much for that. When you are ready to transform your eyebrows, make sure you have enough time on your hands, as you will need to go slow and be precise.
Related article: Use this face shape chart to find your face shape and change your life.
Step 1: Gather the tools and sit in a well-lit room
Everything you will need must be within reach when you begin the process. Not only do the tools have to be just right, but you plan on achieving the best results. While they are not anything fancy, you will need a spoolie brush, a new pair of sharp brow scissors, tweezers, and, of course, a brow pencil. You can also have clear brow gel or a compress handy, optional. 
When you have all the tools ready, wash or clean your face. You don't want any makeup residue or dirt on your brows when you begin trimming. Get comfy in a well-lit spot in front of a mirror and begin. 
The recommended products are:
Filler spoolie: the regular spoolie brush that comes with other makeup products will do just fine. You have to be sure it lifts your hair when you brush in preparation for shaping.
 Tweezerman: pointed slant tweezer-you will need a slanted type like this, which comes in good quality stainless steel. You can also opt for M.A.C. Tweezers slant from Mac cosmetics, as it gives the same results. 
Benefit precisely: my brow pencil: This fine pencil adds the most natural pigments on the brows. In addition, it comes with a spoolie brush at the other end, suppose you don't want to buy a separate one.
Brow scissors: Brow scissors give you precision and trim hair overgrowth for best results. Tweezerman offers great brow shaping scissors available on Amazon. 
Step 2:
Find your natural brow shape
For this, you will need the brow mapping technique, which involves three main parts of your eyebrows. They include the part of your brow closest to your nose, often called the head. You also want to search for the arch, which is the highest point of the brow. The last being, the tail, marks the end of your eyebrows, which is closest to the outer corner of your eye. 
With these three points sorted out, you can discover your customized shape to get the perfect brows. At this point, go in with your brow pencil, start from the head, put a mark on the spot. While the pencil is still resting at that point, stay in line and rotate the pencil, so the line extends to your iris outer edge. Yow will find your arch naturally resting at the point where the pencil stops.
Next, take your pencil yet again, and noting where the arch ends, extend the line to the outer eye corners. This is the tail; connect the three lines on both the upper and lower eye regardless of the hairs escaping the eyebrow map.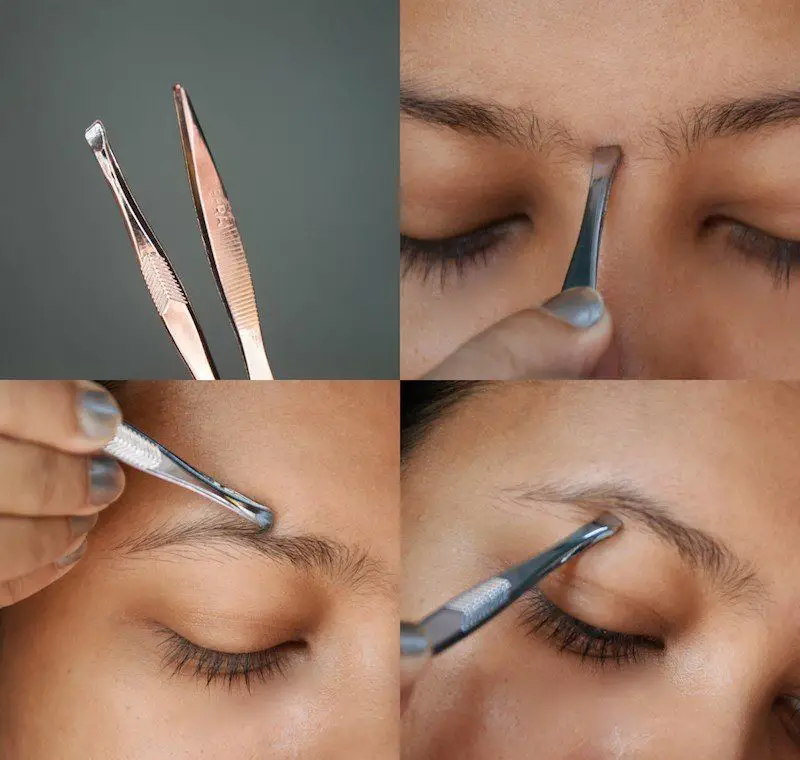 Step 3: Time to tweeze all the hairs outside your lines
Now that you know the unwanted hair get your tweezers and carefully pluck out the hairs. The best technique is to press down the skin around the eye area with one hand and tweeze out the hair in the growth direction. When you do not follow the growth path, it can cause ingrown hairs or prevent them from quickly growing back. You don't want to end up with thin brows just because you want to keep them in shape. 
Related article: How Long Does It Take For Eyebrows To Grow Back?
So, you don't end up like most people who get carried away while tweezing; keep your focus on significant areas you must clean up. You will need to focus on the hairs separating space between both eyebrows. You also want to clear the outer brows after taking care of them under your arches. If there is still hair peeking out, don't worry; the scissors will take care of it. Cooldown your eye area if you feel irritated due to the plucking with tweezers.
Step 4: Take care of stray hairs with your scissors
There will always be some unruly hair that won't get into line; trimming them down is the only way to go. First, brush your brows upwards with your spoolie to make the hairs more defined before you cut. You can also apply a clear brow gel at this point, as it helps define and keep the hair in place to ensure it dries out before using your scissors. 
When you spot the hairs that are still outwards, position the scissors downwards, and snip at the inches. The goal is not to cut off all the hairs in line with your brow shape but to keep the form even. So, if you trim, brush again, you can leave it be if it looks almost in place as you can brush in some of the hairs and still achieve the perfect brows. Concentrate more on the head area and a few snips at the arch to stay in focus. You can skip the tail area altogether since the hair is naturally thin in this area.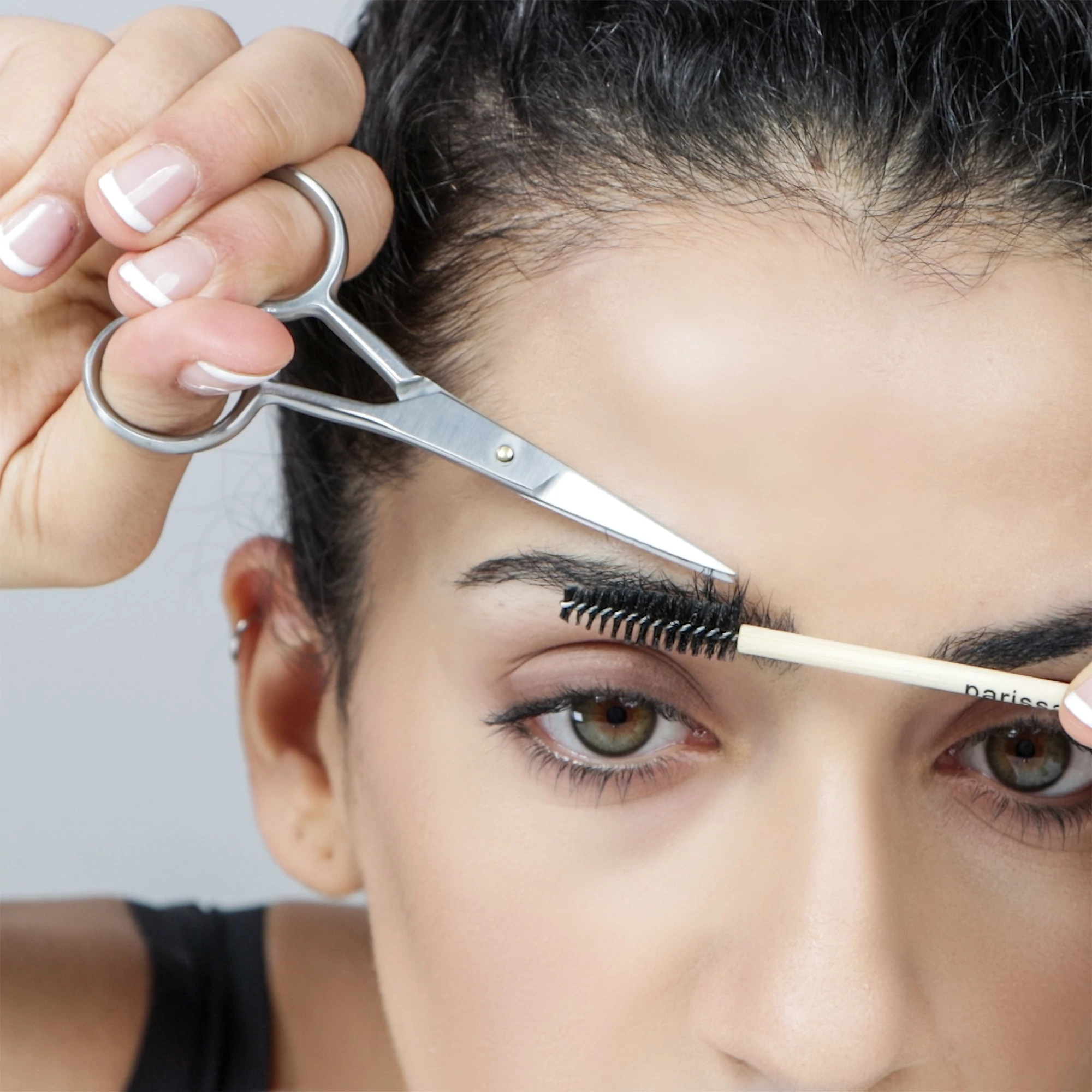 Related article: Microblading: everything you need to know.
Step 5: Fill in your brows with the pencil
Now that you have learned how to shape eyebrows for beginners and your hairs are all in place, it's time to enhance it. You can use anything from pigmented brow powders to gels and pencils for the job. But before you start, make sure you clean off trimmed hair strands clinging to your skin. Take a sharp pencil and start drawing, keeping in mind that the head needs to be thick, to become thin at the tail area. 
While you are drawing, be cautious so the lines don't appear too bold and unnatural. Whether using a brush or pencil, fill in the color with upward movements, replicating hair strokes. Brush the hairs to see if you have your proper fullness. You don't want the brows to appear painted, but only to give off the illusion of fuller hairs. After blending in pencil with your natural hairs, you are done. 
Other options you can explore if you wish to learn how to shape eyebrows for beginners
Tweezing has proven to be the best option for grooming the brows to shape. That's because a razor acts as a quick alternative and lacks precision. Other options such as threading have become known to break hair follicles and leave you with ingrown hairs. On the other hand, Waxing can stretch out the skin around the eye area. 
Eyebrow threading
Threading has become one of the most common ways to keep the eyebrows' shape. You only need a sewing thread a bit of handwork. So, begin by cutting the line into a recommended length, such as 11 inches, tie at the ends to create a connected loop. Place your thumbs and index fingers of both hands inside the thread loop, and twist about 5 five times. It will look like a bow tie at this point; position the knot on your index fingers.
Position the thread V loop, on your brows, with one hand placed above and the other fingers below to move the thread. To pull out the hair, perform a motion-controlled with your index fingers. Sliding up and down with the fingers on your other hand closed together. Go slowly and stay cautious of your brow shape when trimming the hair. 
Related article: Your every question about eyebrow threading answered
Waxing
This is another D.I.Y. method to shape your eyebrows, and you will need lotion, wax, and some dusting powder. First off, apply the cream on your skin to moisturize the area, combined with a bit of powder. Heat your wax, maintain the 37 degrees temperature, use a wooden application stick to spread the wax on the thin strip area with hair. 
Allow the wax to set into the hair, attach a small piece of paper over it, and press down on the wax. Remove the form, and the follicles under it should come off to reveal smooth-looking skin. You can apply powder if your skin feels irritated. 
In conclusion, grooming your eyebrows should be easy when following the easy steps. Be patient and cautious of any method you opt for so you don't have thin brow hairs.
You may also like to read, 10 stylish and comfortable waterproof boots that'll keep your feet dry and cozy all through.