There are a lot of ways to add art to your nails, with so many options to choose from that one can get confused. Gel lacquer is used for adding color to your nails and is easier to work with than acrylic nails. Acrylic nails are also thicker than normal nail polish yet soft and pliable enough to be used for stunning gel nail designs.  
Gels are applied to natural nails and set in with light polish to leave a glossy finish. They don't always have to be done with a shiny finish as matte coatings can be used as well. Their incredible staying power is also resistant to chipping, and this is what makes it so famous. If you don't know what design to choose, let these 10 designs inspire you.   
Glitter gel nails
Glitter can never be completely eradicated from nail designs even though some think that it can be bit much to add glitter to your fingers. Nothing should stop you from sparkling all the way if that's your style. A sophisticated approach would be painting one or two fingers with glitters while the rest stays plain. This will ensure you don't end up with overdone glittery nails.  
Embellished gel nail designs  
Stay glammed up with embellishments added to your nails. You can add rhinestones, gems and charms to elevate a simple gel paint. Choose a cool tone nail polish as the base so that when you add the jewels, your nails will look classy and posh. At the end of it, you will have nails with bling that are also suitable for any occasion. 
 

View this post on Instagram

 
Coffin gel nails 
Coffin-shaped nails are trendy so you can combine two nail trends by using a gel polish for the design. You can leave them in plain bold colors or infuse some extra details to update the nail design. From dark to lighter color tones, gels will look great for a coffin nail design.  
 

View this post on Instagram

 
Patterned gel nails 
Patterns are always trendy, they are also a great way to express art in the abstract context via nails. Although gel patterns can be time-consuming to achieve, they leave a stunning finished nail. From the tons of patterns that the nail artist can get creative with, you might just be switching from one to another every time you get a manicure.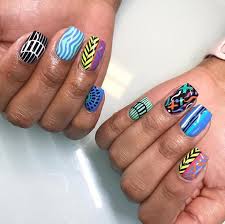 Monochrome gels 
Gels can be easily used to pull off the monochrome look since they have a sleek finish that makes even dark colors look good. You can try basic neutral colors or brighter tones like white or yellow. The clear gels are also stunning as black is used to add some edge to the nail design.  A nail choice like this is a beautiful design that says cool chic.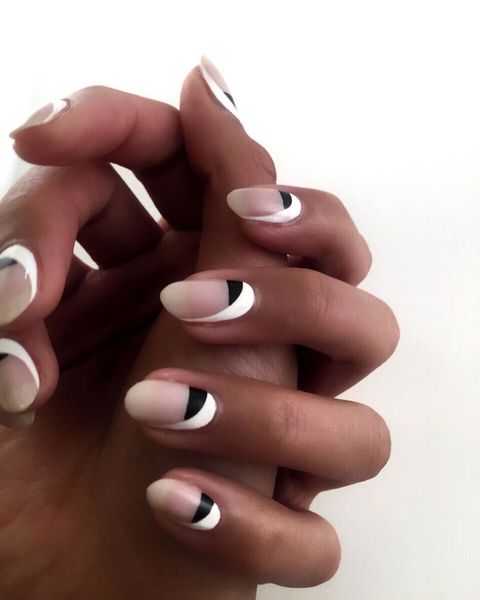 Neon gel nail designs  
Who doesn't love the bright neon pastels, the yellows, lime greens, orange, blues, and all other luminous shades? Whichever shape of nails you pair neon gels with, they are attention-grabbing yet cool enough to rock anywhere. Be a little extra and mix two colors, or add a touch of rhinestones for more glam. Going bold never looked so cute.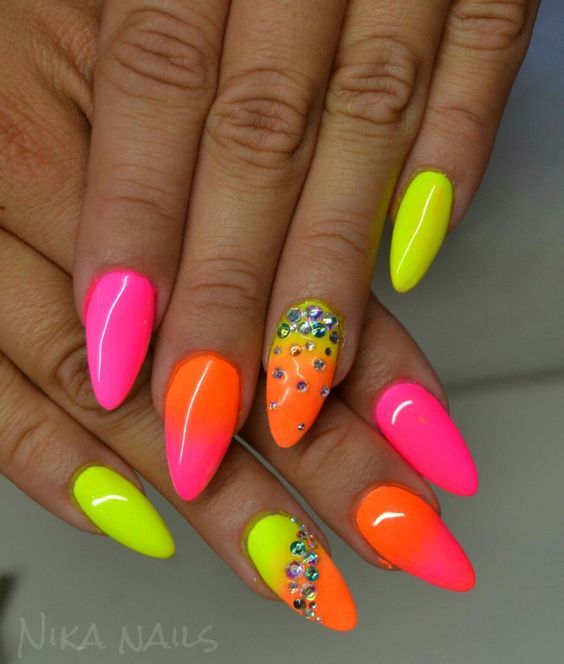 Elegant gel features 
Gels can be used to create elegant nail designs for formal occasions. A nice color to start with is pink since it is the ultimate girly tone. You can still opt for deeper colors like red or purple. Keep the design simple, and for extra details opt for classy, minimal lines, charms, or blend different hues to create a pretty decorative nail.  
 

View this post on Instagram

 
Half and half gel nails 
Why go for one color when you can rock two colors on one finger? This design can be done in many ways like the horizontal line dividing two different colors.  You can also paint it vertically to create an up and down effect.  
Elevate the design by adding a pattern on one half and a plain color for the other side. This will give you a modern and unique nail design you'll love.  
 

View this post on Instagram

 
Color blocking gel nails 
If you're not sure which color to go for, you can opt for a bit of everything. Gels look beautiful when different colors are combined on one finger. Just be sure to match all the colors you are adding or go for random shades. The pop of unexpected tones will still look beautiful.
 

View this post on Instagram

 
3D gel nail designs 
There is no design more realistic than the 3-dimensional pieces. The art painted on your nails come to life when done in 3D. It is a great way to try complex design, such as facial outline, abstract art, tie and die mixture, and any exaggerated design you can think of.  
One thing to note is that whenever you get tired of your gel nails, it is better to visit the salon to get them removed. Their hold is strong, and you might get injured if you try to force them off. This way it is easy to do a fresh manicure as suited. Many designs are begging to be tried, what's stopping you?