Comfy and fun are the vibe that jelly sandals give off, and it is just like holding on to a piece of your childhood. They are the favorite footwear for summer as they are water-friendly since they are made from plastic.
The classic design of these sandals was made translucent and is often infused with glitter. The resurgence of the jelly shoe trend surprised many, as kids from the '90s didn't appreciate their parents dressing them in a pair.
These hot rubber beauties are accessible from the normal brands, to top fashion brands like Gucci and Valentino who have taken a sophisticated spin on the easy shoes. Stay fashionable as you shop for jelly sandals. Your taste and budget are the two things you should consider as you make your choice in the amazing world of jelly design and their accompanying colors.
1. Caged jelly sandals
The caged jelly sandals is arguably the most common design of sandals, due to its wide popularity among people of all ages. They look like fisherman sandals but are made with jelly rubber.
You can safely stay fashionable in a pair of these sandals as everyone else will most likely also own a pair of these shoes.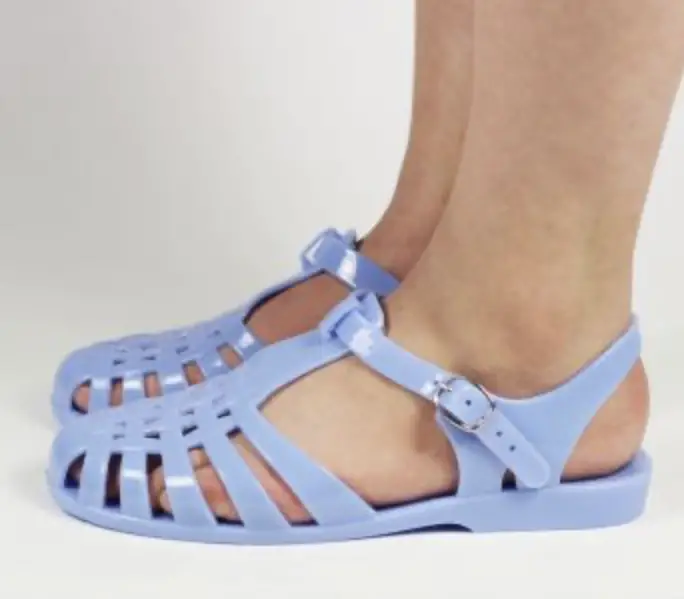 They go well with most outfits, but to stand out from the bunch, you should choose cool colors. Another reason people opt for the caged version is that paired with socks, you can wear them for other seasons.
2. Open toe sandals
The open toe jelly variants feature cutouts in front so your toes peek out sexily. They are a versatile pair you can wear every day, with skirts, dresses, shorts and any other choice of outfit. Shop for neutral colors such as nude, so you get more wear out of them.
3. Thong strap jellies
The beauty of the thong strap jelly sandals is in the simplicity of the design. These sandals are light and they're an easy alternatively when you just want to throw on these straps and enjoy a casual outing. You will not feel like you're wearing anything on your feet.
They can also be made a little more complex, by adding designs like bows, charms, and jewels to elevate the sandals, which gives such a feminine feel to your look.
4. Jelly wedge sandals
A nice mix to your jelly collection will be a pair of wedge sandals. Which are also a great choice of footwear for dresses and easy outfits. You can wear them all day, and won't feel like you are putting on shoes. This heel type is so comfortable to wear, due to the support the design gives.
5. Embellished sandals
A minimalist sandal design that does the talking all by itself, the embellished jelly sandal is an upgraded version of the classic sandals with pearl embellishments that are glam. Other design features include pyramid studs, rhinestones, and other glittery charms.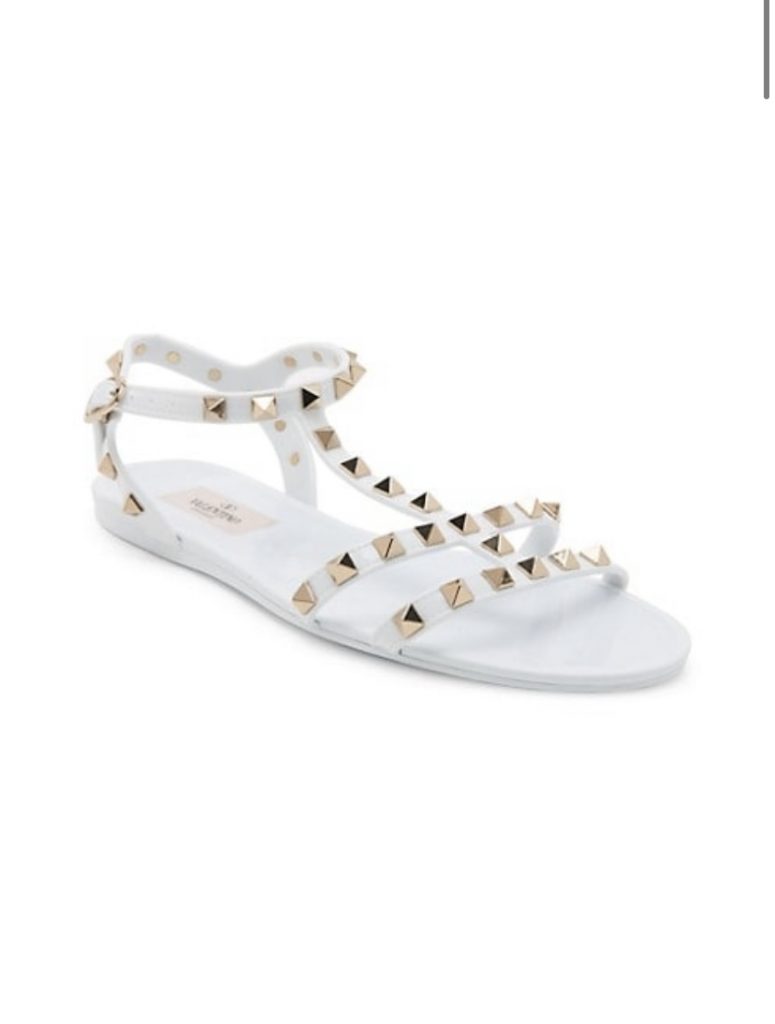 It also adds a delicate touch to them. Paired with the right outfit, you will look posh and put together without trying so hard.
6. Chunky slingbacks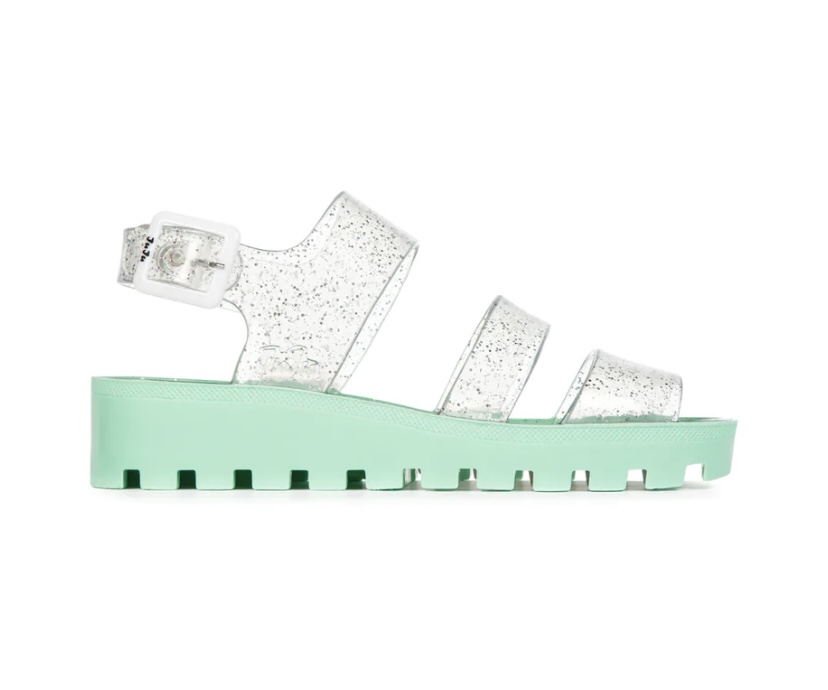 Stay on top of your fashion game with a pair of chunky jelly sandals, as they are a part of the cool-girl aesthetic. These shoes feature elaborate straps and an adjustable buckle. They add spice to everything and their loveliness proves that they are a trend that has come to stay.
7. Woven jelly sandals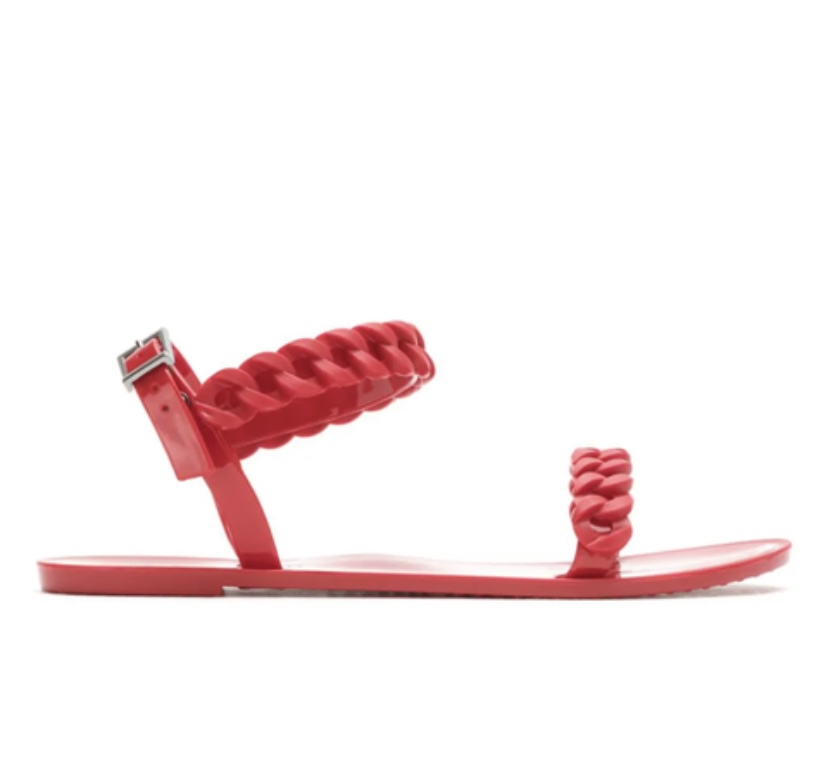 The woven jelly sandal design features braided straps, which are sets them apart from other sandal types. They are easy to slip in and out from and are a great footwear choice for rotations with your casual clothes. Do not sleep on the Grecian design appeal that they exude.
8. Platform jelly sandals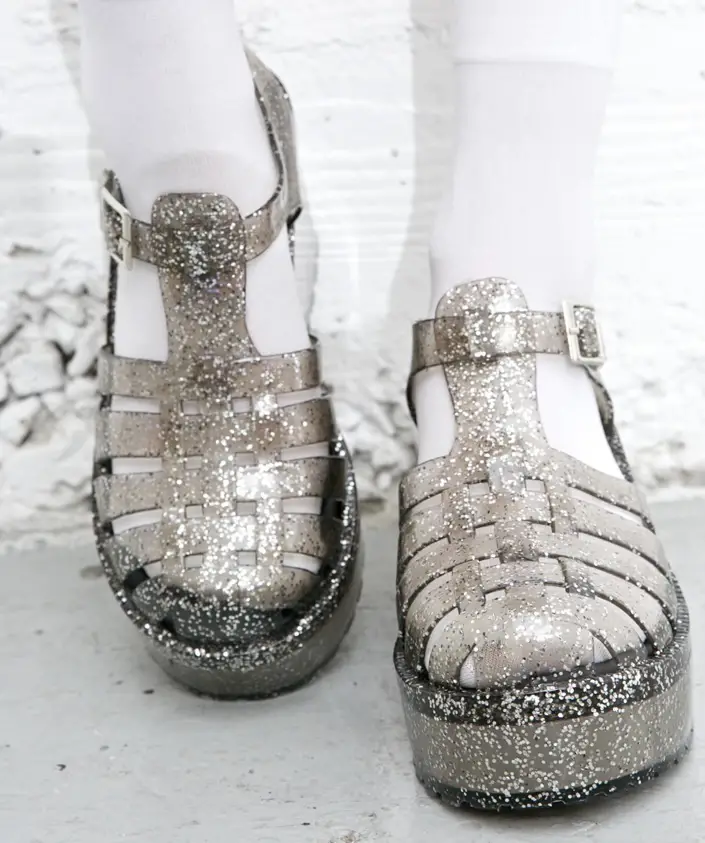 Jelly sandals with platform heels are an elevation from the regular fisherman cage design. You can wear them with dressier outfits on most days.
They are suitable to wear everywhere and are even work inclusive. The heels can also make these shoes a great choice to avoid puddles as you walk around on a rainy day.
Conclusion
The jelly sandals are a class of footwear with nostalgic memories—they are playful shoes that will remind you of your most fun-filled days from childhood. Made with rubber, they are very functional since you can easily wash them.
The beautiful designs they come in ensures you can wear them with just about any outfit and still look cool. You should invest in owning a pair of shiny jelly shoes. Asides from the versatile styling options, they are also very durable because they hardly ever go bad and even if they do, they can be easily fixed.
Go bold with the colors or stick with neutrals of black and brown. Now you know where to start your fashionable jelly sandals style.