Eyelash extensions are the method of adding faux lashes to your natural lashes to make them appear fuller which enhances your face and make you look more striking. The lovely flutter of lashes you see on celebrities and even around you is not so hard to get, after all.
The illusion of having beautiful and well-arranged lashes is achieved by using lash extension glue — to attach strands of faux lashes to your eyes arranged so it blends perfectly with your natural ones. Mind you, they should not be confused with the regular faux lashes which you buy over the counter and glue on yourself.
Eyelash extensions are installed by professionals who use their artistic skill to carefully attach lash strands to your lashes to give you a natural and beautiful effect.
This procedure is painless, lasts from four to six weeks, and can look as modest or outrageous as you want it. Give your natural lashes a rest and hold off on the mascara; eyebrow extensions will help you save time on your makeup and appear more gorgeous with a fine lash line.
As long as it is done by a professional, the process of getting eyebrow extensions is pretty safe unless you have sensitive eyes or allergies. The time frame of getting it done is relative, it usually lasts from 2-4 hours which depends on how full and defined you want your lash to look.
Choosing the right lash extensions 
Eyelash extensions come from natural or artificial materials such as silk, synthetic, and mink.
Mink lashes: These are light lashes made from the fur tails of Siberian or Chinese minks. They are soft and appear more natural than other extensions. They are quite expensive so if you can't afford the original mink, you should consider faux mink lashes which are a replica of mink lashes, only that they are not made from animal hair.
Fox lashes: They are lashes made from fox fur that looks reddish, like the natural color of a fox. They can also be dyed into different colors. They are soft like mink lashes but may not be available everywhere.
Sable lashes: This is the lightest of all lashes, and are made from sable fur which is fluffier than mink. They blend only with fine natural lashes and are not a popular choice. They are also not common to find.
Silk lashes: These are made from artificial materials and have a thick base that thins out towards the tip. When properly fixed, they can be made to look dramatic or natural like mink lashes. Other than the fact that they look glossy naturally, they are a great cost-effective option.
Synthetic lashes: They are thick faux lashes that have a light sheen. They appear very artificial and are not the desired choice of many. This is because they feel very heavy on the eyelids.
Lengths of eyelash extensions 
Lash extensions come in lengths of 9mm to 15mm, while some products offer longer lengths like 18mm to 20mm. The length you should go for should reflect your personal style, but should also look natural so it blends well with your natural eyelashes.

You may choose to go for longer lashes than your natural ones, with a difference of not more than 3mm to 5mm. As with anything beauty-related, your lash technician should be able to provide you with the length that will works well for you.
Eyelash curls
There are different ways the extensions may curl. It may curl downwards at the roots or tips. Some common curl types are the B curl, suitable for straight natural lash curls; C curl, which curls at the root upwards; D curls with a flat tip; and the L curl where the curl lifts from the middle to the tips.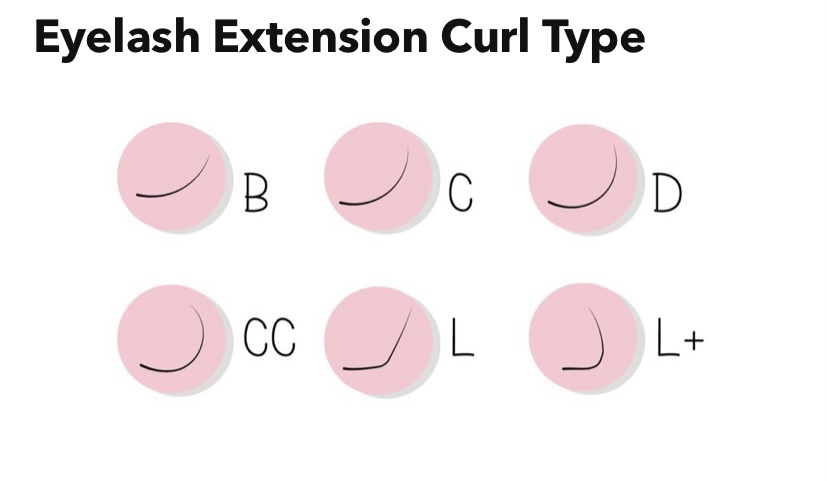 What types of eyelash extensions should I get?
Everything we buy comes in different variants, and so do lashes. To choose the perfect lash extension, you should consider the shape, size, and orientation of your eyes. After that, you should think about the type, length, and volume of the lashes you want. These factors are dependent on how your natural lashes look, as it gives the technician more room to style. It is also best that you know the look you want before booking a session. 
The basic eyelash extension you can get is "the classic" where one layer of light lash extensions is glued to your natural eyelash. On the other hand, you can go for "the volume lash" where fuller extensions are attached in two or more layers as suited. Volume comes in three varieties:
Mega volume: These are light lash strands with wide fans that create an elaborate effect.
Russian volume: These are big fan lashes of three to five dimensions per fan lashes that fill up the eyes pretty quickly.
Hybrid lashes: These are an equal mixture of the volume and classic lashes. When glued properly, the extensions appear natural.
The classic looks more natural while the volume is more dramatic. Now that you've figured out the lash extensions you want, book a session and get it done.
Eyelash extensions are pretty safe, just like getting your nails done. Asides from the potential loss of your eyelashes, you should be good. If you don't mind the cost and the aftercare routine, then your goal to get thicker and fuller looking eyelashes to upgrade your look is as good as done.