As we know it now, fashion cannot be this glamorous without the influence of Daphne Guinness. Her love for fashion, couture, and flashy lifestyle made her fashion choices note-worthy. She has practically lived as a socialite all her life, and her style became so effortless. And we can't help but copy from her; taking cues from a muse should be the way for fashion inspirations.
The world of Daphne Guinness is filled with platform shoes, sequins, fascinators, feathers, and coordinated black & white outfits. Asides from all the luxury brands she has worked with over the years, Daphne has genuinely become a fashion icon from her hair to heels and all her lovely couture. She incorporates designs from the runway and interprets them to her style.
Daphne's outfit is a mix of modern and traditional, which flatters her figure, a dream for most women.
While she's not been actively trending in the world of fashion lately, her TikTok page is getting the buzz. She shares a more intimate side of her while participating in challenges and sharing her style. Get ready for some avant-garde style from Daphne Guinness to update your look from one of the most stylish women alive.
Personal Life of Daphne Guinness
The socialite was born on 9 November 1967 to Jonathan Guinness (of the Guinness brewery stout beer) and Suzanne Lisney, a French artist and beauty icon. Her mom passed away in 2007 from lung cancer, and her dad in 2011. Daphne used to go to Spain for the summer holidays, although she grew up in England and Ireland. She is related to Diana and Nancy Mitford (the Mitford sisters) being her grandmother and great-aunt.
She lived with her sister Catherine Guinness in New York back in the 80s. Catherine used to work as a personal assistant to film producer Andy Warhol at the time. In the heat of passionate love, Daphne married Spyros Niarchos at 19 in 1987. The marriage to the son of the shipping mogul didn't span forever but produced three children (Nicolas, Alexis, and Ines). In her interview with The New Yorker, Daphne says she felt caged hence the divorce, "Gosh, being married, that was my 'caged bird' period." She was rumored to have received $20 million in settlements from her divorce in1999.
Related article: All you need to know about being a dominatrix.
Guinness is involved in different charity projects and has actively supported a few. Back in 2008, she sold clothes and accessories from her collection for the charity that improves the living standard for women in third-world countries called WomanKind Worldwide. Daphne is also the organizer of The Isabella Blow Foundation, and she has also walked the runway shows for the Fashion for Relief Charity hosted by model Naomi Campell. Daphne's underwater photo with Dave LaChapelle is worthy of being called an artwork. She is also an avid art collector, but her edgy and futuristic fashion choices made her the woman we know today.
 

View this post on Instagram

 
Daphne in fashion
Daphne as a fashionista did not emerge until after her divorce, from which she did everything from modeling to designing. She became acquainted with Isabella Blow and Alexander MacQueen until their respective deaths. Her earliest sighting in fashion started with late Isabella Blow, who supported their fashion shoots. In 2007, Daphne launched her self-named clothing line, working with Dover Street Market. 
She found her Daphne Perfume two years later in collaboration with Comme des Garcons. That same year, in 2009, she hosted an event to celebrate the photography book Nars 15X15 and Nars' makeup. She also became the face of "Arkis" the luxury handbag, in 2009 and created a makeup line for MAC. She also appeared as part of the judging committee of the Dorchester Fashion Prize. she has been able to collect thousands of couture pieces; about 100 pieces got displayed in the Fashion Institute for Technology gallery. 
Daphne has dabbled into many things; after toying with becoming an opera singer, she made it come to life by releasing her music videos. She also produced three short films and has starred in several movies. Daphne Guinness's net worth is estimated to be $100 million in 2022. She likely amassed most of it from her contribution to fashion, writing fashion articles, fragrance and clothing line, and the videos she has directed.
Fashion inspirations From Daphne Guinness
Her exposure, coupled with her taste in fashion worldwide, makes her featured in the International Best Dressed list. Most people have envied Daphne Guinness's contemporary style over the years. One of her faithful is Lady Gaga, amongst other celebrities who have constantly sought fashion inspiration. While she has made some unique designs available in her clothing outlet, there is still much to learn from the icon. 
1. Black Blazer Jacket
One staple piece from Daphne's style arsenal is the black blazer from her late friend Alexander MacQueen. The blazer is structured yet practical to wear for most events, even if it appears to be formal apparel. You can pair this blazer with a chic dress for an evening dinner. You can layer your blazer with a button-down shirt and dress shoes if you want to look put together. Daphne has also been spotted adding leather pants, to a blazer jacket outfit, for some edginess.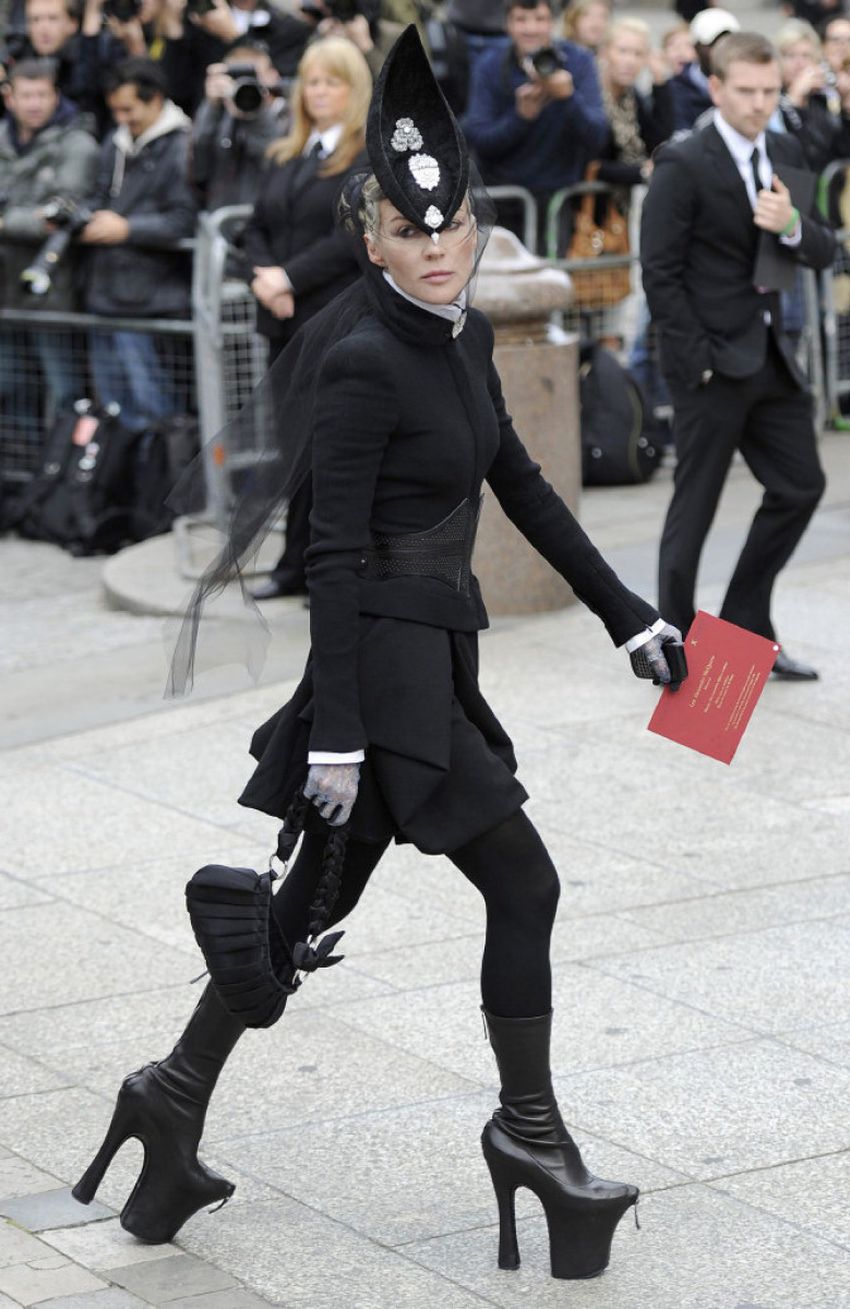 2. Mish-mash look
Even Daphne Guinness does a bit of mishmash of her own, fashionably. While attending a post-dinner show, she combined different designers and pieces. Daphne wore an Alexander Macqueen corset over a dress she designed and added an ostrich feather cape to the mix. So, if you have apparel in your wardrobe that will work for a combination outfit, do not overthink it. Before you do, experiment to see if they blend seamlessly with each other.
3. Chic Uniform
It is easy to achieve a chic uniform appropriate for different occasions if you know what works for you. Daphne makes ruffle details and chunky Dior glasses work for her style. Then again, you cannot take away the tights and large cross-body bag. She got spotted wearing a long-line sleeved top over tights, with her ruffles and headphones for an accessory. Daphne did not keep it simple, as she finished off with heelless embellished shoes.
4. Glittery Jumpsuit
Sequins are one of the ways Daphne Guinness stands out, and she never fails to get glammed up when the opportunity presents itself. You can take inspo from this semi-sheer sequined piece and stun it for your next big event. Daphne chose a glittery purple platform heel for footwear to coordinate the contrasting colors. 
5. Abstract dress
On selected occasions, her love for art gets expressed through her fashion choices. This abstract style is a subtle way to stand out and accessorize properly. Daphne likes to add a veil to the outfit when she wears specific dresses to elevate it.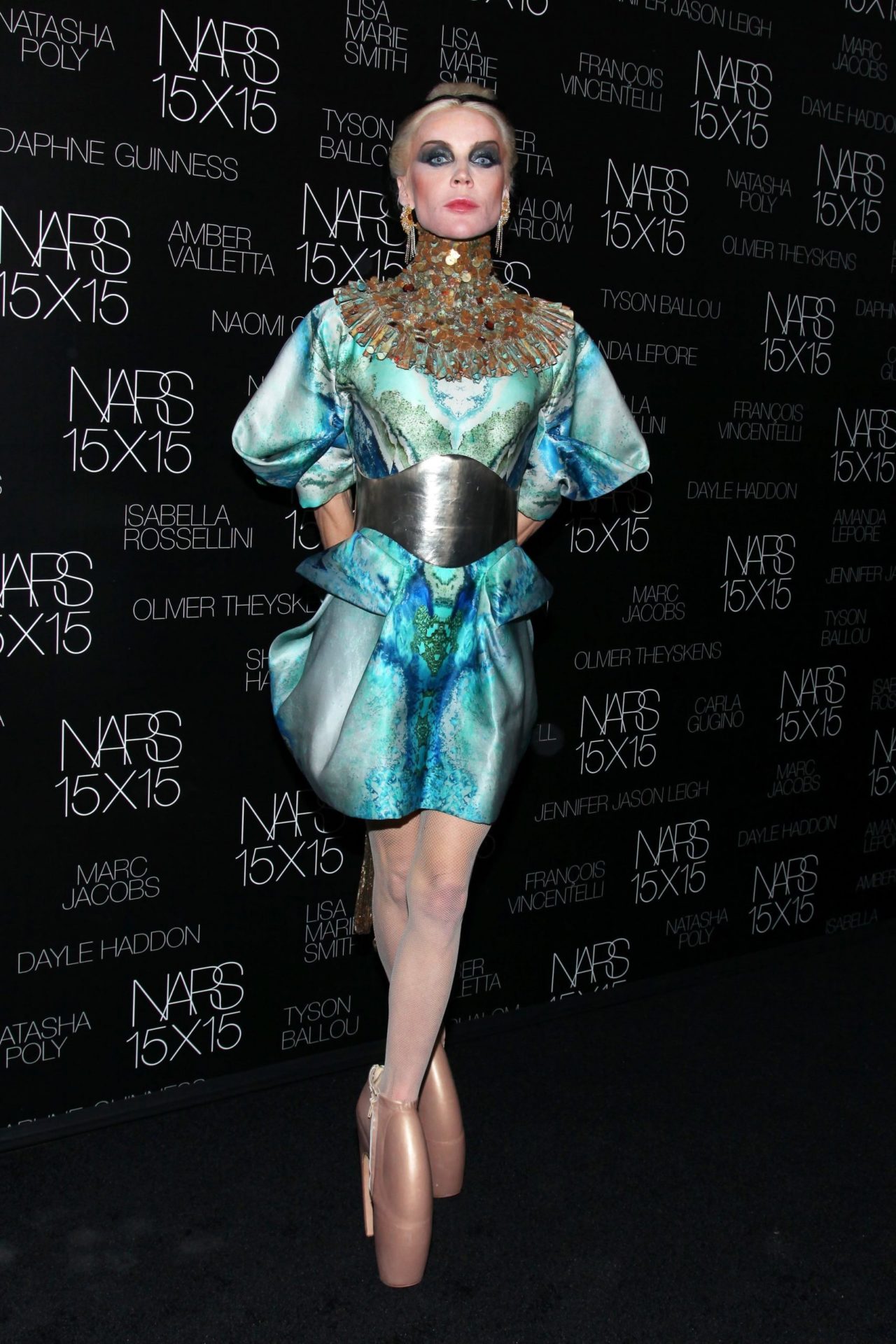 6. Kimono Look
Trust Daphne to turn the kimono outfit into luxury apparel. For her music video "Evening in Space," she wore a two-tone Givenchy couture kimono designed by MacQueen. The start of the outfit was the painted dragon covering the back. She accessorized with a daring headpiece and the large Noritaka Tatehana shoes. You can achieve a bold look with a graphic print kimono and complementing shoes.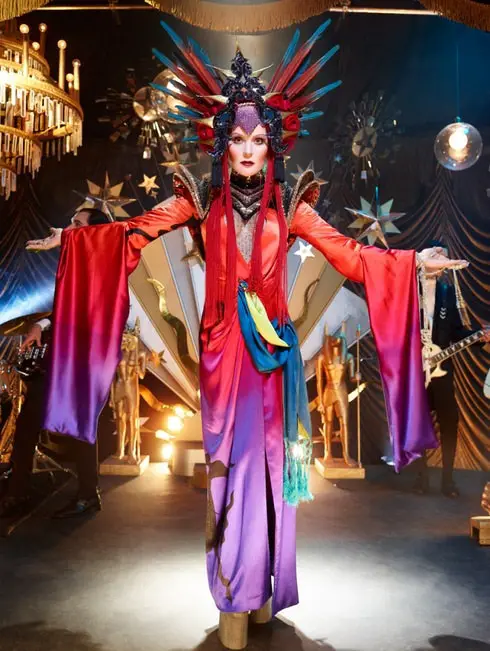 7. Shirtdress
For a comfy and effortless look, Daphne wears a shit dress, layered with thighs with her signature shoes or complemented with a knee-high boot. The dress is not regular, with ruffles and sometimes peplum details as an elevated touch. Daphne has always gotten spotted with her cuffs undone to add to the edginess of her look. You can style your shirtdresses with an updated twist by adding style details and accessories.
8. Mini dress and trench coat outfit
Daphne declared a shimmery mini dress layered in tights with a long trench coat over it one of her best outfits to wear out, which she chose after her blazer, shirt, and pants outfit. The look will work for both formal and casual outings. Your accessories will elevate the ensemble, adding a statement necklace and matching earrings for formal events. Heels should be the choice of footwear in such cases. 
9. Street style
The socialite doesn't miss a beat to look good, and even her street style reflects how fashionable persona. She wears everything from a body con dress to maxi-dress and pants and blazer look. However, she tries to have a glittering piece and always stands out. Even if you disregard her signature gravity-defying platform shoes, Daphne will find a way to turn heads.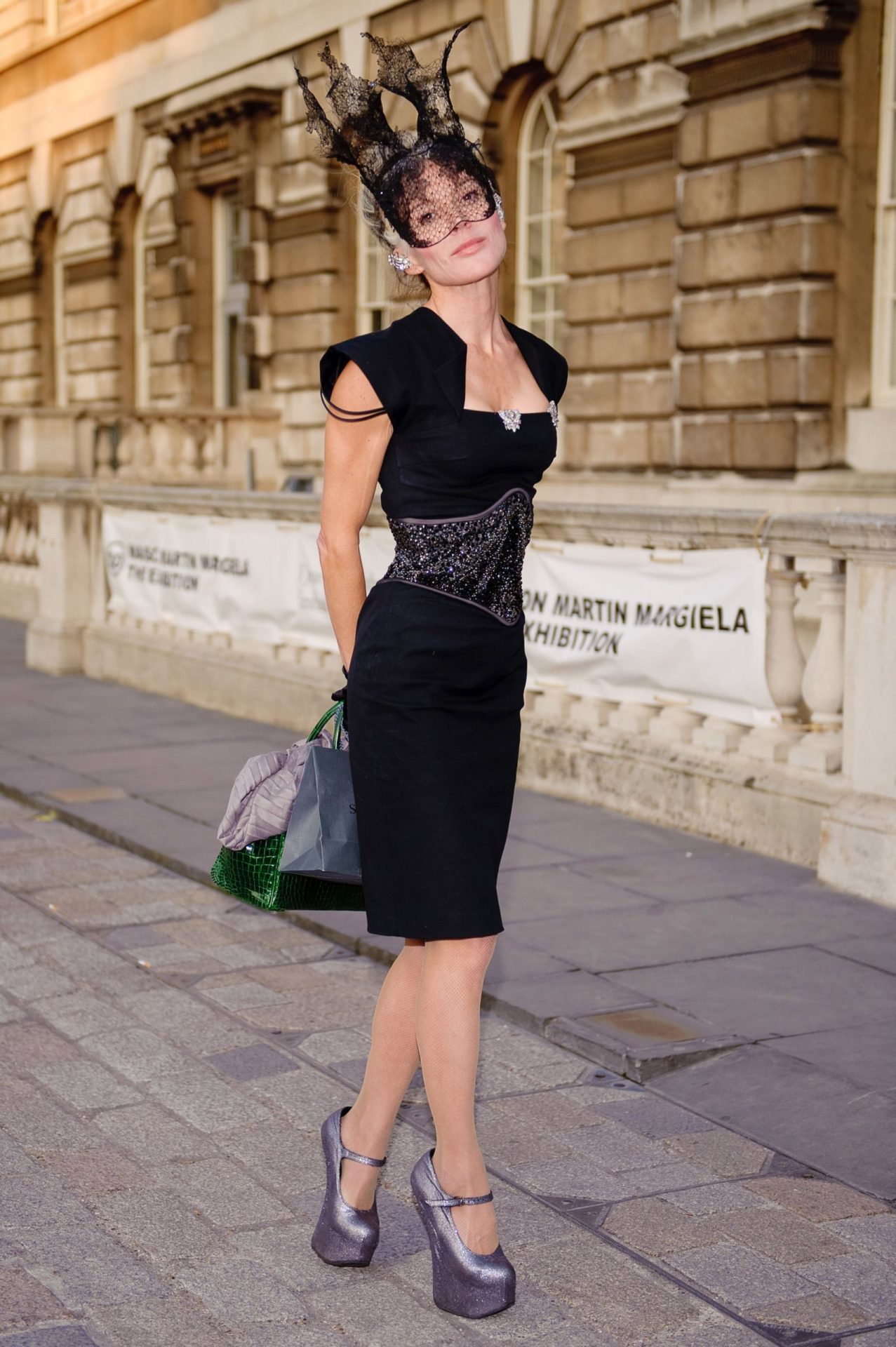 10. Couture Dresses
If you love Daphne's style, then couture pieces are a must-have. So, be sure to update your wardrobe with some dresses. Most important, you do have to stick to her black and white pallet, not unless you are into it as well.
Conclusion
Heiress, the socialite, art collector, muse, model, actress, producer, and fashion icon, are a few words used to describe the enigma called Daphne Guinness. She has left enough fashion inspirations for us to follow throughout the years—her love for couture and luxury designers and expressing it in her style.
As you dress up with fashion choices inspired by Daphne, do not forget to accessorize with her favorite items, such as the Phillip Treacy hat. or jewelry. Unless you can afford brands like Stephen Webster, you can always go for a replica of the things she wears. Smelling like Daphne herself is also a possible infusion, but you can always wear gravity-defying shoes if you like to make statements.
You may also like to read, Top 20 Bootcut Leggings You Will Love to Get Your Hands On.