A sweatshirt dress is one of the comfiest addition to any woman's wardrobe, as you can cuddle in the dress. They are the taller siblings of a regular sweatshirt with a laid-back vibe. But you can still be dressed up for events, and the key is finding a dress that flatters your figure and styling with the right accessories.
Suppose you are all about comfort in your daily styling choice, whether staying home or dashing out. Then you will agree that a cozy sweatshirt dress is a needed piece for the days when you don't feel like wearing pants but need to stay snug-wrapped up.
Once you master the style, you will realize that the sweatshirt dress is more than lounging wear. Since there is a wide range of designs to fit your style and budget, you will be love to add some new comfy yet chic pieces to your wardrobe.
16 sweatshirt dress ideas to rock in 2022
1. Black Sweatshirt Dress
If you are new to this dress, tend, you might want to stick to a safer option, and a black number should be your go-to. Thankfully there are many designs in black, and some feature drawstrings for a flattering waistline, others a free-fitting, and even hoods. With a black sweatshirt dress, you get many ways to style as you add colorful pairings to elevate them, such as shoes, a beanie hat, and purses.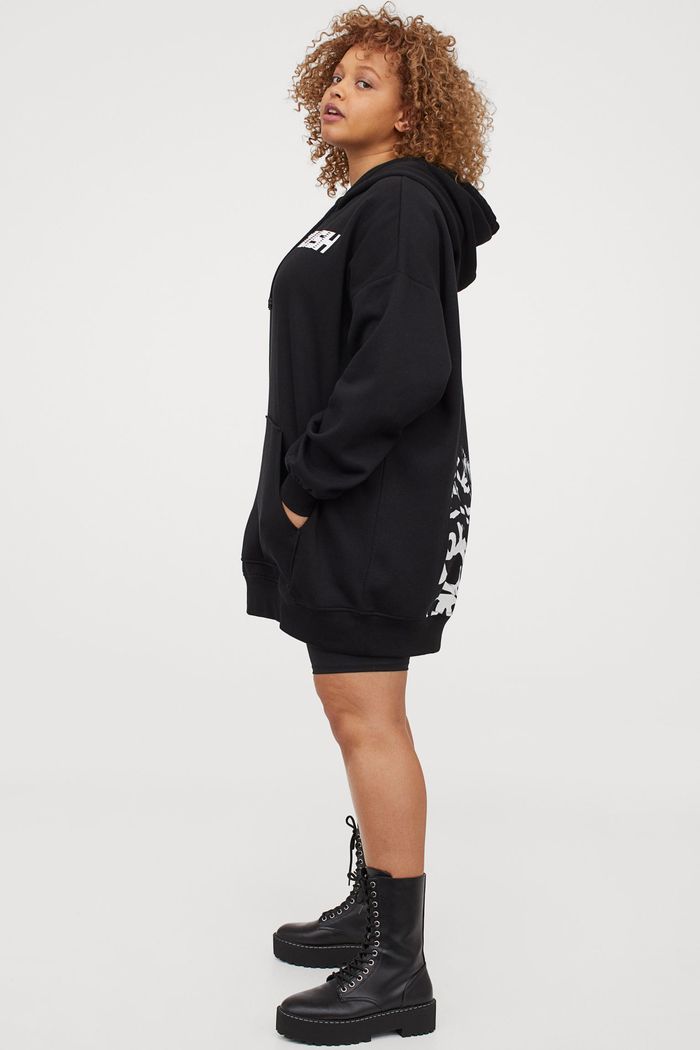 Related article: The 15 best stirrup leggings that are on-trend for 2022.
2. Sweatshirt with Hood
Hood features are standard with sweatshirt dresses because they are functional in colder temps. While they add to the design structure of the dress, they can serve as a source of extra warmth when you need them; pop it on and off as suited. You don't need to style them since the hood makes them appear bulky; pair them with simple accessories and you are good to go.
3. Sweatshirt Dress with Slits
Most sweatshirt dresses that come with slits are long, like the maxis. So, it is better to chop for one in neutral hues like beige, grey, and nude to get more color pairing options. A chic addition like this is one you will love to wear on repeat. Layer with bright-colored biker shorts and sneakers if you are going for a relaxed vibe. You can as well elevate it with heels for evening dinners.
4. Designer Brand Sweatshirt Dress
The luxury brands are not left out of the trend, so if you love to splurge on your clothing, you should shop the lux iterations. So, if you have a brand you fancy, check out the designer dresses and add them to your collection. On the days you choose to wear them, pair them with designer accessories for a put-together look.
5. Sweatshirt Dress with Pockets
Pockets are a practical and stylish feature of the dress style, as your hands can stay buried in them for warmth. You can also keep your valuables hidden in them, such as keys, wallet, or phone when you don't feel like carrying a bag. In the winter, they become more functional with a long-sleeve sweatshirt dress with pockets; add leggings for layering, with a jacket to stay cozy if you like to appear simple. You can achieve a minimalist look paired with knee-high boots and a trendy purse with this dress.
6. Long Sweatshirt Dress
Get cozier with maxi versions of a sweatshirt dress; they offer more warmth and are surprisingly chic. And are on the category of essentials to add to your wardrobe, saving you time curating a cozy outfit. Choose from a wide array of designs in a long length that you will love. A solid gray color is great, but how about the prints or the neutrals. There are just so many to update your wardrobe with; you can also use the design feature to choose from, such as slits, hoods, and sleeves. The choice of footwear should be from slides to mules, sandals, boots, and whatever strikes the mood.
7. Tiered sweatshirt dress
If you love to look polished with every outfit or clothing item, you easily join this trend with a tiered design. It may feature a gathered hemline or peplum details; the amount of tiers is left for you to decide. But with each level comes more length and different ways to style. For wear to an office look, one tired is OK with heels or tall boots pairing. You can also transition with such a piece for an evening of drinks with friends. Going for double or triple tiers is not a bad idea when you require warmth.
8. Printed Sweatshirt Dress
Prints are welcomed, too, for a balanced sweatshirt collection, as sticking with the bold colors won't do. With the fantastic printed dresses available, you will have no shortage in selecting prints that appeal to you. Everyone has something for florals to abstract geometric motifs and animal prints. Pull out dresses like this from the closet when planning to make a statement.
9. Midi Sweatshirt Dress
This length is perfect for those who like to keep it long but do not want the dress grazing their ankles. Since it falls, they are suitable for both work and laid-back parties on the mid-calf. Pair your dress with heels or ankle boots for a business casual look, and throw on a sleek shoulder bag. For a chilly night of drinks, you can throw on a denim jacket to compliment the relaxed vibe of the dress.
10. Long sleeve sweatshirt dress
A long-sleeved design is one of the comfiest pieces you can get in the range. Choose a dress that has a relaxed fit, that still looks feminine, and gives room to move around freely. The sleeves can also be stylish, from bell to puffs and padding; you don't have to go for a regular one. Anyone can also use them to create a lady-like look, an open-toe heel, and a clutch.
11. Oversized Sweatshirt Dress
Baggy and oversized transcends every clothing design right now, so going an extra room in sweats is a smart option. They are, however, not to be confused with a plus-size sweatshirt dress for a casual stroll, which you can wear with clogs or sling backslides. You can always throw on some sneakers or boots when an outing is in view. A travel-ready outfit idea will be with a cardigan layering.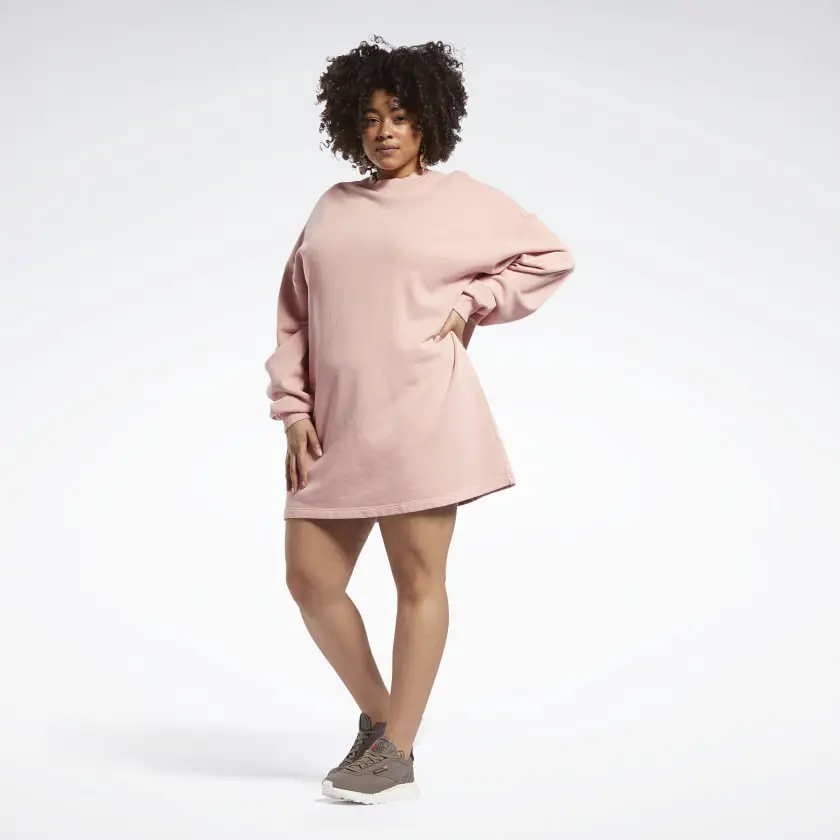 12. Colored Sweatshirt Dress
This dress style looks great in colorful iterations; embrace the neons like lemon and pink if you like to stay vibrant. Such colors affect your energy, as you might feel as bright as the dress you are wearing. For pairing, tone it down with white or black sneakers. If the neons are too bright for you, there are other fresh-colored shades with a minimal vibrancy that will still look chic.
13. Short-sleeved Sweatshirt Dress
Sometimes, you need your hands bare, even if you require plush clothing. A short-sleeved iteration will meet this need, and you can wear them in warmer temps. Layering them with a white button-down shirt is a stylish combo you can wear whenever you feel like it. Pair with chunky shoes and sunglasses for the chic outfit you can wear for a casual outing.
14. Off-the-shoulder Sweatshirt Dress
An off-the-shoulder neck featured on this easy wear is an unexpected take that instantly updates this dress to a date night worth wear. Depending on the location, you can go entirely off or one shoulder and complement it with heels or sneakers. For the ease of styling and cozy feeling, this is the one you will be reaching for when an unplanned eat-out comes up.
15. Mini Sweatshirt dress
Take a down a notch with a mini sweatshirt dress, and you get a comfortable way to show off some legs. They can easily be your go-to choice when you need to quickly head out to the store or meet up with friends. Your thigh-boot also just found a friend to complement them perfectly, as you will love the pairing. You can layer the dress with a long coat to get more warmth when it is colder.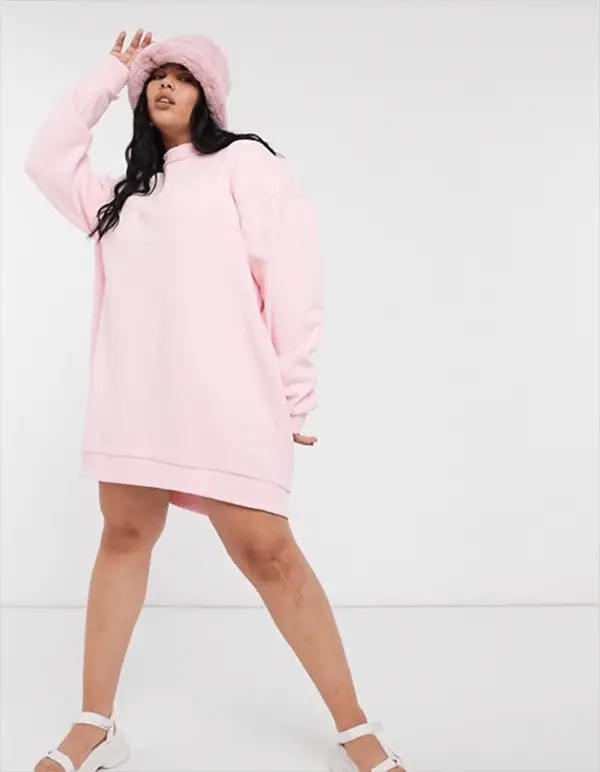 16. Embellished Sweatshirt Dress
It would be best to opt for an embellished piece when you do not want to rely on accessories alone to elevate your sweatshirt dress. The dress can feature rhinestones, sequins, beads, and other details that update the look. Going for an embellished piece rules the dress out of casual outings, so wear them for appropriate occasions. To style them, wear an equally fancy shoe and sleek bag to match the beauty of the dress.
Conclusion
Sweatshirt dresses are always in style, year in year out because they give the best of both worlds. Cozy enough to lounge on the couch all day and chic enough to wear for outings. They are also very functional, especially in the colder seasons transitioning from spring to winter. The dress doesn't fit into hardly ever any styling choice.
You only have to find the balance with accessories and pairing companions when styling to fit the event. You can experiment with the pieces you choose, with different elements, like scarfs, belts, coats and jackets, and other add-ons till you get the look you want. It is fun since most sweatshirt dresses are like a magnet for pairing elements.
You may also like to read, Rihanna's Fenty Beauty launches Icon lipstick | See where to buy all 10!