Get your bobby pins, clips, hair ties, and bands ready for ten gorgeous curly hairstyles you will love to put on rotation in the coming days.
Curly hair tends to have a mind of their own and do not usually cooperate with the average hairstyle. Your regular ponytail and knots are examples of hairstyles that pose a challenge. As such, you rather avoid getting in the battle by trying to get to your hair to fall in line. It is much better to follow the natural curl pattern and stick to messy updos when styling. But even that gets boring, and you are stuck thinking curly hairstyles to keep up with your wavy mane.
Leveraging the texture and volume of your hair, you will be surprised by what you can achieve. A loose tendril here, or classy French braid there, whatever look you are going for, this is the right place to update your curly hairstyles arsenal.
1. Messy Topknot curly hairstyles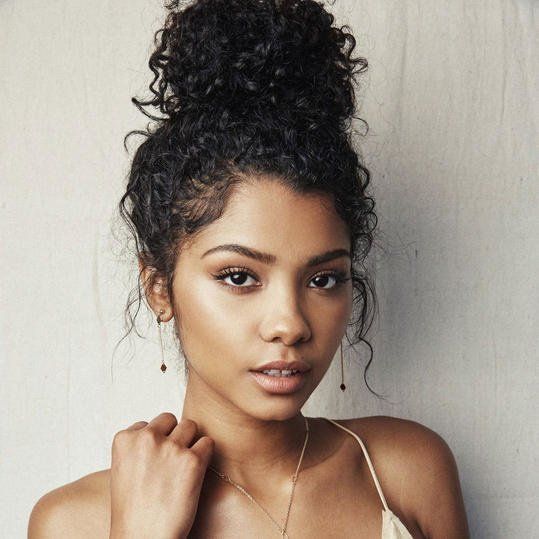 Messy is the only way to go if you plan on keeping your curly hair up. It is pretty easy to achieve after gathering your hair up to the desired height, securing it with a band, and giving the hairstyle some character. Make the hair into a bun, keep the wrap secure but loose enough to get the messy effect. To finish off, allow some curls to run free to frame your face for a touch of femineity. In a few minutes, this hairstyle you can whip is suitable for inclusion into your daily routine.
Related article: Rihanna's Fenty Beauty launches Icon lipstick | See where to buy all 10!
2. Mini-Crown braids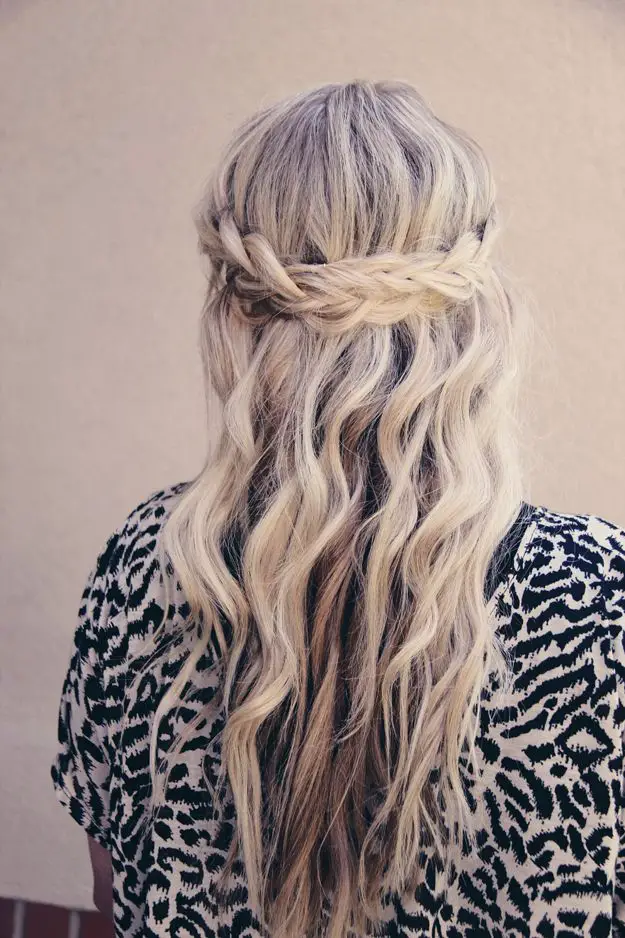 If you like to leave your hair loose but still want it to look put-together, crown braids are the curly hairstyle for you. Your hair is the star of the show for this hairstyle, as you will use the hair to keep your waves in place. Section out little hair on each side of your hair, preferably the middle part, and braid secured with an elastic band.
 Take the braids and cross them around your head. Secure each end in the opposite direction with the help of a bobby pin. It creates a little crown on the top of your head, be sure to hide the nails under the braids. To style, add some hairspray to where you tucked in the pins. You can also change the braid crossing pattern when you plan on rotating the hairstyle regularly.
3. Finger waves curly hairstyles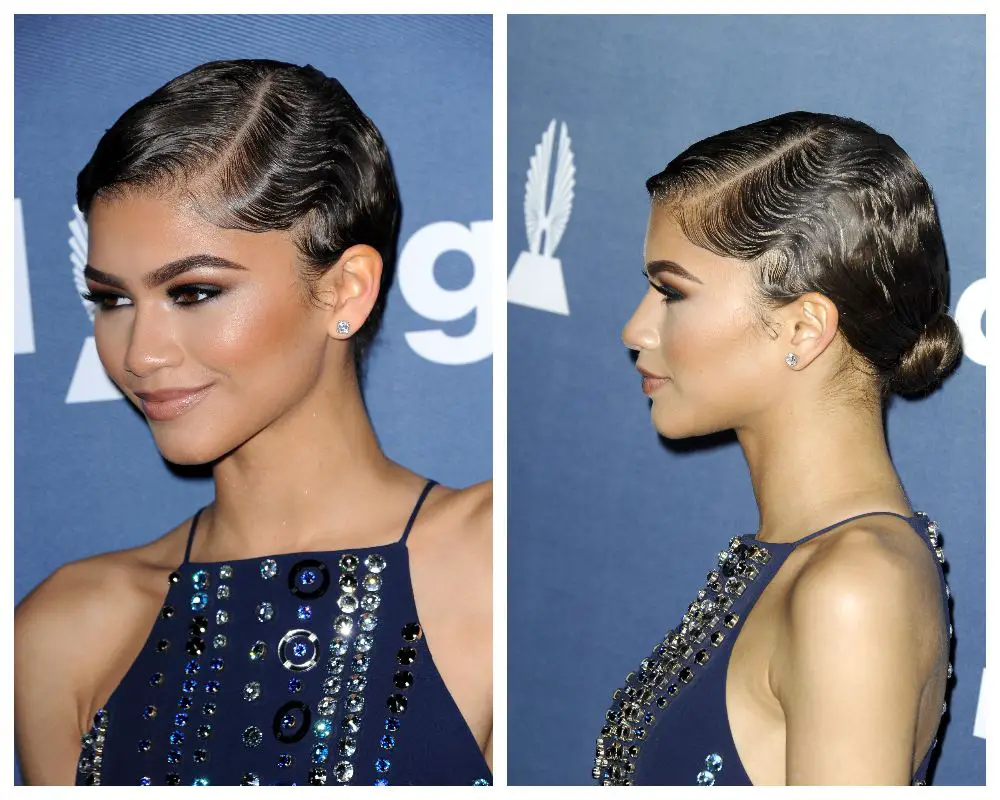 Finger waves are a classic mix of vintage and modern and can be much to handle regularly. But you still need to know when the occasion is required itself. To achieve the deep S-wavy hair, apply gel when it is still damp and comb. When the waves start to form, clip their place, plait in loose braids for the areas that do not create a wave. Allow hair to dry or fast track with a blow dryer if you have time.
When it is dry, remove the clips and arrange them to the side that flatters your face. Takedown the braids as well, as it would have formed another wave pattern that will give volume to your hair. This hairstyle looks great on both long and short curly hair, but do not rush the wave process, so you get the best results.
4. Corset French Braid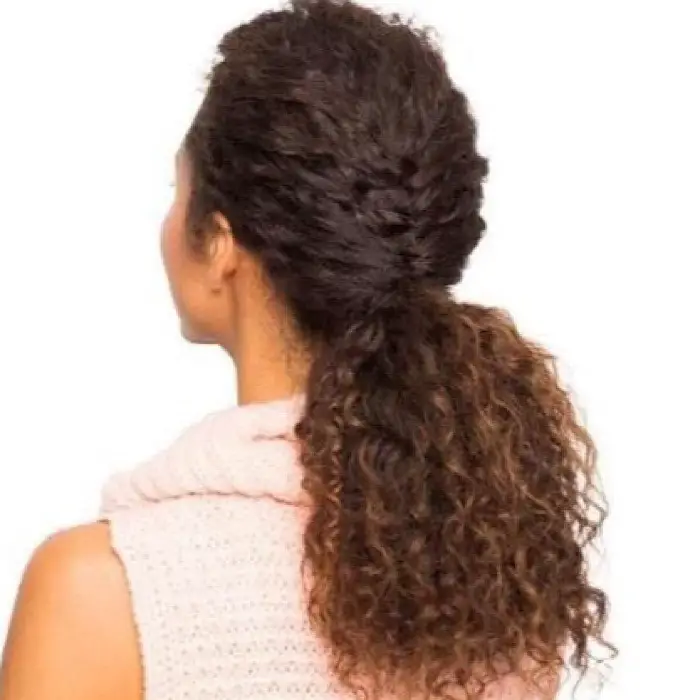 Allow your flourish in a classy, braided look that gives a cinched effect if you can pull it off. One look at it, the hairstyle is a French braid wrapped and secured under a mohawk style low ponytail.
Part your hair into three sections and garter the middle into a low ponytail. Then take the rest two areas and do a French braid till you get past the band used to secure the ponytail. Pass the loose ends of your braid under the ponytail and tie everything together into one.
5. Metallic cuffed ponytail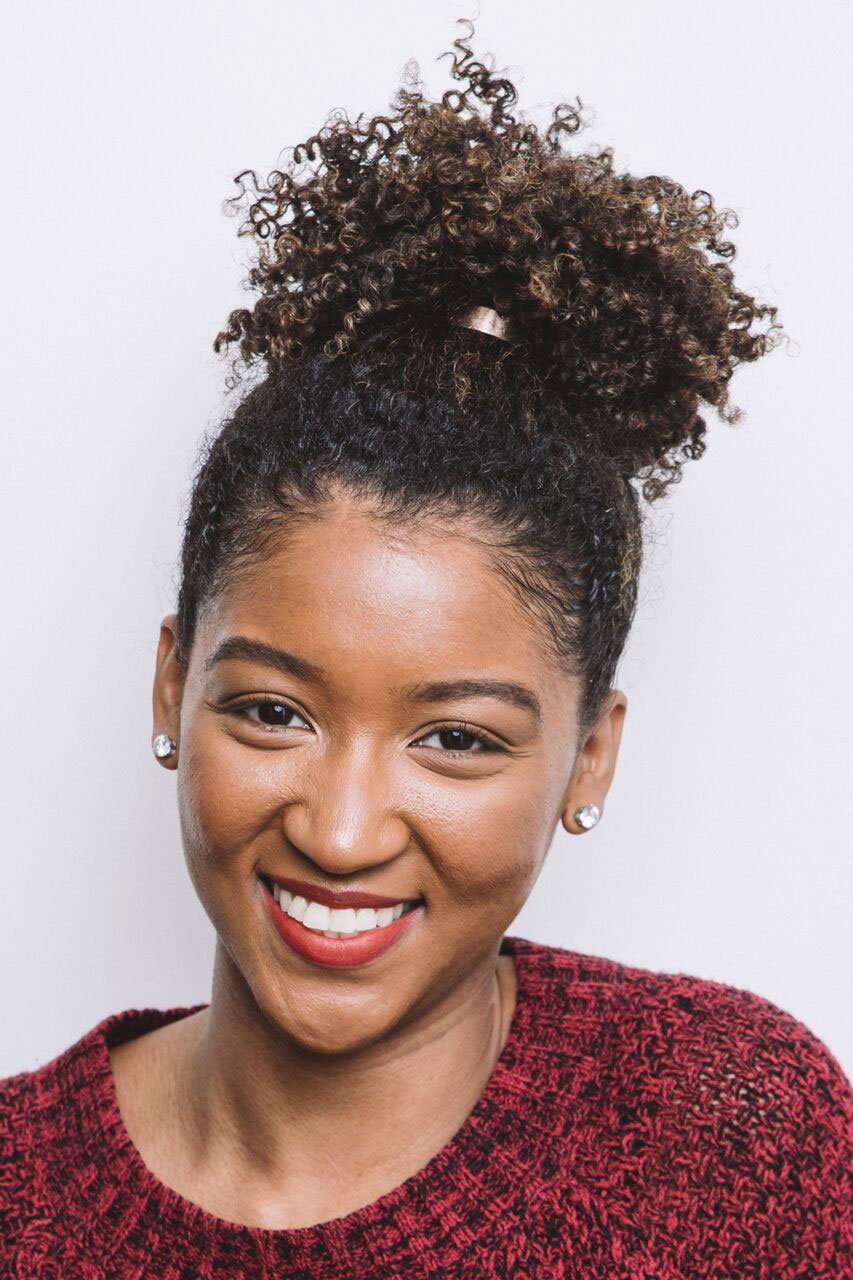 Your curly hairstyle should only take a few minutes to do, unless for some intricate styles that take time. So, a high ponytail is in the books since it is a quick yet beautiful look suitable for any occasion. To get the perfect pony position that will compliment your face, trace from your jawline to the top of your ear. When you gather your hair, make sure it stays on the spot you traced, apply hair cream to give it a sleek look before securing it with a band.
You are all set, but take your styling brush to apply cream or edge control and brush along from your edges into your hair base for better results. Accessories make all the difference for style details, and using a gold hair cuff on your ponytail will define the bottom.
6. Folded curly updo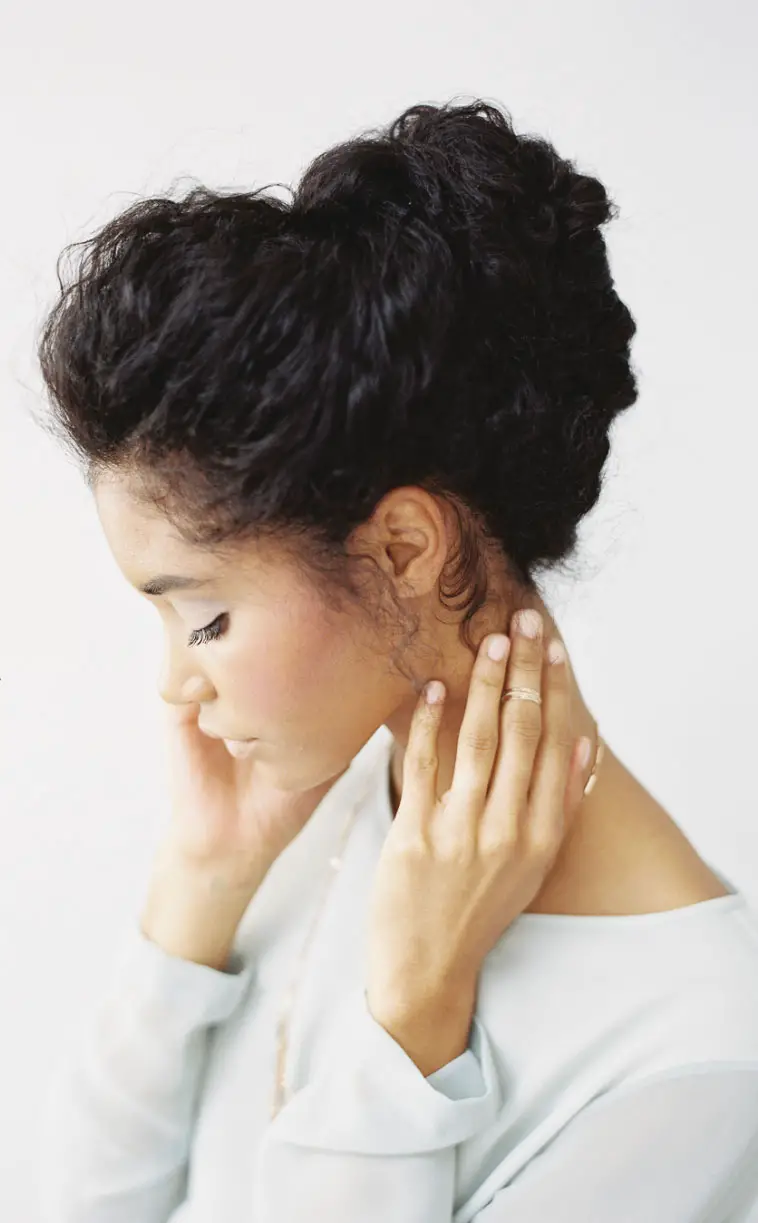 Curly updos are always in style, but it is best saved when you have an outing planned since it takes time to achieve. After conditioning:
Apply a generous amount of oil to your hair before beginning.

First off, keep your hair parted into four sections and separated with clips.

Take the section at the neck base, stretch it out, fold it over, and the end into the hair using a pin to secure it. 
Repeat the same process for the next section, but do so in the opposite direction, to give the hair a detailed dimension.
Please take the next upper chamber, divide it into two, and style by laying them over, folding along the head, and tucking and pinning the ends. The last section will layer the folded back area, spread it across and pin the ends. Finish with hairspray for some shine, as the hairstyle accentuates your facial features.
7. Pineapple hairstyle with a scarf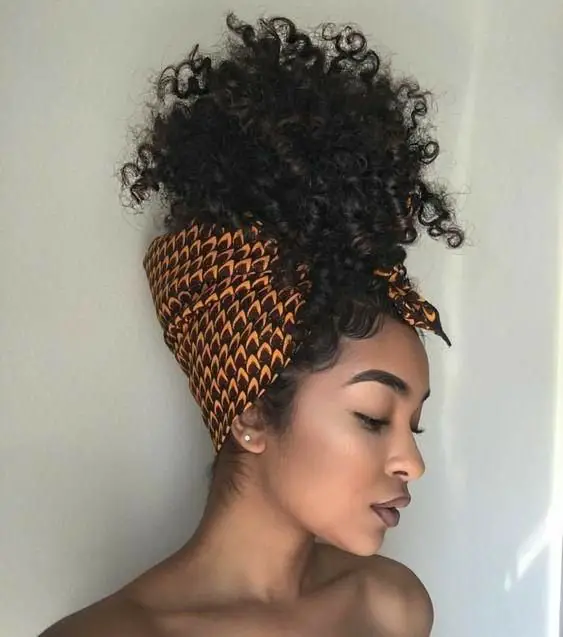 Keeping your hair in a topknot is a simple gorgeous hairstyle, but it comes alive with scarf inserts. Comb your hair from the back to the front, and secure with a soft scrunchie at the top. It helps preserve curls and keeps them frizz-free, which is one of the best styles to keep your curly hair during the day and night. 
So, you only apply products in the morning, run your hands through for some volume and accessorize with a scarf. Match your choice of scarves with your outfits for an instant chic look. 
Related article: Pineappling: what is it and how does it protect your hair.
8. Faux curly bangs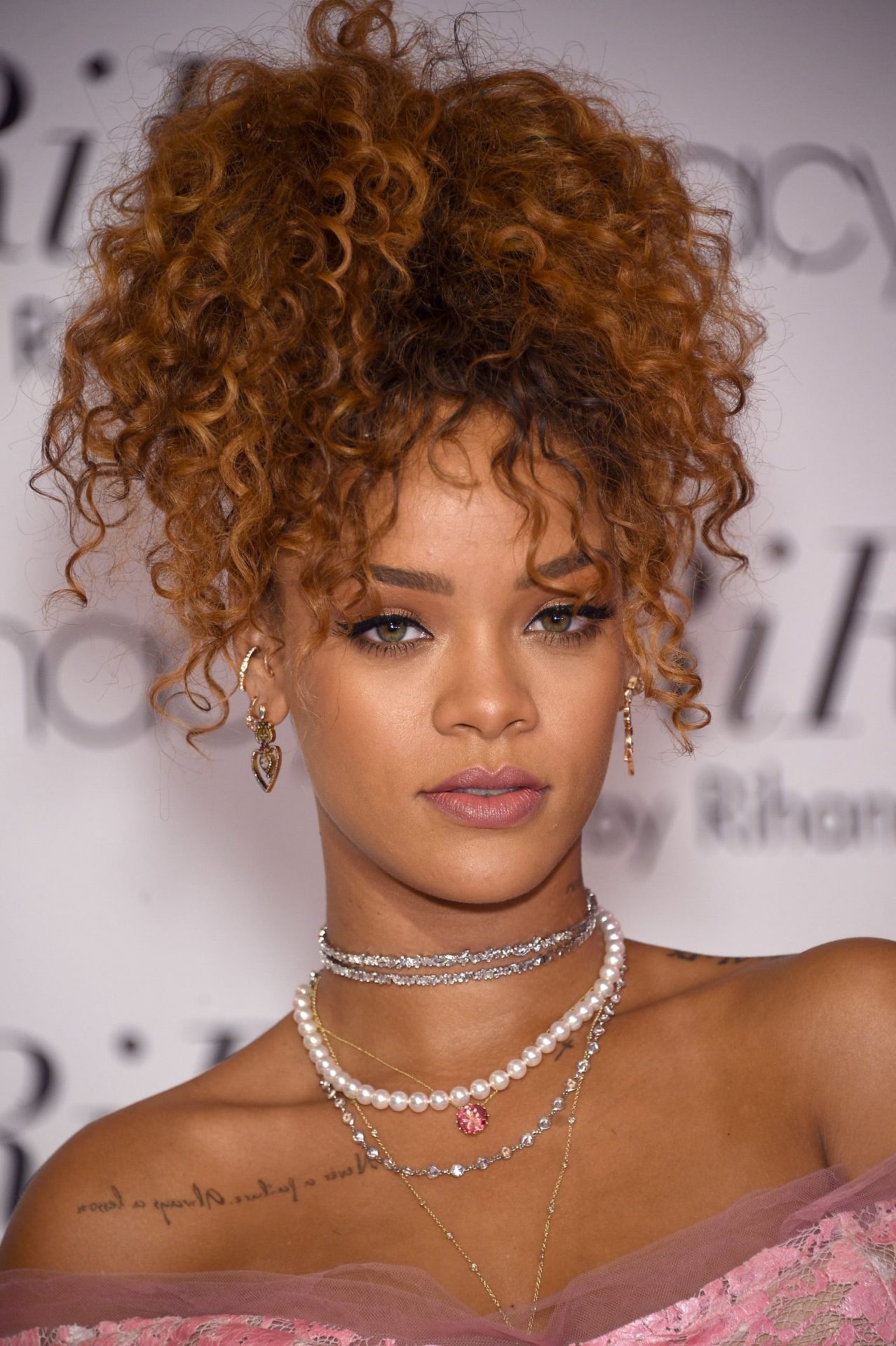 Curly bangs have had their moment, and it is always on the radar if you want to try something new. When you are ready to commit just yet, you can always manipulate your hair into a faux bang. Gather your hair into a high ponytail, and secure it with an elastic band. Take the ends of your ponytail and drape it forward on your forehead.
Use a scarf to enhance the hair draped across your forehead for the fringe effect. When you tie and make a knot, it divides the hair into two equal parts. Just finger comb your curls, arrange them, and apply any desired product to define your curls.
9. Half-up/Half-down waves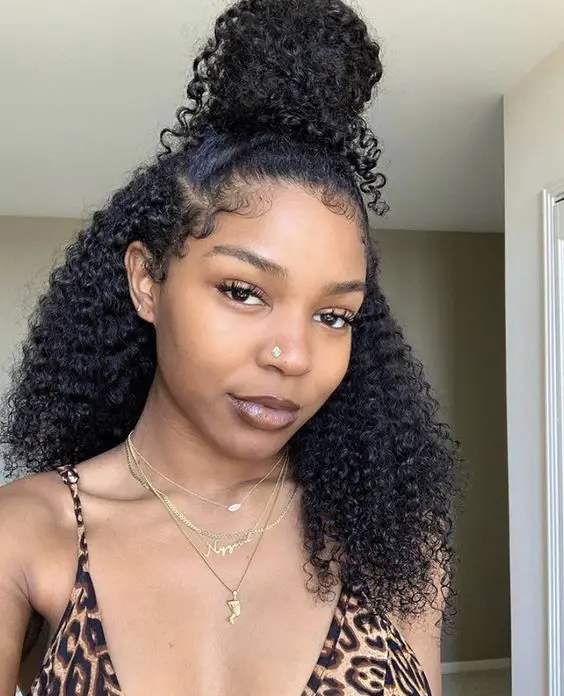 It is always safe to go with the half-up/half-down look for a trendy look. Give your curly mane a good brush, section it into two, and gather the hair secure below the crown of the head. Smoothen out the bumps on each side as you do. Take the ends of the ponytail and twist around till it coils and forms a bun. Secure at the base with a head tie, and you can choose to make it lose, messy, or tight. Apply hair products and brush out the hair you left down, and allow your curls to flow in their natural volume. 
10. Side parted slicked curls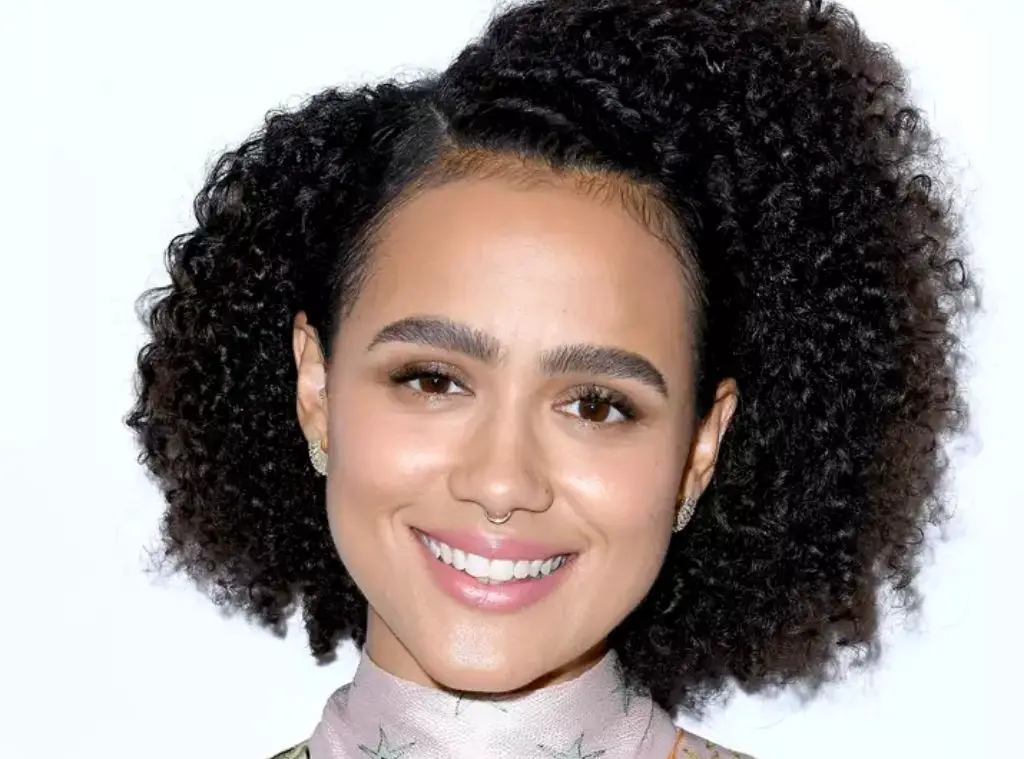 With a few styling techniques, the regular side-parted curls can become a sleek look. Start with applying your usual products, comb, and part the hair to one side. When you get a suitable position, use a healthy gel with a stronghold and spread it along the part line to slick it down.
Brush the hair to evenly distribute the gel and add pins to keep it in place for extended hours. You can choose to define your edges for a complete slicked side look. This is the most effortless curly hairstyle that looks great on every length. 
How keep curly hairstyles alive
You don't want your curls looking flat and unkempt after going through all the styling processes. Maintaining healthy hair should be a priority, but asides from the wash days, you will need to keep your curls looking fresh. Here are a few pro tips to keep your curls intact.
Apply hair care products when it is damp: curly hair is softer when wet and will take in more products at this state. So, when it dries, it will have more bounce with defined curls.

Use silk-wrapped items:

Silks are the best companions to locking in moisture in your curl to prevent breakage. Be sure to invest in some silk bonnets and silk pillowcases, and if you like to style with scarves, make them silk as well.

Reactivate your curls with a mister:

 Keep a mist spray bottle handy to reactivate your curls. Apply generously, as it helps improve other products you've applied.
In summary, allowing your natural curl pattern to control your curly hairstyles is the best option. You can always enhance your curls with products and keep their place with gels and hairspray. While you do so, make sure they are healthy to prevent build-ups and hair damage.
You may also like to read, 20 Black-owned beauty brands you should try during Black History Month and after.