The world of fashion is a big one that constantly evolves, and if you are a celebrity, you are expected to keep up with the latest trends. However, there are some people who, regardless of what they have on, will always have people staring and wondering who styled them – such people include Lena Waithe.
Lena Waithe is an American screenwriter, actor, and producer popularly known for her work in Hollywood. She was born on May 17, 1984, in Chicago, Illinois, to parents who later divorced when she was three. She grew up with her mother, grandparent,, and sister in the South Side of Chicago until she turned 12.
Waithe is known as the creator of the showtime drama series The Chi (that began in 2018 till date), the BET comedy series Boomerang (2019-2020), and Twenties (2020 till date). She is also the writer and producer of the 2020 crime film Queen and Slim and executively produced the Them horror anthology (that began in 2021).
Although Lena Waithe accomplished the above, she gained recognition for her role in the Netflix series Master of None (which has been airing since 2015). She also became the first black woman to win the Prime Emmy Awards for Outstanding Writing for a Comedy Series in 2017 for writing the previously mentioned show's "Thanksgiving" episode. Waithe was also included in Time magazine's 100 most influential people of 2018 and on the Queer 50 list of Fast Company in 2021.
In November 2021, she signed a deal with Warner Bros. Television Group to produce new television programs for all their platforms. Her first project will be Hoop Dreams, which she will executively produce with her business partner Rishi Rajani.
Now that you know who Lena Waithe is and why she is quite a big deal in the entertainment world, let's talk about her style and why she inspires many.
When asked about her fashion choice, Lena Waithe said the first thing she thinks about is comfort. She likes to wear outfits that are so comfortable she can sleep in them. Here are 10 style inspirations from Waithe you would love:
10 Street Style Inspirations From Lena Waithe
1. Lena is a huge sneaker collector, her sneaker collections are the envy of sneakerheads everywhere. In this picture, she has on blue acid-wash jeans, a white and black T-shirt, and a purple and cream jacket, with her favorite footwear – sneakers. This look says comfort, street style, and bold.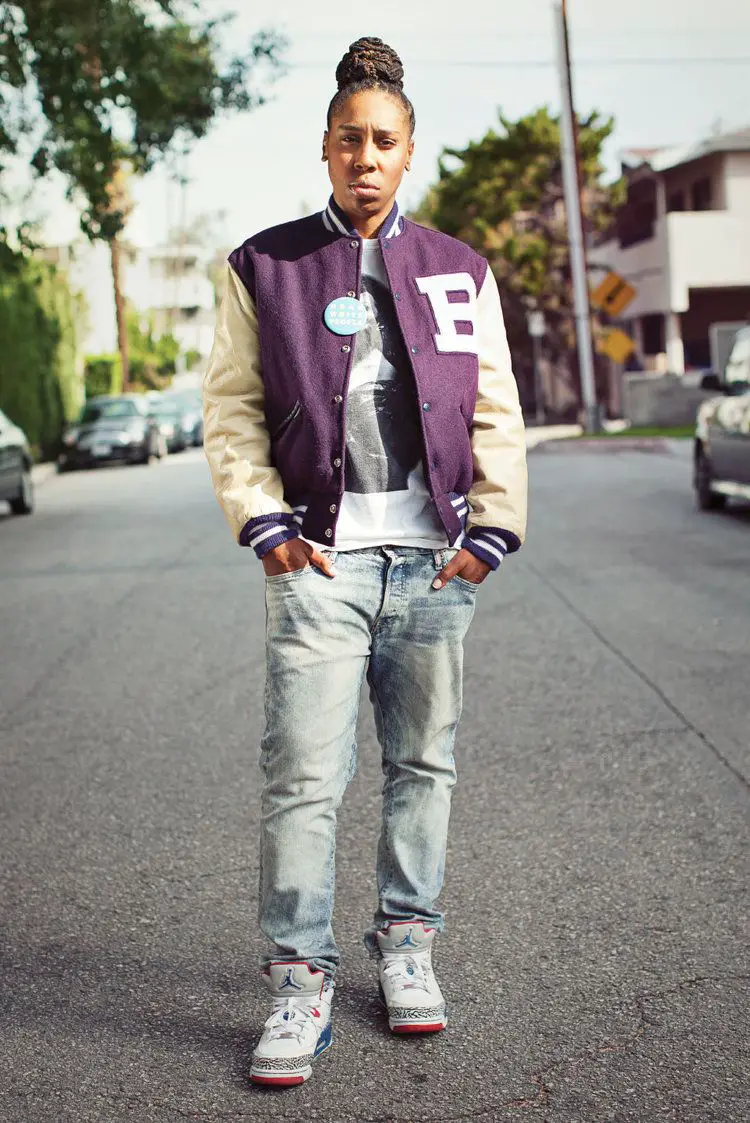 2. Lena is a masculine-presenting lesbian that loves to dress more as a guy than a girl. In this picture, she has on a green sweatshirt, black flowered pants, a red baseball cap, and black and white sneakers. She has a little stud in her ear and a simple necklace hanging down from her neck. she looks quite comfortable but dashing.
3. For the 2018 Met Gala, Lena decided to wear a bold, head-turning Carolina Herrera look that featured a rainbow cape to show her support for the LGBTQ community. Her outfit for the evening was a black suit (with the rainbow cape attached to it), a white shirt, and black footwear.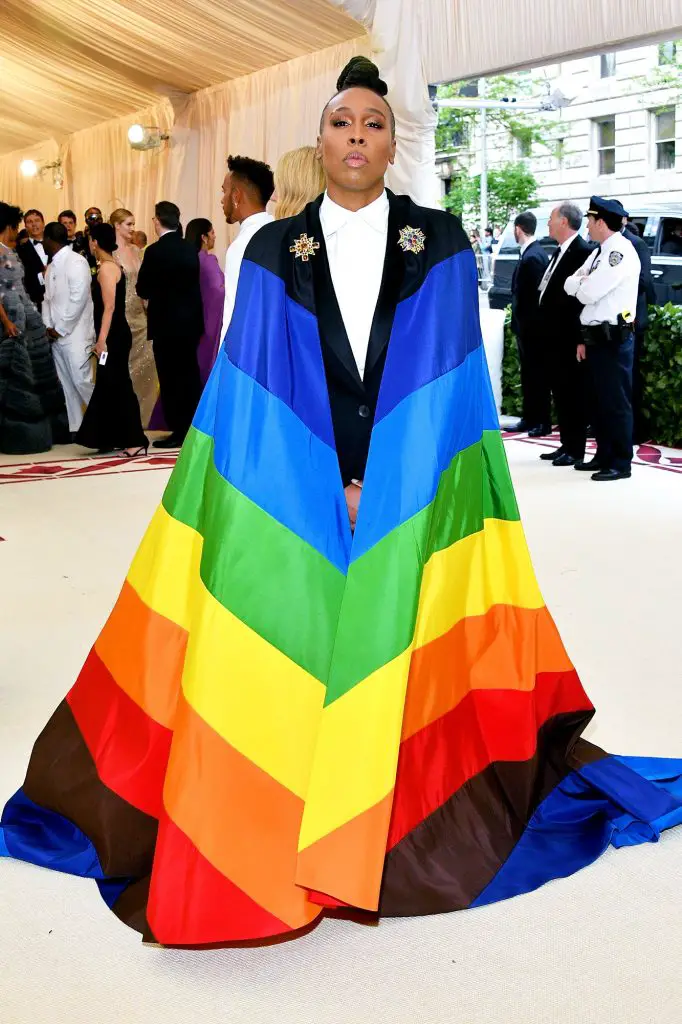 4. For the screening of Dear White People season 2,  Waithe as seen In the picture above, had on a gray sweatshirt tee, a white shirt (with only collar poking out), red striped sweatpants, white sneakers (from fear of God), and gray wide-brim hate to top off the look.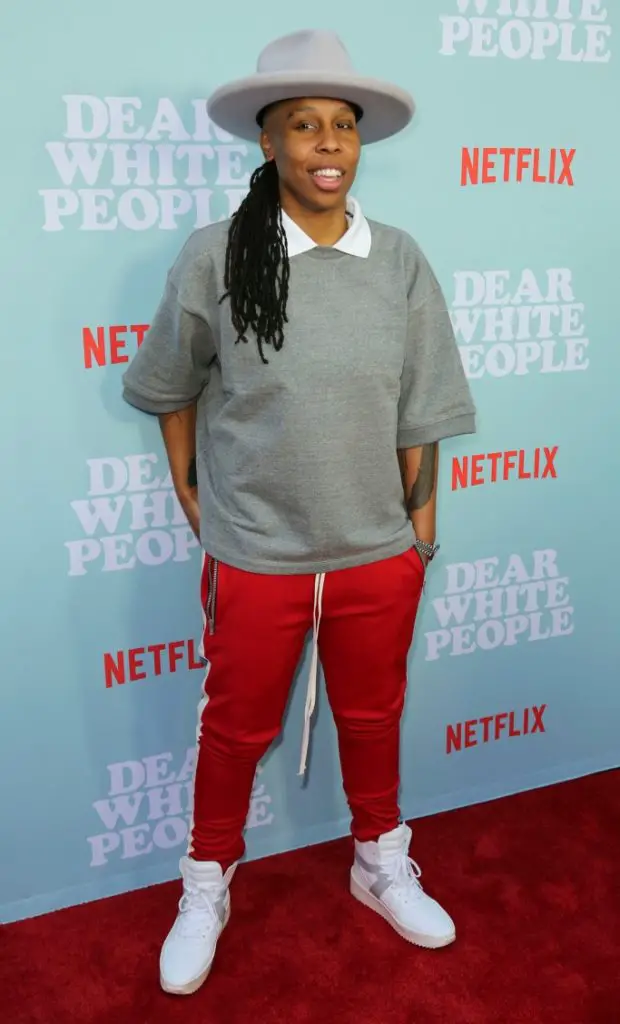 5. Lena attended the L.A. premiere of Steven Spielberg's Ready Player One in black pants, a black Prince graphic T-shirt styled underneath a black varsity jacket-blazer hybrid with purple numbering on the white sleeves, and a white cement Air Jordan 3s footwear.  For jewelry, she has on a long gold necklace.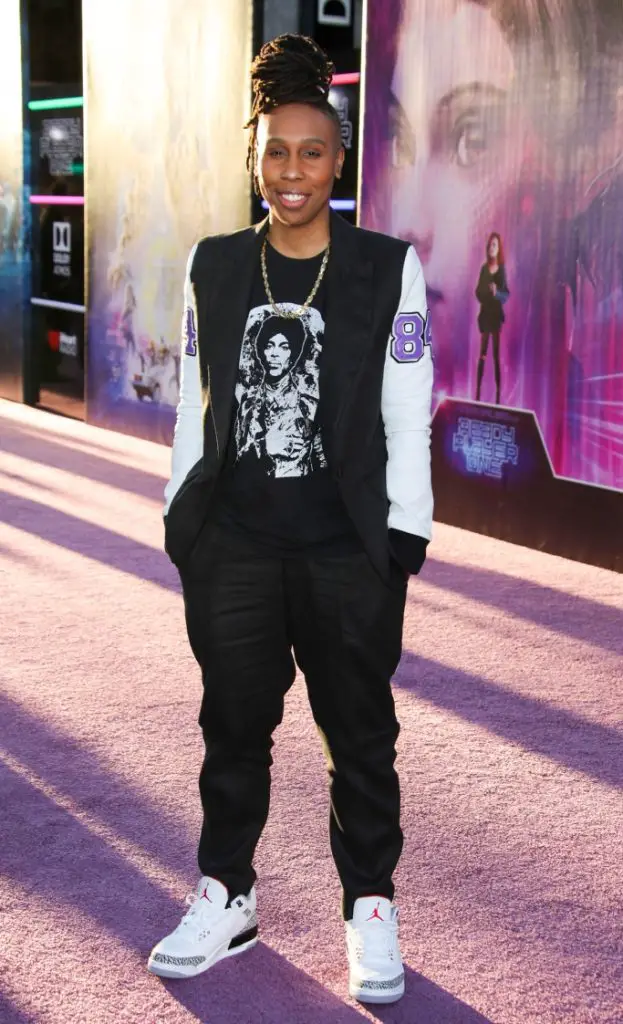 6.  Waithe was looking dashing at the fantasy-thriller film's London premiere in a navy suit, styled with a white shirt, a sandy-colored coat, and black patent leather loafers that have the tassel embellishment – how fancy.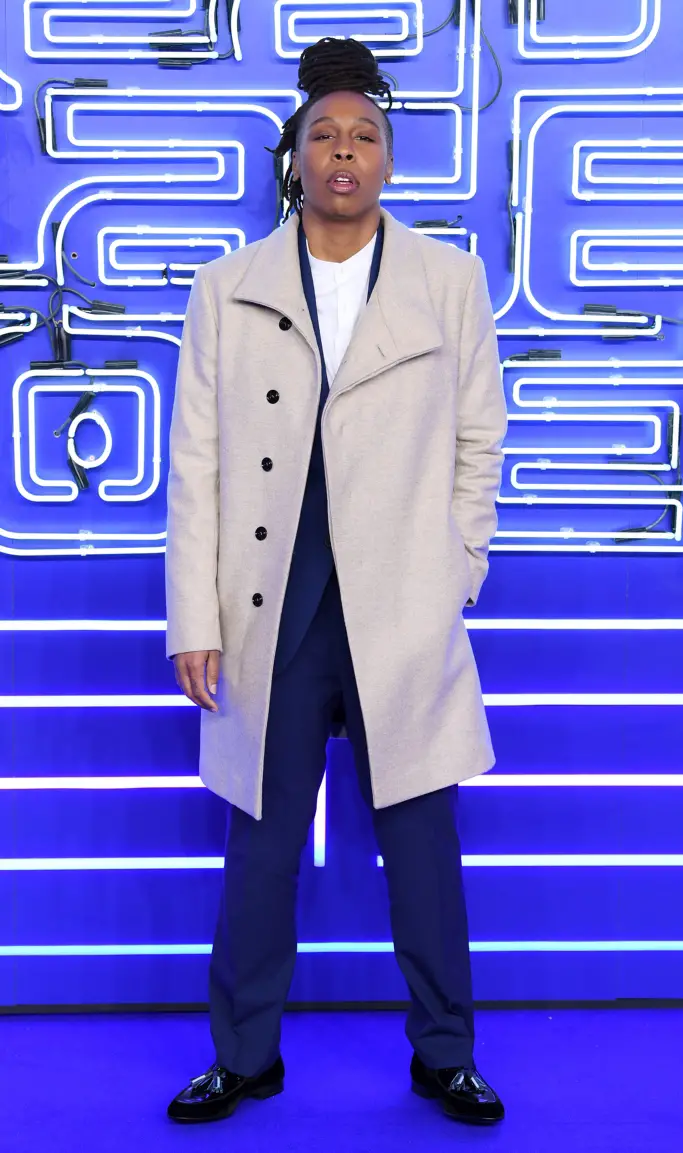 7. The acclaimed writer co-hosted the Film Independent Spirit Awards Nominees Brunch with Brian Tyree Henry wearing a Black Lives Matter T-shirt, ripped jeans, white sneakers, beige jacket, and brown hat.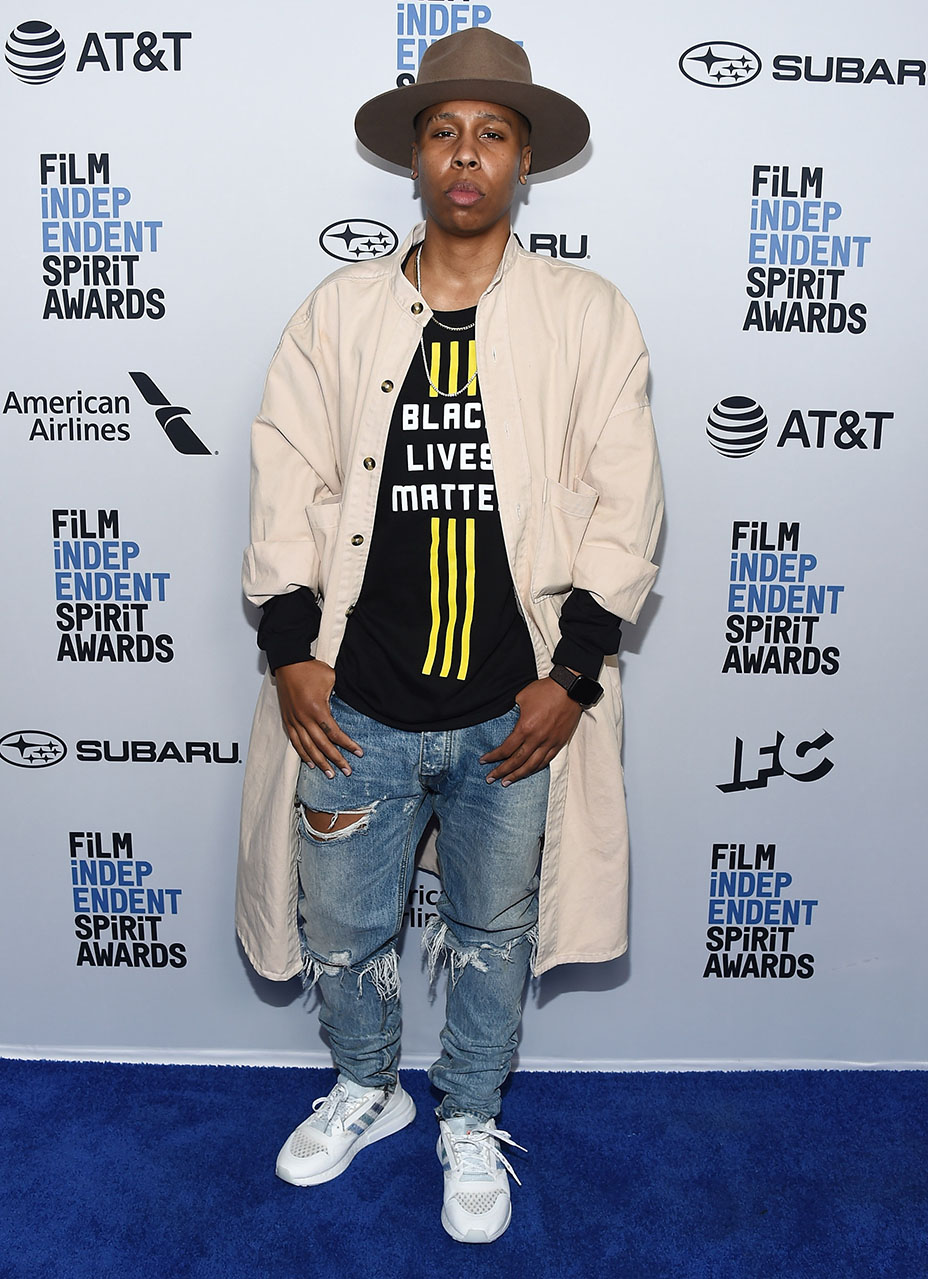 8. She is a proud native of Chicago that is always ready to represent her hometown. For the premiere of The Chi, she had on black pants, a black Chicago lettering sweatshirt, neon kicks, and a simple necklace.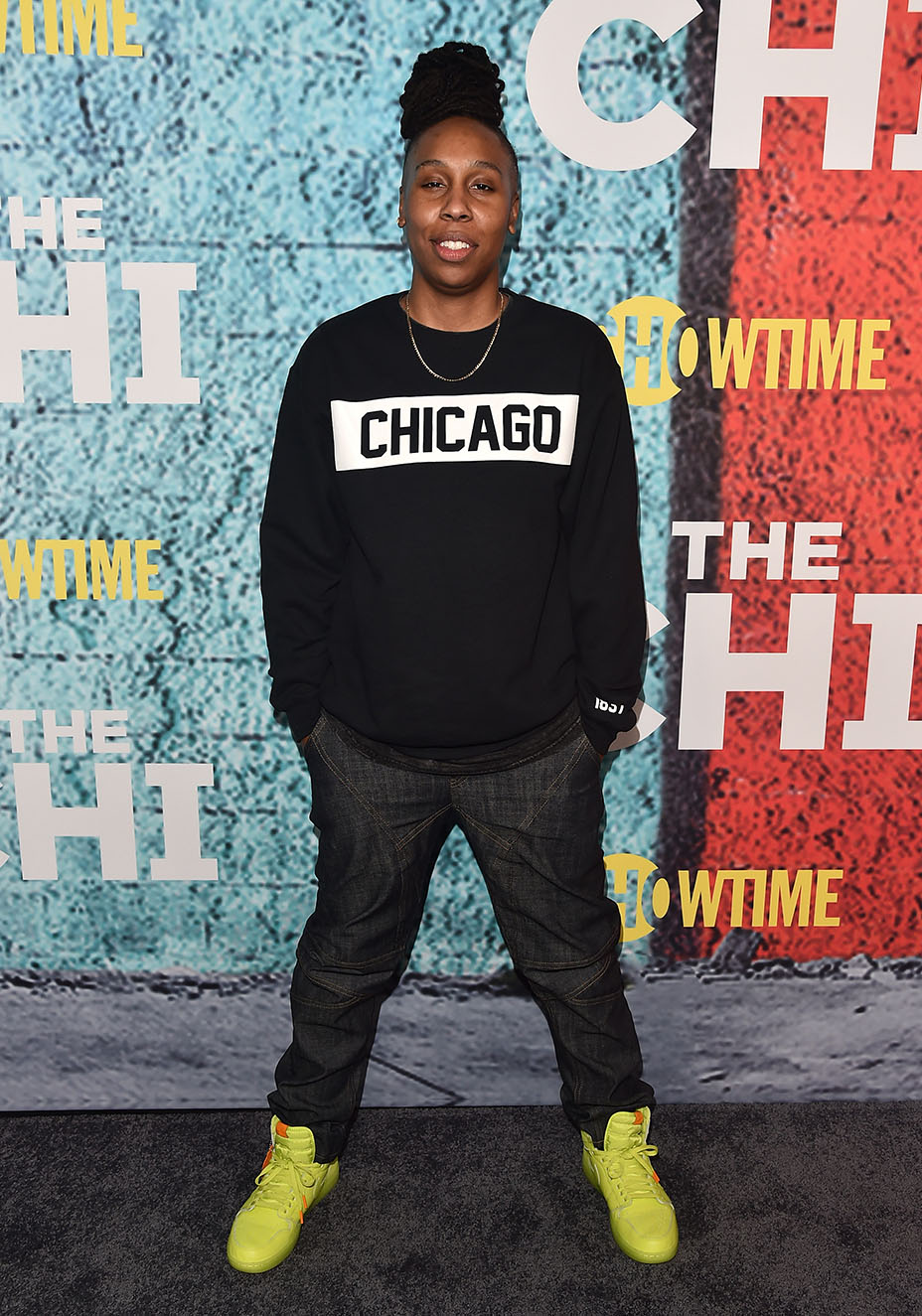 9. Black is elegant and looks good on everyone. Waithe attended the Golden Globes ceremony in a sleek all-black suit from Prada and black footwear. In this picture, she traded her up-do hairstyle for a low blond cut.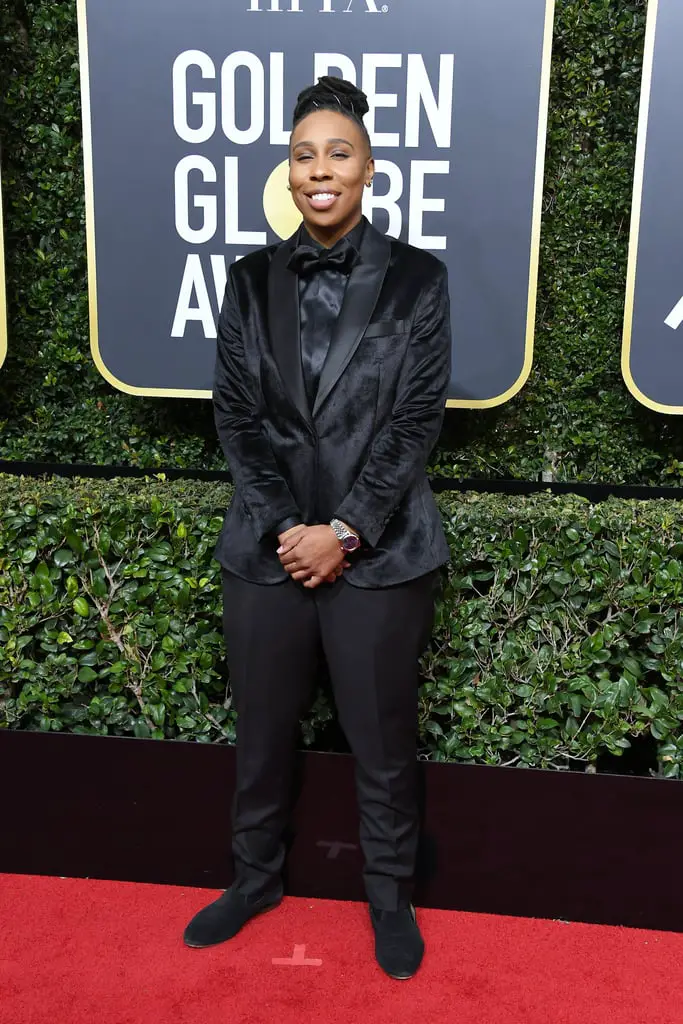 10. She attended the ELLE's 2021 women in Hollywood event wearing a royal blue suit, black turtle neck, and black leather footwear.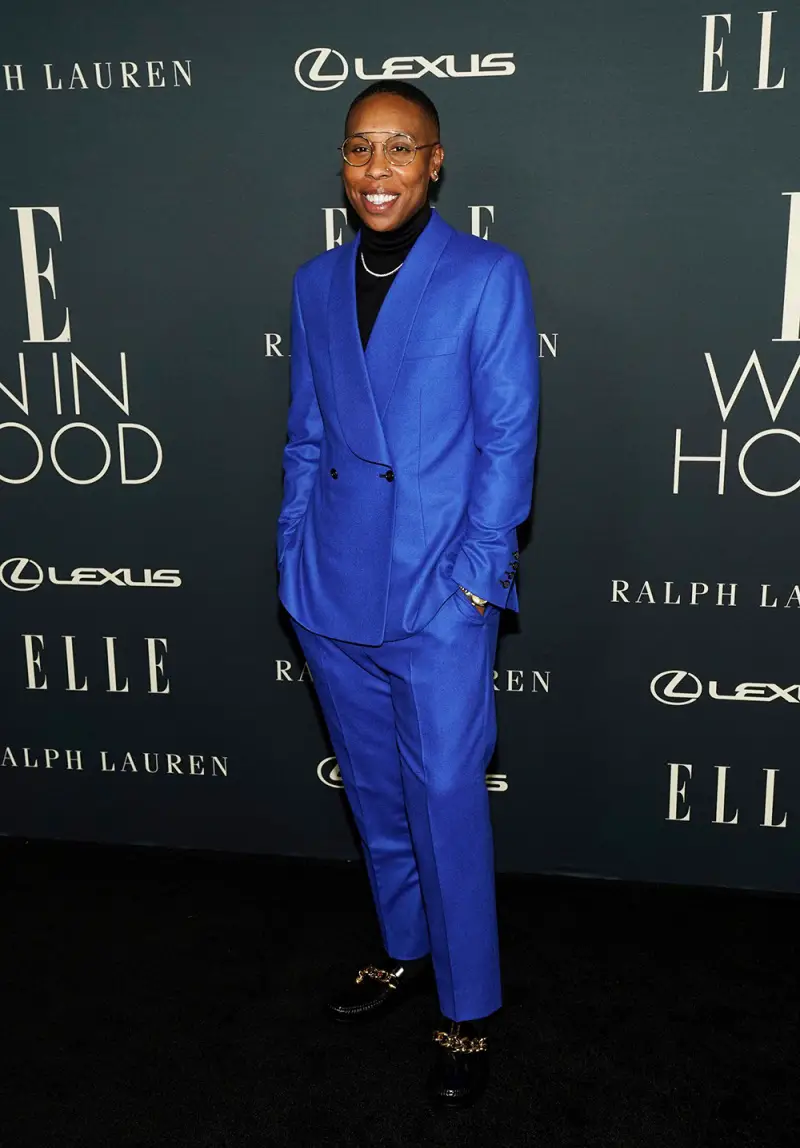 Lena Waithe is known for her bright personality and her street casual outfit; her sense of style is one emulated by many – especially people of the LGBTQ+ community. You may also like, Laverne Cox Best 10 Red Carpet Dresses You Should Copy for Christmas.