The best anime cosplay ideas start with your favorite show and the love of a character. Getting the costume together needs some inspiration to channel your cosplaying effortlessly.
If you landed on this post searching for anime cosplay costume ideas, this post is for you. Since anime made it into mainstream fashion, it has only gotten more creative. This widespread popularity is expected since there are many characters to portray. Dressing up as your favorite character is as good as bringing a fantasy to life, which is very cool.
It transcends more than just dressing up, as you must include makeup, props, mimics of their mannerisms, and accessories to complete the full effects. You can switch between sexy anime looks, edgy, bold costumes, warrior princesses, and all the flair of being a fantasy creature.
Whether there is an anime expo or you love to cosplay as a beginner or pro, these 17 anime costume ideas are your best bet.
What is anime?
Anime has its origins traced to Japan as a unique type of animation, cartoons videos, and comic books. The stories get portrayed in a particular style embedded in details of the rich Japanese culture. This includes artworks, colors, fantasy creatures, and fictional characters; all brought to life. Its influence gained a widespread and has now amassed an international following of dedicated fans.
Getting into anime cosplaying is an excellent choice for parties and comic con for all the beautiful characters available. Aside from being trendy and fun, you can start a profitable cosplay career if you can replicate the original characters. Thankfully, it won't be too hard as most anime costumes look very artistic to suit any flamboyant ideas you might have.
17 Best Anime Cosplay Ideas
The key to beautifying anime costumes is the fine details that make up each character. To successfully bring the look to life, you must consider certain things. The first is choosing your character and reviewing each outfit piece that makes the complete costume.
Next, you can decide on props and other design elements to update the look. You can even get creative with clothing items from your wardrobe, add a touch of anime, and it might just work. Here are the best anime cosplay ideas with costumes whenever the occasion calls for it without further ado.
1. Ami Mizuno: Sailor Moon Cosplay Idea
The sailor mercury uniform is a fan favorite, not only for the simply beautiful costume but also for the character herself. Ami Mizuno's character represents accurate intelligence and faithfulness. You can dress up just like Ami to replicate the supernatural fighter she is with many items that make up her costume. While you can find a ready-to-wear replica of the sailor moon costume, you need a tiara, gloves, and stockings.
You can make it work if you already have a sailor scout's uniform. But it will require more props to stand out, like a neck belt, knee-high socks, bow tie on the front bodice, and back waistline. Ami's character doesn't need much else; carry yourself with grace and her studious wit for your reveal.
2. Mikasa Ackerman: Attack on Titans
If you're strong-willed or admire the strength of Mikasa, then you can bring her to life with a simple costume construct. The main component of her outfit consists of a white shirt tucked into straight-leg jeans, layered with a cropped leather jacket. However, the look doesn't look simple, as Mikasa's outfit is always ready for battle with fight accessories. It would be best to have a cloak cape, sword maneuver gear, boots, and wig, which can be optional.  Shop her complete costume here.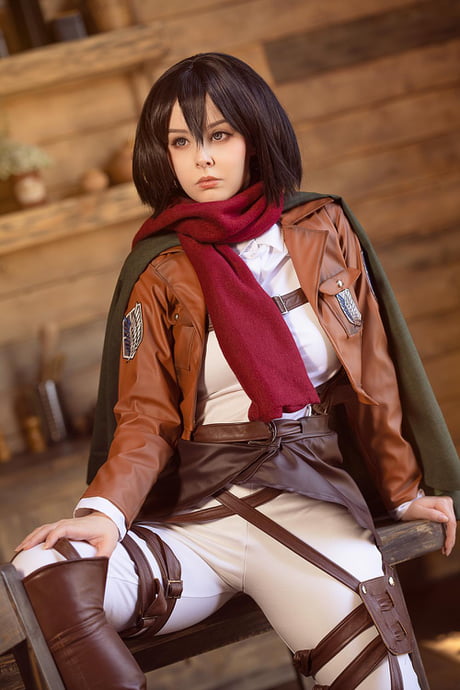 3. Sakura: Naruto best anime cosplay
Naruto is one of the most popular anime, and it's filled with several great characters to cosplay. Going with Sakura is one of the most effortless costumes to construct since she keeps things simple. She has light pink hair with a black headband if you start from the head. A sleeveless shirt will do, over a mini skirt, to end with sandals for the top. Accessorize with an elbow guard matching the skirt color, and gloves matching the headband, with a thigh holster. No, that's not all; throw in her small dagger to update the beautiful yet straightforward costume.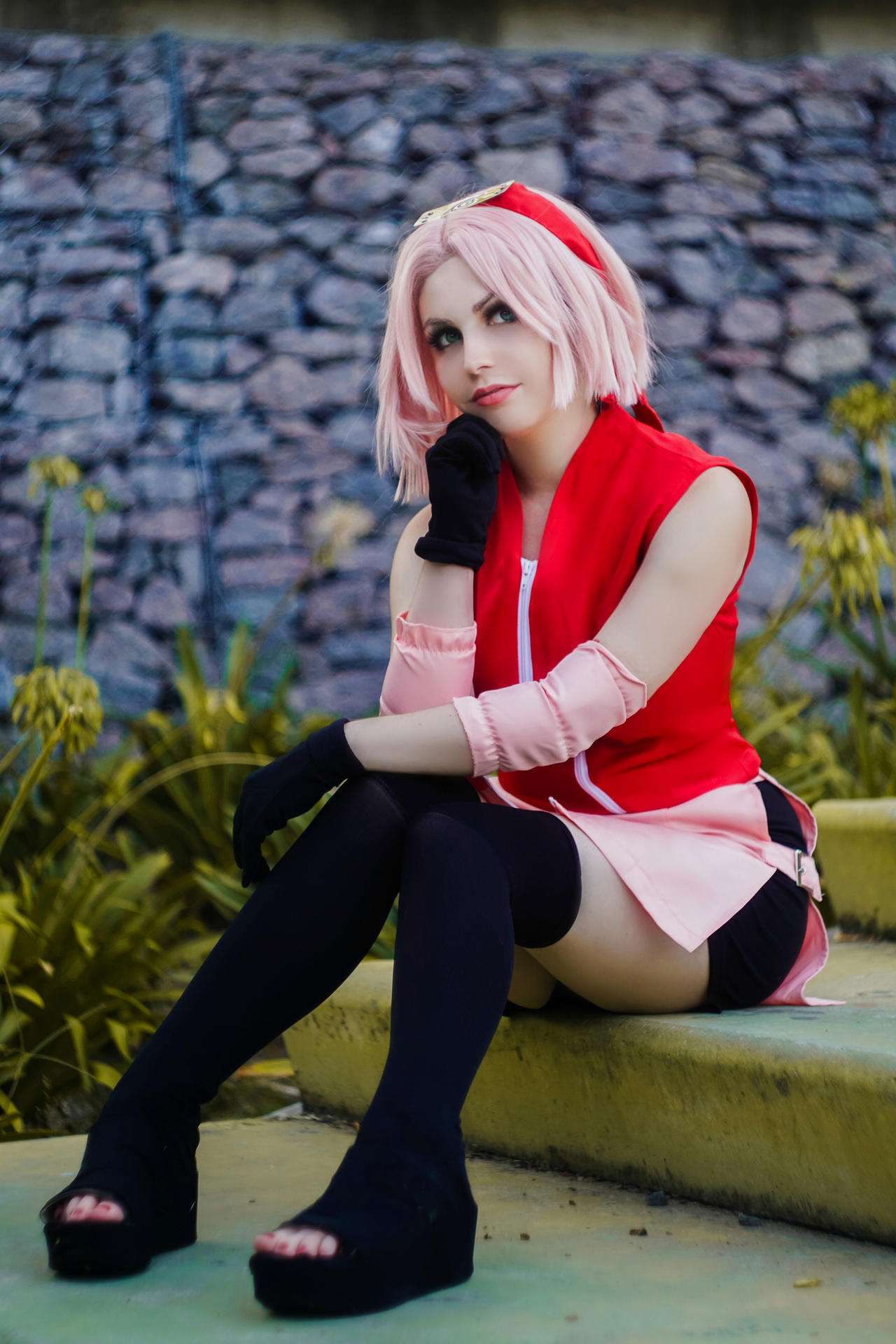 4. Raphtalia from The Rising of the Shield Hero cosplay
Become a real-life do-gooder dressed up as Raphtalia with her design elements. As her story goes, Naofumi Iwatani, the shield hero, bought Raphtalia to become his slave. However, he found her a very useful demi-human and made her part of his trusted party and Katana Hero.
Raphtalia costumes look chic even with furry ears and a tail peeking out. All you need is a mini flare dress, or one with wide pleats, layered with a thin-strapped dress. Add a wide belt before attaching the fur tail and ears to flatter your curves. Coordinate your gloves and knee-high boots, or the regular riding ones should do. Raphtalia is also great with the sword to incorporate one into your costume.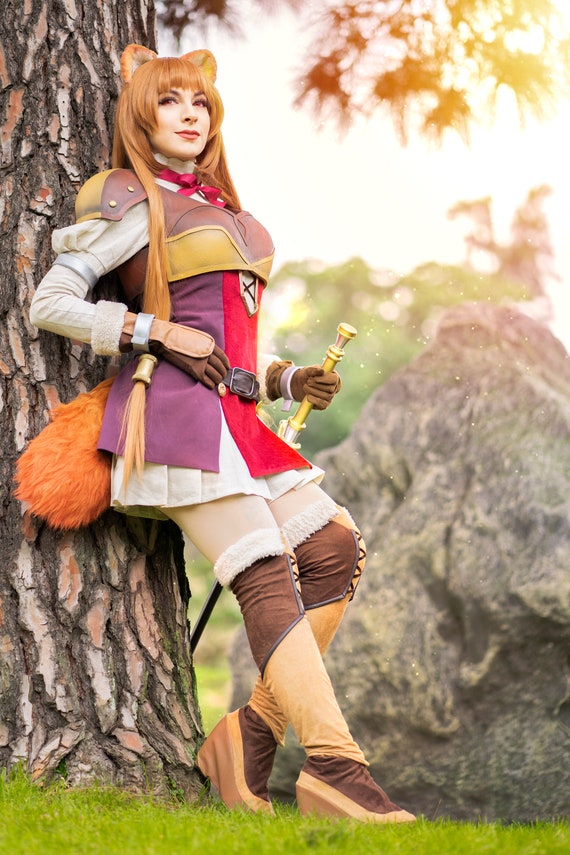 5. Rin Tohsaka: Best Anime Cosplay Idea For Fate/Stay Night
Rin's outfit is one of the most accessible anime costumes, even if you're new to cosplaying. In the visual novel series, she stuck to her schoolgirl looks despite being the Master Archer in the Fifth Holy Grail War. She kept things simple with a red turtleneck top, a printed or attached cross, and a mini black tennis skirt. Her shoe choice remained simple, with the regular flat loafer, but updated with thigh-high socks. To finish Rin's look, you need to tie your hair on each side. You can always go with a complete costume kit.
6. Violet Evergarden: Best Anime Cosplay
One character you will enjoy cosplaying is Violet Evergarden, as she exudes power. Her story captivates a young girl whose circumstances forced her into becoming a soldier. She only got to leave the army with prosthetic arms after losing both arms in battle. Violet had a great fashion sense that looks cute for cosplaying despite her ordeal. She dressed elegantly, with a white flowing gown, with a cropped blue jacket for design details. Add design details in red leather to complete the costume, from her gloves to hair band, suitcase, and high boots. Lastly, don't forget her green statement necklace. Even if you don't add her blonde hair, this costume will look great; you can wear it to masquerade balls with its equestrian touch.  Shop the replica of Violet Evergarden costume here.
7. Ruby Rose RWBY Cosplay
The Grimm creatures felt the wrath of Ruby Rose, star of the Beacon Academy. Her character is the fierce protagonist and huntress of RWBY anime, who loves upholding justice. Ruby's costume reflects her name with everything in red and black down to her lace-up boots. The costume consists of a mini black dress with ruffles, red details, and a detachable cape, only fitted for a true hero. She adds a corset to snatch her waist and weapon holder belt with a sniper scythe. Her red and black hair only complements the costume theme, so dressing up like Ruby Rose should be a breeze.
8. Kuran Yuki from Vampire Knight Best Anime Cosplay
Cosplaying as Kuran is very cool, not just because her character has a good heart, but stylish look. Yuki's protagonist role in Vampire Knight protects the day and night students at the Cross Academy since they are human and vampires going to the same school.
Her uniform resembles a boxy black/white jacket layered with a white shirt and red tie with white details, with a short, pleated skirt. The costume is only complete with the disciplinary armband and knee-high socks. Her hairstyle is easy to replicate with a dark brown or black straight long wig with full bangs. Yuki cosplay is also great for couples or male and female besties, where the guy can dress up as Kaname Kuran.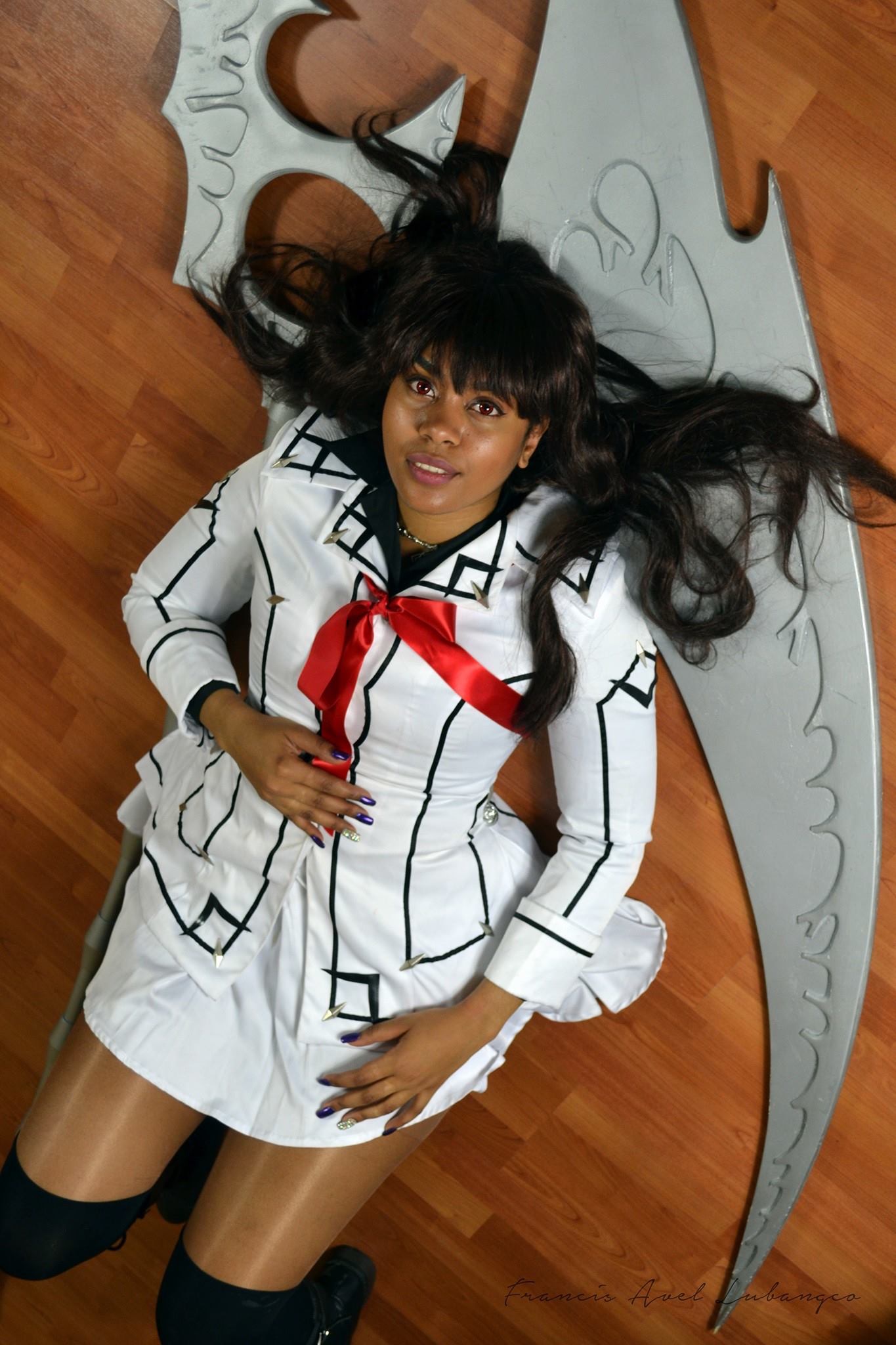 9. Pikachu: Pokémon's Best Anime Cosplay
Replicating the ever-famous Pikachu can take several forms, as creative as your interpretation can go. The electric type character needs a yellow bodysuit or onesie with foam padding, a tail, and extra ears. You can also add a black nose and red circle on both your cheeks. While you cosplay, embrace the mischievous nature of Pikachu. Shop Pikachu costume here.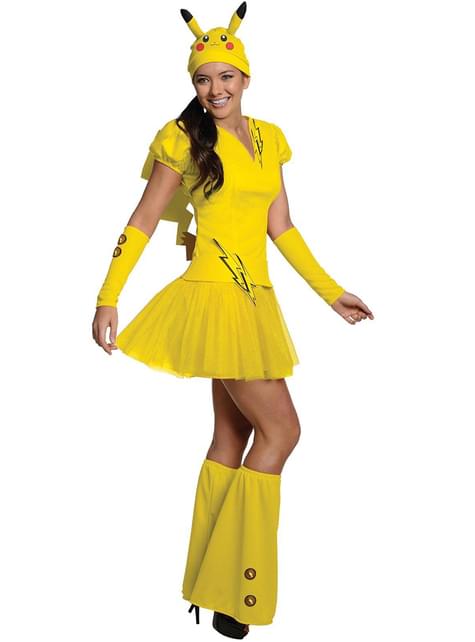 10. Honoka Kosaka: Love Live! School Idol Project Costume Idea
The best anime cosplay costumes do not always need several design details. Sometimes a simple school uniform will do if you've seen the love live! School Idol Project, you know how cute Honoka looked rocking her uniform trying to save Otonokizaka Academy from foreclosure. You can replicate the schoolgirl costume with a blazer jacket, mini checker pleated skirt, and button-down shirt for layering. Complete the look with your bow tie on the shirt, loafer, and stockings, with a sweet ribbon on the head. The cosplay is best done with friends to recreate the Muse school idol group from the anime.
11. Asuna Yuuki Costume From Sword Art Online
The attractive costume of Asuna Yuuki easily attracts attention since it's all white, including the shoes. Her looks only compliment the popular Sword Art Online anime series. It tells the story of 10,00 players struggling to get out after getting trapped in the mainframe of a game's cyberspace. In between all the chaos, she still manages to find love, marries Kazuto Kirigaya, and ends in bliss.
She is fierce, and so is her crisp look, featuring an asymmetrical white gown with orange updates. Finish your outfit with a white lug sole boot and a thin white belt. You should also replicate the long ginger blonde hair and the sword as they all make the costume whole.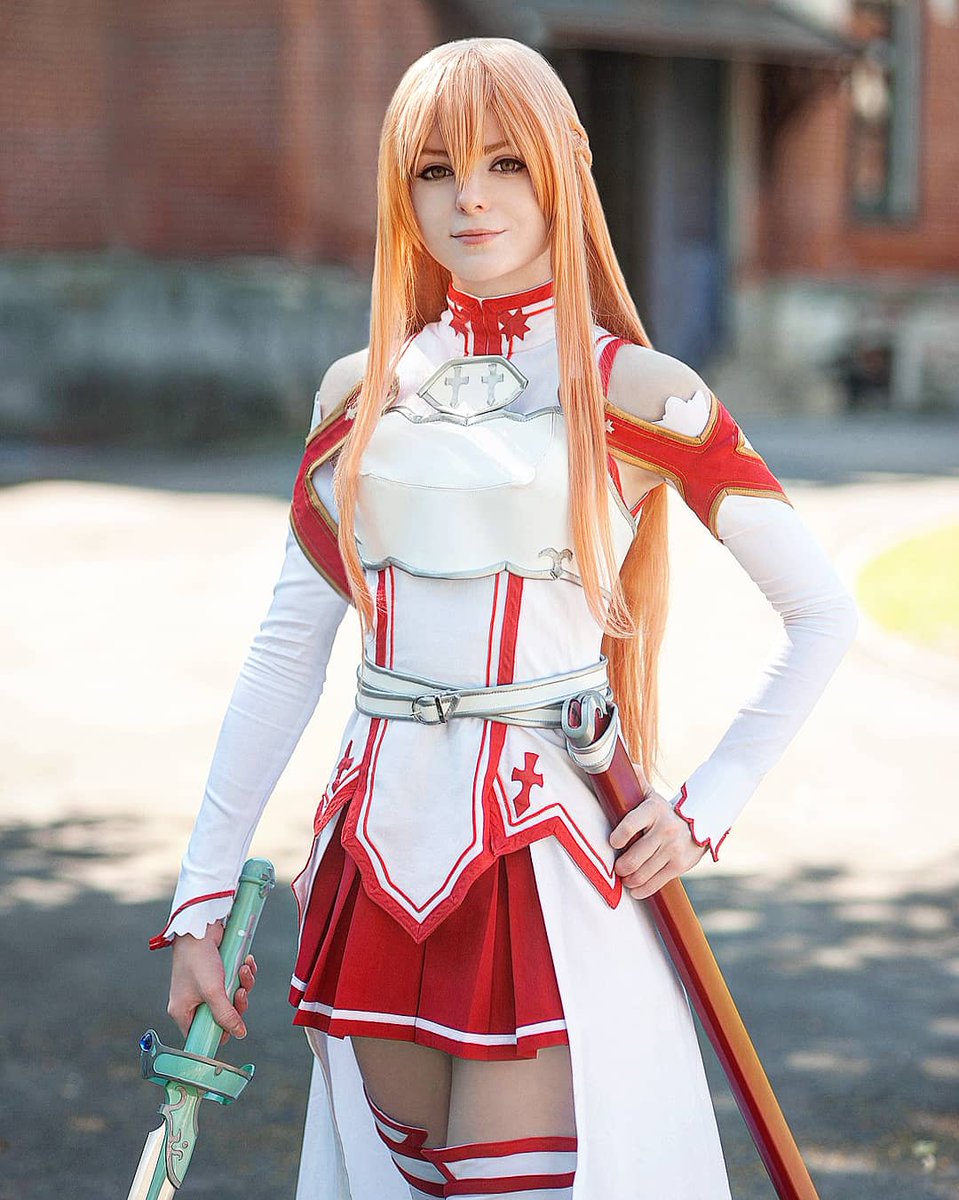 12. Misa from Deathnote
You can combine your gothic side with anime cosplaying by dressing up as Misa. You might have seen the anime Deathnote, one of the most popular anime, and got inspired by Misa's character. Curating her costume to suit your style is achievable with your own mini black dress design, so long as it's black with some flare. The look gets an ultra-feminine touch with lace gloves and socks leading up to grater. Whipping up this look shouldn't take much time and effort, with the complete costume here.
Related article: Top 15 edgy clothing stores to patronize in 2022
13. Ibuki Mioda:  Danganronpa
Moda costume is for those who like alternative apparel, with a bold edge, with the pink and blue color mismatch. Her hair with the two horns like a unicorn makes cosplaying Ibuki's character unique. The costume starts as a school uniform for being a student at Hope Peak Academy, but the socks and elements of the outfit say otherwise. You can forgo her beloved piano; if you can't manage with it, the outfit will still turn out great.
14. Shimura Tae Kimono Anime Costume
Gintama anime series love the sweet-looking Tae and cosplaying her is something you'll enjoy doing. Despite her delicate looks, she gets violent, shows off her strong side, and defeats people who cross her. To curate Otae's costume, you need a vibrant print kimono and umbrella for aesthetics. You can add her choppy bangs hairstyle and the belt to complement the look. With such costume choices, you stay in your elements and display the rich anime culture behind the character.
15. Ai Enma: Hell Girl Best Anime Cosplay
The protagonist of Hell Girl anime is an excellent character to cosplay if you love the dark side. She has a mix of solemn personalities, becoming more vibrant as the show progresses. You can dress up in her uniform, which is a traditional look you can opt for. However, a more edgy look you worth tying is her edgy black kimono and red contact lens she wears to banish people to hell.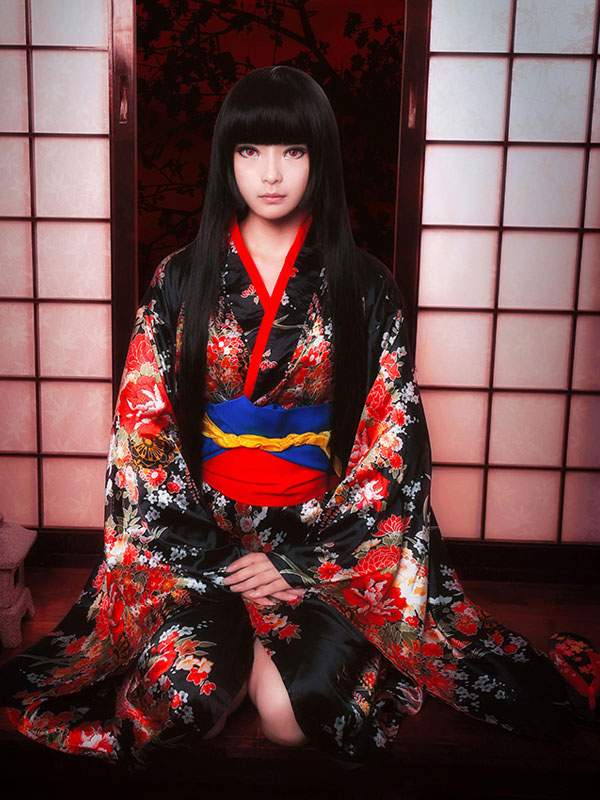 16. Rem/ Ram Maids Re: Zero- Starting Life in Another World
You can hardly ever go wrong with maids' costumes while you channel your love for the demonic maid sisters of the Roswaal's Mansion. You and your girlfriend will love to replicate the Rem/ Ram sisters when you plan to cosplay next. Even if you don't find a person to dress up with you, choose either ren or ram with your vibrant blue/pink wig in tow. Get a sexy maid outfit, flat black shoes with a white hose, and that's it.
17. Obito: Naruto
If you fancy the antagonist role of Obito from Naruto, then you should cosplay as him. After almost losing his life in the Third Shinobi World War, he suffered delusions that forced him into the darker side. You only need a stylish black kimono, mask, and platform boots to construct the outfit. The simple look can get updated with dark, edgy hair and makeup.
Your cosplaying calendar should be fully booked with these 17 best anime cosplay costumes. Dressing up is only the first part of looking great, don't forget to carry yourself with confidence.
You may also like to read articles on costumes,
–15 non-basic easy to replicate blonde Halloween costumes to get your spook on
–7 Britney Spears costumes to cosplay this Halloween
–20 Fabulous Witch Boots Only Confident Women Can Rock