When it comes down to styling conversations, high-waisted black jeans are arguably one of the most versatile bottoms. The styling points in its favour include the bonus of making the wearer appear casual cool as the fabric downplays the full effect of these trousers.
They are also a great way to achieve a polished look—no matter the design and occasion, the right pair can replace any type of trouser.
This versatile wardrobe staple is the perfect choice to elevate your look from laidback to formal and even for dressier events. A selection of comfortable yet stylish high waist black trousers should be a part of every woman's wardrobe. Thankfully, we have made it easier to choose with this juicy list.
High waisted skinny black jeans
A pair of jeans that is high waisted, stretchy, and skinny is a winner. Their stretch ensures the skinny jeans are breathable yet form-fitting.
Paired with blazers and heels, they can be your go-to business casual attire which can you can also use to transition for evening happy hour. Wear with a cropped top, throw your shackets over them, accompanied by mules it's all you need for a casual day.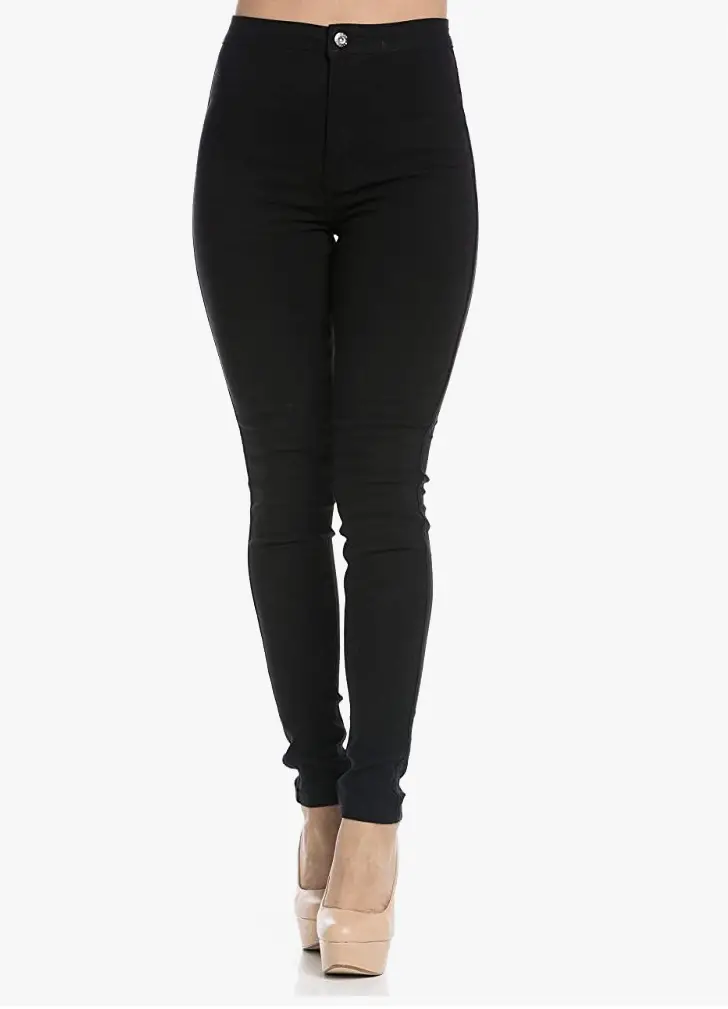 Pull-on high waist jeans
These are a comfortable variation of black jeans. These pull-on jeans usually have an elastic waistband that will rest on your body. It is recommended to buy your exact size so the jeans will stay in place.
Easily slip them on and off, if you are just running quick errands or have a casual hangout. They can even be comfortable jeans for long outing hours.
Boyfriend '90s black jeans
Go the classic route with a high-waisted baggy option. Women of all ages can relate to the Y2K boyfriend jeans. These trendy aesthetic trousers are so chic, especially when paired with cropped tees, sneakers, and boots. You can virtually wear them every day to get your cool-girl look on.
High waisted distressed jeans
Flatter your curves and show off some skin with distressed jeans. Make your rips unique to you or opt for a normal version. Wear attention-grabbing tops just like these trousers, and you'll be the centre of attention. Or stay simple with a t-shirt or crop top. The only limit is you won't be able to wear them to formal occasions.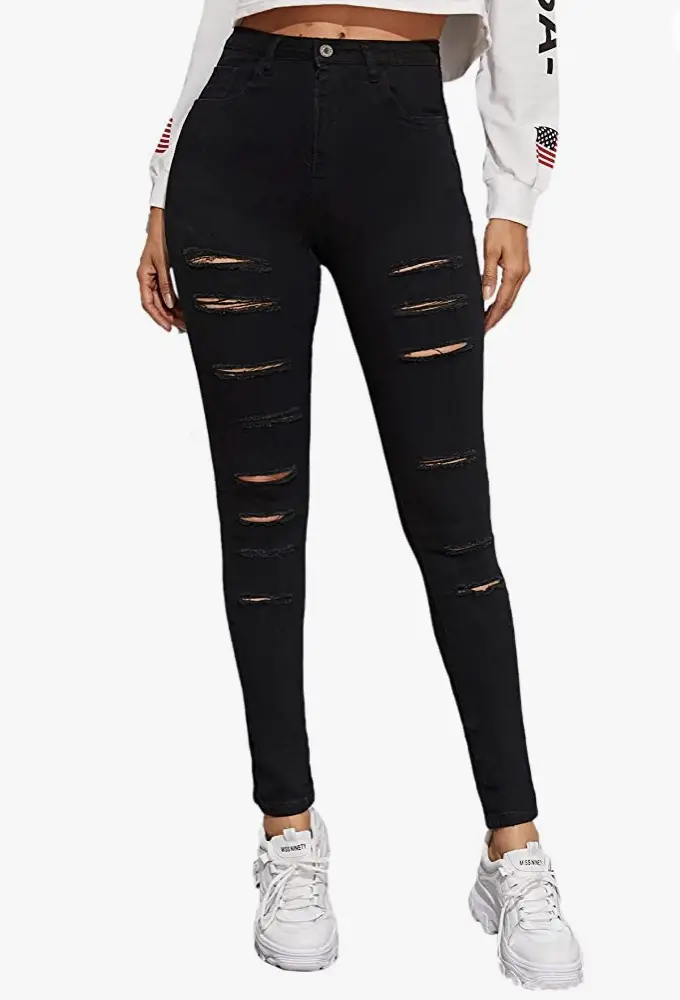 High waist wide leg black jeans
These free and roomy trousers in black are the perfect pair to get into the trend. Find a pair of wide-leg jeans in the medium wash to get the full vintage vibe of the trousers. Wear with chic tops and mules to complement the silhouette of the trousers. These retro trousers can also be made to look modern by wearing them with a trendy blouse and heels.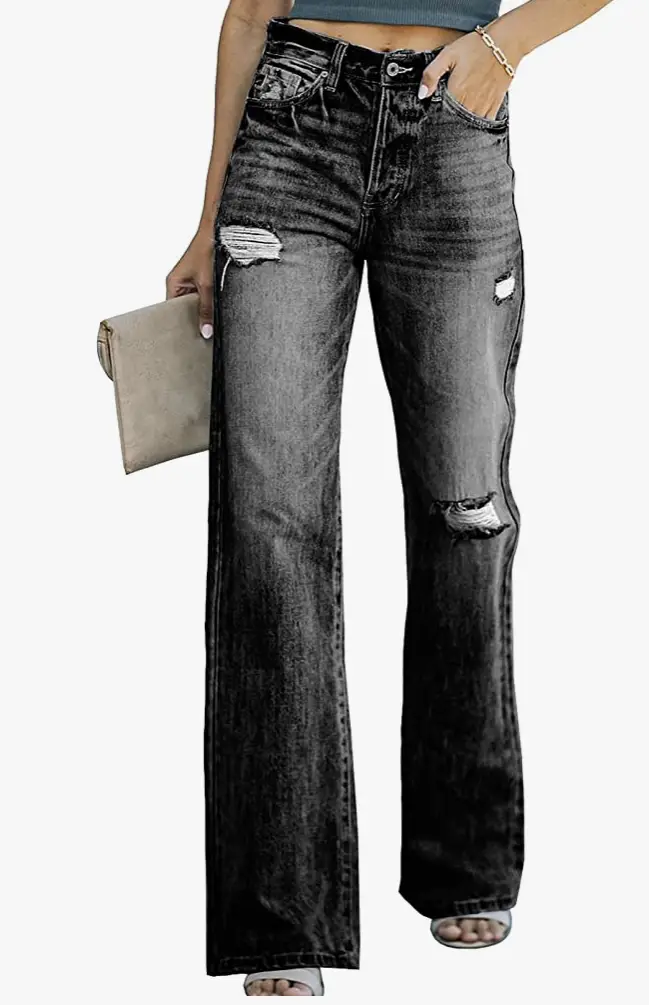 Straight leg black jeans
The high waist variation of straight jeans is famous for giving an elongated figure. They are also one of the easiest to dress formally, as they pair well with dressy tops, camisole and blazers, and everything in between. Your shoe choice can be from simple flats to heels and boots. Use statement jewellery to elevate the outfit.
Flared high waist black jeans
Dress up in some flare detailed jeans with the hems left raw and picked at the edges. They are relaxed trousers you can pair with a chic jacket and simple blouses. They are also great transitional bottoms for most occasions since they are in black. You will be reaching for them all the time.
High waisted boot cut
The boot cut silhouette is a timeless design, that flatters all body types. Effortlessly wear them as part of a chic ensemble as their full-body coverage makes them fit any blouse of choice. It is a nice pair of trousers to wear with shirts for a relaxed work outfit.
You can also switch up for an evening dinner by tying the shirt and rolling up the sleeves. Add a piece of jewellery and nice shoes to pull it all together—let the trousers carry the look for you.
High-rise cropped black jeans
Sure full-length trousers are cute, but the cropped versions are so chic. They are casual trousers that are suitable for chill events. Pair with fashionable tops to make them outing-worthy, as t-shirts will only make them appear more casual. For shoes, wear anything from sneakers to boots, as the cropped length will allow you to show off your shoes.
Pleated high waist black jeans
An elevated design of black jeans is with pleated details and an attached belt for extra support. This is a bottom you might want to save for special occasions.
Simple tops are best suited for them as blouses with extra designs might end up having too many details. Your jewellery and shoe choice should be kept simple as well.
High waist black jeans are a wardrobe staple, they are comfy and fit almost every style of tops not regarding the colour. Find a variation that suits you, and rock it!