Carnivals were associated with the Caribbean and South Americans before they spread to the United States as a form of tradition, a celebration where people wear costumes and masks to parade the streets singing and dancing. The rich cultural display liberates the soul, while everyone has the opportunity to display their body in beautiful costumes. Curvy girls can also join in on the fun with some trendy plus-size carnival costumes.
The act brings said to bring healing and good tidings and help spirits transition to the great beyond. Suppose your curvy body limits you from participating in carnivals and celebrating your heritage, or maybe it's on your bucket list. Then this post is for you, as we will dishing out the ultimate guide to getting the best plus size carnival costumes.
How to choose tremendous plus size carnival costumes
When you plan on attending an upcoming carnival, there is a need to know the theme of the celebration to select a matching costume design. Once that is sorted, you will have a clear picture of how the costume should look. Most of them are two-piece bikinis with feather and jewel adornment.
Since you are shopping for a curvy body, avoid the tiny sets and opt for high waist pieces, bodysuits with cut-out details, sexy full-coverage bras, and other flattering pieces of clothing.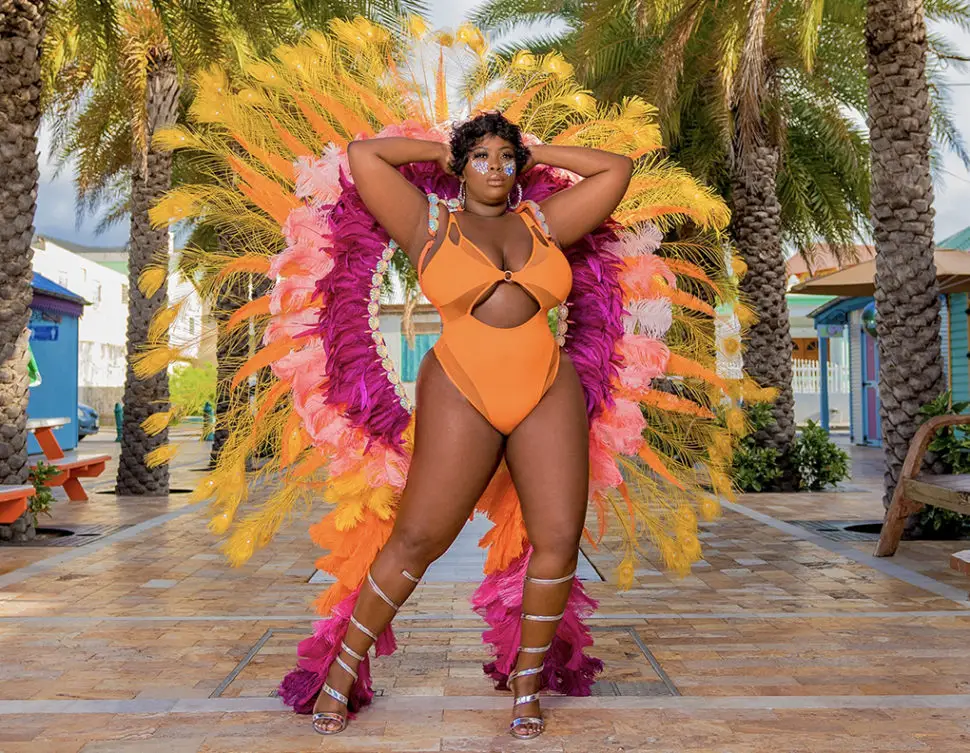 Where to shop for plus size carnival costumes
Now that you know how to choose a carnival costume, we are sure the next question is where to get them. We have made a shortlist of some best places to get plus-size carnival costumes.
1. MiMi LaFlare Designs
MiMi LaFlare Designs is a great place to get your plus-size carnival costumes. It features size-inclusive pieces that celebrate curves. MiMi created the line for any woman to enjoy the fun of carnivals since she struggled with finding the perfect carnival costume because of her body size. The line features unique designs that will help you celebrate your love for festivals, just like her.
2. Fluffyandsassy.com
Fluffy and sassy is a website owned by Fluffy Mishka, a carnival enthusiast from the Island of Saint Vincent & the Grenadines. From attending many carnivals, who has created a space to celebrate full-figured women during festivals.
Her online boutique, fluff, and sassy apparel contain trendy items that celebrate curves. You can always count on Mishka to keep the carnival spirit alive.
3. EveryBody Play AhMAs
The Everybodyplayahmas Instagram page is your best bet to get plus-size carnival costume ideas when it comes to carnivals. The page is run by Nadelle, a former face of the Toronto carnival 2019. her Dominican background and her experiences with the many celebrations she has attended made her create the page for curvy girls to feel safe to showcase themselves. She also tries to be size-inclusive since she is all about celebrating the rich Caribbean culture.
 

View this post on Instagram

 
4. Fluffy-carnival-Gyal
If you search for some carnival costume ideas, then Ivy is your girl. She created a platform that features everything about carnivals, from stories, cultural history, outfits, and carnival celebrations.
She has a sharp wit for promoting body positivity in carnival bands since she loves her Caribbean heritage, as expected from a proud curvy girl.
Some Plus-size Carnival Costume Ideas
The general idea for carnival costumes is vibrant colors, glittery details, and sexy outfits you can dance in all day. As we mentioned before, you dress up for carnivals based on the party theme. So, here are basic outfit ideas you can slay in.
You can hardly go wrong with a lacy bralette and mini skirt, with some strappy heeled sandals to match. Chic outfits should be worn for daytime carnivals, from flattering two-pieces to hot jumpsuits and pieces with bold prints. Wear a fashionable one-piece or bodysuit layered in tights with a pretty mask; heels can upgrade the look.
Any outfit you choose should make you feel beautiful and comfortable because you can't fete and dance to soca otherwise.
Accessories
The final piece to complete any outfit is accessories besides the colorful makeup, as they help elevate your look. As you shop for the costumes, search for matching accessories, from headpieces to waist beads, and belts down to the shoes.
Accessories can also serve as layers to flatter the body, such as fishnets, embellished stockings, and hosiery if you feel more comfortable when your body is not exposed.
In summary, carnivals are where people of all shapes and sizes come together to have fun without discrimination. So, even if you do not find the right plus-size carnival costume for the big day, you can always DIY or customize something vibrant from your wardrobe, as everyone should experience the beautiful display of culture. You may also like to read, the Top 10 Black fashion bloggers you should follow in 2022.