Britney is one pop star with some serious fashion sense, as her outfits and styles from the '90s are still relevant in the world of fashion today. It's like everything she wears is always perfect, from her hair and makeup down to her shoes.
It is always fun to get some styling inspo from her, and what better time than Halloween to recreate a Britney Spears costume?
From the sheer bodysuit, to the flight attendant-inspired outfit, to the catholic inspired white shirt and mini skirt, you are covered this season, as there are tons of Britney outfits begging to be used as Halloween costumes. This article shares seven of her most eye-catching outfits for you to try this Halloween.
The oops! Red catsuit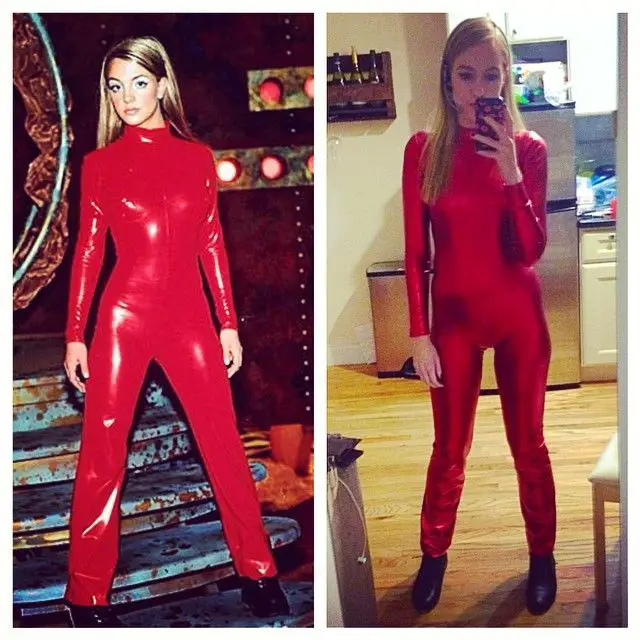 Put your figure on display this Halloween with a body-hugging metallic red latex catsuit like Britney. Let your hair down, wear smoky blue eyeshadow makeup, and strut around looking sexy.
Make it real by adding the headset and some sturdy lug sole boots—outer space and the astronauts await. Shop it here.
The iconic 'I am a slave for you' VMA outfit
Get your Halloween mood in high spirits with this unforgettable and daring look from Britney. Pick out a sexy green chiffon bralette and gem-encrusted, denim shorts adorned with sequins, charms, and ruffled sides, something you can achieve with scarves.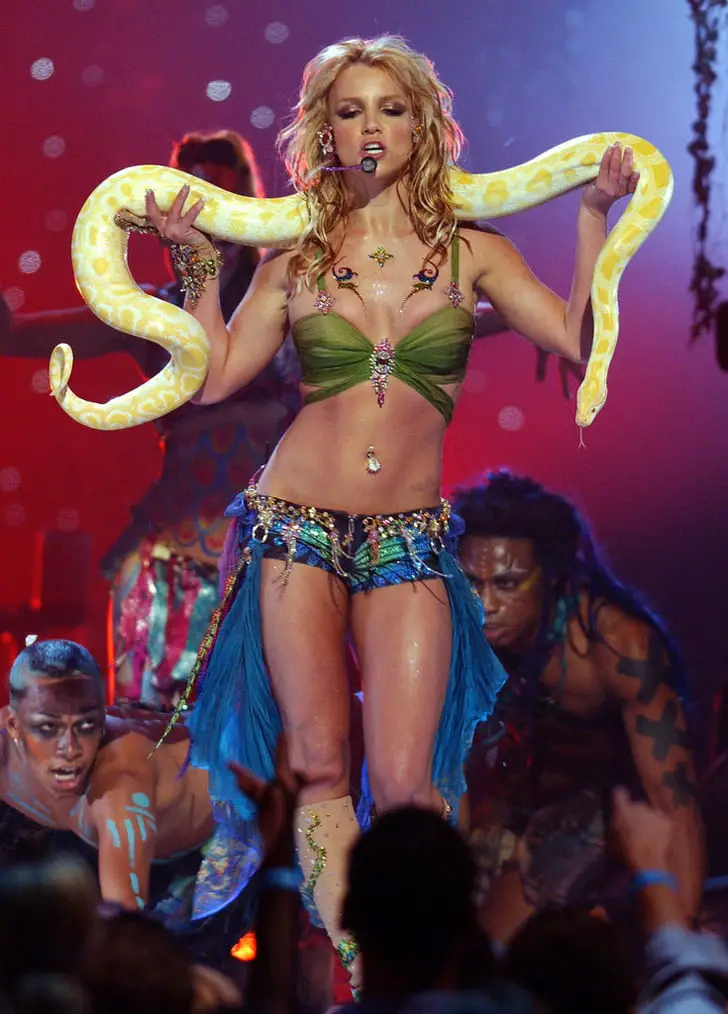 For shoes put on a pair of embellished knee-length boots. The icing is the giant yellow and white boa (real or plastic) to be placed on your neck. This is a certified scary yet stylish costume.
Flight crew attendant Britney Spears costume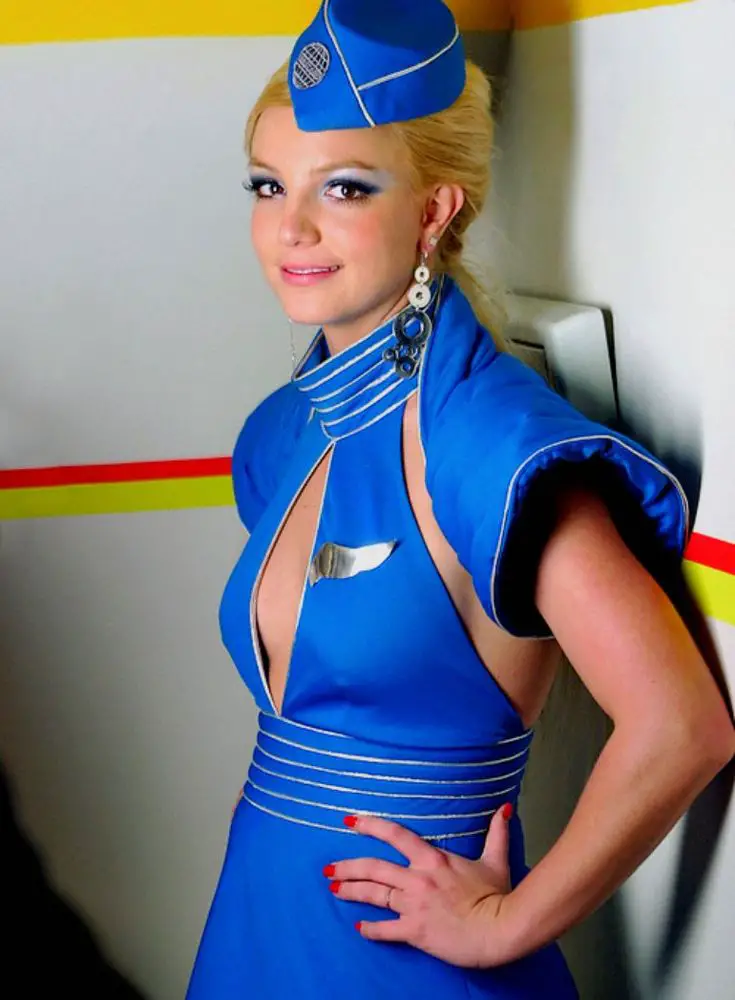 The look is pretty easy to achieve; you'll need a blue flight crew dress with an upgrade. Ensure that it is short with a low-cut opening at the middle to show major cleavage, and then add the hat.
For makeup, match the eyeshadow with the dress color, wear some faux lashes and a glossy pink lip. Style your hair in a ponytail braid and the footwear choice should be Mary Jane heels but your basic flats will also do. Shop this look here.
Baby one more time Britney Spears costume
This is one of the easiest costumes to pull off, even if it's a last-minute thing. The outfit consists mostly of wardrobe essentials. You'll need a fitted white shirt, a colored bralette preferably maroon, grey cardigan, black plaid mini skirt, knee-length socks, and some pink hair pom-poms.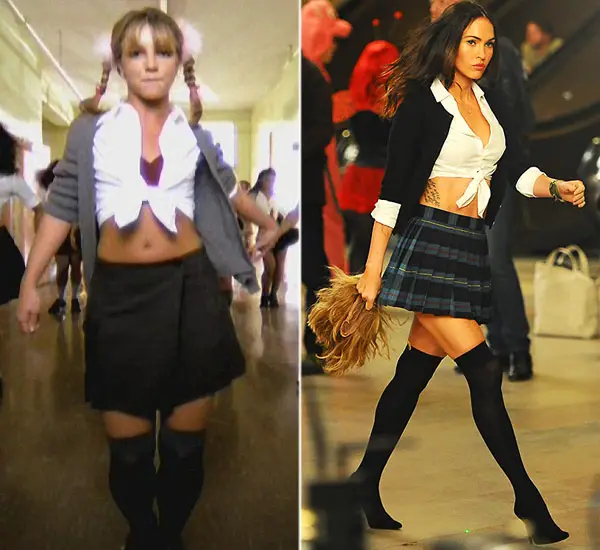 After wearing the shirt over the bralette, open up some buttons so your bralette peeks out. Fold the sleeves and make a knot with the shirt on your waistline above the skirt.
For your hair, section it and make two pigtails, then add the pom-pom hair ties. Wear the socks and ankle boots, add your cardigan, and you're done. But don't forget the pink lipstick. Shop the complete outfit here.
Circus master costume
Control the circus ring and the Halloween party with this Britney circus-inspired costume. You can easily find a circus costume on places like Amazon, just make sure it's a red tailcoat. Wear black shorts with a fishnet hose adorned with rhinestones.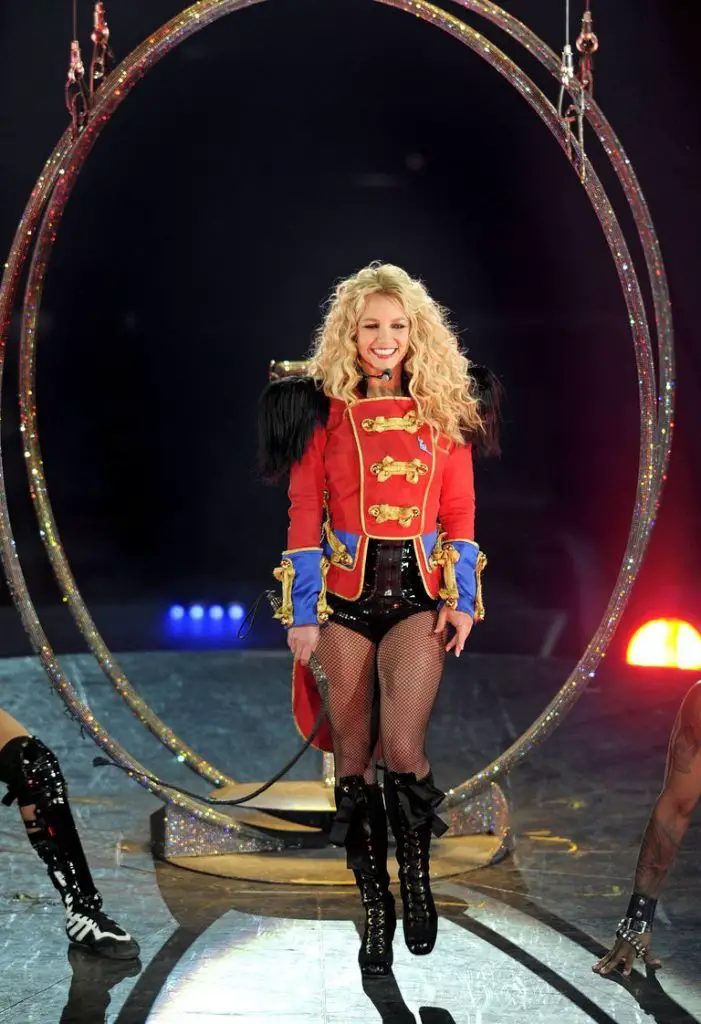 Throw on your boots and a whip for extra glam and you'll be the center of attention.
Recreate another circus look with skinny leather trousers, a long-sleeved lace crop top, knee-length patent leather boots, and a top hat all in black. Your second circus look is ready.
Waitress costume from you drive me crazy music video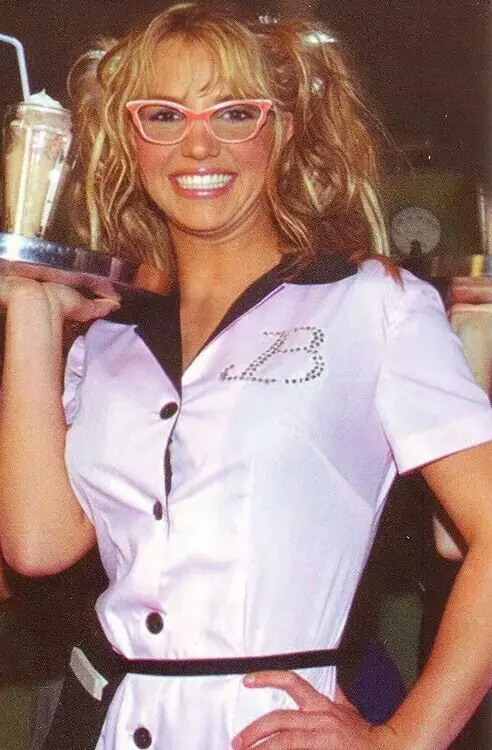 Get inspired by Britney's hit song from 1999 and go retro with a classic waitress costume preferably in pink. Add your waistline bag to keep all the pennies as well as a pink cat-eye sunglasses. Don't forget to wear your hair in pigtails with your pink furry ties.
To seal the look, carry a tray as if to take orders. The chic retro waitress costume never looked so good.
Sexy bride Britney Spears costume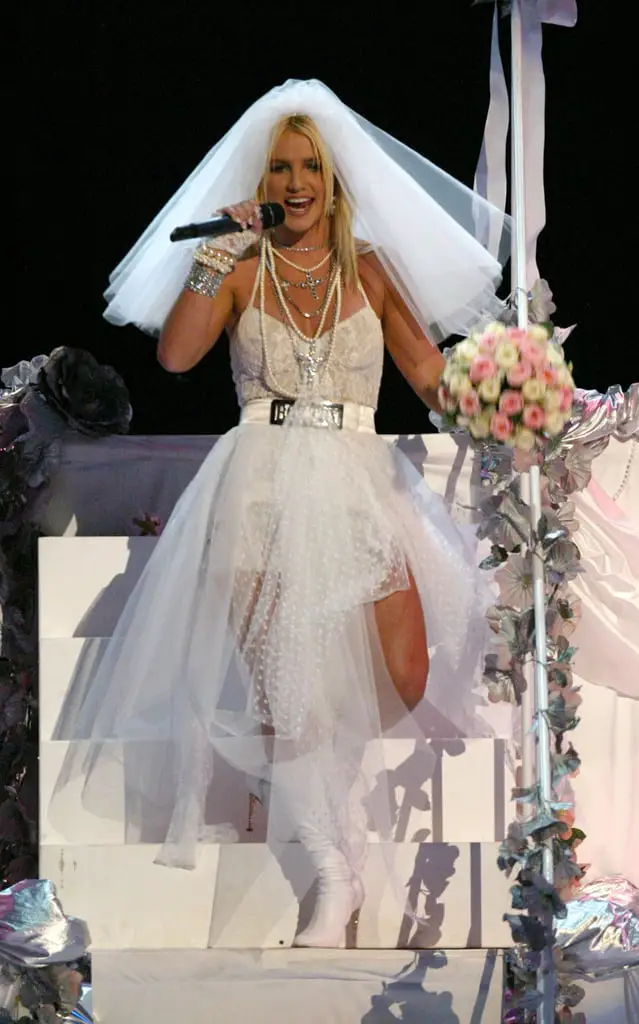 Dress up as a cool bride on Halloween, just like Britney from the 2003 VMAs. Get a sexy mini white dress with a detachable lace skirt. Accessorize with layers of long pearl necklace, lace gloves, a veil, and a boy-toy belt.
Add some heeled boots and keep everything white. For extra points carry a bouquet and prance around chewing a piece of gum. Your sexy Halloween bride outfit with a kick is ready.
There are so many ways to describe Britney Spears: she has been called the princess of pop, fashion icon, and a few other names throughout her amazing career. Look around and you'll find the influence she has on today's fashion and music. Give a nod to her art despite all that is going on in her personal life, and slay like Britney.
The impressive ensembles the singer dished in her glory days are all you need to be inspired this Halloween with all the fun Britney Spears costume ideas. So, get ready to dress up and carry yourself with all the confidence you can muster.