Introduction to SKIMS bodysuit
From Kim to SKIMS: A history on the SKIMS bodysuit shapewear line
The year was 2019. Masks were Halloween costumes or slipped on to keep the dust away. Shops were open, and sneezing in a bus was not answered by glares or fearful gazes. Kim Kardashian still had the last name of a cardinal point, and Kanye was, well, Kanye. A new celebrity brand opened its eyes to our wonderful world, where "social-distancing" was a thing exclusively for introverts. Its first cry was in the form of a hashtag that is an impressive play of words: #ShowYourSKIMS.
SKIMS' original name, though, had attracted a massive backlash. The Kimono, it was previously called, with yet another play on words with Kim standing for the celebrity of the hour and ono meaning one. Well, that was what she thought anyway, and wrongly too as the root words of kimono are "ki (wear)" and "mono (thing)."
Tweeps (Twitter users) didn't appreciate the pun. They used the Social Media site to express their disagreement with essay-long threads accompanied with the hashtag #KimOhNo. Even the Mayor of Kyoto City asked Kim to reconsider the brand's name, which she promptly did along with an apology.
Despite the muddy and controversial waters of SKIMS' origins, on its first day of launch, the brand sold out within minutes—yes! Minutes!—amassing a profit of 2 million USD.
SKIMS' bodysuit review
Celebs in SKIMS bodysuit
If such a massive success on its first day still hasn't settled your question—Are SKIMS bodysuits worth it? Maybe what you need is a peek at celebrities looking fabulous in them.
Kim Kardashian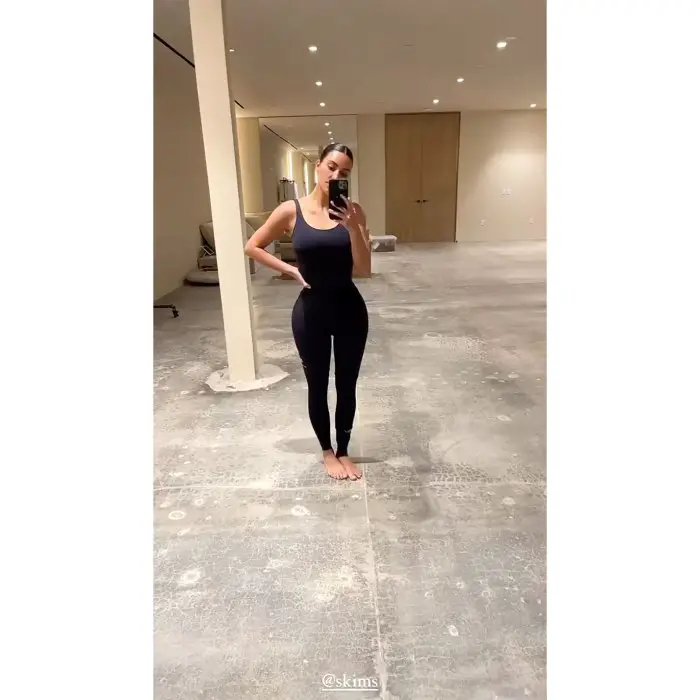 Of course, first on the list is the woman of the hour, the brand's founder herself, Kim Kardashian. Here she dons one of her black Essential Scoop Neck Bodysuits. As you can see, the SKIM truly highlights her curves with its close hugging but comfortable frame and plunging neckline.
Related articles:
– Tanisha Thomas from Bad Girl weight loss: surgery, before and after
– Rihanna's Fenty Beauty launches Icon lipstick | See where to buy all 10!
– 10 best Julia Haart shoes and where to buy them.
Kourtney Kardashian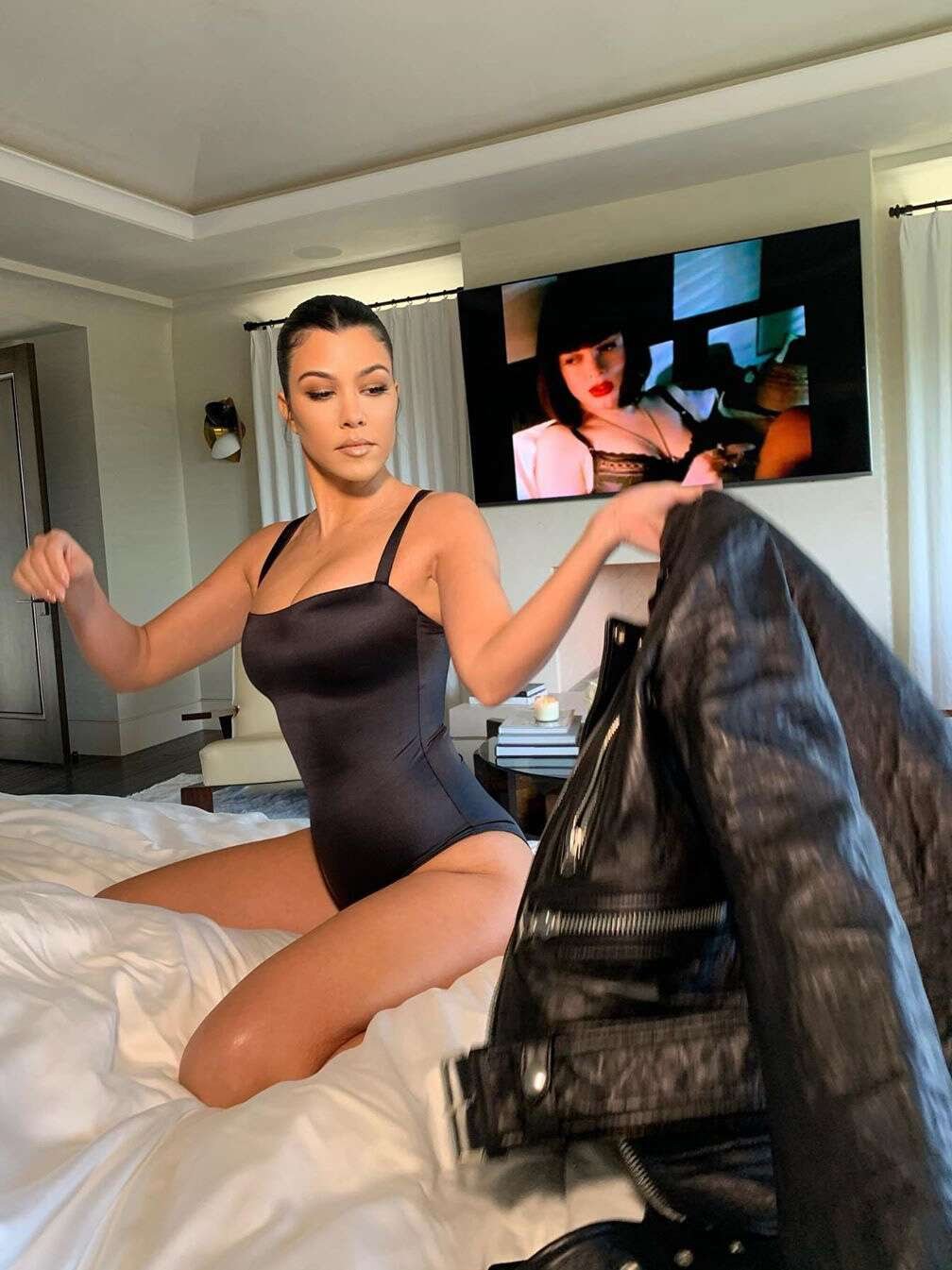 The eldest Kardashian sister shows her support for the brand by slipping on an absolutely fabulous Stretch Satin Bodysuit, even daring to throw a leather jacket over it.
Kylie Jenner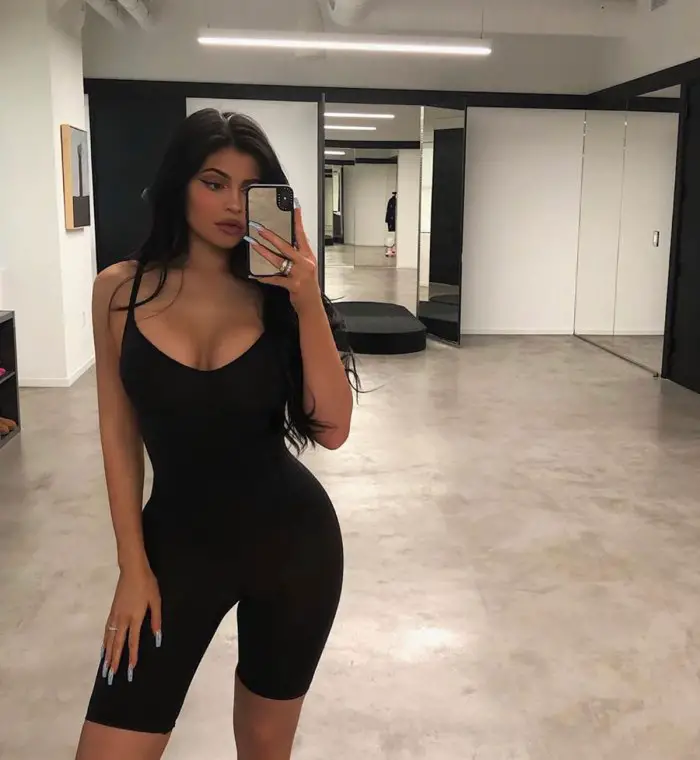 Here is another member of the famous family looking stunning in the SKIMS product. Kylie Jenner wears the Sculpting Mid-thigh Bodysuit that doesn't fail to emphasize her impressive curves.
Selena Gomez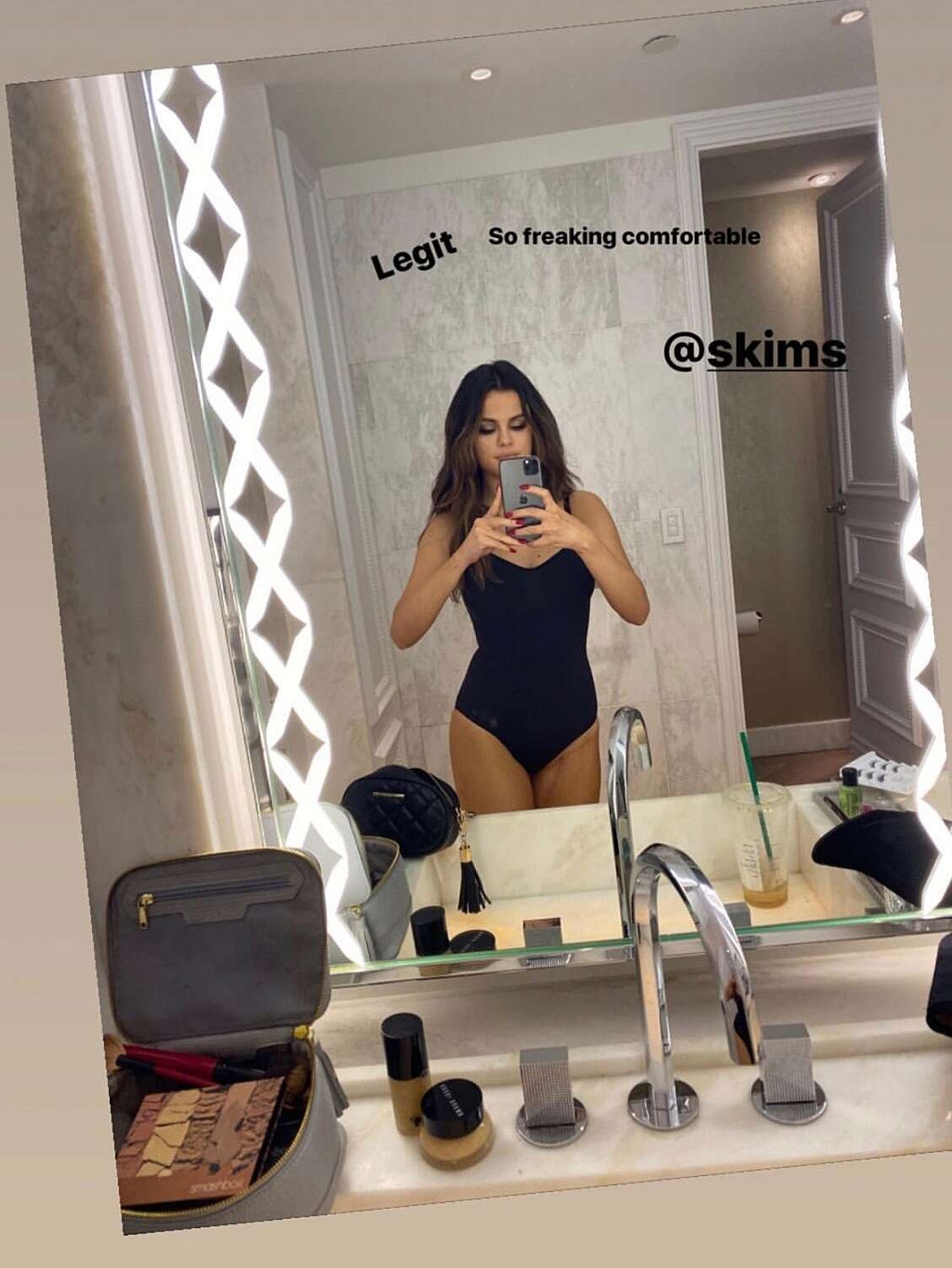 There's no shortage of wearers outside the Kardashian family, though, as the actress Selena Gomez attests to its comfort in this mirror selfie when she's clad in one of SKIMS' black sculpting bodysuits.
Amy Schumer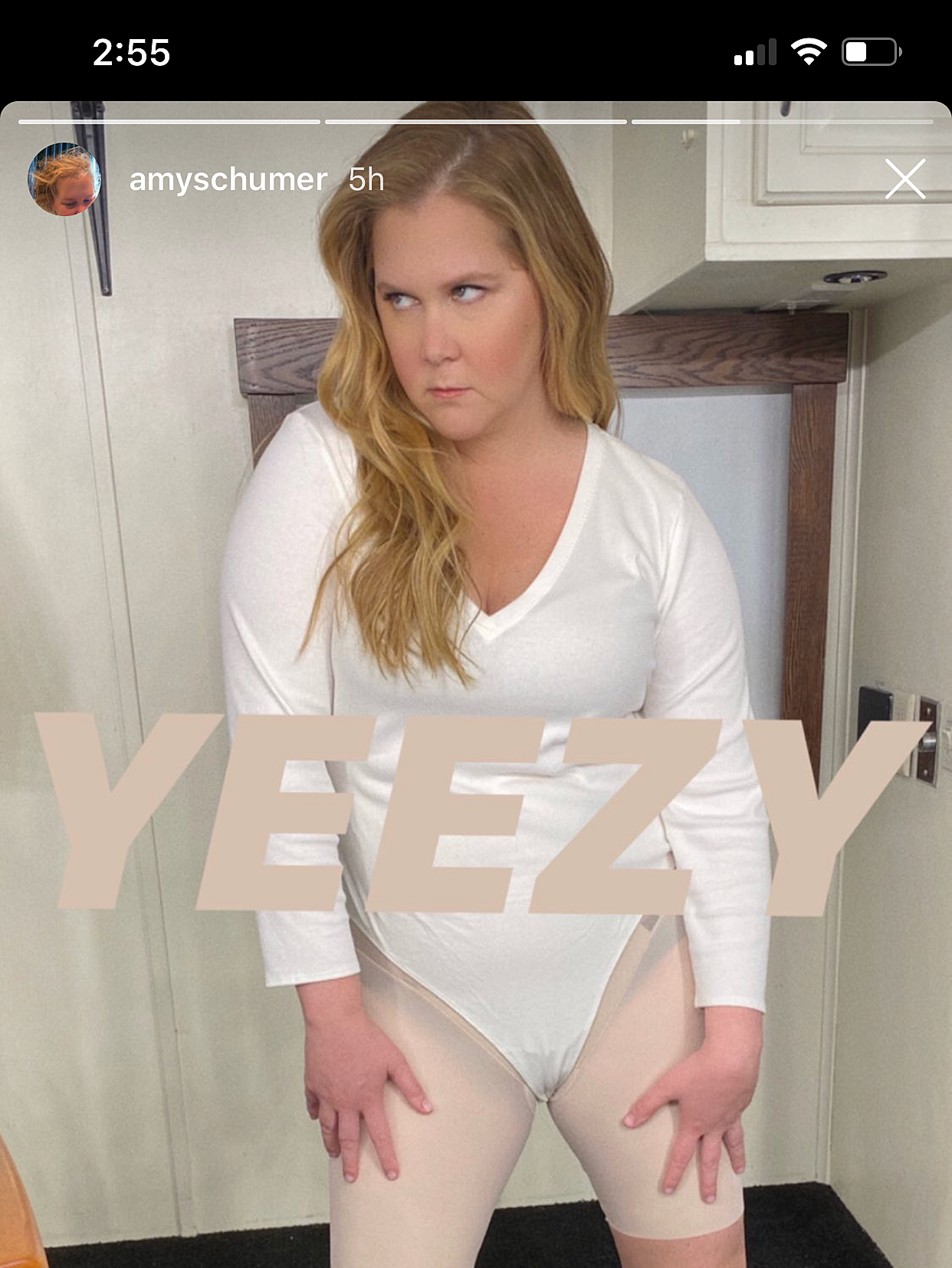 The hilarious comedian Amy Schumer rocks a beautiful white long sleeve SKIMS bodysuit in this Instagram story post, and beneath this, a cream-colored SKIMS Sculpting Shorts.
What fabric is the SKIMS bodysuit made of?
SKIMS bodysuits are often made of nylon fabric and spandex, but they also come in other materials such as cotton.
Does SKIMS bodysuit have a built-in bra?
SKIMS bodysuits do not all come with built-in bras, but this is no downer as SKIMS bodysuits are made of thick materials, so there is no need for a bra when you slip them on. Unless, of course, you choose to wear the bodysuits with free busts.
On this topic, Kim Kardashian says: "With these you don't have to wear a bra because they hold you."
How to wash SKIMS bodysuit
The day is past. You've worn a SKIMS bodysuit either for an outing or two, and naturally, you want to wash it so you can wear it again the next day. But how do you clean SKIMS bodysuits? What is the proper way to clean them while ensuring they last you many more days, stunning your friends with their gracious highlights?
Well, I highly recommend washing them with your hands, so the bodysuit's material retains its integrity and, as such, lasts longer. Be gentle and make use of warm water!
Ensure you use soft detergents as well, special ones that lack alcohol, dyes, softeners, and bleach, like the ones that do have these ingredients can eat at your bodysuits, ruining its integrity and shape. Use the type of detergents made for lingerie as these are more gentle on your bodysuits.
If you feel like you must use a washing machine, be sure to use the machine's softest and shortest cycle in cold water. Ensure to use a lingerie bag for your SKIMS bodysuits, and do not wash them with other clothes.
After you've done all that, dry them out in the sun from a hanger and not with your dryer.
And like that, you're ready to look fabulous again come the next outing or Instagram post.
Best SKIMS bodysuit
So you know its controversial yet interesting history.
You've seen celebs rock them and look absolutely chick, but you're worried you might not be able to comb through the clothing line's shopping site and find the best SKIMS bodysuits to wear in 2022. Well, fret not, because we have your back with 15—yes, you read correctly, 15—bodysuits suggestions that would wow your friends and put just a slight tint of jealousy in their eyes: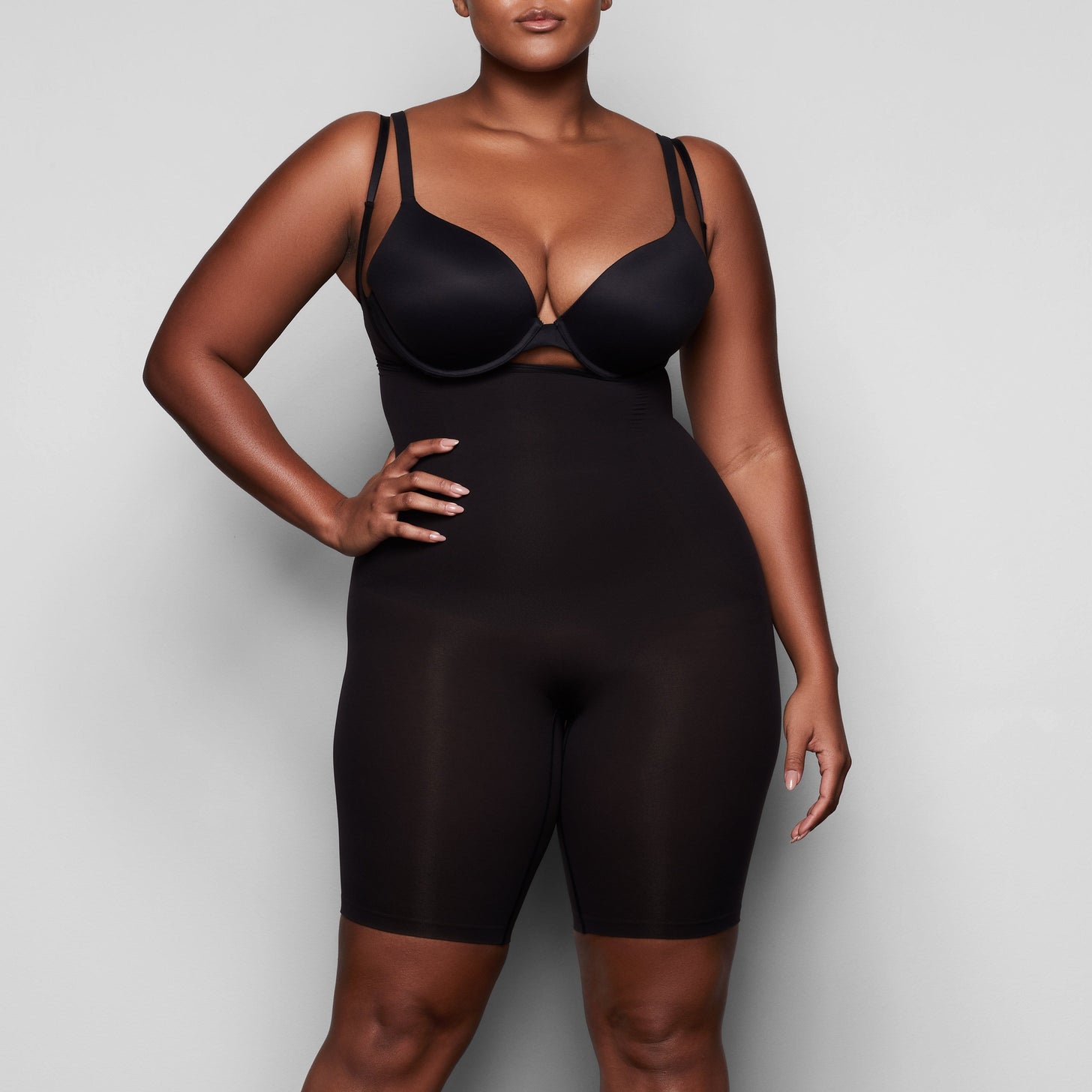 Grace the scene with this fantastic bodysuit. For lovers of shorts, this will steal your hearts with its mid-thigh length. Soft and smooth like a gentle touch, this bodysuit highlights your curves by lifting your butt and hugging close to your core. Its open bust allows you to slip on your comfortable bra beneath. And my, won't you look fabulous in this. You can style this bodysuit with a crop top and jelly sandals for a fun summer outfit.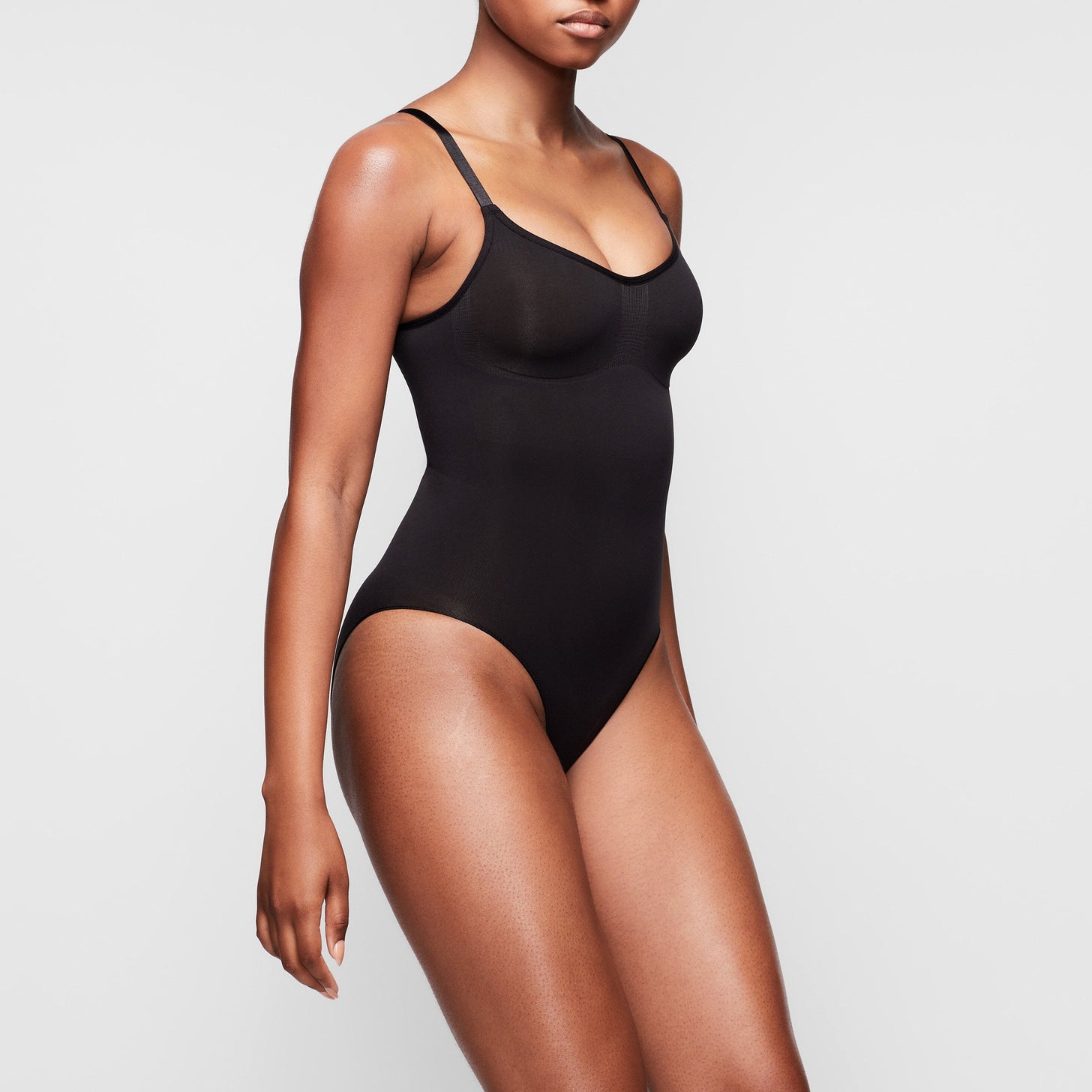 Are shorts not your thing? Well, SKIMS doesn't disappoint with this fantastic Sculpting Bodysuit With Snaps. Its straps are easily adjustable to suit your needs and have a Snap Closure at the crotch region that allows for comfortable and easy maneuvering. You can pair this with low-rise jeans to show off the high leg cut.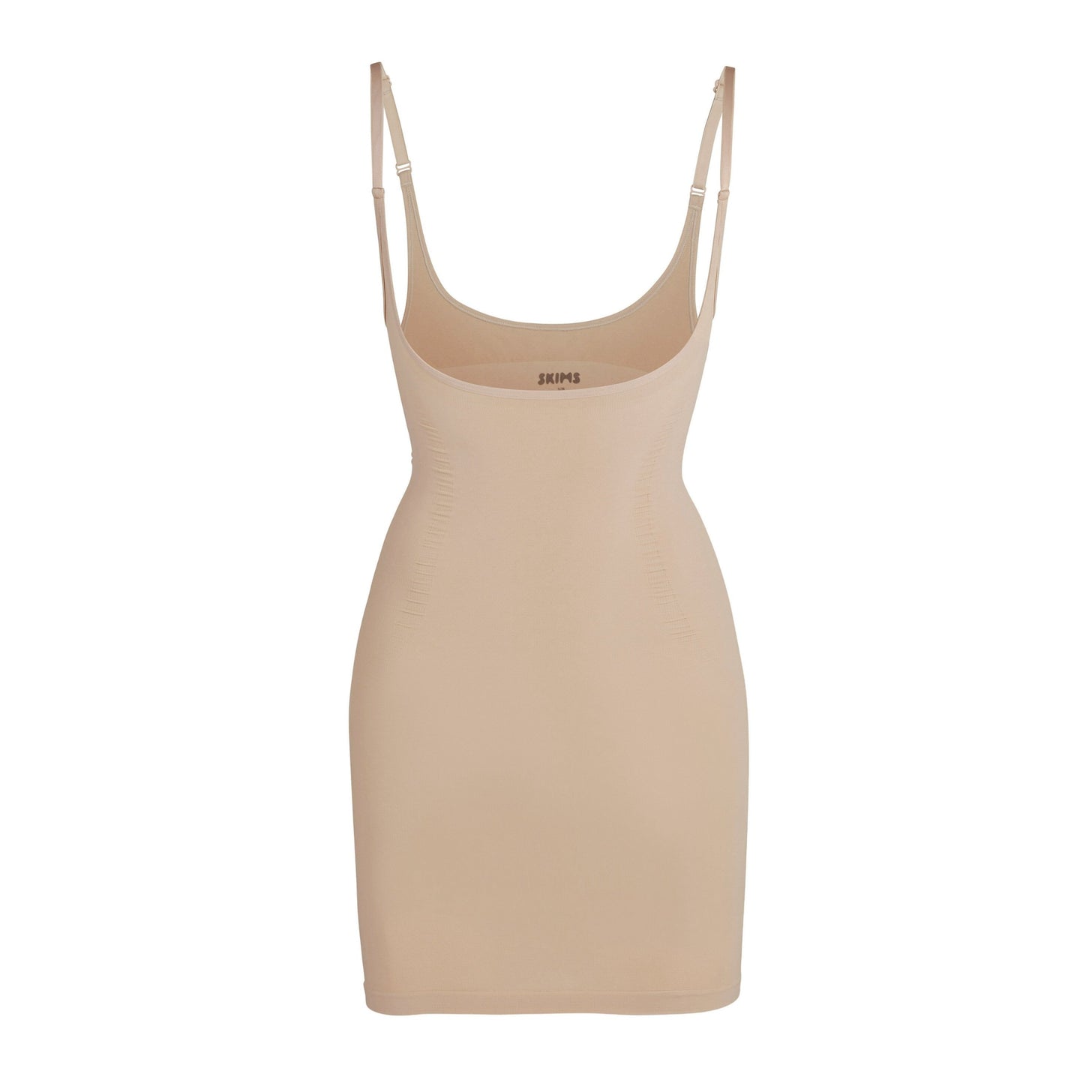 This bodysuit emphasizes your lower curves. It closes in around your core and highlights your body's beautiful shape. Since it is open bust, it allows you the freedom of wearing your bra. The bodysuit is reminiscent of skirts for those to who shorts and trousers don't appeal. Show the world your natural frame as you don on this beautiful bodysuit.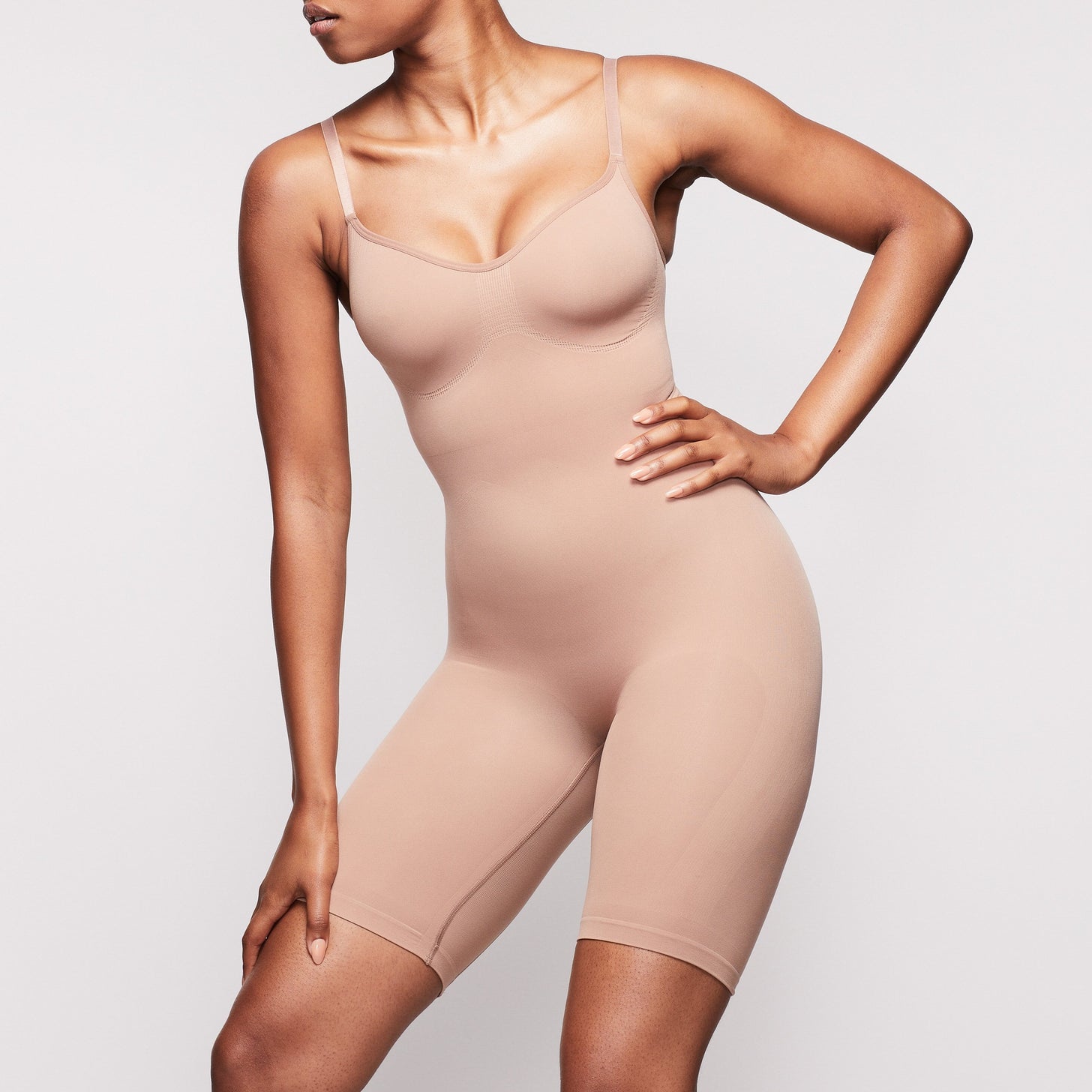 You can wear this without thinking about which bra to pull on. The thick material helps lift and shape your bust and butt and smooths your thighs, accenting your natural curves and giving you a smooth shape to be the envy of your friends.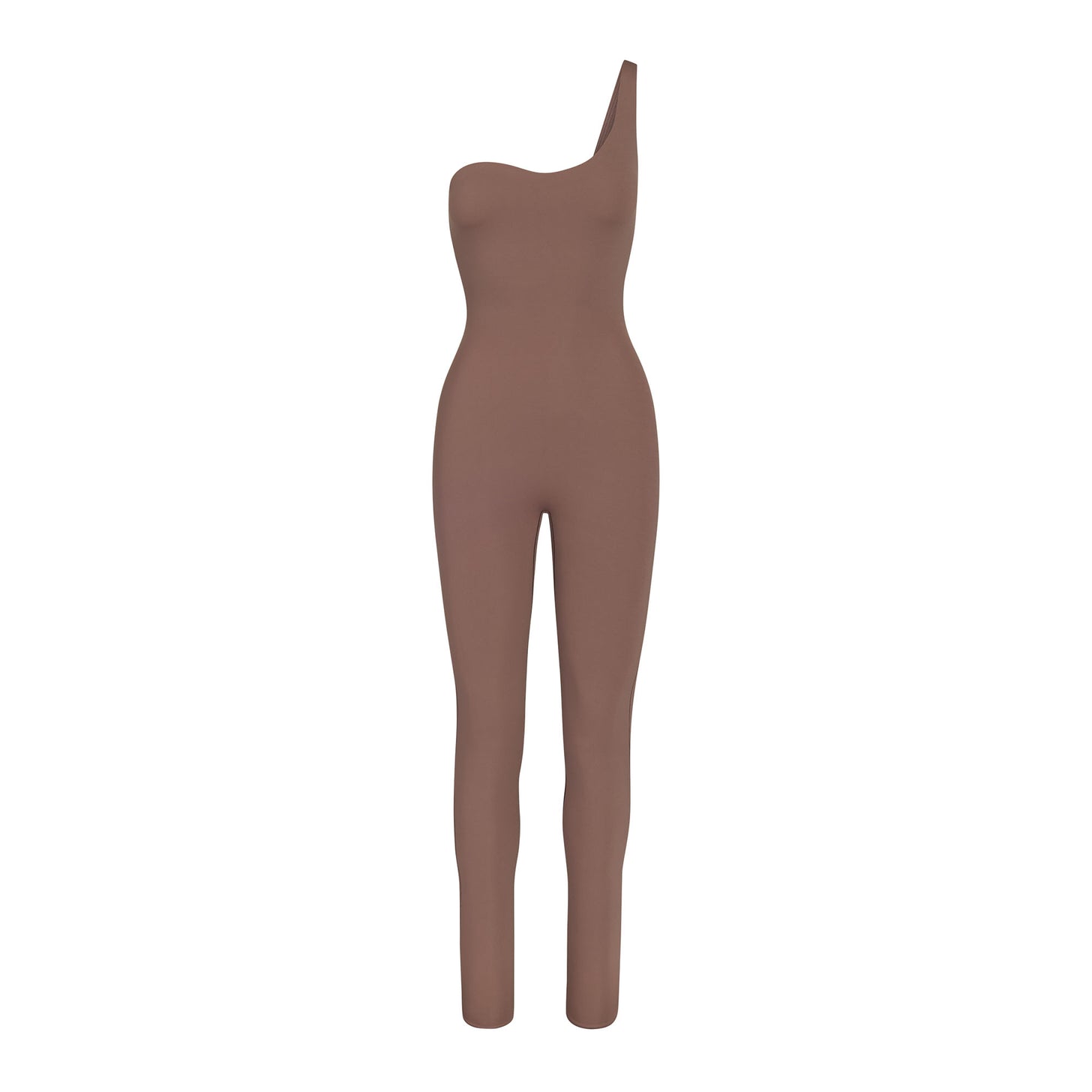 The All-in-one One Shoulder Onesie is another fabulous SKIMS bodysuit you can rock this year and look chic. Single shoulder neckline that whispers stylish. This pull-on style spots a full-length coverage that seems to contradict the plunge neckline's statement but in such a fashionable way. These all add up to make a fabulous SKIMS bodysuit that is a total knockout this year. More so, it is lined with power mesh for splendid support and makes the bodysuit easy to wear.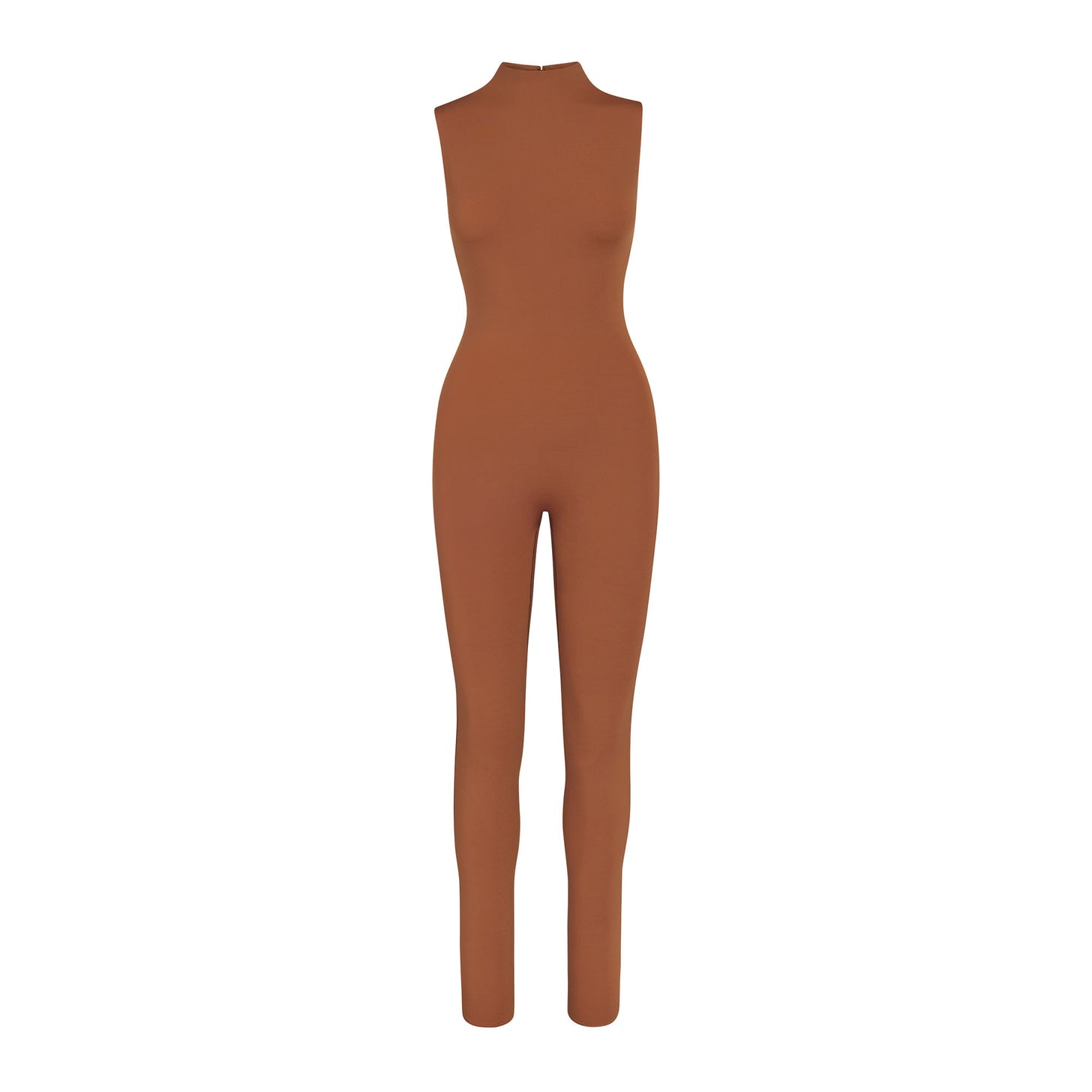 Can you truly go wrong with sleeveless? I think it's impossible. Showcase your gorgeous arms in this full-length coverage bodysuit. With its mock neckline its ability to smooth and accent your beautiful curves, it will surely make you an eye-catcher this year. And all it takes to slip-on is a yank on the zipper. The onesie is lined with power mesh, giving the extra support you need to be the star of the show whenever you step out on a night out.
Here is another onesie that has effectively stolen my heart. Long sleeve, scoop neck, also lined in power mesh, so you know it's really comfortable already. This All-in-one scoop neck long sleeve onesie will help accentuate your beautiful legs, arms, and your lovely curves.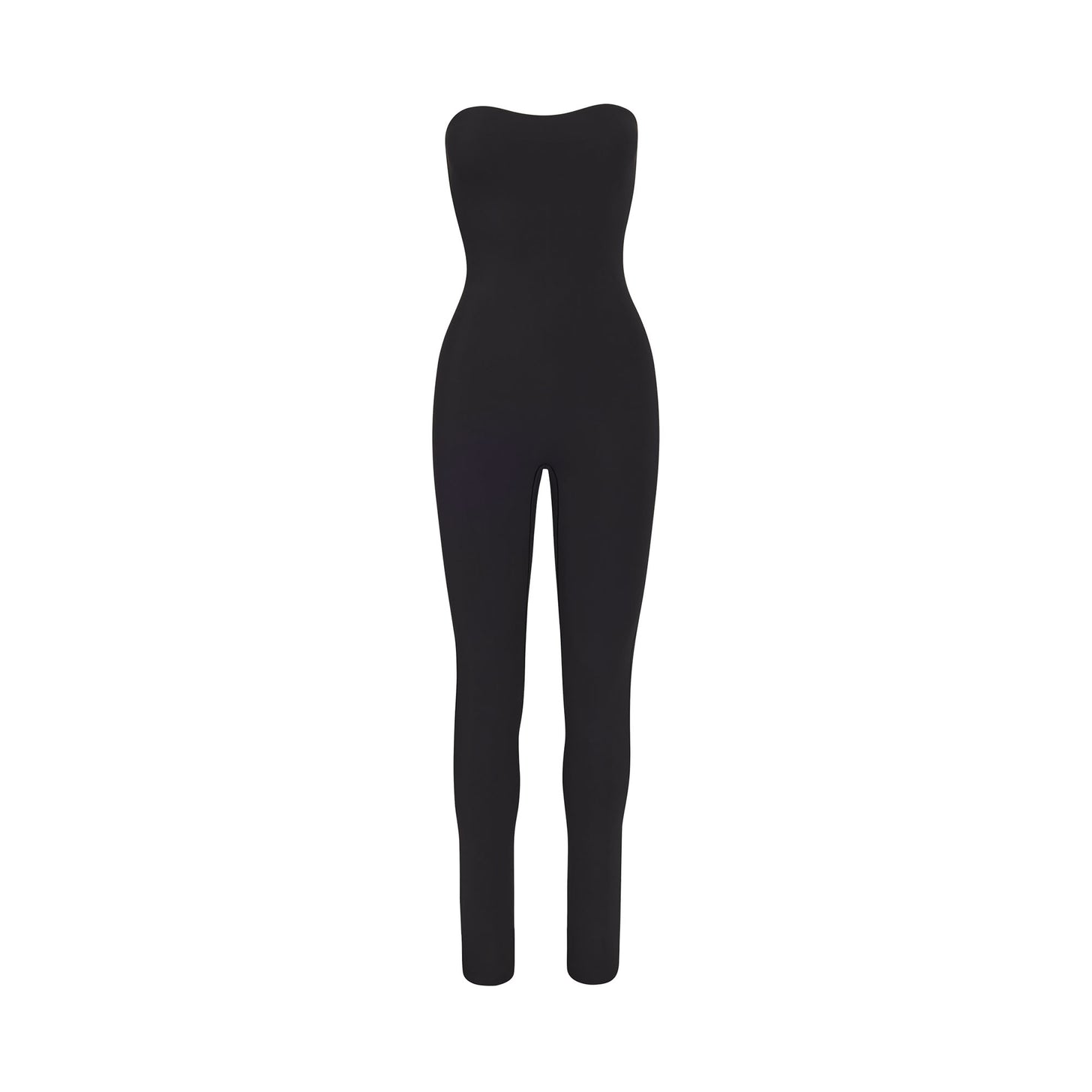 Why go with one strap when you can go with none? Leave your gentle shoulders to have their day in the sun with this bodysuit. With its straight neckline comfortable but sculpting material, get ready to have eyes on you wherever you go. Or, in the virtual realm (Instagram), likes to bury you. If you choose this color, be sure to pair it with a fringe jacket and a black set of heels to absolutely slay.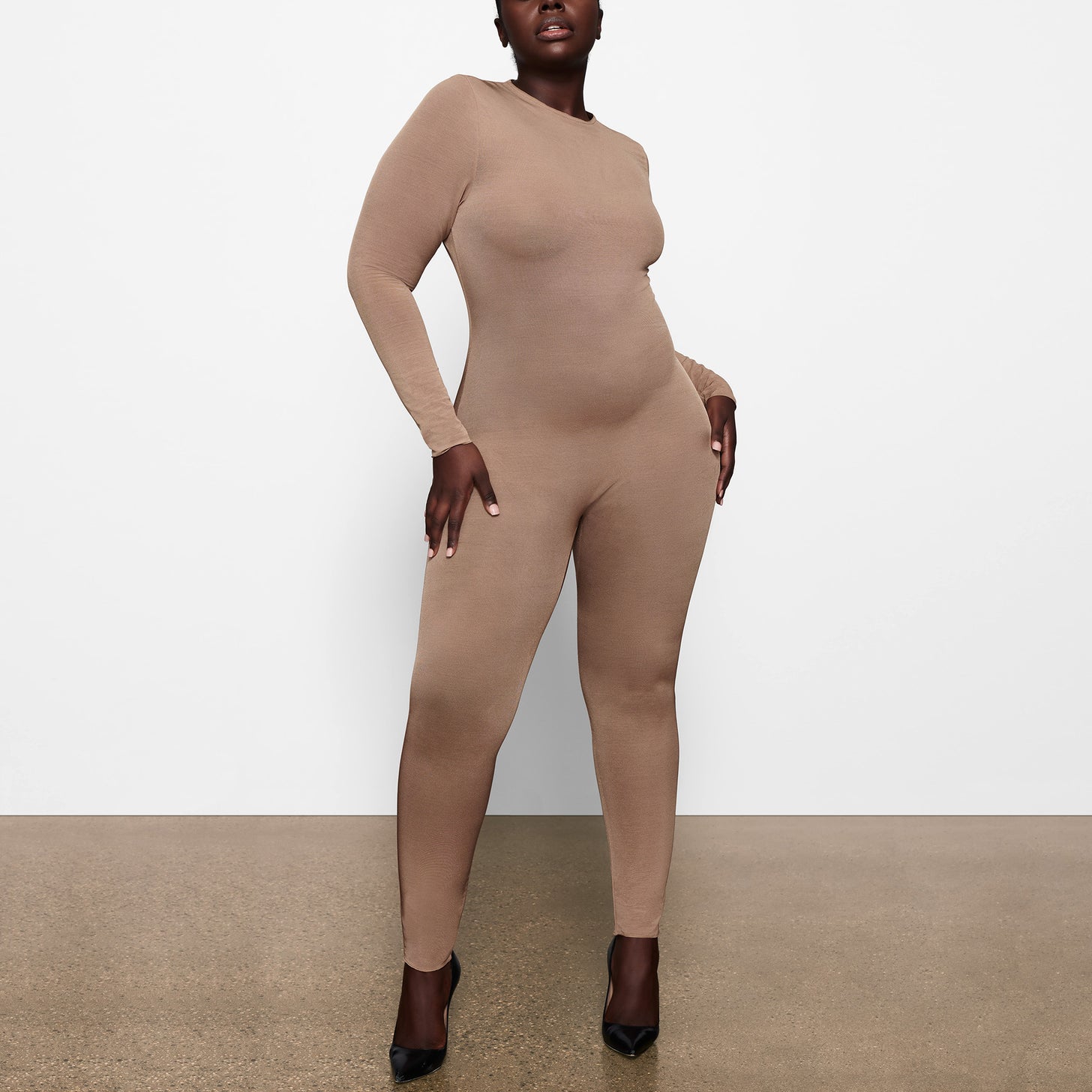 This catsuit smooths your form with light-level compression while simultaneously emphasizing your splendid curves. With SKIMS' signature power mesh lining, you're sure to feel as comfortable as if it were another layer of skin. And its long sleeves and inseam provide a custom fit. Nude colors always make a splash, so if you choose this, look chic when you wear gold hoop earrings.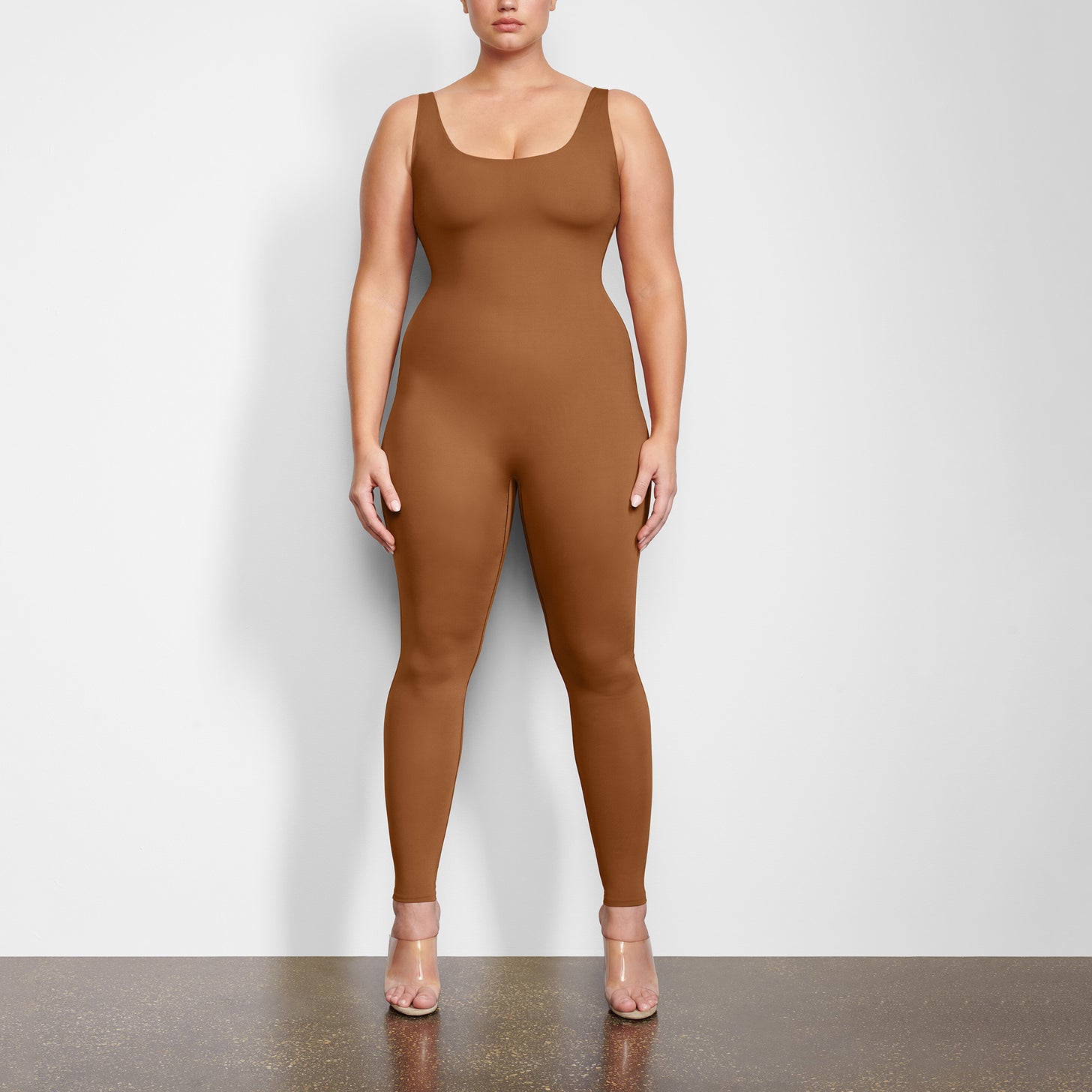 Slip on this cozy onesie and layer it up for a day out, or wear it alone to grace the night. Whatever your decision, you're sure to be at ease with its power mesh lining, and your curves have never looked better as it hugs your body in all the right places.
Witch combining long sleeves and mid-thigh, the onesie puts a modest but fashionable twist in the standard set above. Show off your graceful legs with this bodysuit while it properly accentuates your alluring curves.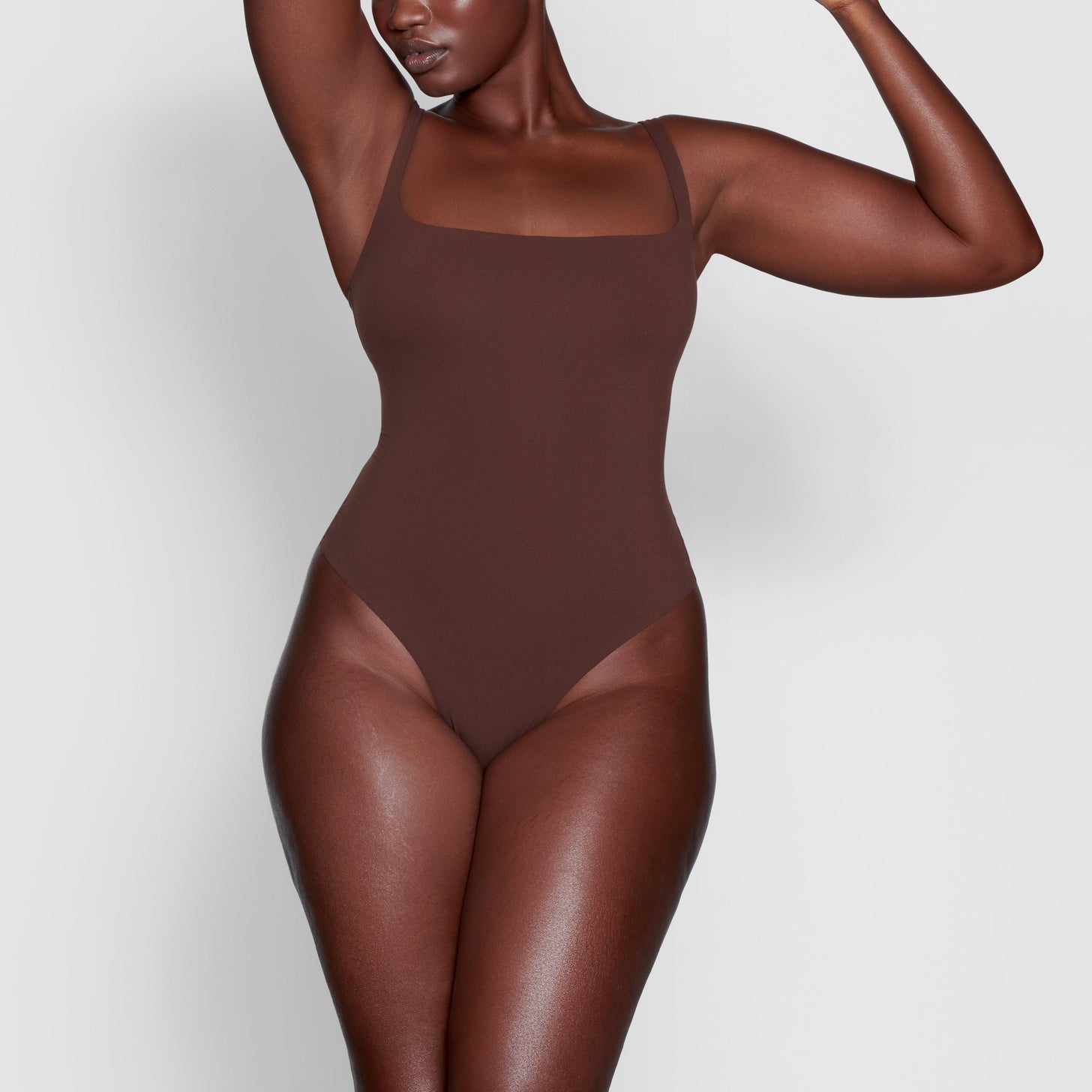 Impress your friends with this fabulous square neck bodysuit. Its high-cut leg openings are sure to show off your lovely legs, while the back thong hides beneath clothing. Pull-on a pair of high-waist jeans, wrap a snazzy jacket around your frame and you're sure to slay the moment you strut out.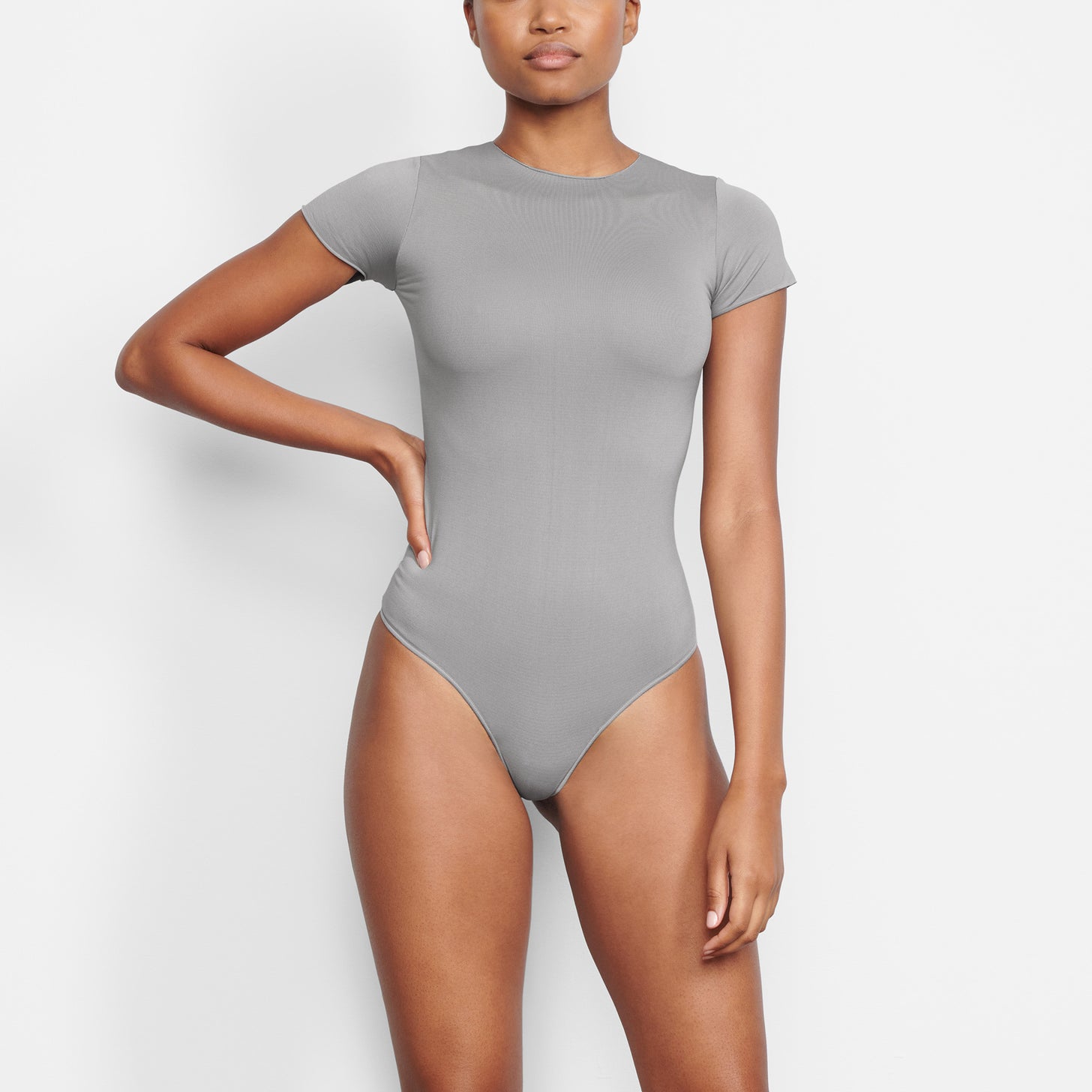 This fabulous blend of bodysuit and T-shirt will help you look and stay voguish this year. Though it fits closely to the body, it smooths your frame but does not suffocate your curves.
I recommend you match this with denim shorts and Fisherman sandals for a fun day outside.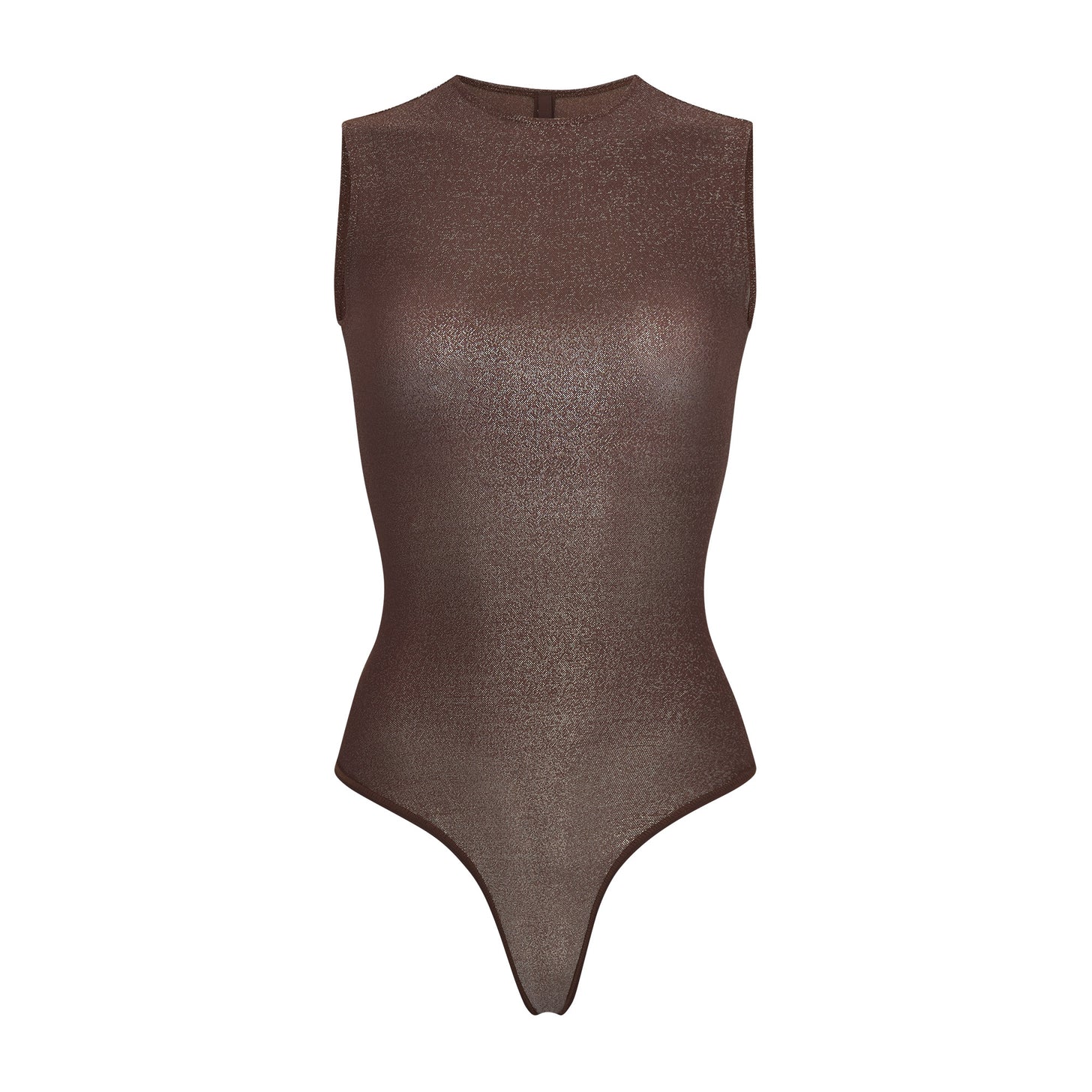 Soft, stretchy with miniature stars splashed across the surface, rippling with every move you make, this bodysuit is sure to dazzle. Sleeveless so it reveals your impressive pair of arms, with well-made crew neck, 2022 is your year, and you're ready to slay! Wear this with your favorite pair of wide-leg jeans and a bucket hat for a dash of 90s vibes. Step out and in this fabulous SKIMS bodysuit and watch jaws drop.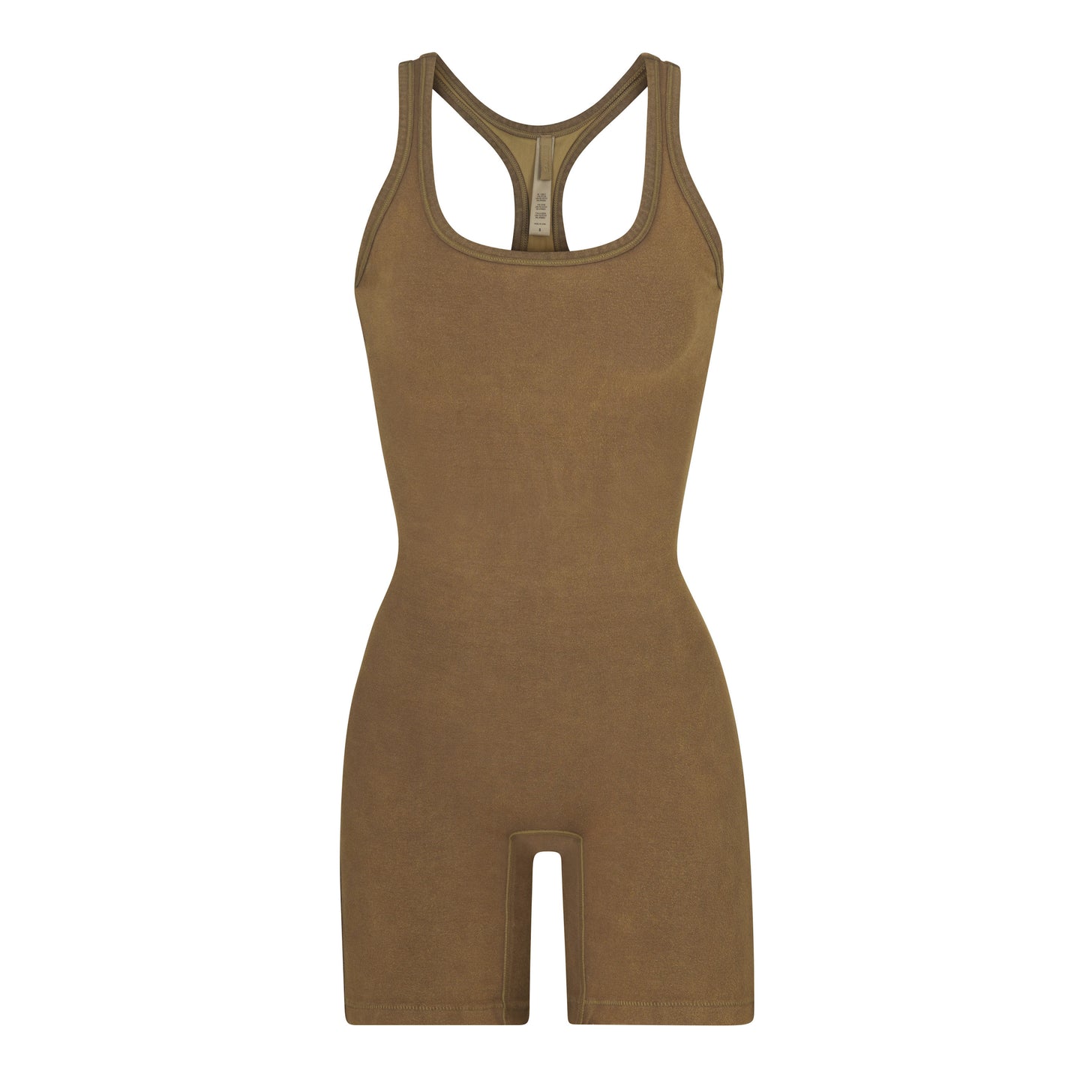 This SKIMS bodysuit hits your mid-thigh with a power mesh bra for support and tonal contrast trim along the arms and neckline. This bodysuit will make you stylish in a heartbeat. Throw on a pair of Platform Uggs and you will stun onlookers the next time you step out.
Conclusion
So there you have it! 15 SKIMS bodysuits suggestions to help you slay this year, as promised. Don't just limit yourself to the suggested clothes to pair them with, though; let that fashionista in you flare to life!
Throw on an assortment of clothes you think would go fabulously well with the bodysuits listed above. You'll only know when you try!
You may also like to read, 10 fashion inspirations from Daphne Guinness to try out in 2022.