Tweed is a sturdy and thick fabric, usually made into jackets with a wool and cashmere blend. Tweed is an elegant choice for fall and winter, often associated with the classy to appear distinctive. A look at the jacket collection from top brands clearly shows that the tweed jacket has evolved from the clean-cut design that aunties rocked in the '80s.
Drawing inspiration from their styles, brands are shelling out reinvented pieces, which makes the jacket a great addition to your closet. The typical tweed has seen bold design updates such as fringes, exaggerated shoulders, pairing with miniskirts, and cropped versions. The colours do not disappoint either, which is so chic and a far cry from being ugly.
Tweed trucker jacket
The pockets on this tweed jacket do everything for the details. They give a luxurious feel with the extra details. It makes the plain and formal piece look more accessible and easier to style. Pair with neutral tone bottoms to keep the focus on the jackets, or a distressed pair of jeans for a quick edgy outfit.
The structured pocket design can also be great for your dresses; add a statement piece of jewellery to elevate the outfit.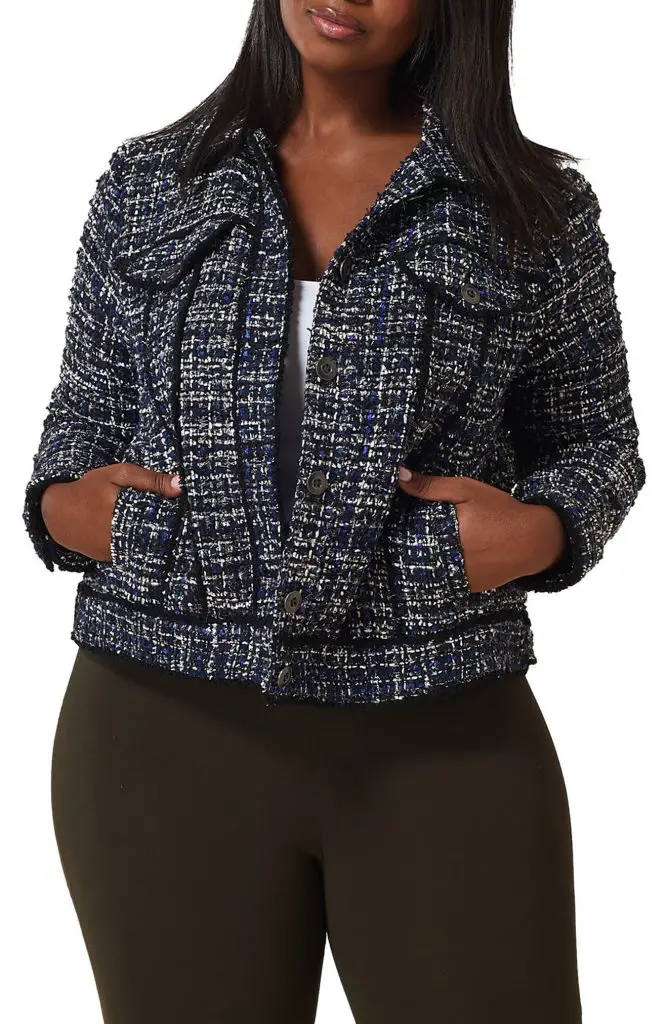 Sleeveless tweed jacket
A well-tailored sleeveless version of the jacket gives a slight edge to this old-fashioned piece. When you style it properly, it still leaves you with the polished look that tweed jackets bring.
To style such a polished outfit, wear it with a dressy top like pussy-bow blouse, nice bottoms, and stylish footwear, from matching pumps to mules. Another easy outfit to style it with is with jeans, a long-sleeved top, and boots, and you'll be ready for brunch.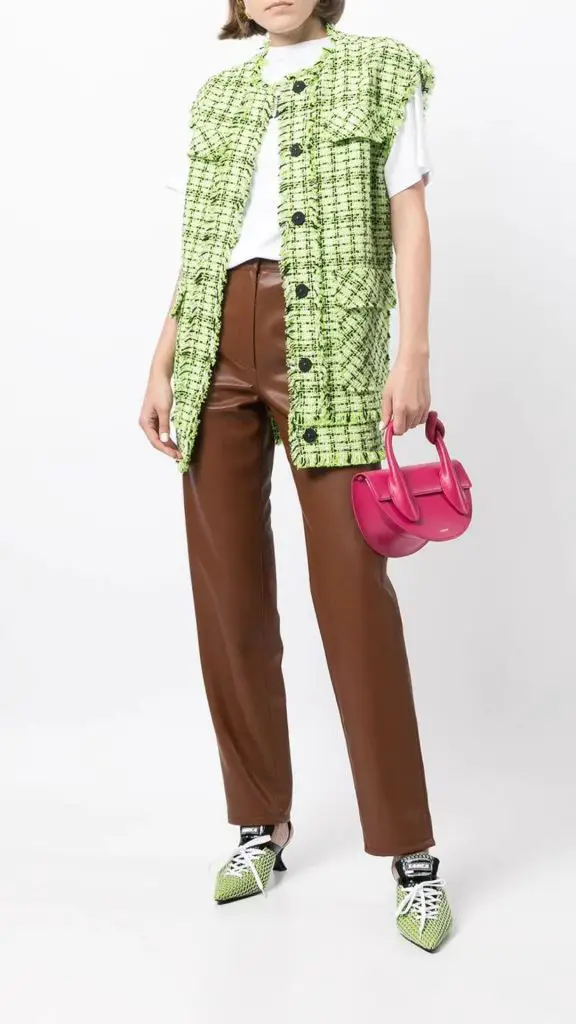 Long tweed jacket
The longer designs are a great way to enjoy more warmth. Lounge in a stylish way when you throw them over leggings and sweatshirts. Dress ready for a weekend outing with this outerwear, comfy trousers, matching tops, and lug sole boots.
Shop for a colourful one to pair with your long simple dresses.
Chic blazer tweeds
Blazer jackets undeniably look chic in tweed. They can be styled with jeans and tees for a laid-back look. An unexpected yet beautiful iteration is the short sleeve blazer.
Throw a colourful piece over a bodycon dress or a button-down shirt, tailored trousers, and patent leather flats for vibrant touch to your ensemble. You can wear such outfits for work and formal events.
 

View this post on Instagram

 
Rounded neck tweed jacket
Some of the classic tweed jackets are sewn rounded neck style. Find a piece that is elevated with jewelled buttons or converted to the bomber design. Styled correctly, they are a great fashion choice.
Dress with minimal effort and layer over a neutral-coloured dress, boots or heels with your jackets to elevate the look. The textured jacket can be worn with a simple turtle neck top, jeans with heels to pull it all together and you'll still look classy.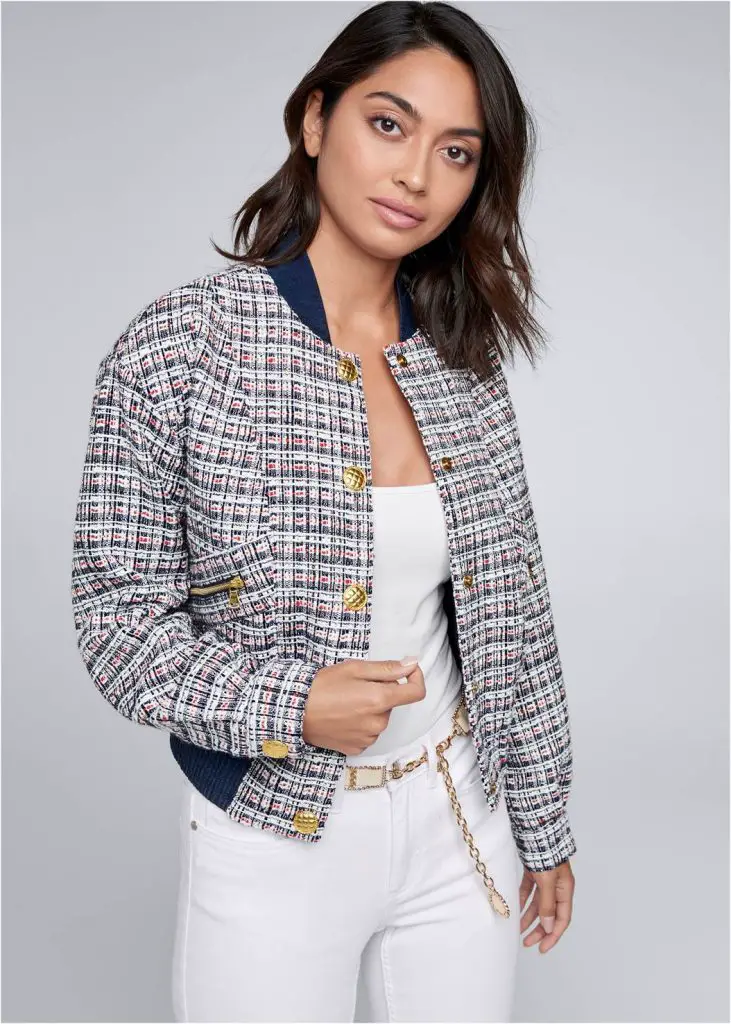 Frayed hem tweeds
Frayed details are the subtle designs that make the classy jackets look more playful and laid back. Most people agree that they are one piece you can add to your tweed collection without any fear of styling them.
They can be worn all year round with jeans and dresses. They are the kind of jacket you pull out after making fun plans. With your chunky boots and sunglasses, looking trendy never looked so easy.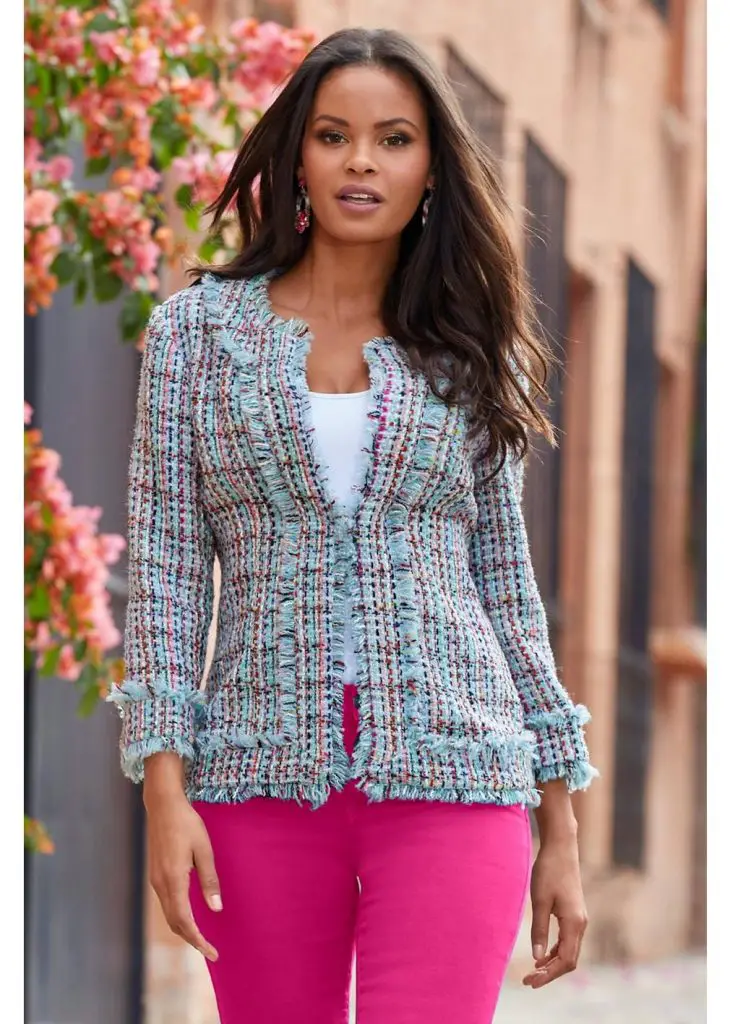 Matching set
Sure, a matching set of blazers and skirts is common but the new iterations will give you a rethink. They are far more stylish than old versions. A cute set with a miniskirt, tights underneath and thigh-high boots are all you need for fall outings.
You can also opt for the sets that feature matching shorts, those are cute as well. Keep it real with matching trousers which you can alternate for work and evening dinners, with the right shoes and innerwear to elevate the outfit.
 

View this post on Instagram

 
Cropped tweed jacket
The mid-belly baring trend is not lost on tweed jackets as the jackets are made more stylish with the fusion of denim or leather on the sleeves. There are many outfits you can achieve with these cropped weaves. Stay classy by wearing them over a black midi dress and matching heels, along with some jewellery.
Going for a put-together look? Pair with a silk camisole tucked in high waist wide-leg trousers. Pumps or regular flats will complete the look.
Conclusion
A tweed jacket ensemble is an easy way to appear expensive by just throwing them on because they give off a polished appeal. They never go out of style as they have been around for a while.
Thanks to the updated versions, you can easily style them with your everyday jeans. Get a little dose of sophistication with all the colours and weaves added to your wardrobe.