Wanna look stylish this summer while preventing sweaty feet? Easy, just think Fisherman sandals.
As winter rolls into spring and spring into summer, our feet will be grateful for the much-needed dose of vitamin D and wiggle room. Goodbye boots and cozy socks till we meet again.
You might've spotted these sandals on the feet of one or two celebrities, well that's because they're the new footwear fashion trend. Mention the celebrities and social media influencers that have worn it.
Fisherman sandals have been around for ages, as seen in various illustrations and writings of numerous cultures. Their durability and versatility have made them favored by many cultures throughout history.
What are fisherman sandals?
Fisherman sandals can be described as a cross between a gladiator and a jelly sandal. It features interwoven straps that run from side to side across a middle strap that runs from the toe to the foot. A strap along the back of the ankle keeps the sandal on your foot. The strap ends in an adjustable buckle or sometimes Velcro.
Where did Fisherman sandals get their name from?
Why they're called Fisherman sandals isn't entirely clear, but the most circulated reason is that they were popular among fishermen. Its open design allows water to drain out of the sandal quickly while also keeping the feet cool and well ventilated.
Fishermen wore these sandals because they were easy and convenient to use to wade through water or mud in search of fish. Shoe manufacturers made the soles in traditional fisherman sandals from thick materials to provide a good grip around damp terrain. The insoles are usually covered by a soft material to provide comfort and keep your soles from abrasions.
What are fisherman sandals made from?
Fisherman sandals are predominantly made from leather which is an excellent material as it is breathable, durable, and draws away moisture from your skin, consequently preventing the buildup of sweat. However, fisherman sandals made from synthetic materials are also typical. They also come in a variety of colors and styles.
Traditional fisherman sandals were made from leather, were round-toed, and came in either black or brown. Nevertheless, the revamped, modernized versions come in a plethora of colors and styles, as previously mentioned.
They are also designed to be versatile with different soles depending on how you plan on wearing them. For example, some come with lug soles and irregularly shaped outsoles to prevent slipping or sliding down a trail or uneven terrain. Some also come with espadrille outsoles which are great for walks on the beach.
Whether it's to the beach or on a trail, there's a fisherman sandal for precisely that purpose. So, without further delay, here are 15 fisherman sandals you really should get your hands on this summer.
Related article: 10 best Julia Haart shoes and where to buy them.
15. ANTHROPOLOGIE Fisherman Sport Sandals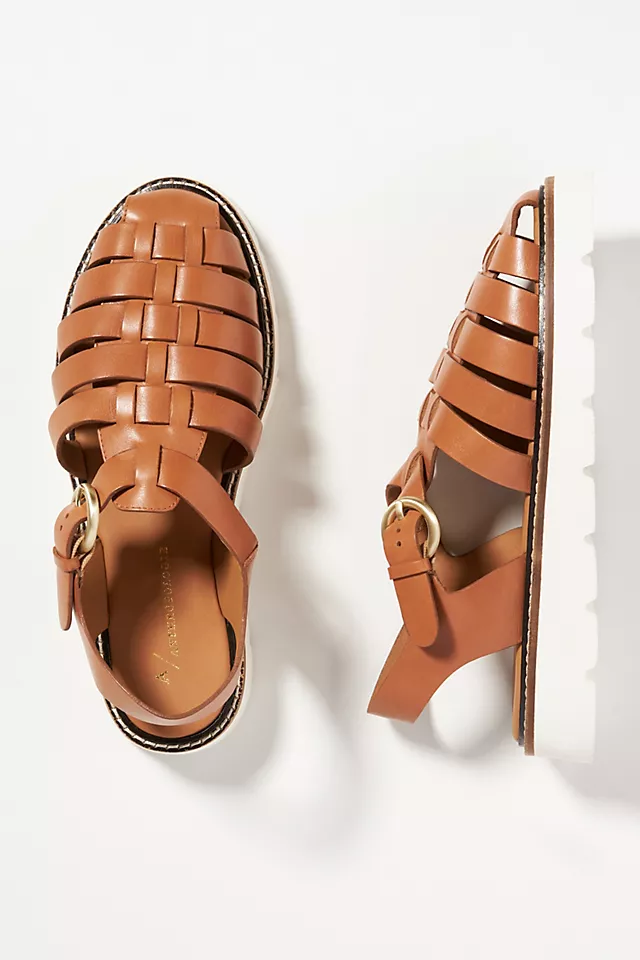 These brown sandals are designed to closely resemble the traditional fisherman sandal. Fitted with chunky soles for added height and irregularly shaped outsoles for great grip, they are comfortable and sturdy too. You can dress it up with a maxi skirt and turtleneck top or dress it down with biker shorts and a tee for a very casual look.
14. FREE PEOPLE Gia Fisherman Gladiator Sandal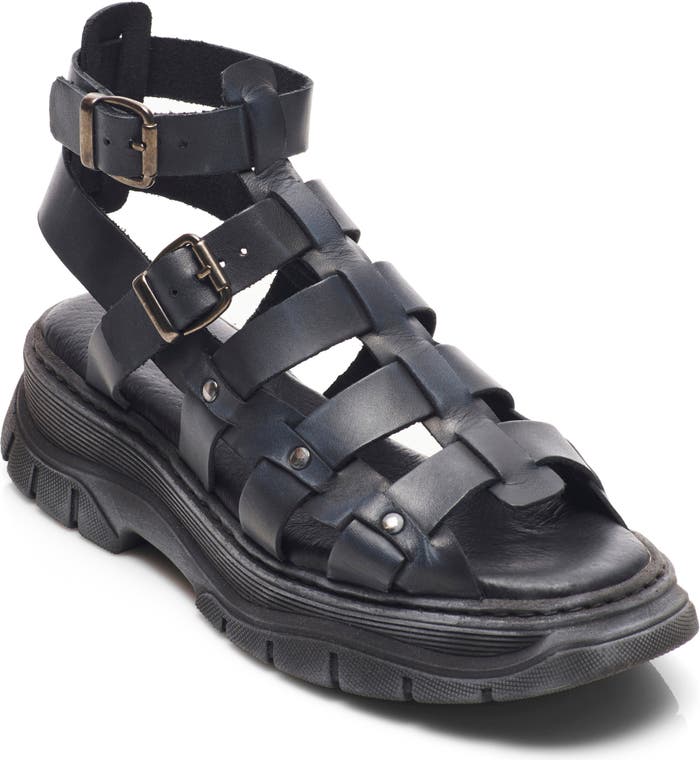 A chic hybrid between gladiator sandals and fisherman sandals for people who want to make a statement. Chunky heels are a footwear staple for Y2k fashion. They feature a padded footbed to cater to your soles, and their sneakerlike sole adds a boost of confidence and attitude to your gait. You can style them with wide-leg jeans and a crop top for a 90s grunge look.
13. THE ROW Fisherman Woven Sporty Sandals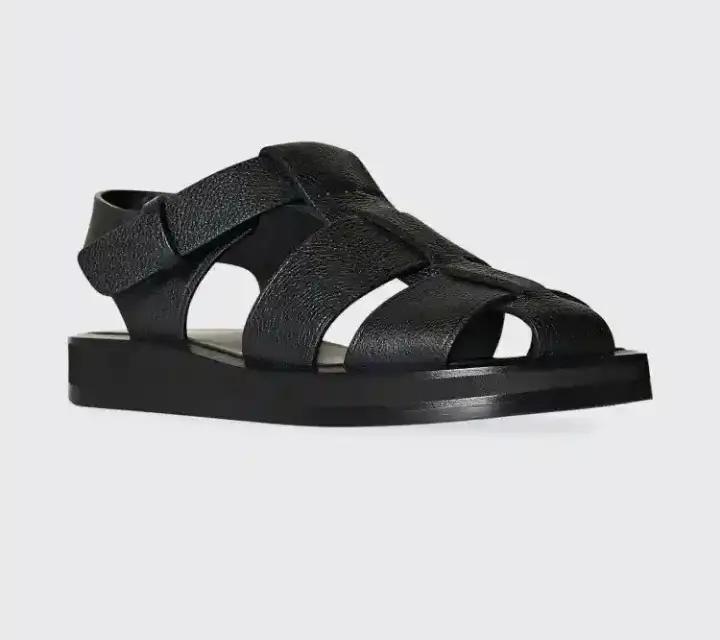 Nothing a classic black sandal doesn't go with. Featuring a wedge-like sole that gives the otherwise basic sandal an attractive facelift, you can pair this pair of sandals with about any outfit of your choice. It sports an open toe, too, so you can show off your freshly done pedicure. Made from leather which supports breathability, you've got yourself a durable summer shoe with this pair of sandals.
12. LOQ Arlo Fisherman Sandals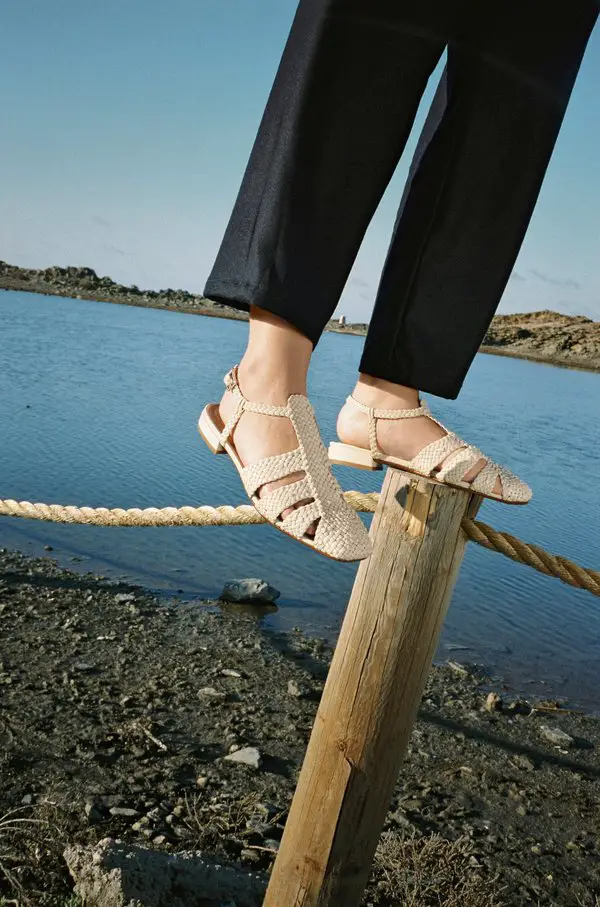 Enter sensible yet stylish sandals. Fitted with a low heel and slim straps around the ankle for a feminine silhouette of the typical fisherman sandal. It features a padded leather footbed that aims for comfort and a ribbed appearance that adds to its aesthetics. Team it up with a pair of linen pants and a chiffon top for a formal look.
11. ZARA Low Heel Fisherman Sandals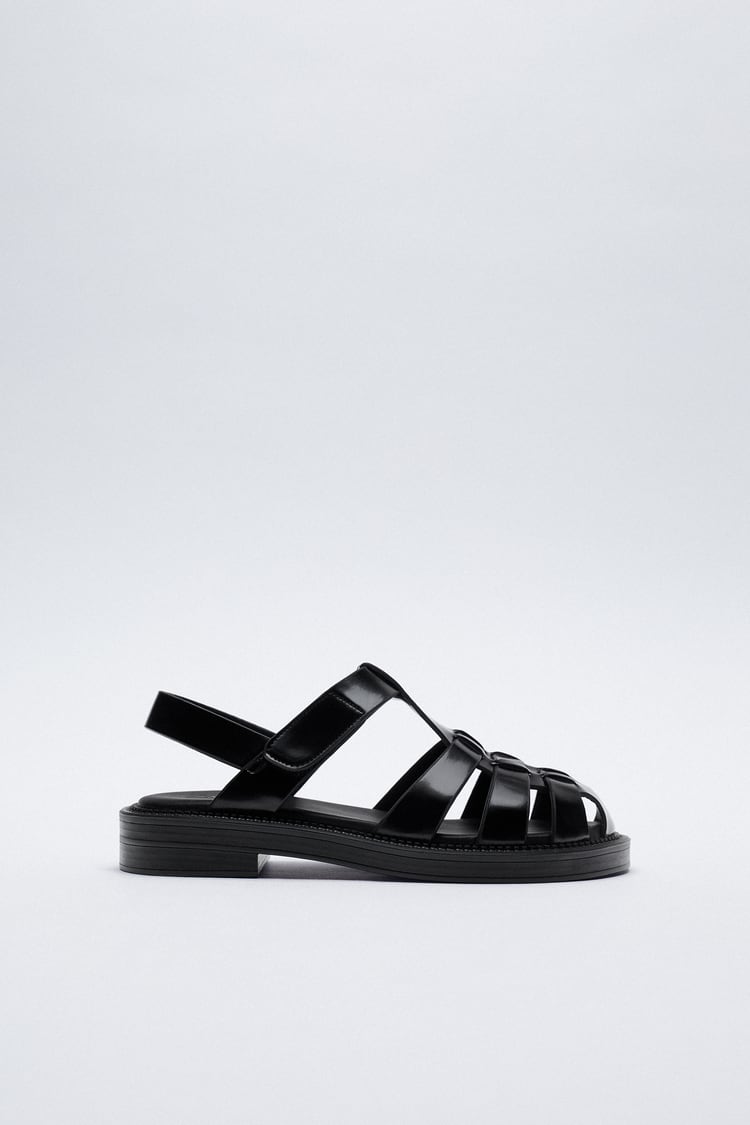 The polished finish of these sandals gives off luxurious and expensive vibes. It features a block heel for an elevated and classy look and easy to adjust Velcro strap for people who need to be in and out quickly. Amp up its sleek look by styling it with a pair of slacks and a white button-down.
10. MARNI Sandals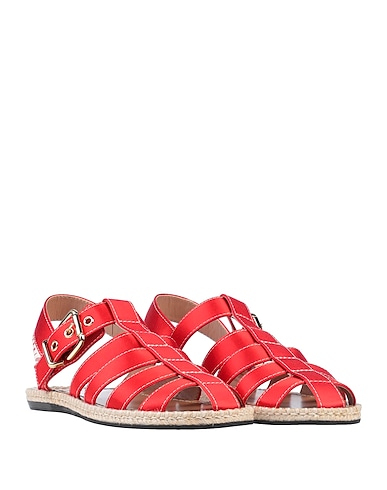 These fisherman sandals come in a fun shade of bright red with espadrille soles which make them very comfortable and lightweight.
They are made from satin with leather lining, which improves breathability and helps keep moisture from your feet which prevents your feet from smelling like Funyuns. They are comfortable enough to take a stroll in, be it on your own or with your dog.
9. ASOS DESIGN Jen premium leather fisherman espadrilles
ASOS fisherman sandals sport a stud embellished sole, which together with the chunkiness of the sole conveys attitude as you stomp around in these bad boys. They have a woven midsole and an open-toe design that allows you to show off your pedicure or style them with a pair of sheer tights.
Throw on a sundress with these shoes for a picnic, or create a more exquisite look by pairing them with a mini skirt, a crop top, and sheer tights.
8. ANTHROPOLOGIE Teva Dorado Sandals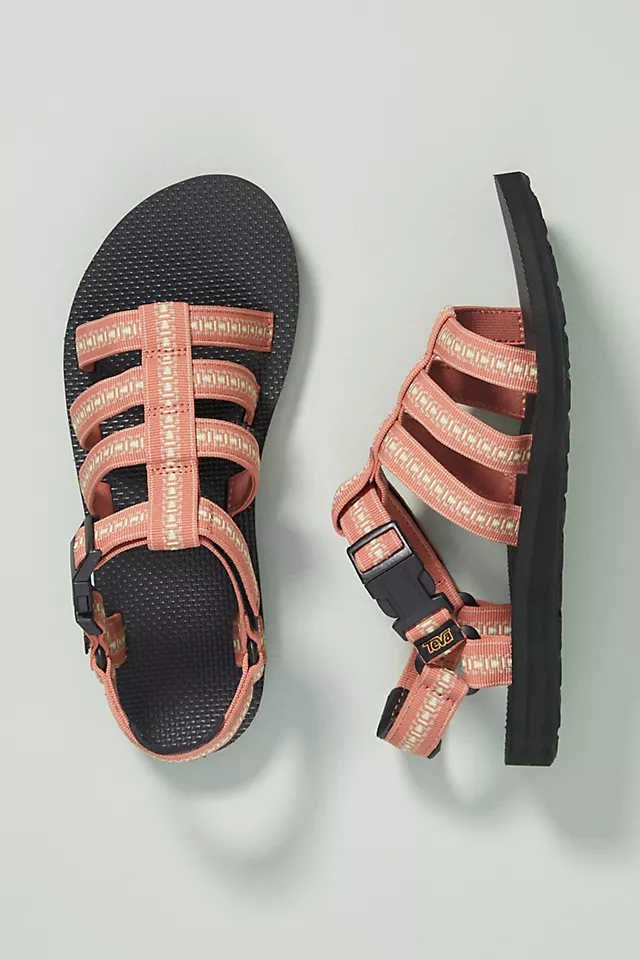 Lightweight and waterproof, you don't have to worry about ruining these sandals nor them weighing you down as you splash around in them. They are comfortable enough for everyday wear with an easy-to-operate buckle mechanism.
7. Crystal-embellished leather flatform sandals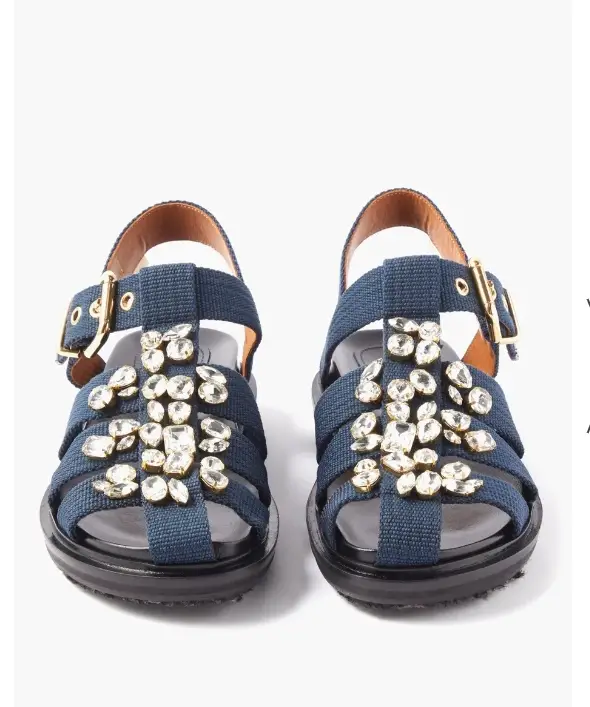 Add a little spark to your outfit with these crystal-embellished fisherman sandals. Marni made these fisherman sandals with comfort in mind, featuring an open toe cut and flat rubber soles. They make perfect summer shoes whether you're wearing them out with friends or just relaxing at home.
6. ANTHROPOLOGIE Silent D Oggy Fisherman Sandals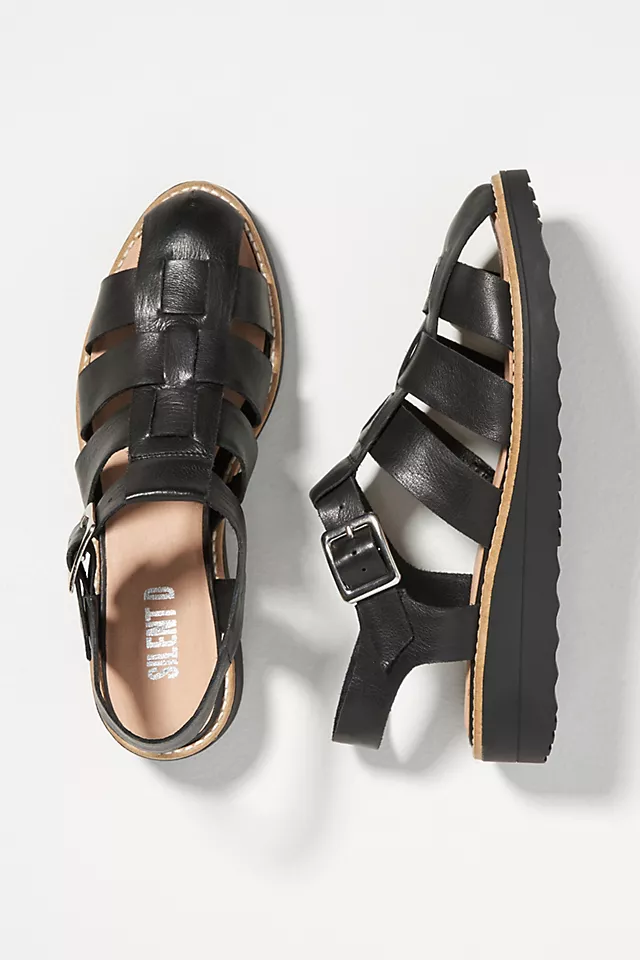 Whether it's up a trail or out for lunch, Anthropologie designed these sandals to do both and everything else in-between. It infuses a wedge-like sole that adds feminine essence to the sensible summer shoe and irregularly shaped outsoles to grip uneven or slippery terrain.
5. Gaia 2 Sandal in Leather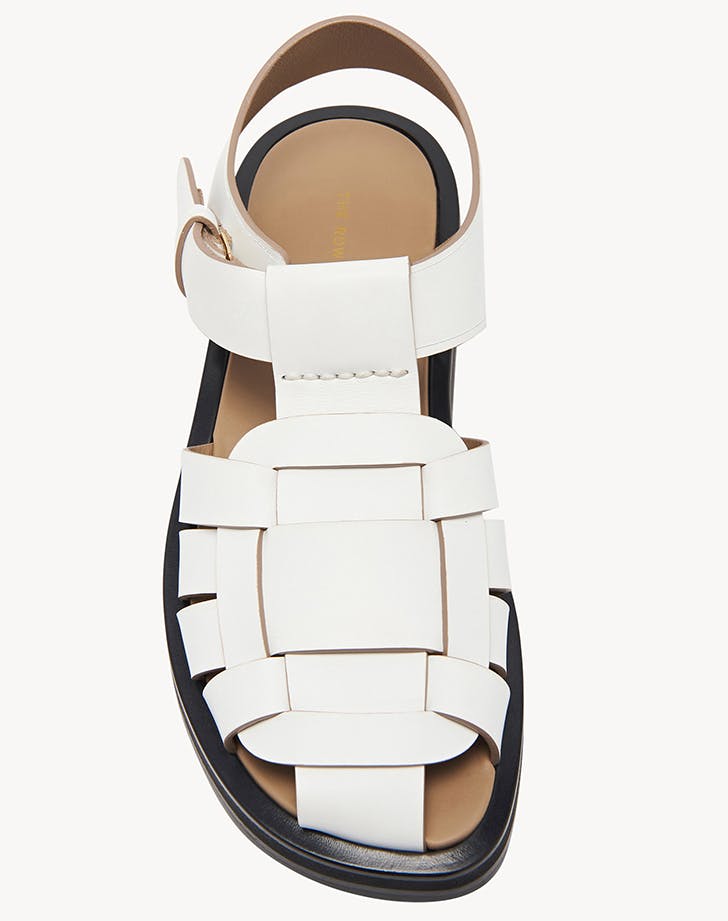 These luxurious fisherman sandals are made from 100% calfskin for the upper and lining and rubber soles for ultimate comfort. They feature a beautiful and seamless strap construction with the buckle hidden underneath the strap, presenting a sleek and polished look. You can style them with a pair of bootcut leggings for a relaxed look.
4. K JACQUES Picture sandals (24s.com)

K JACQUES sandals are a close replica of the fisherman sandals frequently seen in old illustrations with their thin straps and flat heels. They feature a round, open-toe cut with visible stitching and buckled ankle straps. They'll look fabulous paired with split hem jeans and a pretty top.
3. EMME PARSONS Ernest leather sandals (NET-A-PORTER)
Fisherman sandals can definitely work with a business casual. Case in point, these sleek and polished sandals. Pair it with a grey suit or slacks and chiffon blouse for a dapper yet casual Friday office wear.
2. Paloma Barcelo Braided Fisherman Sandals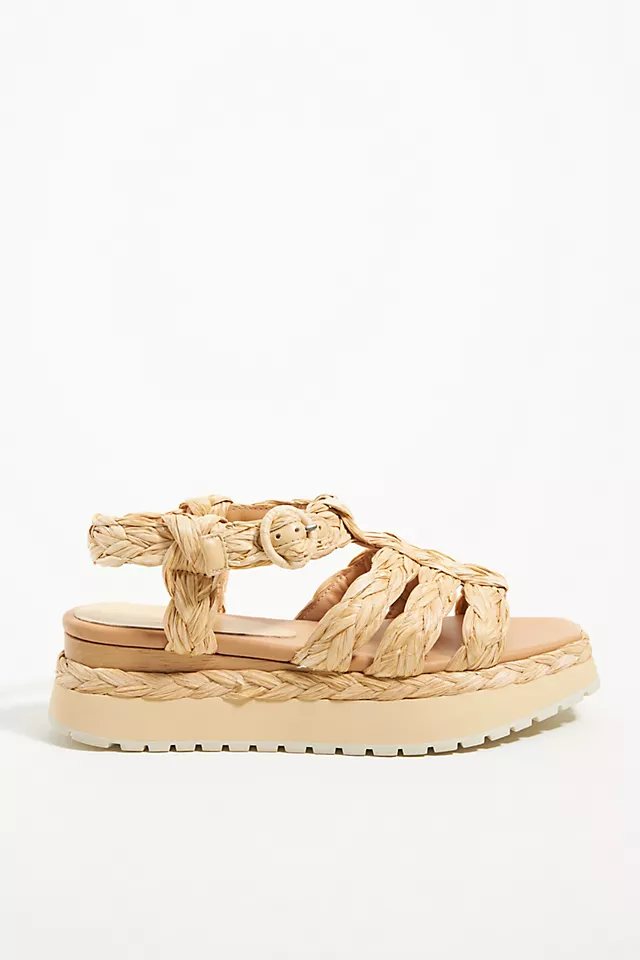 The braided jute straps of these sandals lend a summer-ready feel to your outfit ensemble. You can glide around the sandy beach in these sandals without worrying about getting sand between your toes. Style these sandals with a flowy summer dress and shell necklace for that breezy summer vibe.
1. LABUQ Boomer Cosmic Sky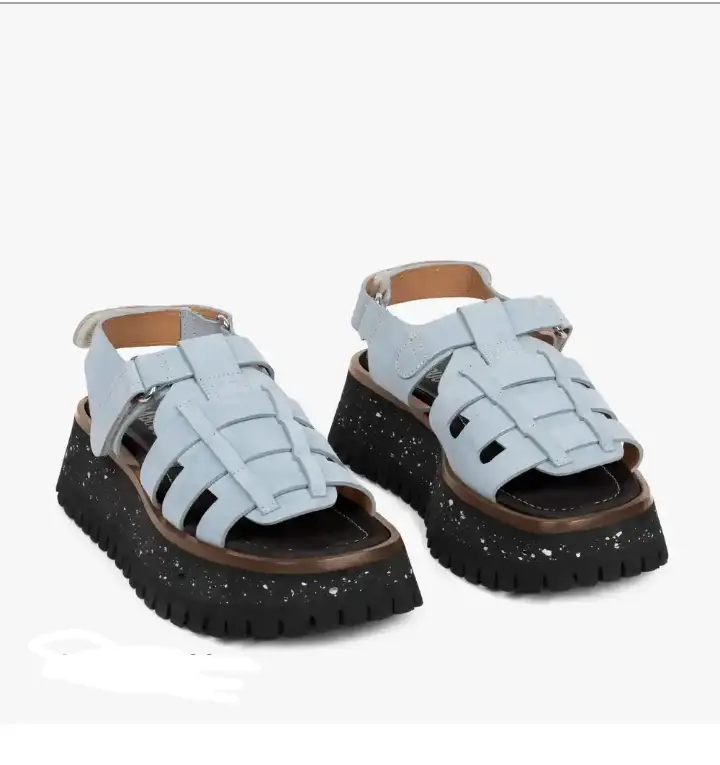 With a cosmic-inspired detailing midsole, LABUQ designed these fisherman sandals were to make you stand out. They feature a wedge lug sole that makes you stand out with the extra height and confidence boost and a foam cushioned insole for comfort. Show off your legs made longer in these sandals with denim shorts and a straw hat to complete the too-relaxed-to-be-bothered look.
Conclusion
When summer hits, our feet will sweat. There's no getting away from that. Nevertheless, we can avoid the accumulation of sweat and thus stinky feet by choosing comfortable shoes that allow our feet to breathe while still being stylish. Fisherman sandals check all these boxes and more. They really are the shoes for summer.