Natural hairstyles are a lifesaver if you like to rock your hair that way. Sure, there are many things to navigate with lovely textured strands, from products and tools, but nothing beats styling. One great thing about carrying black hair is that a bit of wash and fluff setting can form a hairstyle. With a bit of direction, you'll be well on your way to changing your hairdo every other week.
Your next look depends on how creative you get from protective style, easy twist out, and the puffs. Whether you are conversant with styling your hair and need new updates, or you're new to this, you will love these 15 natural hairstyles idea below.
1. Box braids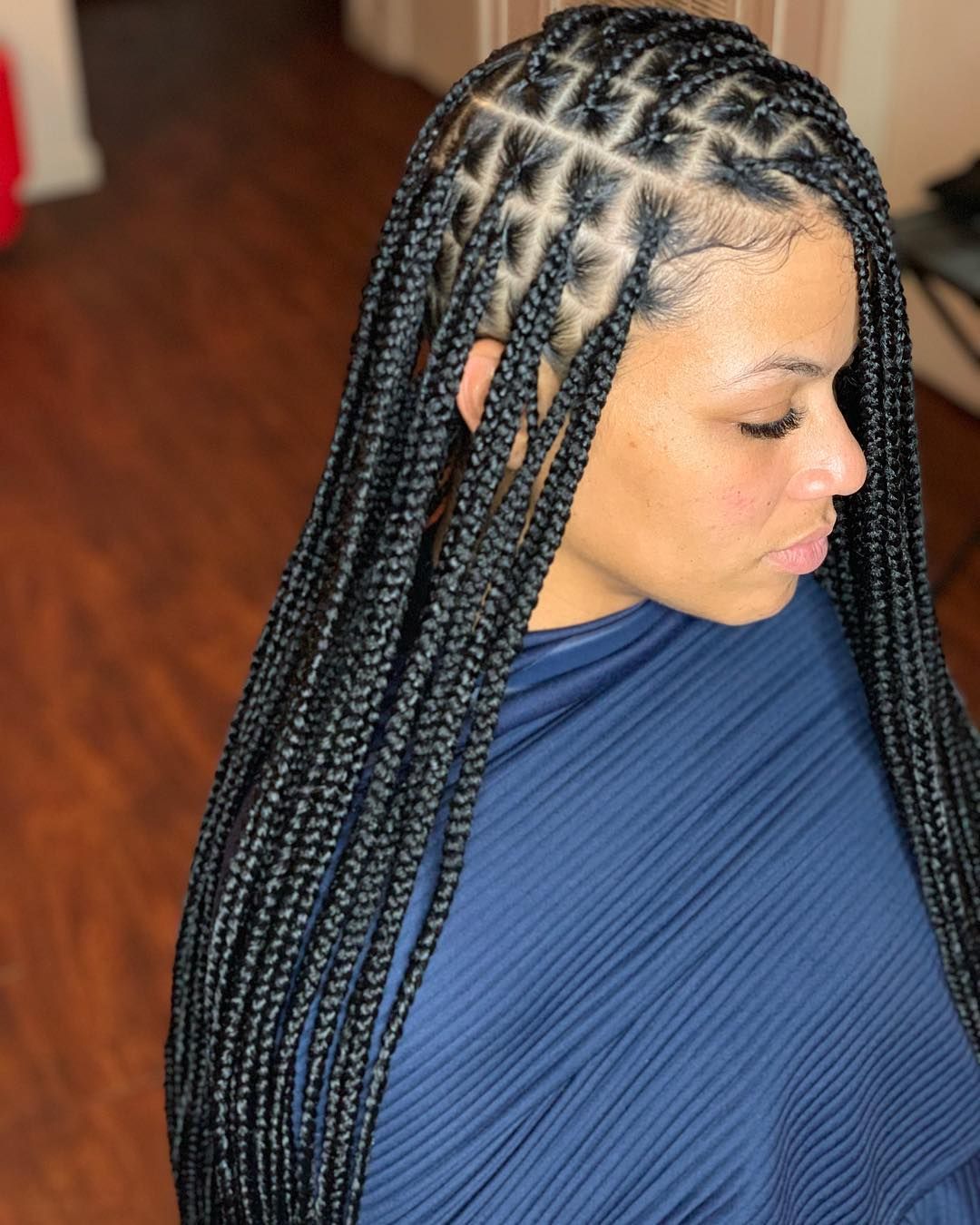 Thanks to extensions, box braids are one of the most popular natural hairstyles for all lengths. Everyone is doing it these days; with the variety of colors you can wear them in. You can also choose the length and size that's most comfortable for you, as the style is so versatile. It keeps your braided from the roots, protected in extensions, and extra length to style and manipulate your hair. They can be adorable, and better you can wear them for weeks, but do not leave them on for too long so your hair can stay healthy.
Related articles:
– 10 best flat iron for black hair and how to use them
– 15 best moisturizers for natural hair and where to buy them
– Curly hairstyles: 10 stunning styles you can do if you have curly hair.
2. Fulani braids
This braided look should be on your list of natural hairstyles rotation nonstop for the way it flatters the face. Unless you are pro yourself, you will most likely need someone to install it for you, then go ahead. It is a combination box braids at the back and cornrows to finish at the front. You can get creative with the cornrows as they can any shape or direction you want. You can even throw in some accent braids at the side. Just be sure the size of braids at the front matches the back to balance out the proportions.
3. Puff-fro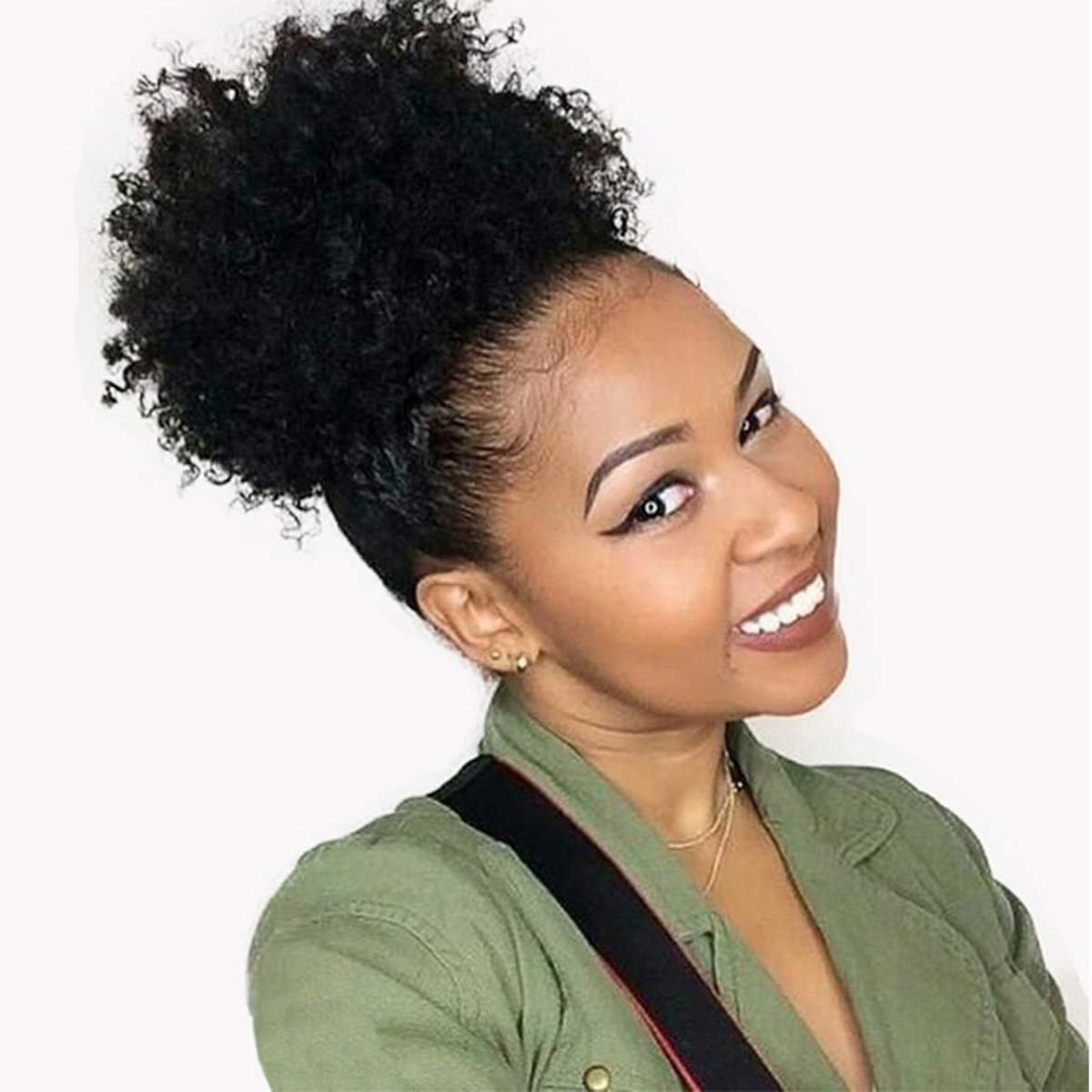 If you are looking for styles you can do with your short natural hair; then you've met your match. It is a cute look you love to wear every time since it's easy to do. Gather your hair to the front and allow position on the center of your head; you can use these amazing hair gather clips. Secure with a head tie or fancy wraps; you can leave it that way or add accessories to elevate the look as suited. The hairstyle is also suitable for you if you try to save your hair length. Since it causes minimal stress to your strands, it gets kept high away from rubbing on items.
4. Feed-in cornrow braids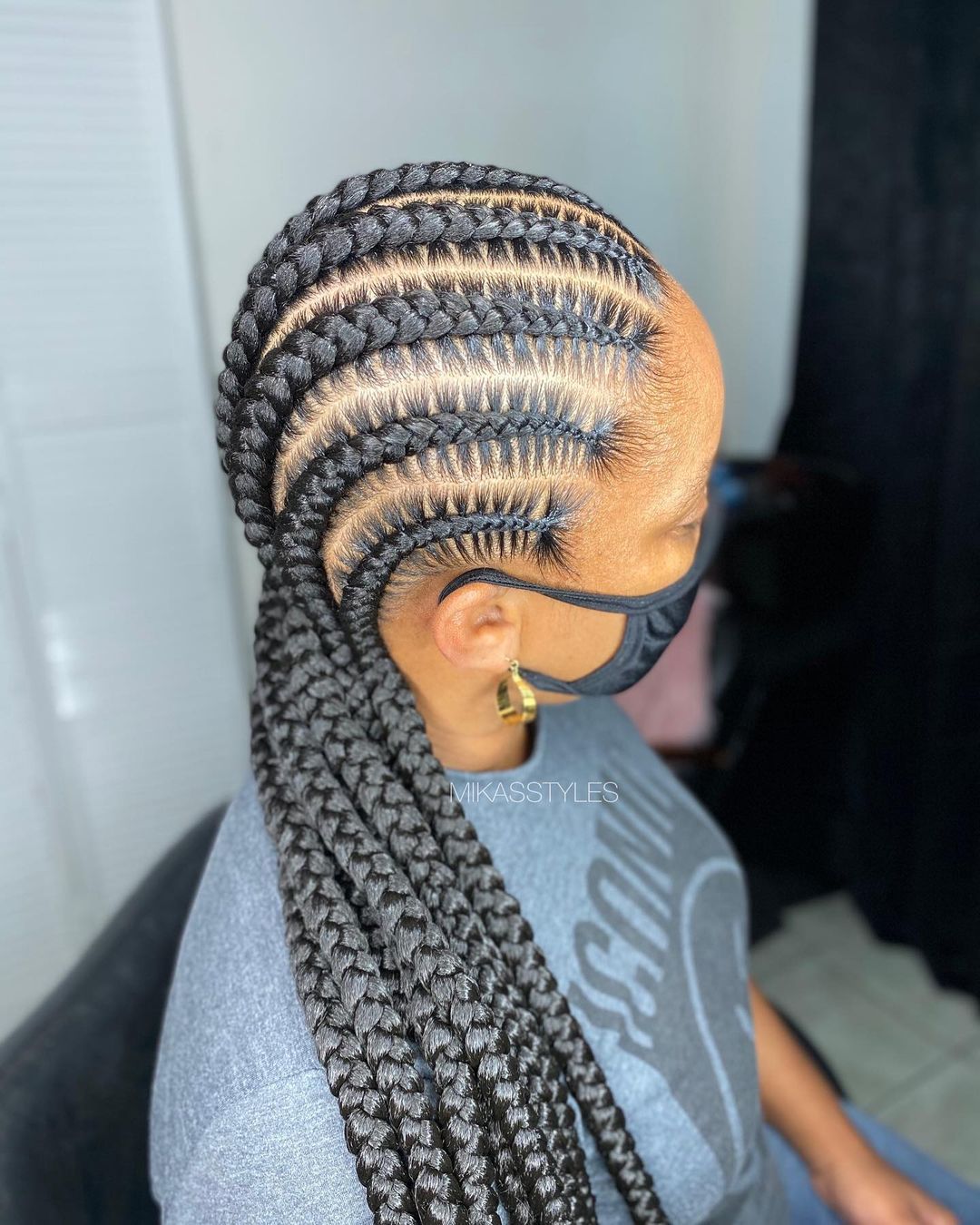 Cornrows are a classic for natural hairstyles, and you must have tried many times before. Take the elevated approach, and braid feed-in style, with the inclusion of fun colors. Even if you are not a fan of colorful extensions, the detail on the braids looks excellent on their own. You can make it chunky, carrying only six or seven rows, or go micro with as many braids your scalp can accommodate. Before stepping out, be sure to slick back those baby hairs for a stylish finish.;
Related article: 10 feed in braids styles to try in 2021.
5. Twist outs
 

View this post on Instagram

 
Twists are chic but wearing them twisted out is on another style level. You can use your regular twisted natural hairstyle to achieve this, but if you know you want to carry it for long, do things a little differently. While making your twists, leave a small part of the ends, and wrap in a Flexi rod overnight. Take your twists out carefully in the morning, preserving the tips and defined curls. You can wear it like this or add volume by combing only the roots. This will keep the upper section bouncy, with the twist-out loops below. This way, you can wear this protective hairstyle for weeks. Remember to hydrate your strands as you style.
6. Faux Mohawk with cornrows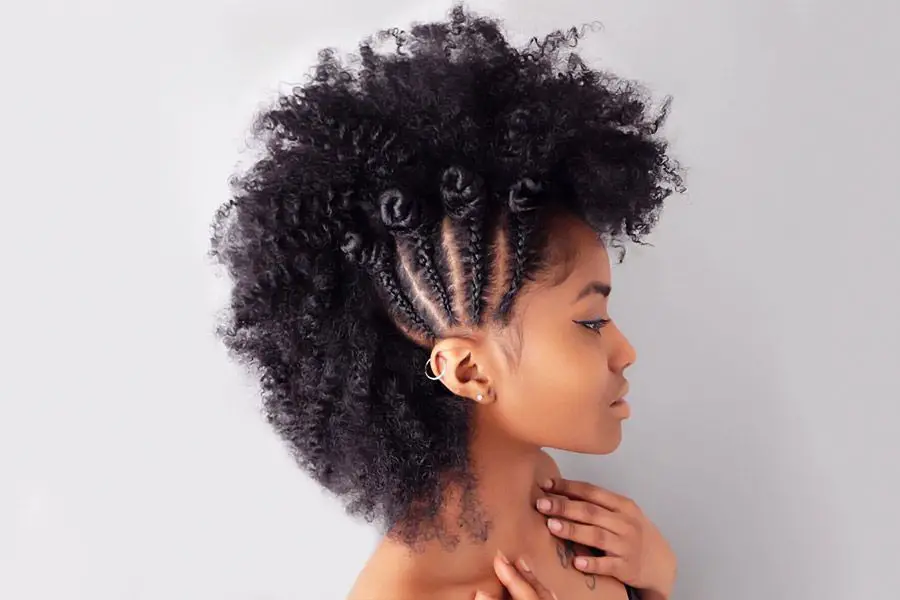 Turn a mohawk into an elegant affair, with the hassle of pinning and going extreme by shaving off some strands. Braided cornrows with your natural hair can give you the same results. You will need to section out the left and the right side of your hair for braids, then leave the center loose to form the mohawk. If your ends braids are too long for the side cornrows, you can wrap the stops to make a knot. You can also secure the ends with ties and comb the tips to blend into the mohawk. Either of the two is a great edgy look; you can whip up when the mood strikes.
7. Braided ponytail
 

View this post on Instagram

 
When ponytail is your natural rescue hairstyle, you can always braid it effortlessly to switch up the look. For best results, keep your ponytail sleek, parted or not your call, and weave the ends to add textured details to your face. You can infuse some extensions to give extra volume and length to the hair, but it will do just fine if you have long natural hair. Take your edges on a swoop and swirl, and you'll have a banging hairstyle for all your plans.
8. Bantu Knots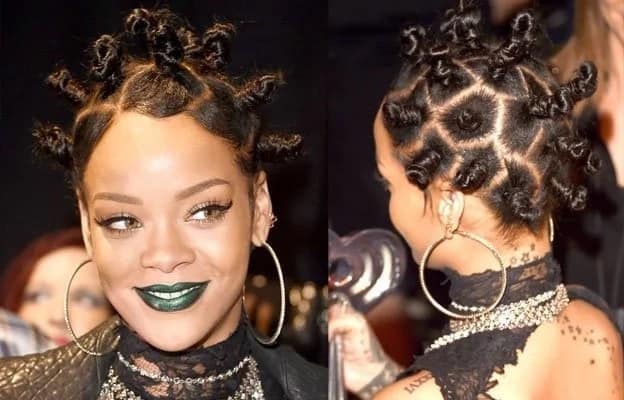 This protective natural hairstyle does not require installation and keeps your tips from breaking. You can make it by sectioning out your hair in bits, usually chunky-sized, and twisting your hair till it forms a knot. Secure in place, and that's it; you can rock it to anywhere, even to a party. When you are tired of the look and decide to take it out, it curly your hair. So, it doubles as a curl preserver for natural hair to get bouncy curls.
9. Flat twists
Have you ever seen a hairstyle that looks like a cornrow but not entirely, and you are left confused? Well, that might be a flat twist since they get twisted close to the scalp, like cornrows, only that the easy two-section twists. You can rotate in some rows facing forward and the other backward to style a creative hairdo. The side-facing flat twists are also great to explore if you want to try something new. As the twists get old, they might not look very defined; you can take them out to achieve a twist-out hairstyle.
10. Silk press hairstyle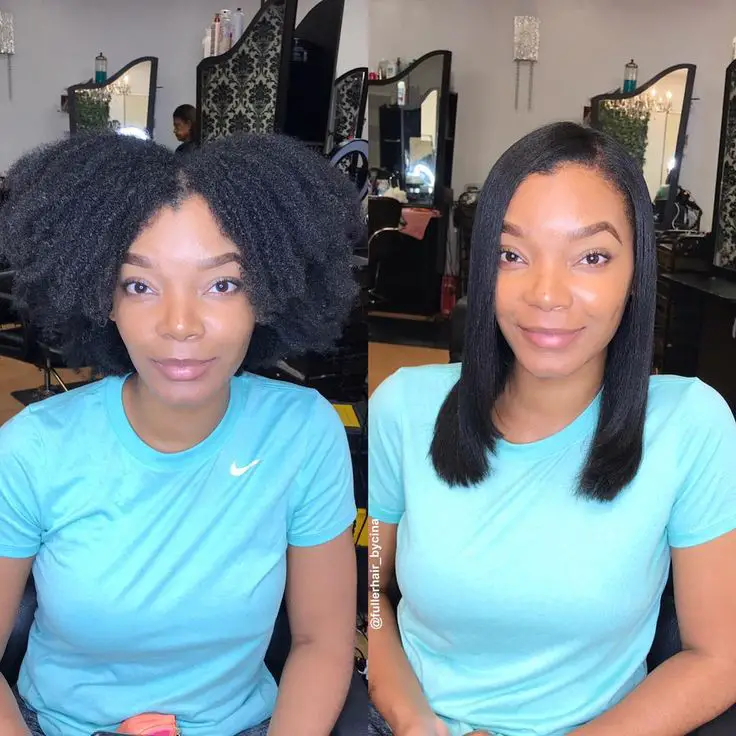 Rocking your natural hair in silky straight strands is a great option, even when it is textured. You start by washing and deep conditioning your hair; when it dry, lather on some oils and heat protector if you can. Then a straightener is used to starch out the hair as a form of treatment to get a silk-like looking mane. The results can last for two weeks; in between, you can rock the hair in several styles.
Related article: Silk press 2021: How to semi-permanently straighten your natural hair.
 11. Senegalese twists with accessories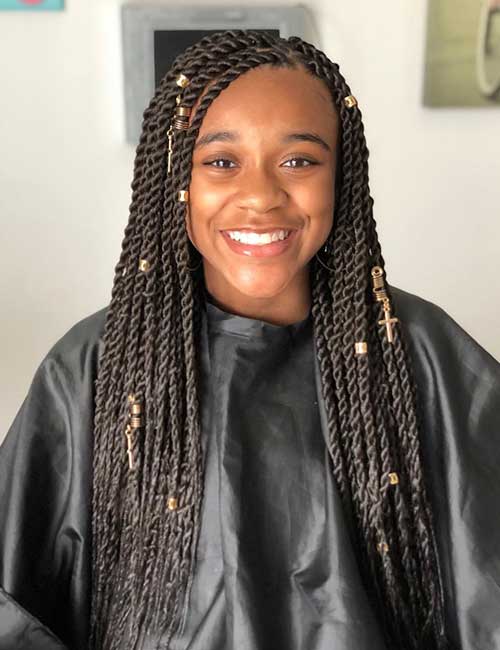 Textures on Senegalese twists are the dream for anyone who likes a kinky-looking hairstyle. It is done just like the regular braids; only a different extension type gets used. In a way, this makes them faster to install, with the same chic results. Adding accessories can update the look to be event ready. Anything from cuffs to pearls and other metals jewelry is significant to accentuate your face.
12. Curls with a perm rod
 

View this post on Instagram

 
Some days you cannot spend the time fussing over your hair for hours; for that, you need this quick transformation natural hairstyle. Perm rod sets are the go-to if you want to use heat curling tools on your hair to achieve voluminous, bouncy curls. After deep conditioning, apply all necessary hair foods, cut your hair in small sections and wrap around a perm rod from tips to the roots. Do this a day before and allow the curl to set in; unravel the rods from your hair to get bouncy curls by morning. These curls should last more than a week if you keep spritzing your mane to keep it hydrated and sleep with a silk bonnet at night.
13. Passion twist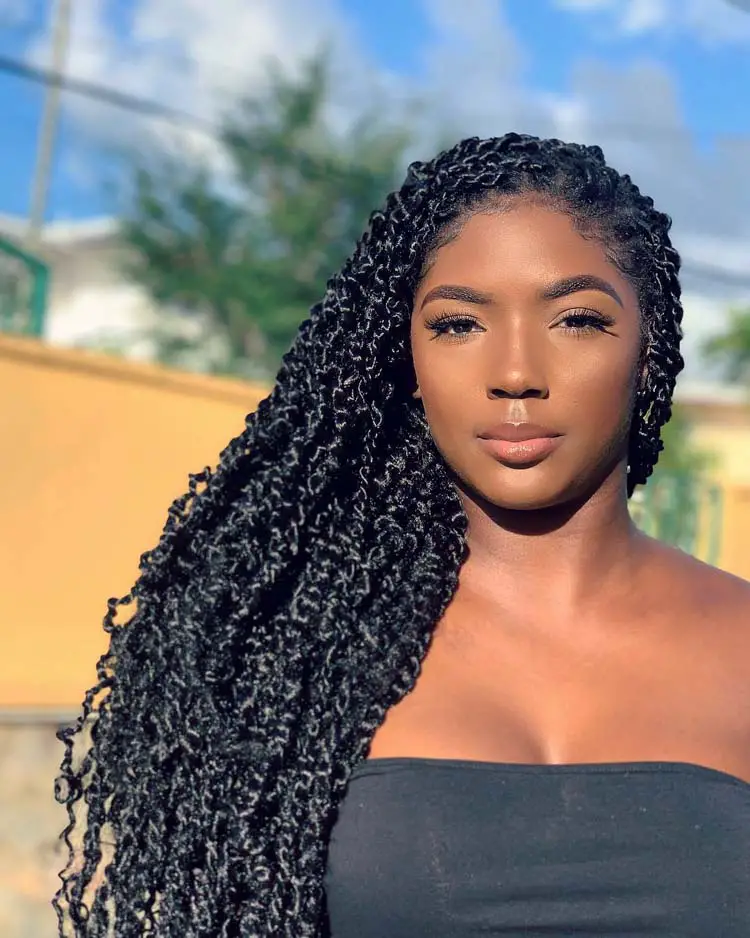 Passion twist has always been a trendy style, and it is so easy to install, as they have this loose and boho vibe. This makes it a chic choice to wear whenever; once you get the right extensions to create the look, the hairstyle becomes easy. You don't have to stick with one style for any length you choose, as there are tons of ways to rock them. You get up to five different transitional looks from one installment.
Related article: 10 gorgeous and easy passion twist hairstyles to try right now
14. Double pigtail braids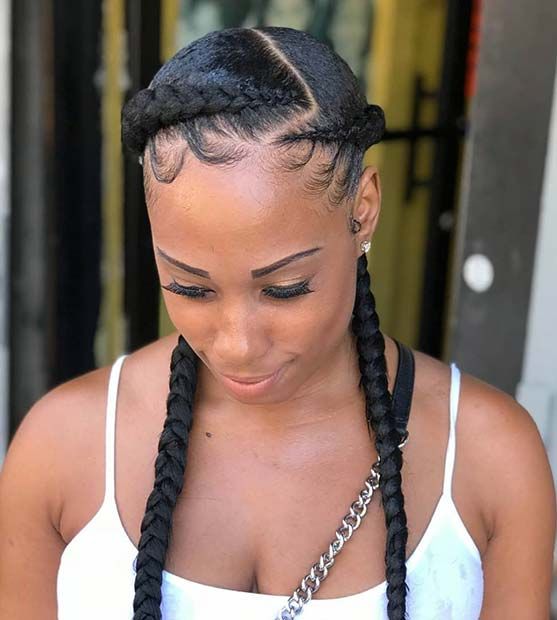 You don't always have to get many rows of braids before you step out; the minimalist approach of two also looks beautiful. If you have long natural hair, it is quicker to achieve, part, and sleek down your hair in the middle and braid the two sides. When you have short or medium-length natural hair, use hair extensions to add length and texture to your braids. So, it comes out with the best results, be sure the braids have a sleek finish.
15. Braided bangs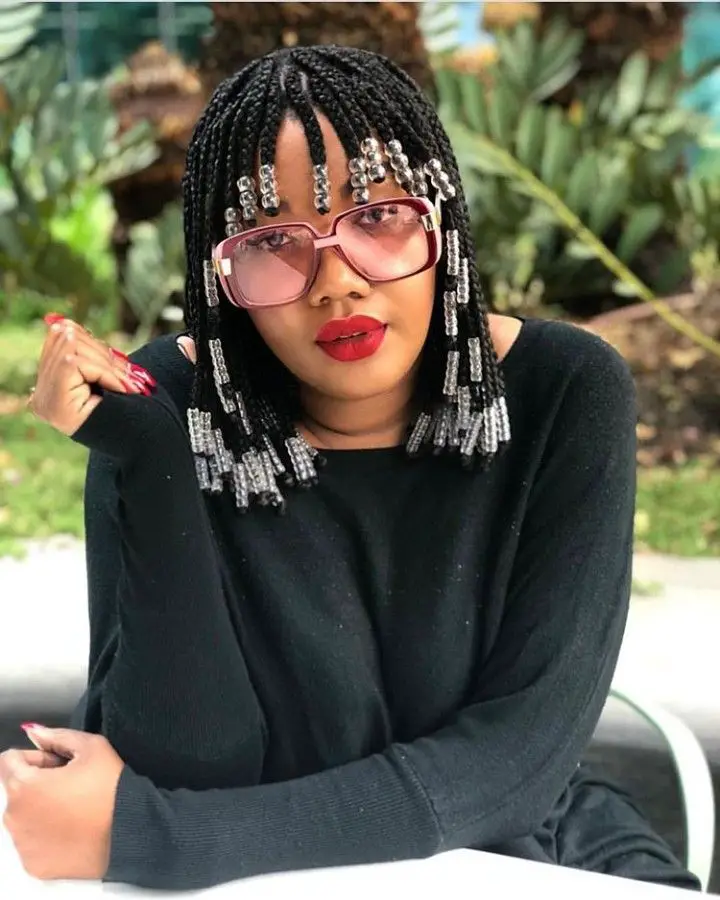 Elevate your regular box and up-do cornrow braids with bangs for different proportions and details. Bangs look good when the other hairs get positioned high since the lifts lie forward-facing the front. You can also add beads to update further the look for more style and much-needed drama. There is nowhere you cannot wear this hairstyle, from work to events, you name it.
What are protective styles for natural hair?
Protective hairstyles get done to reduce the tension of the environment, both weather, and individual lifestyle, on your natural hair. They include natural hairstyle from braids to locs, and twists, that covers the hair.
Benefits of protective natural hairstyles
You know the style got invented to curb breakage, dryness, and external factors that can harm your tresses from the description. While the types create elegant and beautiful looks, below are some of the ways it protects.
It covers your tips, which are prone to breakage; this means you get to retain your hair length when you wear protective hairstyles often.
These hairstyles lock in hair moisture, primarily if you have invested in a good moisturizer.
Keeping your hair in a protective hairstyle will make the product more effective.
You can also maintain your natural curl pattern with a protective hairstyle.
With suitable protective hairstyles, you can save your edges from receding.
In summary, these hairstyles are all beautiful, but while you rotate them, be sure you don't wear them for too long. When braids become left in for extended periods, it causes brittle and dry strands, damaging the hair.
You may also like to read, How to shape eyebrows for beginners – 5 easy steps + recommended products.