It's a year of many first for music superstar and beauty mogul Rihanna with her first refillable lip line, the Fenty Icon Lipstick, launching on the first day of Black History month.
Rihanna owns 2022, with the Fenty Icon Lipstick Line retailing on 4 February 2022. We are still in the beginning, and she has dropped two significant pieces of news for us to follow, from expecting a child and giving makeup lovers a new update to add to our beautiful collection. The superstar is for sure owning the trends in the coming months.
Fenty beauty does not compromise on value, as expected with a luxury brand worth almost 3 billion dollars. You know this new lip line will hit the mark from past releases, such as the stunna lip paint. This new launch contains 10 soft semi-matte lipsticks in practical colors for bold and classy looks.
The bold shade is the focus because Rihanna's love for red lipsticks inspires the collection, and she has created one that works for every skin tone. "When you wear a red lip, it exudes confidence. I love that anyone can put it on and feel strong and sexy with just one swipe," says Rihanna. Taking nothing away from the neutrals, as Fenty Beauty is all about love at first swipe with all their products, let's dissect the Icon Collection.
The Fenty Icon Lipstick collection
The beauty line has started the teasing of an iconic addition to dropping towards the end of January, and we are all left guessing what it could be. Well, they had their first lady Rihanna rocking a bright red lipstick, which she owned. As February rolled in, Riri posted a picture of her in a red visor hat, reflecting on her face, rocking a red lipstick with the simple caption "ICONIC." "The perfect red lip is the sexiest, most empowering thing you can put on when it comes to beauty," Rihanna tells Elle.
 

View this post on Instagram

 
Which was followed by a video launching the Fenty Icon Lipstick collection, showcasing models including the beauty mogul rocking colors from vibrant reds to the nudes. It contained 10 long-lasting semi-matte lipsticks, with a creamy finish including:
A blue-red tagged

MVP

is Rihanna's favorite shade, which she is wearing in the photo campaign.
The lightest shade is a pastel pink tagged Motha Luva.
Blush shade tagged Pose Queen.
A deeper blush rosy nude shade tagged

Scholar Sister

.
A rich mauve shade tagged Ballin' Babe.
A rich brown chocolate shade tagged She A CEO ( said to be infused with a hint of vanilla- peach, one of Rihanna's favorite scents).
A Taupe nude shade tagged Major Magnate.
Dark mahogany tagged Flaunty Auntie.
A maroon shade tagged the Board Member.
A red maple shade tagged Grill Master.
The icon collection is not like any other lipsticks, with its unique features. For one, the lipsticks have a bullet tip, which the brand described as mimicking the cupid brow of Rihanna. It is also infused with vitamins C& E for repair care of the lips, and hyaluronic acid for moisturizing, so wearing it for long hours is not a problem. More to love, the lipsticks come in luxe rose gold eco-friendly case that is also refillable. So you don't have to buy a new lipstick every time, you need to replace a finished color.
Related article: 10 Street Style Inspirations From Lena Waithe.
Where to buy the new Fenty Icon Lipsticks
The lipstick is available to shop from February 4, and the best place to shop is the Fenty beauty website. The brand also ensures your favorite beauty stores carry the products for more shopping options. So when the crown day comes, before it sells out. Check out the following shops to snatch up some iconic lipsticks. Sephora, BootsUk, Harvey Nichols, Kohls, and Fedrik& Louisa.
Fenty Beauty's Icon semi-matte Lipsticks will be sold at a retail price of $20; the case is sold separately for $12. However, note that the idea is to buy one holder and buy different inners to swap when needed. Get ready to shop for your favorite shades.
A complete makeup look from the range of Fenty Beauty products
Fenty beauty first launched in 2017, after working with several makeup and beauty brands over the years. And in the same year, it won the 2017 launch of the year WWD beauty awards. She set out to provide a line for a broader range of skin tones, which she achieved with the Pro Filt'R foundation that catered to forty skin shades.
This also transcends to Fenty Beauty concealer and has expanded fifty shades with 10 additional shades to fulfill its promise of a no barrier in makeup. Anyway, below I will be listing Fenty beauty products you can use for a complete makeup.
1. Pro Filt'r Soft Matte Long-wear Foundation
Foundations are the starting point of every makeup look, and the Pro Filt'r offers one of the best matte finishes. It has buildable coverage, so apply a little blend until it covers all your blemishes. You can use the instant retouch concealer first for best results before the foundation. This is not necessary if you have a clear face.
2. Match Stix Contour Skinsticks
Contours are ever so crucial to defining your face; the key is understanding the shape of your face. To know the areas to apply the outline, so you blend in till you enhance the areas that flatter your beauty and reduce the parts that appear too bulky. Thanks to the buildable and creamy nature of this Fenty product, you can work well with it.
3. Snap Shadows Mix& Match Eyeshadow Palette
The eyes are the focal point and can pull the whole look together. Fenty Beauty understands and offers these six-pan shadows in eight beautiful color stories. All the pans were explicitly curated to give you a velvet finish. So choose a palette that suits your skin tone, and blend in those colors. Eyeliners are optional, but you can add them to get a more defined eye.
4. Cheeks Out Freestyle Cream Blush
Not everyone likes to use blush, but it is essential after contouring the face. It brings in the look to enhance the sculpted face. There are 10 shades available, so make your choice and apply only the required amount. Since it is cream, you can use them for other things; try them on the lips or eyes.
5. Gloss Bomb Universal Lip Luminizer
For the lips, this new Fenty Icon Lipstick will surely be on your mind, and with the colors available, they will fit any tone of makeup you are going for. If you require some extra shine on your lips, you can as well add the shimmer bomb on your lips. The entire coat in one swipe is a favorite moisture source in many women's makeup collections based on the countless reviews it has racked since its launch.
6. Pro Filt'r Instant Setting Powder
After applying the other products on your face, a setting seals up the look. This ultra-fine setter gives coverage and blends into the face without creasing. So you can enjoy your beautiful face for extended hours.
7. Diamond Bomb All-Over Diamond Veil
What is life without a highlighter? They add that extra glimmer to the right place for a full face beat. This bomb is like Rihanna's song "Diamonds," as it will leave you with a sparkling face. Apply to your T-zones & jawline, and you are good to go.
Pro Tip: if you have a problem choosing the right colors for your skin tone, you will love to read my article on How To Tell if you have dark, warm or neutral undertones. It will help you select the best makeup shades that will flatter your face.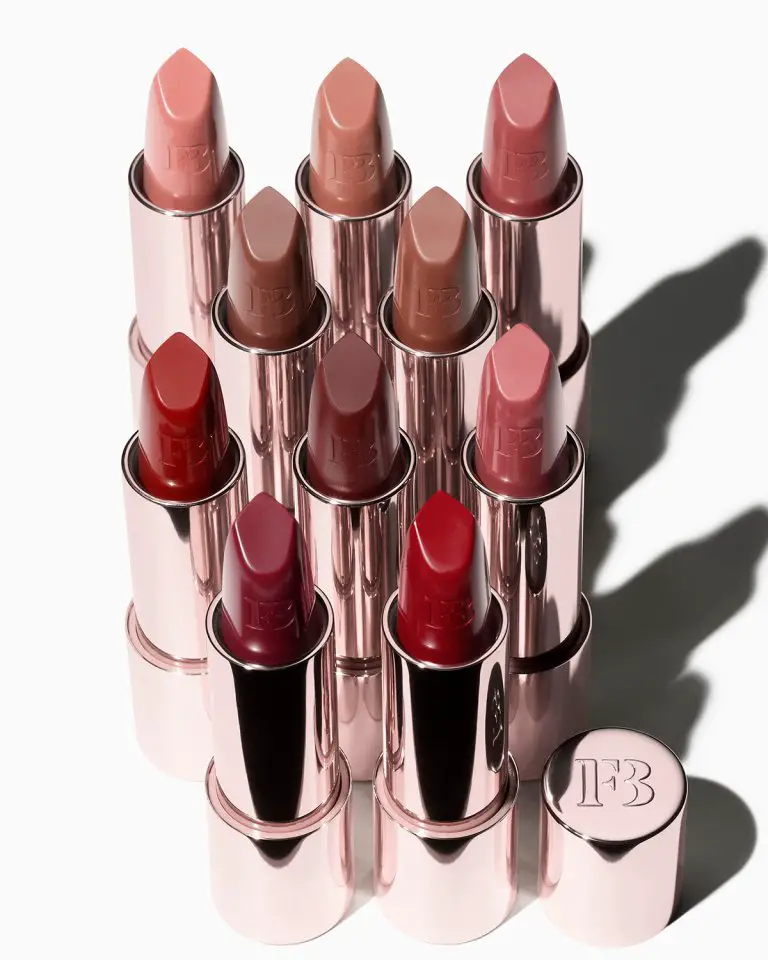 In summary, Rihanna is tight-lipped on her music, but she has been generous with giving us beauty products. At the same time, she is dishing out some lingerie pieces to stay sexy on the side with the SavageXFenty collab. So, we can console ourselves with the ever-increasing product line, and this new lipstick line is an excellent example of affordable luxury.
You get a hydrated lip with a high-pigmented, soft creamy matte finish lipstick and precise bullet tip, so you get to apply the product accurately. Your makeup game is about to get a major revamp. You, too, can be an icon from wherever you are with these lipstick shades on your lips. We keep our eyes peeled for what Rihanna has next in store for us because she seems to have aces up her sleeves.
You may also like to read my latest article, Top 10 tattoos with moons designs to try today.
All images are courtesy of Fenty Beauty by Rhianna.