A black shirt outfit screams edgy and cool without drawing too much attention. While many will argue that is black shirt is hardly a wardrobe, we are stating a case to declare black shirts an essential piece. That's because black shirts are versatile to style like every other staple apparel we can think of.
You set the pace of how you want the look to go, either with vibrant or neutral pairing. The black color is not crisp and fresh but has the power of making you dress in more confident ensembles. A black shirt can come in different fabrics, from satin to lace and the ever standard cotton, to other cuts and sleeve styles.
It takes a certain class level to master the art of always nailing a black shirt outfit. You can quickly run out of inspiration on how to style a black shirt, so many people avoid the look. Not to worry, these 15 style ideas will keep your wear rotation ever-chic for years to come.
15 Black Shirt Outfits Inspiration for Women and Men
1. Black Shirt Suit Outfit
A suit outfit is a stylish look for both men and women, but since it's so formal, people don't like to wear it too often. When the occasion calls for it, pairing your two-piece suit with a black shirt is an unexpected pairing that works. You can go with a chromatic all-black ensemble or add wear-colored suits to add some flare. Coordinate your bag with your shoe choice, and you're good to go.
2. Black and Red Combo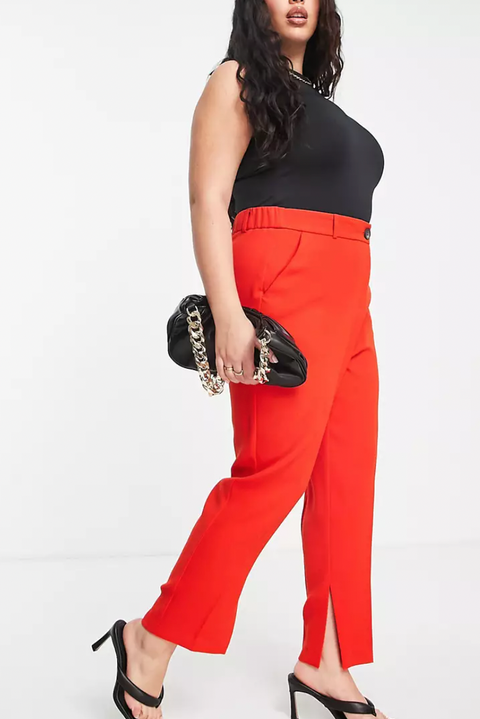 A black shirt and red bottom are the perfect mixes of spicy and solid. It is hardly a favorite amongst men, but who is to say. Suppose you have a sleeveless black shirt lying at the back of your closet, or you're hoping to get one, then you will love this outfit. Pair the black shirt with loose red pants to add character to the look, tuck the shirt in loosely, and hold it with a belt.
Red skirts of any length can also pair well with a change of outfit. Solid black sneakers or ankle boots can work for this look. However, if you plan on appearing professional or a bit elegant, those black pumps should be your choice of shoes.
3. Office-ready Black Shirt Outfit
One classic office look is a black shirt tucked into formal dress pants with a straight or tapered design. You only need your black shirt and the pants; depending on the length of your shirt, you can choose to tuck it in or not. Your footwear of choice should be loafers or flats. Just throw in any jacket before stepping out for this outfit suitable for both men and women for an office-ready look.
4. Black Shirt Outfit for fall
Consider a short-sleeved black shirt outfit and a mini knit overall dress for a unique, casual look for fall. This look is easy to achieve; layer your overalls preferably a lighter color. Black is not allowed with the shirt. Since it's fall, you want to ensure the overalls are thick knit, and you can always throw on a coat if you desire. Finish up with knee-length boots and the style points with a sunglass. You get an instant elevation to class cool whenever you step out with this ensemble.
5. Black Skirt Outfit with a Pencil Skirt
When styled correctly, a black shirt outfit can be your go-to look for a semi-formal outing to dinners and happy hours. It all depends on the fabric and style of your black shirt and less to do with the skirt. A smart-casual option will be black cotton shorts and a pencil skirt with a clutch and pups as shoe choices.
For a transition piece, choose a sheer black shirt and a mini skirt or faux leather variant to add some charm to the outfit. Your footwear should be any suited heeled piece in your wardrobe.
Read related articles:
–10 ways to style your classic white shirt
–Office Wear Style: 15 Ideas for Stylish Corporate Women
–15 Trendy black turtleneck outfits you should try out at least once
6. Oversized Black Shirt Outfit
An oversized outfit trend is always a chic option if you know how to style. The apparent combination will be to pair with black leggings or even throw in some color. Although that works perfectly, it is hardly a standout look, and you can elevate the look with a biker short insert.
You can allow the shirt to cover the shorts or tuck one side in. You can use a fancy waist chain belt or a fanny pack to cinch your waist. Your shoe of choice could be anything from sneakers to heeled sandals, and platform shoes depending on your head.
7. Black Shirt on White Pants
This outfit is one fail-safe look for both men and women. The key to not looking so neutral is to add leather and feature some hardware if you like an edgy style. For ladies, you can wear your black shirt with skinny white jeans or wide-leg pants. Most men don't want to wear skinny jeans, so straight-leg or formal tailored white pants will do. Throw in some brown leather belt with matching brown shoes, and let your jewelry tie everything together.
8. Black Shirt and Boyfriend Jeans Outfit
Boyfriend jeans have been having a style moment lately, ahead of mom jeans; what better to style them than with a black shirt. Since black is a dark color, you should go for a light shade of boyfriend jeans like the acid wash. The jeans style is already baggy, so you need a tight-fit black shirt to marry the bottoms perfectly. Finish with some pumps for casual work to evening dinner look.
9. Black Shirt on Pleated Skirt Outfit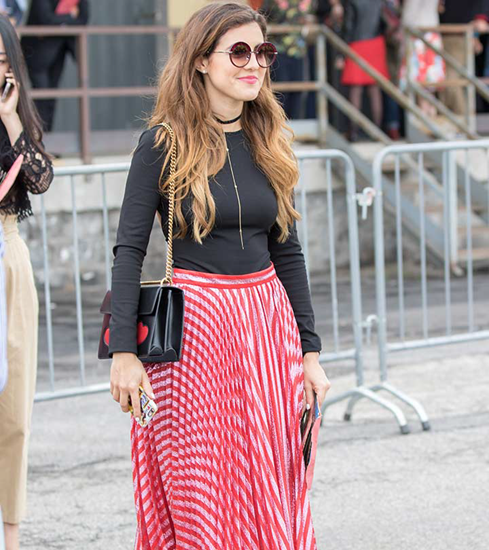 Have you ever wondered if a pleated skirt could go with a black shirt? The answer is yes; even the maxi-length skirt can join in on the fun. Don't be afraid to bring out the vibrant color or patterned skits; it will all dial down with the black shirt. To style, tuck your shirt in the skirt, and accessorize with flat sandals, a clutch, and a long costume necklace. You will love the results of an airy look.
10. Black Shirt and Plaid Outfit
Black is a solid neutral color that pairs well with stripe patterns, so what better way to pair it than with plaid bottoms. Plaid comes in astonishing ready-to-wear patterns suitable to wear by both men and women anywhere. It is a toned-down look that appears simple if you don't like to stand out. You can add some flair to the look with jewelry. Your footwear choice can be loafers or ankle boots, as the case may be.
11. Denim Jacket and Black Shirt Outfit
If you require an ultra-casual yet stylish look, you must try this denim outfit. Your black shirt will look great on original denim blue jeans, with a matching jean jacket thrown on. You can finish up with sneakers or lug sole boots, as you don't need much to pull the look together. It is not a gender-specific outfit, so you and your partner can pull up twinning in this look.
12. Bohemian Black Shirt Outfit
The bohemian look is not left out of the black outfit look; with a little effort, you should be able to slay in it. If you already have a floral print skirt or bohemian style print pants, pair them with your black shirt. When wearing a mini version, finish up with knee-length boots, and for longer-length skirts, thong sandals will do. To dial in your bohemian charm, add a fringe jacket and, of course, a hat, and you're all set.
13. Black Shirt and Shorts Outfit
Try a stylish get-up by pairing your black shirt with shorts. You can wear the outfit to laid-back events based on how your shorts and shoe of your choice. If you wear denim shorts, you can marry the look with sneakers and add some gold bling. For khaki or colored shorts, you can pair them with a heeled sandal for brunch to dinners. Your black shirt of choice should be chiffon or one with dramatic sleeves.
14. Black Shirt Outfit for a Party
If you're on the hunt for your next party outfit, then a black shirt outfit should be on your mind. Since it's a party, you don't have to wear a formal button-down shirt. You should opt for a stylish black top with embellishments, sequins, and a sweet neckline for the look. Your bottoms can be anything from miniskirts to shorts or leather pants. Accessorize with your party-ready heels and reflective glasses to add an excellent effect.
15. Retro Black Shirt Outfit
You can rock a retro-glam occasionally for a change of look. Once you get your black shirt, even a tee, pair it with light wash bootcut jeans. Elevate the look with sunglasses, like the bottle cap style, with your carefree sandals or mule in tow. It is an outfit you will love for the summer to spring.
Conclusion
A black shirt outfit hardly disappoints when styled correctly. You are covered for office looks and formal and casual events with these fifteen look you have seen. Do not let the dark shade deter you from turning on the charm whenever you dress in black. Happy styling!
Also, read our latest articles: 
–How to Wash Sneakers In Washing Machine The Right Way
–Fine Lines: What Are They? Causes, Prevention, And Treatment
–Where Does Alison Mosshart Of The Kills Band Shop?