A pencil skirt is a narrow-shaped skirt that is body-hugging and which flatters the hips and curves. Praises to Christian Dior for this great creation, which has proven to be one of the most flattering pieces of a garment on a woman. This iconic skirt is usually made with cotton fabric and is often associated with work, corporate, and business scenes.
However, if you believe this, you need to think again, as you can find a vast array of designs from glittery sequins, shiny silks, faux leather, denim, and even lace. All of these choices present beautiful ways to style these skirts.
Over time lot of changes have gone into the way people style pencil skirts. You can comfortably dress for a night out, casual outings, fashionable looks, and not just business. This timeless skirt design is here to stay, which is why this article explores 10 ways to stand out when wearing pencil skirts.
1. Black & white pencil skirt
Let start with the basics because a black skirt or white skirt should be a part of everyone's wardrobe. They are the most versatile skirts to style. You can easily wear them with any color or design of tops as these skirts can serve any purpose.
The button-down shirt combo never fails, but you can try more styles like sheer, peplum, spaghetti, and ruffled tops. Wearing a shimmery satin or sequin top is great for both work and evening outings, so you can try this look when you have post-work plans.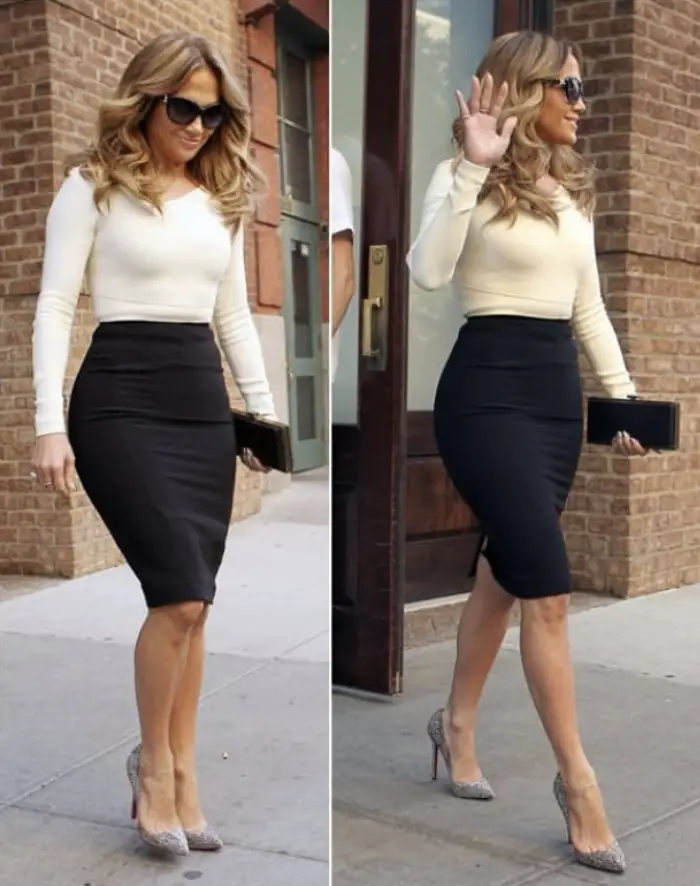 2. Denim pencil skirts
Denim pencil skirts can be used to achieve the ultimate casual-cool outfit. Wear the skirt with a t-shirt or crop top, spice it up with some colors, throw on a hat, and add some shades. You can also try the denim-on-denim look which is so chic. Your shoe choice should be a mule, preferably. Shop it here.
3. Leather pencil skirts
A stand-out piece is a leather pencil skirt that strikes a balance between posh and sultry. They are suitable for most occasions depending on the length and choice of the top. It is great for the office when styled with tops that have long sleeves and high necklines such as turtle necks.
For a more relaxed setting, you can play around with any fitted top. Finish the look off with some ankle boots, stilettos, and a leather bag for extra glam.

4. Long pencil skirts
The average pencil skirts graze the knees, but a different spin is trying on long skirts that stop at your calves. They call attention on their own, so it's best you wear them in cool colors, so can easily play with the monochromatic trend. For accessories, you can spice it up with a pop of color and keep your heels low.
5. Print pencil skirts
If you've got a bold print pencil skirt on your hands, say you have a multi-colored floral design, then you can style with a plain matching top.
Turn heads when you style your print skirts with a simple black sheer top for an evening event. Complement with some heels and accessories to elevate the look.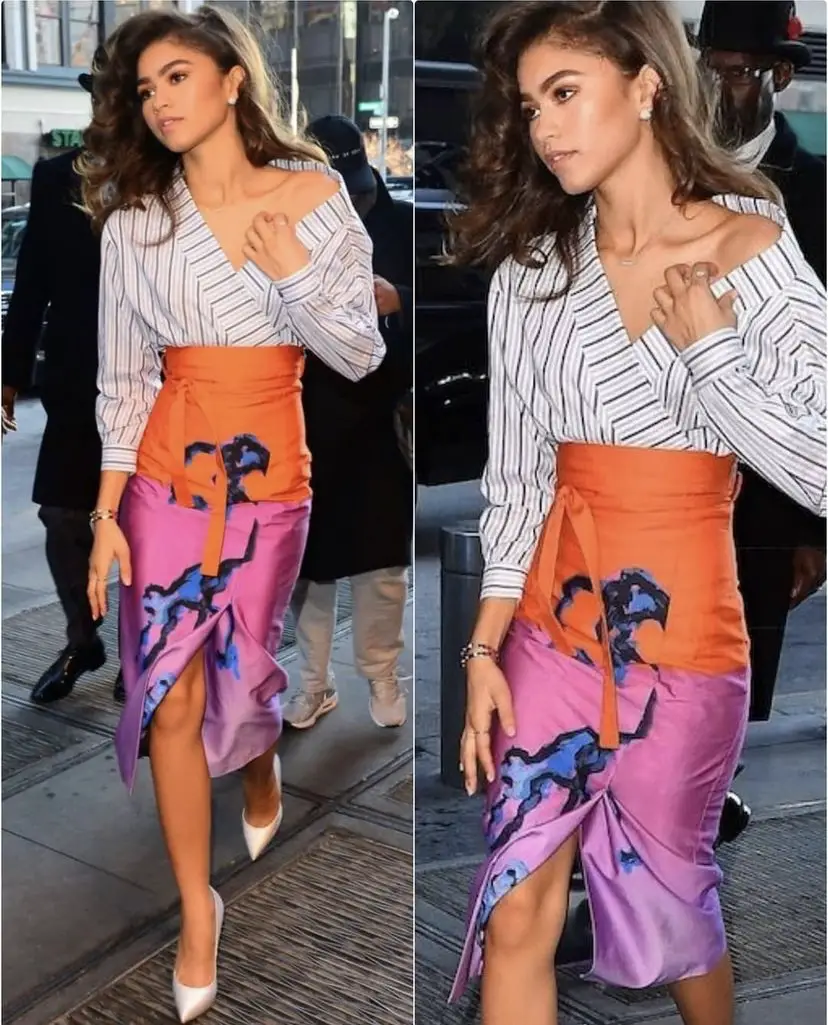 6. Unique party outfit
An unexpected look to a party is a sequined pencil skirt. The top should be plain and in solid colors so you don't cross over to the disco ball side. Wear simple accessories and shoes so you can shimmer in style.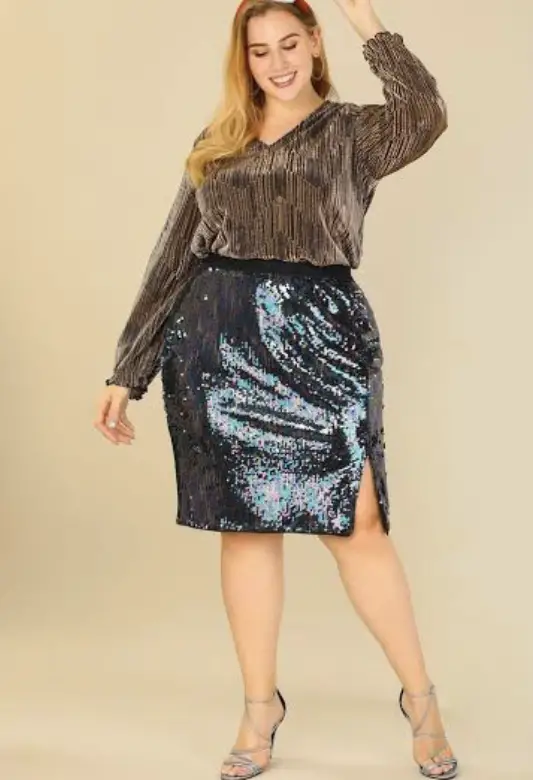 7. Try on some plaids
A risqué fashion choice you should make is rocking a plaid skirt. Find a design that plays with a fun mix of colors or the basic black and white.
For an easy yet corporate look, put on a plain camisole and throw on a matching plaid jacket. For a casual look, keep the skirt length short, wear any top of choice and throw on a long coat. Boots are the best shoe choice to finish off this look.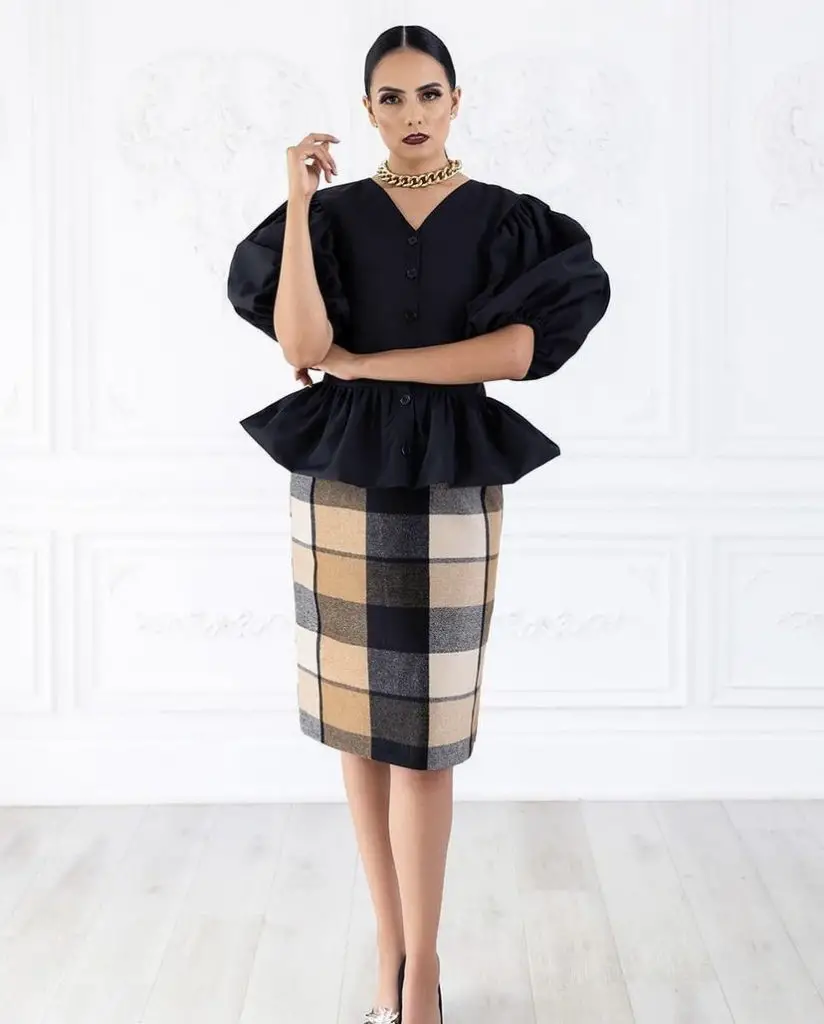 8. Embellished pencil skirts
An embellished skirt with beads and gems is a gorgeous fashion choice that can't miss. They are suitable for attending any occasion such as weddings, cocktail parties, and dates. They might be too dazzling for the office, however.
Wear it with a plain well-designed top to complete the sophisticated look, along with sparking pieces of jewelry.
9. Pencil skirts with front slits
Slits are another chic way to wear pencil skirts; in order to maintain balance keep the skirt below the knees. You can wear any top of choice, just be careful of the design and the occasion as you cannot pair them with a cutout top to a corporate event. For footwear, wear open-toe heels or pumps.
10. Color block
Colored pencil skirts are an easy way to slay. Match opposite colors like pink and purple, yellow and green, and so on. Take some risks by wearing oversized shirts you can tuck in or tie.
In summary, a pencil skirt is a vital piece of your wardrobe. They flatter all body types and can be styled with any top. A great way to always stay with the trend is finding the balance between the fabrics, lengths, colors, and the appropriate tops to pair them with.