Alison Mosshart spends a lot of time on the road being a rock star, and she does so mainly wearing jeans, tees, and of course, leather pants. She is not only the queen of the indie rock genre but also of minimalist chic rocker fashion style.
She likes to wear silk shirts tucked into dark jeans and layer with sweaters or hoodies when on tour. Her incredible fashion sense is always a delight to watch, as expected from The Kills leading lady. While Alison is not one to wear a dress, she still finds time to attend fashion shows, like the London fashion week equipment party. 
Mosshart has revealed that her two favorite shopping cities are when she's visiting Paris and L.A. Well, that's not the only exciting thing about this rocker. Read on as we plunge into the excellent fashion and silk shirts of Alison Mosshart.
Who is Alison Mosshart?
Born Alison Nicole Mosshart on November 23, 1978, she has grown to become one of the beloved faces of rock. She is an American singer, songwriter, lead vocalist, and artist for two rock bands, The Kills, and The Dead Weather. Alison started her music career with the band Discount, formed with her skateboarding friends. 
The discount band lasted from 1995 to 2000 before it was disbanded; that same year, she started forming a new band. Alison and Jamie Hince, who left Scarfo and Blyth Power, created The Kills in London, and everything became official in 2001. The duo started with Alison going with V.V stage name, and Jamie called Hotel. 
They had their first concert on February 14, 2002, of which Alison has a tattoo on her left hand. In 2003, the band had their debut album Keep on Your Mean Side. No Wow followed in 2005, Midnight Boom in 2008, Blood Pressures in 2011, and Ash and Ice in 2016. 
While maintaining her relationship with the bandmates of The Kills, she joined another music group called The Dead Weather in 2009. She took the stage name Baby Ruthless and has jointly released a few hit songs and albums. Some of her notable works with the band include "So Far From Your Weapon," their albums Horehound, Sea of Cowards, and Dodge and Burn. Listen to Alison Mosshart on apple music. 
What does Alison Wear on a Regular day?
Alison Mosshart has never felt the need to dress a sure way to fit into society's expectations of a rock star. When she started music at such a young age affording designer items was impossible, this helped Alison stay true to her style.
She revealed in an interview, "When I started out, I couldn't afford to buy clothes, so I got everything at thrift stores, cut them up, and sewed them back together. As the crowds got bigger, the outfits demanded more, though. You want to feel like a superhero because you need that confidence."
 She can be spotted wearing skinny jeans and boots with whatever jacket she can layer on a tee. Trust on her usually blonde or colored hair to elevate her general appearance, and of course, with her guitar in tow. She like her jeans fitted, stating baggy bottoms feel like gym clothes. Therefore, she is always rocking skinny jeans, preferably black.
So, none of the oversized trends for Alison; you all can have that. Another thing Mosshart won't get caught in is a dress; yeah, she is not your average lady, alright. Her recollection of wearing a dress was from her early childhood, around three years old. She regards dresses as meat since converting to a vegan when she was eleven years old. 
Where Does Alison Mosshart Shop?
Even though Alison tends not to have much time for fashion, she has found a fashion choice that works perfectly for her. When asked where she shops by The Hollywood Reporter, she said this. I don't really shop much. I don't have time. I used to, but I don't anymore. I usually wait to shop when I get back to L.A. or New York or London. I don't buy clothes in Nashville. I have been living there for six years, and I don't know where to shop. That's how much I love shopping. R13 and Equipment send me literally everything I need. I'm really lucky.
Read related articles:
–Top 15 edgy clothing stores to patronize in 2022
–15 Stunning Concert Outfits In 2022 That'll Have You Looking Your Best At Your Next Concert
–10 amazing fringe jackets for stylish women only
Alison Mosshart Fashion Collection
Asides from owning an extensive closet filled with leather jackets, equipment t-shirts, and black skinny jeans, Mosshart is also a fashion designer. In 2019, Alison decided to add a fashion icon to her singing talent and released a collection with the R13 fashion line we are tagging the rockers uniform. The collection consists of just 16-piece clothes for any rockstar wannabe.
The line is a replica of what Allison would wear, and she explains it; her clothes and fashion choices inspired the clothes. In an interview with E.S. Magazine, Alison gave a new meaning to what the collab with the R13 fashion line meant to her; she stated, 'I've been wearing R13 on stage forever,' she says. 'It was a natural collaboration. I'd like people to feel super-powerful in it because that's what clothes should do.' 
The line is available to shop under the New York brand Browns, and maybe it was Alison's choice. It is no surprise as the rock star loves to wear the brand's super luxe and expensive skinny jeans. You can also find the collection at leading online shops like Amazon and Farfetch.
How did Alison Land the Collaboration with R13?
It might come as a surprise, but Alison has had the collab in the works since 2007. According to Alison, she needed new jeans on tour and visited a Barney to get one; after sieving through, she found the best one for her, a pair from R13. She loved wearing them so much, but unfortunately, they were the last pair she could find.
Feeling a bit saddened by the situation, Alison wrote to R13 founder Chris Leba. The duo clicked, and a friendship began, which led to the brand becoming Alison's wardrobe managers, especially on stages. After such a long time of friendship and work, it only felt right for the brand to ask Mosshart to create a brand that represents her. Alison got complete control to work on the collection as described, so after designing, she settled for a hotel room photo shoot.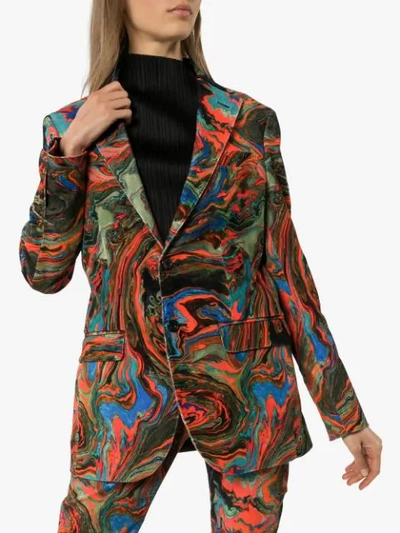 R13 X Alison Mosshart Collection in Details?
Alison started drawing sketches of pieces she felt she needed in her wardrobe. With that in mind, she searched for inspiration to channel the designs. After visiting a print house in Italy, Mosshart got a total dose of inspiration that felt like a fabric gallery. From there one, Allison got the idea of the styles, prints, and cuts she needed to use for her unique collection. 
Her collection consists of a two-piece suit with bizarre patterns and vivid colors. She had to change the prints when working on the piece until she settled on the final bold design. You can also find another two-piece suit and a bomber jacket style with leopard prints suitable for elevating your casual t-shirt outfits. 
If you are a T-shirt lover, Alison got you covered with her T-shirt design with bold red "Fast Times" printed. The phrase nods to the rock star's favorite movie Vanishing Point. Another thing to love about the collection is the gothic transcription hoodie, a genuine rocker item. There is also a little subtle mohair knit in ice blue, plaid long-sleeved shirts, and the beloved skinny jeans. 
Also, read our latest articles: 
–60 Best Moving On Quotes From Someone Who Hurt You
–Kim Chi Drag Queen: Age, Identity, And The Best Products She Lives By
–Selena Gomez Boob Job: Rumour Or True Find Out Here!