Vixen sew in hairstyles came in with a bang a few years back that had hairstylists scrambling to keep up with the new trend. Ladies ate it up like every new trend, but the hairstyle held its spot for versatility. The hairstyle scores several points for being unique and a protective hairstyle. It also allows you to style your hair as suited despite being a weave, and the style has earned its place as a staple for black women.
If you love wearing weaves, you might have come across this hairstyle a few times looking cute. However, installing the hairstyle can be technical for all the leave-outs you need. You can overcome this challenge with little skill and effort to give you a perfect vixen sew in. 
What is a vixen sew in?
Before most weaves and hair extensions can become installed, you need to braid the hair close to the scalp. The most common styles that serve this purpose include honeycomb and cornrows. For vixen hairstyles, the hair gets divided into four sections before and braided separately, forming a beehive pattern to attach weaves. 
Vixen sew in hairstyles are just like another method to aid the attachment of weaves, using the vixen braiding pattern. While making the braids, you will have to leave hair out at strategic points for easy blending into your natural hair—this aids in how you style the hair when you get done.
Types of vixen sew in styles
The point of the vixen hairstyle is the versatile styles that you can create out of one hairdo. Your extensions get added depending on how you section your braids. It aids you in creating looks like buns, pigtails, and up hairdos with your hairstyle. Below are the three types of styles a vixen sew-in can get done. 
For this style, you only need to part the hair and, in the middle, to create. The only space left to leave out is around the edges and center. This restricts your styling options to hairdos like French braids, ponytails, and buns. 
You need to section your hair into three parts to create this vixen look. You either part the front part of hair into two and allow the under to stay whole. Or you part your hair into the upper and lower section and divide one area into two. It would help if you also sectioned out leave before braiding into a beehive to attach the extensions. You can style this vixen part into cute looks like the half up, half down.
Create a section of your hair into four parts which should be easy. This sew in allows for more styling options because of the many areas of leave-outs. The middle and the vertical parts, edges, and crown get left out for more seamless blending. So when the section becomes braided in a circular motion, you add extensions to each region. Most people like to opt for this type because of the endless ways to style the hairstyle. 
How to make a vixen hairstyle (a step-by-step guide)
Knowing the different types of parts is only the beginning of creating a flawless vixen sew in. Before making the vixen sew-in, ensure your mane and scalp get cleaned thoroughly using a clarifying shampoo. Check out the best here. Afterward, apply a deep conditioner before the final wash and dry. Once dry, apply hair moisturizer and oils to hydrate and nourish your scalp. When given your natural mane TLC, you can use this guide below to start making the vixen hairstyle.
Step 1: Gather your supplies
You will need combs of two types, a wide-toothed to open the hair and a rat tail comb to create the parts. Of the two, the rat tail is more important since it forms the sections that include the hairstyle. You also have hair weaves extensions; you can select the best ones on Amazon. Then get your thread and needles that you'll use to attach the weaves to your head. Lastly, it would be best if you had edge control to tame your edges during and after making the hair. 
Step 2: Section out the hair for braids
You begin by selecting a vixen to sew in type, which determines how the results will look. Before sectioning out the hair, leave one inch around the edges for blending in the perimeter. Also, create a horizontal and vertical part for the leave-outs and apply edge control to keep them in place. You can begin braiding the hair and plait small cornrows in a circular motion to create the beehive look. You can get creative with the braids; ensure it is neat and contained to the section. After braiding, you can wear a hair net to flatten the braids, optional. 
Step 3:
Sew in your extensions
You will need the needles, thread, and extensions; you can use both curved and straight needles and pre-thread a few before beginning. The weaves should be made of human hair for prolonged use and ease of maintenance, but synthetic hair is fine also. Place the extension on the hair and start sewing from the corner ends, stitching them close to each other. You can fold over the threads as you sew to reduce the possibility of shedding. 
There is also the option of folding only at the ends of a weft. While sewing the hair, if the extensions appear to be too thick for seamless blending, you can separate the weft before attaching it. Before switching needles, remember to make a knot, so it doesn't unravel independently. Also, knot the threads before moving to other sections until you get done filling up the hair. You would need about 3 or 4 bundles of weaves to complete a vixen sew-in, but you can go for five bundles if you want it to look fuller. 
Step 5: Blending in the leave outs 
Now that your extensions are all in place, take out the braids of the leave-outs and begin styling. Apply oil and heat protectant on your mane and use a flat iron or dryer brush to straighten the hair if you used a straight extension. Use a curling iron for curly hair extension before blending everything in. And you're all done, to start rocking your new look.
It's best to visit a salon with a professional stylist to get the hair installed for a perfect vixen to sew in. The braids and sectioning are complicated to do on your own, so find a salon near you that offers the services. But don't forget to go with your supplies.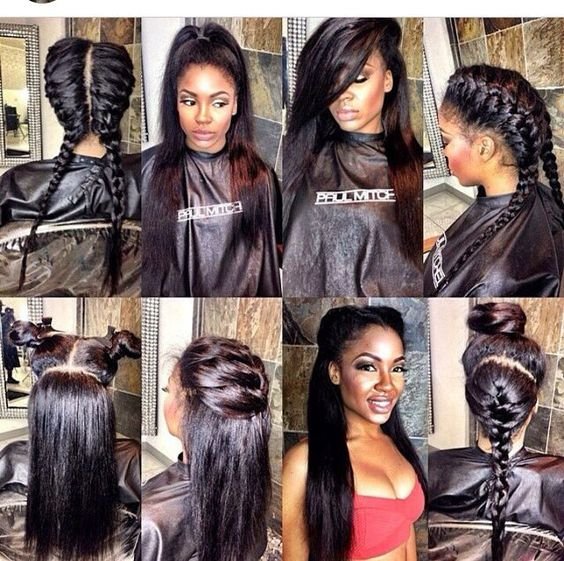 Advantages of vixen sew in hairstyles
Perhaps you are still wondering if you need to get a vixen sew-in. Below are some reasons to love the weave hairstyle. 
It allows you to care for natural hair: Protective hairstyles have become favored since you tend to your wild mane. However, not every hairstyle type will allow you to care for your hair like vixen sew-in. You can easily add hair oils and other moisturizing products since the scalp is easily accessible.
Versatile styling: There is hardly any style you cannot do with vixen sew in hairstyles, despite being a weave extension. The parted braid sections aid you while styling to wear your hair however you choose. 
It gives a natural finish: Vixen sew-in gives one of the most natural looks for sew in hairstyles. Much of your natural hair gets left out for seamless blending. 
They are less likely to itch: You keep itchiness at bay when you take proper care of your hairstyles. This is the case for vixen sew-in hairstyles, as you'll stay itch-free with a well-oiled scalp and the spaces in between. 
Easy detangling process: You can quickly get your hair in shape when you decide to stop rocking the hair. Large sections of your hair serve as leave-out, which means you spend less time taking out the braids. 
Disadvantages of vixen sew in hair
Even if the hairstyle is great, a few things can turn you off about vixen sew-in.
It requires lots of maintenance: The number of leave-outs that makes the style defeats its purpose as a protective hairstyle. You must care for the hair to prevent your natural hair from shedding and drying. 
Vixen sew in will test the health of your hair: Using damaged hair for a vixen sew in will only worsen it further. The leave outs get subjected to heat styling and other manipulation to create and maintain the hairstyle. So, you should go for this hairstyle if your mane is healthy. 
Your extensions might shed: To quickly navigate through the hair sections to create the vixen sew hairstyle, you must cut the weaves. When the wefts get cut into tiny pieces, they shed and make it unusable for other hairstyles. 
Vixen sew in hairstyles to try
Now that you know how to install vixen sew in, here are some styles you can try.
1. Vixen ponytail hairstyle
A ponytail is one of the most effortless styles you can do with a vixen sew in, especially with straight weaves. Even if you installed it in four-part, you could gather your hair up differently. Use weaves that blend with your natural hair texture and color to make the hairstyle look more natural.
2. Vixen sew-in braids
Take your sew in hairstyle to the next level with braids; only two braids will give the illusion of natural hair. Opt for the two-part vixen sew-in type for this style, and the leave-outs will enable you to braid the hair for styling. 
3. Short curly vixen sew-in
Styling your vixen sew in shouldn't be that hard when you opt for short curly hair. You only must prep it in the morning to revive the curls and have it looking its best. Sometimes, you can play around with styles, depending on the part type you choose.
4. Half up-half down vixen hairstyle
You can create this hairstyle with either a three-part or four-part type of vixen sew in. The look features the upper section of the hair gathered into a ponytail. You can further wrap it into a bun to create a new look. In contrast, the under section flows loosely on its own. You can use both straight and curly weaves to install this hairstyle; ensure it is long length.
5. Vixen sews in with side bangs
If bangs hold a soft spot in your heart, you should infuse them into your vixen sew in hairstyle. When you opt for this style, there will be no need to leave outs the along your hairline as your bangs will cover up the space needed, which protects your hair. 
Care and maintenance of vixen sew in hairstyles
Caring for your natural hair is way easier with vixen sew-in, since it has parts, leave outs, and sections. When you properly maintain the hairstyle, it will last longer for sure. To keep it in shape, you follow the same care routine for other sew-in hairstyles. 
Care starts with keeping a clean scalp, and you do this by washing your hair once every one or two weeks. It would be best to use a mild clarifying shampoo that will deeply cleanse your scalp. Ensure your hands get to the weave's extensions to clean your hair thoroughly.

After washing, do not forget to apply the conditioner; this step is essential for detangling and nourishing the hair.

You must dry your hair adequately before you can style and start rocking them again. 2 hours sitting under a hooded dryer with low heat temperature should be enough.

Always oil and moisturize your hair with the best products that won't leave build-up behind.  

Leave outs predominate the hairstyle, aside from the extensions, so you must focus on taking care of them. Since your natural hair forms the leave-outs, be careful and avoid overusing heat styling and other activities that can cause damage.

Before going to bed, perform a nightly ritual of combing your hair to detangle it and cover it with a silk bonnet. You can also reduce frizzing when you sleep with a silk pillowcase, as it helps care for your mane. 

Your vixen sew in should last for six weeks, but when it is time to take out the hairstyle, visit a stylist, so you don't cause any stress to your natural hair. 
In summary, you should be able to successfully rock a vixen sew-in and maintain healthy strands with the guide. Happy styling!
You may also like to read related articles:
–15 Quick Weave Hairstyles
–Curly hairstyles: 10 stunning styles you can do if you have curly hair
–15 Beautiful Natural Hairstyles You Can Wear Anywhere In 2022