The hairstyles we get often leave our tiny front hairs (or baby hairs) exposed to frizz which always looks rough. To keep these delicate hairs in place, edge control products are used to lay them down.
A good product is delicate on your baby hairs, flexible enough to allow you to style with ease, and lays flat and strong without flaky buildups.
The struggle to find good products is as real as it gets because you think you have to compromise one essential function or the other when you buy just any products you find. Meanwhile, you shouldn't have to. All the swirls, design, and artistic final touches you make on your hair, with all the effort and care put in to get it done, should last for as long as you want.
Here are the 10 best edge control products, with the right moisturizing ingredients to get the job done.
1. African pride extra hold
The first on the list is African Pride Black Castor Miracle, which was the winner of Best of Beauty 2019. It is suitable for all hair textures including braids, locks, and twist gel. This is a unique edge styling gel made with natural ingredients such as coconut oil and black castor oil.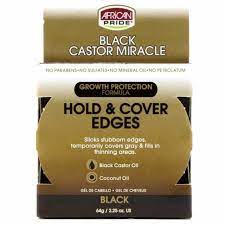 These combined with other things help protect the hairline by moisturizing it. The product description says it all: "creates part-lines, tames frizzes & smooth edges without stickiness". The reviews are an affirmation of this black castor miracle product. Shop it here.
2. Soft Sheen-Carson Amla legend treasured temple edge tamer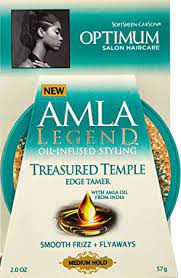 Any product from Soft Sheen is always top-notch and it's the same case for this Amla (gooseberry) oil-infused edge control product. The cream is light and tames all stray hairs while dousing the hair with a hydrating oil. Get it here.
3. Diamond black panther strong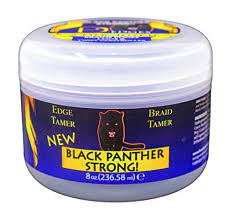 This product is a great buy for both your natural hair and braids hairstyle. It successfully tames edges and keeps them tamed all day long. With its versatility to control braids, diamond's black panther is a sure way to get sleek and strong laid down edges. Get it here.
4. Creme of nature perfect edges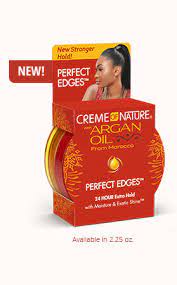 Creme of Nature perfect edges is a product that offers all you will need. It lays down your edges smoothly with extra hold to tame any hair type. It is also infused with argan oil to care for and give extra shine to your hair.
Your edges will hold for as long as desired. It leaves little to wonder how the product made it to the Best Beauty Hall of Fame. Shop it here.
5. ECO olive oil styling gel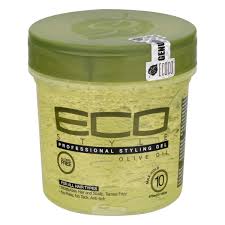 This is an all-time classic and is one of the most popular and effective edge control products around. It is made with olive oil, to hydrate the hair. This product catches all your stray hairs, with a stronghold that does not leave and flaky buildups. Get it here.
6. Cantu edge stay gel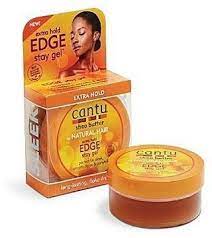 If you're a natural hair lover, then you're no stranger to the amazing Cantu brand. This edge control product is a readily available top-quality product. Their edge stay gel is paraben-free and offers extra hold while nourishing your hair with Shea butter. Shop it here.
7. The Mane choice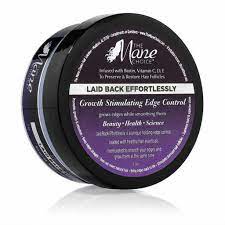 This brand offers some of the best edge control products out there that will lay all your baby hairs with ease. The product, dubbed the growth-stimulating edge control, eases hair styling and helps with hair growth. This product is also a great find for hairstyles that drags on the hair follicles. Get it here.
The brand also has a freezing gel for stubborn baby hairs, made specifically for kinky and type 4 hair. All the natural ingredients used in making this product will hold your edges down all day. Shop it here.
8. Moco de gorila snot gel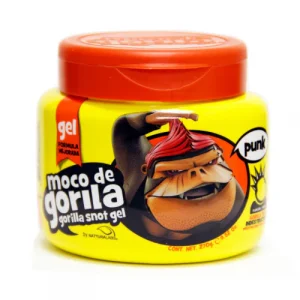 Don't mistake this for Tessica Brown's Gorilla glue — it won't permanently glue your hair to your scalp and leave you needing surgery. What this product will do though, is hold your edges down all day.
Style your hair on a budget with this stronghold edge sculpting product. It is thick and keeps your hair in place so you'll only need a small amount to style your natural hair. It is a sought-after product to lay edges of lace frontal wigs because of its great hold. Shop it here.
9. Design essentials sleek max strength edge control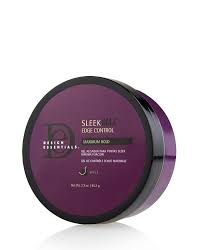 As the name implies, this is your ticket to sleek edges. It combines glycerin and castor oil to make an opaque gel with a lasting hold. The sleek stronghold is suitable for both natural and relaxed hair. Shop it here.
10. Carol's daughter black vanilla edge control smoother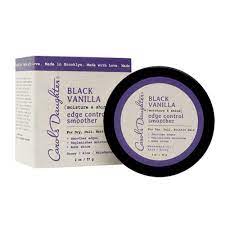 This is a fluffy gel that is infused with aloe, honey, and rosemary extract that keeps your stray baby hairs smooth and tamed. This product will leave you with sweet-smelling, moisturized, laid hair. Get it here.
In summary, laying down your edges is a great styling tip that helps frame the face. The three things to look out for when choosing an edge control product are the base (water or oil), the ingredients, and an amazing hold that won't leave flakes on your hair.
Get your baby hair looking amazing with these products. With your brush and styling comb in hand, let your style skills shine. Even though these products protect the hair, it is not good to use them every day as it will cause hair loss because baby hairs are very delicate.