If you like to wear a beautiful hairstyle that is fast to make, you might want to consider quick weave hairstyles. Just as the name suggests, a quick weave involves a fast bonding of hair extensions to your hair to get a new look in record time. Your natural will get protected with a wig cap, so the bonding glue will not cause any harm. This makes a chic protective hairstyle you can wear anytime.
A great thing about quick weaves is that you can make it yourself with a bit of step, so you switch up your looks with ease. Contrary to the belief that short weave styles harm the hair, you can avoid such cases if you properly install them. Another cool thing about quick weaves is that they are easy to maintain and make for a convenient style.
Are you ready to skip long hours sitting to install a new hairstyle? Read on to find 15 quick weave hairstyle ideas and how to install them?
What is a quick weave?
A quick weave is an installation method of weaves where the wefts of hair extensions get attached to your head, directly on a wig cap. So, you bond the weaves in tracks to your hair to create the desired hairstyle. It is like a sew-in hairstyle because you need cornrows to install them easily. They are different since you can attach extensions to the caps when you can hold the hair down.
15 quick weave hairstyles you've got to try
1. Straight, sleek long weaves
Straight extensions look great with a weave hairstyle; they might look simple, but they can create different looks when styled. You get a sleek, parted ponytail if you gather it up and add a part. Allowing it to flow down is not average when you tame your baby hairs. Also, you can leave out your natural hair, so it blends seamlessly into it.
2. Middle parted quick weave
This style is one of the most common weave styles you can get, and you have the option to try out different extensions. You can opt for colors and varying lengths of weaves; they will look great with a middle part. Maintenance is not so difficult with such a hairstyle, and you save time getting ready.
3. Short quick weave
A short weave extension is a next look you must try. Use a short-length, thick textured hair extension to create this look, so when you trim, it holds shape. This texture will help you achieve different attractive hairstyles when combing.
4. Layered quick weave style
Not everyone is blessed with long hair naturally to get a layered haircut, and thankfully you can replicate the look with extensions on a quick weave. After installing the hair, ask your stylist to trim the hair in layers, with either the underside longer than the rest or subtle play of lengths.
5. Quick weave with a curly bob
Using the quick weave method, you can create a beautiful bob hairstyle with a short curly extension. You can make the hairstyle side-parted to add flair, which falls and flatters the face. You can also opt for the classic bob look, with an extension with loose curls for a simple yet stylish look.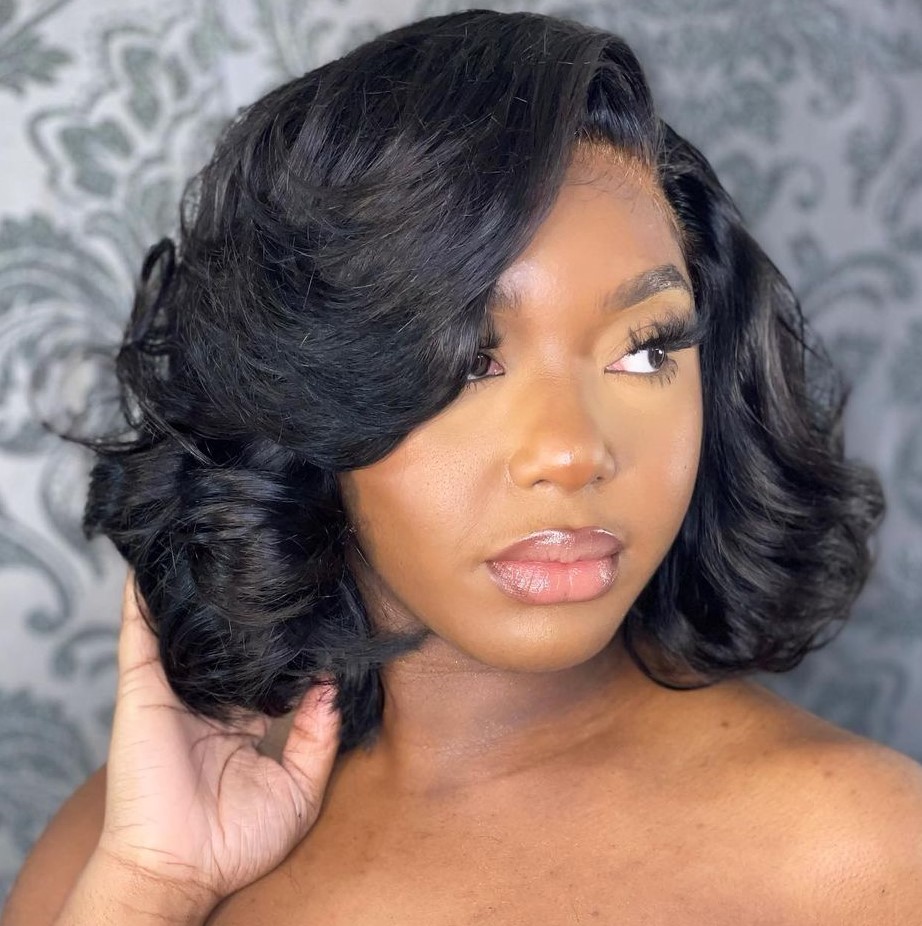 Related article: Curly hairstyles: 10 stunning styles you can do if you have curly hair
6. Body wave hairstyle
A body wave weave makes for a stunning wavy hairstyle you can easily install. These wave details add structure to the do when you wear them. Add stylish parts to the hair to update the look whenever you wish to look different.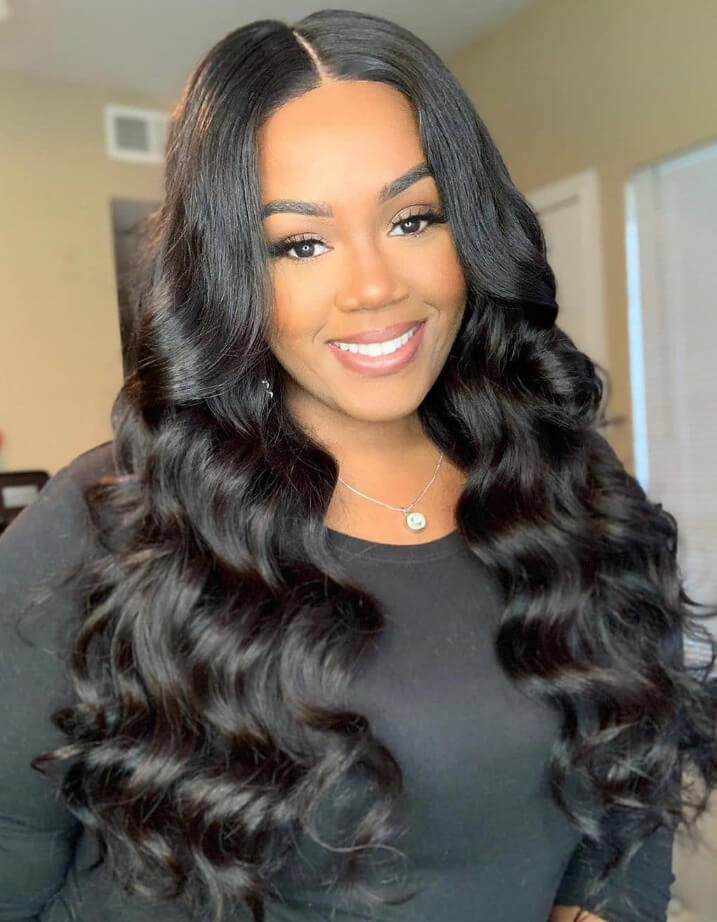 7. Quick weave with invisible part
The most natural-looking parts get done with the invisible part technique, so it appears sleek even when the part line shows. A lot of technique goes into such a style because it requires skillful extension placement to create the part lines. Whether side, straight or C-cut parts, they all look beautiful when you wear them invisible style.
8. 28-piece quick weave
Another beautiful style worth exploring is the 28-piece done quick weave style. Use a short curly extension to enhance the voluminous appeal of the hairdo. Style the hair leveraging on the thick curls to create a messy look on some days and an ultra-feminine look when the mood strikes.
9. Side parted short blunt cut weave.
If you have a short extension, leave the weave average as your hairstylist to give it a blunt chop. Ensure the hair is straightened before the chop to get the best results. In addition, opt for a deep side parting that will allow the hair to fall to your face like a partial bang.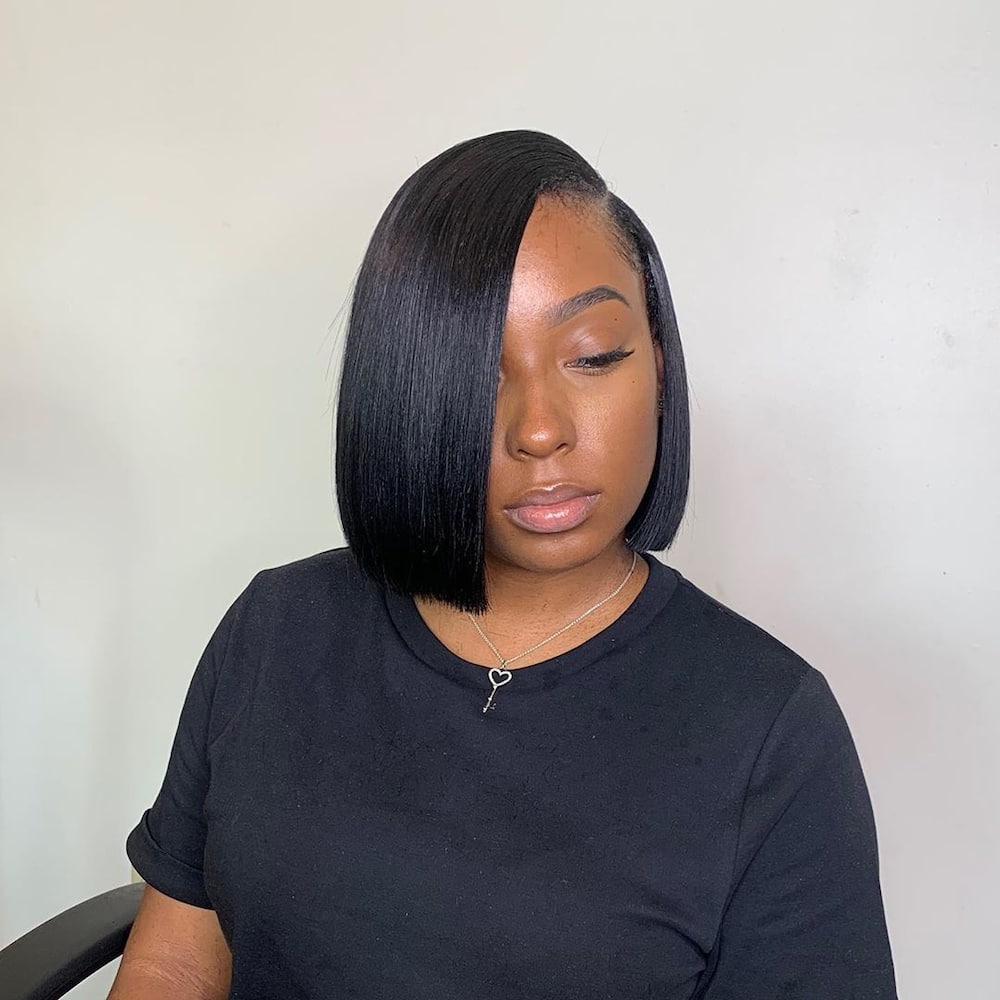 10. Half-up half-down weave style
A chic half-up half-down style is not left out of the fun things you can do with quick weaves. When installing the extensions, be sure you leave your hair out to ensure the part looks natural. So, when you gather your head crown into a ponytail, it looks excellent instead of exposing the protective wig cap. The hairs underneath should be left loose to flow down to complete the look.
11. Quick weave with bangs
Commit to a bang hairstyle rather than opting for faux bangs with a few side-parted hairstyles. While installing the hair extensions on the track, some should face forward to form the bang hairstyle. Most people like to use short-length extensions for this style, but the long ones will also look cute.
12. Afro quick weaves
You can count on the quick weave to create a cute afro hairstyle that'll suit you. If your natural hair is not so full to form a voluminous afro hairstyle, this style is right for you. Go for a kinky or curly textures hair extension, install until it fills your entire head, and trim to flatter your face.
Related article: 5 Unique Afro Hairstyles Inspirations By Viola Davis
13. Vibrant colored weave style
You sometimes need a vibrant colored extension to elevate your quick weave. To create a statement-making hairdo, you should go for bright colors like red, pink, or green. Whether you make it with straight or curly hair, it will look great as the color does everything for style.
14. Quick weaves with side part
If you're new to quick weaves, a side part is one of the best styles you must try. You can use any extension of choice to wear a side part, and it will look beautiful. When styling, comb on the side to the front and the other backward to create a faux asymmetrical look. Lay down your baby hairs to make the style look more natural before stepping out.
15. Curly weaves
Curls make one look youthful, and the play of textures looks great on quick weaves hairstyles. Use medium to long length extensions to create a unique look suitable for work to events you have planned. Try to avoid gathering the hair up all the time to allow it to flatter your face and leave a stunning look.
How to do a quick weave
To achieve the best quick weave styles, you will need many hair products and tools. The supplies include a comb, blow dryer, towel, wig cap, hair tie, hair extension, scissors, threads, and hair glue. When you've gathered the above items, you are all set for creating a stunning hairstyle before you start the wash and condition of your natural hair.
Step 1: Part your hair into sections and separate the parts into either center or sides before braiding. Plait your hair into small-sized cornrows that can stay hidden under the protective wig cap.
Step 2: Wear the wig caps over the hair when done with the braids. It will keep your hair protected from the glue; you will use to attach the hair extension. To be double sure, use two wig caps, so the glue will not seep into your natural hair.
Step 3: Apply a glue protector to the wig cap to keep your hair safe. It also ensures the glue only sticks to the hat and not your hair.
Step 4: Blow-dry the cap for a few minutes; the caps must become adequately dry before you start installing the extensions.
Step 5: You are ready to attach your hair extension of choice at this stage. To achieve a perfect fit, start from the back and measure the extension on your head before cutting. Do this for each line, apply glue to the required areas, and allow to dry before going to the following line. If you left apart, stay cautious, so you don't close it up.
Step 6: Give final details to hair, comb, apply products and trim to suit your face.
How to remove the quick weave
Even as cute as quick weaves look, they only last about a month, after which you will need to take them out. Sometimes you may notice the extension coming out before the month is over. This occurs when you latter on too much oil product that weakens the glue. You can remove your weaves by applying more oil-based products or leave-in conditioner to the base of your head.
Allow to soak into your hair for some minutes before running it under warm water; to further soften the glue. Now you can start removing the protective wig cap gently. After taking them out, massage some more conditioner into your hair before taking the cornrows out. Give your hair a good wash with a clarifying shampoo, apply conditioner, and some moisturizer for a complete hair TLC.
In summary, we hope you love this rundown on quick weaves and hope you try some style and drop comments on how it looked.
Find more hairstyles to try:
–15 Beautiful Natural Hairstyles You Can Wear Anywhere In 2022
–10 gorgeous and easy passion twist hairstyles to try right now
–20 creative female loc styles to try in 2022